For most of us, Phuket and its surroundings offer a budget and affordable paradise escape away from reality. The choices of Phuket tourist attractions has something on offer for everybody!
From adventurous activities … to cultural experiences … to island escapes via speedboats … to relaxing canoe trips.
This destination offers some of the most magical sunsets we have seen thus far and mostly it offers all of these options at affordable prices!
For someone like me, who generally spends her money very carefully after a bit of thought processing, Phuket was the place where I could let my 'mind' be free from financial responsibilities, I could splurge without having to think three times about it!
I could go for that jet ski ride, or hop on that go-kart.  I could cover my table with lots of food options when I couldn't decide what I wanted to try.
That freedom, away from having to be careful with your pennies … that freedom is totally priceless!!–
We flew over to Phuket after two nights and one super busy day exploring the region around Bangkok. You can easily book your travel tickets to get to and from Phuket online.
Once you have sorted out your transfers, select which of the following Phuket activities you would like to add to your itinerary.
–
One Day Phuket Tourist Attraction Itinerary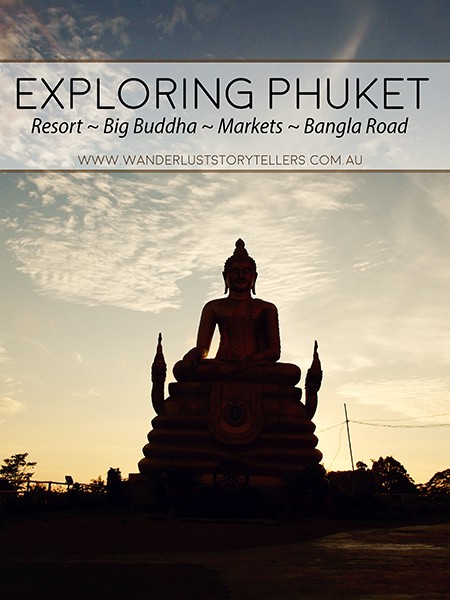 *
The Morning: Relaxation at our Hotel – Novotel Phuket Resort
I believe in a good balance between exploration and relaxation whilst on holiday!
So that is exactly what we did! To start it off, we enjoyed a lazy morning next to one of our resort pools!
We spent 7 magical nights in Phuket and loved the resort that we called home for that week.
Hotel Novotel Phuket Resort was in the perfect location for us, spread out across 8 acres of lush tropical garden, this hotel is within walking distance to Patong Beach and close by the famous Bangla Road.
When the location isn't perfect enough, this gorgeous resort offered our ocean-facing room one incredible view over the ocean and coastline of Phuket.
We spent most afternoons simply 'hanging' out on our patio with a Singha in hand, watching the magical colours in the sky as the sun set over the ocean, some tropical palm trees in the foreground adding to the holiday feel.
Whilst we actually didn't end up spending as much time in the three-tiered pool as we were planning on, we did enjoy cooling down whilst enjoying some delicious Pina Colada Cocktails in the pool.
Lucky for us, most people were probably out and about enjoying what Phuket has on offer, so we felt like we had the pool entirely to ourselves, which was very relaxing.
For us, this was a great start to our day, yes those cocktails were enjoyed in the morning!!  After which we made our way off hotel grounds, to explore some of what Phuket had to offer.
If you are interested in staying here, the details and info will be below this post.
*
Afternoon: Phuket Big Buddha
Whilst driving around the Southern area of Phuket, you will see a large Buddha on the ridge of hills that run down to the center of Phuket.  This Buddha sits proudly on top of on one of the highest peaks at Khao Nakkerd Hill.
As Thai people are mostly Buddhist, this giant Buddha is an incredibly important religious landmark to them, but due to its size and location, it also draws in hordes of curious tourists for a visit as well.
Thailand has also planned to become the hub of Buddhist tourism in the region. The renewal of the Big Buddha is only one of the ways in which Thailand is focusing on grabbing the attention of more Buddhist tourists, in the bid to draw more attention to Thailand as a go-to destination.
The Phuket Big Buddha is made from marble, boasts a massive 45-meter height in size and is well positioned on a hill that offers an amazing 360-degree view of the south of Phuket.
Here the Buddha sits, shining brightly in the sun, a facial expression of peace and contentment, making it a symbol of hope.
When we visited the Big Buddha, the lotus leaf that the Big Buddha is sitting on was still under construction, however, if you are lucky enough to visit the Buddha now, you should find the project complete and glowing in all its glory!
Here on this hill, located on the side of the massive white marble Thai Buddha, you will also find a smaller statue 12 meters in height.
This one is made entirely of brass and, as with the large big Buddha, faces eastward toward Chalong Bay and Phang Nga Bay beyond.
Whilst walking around the base of the Big Buddha, you will also find various donation boxes.
This entire landmark has been built by means of donation, so consider parting with some of your Baht to support the ongoing work done here.
For the Buddhists, their donations and purchases of slabs of stone are all in aid to not only support the work here but also in the hopes of attaining some very good luck.
Whilst exploring the grounds around the Big Buddha and enjoying the multitudes of viewpoints over Phuket on offer here, you will also find thousands of little bells hung up around the grounds, hanging off tree branches and from the bars of the staircases.
From every bell, you will find a leaf and on this leaf is a single name, a name written down with a single wish in mind.
The tradition goes that if the wind favours their wish, then the bell rings loudly so their wish can be heard. The sound of these little bells ringing adds to the whole feeling of serenity found here.
If you wish you can buy a bell and hang it here, leaving it behind to ring away in the wind on the hilltop.
Tips for visiting the Big Buddha, Phuket:
Entrance to the Big Buddha is free.
You will be required to cover your legs and shoulders whilst enjoying the stroll around this area, they had scarves and wraps that you could borrow free of charge at the entrance to the site.
Opening and closing times: 6 am – 7 pm
To get here, grab a taxi or a tuk-tuk.
For those more adventurous, you can also park at the bottom of the mountain and make your way up the hill by means of an off-road buggy!
*
Late Afternoon: Phuket Night Markets
An easy way to spend the rest of your day would be to enjoy some of the various markets found around Phuket.
Our top recommendation is to check out the Phuket night markets!  We loved walking up and down the rows of stalls, checking out the merchandise and making some impulsive purchases.
Even if you are not interested in purchasing anything, we still recommend you go and visit these markets, as it really just is part of the experience.
 The vendors here at the Phuket town night market expect their customers to barter with them, and as such, they set their prices pretty high, so build up some courage and have some fun with the backward and forwards game called bartering.
Good luck!!
(Photo Source: Behan Flickr)
Whilst most of the stalls are for tourist purposes and sports goods such as wallets, watches, clothes, and handbags, you can also find here a good mix of Thai culture in the cuisine available for purchase.
Below, at the Phuket Town Weekend Markets, we enjoyed checking out some of the cultural delicacies on offer such as crispy fried crickets and worms and bugs of all sorts.
And no we weren't brave enough to try any!
The markets are filled with a lively atmosphere. You can feel the energy and the buzz of Phuket here.
The best thing we purchased was a Vodka Mojito!  It was the best Mojito we had for the duration of our entire trip!  And did an excellent job at cooling us down after wandering up and down the hot market aisles.
Tips for visiting the Phuket Town Night Market:
Phuket night market location: The main Phuket Night Market is located on Wai-Rat-Hong-Yuk Road in Kamala near the Central Festival.
It is open on Saturday and Sunday from around 4pm through most of the night.
Try to be there around 4:30 to avoid the crowds.
Parking here is a nightmare, so grab a Tuk-Tuk to drop you off instead.
It can get pretty hot and stuffy in the undercover market area, so make sure to purchase a Mojito to cool yourself down haha.
 *
Night: Patong Beach Bangla Road
Oh yes, the famous and scandalous Patong Beach Bangla Road. You simply have to experience this street at night time whilst visiting Phuket.
You will either hate it or feel super out-of-place and uncomfortable.  Your experience here is simply what you choose it to be.
Regardless, it still happens to be the top choice if you are looking for a Patong Beach Nightlife option!
At night time, Bangla Road is shut down to local traffic and the road quite simply gets absolutely packed to the brim full of tourists, entertainers, together with anything and everything in between.
Here you find 400 meters of neon lights, loud music screaming out from the multitudes of bars, cheap beer as well as girls dancing around poles.
You will have people in your face, hoping to get your attention to come into their bar, trying to sell you yet another tux.
You will have pamphlets shoved in front of your eyes in a bid to lure you to the closest Ping-Pong show, as well as entertainers who would love to pose with you for the purpose of money.
It is one lively street that will awaken every single sense in your body.
(Photo Source: Cecil Lee Flickr)
(Photo Source: Cecil Lee Flickr)
It really is a must-see, at least once!
Some might only go for a quick walkthrough from one end to the other whilst others will go back night after night after night, enjoying the atmosphere as well as all it has to offer.
For a nice outline of all the various bars, discotheque etc, hop over to Phuket.com
And so comes the end of a random day in Phuket!
On our way back to the resort, we simply had to stop and make use of the cheap massages found around Phuket.
I believe we had the massage at midnight!! Where else will you find people happy to give you a massage after enjoying your night out and about?
CRAZY! But not complaining!
Hop on a disco Tuk-Tuk back to the comfy cozy room at Novotel Phuket Resort and rest up, because tomorrow is gonna be a full but adventurous day in the land of Thailand!
*
Where to stay in Phuket |Novotel Phuket Resort:
* Denotes affiliate links, whilst we do earn a commission, we recommend this resort because it is a resort that we loved staying at.  Our stay there was not sponsored in any way and trust that you will love staying here too.
Rooms from AUD $109 p/n or US $80.60 p/n – This includes a delicious and yummy buffet breakfast each morning.
Suitable as either a parent (couples)-escape or for a family stay.
Highly recommended from us as the top option of where to stay in Phuket!  The rooms were beautiful, the view was amazing!  The breakfast was yummy and we found the staff incredibly friendly and helpful.  If you stay here please let us know if you loved it as much as we did!