Phuket is one of the best destinations to visit in Thailand for first-timers (or for those of us who love to return time and time again!) For most of us, Phuket and its surroundings offer a budget and affordable paradise escape away from reality. The incredible and varied Phuket tourist attractions have something on offer for everybody!
From adventurous activities and cultural experiences to island escapes via speedboats and relaxing canoe trips. You're guaranteed to have a memorable time here with our 3 day Phuket itinerary!
This destination offers some of the most magical sunsets we have seen thus far, and for the most part, it offers all of these options at affordable prices! We've put together an itinerary that will have you exploring, relaxing, and adventuring on a truly epic Thailand vacation.
---
Best time to visit Phuket
With a tropical climate prone to monsoons, Phuket is certainly better in-season than out.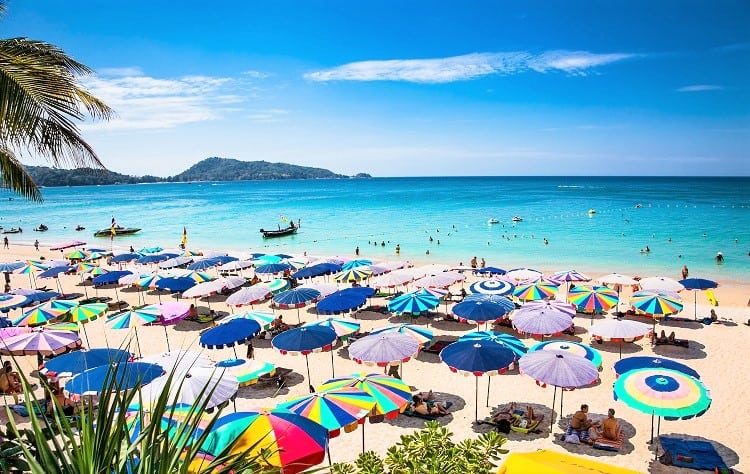 The best time to go to Phuket is during Thailand's winter, between November and February. The weather is cooler and dry, allowing you to spend the day out of doors without wanting to take a cold shower every hour!
Most of the year is also lovely, as long as you are comfortable with a little humidity and heat! It's best to avoid May to October, as this is Thailand's monsoon season, and you're likely to be rained out of most activities.
Tip: For more information, check out our post to find out what is the best season to visit Phuket here.
How many days in Phuket is ideal
Depending on the kind of holiday you're looking for, you could spend months on this island! However, we suggest spending 3 to 4 days in Phuket to make the best of your Thailand holiday.
In 3 days you'll have enough time to explore the island and its surrounding archipelago. You will also have time to relax on the beach, sip cocktails, and experience the vibrant nightlife of the area. All before moving onto a smaller and less populated island paradise, like Koh Lipe!
---
3 Day Phuket Itinerary
This 3 day Phuket Itinerary is the only one that you will ever need. Here you will find everything that you need to see and do whilst on the island:
Phuket Itinerary Day 1
For your Phuket itinerary, we've put together all the best things to do in Phuket! On day 1 you'll spend your time sightseeing at some of Phuket's most fantastic attractions.
Visit one of the country's famous night markets, see the Big Buddha, and stroll down Phuket's most striking and scandalous street! Whether you're traveling as a family, a group, or solo, you're bound to have a brilliant time.
Morning: Relax at Novotel Phuket Resort
Spread out across 8 acres of lush tropical gardens, Novotel Phuket Resort is within walking distance to Patong Beach and close by the famous Bangla Road.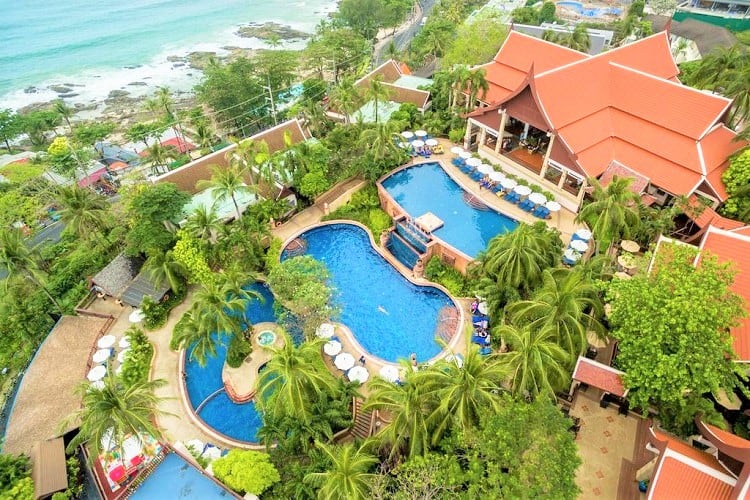 When the location isn't perfect enough, this gorgeous resort offered our ocean-facing room one incredible view over the ocean and coastline of Phuket.
We spent most afternoons simply 'hanging' out on our patio with a Singha in hand, watching the magical colors in the sky as the sun sets over the ocean, some tropical palm trees in the foreground adds to the holiday feel.
Enjoy cooling down whilst enjoying some delicious Pina Colada Cocktails in the pool.
---
Afternoon: Phuket Big Buddha
Whilst driving around the Southern area of Phuket, you will see a large Buddha on the ridge of hills that run down to the center of Phuket. This Buddha sits proudly on top of one of the highest peaks at Khao Nakkerd Hill.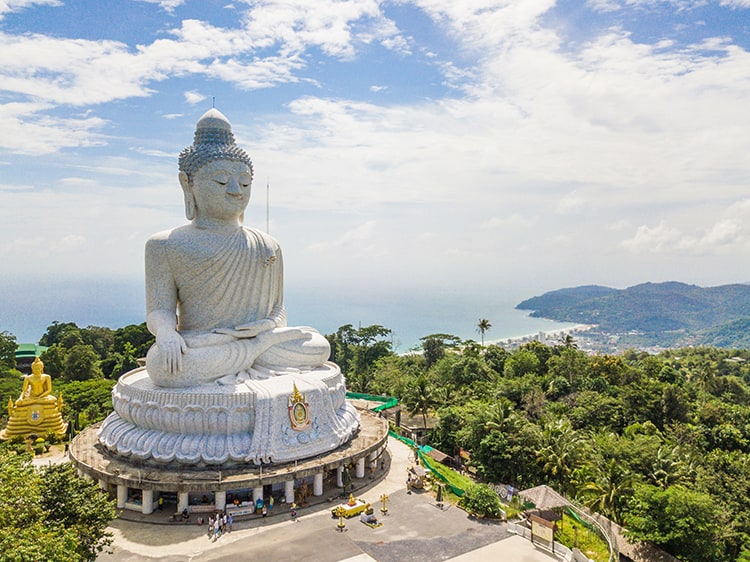 As Thai people are mostly Buddhist, this giant Buddha is an incredibly important religious landmark to the locals, but due to its size and location, it also draws in hordes of curious tourists for a visit as well.
The Phuket Big Buddha is made from marble, boasts a massive 45-meter height and is well-positioned on a hill that offers an amazing 360-degree view of the south of Phuket.
Here the Buddha sits, shining brightly in the sun, a facial expression of peace and contentment, making it a symbol of hope.
Tips for visiting the Big Buddha, Phuket:
Entrance to the Big Buddha is free.
You will be required to cover your legs and shoulders whilst enjoying the stroll around this area, they had scarves and wraps that you could borrow free of charge at the entrance to the site.
Opening and closing times: 6 am – 7 pm
To get here, grab a taxi or a tuk-tuk.
For those more adventurous, you can also park at the bottom of the mountain and make your way up the hill by means of an off-road buggy!
Here on this hill, located on the side of the massive white marble Thai Buddha, you will also find a smaller statue 12 meters in height.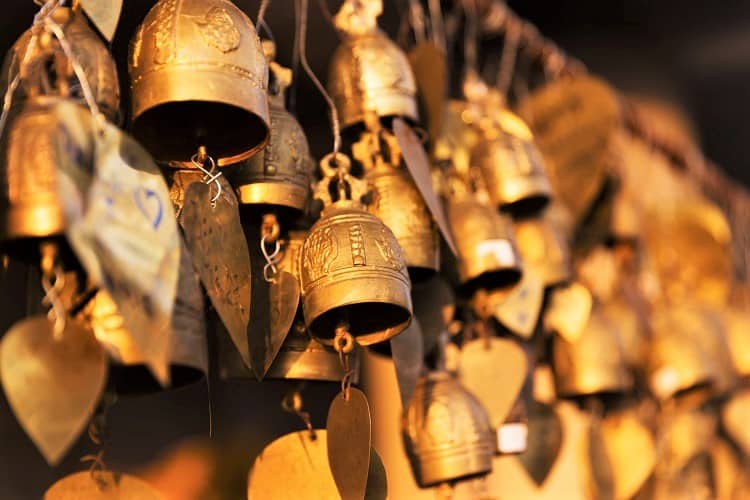 This one is made entirely of brass and, as with the large big Buddha, faces eastward toward Chalong Bay and Phang Nga Bay beyond.
Whilst walking around the base of the Big Buddha, you will also find various donation boxes.
This entire landmark has been built by means of donation, so consider parting with some of your Baht to support the ongoing work done here.
Whilst exploring the grounds around the Big Buddha and enjoying the multitudes of viewpoints over Phuket on offer here, you will also find thousands of little bells hung up around the grounds, hanging off tree branches and from the bars of the staircases.
From every bell, you will find a leaf and on this leaf is a single name, a name written down with a single wish in mind.
The tradition goes that if the wind favors their wish, then the bell rings loudly so their wish can be heard. The sound of these little bells ringing adds to the whole feeling of serenity found here.
If you wish you can buy a bell and hang it here, leaving it behind to ring away in the wind on the hilltop.
For a very different atmosphere, you can also see the Big Buddha, Phuket, at night!
---
Late Afternoon: Phuket Night Markets
Even if you are not interested in purchasing anything, we still recommend you go and visit these markets, as it really just is part of the experience.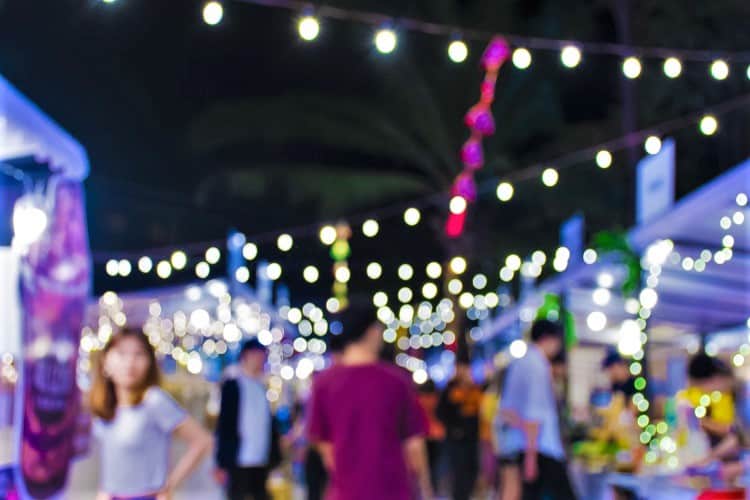 The vendors here at the Phuket town night market expect their customers to barter with them, and as such, they set their prices pretty high, so build up some courage and have some fun with the backwards and forwards game called bartering.
Good luck!!
Tips for visiting Phuket Town Night Market:
Phuket night market location: The main Phuket Night Market is located on Wai-Rat-Hong-Yuk Road in Kamala near the Central Festival.
It is open on Saturday and Sunday from around 4 pm through most of the night.
Try to be there around 4:30 to avoid the crowds.
Parking here is a nightmare, so grab a Tuk-Tuk to drop you off instead.
It can get pretty hot and stuffy in the undercover market area, so make sure to purchase a Mojito to cool yourself down.
Whilst most of the stalls are for tourist purposes and sport goods such as wallets, watches, clothes, and handbags, you can also find here a good mix of Thai culture in the cuisine available for purchase.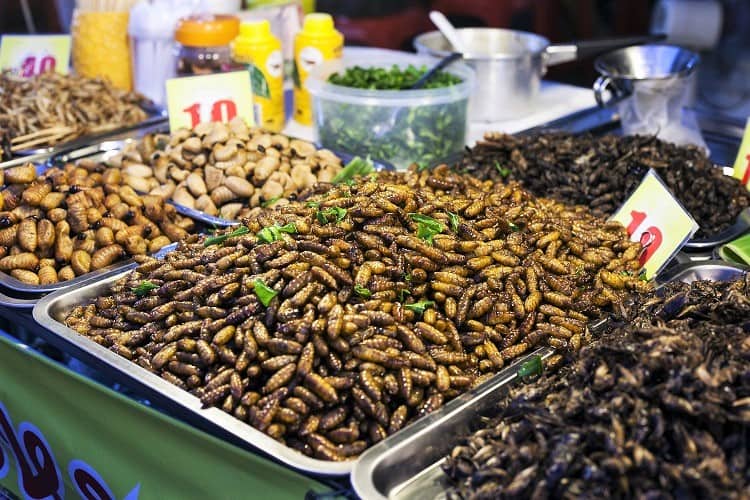 While you're here, check out some of the local delicacies on offer, such as crispy fried crickets, worms and bugs of all sorts. And if you're brave enough, give one a try!
If you have more time to spare, check out this great cooking class with a trip to the market!
---
Night: Patong Beach Bangla Road
Oh yes, the famous and scandalous Patong Beach Bangla Road night market. You simply have to experience this street at night time whilst visiting Phuket.
You will either love it or feel super out-of-place and uncomfortable. Your experience here is simply what you choose it to be. Regardless, it still happens to be the top choice if you are looking for a Patong Beach Nightlife option!
At night time, Bangla Road is shut down to local traffic and the road quite simply gets absolutely packed to the brim! It becomes full of tourists and entertainers, together with anything and everything in-between.
Here you will find 400 meters of neon lights, loud music booming out from the multitudes of bars, cheap beer and girls dancing around poles.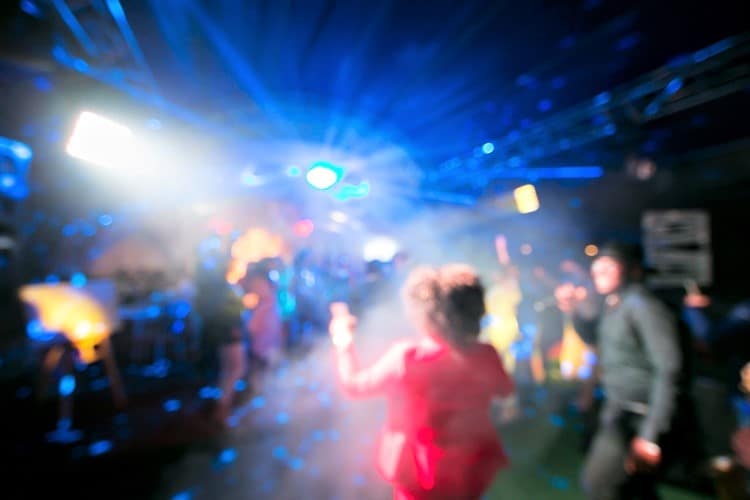 You will have pamphlets shoved in front of your eyes in a bid to lure you to the closest Ping-Pong show, as well as entertainers who would love to pose with you for money.
It is one lively street that will awaken every single sense in your body! Some might only go for a quick walkthrough, cruising from one end to the other – whilst others will go back night after night after night, enjoying the atmosphere as well as all it has to offer.
Hop on a disco Tuk-Tuk back to the comfy cozy room at Novotel Phuket Resort and rest up, because tomorrow is gonna be a full but adventurous day in the land of Thailand!
---
Day 2 in Phuket
On your second of 3 days in Phuket, we have a really relaxing itinerary for you! Spend the day on the beaches of Phuket, slathered in sunscreen and embracing that island lifestyle.
Morning: Visit a beach
Phuket has some incredible beaches. Picture white sand, warm turquoise waters, and exotic vegetation forming an ever-present backdrop!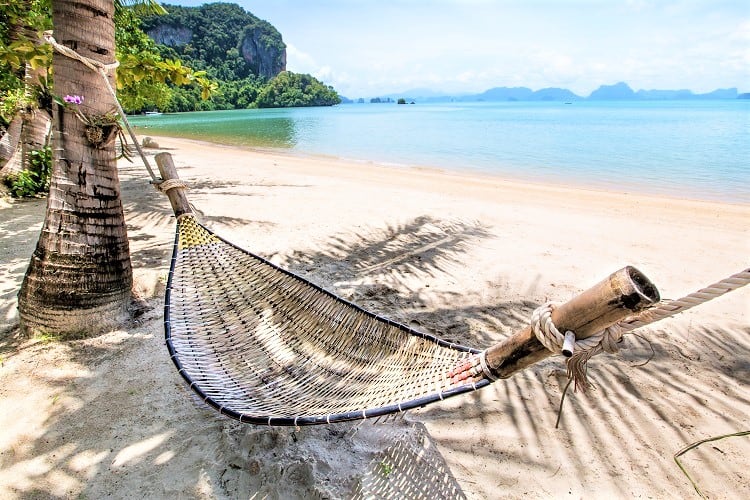 Depending on what you're looking for, choose between beaches with plenty of other tourists enjoying the sun, and secluded beach with barely a soul around.
Phuket's a pretty big place, so you should also see which beach you like that's close to where you're staying or where you want to be!
Our absolute favorite suggestion is Freedom Beach. It's breathtaking, an oasis nestled along Phuket's west coast. Only a few minutes from Patong Beach, the tiny alcove offers a surprising amount of things to do, and some of the best beach relaxing on the island!
For more great options, check out our post on the best beaches in Phuket!
---
Afternoon: Go Jet Skiing
Phuket is one of the best island destinations where you can get your blood pumping! One of our favorite things to do in Phuket, Thailand, is jet skiing. You'll soar over waves, and zip up and down the coast, with full control over your own aquatic vehicle!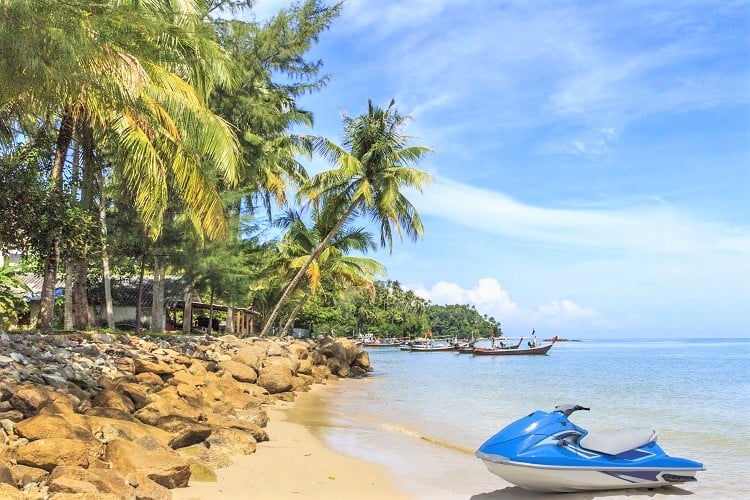 You can rent a jet ski for an hour or two, and spend some time on the water. Be prepared to get splashed! And don't worry about falling off – if you do, the jet ski will stop immediately, and you can just swim to it in the warm water, kept afloat by your life jacket. This is one of the most adventurous things to do in Phuket!
As you flit along, you'll have great views of Phuket's tropical coastline, making it the perfect destination to try jet skiing for the first time or get back on the horse.
For more adventurous ideas, check out our post on the top what to do in Phuket, Thailand here!
---
Evening: Get an authentic Thai Massage
In Phuket, you can even get a massage at midnight! A wonderful way to end of the day is to go for a traditional or Thai massage, coaxing out all the aches and pains that are just starting to leave your body now that you're finally on vacation.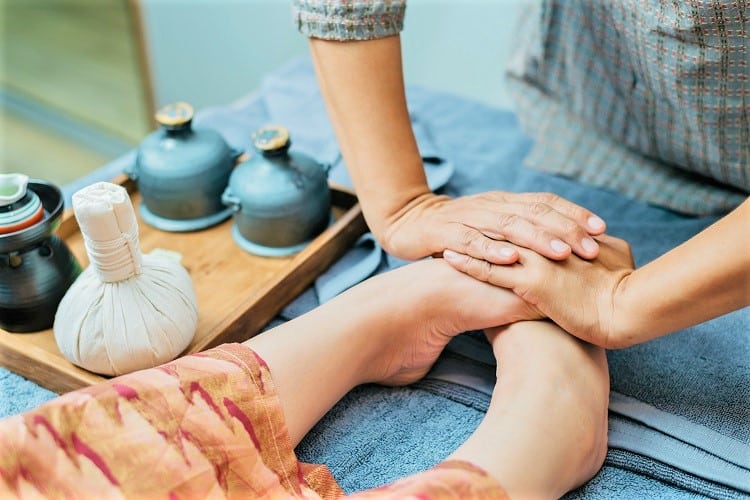 This is the perfect after-dinner activity, and you will be able to find a massage parlor close to your restaurant or hotel. In fact, many Phuket hotels have in-house masseuse, so you may not have to go more than a few steps out the door!
While you're there, try feeding the fish with your feet! This strange activity can be done in many of Phuket's massage parlors – you simply dip your feet into a glass tank full of tiny fish, who then eat off all the dead skin from your foot.
Don't worry, it doesn't hurt. It just tickles and feels a bit intimidating to see the fish rise to the top of the tank as you lower your feet. It's an unusual experience, and well worthwhile!
---
Day 3 in Phuket
On your last day, enjoy one of the very best Phuket, Thailand, things to do! Take a day trip, and see the surrounding area.
Phuket is surrounded by some of the most beautiful little islands in the world, with sheer limestone cliffs rising above coral-rich oceans.
You can't visit Thailand without visiting one or two of these.
James Bond Canoeing Tour
This full-day tour is an amazing way to spend your last day in Phuket! Explore beyond the island, and see some of the most picturesque parts of Thailand.
The canoeing tour is definitely one of the best day trips from Phuket. If you need more convincing, you can check out our full James Bond Island tour review!
There's so much more going on in this tour than just canoeing! You'll cruise over to the incredible island of Kho Panak, where you can swim in the lagoons and explore hidden caves.
When you reach the famous James Bond Island, you'll discover a lush mangrove forest and see ancient rock paintings on the island! Of course, you'll also have to take lots of photos to show the folks back home that you and James Bond have been in the exact same spot.
After relaxing with a delicious buffet lunch on the boat, embark on a kayaking voyage around Hong Island.
This leisurely day spent among the islands of Thailand is one of the most relaxing and invigorating experiences you can imagine! Sun, sand, and sea – what more could you want?
If you are interested in this one, you can book your James Bond Canoeing Tour here!
---
Final Words
With such a perfect 3 days in Phuket, you'll never want to leave the island paradise! It effortlessly combines big city fun and adventure with island-style relaxing to make for the perfect budget destination.
Families, solo Phuket travelers, and groups will all have so much to do and enjoy here. We know we loved it with our family and would go back to this exotic Thai haven in a heartbeat!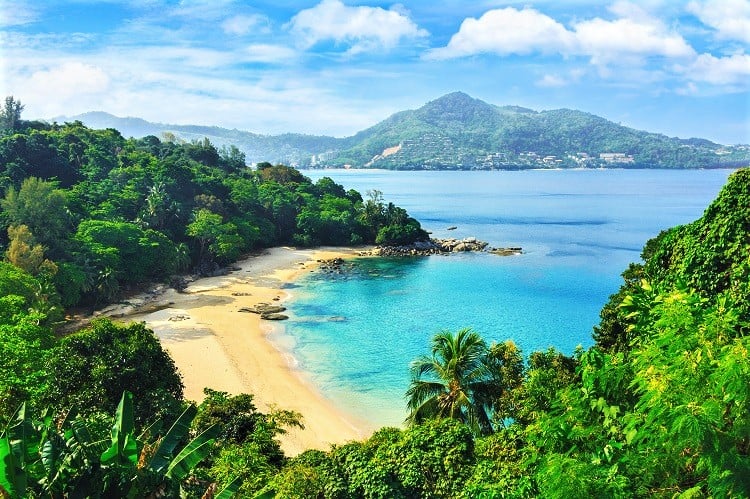 Take a day tour to explore the diverse archipelago. Spend hours lazing on the beach and catching that perfect tan. Get your blood pumping with some adventure activities! Whether you're spending a week in Phuket, or just a few days, this is the perfect 3 day Phuket itinerary!
---
Further reading:
For more information on Phuket, check out some of our post here:
---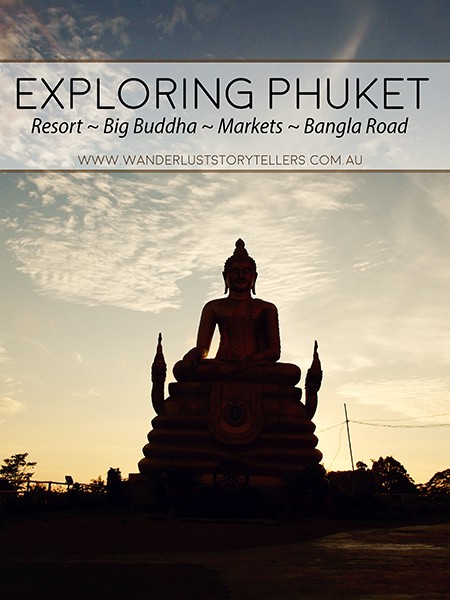 ---