If you are planning your next holiday and are considering a trip to Thailand for the first time, you may be feeling a little anxious.
Traveling to a new country for the first time can be overwhelming, especially if you plan to venture out and explore rather than just staying in one place or in the resort or hotel you have booked.
Knowing where to travel and which places are best to visit when you have a whole new country to explore can seem like a mammoth task, so we have created this list of the best places that all first-timers traveling to Thailand should visit.
In this guide you will learn more about the following destinations:
Best Place to Visit in Thailand for First Timers
I love Thailand and have traveled to many places that Thailand has to offer, some of which I did not enjoy, but there are so many amazing, must-see places that will make your first-time holiday to Thailand unforgettable.
As with any destination, there are touristy and non-touristy places in Thailand. When it comes to the latter, you will find that many of the locals do not speak much English. So, if you want to make your trip even more exciting, it is worth taking the time to learn Thai language online before you head off on your adventure.
Below you will find a list of all the best places to visit in Thailand that I have sorted according to my recommendations, so Phuket has my top recommendation!
TIP: If you're in Australia, you can get a prepaid travel SIM card for Thailand so you don't need to think about buying a SIM when you land!
1. Phuket (For Great Beaches and Fabulous Day Trips)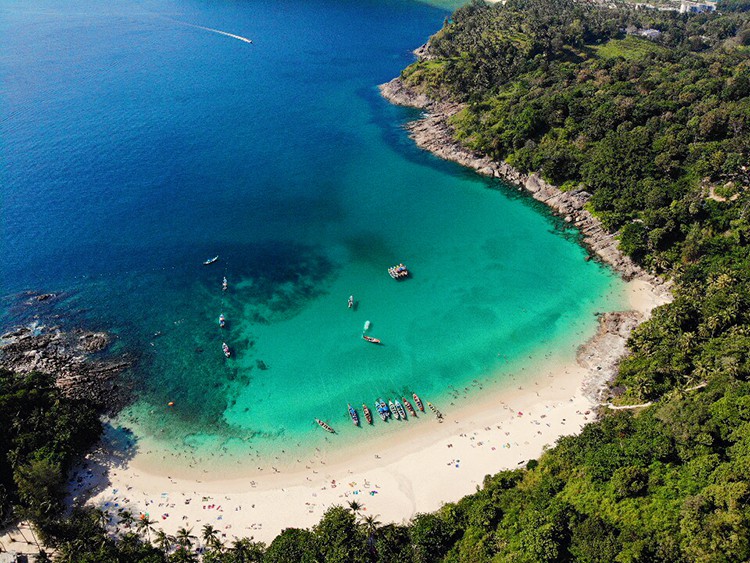 Phuket is considered the most popular island in Thailand for good reason! Its gorgeous warm blue water and exotic, thick vegetation draw visitors from all over. But that is not all that Phuket has going for it; there are lots to do here for everyone!
You will find some amazing restaurants and food stalls that all serve authentic Thai food. If you enjoy experiencing the nightlife, you will not be disappointed as Phuket's beach nightlife is world-famous. The views are phenomenal, and there are so many adventurous things to do in Phuket!
Of course, you can't head to Phuket without visiting Phuket Old Town and spending your time lounging around on one of the beautiful beaches in Phuket.
We have included all the places you can visit close to Phuket, which means that you can easily create a fully packed itinerary for your time here and not have to travel too far to have a great time.
We recommend 3-7 days in Phuket. We have a handy 3-day Phuket itinerary that you can grab to make your planning a lot faster and easier.
– How to Get to Phuket
The easiest way to get to Phuket is by air. Although Phuket Airport is an international airport not all airlines fly directly to Phuket so you may have to fly via Bangkok.
Most travelers fly into Bangkok and then use a local connecting flight to Phuket Airport as there are many domestic flights each day out to Phuket. There are many low-cost airlines in Thailand that fly to Phuket so you can pick up a flight relatively cheaply.
If you travel via air, once you reach Phuket International Airport you can travel to your accommodation via taxi, minibus, or even car rental. Most hotels provide airport transfers so if you have already made a booking, traveling to your hotel may be quick and easy!
There are other ways that you can reach Phuket via taxi, bus, or ferry. Journey times and costs for these will differ depending on where you are traveling from.
Below is a list of travel guides from various places to Phuket:
– How to Get Around Phuket
Getting around Phuket is super easy as there are many options available to you.
Hire a motorbike from the many beach areas. You do not need a motorbike license and may not even be asked if you have one when you hire a scooter. Often a driver's license is sufficient and all you may need. The cost to hire a motorbike starts from around 200 Baht per day.
If you fancy transport with more than 2 wheels, then you can hire a car. The cheapest options are the Suzuki jeeps which start at around 800 Baht per day. Note that you will need an international driving license to hire a car as this is required by law.
If you do not fancy driving yourself around you can either jump in an unmetered taxi, which means that you will have to haggle the price beforehand. There are also local buses that travel from Phuket city to many of the beaches and cost around 10 Baht.
You can also jump into a Tuk-tuk. Again, make sure to agree on the destination and fare before you set off and be sure not to be charged per passenger but rather the location traveled to.
If you want to explore the islands around Phuket, you can hire a boat from Chalong Pier and Rawai. The price does depend on the number of passengers, how far you will be traveling, and how long you want to hire the boat.
There are a few boat options that you can choose from. The traditional Thai Longtail boats are a lot cheaper than speedboats and of course, are not as comfortable or as fast. No matter what you decide on, make sure to check with the driver that life vests are provided.
As a rough guide, Longtail boats can be hired for 1,000 to 3,000 Baht and speedboats can cost between 8,000 to 25,000 Baht.
– What to do In Phuket for First-Timers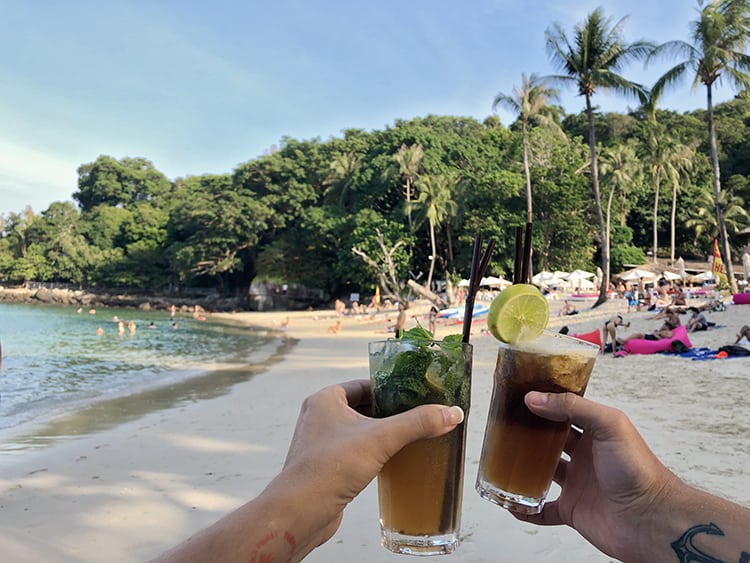 The best thing about Phuket is the amazing beaches which are some of the best beaches that the whole of Thailand has to offer.
You may at first think that the only activity to do at the beach is take a dip or lay on a sun lounger, but this is where you will be pleasantly surprised.
No matter what you fancy doing at the beach, there is bound to be a beach for you as some beaches are secluded and quiet or you can head to a beach that has amazing cocktail bars, luxurious massages, or crystal clear water for snorkeling.
If you feel even more adventurous there are many beaches that have loads of water sports on offer from parasailing, banana boating, or kayaking!
Want to read more then check out our blog post for the best beaches in Phuket that will definitely help you decide on which beach is best for you!
– Best Places to Stay in Phuket
Looking for more hotel recommendations? Here is a list of the top hotels in Phuket on the beach. Traveling with kids? here is a list of the best family resorts in Phuket.
---
Other Great Places to Visit Close to Phuket
The great thing about Phuket is that there are some really great islands that are within easy reach. So if you only want to spend a few days on the island of Phuket and then explore some areas that are close by, we have a great list of places to visit that are close to Phuket.
1a) Koh Phi Phi (To be WOW'ed by Nature)
– Recommended by Miss Tourist –
Koh Phi Phi, the largest of the Phi Phi islands, is the perfect place for first-time visitors to Thailand as it offers a little bit of everything you would expect from this incredible country.
Warm turquoise waters lapping white sandy beaches, huge limestone cliffs towering over the sea, traditional wooden boats waiting to take you on wonderous adventures, and of course, delicious Thai food that will alight your taste buds!
Being one of the more tourist-adapted islands in Thailand, here you can have all the typical experiences you would expect without compromising on the standards of living you are accustomed to.
– How to Get to Koh Phi Phi
Located in the Andaman Sea between Phuket and Krabi, Koh Phi Phi can be accessed by speed boat or ferry from either city in around 90 minutes.
What's more, there are many different villages and beaches to choose from when looking for accommodation in Koh Phi Phi, but Ton Sai is a great place to start as it is the bustling heart of the island.
– How to Get Around Koh Phi Phi
Ton Sai in Koh Phi Phi is sandwiched by two beaches and everything is within walking distance, perfect for first-timers who want to experience as much as possible.
– What to do In Koh Phi Phi for First-Timers
Although the island is known as a great place to have fun and party the night away there are also some great day trips that you can take from Koh Phi Phi.
Jump on a speedboat tour and you can visit Viking Cave or go snorkeling at Loh Samah Bay. If you fancy some more adventurous water sports you can hop on a water sports experience tour where you can enjoy water sports like tubing, waterskiing, and wakeboarding.
You can even hire a kayak and paddle out on the crystal blue ocean for the day!
– Best Places to Stay in Koh Phi Phi
---
1b) Koh Yao Noi (For Seclusion and Peace)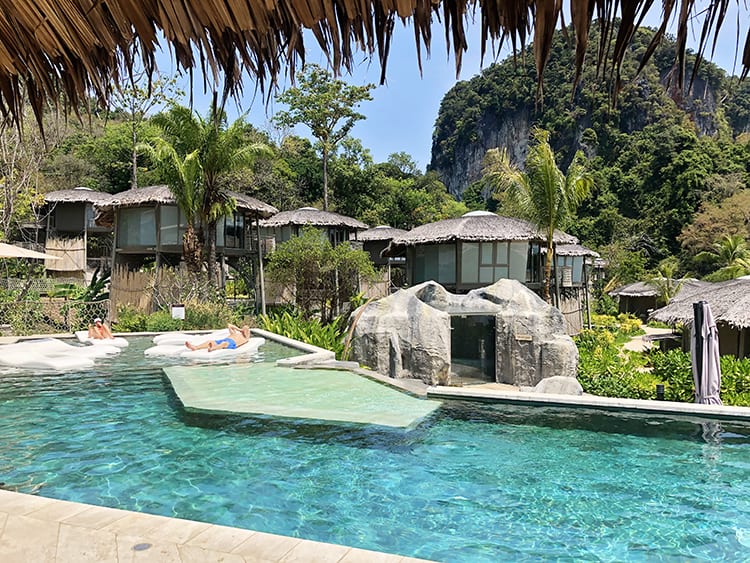 If you want to really escape Phuket to an island that will give you the feeling that you are in a hidden paradise, then head to Koh Yao Noi.
This island doesn't give you any cultural experiences. It is tiny. It is really for anyone who wants to be in a beautiful place, small in size, quiet, and with great day trip offerings.
– How to Get to Koh Yao Noi
In order to get to Koh Yao Noi, you will need to take a speedboat from Phuket. Check with the resort you are staying with to see if they include transfers if you wish to stay a few nights.
For day trips, you can grab all the information you need about how to get to Koh Yao Noi from Phuket here.
– How to Get Around Koh Yao Noi
This island is so tiny, and if you do fancy exploring, the best way is to hire a scooter and just travel around the island in your own time. Travel the roads that circle around the island or venture down a side road or two if you fancy "getting lost" for a truly local experience.
You can hire a scooter for around 200 Baht for the day. Make sure that you also get a helmet when you hire the scooter and get insurance (just in case!).
– What to do In Koh Yao Noi for First-Timers
Despite the island being super tiny, there is still a lot that you can do here if you have had enough of chilling on the beach or next to the pool.
There are many boat tours or rides that you can do from this island along with water sports like kayaking and snorkeling.
One of the greatest ideas is to get up early and watch the gorgeous sunrise on the east side of the island! Such an awesome way to start the day.
– Where to Stay on Koh Yao Noi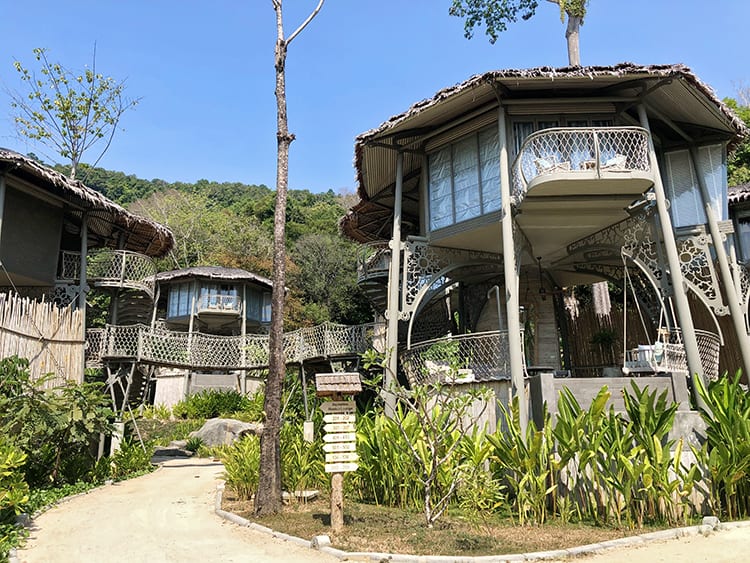 Luxury: We recommend Treehouse Villas (For Couples). It is the ultimate place to stay that will deliver luxury and romance right on the beach. Click Here to Book or read our Treehouse Villas review here.
Mid-Range: We recommend the Laguna Villas Yao Noi which is great for families. The villas are large and spacious for when you are back in your room and not relaxing next to or in the infinity pool or on the beach that is just a 1-minute walk from the hotel!
Budget: We recommend the Connexion Hostel with the most amazing host you may not want to leave.
Looking for more? We have compiled a list of the best hotels in Koh Yao Noi here.
---
2. Bangkok (For History & Cultural Shock)
– Recommended by The Beau Traveler –
It is almost impossible to skip Bangkok if you decide to travel to Thailand. Not only is it most likely your first stop in the country, but Bangkok also has so many things to offer for first-time travelers in Thailand.
No matter what kind of traveler you are, there is always something for everyone in Bangkok.
– How to Get to Bangkok
Many airlines fly into Bangkok before flying onwards to other destinations in Thailand. This is why it is such a great stop to include for first-timers.
If you are flying into Bangkok, grab the opportunity and spend 2-3 days there before moving on to your next destination.
You can also find some great ideas of what other places to include close to Bangkok in the section to follow – an easy way for you to throw together your itinerary (note if you add more destinations close to Bangkok you will need more days in Bangkok to fit it all in during your visit).
– How to Get Around Bangkok
As the capital city of Thailand, Bangkok has the most advanced public transportation system compared to other places in the country.
You can take advantage of their public buses as well as BTS Skytrain and MRT Subway to travel on a budget, experience local transportation like tuk-tuk or boat services, or conveniently use a taxi to get around.
– What to do In Bangkok for First-Timers
Whether you travel to immerse in their culture or prefer the nightlife in the big city, Bangkok offers various activities for their visitors. On top of that, it is also the street food heaven where you can eat anything from the classic pad thai to roasted scorpion nearby.
If you're into shopping, don't miss the weekend market in Chatuchak to get anything from clothes to home decor at an affordable price. Livotel Hotel Kaset Nawamin is recommended to stay nearby, although the location is relatively far from other Bangkok's must-visit spots.
Visiting Thailand is nothing without experiencing the authentic Thai massage in the land of smiles, so don't forget to pamper yourself at the nearest spa parlor around Asok in Bangkok. However, if you're more interested in exploring cultural places then visit places like the Grand Palace or Wat Phra Kaew, and you can find accommodation around Bangkok Old Town to get around.
Do you have time for a day trip? My favorite day trip was one that visited the Damnoen Saduak Floating Markets. It is such a truly unique experience and gives you great insight into some delicious Thai fruits, veggies, foods, and snacks. Go with an empty stomach so you can try out as many dishes as possible! Read more about Damnoen Saduak Floating Markets day trip here.
– Where to Stay in Bangkok (Perfectly Situated for Easy Access to Attractions)
Luxury: Chakrabongse Villas (Luxury) is a hidden gem in Bangkok, you will think you are in a traditional Thai village as you are surrounded by gorgeous tropical gardens.
Mid-Range: Shanghai Mansion Bangkok – SHA Extra Plus will give you the unforgettable luxury and a great location in Bangkok.
Budget: Last but not least, if you're a budget traveler who's in for the nightlife, head over to Khao San where you can find the BED STATION Hostel Khaosan to stay for a night or two!
---
Other Great Places to Visit Close to Bangkok
If you are staying in Bangkok for a few days, we definitely recommend venturing further afield and out of the city itself. The list of places below is great for trips to get away from the absolute manic hustle and bustle of Bangkok!
2a) Sukhothai (UNESCO World Heritage Site)
– Recommended by A Social Nomad –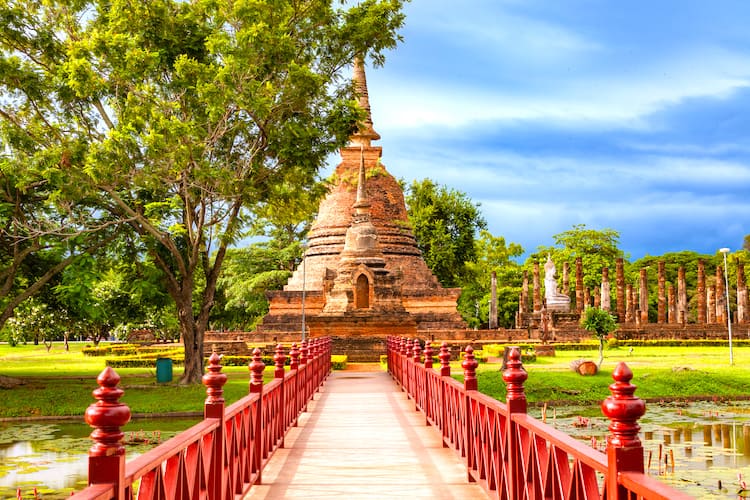 The name of this ancient city, Sukhothai, means "Rising of Happiness" and it's generally regarded as the first Siam capital, established in 1238 on the site of an original Khmer empire.
Today it is a UNESCO World Heritage site, and its generally recognized as one of Thailand's best-maintained sites (and you should visit it for that reason alone!).
– How to Get to Sukhothai
It's a perfect place to visit for first-timers to Thailand as it's easy to get to and easy to explore. There are daily buses here from Bangkok's Mo Chit bus station. Buses take about 7 hours and cost around 500 Baht.
– How to Get Around Sukhothai
If you are taking a bus from Bangkok or Phitsanulok to Sukhothai, you will likely be getting off at Sukhothai Bus Terminal which is located in Sukhothai New Town.
To get to Sukhothai Historical Park, which is 12 km away you will have to take the local Song Taew (local public transport) which travels between the old and new city every 30 minutes.
– What to do in Sukhothai for First-Timers
For a first-timer to Thailand, you'll get an introduction to some of the histories of Thailand in a very well-maintained set of locations.
You can explore either by going on a guided tour, or you can rent bicycles and cycle around. You can even take the little rickety wooden bus that goes around the various parts of the ancient city.
– Where to Stay in Sukhothai
It is best to stay in the city of New Sukhothai, which is where the buses come into, and you'll be able to rent bikes or pick up a tour from your accommodation. Below are the two best-recommended options if you head to Sukhothai.
---
2b) Ayuttaya (To See The Ruins of an Ancient City)
– Recommended by Veggie Wayfarer –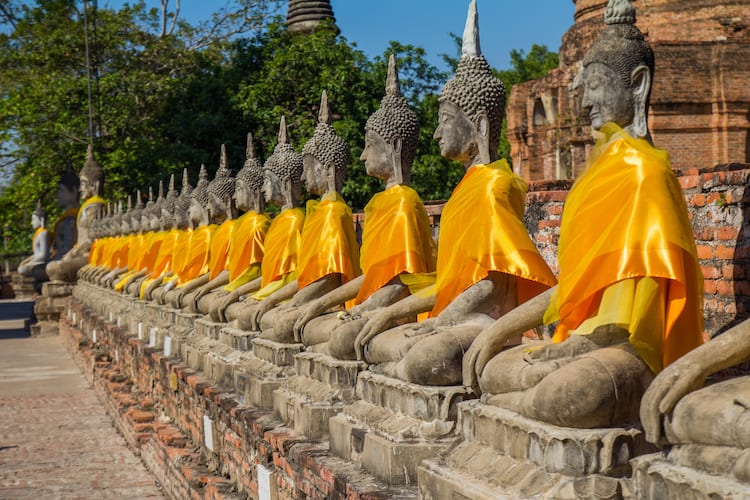 Ayutthaya served as the second capital of Thailand, dating back to the 14th century when most of the temples were built. Over 400 of these historical temples have survived in varying states of decay in the 289-hectare park.
The ancient Thai capital of Ayutthaya is the perfect place for first-time travelers to Thailand. It is close to Bangkok, choc-a-bloc full of culture and delicious food as well as really easy to navigate around.
– How to Get to Ayutthaya
Getting to Ayutthaya is easy enough from Bangkok, a simple minivan from Bangkok Mo Chit station takes you straight to the entrance of the park (get off at Naresuan Alley which is the very last stop of the bus).
– How to Get Around Ayutthaya
Once you get to Ayutthaya getting around is really easy. You should consider renting a bike for 50 TBT a day at one of the many bike rental places dotted around the Historical Park.
– What to Do in Ayutthaya
The temples Ayutthaya are very different, from a 42-meter-long Buddha (Wat Lokaya Sutharam) to intricately carved white temples (Chedi Phu Khao Thong) the Ayutthaya site has a temple that will be sure to sway even the most ardent temple critic.
Make sure to bring plenty of water, a comfortable pair of shoes for walking on uneven ground, a set of modest clothing (required for certain temples), and cash to pay the entrance fees to temples (varies from free to 50 TBT).
– Where to Stay in Ayutthaya
Luxury: For a luxury accommodation option that offers stunning, modern accommodation book your stay at the Baan Pomphet which is in a great location close to all the sites, you will want to visit.
Mid-Range: For mid-range accommodation, the Cattani's Riverside Home is a gorgeous villa set alongside the Chao Phraya river.
Budget: If you are more budget conscious but would still like to have great accommodation in a perfect location then check out Siri Guesthouse.
---
3. Koh Samui (For Luxury and Beaches)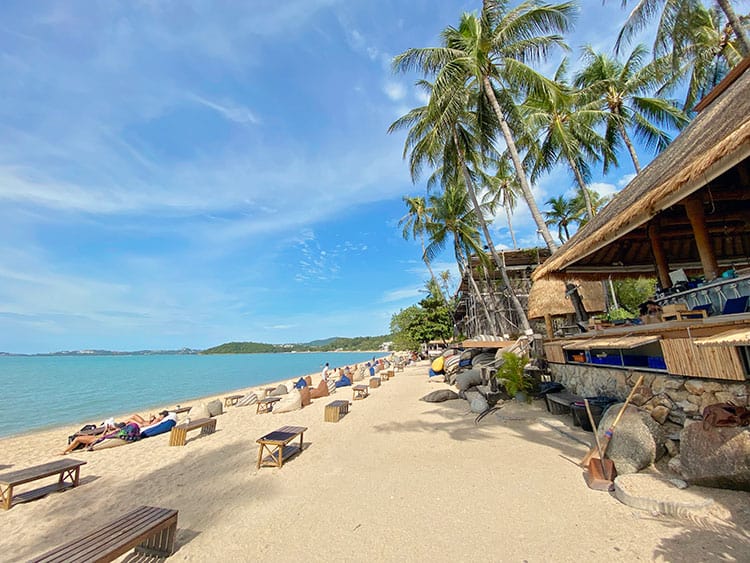 Koh Samui is the second largest of the Thailand Islands, and despite its size, it is still a great place to visit, with loads of stunning beaches and activities to do.
The island has palm-fringed beaches with pure white sand and crystal blue water.
Wondering when to visit this island so you can ensure you get those beautiful blue skies? here is our post on the best time to visit Koh Samui.
– How to Get to Koh Samui
Koh Samui has an international airport, located 2 km north of the island's main village Chaweng. The best way to reach Koh Samui from India is to take a connecting flight via the capital, Bangkok
If you have already left Bangkok and are closer to Phuket, you can travel to Surat Thani and hop on a ferry over to the island of Koh Samui.
You can find all the details you can possibly want on how to get to Koh Samui here.
– How to Get Around Koh Samui
Like the many other places in Thailand, getting around is pretty easy. You can use the most popular type of local transport, Songthaews, or grab a tuk-tuk.
If you want to travel on your own time and have a little more control, you can hire a scooter or a bicycle.
– What to Do in Koh Samui for First Timers
Koh Samui has activities for all ages, from scuba diving to snorkeling to kayaking or even kite surfing.
For a cultural experience, you can discover the Secret Buddha Garden (Tarnim Magic Garden), which is full of statues and Buddha sculptures or explore the Phra Yai Temple Complex.
Take a walk in nature and trek through the tropical forest to discover three of Koh Samui's local waterfalls.
Find a full list of the top things to do in Koh Samui here.
– Where to Stay in Koh Samui
---
Other Great Places to Visit Close to Koh Samui
If you wish to travel to an island that is slightly smaller and not as busy as Koh Samui then here are a few places that are great to visit.
3a) Koh Tao (For Amazing Diving and Snorkeling Spots)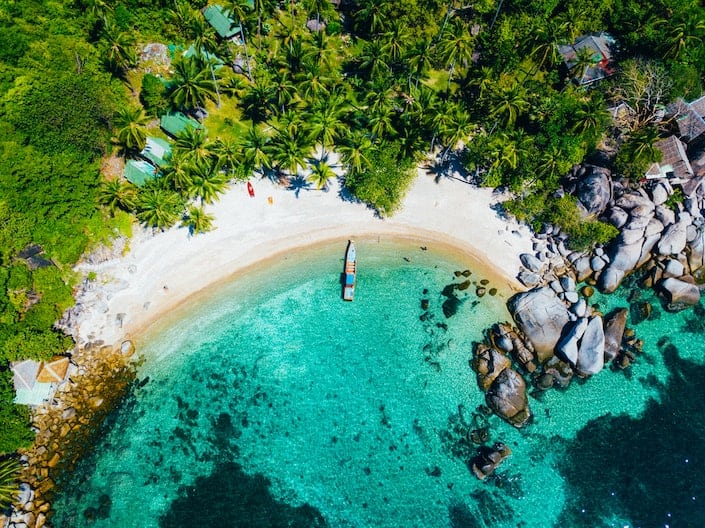 Ko Tao, also known as Turtle Island, is known for its tropical coral reefs, with species including whale sharks and rays it is a great location for scuba diving.
– How to Get to Koh Tao
The only way to get to Koh Tao island is via boat as there is no airport on this island.
There are boats that leave from Chumphon and Surat Thani on the mainland. However, if you have already left the mainland you can also get a boat to Koh Tao from the islands of Koh Sumai or Koh Phangan.
– How to Get Around Koh Tao
Koh Tao is a super small island and it is possible to walk the whole island in a matter of 3-4 days! What better way to explore and see what the island has to offer.
By exploring by foot you can head to places that are not accessible by other means. You will get to see the island from some of the most extraordinary viewpoints.
If walking is not your preference you can grab a local taxi or even a boat taxi. If you want to explore in your own time rent a motorbike or bicycle.
– What to Do in Koh Tao for First Timers
Koh Tao has some of the best diving waters that Thailand has to offer. There are many options available for those working on becoming certified divers to those who just want to have a 1-day experience to tick scuba diving off their bucket list!
For a glorious view over Chalok Baan Koa Bay and Shark Bay, take the quick 15 – 20 minute hike up John Suwan viewpoint. Best to do this during the cooler part of the day so you are not battling the heat and humidity at their worst!
For the more adventurous head to Tanote Bay for some cliff jumping.
We love combining Koh Samui, Koh Phangan, and Koh Tao into one visit, however, if you are limited in time you might prefer to visit only one of the three islands. Our post on whether you should visit Koh Tao vs Koh Samui might be helpful.
– Where to Stay in Koh Tao
Luxury: Phandara Luxury Pool Villas offers privacy and stunning views with only 3 luxury pool villas overlooking the tiny picturesque island of Nang Yuan. From your own pool or living room of your villa, you can admire the sunset.
Mid-Range: Ecotao Lodge offers gorgeous views and comfortable accommodation, you can even view the jungle whilst showering!
Budget: The Dearly Koh Tao Hostel-SHA Plus offers super comfortable and clean accommodation with free shuttle service to the beach.
---
3b) Koh Phangan (For Full-Moon Parties and Beautiful Nature)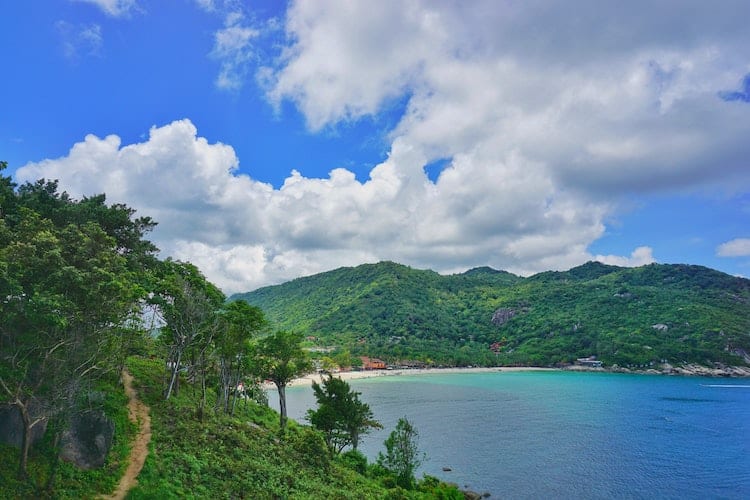 Koh Phangan is one of the most popular islands that is visited by travelers to Thailand especially when it has its monthly Full Moon Party.
This night-long celebration, which is tied to the lunar calendar, draws travelers to Sunrise Beach however for a quieter experience head to the north coast where you will find white-sand beaches including Hat Khuat and Hat Thian.
– How to Get to Koh Phangan
There is no airport on Koh Phangan so the easiest way to Koh Phangan is from Koh Samui as it is only 12 km away on a quick ferry ride.
You can also reach Koh Phangan from Bangkok by taking a flight to Surat Thani and then hopping on a ferry to the island.
– How to Get Around Koh Phangan
The two most popular ways to get around the small island are either by scooter or Songthaew taxi although the latter can be quite expensive.
The cheapest way around is by hiring a bicycle as bike rentals on Koh Phangan can be found on every corner.
– What to Do in Koh Phangan for First Timers
Although the island is known for the full moon parties there are still a great many activities you can do to keep busy when there is no full moon party.
A must-do is the Thong Sala Night Market. Here you will be able to experience the culture but you can also have a taste of the traditional Thai food from one of the local food stands.
During the day you can hire a kayak to tour around the island. Of course, like most of the islands, you can also enjoy snorkeling or even some diving.
One of the best places to explore is the amazing local waterfalls (of which there are 7). Immerse yourself in gorgeous nature and enjoy the tropical landscape of the island by hiking up the Khoa Ra Mountain.
– Where to Stay in Koh Phangan
Luxury: Kupu Kupu Phangan Beach Villas & Spa by L'Occitane – SHA Plus is just a mere few steps away from the white sands of Naiwok beach. Not only does the resort have luxury accommodation but the resort has its own private beach!
Mid-Range: The Princess Paradise Koh Phangan has a great pool overlooking the beach so if you fancy staring staying cool whilst staring out to the beautiful ocean book a room here!
Budget: For the more budget-conscious traveler, Thai Terrace Bungalow not only offers affordable accommodation but is super clean and comfortable.
---
4. Krabi (To See the Massive Limestone Cliffs Along the Water Edge)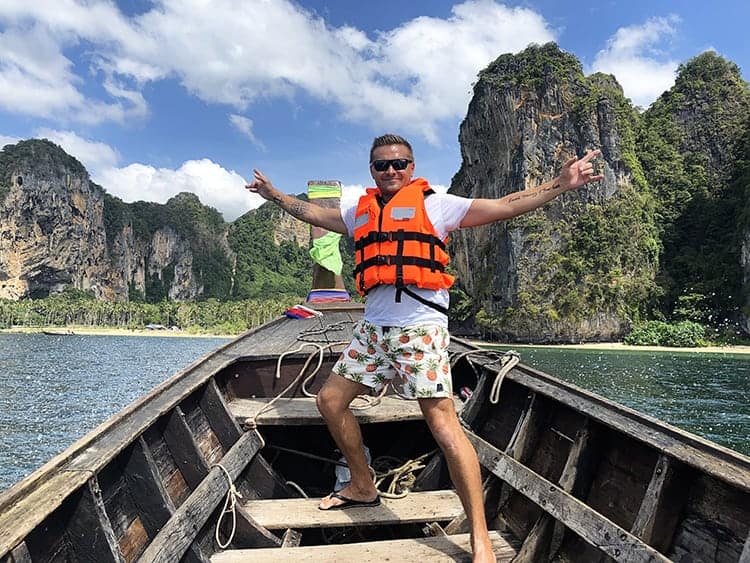 Krabi is a very popular destination for many who travel to Thailand for a holiday as it offers a fantastic combination of fun and luxury, for families, couples, and solo travelers
– How to Get to Krabi
You can easily get to Krabi from either Bangkok or Phuket.
From Bangkok: The easiest way to get to Krabi from Bangkok is to fly. Domestic flights are generally pretty cheap in Thailand and are worthwhile for the time they will save you. There are however other options via train or bus. Grab all the info on how to get from Bangkok to Krabi here.
From Phuket: The fastest way to get from Phuket is via speedboat. The journey will take 1.5 hours. You could also drive, take a bus or grab a taxi. Grab all the info on how to get to Krabi from Phuket here.
– How to Get Around Krabi
If you book an activity or tour through your hotel, chances are you will be picked up and dropped back when you are done. However, if you want to explore the island on your own there are a few options.
Jump on the local minibus taxis that travel between one location and the next in Krabi. You can also get the local Songthaew taxi which is the cheapest way to get around Krabi when you are traveling long distances.
For quick short trips, it can be cheaper to hop on a Samlor (motorbike with a sidecar for more than 1 person). Be sure to agree on the price beforehand and keep in mind that the driver usually charges per person and not per ride!
If you do some island hopping then you can catch a ferry or boat.
– What to do in Krabi for First-Timers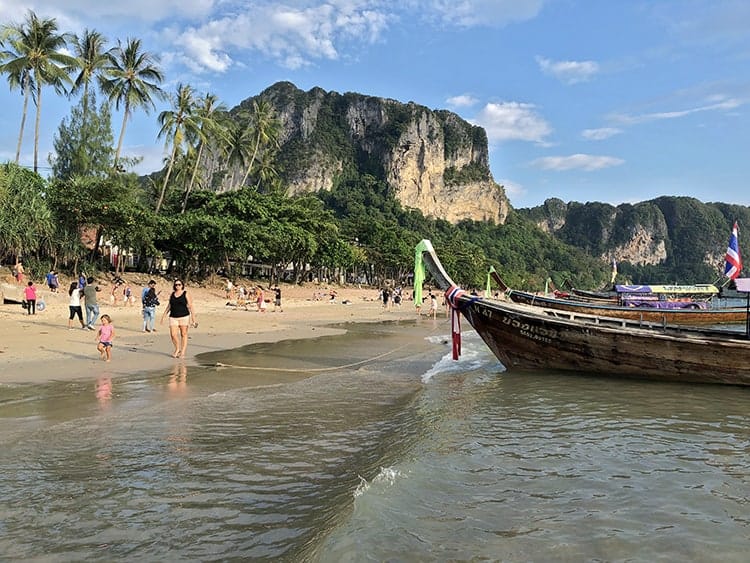 One of the biggest attractions to Krabi is the stunning beaches! Railay beach is said to be one of, if not the best beaches in Krabi. The beach is only accessible by boat as it is surrounded by large limestone cliffs so you cannot reach it from the mainland. You can even do a rock climbing tour on this beach for the more enthusiastic!
For other beautiful beaches in Krabi be sure to check out our best beaches in Krabi for the ultimate list of beaches to visit.
The Thung Teao Forest Natural Park is a must-see as it has spectacular plants and animals. Fancy a dip in some hot springs, then head to the Klong Thom Hot Springs.
Looking for more ideas on what to do in Krabi? Check out the top 10 things to do in Krabi!
– Where to Stay in Krabi
Looking for more ideas? Here is our list of the best hotels in Krabi!
---
5. Khao Lak (For Relaxation on Beautiful Beaches)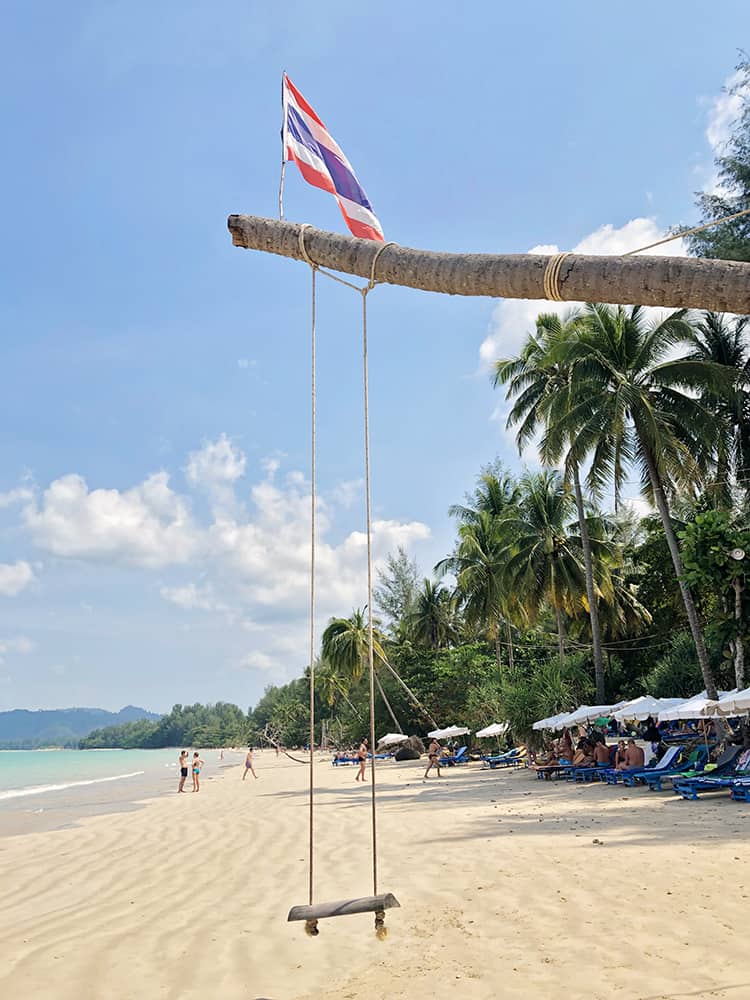 When you first start researching places to visit, Khao Lak may not seem like the most obvious choice as it is historically a small fishing village.
However, now it is one of the most popular places to visit as it not only offers an authentic Thai experience but it has activities for both thrill seekers and sunbathers alike!
– How to Get to Khao Lak
Khao Lak is only 60 kilometers from Phuket which makes it just a hop, skip and jump away and easy to get to. Read our full list of travel options on how to get from Phuket to Khao Lak to see which is best suited for you.
– How to Get Around Khao Lak
The best and cheapest way to get around is by using Tuk-Tuks or local taxis. Make sure to agree on the price before traveling to your destination. Also, remember that although your hotel can book you a taxi or have a taxi available to use, they are generally more expensive.
– Best Things to Do in Khao Lak for First-Timers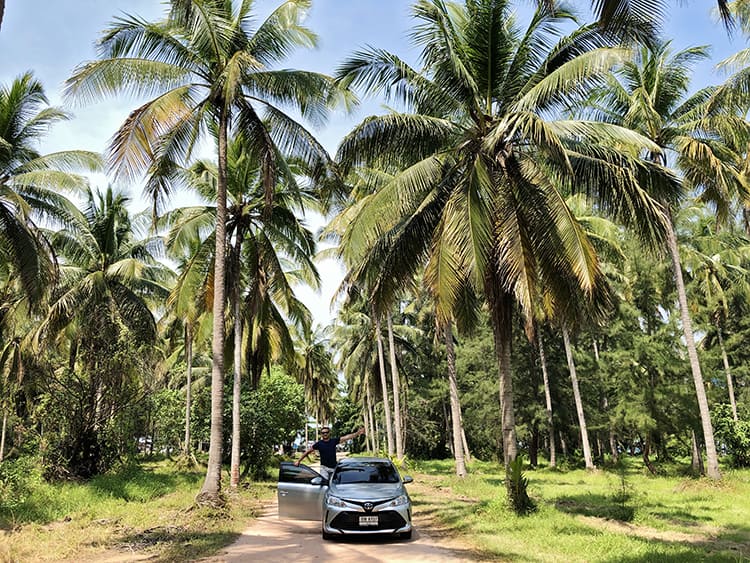 There is a lot to do in Khao Lak from kayaking to diving to snorkeling. You can even try your hand at windsurfing or if you fancy a day trip, you can book an excursion on a catamaran.
For something a little different, make sure to visit the sea turtle nursery – you can head here by yourself or book it as part of a guided tour.
This is just a small list of what you can do in Khao Lak, make sure to check out the top 10 things to do in Khao Lak to plan your visit here and make the most of it.
Of course, like all places in Thailand, there are some amazing beaches so you will want to make sure that you know which are the best beaches in Khao Lak to visit.
– Where to Stay in Khao Lak
Looking for other ideas? Here is our post that looks at the 10 best hotels in Khao Lak.
---
Other Places Close to Khao Lak
Although Khao Lak is an amazingly beautiful destination, you may want to venture to places close by to fill up a holiday itinerary! Below are two places that are within easy reach of Khao Lak either for a day trip or a longer stay.
5a) Phang Nga (For Impressive Views)
– Recommended by Just Travel USA –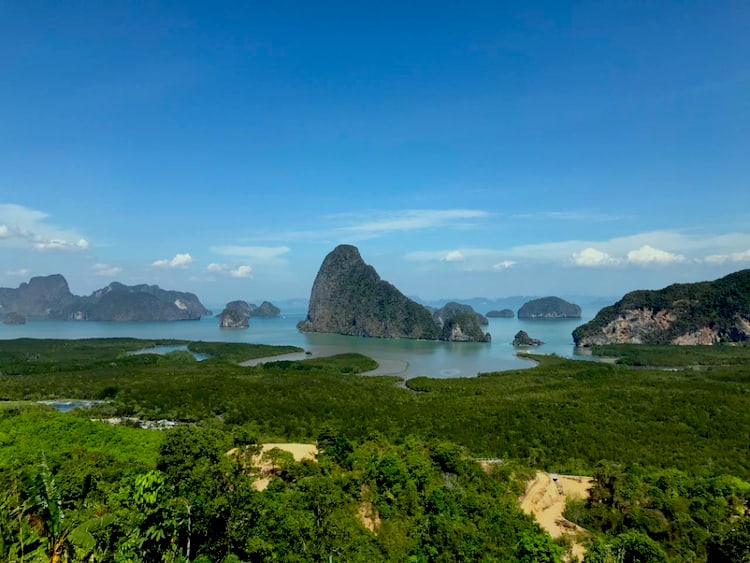 Nestled in the Andaman Sea between Phuket Island and the mainland coast, the Phang Nga Bay is one of the most picturesque areas in all of Thailand. The unique landscape makes this location ideal not only for Instagram photos but also for Hollywood movies. For example, one of the James Bond movies was filmed here.
In addition to its amazing natural beauty, Phang Nga Bay is ideal for first-time visitors to the area, who are not used to water travel. Natural protection on all three sides means that, even in low season, the bay rarely gets big waves, which makes it a suitable destination for all sorts of travelers.
Phang Nga Bay is an excellent choice for both those who are in Thailand for the first time and those who have been before and have seen a lot. There is literally no other place on Earth with similar landscapes.
– How to Get to Phang Nga
The easiest way to reach Phang Nga is from the east coast of Phuket. You can also get there from Phang Nga or Krabi province.
From Phang Nga province, you can take a ferry from Tha Dan Pier to Koh Yao Yai, which takes 45 minutes and costs about $15.
A departure from Phuket is the most common. You can use the ferry from the east coast pier, which costs around $15 or you can visit the bay as part of an excursion group. The average excursion prices are:
Child Ticket: $30
Adult Ticket: $40
Individual Day Tour for Two People: $380
You can also rent a long-tail boat without an excursion, which will cost less than a guided tour at about $160 per day.
– How to Get Around Phang Nga Bay
If you wish to remain on dry land you can hire a van that has a local knowledgeable driver who can drive you around the area. However, the easiest and best way to get around and explore Phang Nga Bay is to book a tour through your hotel. More details of the different tours and excursions can be found below.
– What to Do in Phang Nga Bay for First Timers
Phang Nga landscapes stick in the minds of those who come to Thailand for the first time. It's one of the most beautiful seascapes in Asia. Tourists come here to spend the day surrounded by unique islands, go sailing, or explore the unique marine life.
Typical tours that you can book for exploring include kayaking day trips, luxury cruises on a motorboat, traditional longtail boat tours, and a sunset cruise on a Chinese Junk boat.
Make sure that your tours include the infamous James Bond Island, Koh Panyi, and the cave of the reclining Buddha. If they do not, be sure to check these great places out during your stay or visit Phang Nga Bay.
– Where to Stay in Phang Nga
There are more than 100 islands in Phang Nga Bay, some of which are completely uninhabited. You can go to the bay in a single day from Phuket, which means you will not need extra accommodations.
If you want to stay in the bay longer, then you can stay on the largest island: Koh Yao Yai. There are dozens of luxury hotels on this island, but the average prices are much higher than those in Phuket. So, only tourists who are used to high prices stay for the night on the island. With that said, most still prefer to return to Phuket for the night.
---
6. Chiang Mai (For Mountainous Landscape and Temples)
– Recommended by Chur New Zealand –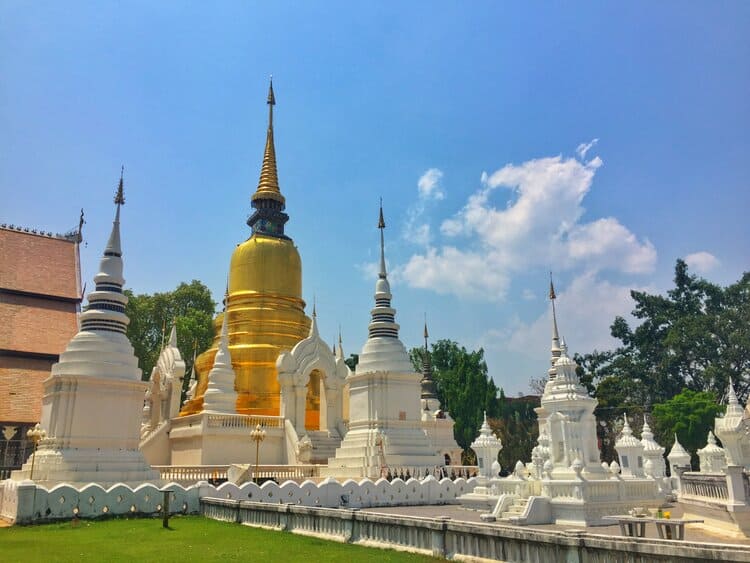 Surrounded by a square moat, the Old City which is where the majority of tourists will stay in Chiang Mai is a great place to visit on your first visit to Thailand.
In short, Chiang Mai is a city that offers all of the Thailand experiences people love (minus the beaches), and you can do this in any number of ways.
After Chiang Mai you'll be ready to visit some more off-the-beaten-path spots where things might not always be so easy.
– How to Get to Chiang Mai
Located in the north of the country it is easily accessed from Bangkok by plane, bus, and/or train with journeys throughout the day.
Unlike most Thailand destinations with a sprawling layout like Bangkok, you can get the majority of things you need to do as a tourist in a relatively small area.
– How to Get Around Chiang Mai
Chiang Mai is suitable for all types of travelers, whether you're solo, with friends, and/or family. With most of the attractions and activities mentioned above, you have the option to visit independently or on an organized tour.
Booking an organized tour is easy in Chiang Mai, with most vendors speaking good English, but do make sure to shop around.
The same goes for hiring a scooter if you plan to visit places independently, it's easy to do, but shop around.
– What to Do in Chiang Mai for First Timers
There are several night markets, endless temples, amazing street food options, and good nightlife. Then there are Muay Thai stadiums, elephant sanctuaries, waterfalls, hikes, and more.
– Where to Stay in Chiang Mai
There is no shortage of accommodation options in Chiang Mai either from cheap hostels to fancy resorts and everything in between, and don't be afraid to arrive and negotiate prices if you haven't booked in advance.
---
Other Places Close to Chiang Mai
If you have made the trip to Chiang Mai be sure to explore beyond this city's walls to discover what this area of Thailand has to offer away from the hustle and bustle of Thailand's city, Bangkok.
6a) Pai (For True Thai Culture)
– Recommended by Alex and Leah on Tour –
If you're visiting Thailand for the first time, Pai is a place you absolutely must visit. Pai is the perfect place to visit for any first-time visitor as it shows you Thailand in its true glory!
– How to Get to Pai
The village is located in northern Thailand, in its Mae Hong Son district, close to the Myanmar border. Despite its remote location, Pai is easily accessible so long as you're starting from Chiang Mai, Northern Thailand's biggest and most popular city.
– How to Get Around Pai
Once here, you can choose to take a minivan or hire a bike and take the famous 1095 road to enjoy its beautiful snaking turns.
– What to Do in Pai for First Timers
One of the best things about visiting as a first-timer is you get to experience true Thai culture without any real modern or Western influence.
As such, Pai offers a range of activities that'll keep you busy for a few days. You can choose to take a tour of the village and its surrounding attractions; here you'll be able to see the Big White Buddha overlooking the village; the adjacent Chinese Village; Bamboo Bridge; Panoho Waterfall; and Pai canyon during sunset.
However, by far the funniest activity is Tipsy Tubing. Unique to Pai, you can pay to float down the river Pai, in an inner tube, with a beverage in hand. It really is a great experience!
– Where to Stay in Pai
Luxury: For absolutely luxurious and stunning accommodation on the Pai River book a room at Reverie Siam for a truly unforgettable stay.
Mid-Range: The Family House Zen Boutique Resort is a great option if you are looking for a more relaxed hotel that still has a touch of luxury.
Budget: If you're looking to stay in a hostel whilst in Pai, look no further than UP2U Guesthouse and Hostel. Even though it's located just outside of Pai's center, the famous Pai Walking Street is easily reachable by foot or by bike.
6b) Chiang Rai (Incredible Temples to Visit)
– Recommended by A Couples Calling –
Chiang Rai is the most northern major city in Thailand and is located relatively close to the borders of Laos and Myanmar. Although less popular than the likes of Chiang Mai, Chiang Rai is a great place to visit if it's your first time in Thailand.
It's less touristy than some of the country's other cities and is a great way to learn about Thailand's culture as there are so many incredible temples to visit.
– How to Get to Chiang Rai
There are a couple of different ways to reach Chiang Rai – you can either fly into the airport or you can catch a bus which is often much cheaper. If you're traveling from the likes of Bangkok, an overnight bus is recommended.
– How to Get Around Chiang Rai
Chiang Rai is a small city which makes it super easy to explore. There are many ways that you can get around Chiang Rai from traditional tuk-tuks and samlors to more modern options, such as taxis, buses, or motorcycles.
If you fancy you can also rent a car, even walk or hire a bicycle to get around the city.
– What to Do In Chiang Rai for First Timers
The most famous temples in Chiang Rai are Wat Rong Khun (the White Temple), and Wat Rong Suea Ten (the Blue Temple). Both are a must-visit in the city, but you'll want to visit early as they can get super crowded.
You'll also find plenty of other great places to visit in Chiang Rai including the Baan Dam Museum and the Granz Bazaar, or you can take a cooking class.
The streets are full of delicious street food and you'll also find plenty of great restaurants, but the night market and bazaar are often the best places to grab a meal!
– Where to Stay in Chiang Rai
Luxury: We recommend MORA Boutique Hotel – SHA Extra Plus. This is a must stay if you want to splash out and stay in a fantastic boutique hotel in an excellent central location.
Mid-Range: We recommend the Laluna Hotel And Resort, Chiang Rai. It offers bungalow accommodation and you will feel like you are in a jungle oasis.
Budget: We recommend Stay In Chiangrai Hostel as a great place to stay! It's located right in the city center and you get free breakfast included too. Not only that, but the hostel has a shared lounge and kitchen area which is perfect for meeting other travelers.
---
7. Koh Lipe (For Stunning Beaches)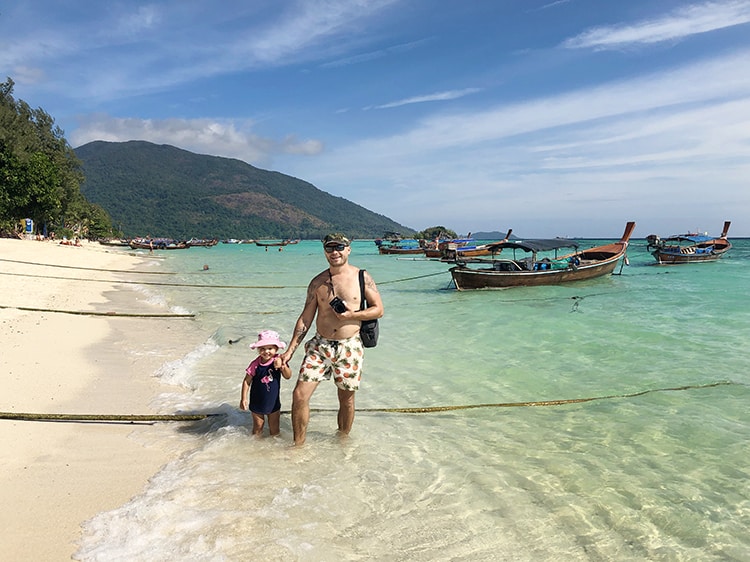 Koh Lipe is known as one of Thailand's best-snorkeling destinations. The waters here have 25% of the whole world's tropical fish species, and the beaches also happen to be astounding. So it is a must-see place for any avid snorkeler or even diving enthusiast!
– How to Get to Koh Lipe
From Phuket to Koh Lipe: To get from Phuket to Koh Lipe can take the best part of a day but it is still possible! Here are a few ways to make the trip – take a taxi or a bus from the Southern Bus Terminal in Phuket Town, to Khlong Jilad Pier in Krabi. Once you reach the pier of Krabi, you can then can catch a ferry to Koh Lipe.
From Krabi to Koh Lipe: Krabi is possibly the easiest and most convenient place to be if you're wanting to get to Koh Lipe. Hop on a ferry or boat from of the three different departure points – Klong Jilad Pier in Krabi Town, Hat Yao Pier in Trang, or the Pakbara Pier in Satun.
Read here for the many other ways how to get to Koh Lipe.
– How to Get Around Koh Lipe
The easiest way to get around is by walking! It is such a small island that it has no local transportation. You can literally walk from one end of the island to the other via the main street, aptly called the Walking Street! It will only take 15 – 20 minutes.
– What to do in Koh Lipe for First Timers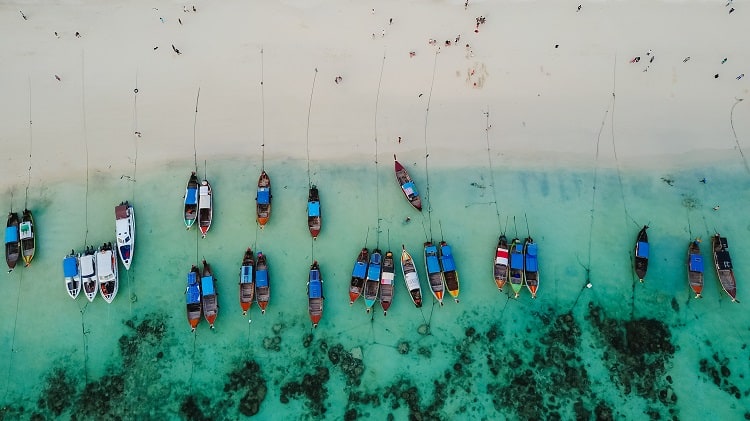 Of course, you must go snorkeling or diving if you visit Koh Lipe. With all the amazing species of fish to see against some of the most amazing coral reefs, this is a must-do activity that does not cost much.
Other activities to keep you busy – rent a kayak for the day, check out the walking streets, indulge in a Thai massage, book a day trip that usually includes lunch and snorkeling.
Check out this list of top things to do in Koh Lipe for more ideas!
– Where to Stay in Koh Lipe
Luxury: AKIRA Lipe Resort offers true luxury accommodation. Not only does it hav 3 swimming pools but is perfectly located along the white sands of Pattaya beach.
Mid-Range: The Castaway Resort Koh Lipe is located right on the beach. The bungalows have large decking area with hammocks or cushions to admire the sunset or even sunrise!
Budget: Bayview Hill Resort offers chalets in a peaceful location right on the beach.
Click here to read which are the best Koh Lipe hotels.
---
8. Koh Lanta (For Some Slow Living and Chill Time)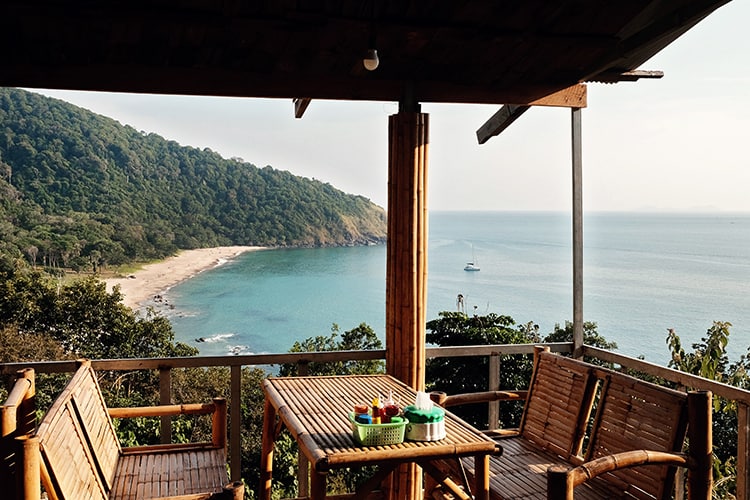 Koh Lanta is an island of heavenly beaches with stunning white sand!
Koh Lanta has so much to share with you from exploring the mangroves, admiring the awe-inspiring limestone cliffs, or walking along the sandy coral-fringed beachfront.
– How to Get to Koh Lanta
Koh Lanta is located just off the coast of Krabi in the Andaman Sea. Traveling to Koh Lanta is possible from many places across Thailand and is reachable in a day.
From Krabi Airport: Take a mini-bus ride from Krabi Airport to Koh Lanta. The journey takes about three hours, costs about 400 Baht and you can easily get the mini bus directly from the Airport.
From other islands: From nearby Koh Phi Phi it's only a one-hour ferry. From Krabi mainland, it's 2.5 hours and from Koh Lipe, it's a three-hour ferry.
Read our full guide on how to get to Koh Lanta to know which is the quickest and easiest way to get there.
– How to Get Around Koh Lanta
With no public transport in Koh Lanta, there are only two main options for getting around.
Rent a scooter for around 200 Baht for the day. This gives you the freedom to explore everything the island has to offer, without having to pay for multiple Tuk-Tuk rides. Make sure you have your international driver's license as this is required to ride a scooter.
The other popular option is a Tuk-Tuk. This is great for quick short trips but can become expensive if you want to go on longer trips so make sure to negotiate a great price with the driver.
– What to Do in Koh Lanta for First Timers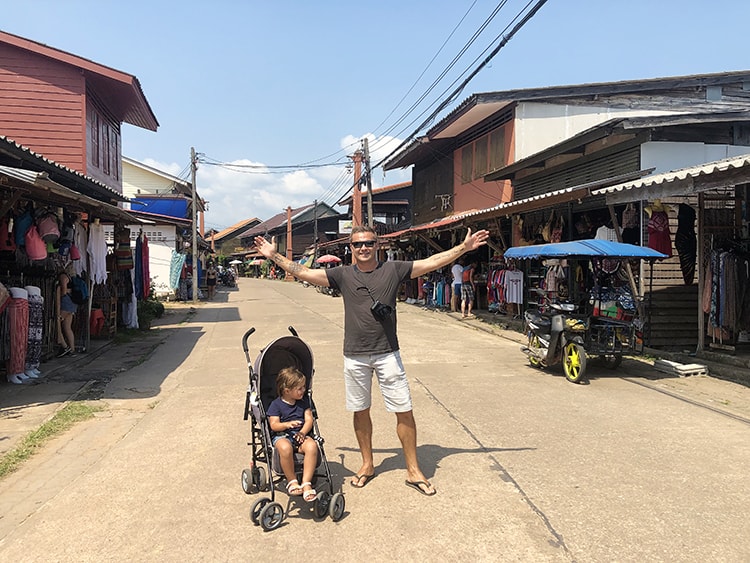 Beaches – there are many beaches in Koh Lanta that you can visit so be sure to check out the best Koh Lanta beaches.
Visit the night market at Saladan to have a true Thai experience not only by mixing with locals but also by tasting the many delicious Thai dishes on offer.
Book a day trip and visit the many islands around and close to Koh Lanta. The 4 Island Longtail Boat Tour is the most popular tour to take.
If you fancy exploring on your own hire a scooter and travel around getting lost down many side roads. Make sure to check out Koh Lanta Old Town as well.
Want a full list of what to do? Check out our jam-packed list of things to do in Koh Lanta that will keep you busy!
– Where to Stay in Koh Lanta
Luxury: Layana Resort & Spa – SHA Extra Plus is located on the white sandy beach of Long Beach. With luxury accommodation, a full spa service, a gym, and a stunning pool and views you will find it difficult to leave!
Mid-Range: Lanta Casa Blanca – SHA Extra Plus has its own private beach with large rooms and an inviting swimming pool.
Budget: For a more affordable option book a room at the Green Pepper. You are surrounded by lush vegetation you feel like you have entered an oasis!
Read this post to find more places of where to stay in Koh Lanta.
---
Other Great Places to Visit Close to Koh Lanta
Fancy an island hop from Koh Lanta? Why not head to these two great islands close to Koh Lanta where you can either find adventure in Koh Ngai or just relax in the peace and quiet of Koh Samet.
Koh Ngai (Paradise for Beach-Seekers)
– Recommended by More Life in Your Days –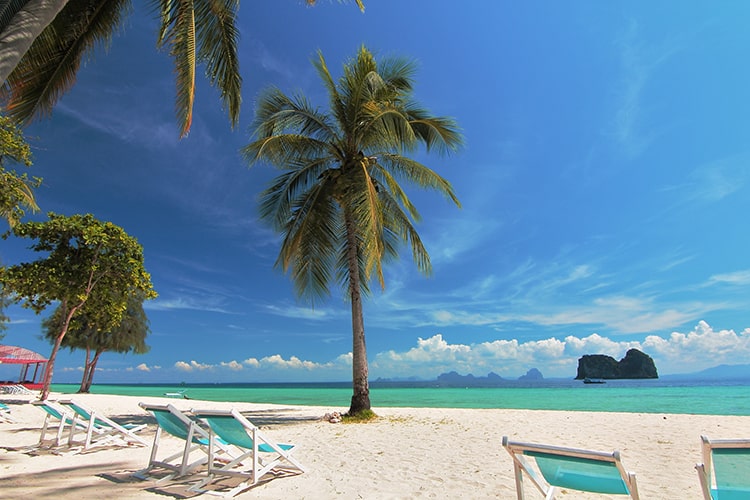 Although it is not the most famous place in Thailand, Koh Ngai is definitely one of the best places for first-timers to visit in Thailand. It is in the Krabi province of Southern Thailand but is often visited along with the Trang Islands of Koh Mook and Koh Kradan.
The views from this tiny island are incredible with stunning limestone islets rising out of the perfectly calm blue sea – it's exactly the sort of island paradise you imagine when you first think of heading to Thailand.
This island has no local population, so you will need to visit some other places as well to get your culture fix.
– How to Get to Koh Ngai
It is easy to get to by ferry or speedboat from most places on the west coast and it is a perfect stop off if you are island hopping.
– How to Get Around Koh Ngai
Koh Ngai is s super tiny island of only approximately 5 square kilometers so getting around by foot is probably all you need if you do venture away from the beach.
– What to do in Koh Ngai
It is likely that you will be happy spending your time relaxing on the white sands of the main beach, soaking up the views, and taking a dip in the warm, shallow sea.
But, if you fancy a bit more of an adventure then it is a great place to go kayaking. You can work your way around the island to see interesting rock formations, tiny coves, and the aptly named 'Paradise Beach'. Take your time, jump off with a snorkel and see how many colorful fish you can spot.
On the island, you are bound to spot hornbills and monitor lizards who live on the jungle fringes all over the island. There are also millions of tiny hermit crabs that constantly scramble along the beach.
All in all, it is the perfect island to visit on your first trip to Thailand.
– Where to Stay in Koh Ngai
There are just a few hotels that are strung out along the beach and all development is low-key as the island remains a quiet and unspoiled paradise.
---
9. Koh Samet (For Peace and Quiet)
– Recommended by PlacesofJuma –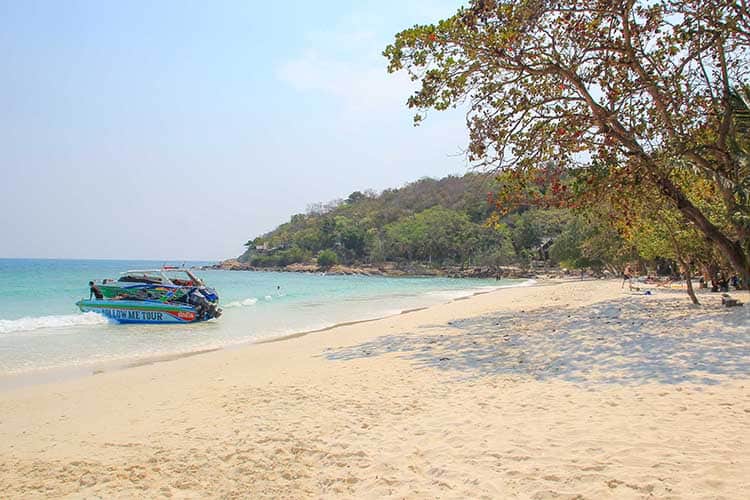 Koh Samet is certainly one of the highlights when visiting the Land of Smiles and is a perfect island for all first-timers to Thailand. This island inspires with a unique flair, it is quiet, very relaxed, and a great place to relax and come down.
Especially beautiful are the many beaches that delight with velvety white sand, turquoise sea colors, and lush vegetation. Koh Samet is relatively small and hardly anywhere else in Thailand you will find a higher density of absolute dream beaches.
– How to Get to Koh Samet
Koh Samet is located on the east coast of Thailand, about 2.5 hours from Bangkok. The island is best reached by local ferry or a bit faster by speedboat.
– How to Get Around Koh Samet
The 7 km long island is best explored on your own with a scooter. There is hardly any traffic, perfect if you are in Thailand for the first time and want to explore an island quite comfortably.
There is only one road from one end to the other. On the way, there are always chill Thai bars to refresh and relax.
– What to do In Koh Samet for First-Timers
A highlight is the many stunning statues of Koh Samet, which you can explore on an island tour. The first attraction is already waiting for you when you take the ferry: a huge mermaid holding is rising out of the sea.
If you spend a day at the beach Koh Samet's beaches offer a great mix of activities. You can enjoy windsurfing, snorkeling, sailing, and even diving.
If you would like some evening entertainment then head down to the beach for a live performance and fire show.
– Where to Stay in Koh Samet
Luxury: For a magical experience, the Paradee offers thatched roof villas each with their own private pool on the palm-fringed beach of Koh Samet.
Mid-Range: The beautiful hotel Le Vimarn Cottages & Spa with a pool in a prime location directly on one of the dream beaches.
Budget: For a budget-conscious traveler, La Plume Guesthouse is great for a night or two.
---
10. Kanchanaburi (For Interesting History Lessons)
– Recommended by Ivan of Pipeaway –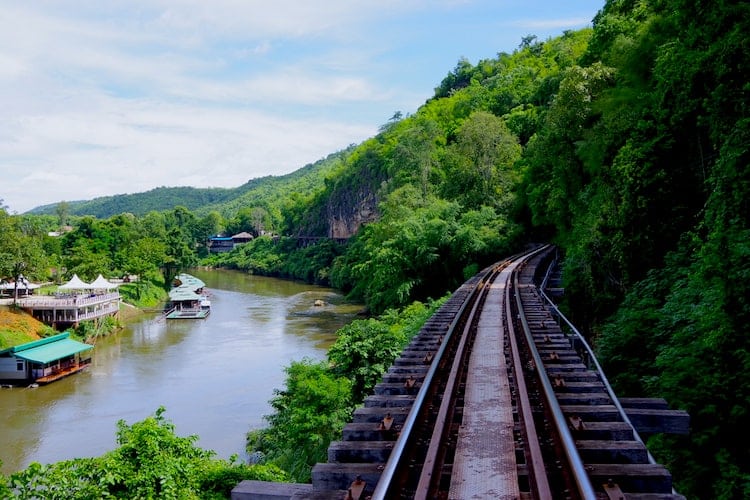 Beyond sandy beaches, golden temples, and delicious food which lure millions of visitors to Thailand, there are also important history lessons to learn in this country. Kanchanaburi in western Thailand is an excellent place to deepen your knowledge of the Second World War tragedies.
It was here where the Japanese engaged hundreds of thousands of prisoners of war and regional forced laborers in the construction of the train track that would connect Thailand and Myanmar/Burma. The train project marked by the hard working conditions and abuse quickly built a horrifying nickname – the Death Railway.
Even if the river had to be renamed to fit the mistake eternalized in the popular Pierre Boulle's novel and David Lean's Oscar-winning movie, Kanchanaburi is today known as the hometown of the Bridge over the River Kwai.
– How to Get to Kanchanaburi
Kanchanaburi is easily accessible from Bangkok, by bus or train. The train journey takes just under 3 hours. If you travel by bus it will take between 3 – 4 hours.
– How to Get Around Kanchanaburi
Once in the town itself, it is pretty easy to get around. There are song teows (open-air trucks that operate like taxis) or you can grab a tuk-tuk.
If you want to get around yourself hire a motorbike or even a bicycle. The area is pretty flat and thankfully there is not much traffic on the road near the river so it makes exploring less stressful. Bicycles can be hired for around 50 baht a day.
– What to Do in Kanchanaburi for First Timers
While Death Railway Museum offers insight into the monstrosities of this dark slavery project, Kanchanaburi sightseeing often becomes another place to exercise ignorance. Before making funny selfies on the infamous bridge, educate yourself at the museum!
Even if war tourism has defined the offer of this small town, it is still a solid base for exploring the beauty of the region marked by the tropical savanna climate.
Get away from the high temperatures of Kanchanaburi and find some refreshments in Erawan National Park. It offers impressive waterfalls with emerald green ponds you can actually swim in.
– Where to Stay in Kanchanaburi
Luxury: The Cross River Kwai, located on the Kwai Noi River offers stunning accommodations and views.
Mid-Range: The Princess River Kwai Hotel has an infinity pool and guests are welcome to use the bicycles and kayaks for free!
Budget: Offering a solid balance between price and quality, an excellent place to stay is Latima Boutique Hostel.
---
Final Thoughts
That is the full list of the 10 Best Places to Visit in Thailand for first-timers!
We hope that we have found you one or more places that you will want to visit during this first trip to Thailand.
If you are not able to visit the complete list of best places to visit in Thailand this will give you a great reason to book another trip to this amazing country and its many stunning islands.
Feel free to pin this pin to Pinterest so you can find this post easily in the future!