Chasing film locations across the world has to be exciting, even if it happens to be the most touristy thing you could do EVER!!! 
After chasing 'The Beach' film location at Maya Beach at Phi Phi Ley on an adrenaline-rush speedboat style tour , we decided to head in a different direction towards Phang Nga Bay National Park on a sea canoeing Phuket James Bond Island tour! 
How many of you have seen the 1974 classic 'The Man with the Golden Gun' movie?
I'm not really gonna admit that I am a fan of classics, but I know my man got a kick out of checking out the world famous James Bond Island in Thailand!  And even with our plastic model guns, you can see the kid-like excitement and silliness that being on this island brought about – look at that face!!  Although I believe in this case the movie should be title 'The WOMAN with the golden gun!!!' BOOOYAH!!! Yeah!!
---
A James Bond Island Tour | Chasing Movie Destinations with Two Seas Tour
This tour was almost an exact opposite of the tour to Phi Phi Island:
where the Phi Phi tour was fast paced on a speed boat, this tour boat was slowly cruising away on the waters – lazily exploring the breathtaking scenery found at Phang Nga Bay National Park;

where the previous tour was hopping in an out of the speedboat onto various island destinations, this one was focused on adventure through canoeing through caves, inner lagoons and around various islands;

where the Phi Phi tour served us lunch on an island, this one fed us up with some delicious Thai cuisine on board whilst cruising away on the water!
Don't get me wrong, I loved both trips very much!  And I recommend you do both, because they are so very different from each other and each will give you a peek into some incredible natural scenery found around Phuket Island! What an incredible James Bond Island trip!!
The Two Seas Tour Boat:
After a bit of research, we decided to pay for a James Bond Island Tour that lasted for most of the day.  It also included canoeing around Phang Nga Bay, lunch on board the boat, and transportation to and from the harbour.
We always emphasize the importance of spending your money on 'small' tour operators to avoid the larger touristy 'packed like sardines' companies! The smaller ones are usually more expensive but it will make your day so much more enjoyable!!
Two Sea Tour, Phuket is the perfect tour company to use to explore this area, simply for those reasons!!  Whilst the boat can fit 55  people, they only take 20 guests out at a time, which means that you will have plenty of space to chill out!  We could even lie flat on the benches and catch some snooze on the way back! 
As there aren't many people on board, you will get to know everyone within no time at all! You will also be allocated one of their friendly paddle men who will paddle your canoe for you at all the various spots, they are also great at becoming your personal photographer!! I still giggle away in remembrance of what fun we had with our personal paddle man, and what silly poses he made us do! Most of the photos here in this post of both me and Andrzej is credited to his skills!
As you pull away from Ao Por pier at around 7 am in the morning, the captain will introduce himself and bring out his trusty old map to show you all the various destinations which this boat will stop at during the trip.
The next destination is Panak Island. There are various ways you can spend the next hour, whilst lazily cruising towards your first destination! The boat is large enough to walk around on and it's a great time to get to know some of the other travelers on board!
Also make sure you make your way down to the front of the boat, where you can get an incredible view over over the bay region! It is a perfect place to snap a photo or two! Or possibly even try the famous 'Titanic' arms wide spread pose?? haha.
As you can see the weather to the start of our day was a little 'dodgy' to say the least! Or maybe the misty, moody weather simply added to the magic of the day!!?
The sea here in the bay is literally filled with limestone islands, karst and rocky cliffs rising and towering from the depth of the sea!  It really is an incredibly unique and magnificent sight!  They are so majestic in size that if you are fortunately to have a window seat on your flight in to Phuket, you will even see them scattered around all the way from the height of the plane!! 
Look out on Facebook as I might just share our photo from the plane window whilst flying into Phuket!
---
Panak Island, Phuket
The first stop of the day, is an island that has a few different magical surprises in store for you!  As you disembark from your big boat and carefully, with aided help from the crew, climb onto your little canoe boat, a little spark of excitement will be set alight as you gaze at the entrance of the cave in front of you!  Each canoe filled with two of the tour guests will have their own personal guide and paddle 'controller', leaving both of you to simply sit back and relax and absorb the views!
Panak Island is not a typical island where you can get out and wander about, but rather one that has an internal lagoon surrounded by sheer enormous cliffs rising in an effort to touch the sky, leaving you with the only alternative to explore this cave via a Phang Nga Bay canoe tour. 
In order to reach this inner lagoon, you will need to enter a pretty impressive but dark cave!   To light the way, your canoe guide will pop on his head-strapped light.  The light will also be used to highlight some of the incredible features found within this cave!  It truly is a super surreal way to reach the inner part of the island!
You will spend some time in the cave, and eventually around a bend you will see some light sneakily peering through the bottom of the exit! As you can see the roof of the cave is pretty close to the water here and in order for us to find the treasure found within, we need to lie down flat in the boat in order to make our exit to what lies beyond!
Once on the other side, a rush of sunlight will awaken your senses!  Here in the inner lagoon, the sun warms up your soul.  Impressive sheer cliffs rise as high as you can see, and you get a sense of protection from this secret hollow created by years and years of erosion.  Unfortunately it is incredibly tricky to get a picture of this sight – all contained within a single photo, so we really have to urge you to simply experience this mysterious atmosphere for yourselves! 
You will spend around 20 minutes here, gliding around the peaceful and quiet inner lagoon. Exploring all the various sights and bends and natural beauties found here.
Another thing I should mention is that Two Seas Tour is extremely talented at creating an itinerary which will see you avoiding the tourist rush hour! As we arrived the cave and inner lagoon was almost deserted, whilst on our way back to the boat, the masses of other canoe boats arrived! So glad we could experience this Island in a more natural manner!!!
---
Hong Island, Phang Nga Bay
Whilst the first island of the day held natural surprises in the format of caves and inner lagoons, Hong Island, Phang Nga Bay has gifts in the format of natural eroded rock 'pictures' creating identifiable animal faces! So bizarre!!
If you look at the two pictures below, can you identify the animals represented in the rock?
Amazing scenery will surround you here, large limestone rocks piling out of the water!  Interesting rocks and cliff designs!  Little caves to explore and tiny patches of white sand to stretch your legs if need be. 
Kicking back here, legs hanging over the boat and toes lightly dancing over the water, it was perfection in relaxation!
Heading back from the Hong Island tour towards the boat – talk about an exit doorway back towards the open waters of Phang Nga bay! It's like something from some paradise style movie right?? Impressive!!!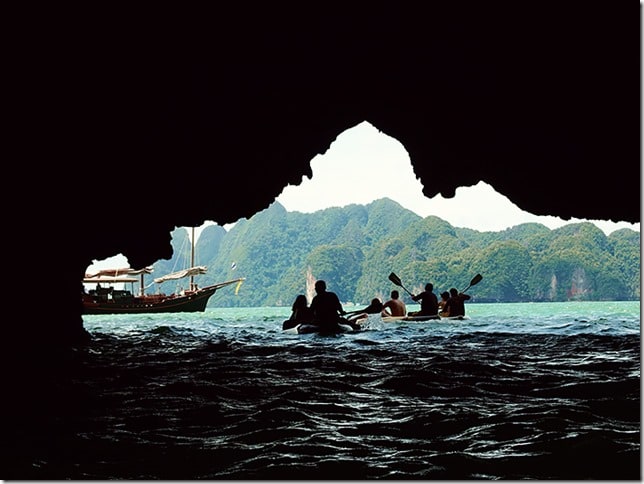 And lastly, before we leave this Hong Island tour behind and move to the next. With a bit of 'tongue in cheek' action, can you identify what that rock dangling down towards the tips of my toes represents?? I'll leave it at that hey!! Haha! Our canoe guide thought he was hilarious showcasing and pointing out this one to us!!!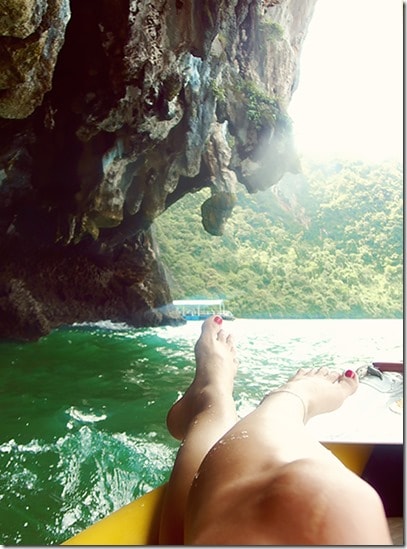 It is time to leave behind the canoes as we climb back on board the boat, making our way towards the famous James Bond Island. This is after all why we joined this James Bond Island tour in the first place, never realizing that some of the other island stops on the way here should equally be as famous as they are rivalled in beauty as the famous one!
---
James Bond Island | Khao Phing Kan Island
At around 10:30am, you will arrive at Khao Phing Kan Island.  We transferred from our 'big boat' to an engine powered long boat and zoomed across the water to the harbour of Khao Phing Kan Island where you can see the world-famous James Bond Island!
As is to be expected, the island itself was swarming with a mass of tourists, all trying to grab photos at all the well known movie sights found here!  And as a result we were incredibly grateful for our personal canoe guide from our Two Sea tour as he walked side by side next to us and very quickly guided us towards all the sights that one should see whilst here.  He also snapped some incredibly fun photographs for us!!
The island Khao Ping Kan got its name due to the enormous "leaning rock" found here!  This limestone rock wedge has literally split down the middle and now lies precariously onto its other half.  The rock detail is really interesting and you will find that this is a popular spot for taking some pretty touristy style photos!
The reason though for coming to Khao Phing Kan Island is because of  the James Bond Island which is visible from the tiny little sandy beach on the opposite side of the island.  Koh Tapoo or Koh Tapu (although more famously known as Phuket James Bond Island), is a mushroom-shaped rock, or as translated from Thai as 'nail island'.  This famous rock which is broad at the top and narrow at the bottom is the famous rock from the James Bond Movie – 'The Man with the Golden Gun'.  And all I can say is, that if you go to an incredibly tourist driven movie destination, you better be striking all those typical touristy poses!!  After all, it is not just the Tower of Pisa that should attract such antics is it?  So here it is, THE POSE!!!
And before you leave this island, make sure you go and explore some of the grottos and caves that are found at the 'leaning rock'.  It is pretty cool in there and makes for some pretty interesting photo opportunities!!! 
You might even find two lunatic travellers hiding inside!!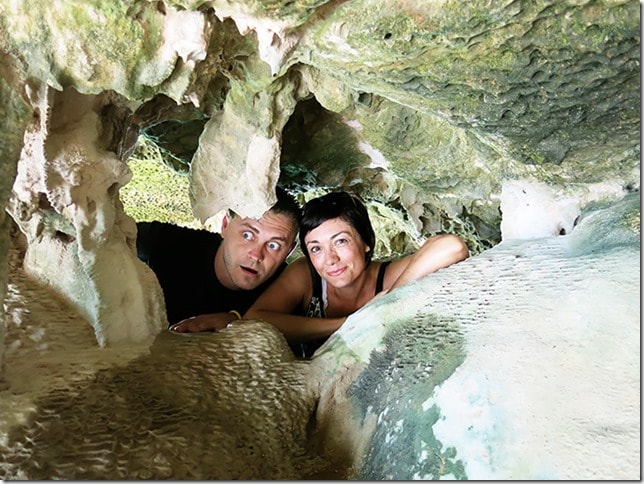 ---
Thai Buffet Lunch
With tummies growling and a need for some personal space after shoving past all the tourists, it is time to head back to the boat where a delicious and heart warming Thai buffet lunch is waiting for you! I think we might have been too busy indulging in the delicious meal and socialising with all the other tour members as we completely forgot to grab some photos to showcase all the yummy food!  Oops!
Whilst you are eating away, the boat will cruise along towards to the last destination for the day.
---
Lawa Island
The last stop for the day is at Lawa Island, this stop is all about swimming,  sunbathing on the white sandy beach or taking the canoes for a spin by yourselves.  We were feeling incredibly lazy and so enjoyed strolling around the island instead at an incredibly leisurely pace.  We were simply enjoying our surroundings and running over the memories of the incredibly day we had on our James Bond Island Day Trip. 
We loved the day, it relaxed us so much that we all found our own space on the bench to have a snooze on, whilst cruising back to Ao Por pier. It really was an incredibly superb day and we could not have chosen a better tour company – so big thanks goes to Two Sea Tour for making our experience so incredible!! And also thank you for being so inventive with a leaf found on the island and making this heart shaped photo of us!!
---
Two Sea Tour Information:
*Tripadvisor Certificate of Excellent Winner 2015*
Website: http://www.twoseatour.com/
James Bond Island Tour Price:
Adults – 3,700 baht

Children (3 to 10 years) – 2,200 baht

Children (under 3 years) – 500 baht
Tour takes a max of 20 people per day.
Phang Nga Bay Tour Inclusions:
Return transfers from all areas on Phuket island to the pier

National park fees

Insurance

Snacks

"Light" breakfast

Soft drinks

Thai Buffet Lunch

Personal Guide and paddle man

Use of canoes

A waterproof bag to protect your cameras

And the all important free WiFi.
What to Bring:
Swimming Togs and towel

Sunscreen lotion

Sunglasses & hat

Camera

Change of clothes

Light shoes (flip-flops)

A SMILE
Over to you, which style of tour do you prefer? The adrenaline rush of a speed boat-style tour, or the adventurous exploration with a sea canoe Phuket tour?
**Please note, we were not sponsored by this tour company, all opinions are our own. We just couldn't help but rave about this incredible experience!