Aah Phuket, the stunning Thai destination with a spot at the top of many travel wish lists.
This gorgeous island in the Andaman Sea also happens to have some of Thailand's best beaches.
Whether you're searching for that hidden gem, want an action-packed holiday filled with water sports, or a place to feel the sun on your face, Phuket has some real beauties.
Take a look at our picks for the best beaches in Phuket!
Your Guide to the Best Beaches in Phuket
We all know about Pa Tong Beach. But honestly who wants to go to that sleazy dirty beach these days? Fortunately, Phuket still has stunning beaches that are worth visiting.
So what is the best beach Phuket has on offer for tourists craving tropical island vibes? Here are 6 of the absolute best Phuket beaches that you should see.
1. Kata Noi Beach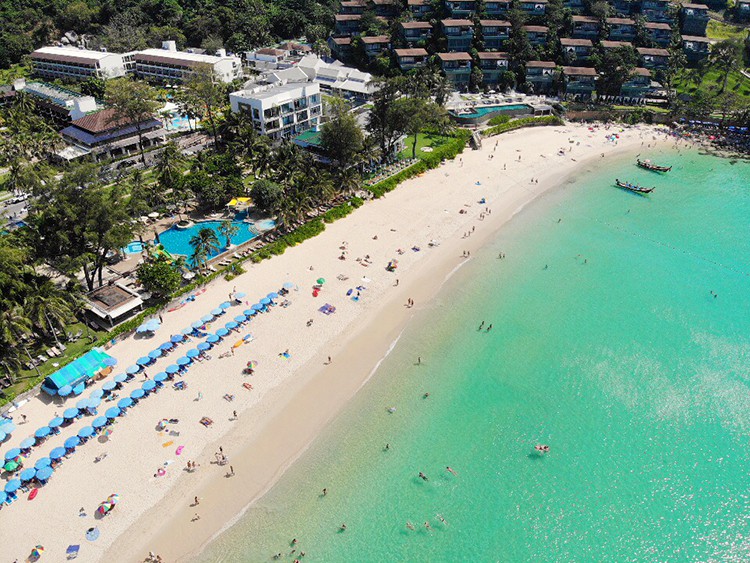 This secluded beach makes for the ultimate oasis of tranquility with soft sands, turquoise water and an unbeatable atmosphere.
Cradled by two impressive headlands, this idyllic bay on Phuket's west coast is the perfect place for snorkeling. The rocks at the southern end are particularly good, where there are clouds of colorful fish making their way through coral formations.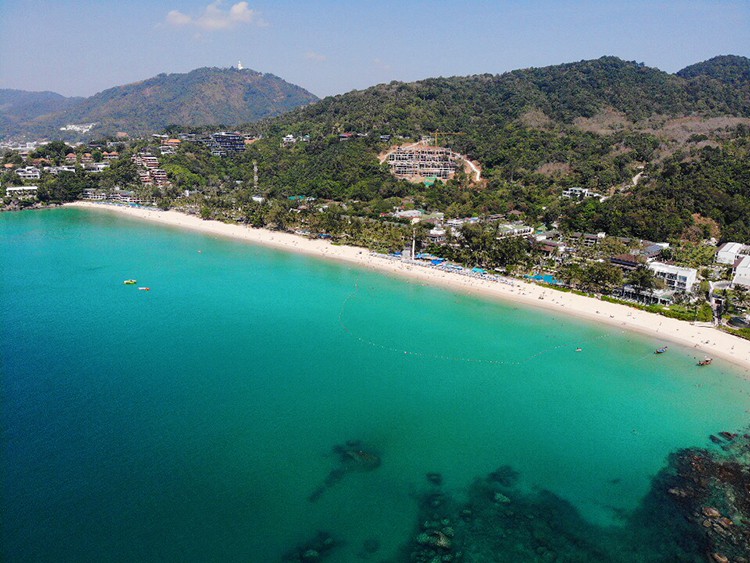 You can also get into some parasailing, banana boating or rent a kayak and row around the bay. Kata Noi Beach also has some spectacular surfing conditions from May to October.
If you're at Kata Noi for some sunbathing, grab some beach chairs (200 TBH) and an umbrella (200 TBH) from one of the vendors.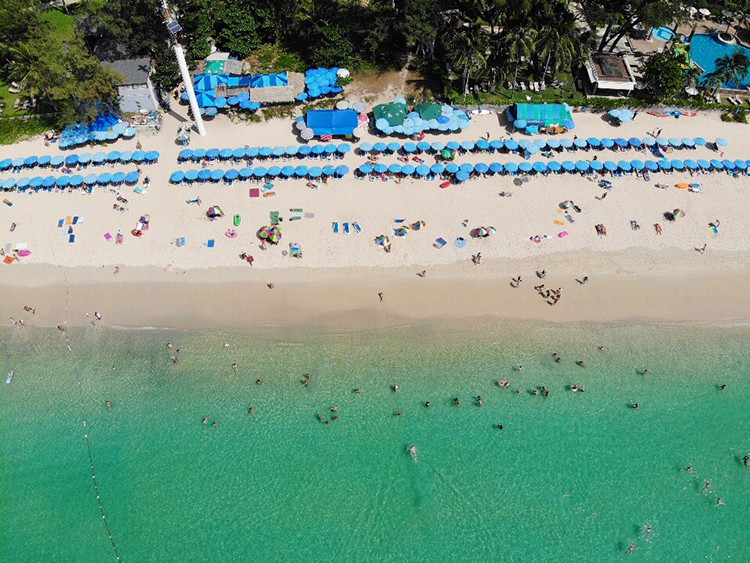 You can also enjoy a luxuriating beach massage (400 TBH for one hour) that promises to be unforgettable.
If you're looking for some fine dining in a beachside setting, head to The Shore for a tasty meal. There are also some fantastic sunset bars on the hillside, a definite must-do if you're visiting Kata Noi Beach.
If you wish to stay close to this beach, we absolute love Katathani Phuket Beach Resort or if you can afford a splurge, then check out The Shore at Katathani (Adults only).
>>> Click here to check prices and availability at Katathani Phuket Beach Resort
>>> Click here to grab a luxurious stay at The Shore at Katathani
2. Freedom Beach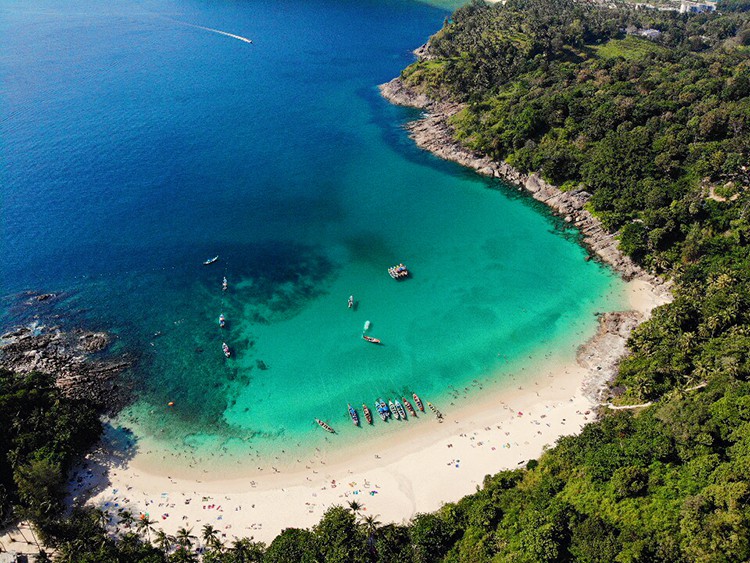 Discover this breathtaking gem on Phuket's west coast where hills covered in lush greenery turns it into a secluded oasis. Just a few minutes from Patong Beach awaits an incredible crescent of white sands and awash with bubbling waves.
Expect loads of stairs or a fairly pricey longtail boat ride (approximately 750 baht one way) on your journey to Freedom Beach. However, this tiny alcove is more than worth it. The crystal-clear water is perfect for a dip and there are plenty of activities too. Go snorkeling or even find yourself as part of a beach volleyball game!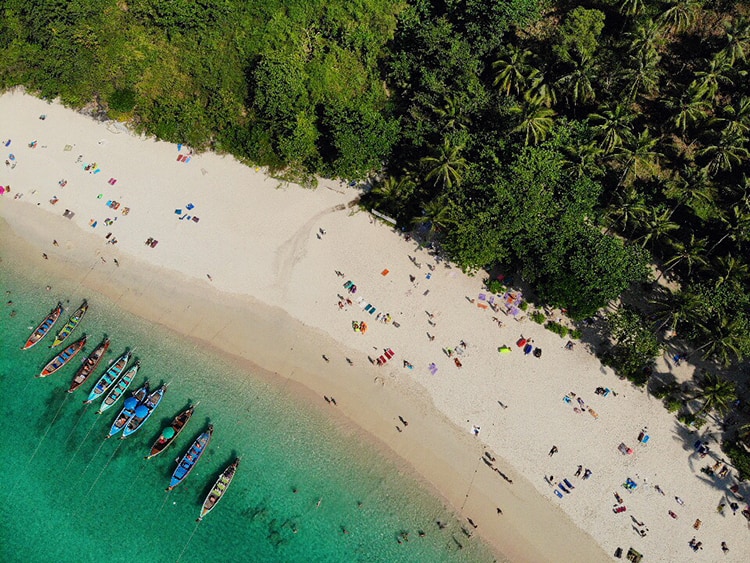 If you're looking for an incredible panoramic view of the bay, climb the nearby ceramic steps for the ultimate photo op. The white sands of Freedom Beach seem almost untouched, so what better place to catch some sun and enjoy your Thai holiday?
Whilst there aren't any resorts that actually back onto this hidden beach, you can enjoy some luxurious resorts close by. Click here to check out availability at the beautiful 5-star Crest Resort & Pool Villas, or grab a more affordable stay at the 4-star LetsPhuket Twin Sands Resort & Spa.
3. Paradise Beach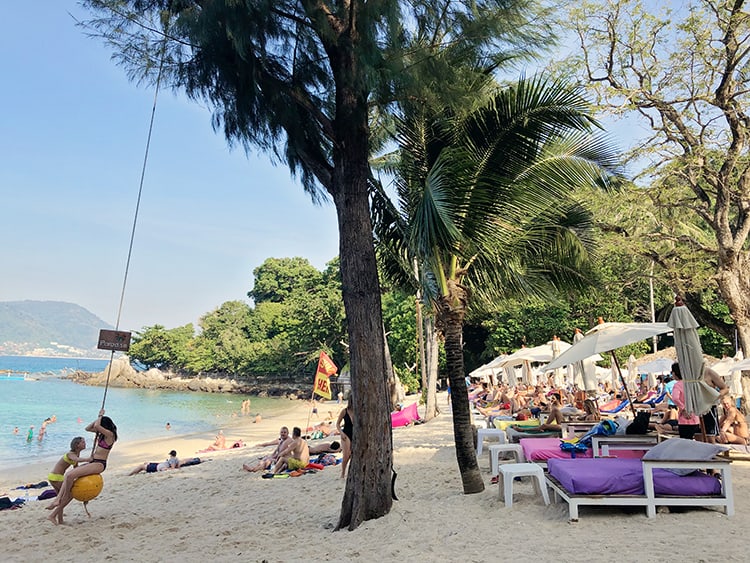 With a stunning location to match the name, Paradise Beach has become known as one of the most beautiful Phuket beaches.
To get down to this beach, you will need to park your car (or get dropped off by your taxi) and then you hop on one of these shuttles. They will zoom you down to the beach for free.
This beach does require an entrance fee of 200 baht (free for children under 10) but it makes up for it with a fantastic atmosphere. Be prepared though as everything inside will cost you more than usual as well. Thai massages will set you back by 500 TBH, a small regular day bed will cost 100 TBH and one with a towel will set you back by 300 TBH. We felt like cocktails were supercharged in price as well.
So we recommend that if you are paying an entry price that it is best to plan to spend the whole day there. Paradise Beach is also one of the best places to watch the sunset.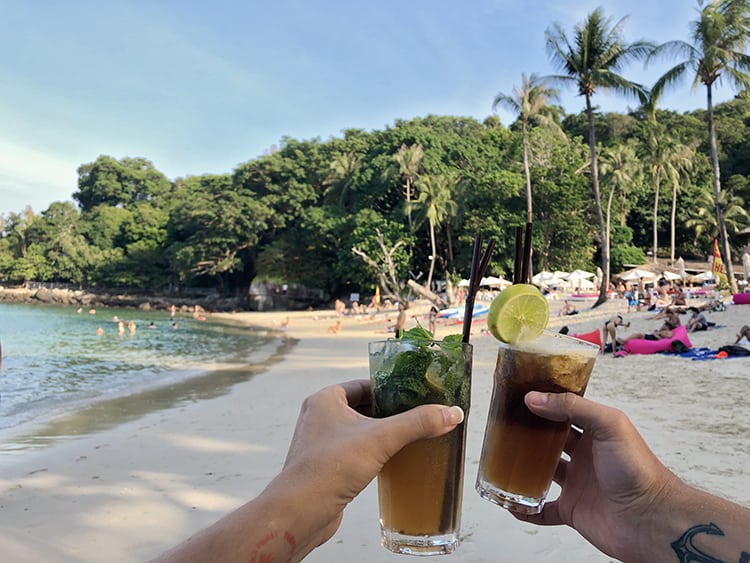 Head for the incredible Activities Center where there are options galore. You can take your pick of water sports including kayaking, paddle boarding and renting uber fun water inflatables. You can also rent underwater action cameras for capturing your Phuket adventure. Paradise Beach happens to be a super spot for snorkeling with amazing visibility!
If you're looking for more of a party atmosphere, this beach is perfect with music filling the air and beach bars along the sand.
4. Surin Beach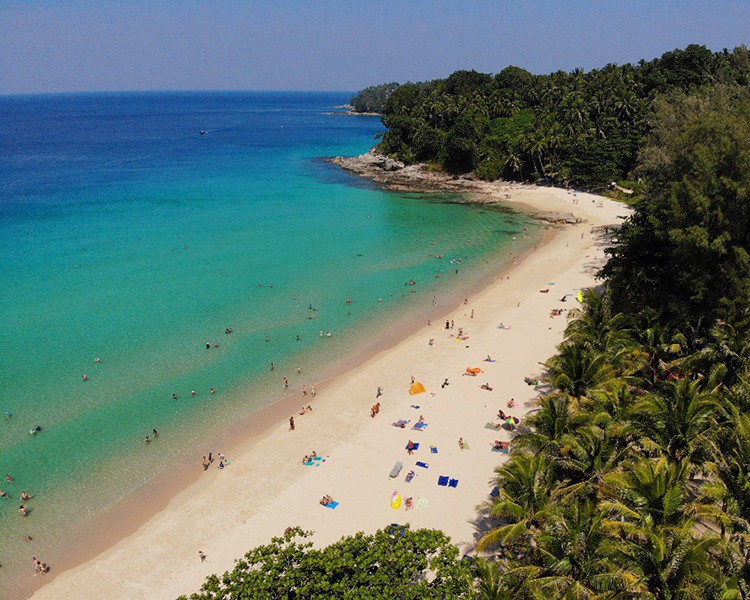 Take a trip to this little corner of Phuket where palm trees sway in the wind and calm waters await.
Little flea market style stalls line the beach where you can buy smoothies, fruit and snacks, and all sorts of naughty snacks.
You can also get yourself pampered with a proper Thai massage for only 400 TBH (1 hour).
While it is the home to the celeb favorite, "Millionaire's Row", Surin Beach feels more like a coastal village with a gorgeous bay and an exceedingly picturesque look.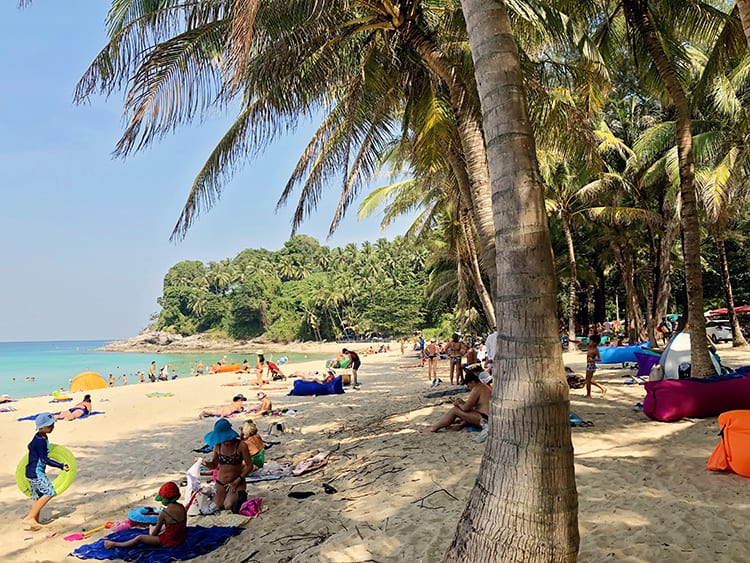 You won't find any beach chairs to hire here, so make sure you bring your towel, or your proper Thai Beach mat and simply hit the beach old-school style.
Tip: It's a perfect spot for swimming in the high season (December to April) as it can get rough during the low season.
If you wish to stay close to this beach, you can't go wrong with the gorgeous (but pricey) The Surin Phuket. If you prefer more affordable options, Surin Beach Resort has budget-friendlier prices and also offer family-friendly features as well.
>>> Click here to check prices and availability at The Surin Phuket
>>> Click here to book your stay at Surin Beach Resort
5. Kamala Beach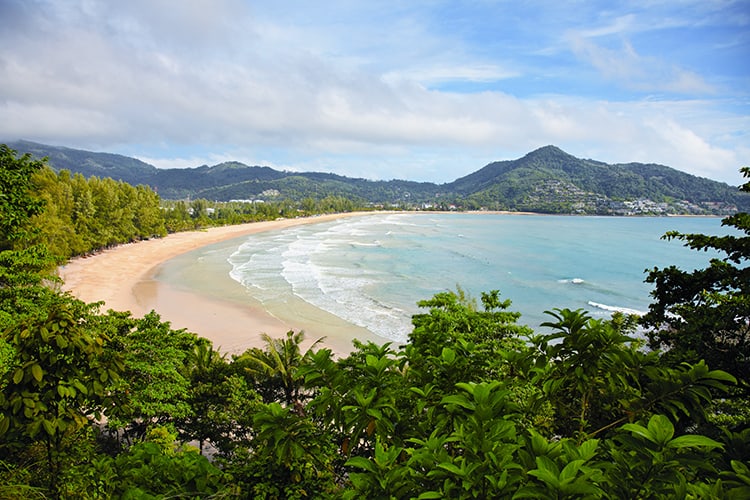 Hugged by steep tree headlands, the gorgeous Kamala Beach is unmissable on a list of Phuket's best beaches.
This 2 km long stretch of sandy paradise provides visitors with stunning views of the bay and surrounding greenery. Without the hype that is found on some of the more 'touristy' beaches, this beach has a relaxing and laid-back atmosphere.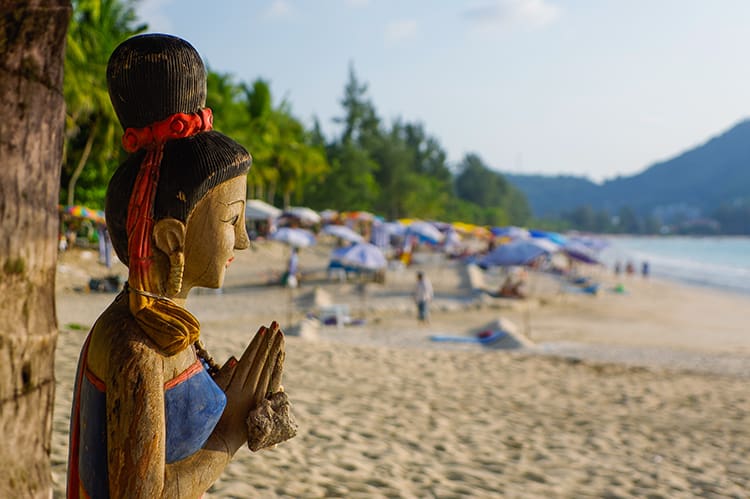 Its calm shoreline makes it a lovely swimming spot and you can even rent boards from Surin, then hop on over to Kamala for a surf.
It also has a strong local touch with the restaurants, cafe and massage shops that sit behind the beach. Everything from the forested fringe to the quaint atmosphere makes Kamala Beach the charming place it is, and definitely puts it in the running for the best beach in Phuket.
Because Kamala Beach is so popular, you will find a massive range of hotels close to the beach. If you want to stay in a resort that is on the beach (rather than a few blocks away), we highly recommend that you check out the very popular Novotel Phuket Kamala Beach Hotel (we all know Novotel is a good brand), or alternatively we also love the Kamala Beach Resort – A Sunprime Resort.
>>> Click here to check prices and availability at Novotel Phuket Kamala Beach Hotel
>>> Click here to book your room at Kamala Beach Resort
6. Bangtao Beach
This quieter, long beach is one for the families, with tons of beach toys for sale and plenty of shade from its fringe of gorgeous trees.
There are plenty of restaurants along the beachfront and massages on offer for a perfect touch of relaxation. Despite being one of Phuket's biggest beaches, Bangtao Beach feels secluded and untouched.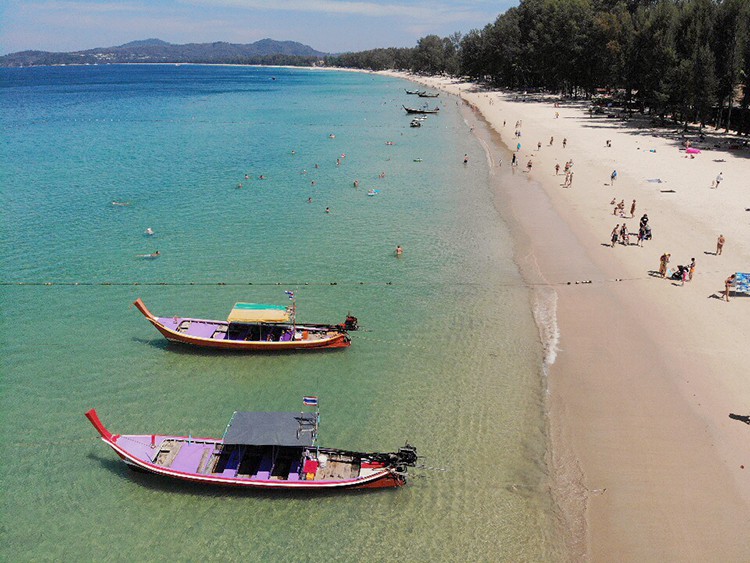 With virtually no rocks near the shore, it's the ultimate place for a dip in the inviting Andaman Sea. During the high season, the water is especially calm, which makes it perfect for water sports (you can even rent a jet ski on the beach).
This 6 km long beachscape looks every inch the island destination with some top-notch beach clubs dotted along the promenade.
We stayed at this beach during our last visit to Phuket. We were travelling with our 2 year old and stayed at Sunwing Bangtao Beach. This hotel is brilliant for families. They even have rooms that they call "Happy Baby" because it comes with stroller, cribs, high chair, baby baths and everything you might need for your stay. Pools have slides and there are regular kids activities on too.
>>> Click here to check prices and availability at Sunwing Bangtao Beach
Find our full list of family resorts in Phuket here. Or if you are traveling without kids, check out our list of best resorts in Phuket here.
Final Words on Phuket's Beaches
If you're looking for some of Thailand's best beaches, Phuket is the place to find them. With a combination of oceanside oasis to vibrant hubs filled with water sports and the rhythm of Phuket, you'll find the perfect beach for you.
You can also grab a list of some adventure activities to add to your list as well. And don't forget to check out our one-day itinerary to see some of the most popular sights in Phuket.
We hope you enjoyed our list of the best beaches in Phuket – let us what know your favorite Phuket beach is!
Tip: If you are traveling with a baby, make sure to check out our guide to finding the best baby beach gear here.