It is not often in your life that you find a destination that has so many options of activities that you can create a whole day's worth of activities based purely on an adventure!
If you have an adventurous spirit and you are wondering what to do in Phuket, Thailand to keep your soul burning, then this list is for you!! A day fully jammed packed full of Phuket adventure activities during the best time to visit! Because here in this country, these activities come cheap, so you don't even have to think twice about signing up for some!
From Phuket ATV's and buggies to horse riding along the beach! We even had the chance to explore the fun Phuket go-kart and shooting ranges! And why not throw in some racing around the ocean on Jet Ski's as well?
There are plenty of thrilling things to do Phuket offers for families!
---
10 Phuket Adventure Activities To Add Excitement To Your Holiday
After spending two days on the water on a Phi Phi Island tour and a James Bond Island tour, we were keen to let go of some pent-up energy and find some of the best things to do on Phuket island! We managed to find the most fun Phuket attractions and activities.
Here is our list of the 10 most unforgettable Phuket adventures!
1. ATV & Buggy rides through the Jungle
We couldn't wait to jump into one, fire it up and zoom around. Our Phuket ATV and Buggy adventure started at the bottom of the hill and off we went straight into the dusty track. Can you see the masks on our chins? Yep, they are there to protect you from eating dirt haha. No worries there. Behind the mask, all you can see is a massive smile.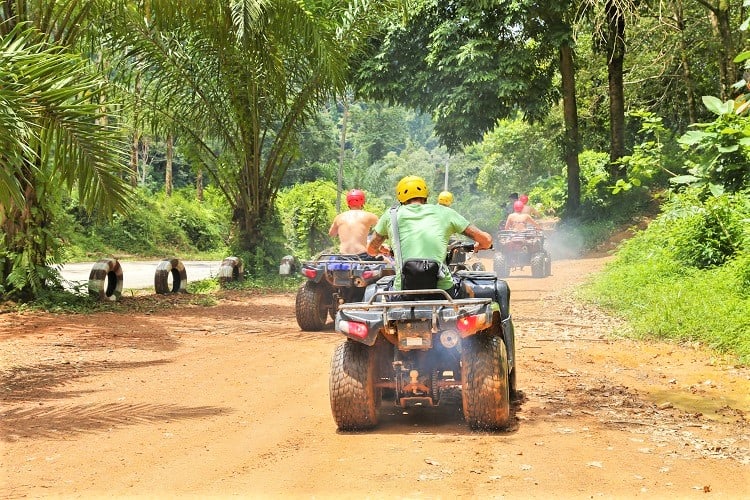 The buggy adventure happens to be one of the top activities in Phuket, so we would recommend going there early to avoid the rush of tourists as well as to stick to the cooler times of the day! Moisture from humidity and dust combination might not be everyone's cup of tea.
Our track took us on a very bumpy ride and we passed some really spectacular views, other smiling faces on their buggies, ATV's, horses or even elephants. You don't see that every day, right? Make sure you got your camera ready and snap away.
My wife and I love doing all the Phuket adventure activities together, so we decided to take only one buggy. This is a must-do in Phuket!
We paid around 2,500 Baht for a one hour Buggy Ride which went all the way to the pretty famous Phuket tourists attraction: the Phuket Big Buddha.
Usually, back home, you would only be able to plan one of these adventurous activities at a time, but with the beauty of travel, here in Phuket, it is only just a morning teaser. The adventurous day has only just begun and the next destination awaits.
To see the heart of Phuket's jungle, book your own ATV tour here!
---
2. Horse riding on the beach
We both love horse riding, not only for the relaxing time outdoors but for the pleasure to get close to those amazing animals. This is such a beautiful way to experience the best beaches in Phuket!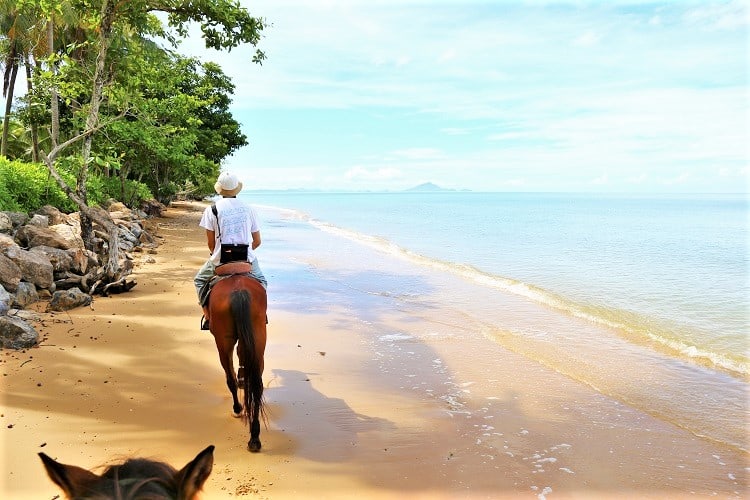 Our driver took us to an awesome spot where we could ride the horses on the beach. How cool is that? I think the smile on my wife's face says it all. I think even the horse is smiling in this picture.
To explore Phuket while riding horse-back, book your horse riding tour here!
We took a 1.5 hour Phuket horse riding option and it costs us only 1,500 Baht each. Galloping on the sand felt like being in some kind of movie or something.
There is something very relaxing about riding a horse, especially in this part of the island. The view stretches over the water onto the small islands scattered around, soft sand kicks up behind us and to be honest not much else is needed at this point.
There is an option of doing the sunset beach ride, but we had many more activities on our list of things to do to get through, so the mid-morning ride was best for us. I absolutely recommend it!!
---
3. Extreme go-karts – Formula 1 style!
I think this next picture says it all. Who doesn't like to race around on the track in your own little speed machine? Some Phuket Go Karts are the best way to get your adrenaline pumping again. It is definitely a must-do on your list of fun things to do in Phuket.
The super-fast, super exciting and super fun ride will leave you hungry for more rides on this fun go-kart Phuket activity. The rides are in 10-minute intervals and you can get double seaters for parents with kids if you like.
Phuket Go Kart prices: around 890 Baht per person
Talk about hungry? Our day, as you can see, is filled full of fun attractions, so time to break it up and indulge in local cuisine overlooking one of the beautiful bays of Phuket.
---
4. Jet Skiing in Phuket
Next up, is of course some water sports!! You simply cannot have a day in Phuket without getting into the warm water at one of the amazing Phuket beaches.
Jet skiing in Phuket is a perfect activity in the late afternoons, to get refreshed, busk in the sunshine and get a bit wet. If you didn't get enough adrenaline pumping through your veins before, this is another way to get it going. The ocean waters are also one of the Phuket must-sees!
At first, Jolene was a little skeptical (never being on a jet ski before and having a slight fear of water!). So we decided to share a jet ski where she held on to me for dear life, wrapping her hands around my waist. But her anxiety didn't last long.
Soon she was the one driving and jumping the waves at lightning speed and I was the one holding onto her. I didn't mind at all. It's so cool, to see your loved one have such a great time.
Make sure you get your hotel to book the Jet Ski hire for you, as they will get the best deal!
---
5. Phuket Shooting Range fun!
Now, this is something that I love. I absolutely love shooting ranges and everywhere we go in the world if I see one, we simply must stop there. It is just so much fun target shooting, so if you haven't done that yet, it is about time.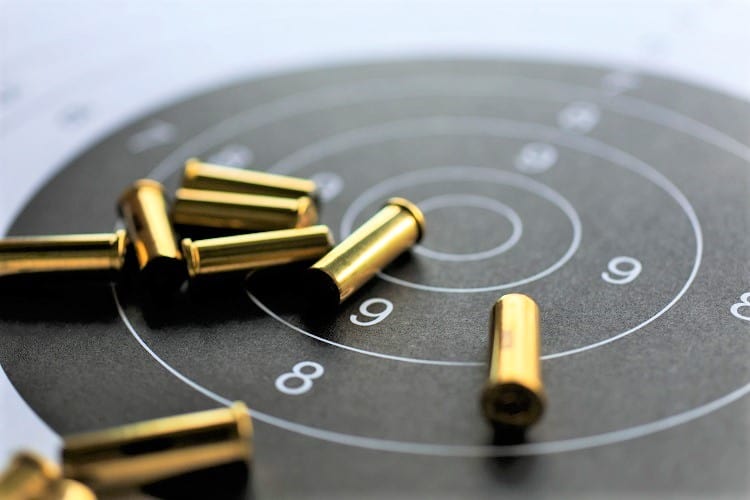 The guys that run the Phuket Shooting Range are very professional and all safety measures are taken. A short lesson on the range and an explanation of how things work; safety gear issued and off you go test your skills with one of the numerous pistols, rifles or even crossbows.
Prices vary on what you want to target shoot with but expect to pay around 1,000 Bahtplus per 10 shots.
Jolene got 82 per cent on her target, for shooting her pistol. What number did you get up to? Be honest here!! Haha…
I had a go a more powerful weapon, however, it is safe to say that shooting clay discs is not really my strong point and the exercise left me with a sore shoulder and 1 out of 10 scores. A change of weapons to a pump-action shotgun and 9 out of 10 targets went down.
This is one of the most fun places to visit in Phuket!
---
6. Bungy jumping Phuket adventure
Something that will push your limits and get the adrenaline pumping whilst you are in Phuket, is a bungy jumping experience! With all the magnificent vegetation and fresh natural surrounds, this is sure to be a highlight.
Bungy jumping is a great choice of the many outdoor activities in Phuket, Thailand that families can enjoy together.
To enjoy one of the best Phuket adventure activities, book your Bungy jump here!
---
7. Zipline across the trees
Glide across the treetops and be in awe of the incredible jungle below you as you fly through and see the best of Phuket!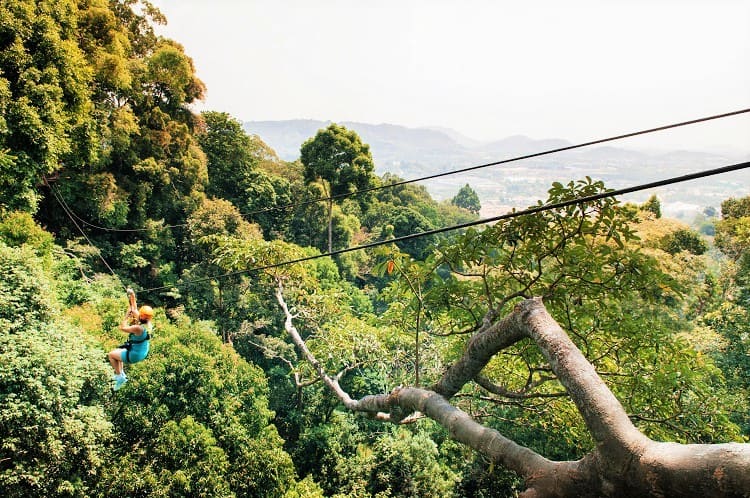 There is no better way for Phuket tourists to indulge in the beauty of this island's vast tree life and natural rivers than to get a zooming bird's-eye view of it all.
This is one of those fun Phuket activities everyone can join in for!
Make the most of your time and do one of the most adventurous things to do in Thailand, Phuket by booking this activity here!
---
8. Make the most of canoeing adventures in Phuket
If you want to know what to see in Phuket, one of the biggest attractions are the surrounding islands and magnificent turquoise waters. Paddle with the whole family and see some of Phuket's hidden gems!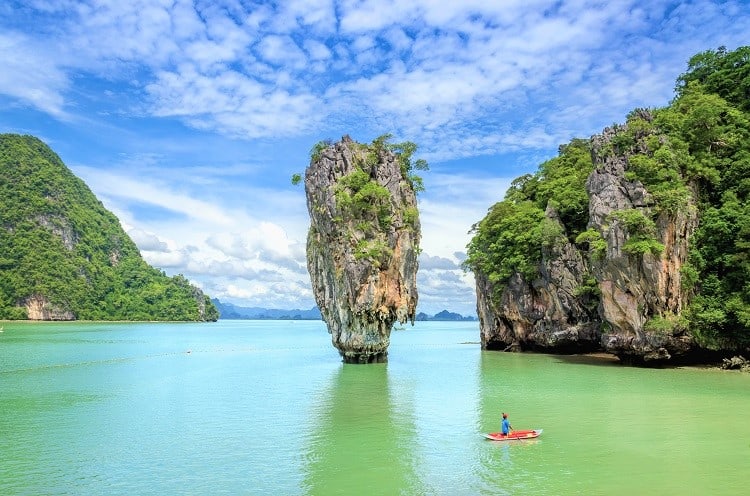 Tour the waterways and have a unique view of the jungle landscapes. This is truly one of the most fun and unmissable activities to do in Phuket!
Take to the seas and book your canoeing tour here
---
9. Zorbing activities in Phuket
One of the top things to do in Phuket with every member of your family is zorbing! This unique and fun water sport is something everyone will enjoy, and laughter is guaranteed.
This is one of the best Phuket, Thailand things to do if you enjoy fun in the sun and plenty of splashing.
Whether you are a solo Phuket tourist, or with your whole family, zorbing is a must.
Get the family together for a game and book your zorbing activity here!
---
10. River rafting Phuket activity
Phuket is home to some of the most enchanting waterways, full of thriving habitats and unusual birds. River rafting is not only an exciting Phuket adventure, but it is also a great way to spend time together and see the sights of Phuket's wildlife.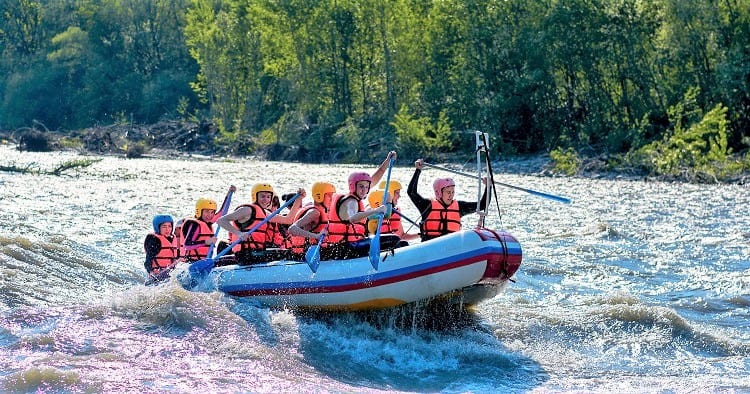 This is one of the top things to do in Phuket for everyone! Families especially can make the most of this adventurous activity in Phuket.
To explore to riveting waterways on an exciting river rafting tour, book here!
---
Final Thoughts on What to Do in Phuket
What an incredible day full of Phuket adventure activities! Will you be adding any of these to your list of 'What to do in Phuket'?
Well, after such an amazing day full of thrills and adrenaline-pumping excitement it's time to get back to the hotel for a relaxing massage and perhaps freshly made margarita. Sounds good? I think so…
Book into one of the best family resorts in Phuket, and get ready for a holiday you will never forget.
For more information and stories about our time in Phuket, click here!
---
''Adventure isn't hanging on a rope off the side of a mountain. Adventure is an attitude that we must apply to the day-to-day obstacles in life.''

John Amatt
In case you'd like to read more fun quotes, here are our favorite quotes about adventure and quotes about travel.