Heading on an exciting trip to Koh Samui in Thailand? I bet you are wondering where you should stay on the island. Maybe you are trying to find the perfect resort that will keep your kids happy … maybe with a kids club?
Or if your kids are older, I bet you want to find spacious accommodation with at least two bedrooms.
We know the importance of comfort on a family trip. That's why we made this review-based guide on the best family resorts that meet the expectations of adults and kids alike.
Melati Beach Resort And Spa
Don't have time to read the whole article? One of the best Koh Samui resorts for families is the beautiful 5-star:
Melati Beach Resort And Spa
A tropical retreat isn't complete without a cozy haven that offers everything in its might, starting from luxurious views of sunsets to amenities that can make heaven jealous!
Therefore, after careful research, we reviewed some of the most visited and highly rated family resorts in Koh Samui.
Without further ado, let's catch a flight to Koh Samui and see what these family-friendly hotels in Koh Samui offer.
Quick Guide: Best Koh Samui Family Resorts
After a quick list of the top Koh Samui family resorts? Here are the best Koh Samui family resorts.
Private and quiet beach
Family Villas with private pools
Kid-friendly and adult-only pools
Comfort and luxury on the beach
Infinity pool with a beach bar
Beach-front villas with private pools
Spacious villas with luxury touches
Relaxing beach-side pool
No kids club though
---
Top 10 Best Family Resorts In Koh Samui
Here are the best Koh Samui family resorts, with detailed reviews on each:
– Location: Thongsay Bay Beach
– 5-Star Resort
– Rated 8.5/10 (Over 850 Reviews)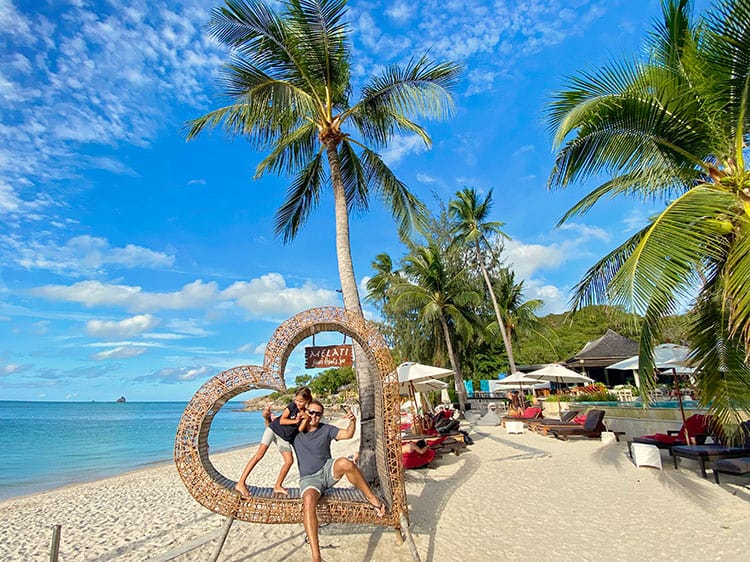 Our favorite thing about this resort was the beach area. As can see in the picture above it is just so picture-perfect.
The best thing yet is that it is a quiet beach, with only two resorts that have access to the beach.
So if you love luxury, comfort, and a great beach and pool area, Melati Beach Resort and Spa offer all of this and more for families touring Koh Samui.
With picturesque gardens, swaying palm trees, and a distinctive blend of contemporary Thai design, this beach resort offers a comfortable stay to beach lovers.
Family-friendly Hotel in Koh Samui

We had the most enjoyable four days at the resort with our four year old.

The older security guard at the gate was so cheerful who saluted us every time we approached the gate and greeted us so warmly.

Samuel from Australia (Rated 10/10 – Read More Reviews)
The resort is great for families and even provides babysitting facilities if you have a toddler with you.
It offers five-star amenities with private pool villas, guest rooms, and suites with exclusive access to Thongson Bay.
If you're with a family, then booking their full-size family pool villa with five rooms (200 sqm. each) would be perfect, and it's even jam-packed with all necessities.
Furthermore, the Melati Beach and Spa resort has an adult-only pool, a family pool, and a children's pool where everyone in your family has something to look out for.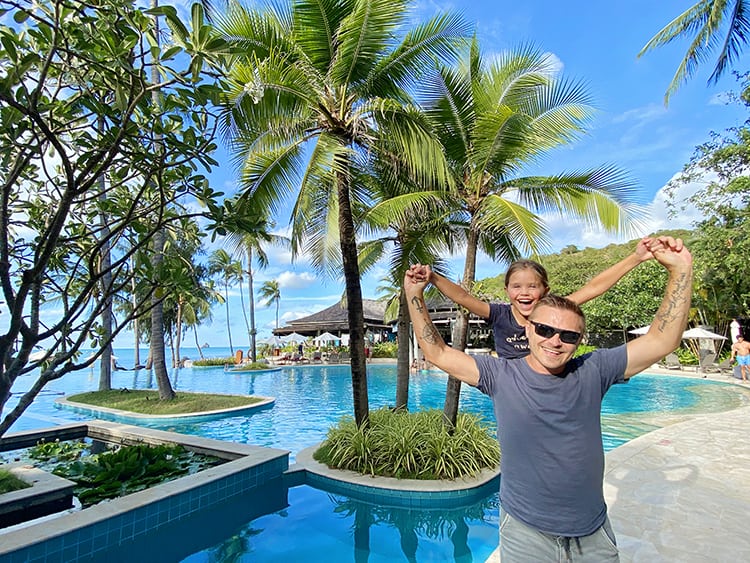 It also has a kid's playground and club with tons of activities that will keep them busy while you're planning a romantic getaway.
The club further offers multiple creative activities, ranging from seashell collection to coral paint.
There are some educational, creative, and sports activities that kids can partake in on their vacation to Koh Samui.
For instance, cooking activities like pizza making will help them learn more about their favorite delicacy, while various artistic activities like plaster model making will bring out their artistic side.
Meanwhile, the shallow and crystal clear waters of Thongson Bay beach are safe, and kids can swim without a problem.
---
– Location: Chaweng Beach
– 4 Star Resort
– Rated 9.2/10 (Over 450 Reviews)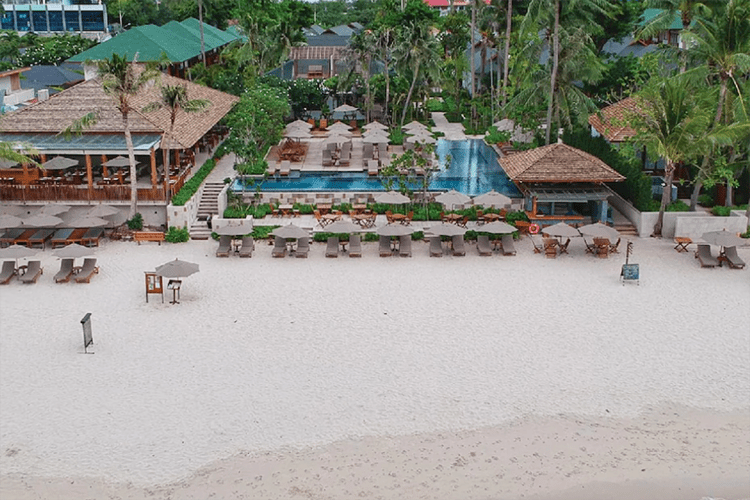 Banana Fan Sea Hotel will quench your thirst for comfort and luxury while staying in Koh Samui.
This resort is located on the southern end of the famous Chaweng Beach and lies close to the entertainment and shopping havens of the island.
This hotel is by far one of the best to stay in. We've travelled the world and these guys have got it right…

The pool is an infinity pool directly on the beach with a swim up bar… the surrounding beach is cleaned daily… The breakfast was fab… hands down 10/10… All round this place is brilliant… you will not be disappointed!

Daniel from United Kingdom (Rated 10/10 – Read More Reviews)
It just takes a 10-minute driveway from the airport to reach the resort and once you arrive, get ready to be welcomed by tall palm trees and a sandy beach.
The resort offers a wide range of amenities with 74 rooms, some of which even feature exclusive pools and sea views.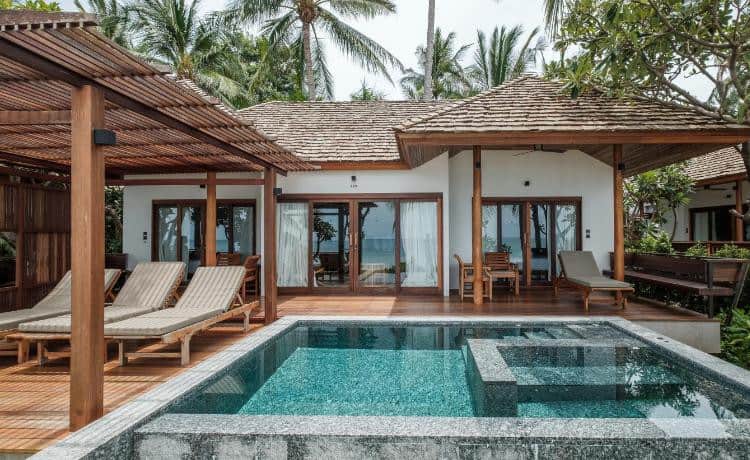 If you're traveling with family, you should surely go for their premium rooms with a roof deck and sea view room or beachfront villa with a private pool room.
The former has two rooms (92 sqm) while the latter has two rooms (160 sqm) with a king-sized bed, a twin-sized bed, free-wifi TV, mini-bar, telephone, etc.
Moreover, the resort also has a kid's pool area, a kid's playground, babysitting services, and other fun activities like Thai language learning, cooking, painting, etc., that children can partake in.
Although there's no kids club, the staff is quite friendly, which keeps your kids entertained.
Besides that, the Chaweng beach stretch, just a step away from the resort, is safe for kids to swim and have fun.
---
– Location: Choegmon Beach
– 5 Star Resort
– Rated 9.1/10 (Over 1800 Reviews)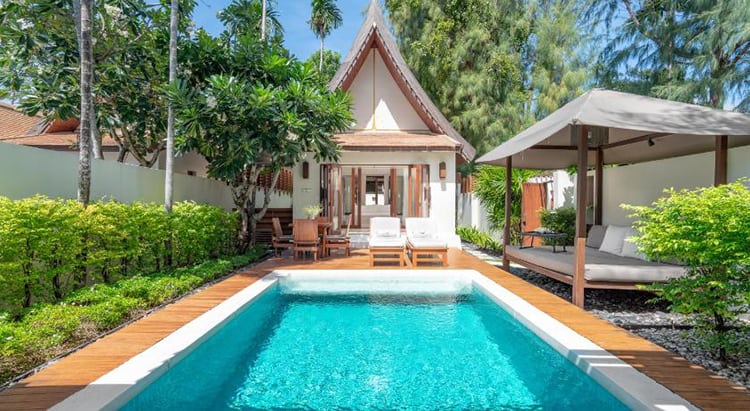 Opt for a lavish and comfortable staycation on the beach at SALA Samui Choengmon Beach Resort. Their spacious villas with generous amenities are perfect for families with kids, and the location is ideal as dining and shopping centers are a walk away from the resort.
The resort has 69 rooms and villas featuring both minimalistic and luxurious designs with private pools, open-air bathrooms, free Wi-Fi, a minibar, a TV, and other essentials.
If you're a family of four, opt for their Family Getaway Package, which includes daily breakfast, children's treats, discounts on food and spa, etc.
The perfect hotel

We stayed six amazing nights… Everything was perfect… the villa was spacious with an amazing pool, staff was attentive and always a step ahead of what one can think of like serving cold water and watermelon on the beach.

The hotel is fairly small and feels familial, and boasts an access to a lovely beach. Could not recommend this place enough…

Adi from United Kingdom (Rated 10/10 – Read More Reviews)
If not, then their two-bedroom villas would be ideal, but note that there wouldn't be any complimentary breakfasts.
Besides that, the resort offers various recreational and sports activities like cooking, snorkeling, kayaking, and Muay Thai, which you and your family can enjoy.
The pool overlooks the beach and it is so luxurious and perfect! They also have a private area on the beach with some comfy sun loungers as well.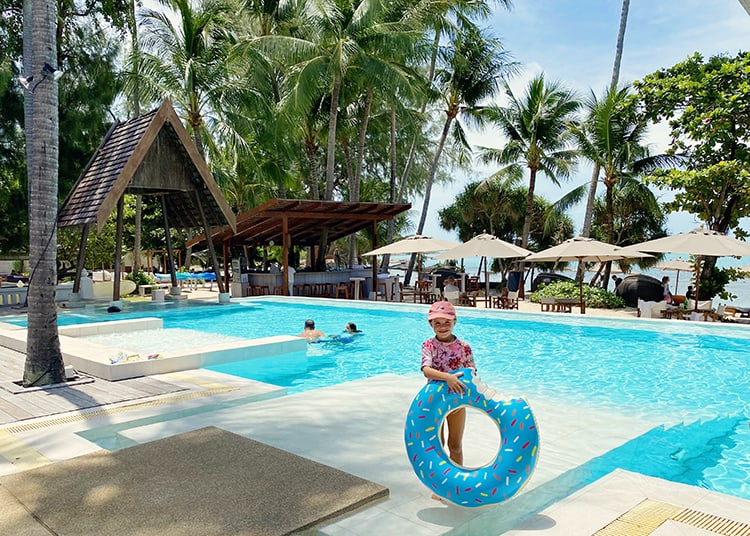 And if you have a toddler, availing of in-room childcare would be perfect, although additional charges may apply.
Also, the Choeng Mon Beach, on which the resort is located, is beautiful and perfect for kids to swim as the waters aren't too deep.
But, there's no kid's club or playground where you can leave the kids, which is quite a letdown.
---
– Location: Chaweng Noi Beach Bophut
– 5-Star Resort
– Rated 8.6/10 (Over 350 Reviews)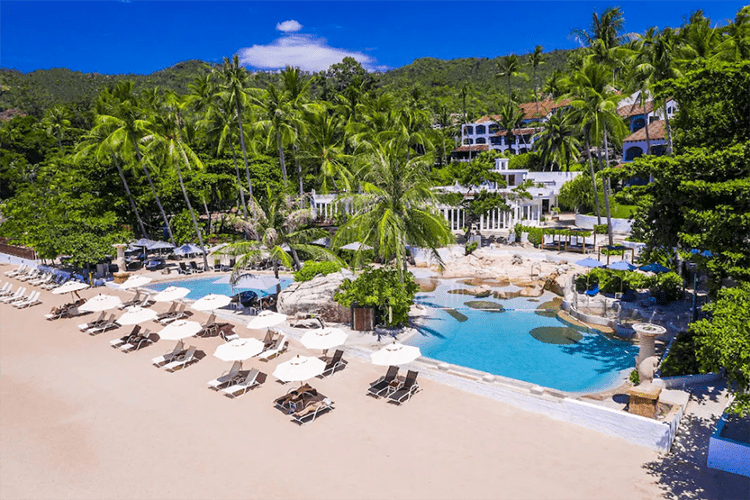 If beachfront accommodation is what you desire on your next family vacation, then Sheraton Samui Resort will meet those requirements with ease.
The resort is located along the turquoise waters of Chaweng Noi Beach and is just a 15-minute drive from Samui airport.
Best in Koh Samui

Sheraton Samui is the favourite hotel of my family… This one was our 15th time in the hotel. The quality if service, attention and professionalism of the staff, the amenities, cleanliness -are on the highest level…

I can totally recommend this place to stay for any type of travellers – from those with small kids – you have a kids center with playground, different activities for the couples – you can organize nice dinner on the roof of the restaurant – just for you two, enjoy Spa , sunbathing, swimming and night life and Chaweng.

Irina from Hong Kong (Rated 10/10 – Read More Reviews)
Surrounded by lush greens, the whole ambiance of the resort is relaxing, and it's just perfect for unwinding.
This resort has 141 fully equipped rooms and suites, and if you're a family of four, then you should opt for their family suite. They even include a small bathrobe for kids, a kid's slipper, and this cute little tent.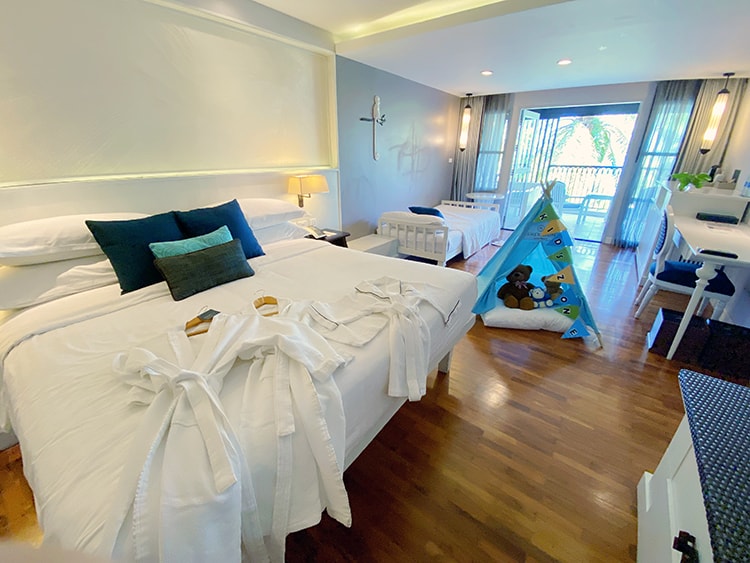 The family suite consists of two bedrooms with king-sized beds, a minibar, mini-refrigerator, TV, crib, and just everything that you require for a comfortable stay.
Even babysitting services are provided so that you can have a romantic getaway of your own without worrying about the younger ones.
Moreover, their beachfront kids' club is simply outstanding and features indoor and outdoor play areas, a picnic zone, and fun activities, perfect for your little balls of energy.
Our daughter loved all the activities and enjoyed personalizing a canvas bag and creating some painted figurines from plaster.
Other activities like kid Thai boxing, kite flying, and pizza classes will captivate your kids and keep them occupied. They can even swim and have fun in the water at Chaweng Noi Beach, the children's beachfront pool, or the garden pool.
---
– Location: Borpud Chaweng Beach
– 5-Star Resort
– Rated 9.4/10 (Over 650 Reviews)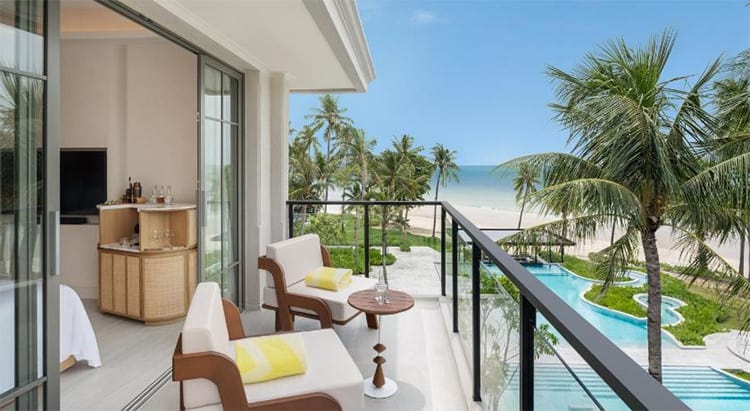 Centara Reserve Samui is a luxurious resort that will leave you awestruck with its splendid architecture and lavish setting. Located just a step away from Chaweng beach, the reserve is one of the best for families vacationing in Koh Samui.
The resort offers 184 exclusive and refined rooms, beachfront pool villas, and pool suites with a private terrace or balcony.
Perfect hotel for family

We love our stay here! Everything was perfect – the swimming pool, the huge room, the views, the staff, the restaurants. We can also ask for "Surprise of the day" which is a special snack serving to our room.

Issaree from Thailand (Rated 10/10 – Read More Reviews)
You can book a family suite with connecting rooms to enjoy the stay at Centara Reserve, though you have to communicate about the same beforehand. All suites are well-furnished and have free wifi, TV, and other necessities to make your stay comfortable.
Moreover, if you have toddlers, then don't worry, as the reserve also offers babysitting services. Meanwhile, your older kids can happily laze around in the children's zone, which has both indoor and outdoor activities.
There's a wet playground and indoor area where kids can paint, play games, and just let their creative and bustling spirits out. So, you can rest assured that the experienced staff will meet your kid's merry needs.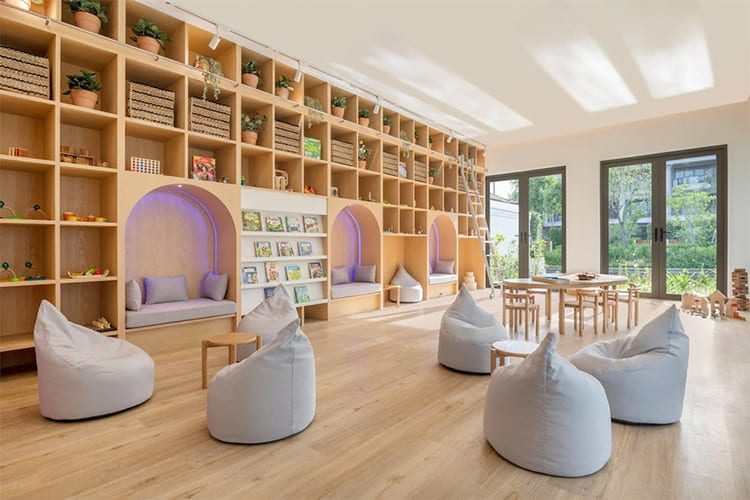 Also, the vast stretch of the Chaweng beach is an added delight where you can unwind with your kids. And after you're done with the day, there's also an option to enjoy a relaxing retreat in the SPA Cenvaree at the resort with massages and other healing services.
---
– Location: Maenam
– 5-Star Resort
– Rated 9.1/10 (Over 190 Reviews)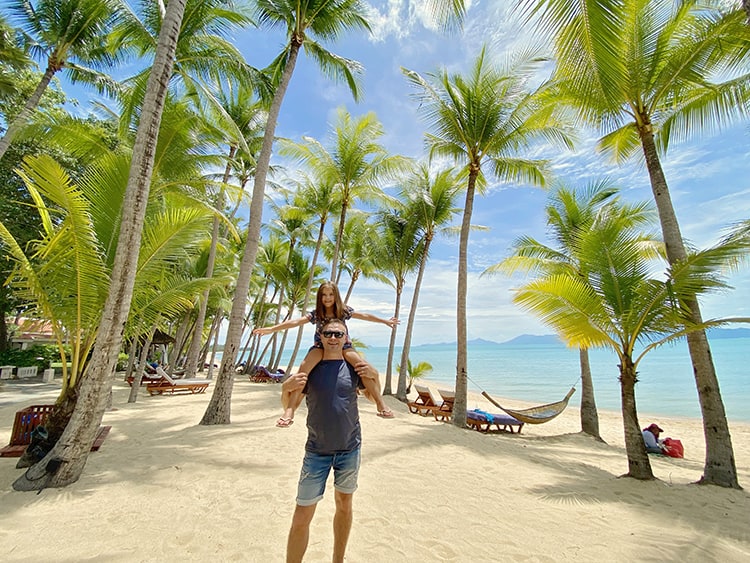 Say hello to SantiBuri, located in the vicinity of Maenam Beach, and enjoy their private stretch with tall palm trees, umbrellas, and sun loungers. Their beach area is the dreamiest beach I have ever seen!
It's the perfect place if you want solitude on your vacation and yet, want all the important hubs in the closest vicinity.
Paradise on Koh Samui

TWe were totally overwhelmed by the beauty of the hotel… Kids facilities are amazing. There is a kids club with activities, lot's of games and toys, there is a nanny service as well.

The food is delicious. Quite expensive (EUR 30 for a stake), but truly delicious. Breakfast is exceptional… The rooms (villas) are specious and very clean… If you are in doubt, do not – just experience this paradise on this island!

Anna from Netherlands (Rated 10/10 – Read More Reviews)
The resort has 71 luxurious suites and villas, and if you're on a family vacation, then their Family Getaway Stay is absolutely perfect.
It comes with daily breakfast, roundtrip transfers from the airport, family Thai cooking classes, babysitting every Thursday (4+ age kids), etc.
But if this doesn't fit your bill, then their fully furnished two-bedroom duplex suite isn't a bad deal too.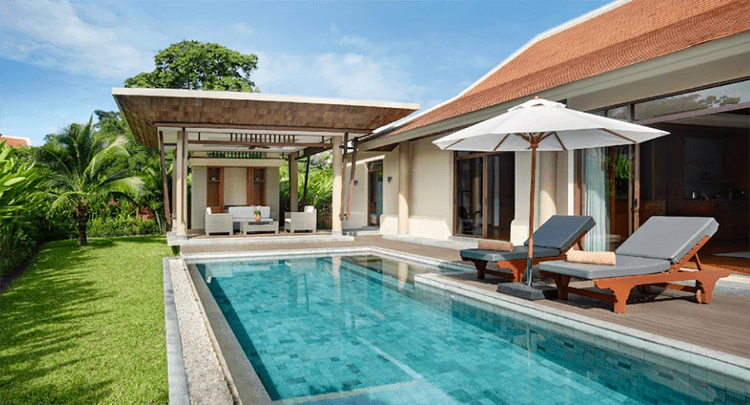 Also, your kids would have something to look forward to as the resort has a kids club and exciting activities that can captivate them.
They have a special Panya & Yim's Junior Camp with a state-of-the-art play center where kids can slide, climb, hop on tree houses and have fun at the live karaoke stage.
The kid's playground, library, petting zoo, etc., are something that can provide wholesome fun to the kids. Even the Bophut and Chaweng beaches are in close vicinity where you and your kids can swim and have a total blast.
---
7. Anantara Lawana
– Location: Chaweng
– 5 Star Resort
Anantara Lawana reflects a Chinese merchant's heritage with its Sino-Thai style villas, acting as a tropical haven with a profound local charm. The splendor of refurbished villas is unparalleled and sits at a prime location of the buzzing Chaweng beach.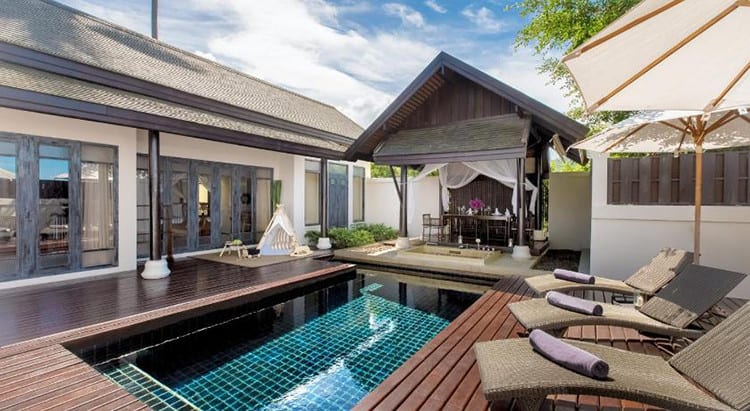 It's a perfect sanctuary for families and a wonderful treat for kids with its massive exciting activities.
The resort harbors everything you'd need on vacation, from accommodation to leisure.
Their 122 renovated guest rooms and pool villas are fully equipped, and you can choose a setting that best suits your style.
If you're a family of four, then their Family Suite is your best bet, with garden views and a separate kids' bedroom.
Besides that, the resort also houses a kid's club, an adventurous action-filled refuge where your kids can play, watch movies, and participate in other fun activities.
However, the kids need to be accompanied by parents or nannies, which is a killjoy.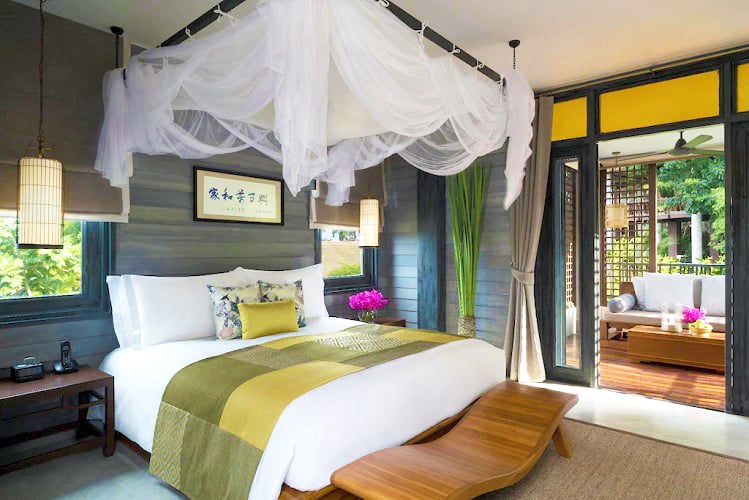 Another bad news is that there's no exclusive children's pool or playground where kids can have fun. But don't be too disheartened as the resort offers a treasure hunt for kids, in-room fun with Nintendo Switch, snorkeling, diving, yoga, and other exciting activities.
Even the Chawang beach offers a great splish-splash and swimming adventure for kids, which is perfect.
---
8. Belmond Napasai
Location: Maenam
– 5 Star Resort
Relish an escapade in the traditional strokes, bamboo interiors, and golden sand at Belmond Napasai.
Located on the Maenam beach, the resort offers exquisite accommodations and fun experiences for families on a mission to explore Koh Samui.
Their luxurious yet natural villas add to the tranquil charm of the resort, and you can book their 2-bedroom oceanfront pool residence for a peaceful stay.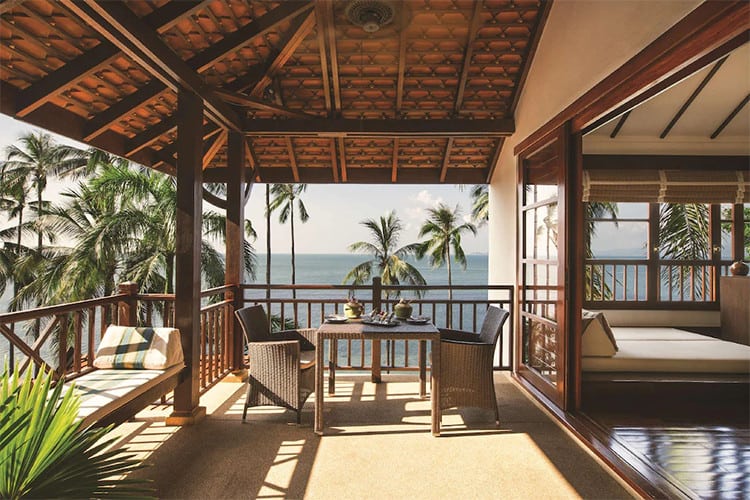 Breakfast, bottled water, fresh fruits on arrival, and wifi are all included, so you don't have to worry about comfort.
Now, coming to leisure, you'd be happy to know that Belmond Napasai offers a range of exciting activities like windsurfing, scuba diving, snorkeling, Thai boxing, cooking and language classes, etc.
There's also a small pool where children can swim leisurely and have fun.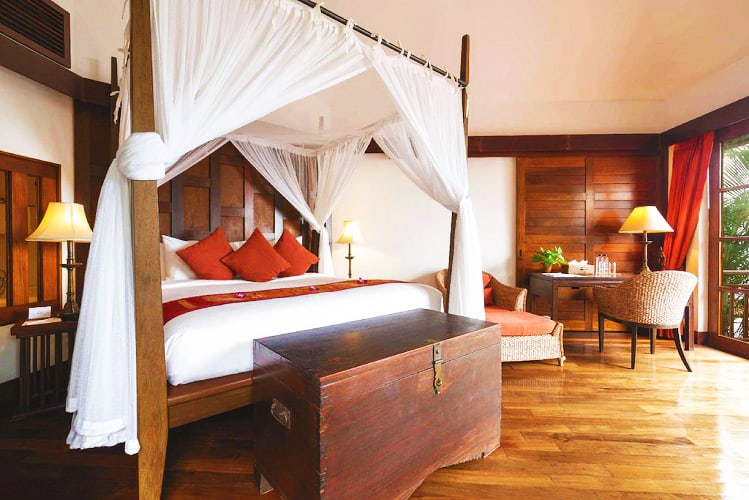 Though it's disappointing that there's no dedicated kid's club or playground in the resort, the private sandy beach will surely keep your younger ones occupied.
Kids can even take free tennis classes to get their sporty spirits out.
Furthermore, a secret countryside tour can surely help where children can explore the local wildlife of the area.
If you are after luxury, then this resort might just be the pick for you.
---
9. Chaweng Regent Beach Resort
Location: Chaweng
– 4.5 Star Resort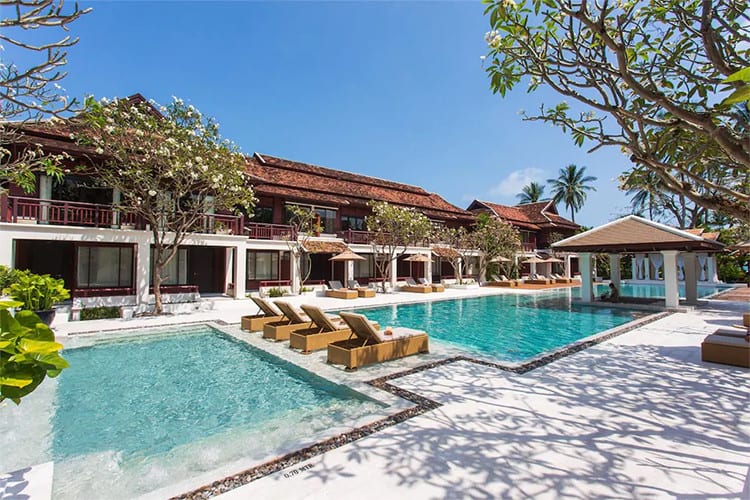 Chaweng Regent Beach Resort is located on the famous Chaweng beach, where shopping centers, restaurants, and other entertainment hubs are within walking distance.
Comfort and luxury take a front seat at this beachfront resort, and it's just a 15-minute drive from the Samui airport. Airport transfer is available 24/7.
The contemporary Thai and chic design of their villa suites and rooms is exemplary. You can book Grand Premier Family Rooms, depending on the size of your family, and all rooms come with king-size beds coupled with other amenities for maximum comfort.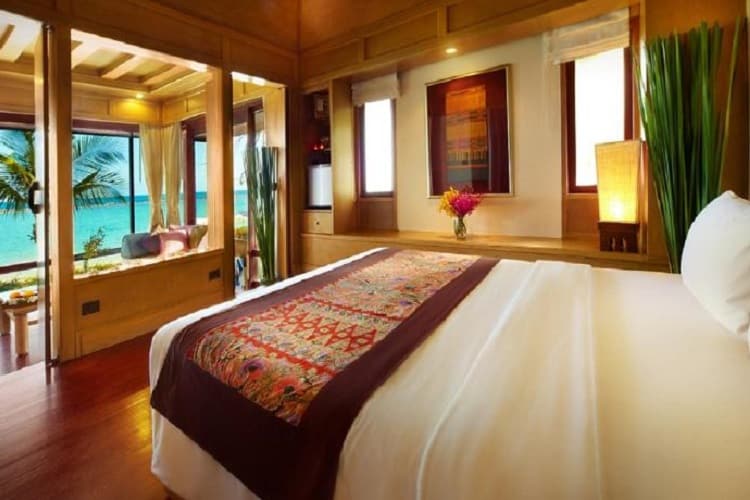 Other than that, the resort is jam-packed with must-haves for kids' enjoyment and merriment.
It features a children's pool, kid's club, sports activities, playgrounds, tours and excursions, and much more. The kid's club also has babysitting facilities but for an extra charge.
Beach soccer, fruit carving, painting, basic Thai lessons, etc., are something that kids can look forward to.
Also, swimming at the adjacent Chaweng beach is great for kids and is safe.
---
10. Amari Koh Samui
Location: Chaweng
– 5-Star Resort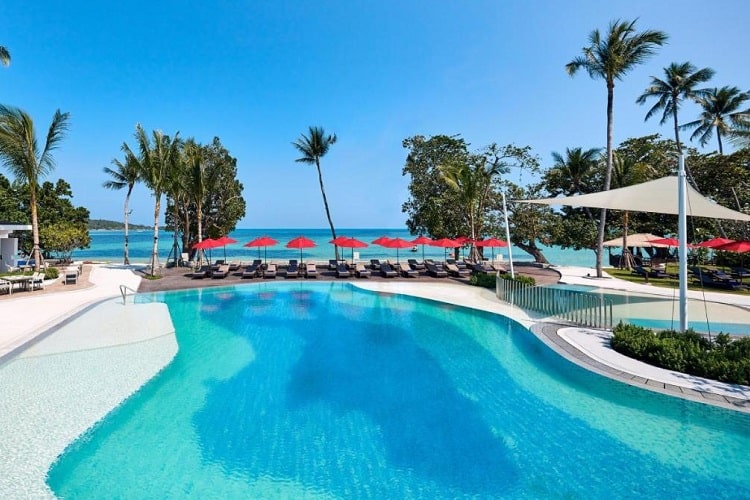 Located at a 5 km distance from the Samui airport, Amari Koh Samui resort sits across the popular Chaweng beach. The modern decor with a fine touch of traditional Thai home gives homely vibes even on vacation and is ideal for families traveling to Koh Samui.
The resort features three wings: Garden Wing, the Thai Village Wing, and the Beach Wing. All wings have balconies and floor-to-ceiling windows offering picturesque sunrise and sunset views.
If you're on a family vacation, you can book their two-bedroom family suite with a pool view.
The rooms have ample space (80 sqm.) with a king-sized bed in one room and twin beds in the other and are loaded with all necessities.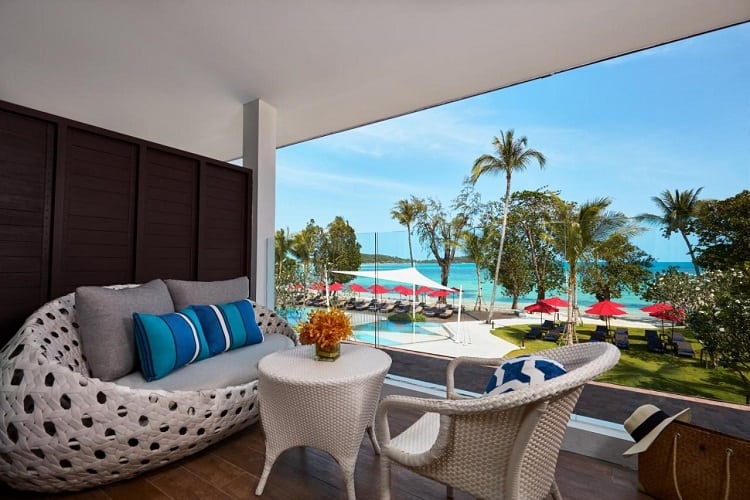 Furthermore, you have various dining options as the resort has Amaya Food Gallery, Amaya Café, Amaya Bar, and Prego Italian Restaurant.
Now, coming to some kid's fun! The kid's club at this resort is a paradise for children as it's filled with all the fun and exciting toys, games, and other fun stuff that will keep them occupied.
It also features a playground with shock-absorbing flooring and a kid's pool for some water adventure.
Moreover, the breeze spa and fitness center provide perfect relaxation and time to meet some fitness goals on vacation.
---
Summary Of The Koh Samui Family Resorts
When faced with so many great options for kid-friendly Koh Samui hotels, the choice can be a bit hard, right?
Saying that we hope this list of the best Koh Samui family hotels has been helpful and that you have found exactly what you were looking for!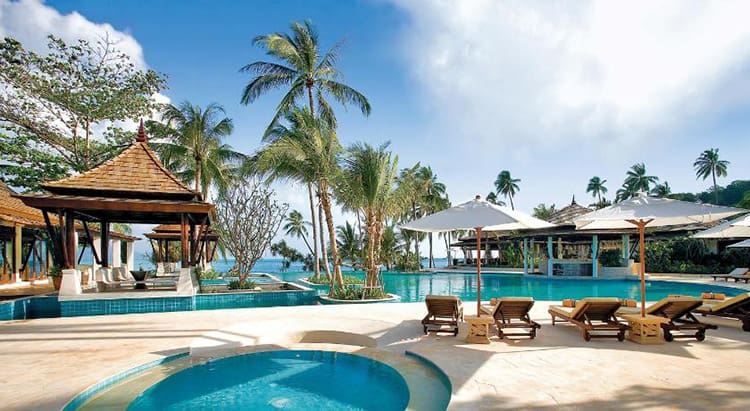 Melati Beach Resort And Spa
Don't have time to read the whole article?
The best choice is the gorgeous 5-star
Melati Beach Resort And Spa
It has a private beach area, a wonderful infinity pool, a children's pool, a kids club, and a kids' playground.
Ready to start planning your trip to Thailand?
All our Koh Samui Articles:
Here is a list of all of our Koh Samui resources to help you with your planning.
All our Thailand Hotel Guides:
Heading to other destinations in Thailand as well? We have loads of helpful guides that will help you to find a suitable hotel that you will love.