Whether it's sunbathing, surfing, snorkeling, diving, hiking or simply exploring, Koh Samui offers something for everyone all year round.
With its perfect beaches, expansive coral reefs, and tropical sea temperatures, Koh Samui is the perfect holiday spot. But when is the best time to visit Koh Samui?
Koh Samui's climate is different from Phuket and other parts of Thailand, while there are still set seasons it's important to know what to expect when visiting Koh Samui.
For example, Thailand's rainy season on the west coast suffers from great monsoon storms, while the east coast where Koh Samui is located, remains a great beach destination.
---
What is the Best Month to Visit Koh Samui?
Although January and February are the months with the best weather in Koh Samui, the best month to visit is in April.
It's only a few degrees hotter, there are fewer crowds and prices are lower, plus you get to join in with the Songkran festival.
---
When is the Rainy Season in Koh Samui?
Koh Samui's rainy season runs from October through to December with November being Koh Samui's wettest month.
November has, on average, 490 mm or 10 inches of rainfall. That's a lot of rain by any measurement! Expect monsoons, windy weather, and water activities to be closed due to safety.
It is however the best time to visit Koh Samui on a budget, with better deals on accommodation, activities, and even food and drink. Other visitors are few and far between and you will have the place to yourself.
---
When is the Best Time to Visit Koh Samui? (A season-by-season guide)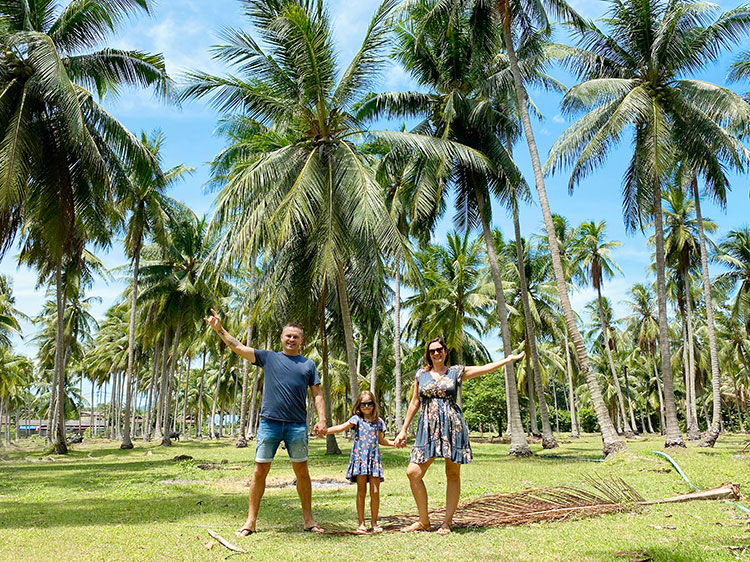 Here is a season-by-season guide on when you should or should not visit Koh Samui. We have also given a quick overview of each month so that you can scan the article and see what the island will be like during your visit.
1. Peak Season in Koh Samui = Dry Season
The best time to go to Koh Samui weather-wise is December to February, it's also Koh Samui's peak season for this reason.
December is the coolest month, but still warm by European standards. Temperatures are comfortable with an average low of 25°C (78°F) and a high of 29°C (85°F). It's mostly sunny with some light showers and it's a great time to do some sightseeing and water sports.
January continues to be cool with average low/high temperatures of 25/30°C (78/85°F), many come to celebrate Western New Year and Chinese New Year with street festivals, fireworks, and temple celebrations.
February is the driest month to visit Koh Samui, and also the sunniest. Days are warm and bright and it's a great time to go hiking and explore the beautiful waterfalls.
2. Shoulder Season in Koh Samui = Hot Season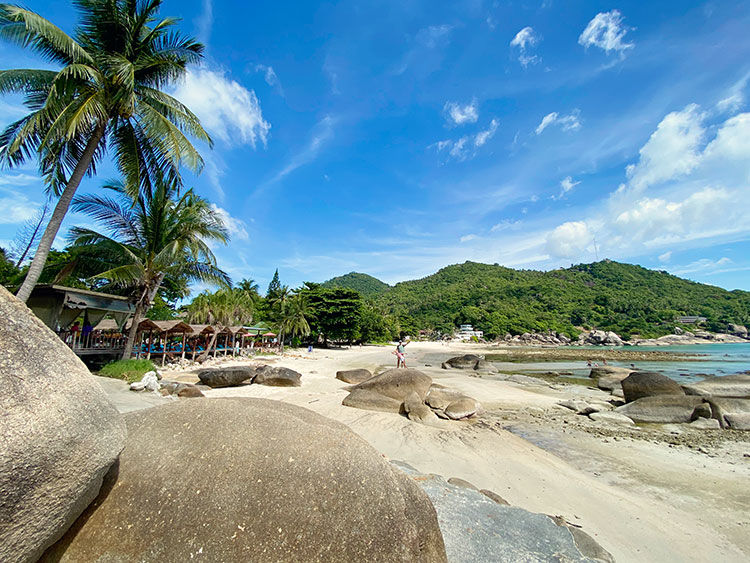 March to June is the hot season in Koh Samui. While February and March are statistically the sunniest months, April is still a good time to visit Koh Samui with the weather staying bright and hardly any rainfall.
How hot is Koh Samui in March? The average low/high temperature is 27/32°C (80/89°F) with temperatures rising steadily into April and May.
It's a great time to experience local festivals like Makha Bucha Day, one of Thailand's biggest Buddhist festivals involving holy gatherings of monks along with tributes to Buddha.
Another great reason to visit in April is the Songkran Festival or Thai New Year. This falls on the hottest time in Koh Samui, April 13–15. People attack each other in water battles, spraying anyone and everyone with water guns to express good wishes and cool down in the heat.
March or April is a great time to visit for underwater activities like snorkeling and diving because of the calm sea. Average sea temperatures are a bath-like 29 degrees centigrade, perfect for spotting turtles and exploring the coral.
The Gulf of Thailand is teeming with tropical marine life, and divers from all over the world come to explore Koh Samui to experience this underwater world.
May is Koh Samui's hottest month, with soaring average temperatures of around 33ºC and can be quite wet.
June is cooler but still pretty humid, it's a good time to visit to avoid the crowds.
3. Koh Samui's Second Peak Season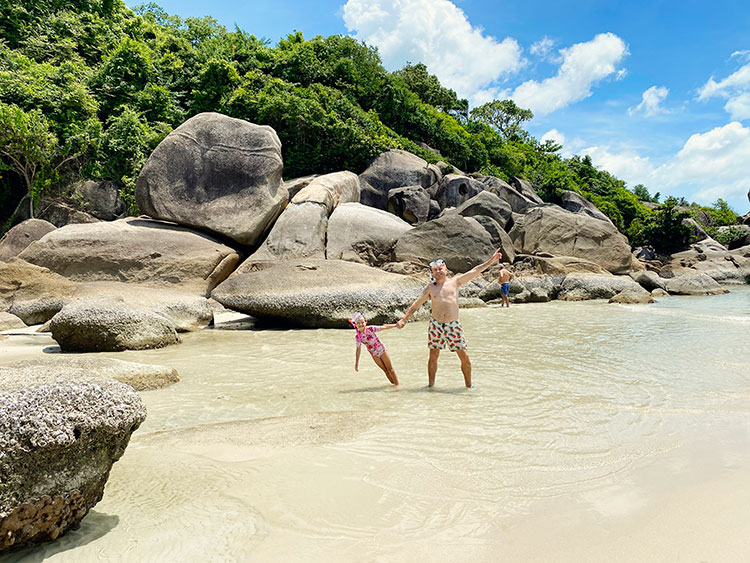 From July to September Koh Samui experiences the second wave of great weather and fewer showers than other parts of Thailand.
July has average temperatures of 27/32°C (80/89°F) with some showers, it's popular during this time with nomads living in Thailand and honeymooners.
August remains similar to July weather-wise, showers remain but are usually short-lived and easily waited out under a bar canopy.
September starts to get a little cooler with average temperatures of 27/31°C (80/88°F), a few more showers but still more sunny days than rainy ones. It is a bit quieter with the end of the summer holidays for many, and prices start to drop off with some great deals to be had on accommodation.
4. Low Season in Koh Samui is the Rainy Season
October and November are Koh Samui's wettest months; the rainy season throughout Thailand makes it a cheap place to travel at this time of year. The average low/high temperatures in October and November are 27/32°C (81/90°F).
Be prepared for heavy monsoons and thunderstorms in November with an average precipitation of 10 inches!
Many watersports close up as the seas are too dangerous with strong winds and rough weather. But there are still other things to do in Koh Samui in November, like a Thai spa or cooking classes.
---
What is the Best Time of Year to Visit Koh Samui Conclusion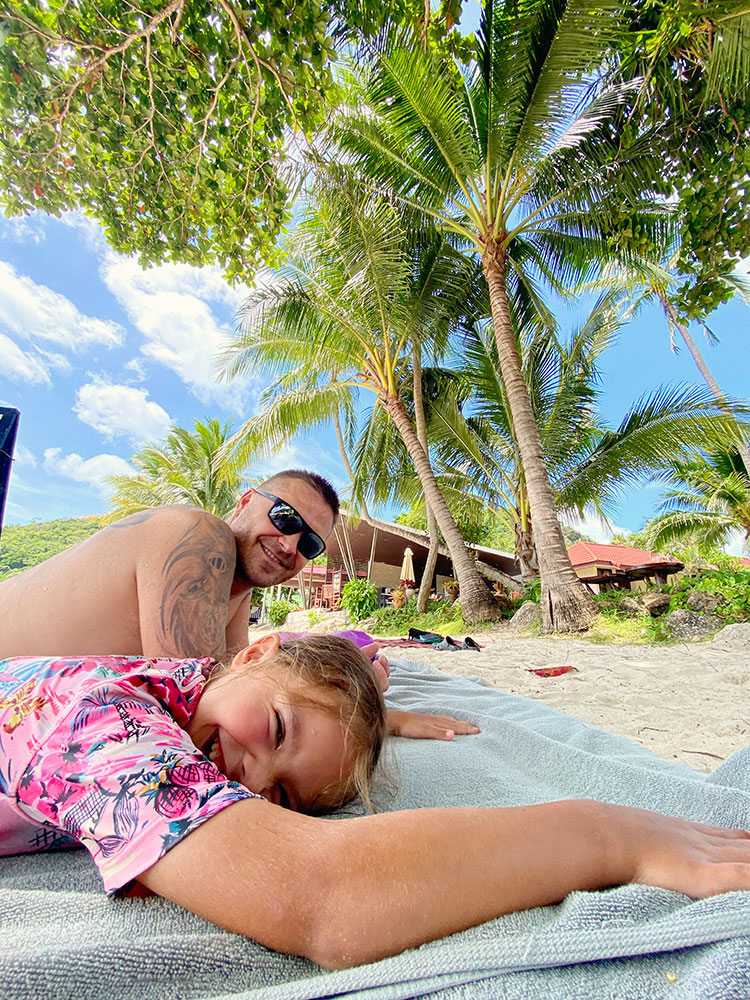 The best time to travel to Koh Samui depends on you. If you just want to come and enjoy the weather and amazing beaches, visit anytime between mid-December to September. It will be the perfect time to check out all of Koh Samui's best beaches!
For hiking, visiting waterfalls, and exploring the outdoors, the dry season is your best bet.
For the many festivals and activities, January and April are great months to visit Koh Samui to experience the culture.
If it's the underwater world you are here for, sea temperatures are great all year round; just avoid the bad sea conditions during Monson season.
If you go at the right time, visibility is up to an impressive 35m around Koh Samui. If you want to see whale sharks, visit during March, April, September, or October, when they're most prevalent in the area.
If you're on a budget and want fewer crowds, the rainy season might be the time for you to visit.
Koh Samui has something for everyone any time of year, but I hope this has helped you narrow it down.
Now that you have figured out when you want to visit Koh Samui, you might like our handy guide on how to get to Koh Samui. And then it is time to start planning your itinerary, use our post on the best things to do in Koh Samui to pick the activities that interest you.
You might also want to know:
---