Koh Samui is an island paradise that offers laidback travelers the perfect beach holiday, filled with action and adventure. From the calm and shallow waters of Lamai beach to the fantastic surfing destination of Chaweng beach, there are plenty of options.
But, finding the best beach in Koh Samui is not always easy, especially with such a vast array of options. We've made the decision easier for you with our list of the ten best beaches in Koh Samui for all types of travelers.
This comprehensive list offers essential information about each beach from our first-hand experience, providing the best insights about each destination.
Tip: Find out how to get to Koh Samui to make your trip effortless and enjoyable.
Your Guide To The Best Koh Samui, Thailand Beaches
Whether you're planning a family vacation or a romantic couple getaway, Koh Samui has an abundance of pristine beaches for you to choose from. This list ranks our favorite beaches from the splendid time we spent at each one.
With lovely warm temperatures all year, Koh Samui beaches are the perfect holiday destination. But with the rainy season, it's important to check out the best time to visit Koh Samui so you can have a lovely time in Thailand.
Now we have organized this list according to our personal favorites! This means that the beach in spot 1 is our absolute favorite.
1. Lamai Beach
Of course, one of the best Koh Samui activities is simply to enjoy lazy beach days.
Lamai is a gorgeous palm-lined Koh Samui beach with soft white sand that extends as far as the eye can see. There are many resorts, restaurants, beach bars, and massage huts along this gorgeous beach.
Without a doubt, the prettiest area is the southern region of the beach, with rocks framing the inviting ocean.
Our favorite spot is the Baobab Restaurant, where the friendly staff makes you feel more than welcome. The restaurant also makes some of the best food (French and Thai) along the beachfront and includes complimentary towels and sun loungers with your order.
A massage parlor next door to the Baobab Restaurant provides terrific services for $8.23 (300 THB). I got some of my best messages from the friendly Thai ladies there.
Lamai beach is a superb option for families traveling with kids, thanks to its lovely shallow and calm waters and soft sand. If you base yourself at Baobab Restaurant, you can also use their stand-up paddleboards, kayaks, and small water trampoline free of charge!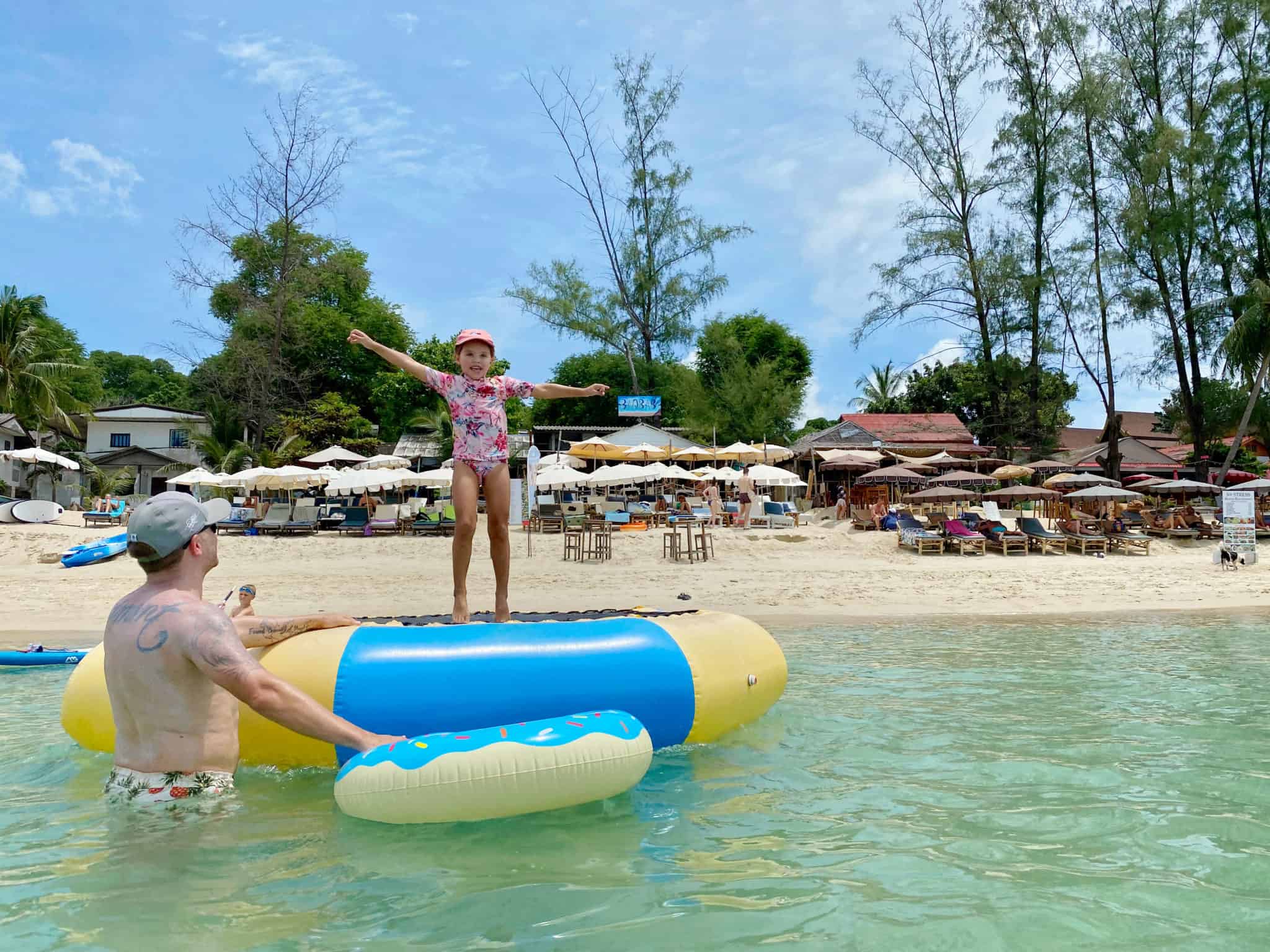 Check out the Samui Jasmine Resort for great accommodation right by the beach, or, if you are looking for something luxurious, the 5-star Renaissance Koh Samui Resort Spa is a fantastic option.
Tip: Click here to book your private jet skiing tour if you're after a more adventurous day. You can also rent your own from the middle stretch of Lamai beach.
---
2. Silver Beach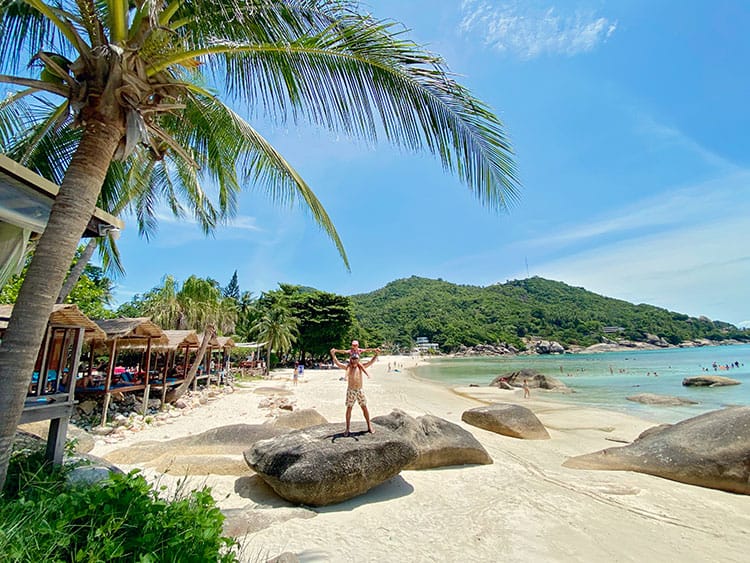 If you are looking for a laid-back experience on the most beautiful beach in Thailand, then look no further than Silver beach in Koh Samui. The 273-yard beach is stunning, with gorgeous rocks lining the outer edges of the beach. The water is crystal clear, so you can see the fish swimming about.
The waters are very calm and relatively shallow, making it an excellent destination for families.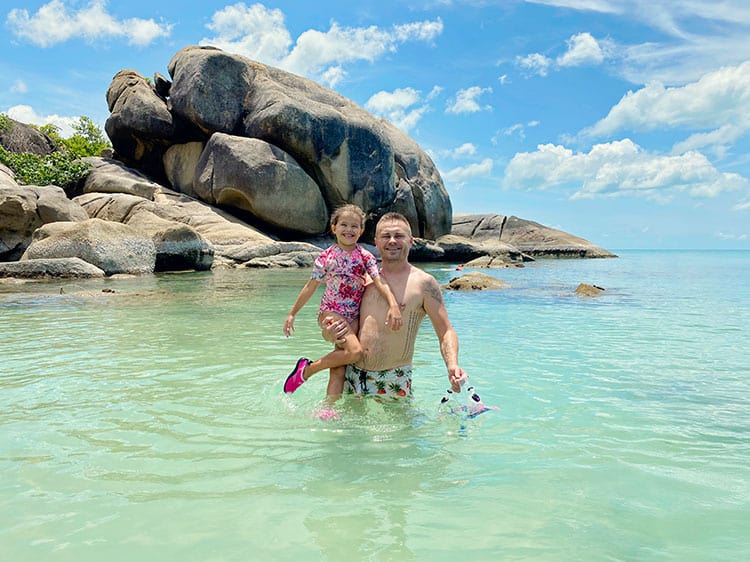 The beachfront is not as modern as other famous beaches on the island, so there aren't any sun loungers, but there are plenty of shady trees to lie under (make sure you come early during peak season as the beach can get busy – but during our visit we found the beach to be quiet).
You can get a Thai or oil massage for $8.23 (300 THB), and there are kayaks for rent for a fun family activity.
Our favorite eatery is the Silver Spoon (it's on the main road, so not right on the beach, but it is worth the small walk, I promise), with delicious food at a great price.
Book a room at the lowkey Silver Beach Resort for the best stay.
Tip: Silver beach is a fantastic spot for snorkeling amongst rocks with light ocean currents and loads of marine life to see.
---
3. Choeng Mon Beach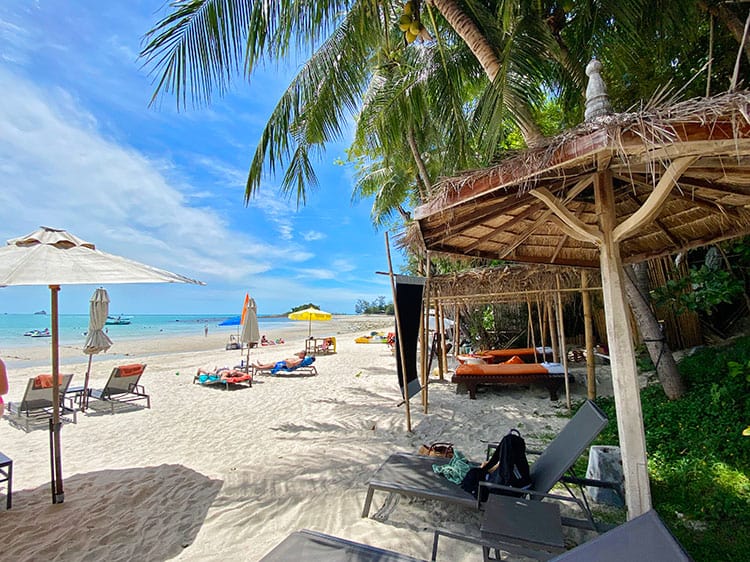 Choeng Mon beach is an amazing destination slowly increasing in popularity, yet it is still quiet enough to give you the peace you might be craving.
The beach has soft sand and calm waves, making it great for families and other holiday go-getters.
Choeng Mon also has kayaks, jet skis, hydrofoil surfboarding, and massage huts. Massages are from $8.23 (300 THB). We enjoyed the massages at the end of the beach at Kirati Resort.
We typically base ourselves at The Pure Beach Club where you can use the sun loungers or bean bags for free if you spend some money on food and/or drinks.
The beach days at Choeg Mon Beach just hit differently – slower, more blissful maybe — you simply have to visit Choeng Mon beach when in Thailand.
For a truly royal experience, take a look at the Melia Koh Samui for beachside views at the ultimate holiday resort, or browse through our list of the most family-friendly hotels in Koh Samui.
Tip: When swimming, keep an eye out for the rocky sections, which can hurt you if you're not careful.
---
4. Bophut Beach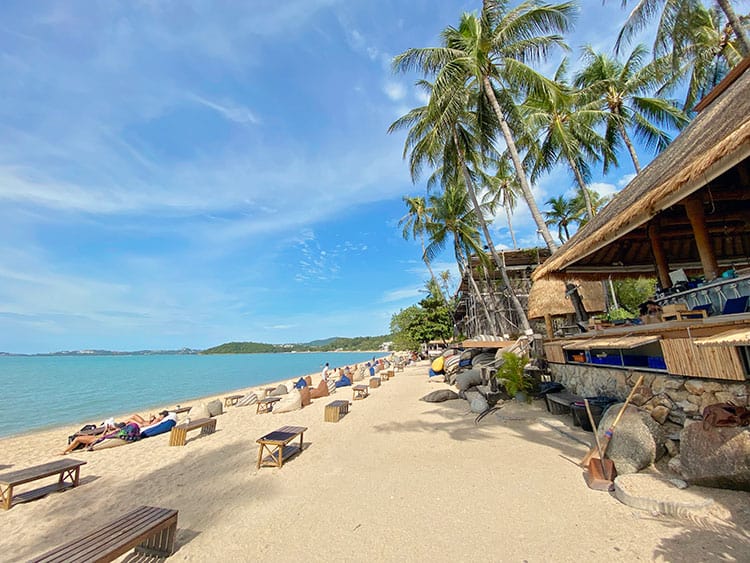 Bophut beach is an amazing place to go for a sunset stroll, with its mesmerizing northern coastline. It is particularly mesmerizing to enjoy an early morning or late afternoon walk to see the sunrise and sunset.
The beach has fairly coarse sand, and the water becomes deep fairly quickly, making it ideal for couples and friend groups but not so much for families.
The Coco Tam's bar offers cozy seating and an open bar, so meeting new people is guaranteed. Coco Tam's also has an impressive fire show which will leave you in awe.
Bophut beach is located right at the end of Fisherman's Village, which we loved strolling down in the late afternoon (it is just way too hot there in the day).
This northern beach is just up your alley if you want high-end nightlife.
With activities such as jet skiing and waterboarding, Bophut is an adrenaline-seekers oasis.
For unparalleled ocean views and 5-star service, check out Celes Beachfront Resort Koh Samui.
Tip: Visit the Hut Cafe if you want tasty, affordable, and authentic Thai cuisine. We also enjoyed our meals at Coco Tams and the Red Moon as well.
---
5. Maenam Beach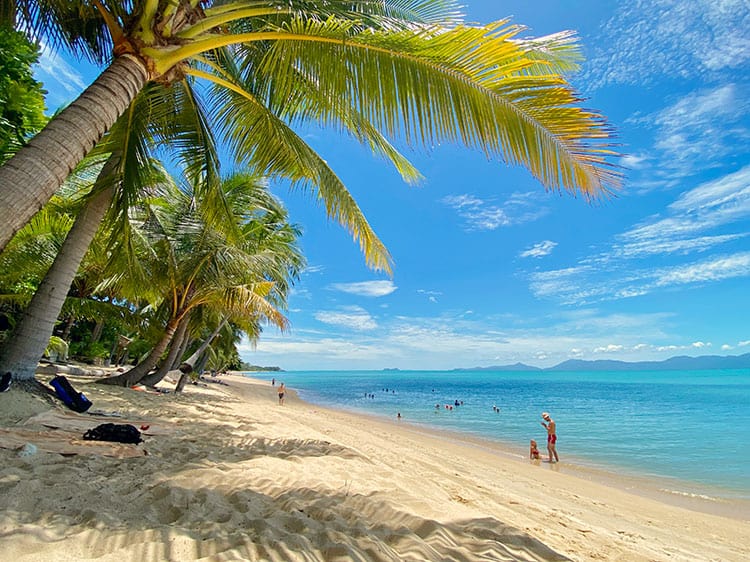 Maenam beach is one of the many family-friendly beaches on this list with a chilled lifestyle. The 4,3-mile long beach offers an abundance of space to kick back and relax under the warm sun.
You get gorgeous views of the lively Koh Phangan island, renowned for its festive Full Moon Party that occurs every month. The most beautiful section of the beach is in front of the Santiburi beach resort and the Maenam Resort (right next door). The palm trees lining the beach are so dreamy. Do yourself a favor and go and check it out.
The beach has lovely white sand and shallow, gentle waters, making it ideal for families looking to enjoy a relaxing holiday.
If you are looking for wholesome food, the Treehouse is where we suggest you visit.
At affordable prices the Flow Koh Samui Beach Resort is a great option for a breathtaking beachside holiday.
---
6. Coral Cove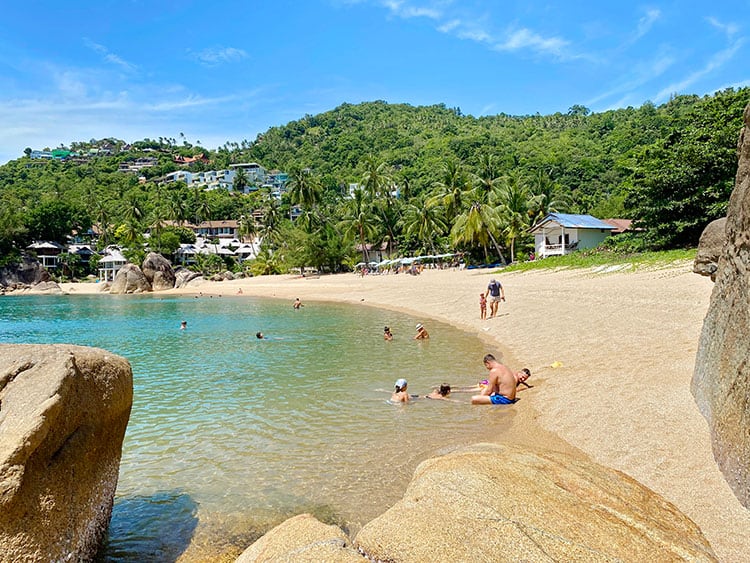 Coral Cove is a hidden gem along the eastern coastline of Koh Samui. The cove has towering rocks that frame this quaint beach, creating a dramatic and alluring landscape.
The beach consists of minuscule stones, so it can be tough on your feet, but you must visit this part of the island.
Bring your snorkeling gear to see some native fish of Thailand, such as the brown tang, yellow-tail barracuda, and the rough triggerfish. Aside from snorkeling, the beach has shallow waters that are great for families.
This small beach only has one rustic restaurant, but no sun loungers to rent or massage parlors are available, just the simplicity of a lovely beach.
This relatively quiet beach is spotless and the perfect place to go for a small day trip with friends and family.
The Coral Cliff Beach Resort Samui is a fantastic 4-star resort that provides easy access to the lovely Coral Cove beach.
Tip: We suggest bringing water shoes, as the tiny stones that make up the beach get very hot in the sun.
---
7. Chaweng Noi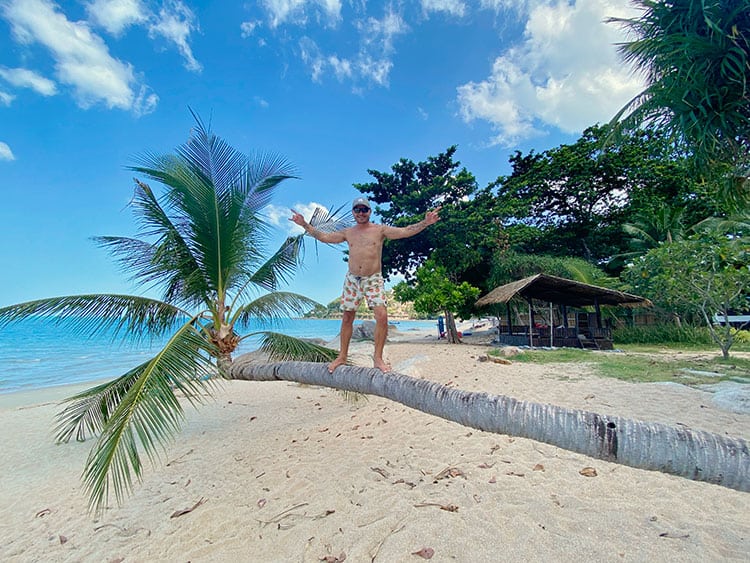 Chaweng Noi is a fantastic family destination right around the corner from the famous Chaweng beach. With powdery white sand and water that varies from green turquoise to deep blues, this is a hidden gem in a popular area of Koh Samui.
Our favorite spot to relax on this quiet beach is in front of the Sheraton Samui Resort, with unforgettable ocean views. The tranquil setting of inviting small waves and creamy soft sand makes Chaweng Noi just that bit better than Chaweng beach in our eyes.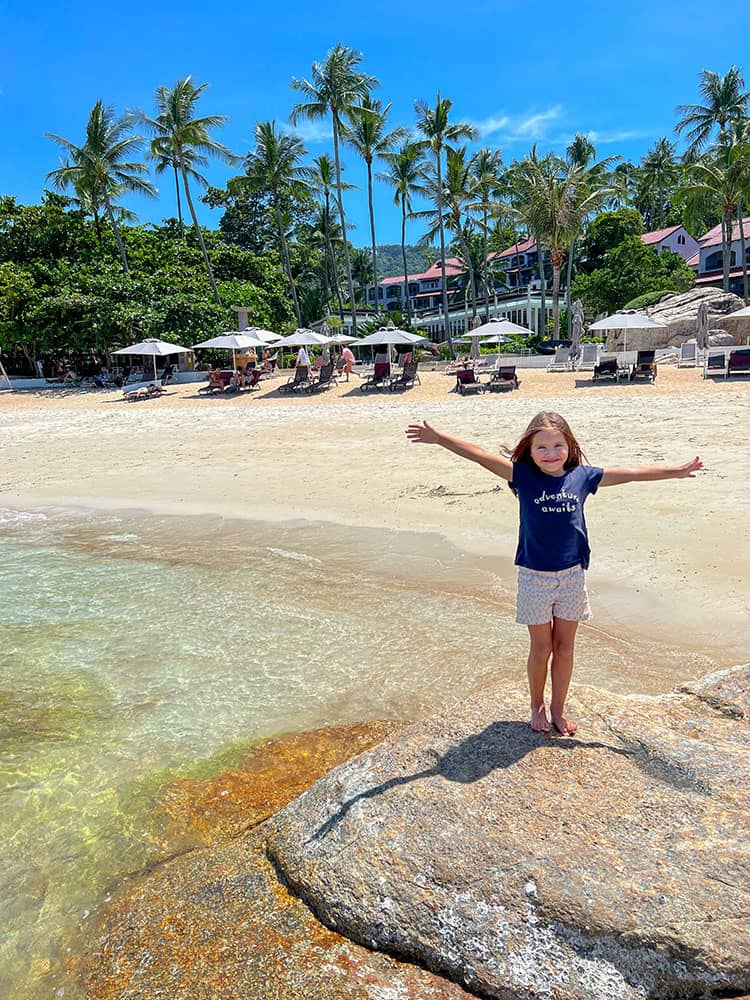 The beach stretches for just under one mile and is fantastic for afternoon walks. The southern area of the beach is not ideal for swimming as the water barely rises above your ankles, and there are silty stones scattered on the ocean floor. However, the northern and central regions are great swimming spots.
The Sheraton Samui Resort is also our pick for the best hotel here, thanks to its incredible staff and picturesque ocean views.
Tip: If you've had your fill of Thai cuisine and want to indulge in some Italian delights, the Marco Polo restaurant offers authentic Toscana food.
---
8. Ban Tai Beach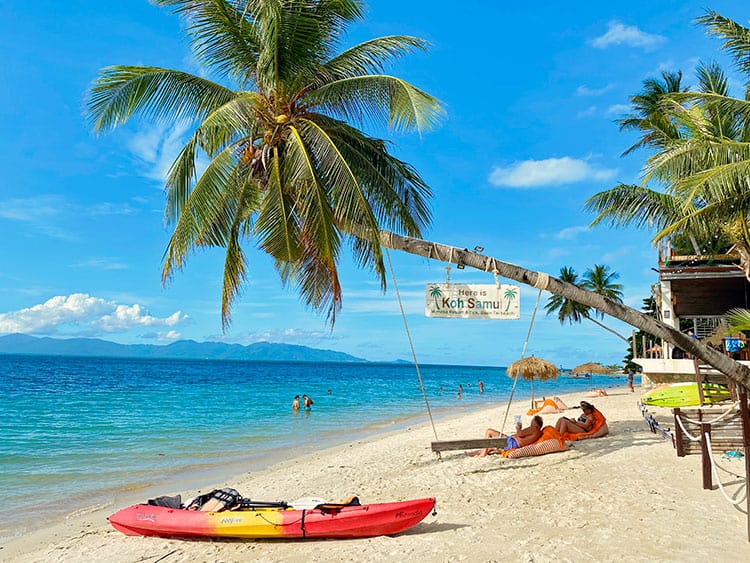 Ban Tai beach has the soft and cream-like sand you dream of walking on when visiting a beachside oasis. It is not as popular as Lamai and Chaweng beaches, making it a peaceful yet entertaining coastal region of Koh Samui.
Ban Tai is a small and secluded beach that provides privacy to families and couples who want to step away from the busy resorts in the area.
Our best spot to relax and soak up some sun is in front of the Mimosa Resort and Spa, which we recommend as a place to stay.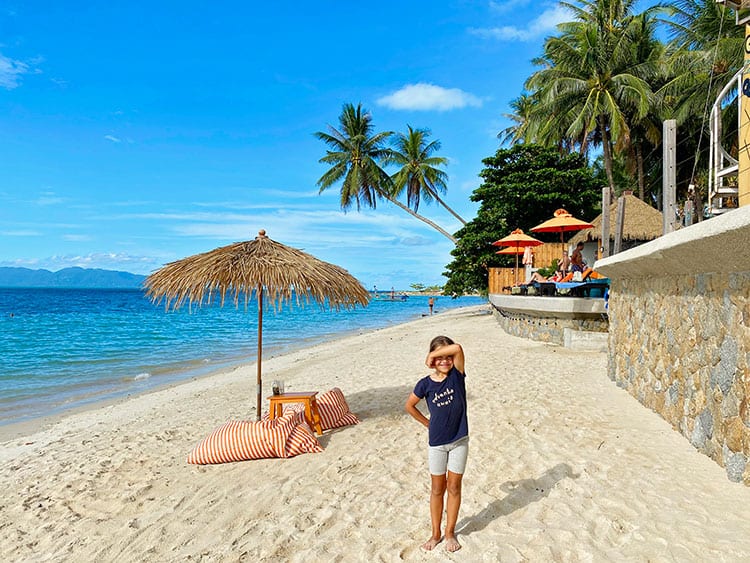 You can also purchase a day pass here to use their facilities. You can use the sun loungers and pool at the resort if you spend over $19.29 (700 THB) on food and drinks.
If you want to enjoy a luxurious spa day, this 4-star resort also offers affordable spa treatments.
Tip: Go on a Koh Samui day trip to Ang Thong National Marine Park between your sun-filled days on Ban Tai beach.
---
9. Chaweng Beach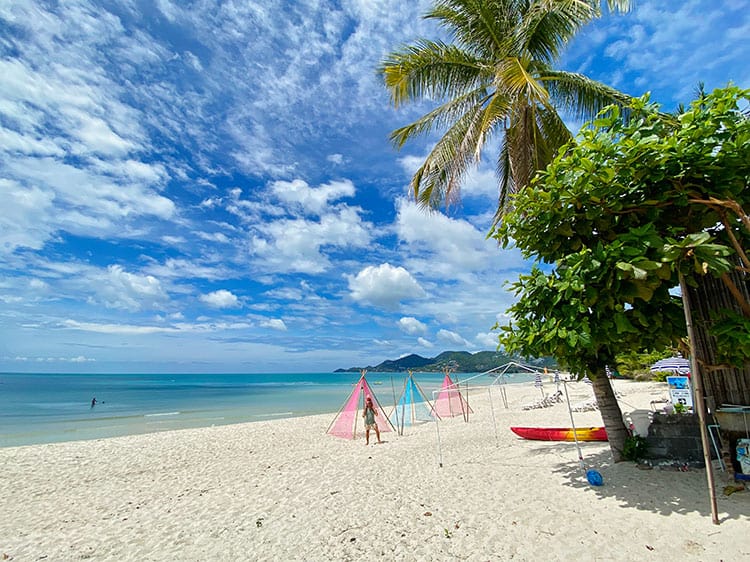 As the most popular beach on the island, Chaweng beach in Koh Samui has everything you can ask for to enjoy a holiday in Thailand. Entertainment is always within reach with an unlimited supply of watersports and plenty of restaurants and vendors.
Our suggestions for great food are Baan Ya Jai or Phensiri, located just off the main beach. There is also an amazing fire show at the Ark Bar north of the beach, but beware, it does get crowded during peak season. Chaweng beach also has one of the best nightlife in Koh Samui, with great bars and clubs to enjoy.
If you are traveling with kids, you will be glad to know that Chaweng is fabulous for families as well. With super silky soft sand and calm water. If you are traveling during peak season, you might prefer to base yourself towards the South of the beach or even on Chaweng-Noi beach to get away from the crowds and noise.
If you are looking for a 5-star stay, we suggest the Sala Samui Chaweng Beach Resort.
Tip: With all the watersports on offer, we suggest checking out this travel insurance for peace of mind and a relaxed holiday.
---
10. Thongson Bay Beach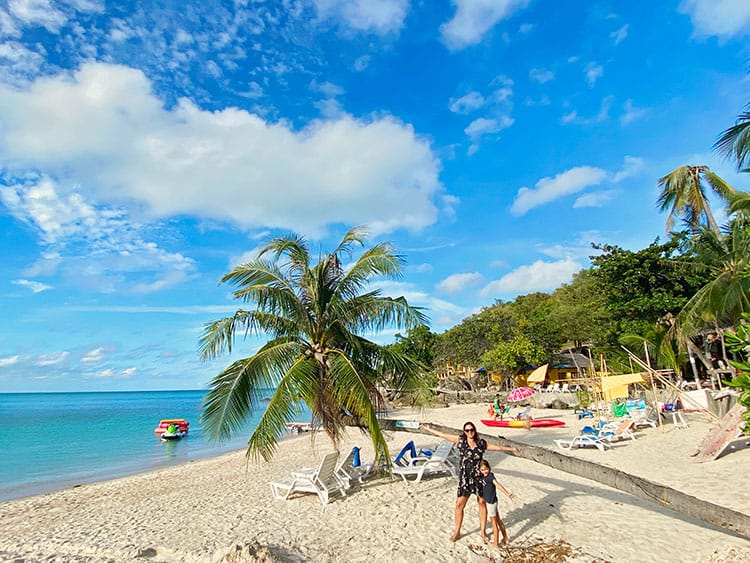 Thongson Bay beach is a small gem we'd choose over the more popular Lipa Noi beach any day, as we found the latter to be underwhelming.
As it's a small beach and relatively easy to miss, we suggest putting Thongson Bungalow Bay Resort or Thongson Bay Restaurant into your GPS.
Thongson Bay Restaurant offers a modest and wholesome experience; best of all – it is right on the beach. Here, you can rent sun loungers for just $1.38 (50 THB) and enjoy massage treatments that vary in price.
Thongsay Bungalow Bay Resort has some pretty 'rustic' bungalows; if you are looking for something on the fancier side, I suggest you book your stay at the Melati Beach Resort and Spa, which is right next door.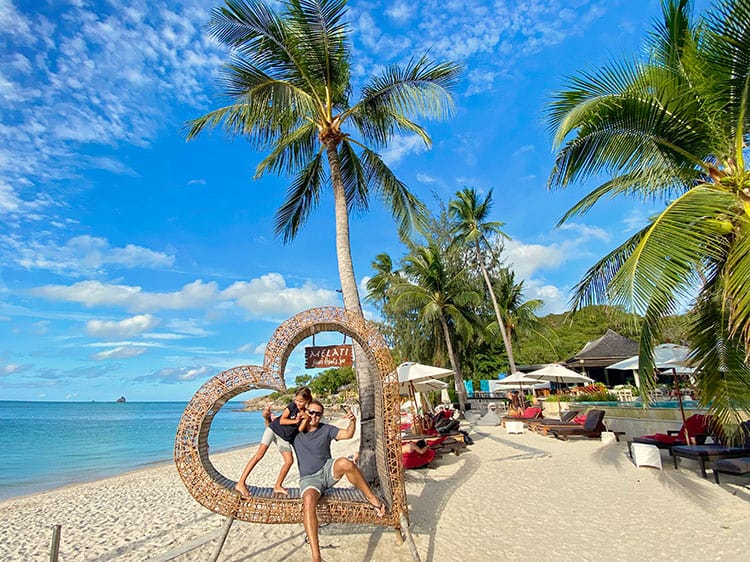 Thongson Bay is a fantastic family beach and an even better destination if you want a secluded romantic getaway. It's a decent place to swim, but the best part about Thongson Bay is the views when kayaking along the water.
Tip: Click here to book your tour to the Wat Phra Yai Temple to see the iconic Big Buddha, which is two-and-a-half miles from Thongson Bay beach.
---
FAQs About Koh Samui Best Beaches
Here are some of the frequently asked questions about Koh Samui's beaches.
1. What Is The Most Beautiful Beach In Koh Samui?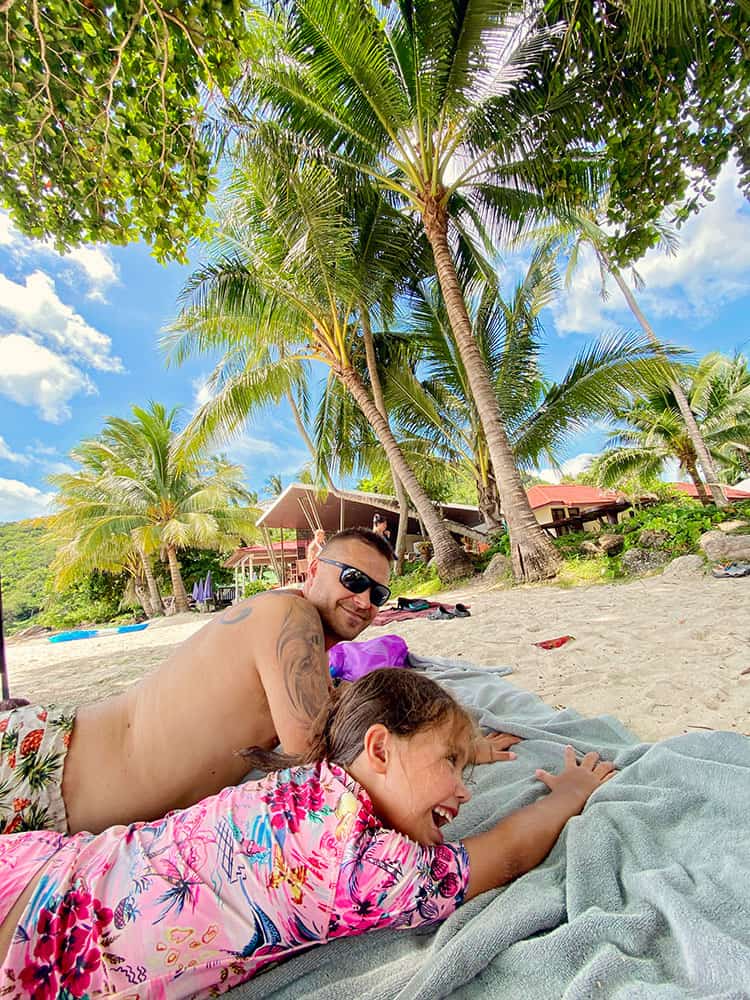 Silver beach is the most beautiful in Koh Samui. It is a small cove surrounded by some impressive rocks. The sand is white, and the water is crystal clear (which is why some people refer to this beach as Crystal Bay).
The beach is popular for snorkeling, but you can see the gorgeous fish swimming around without the snorkeling gear!
Silver beach in Koh Samui is one of the best places to visit when traveling Thailand.
2. Is Bophut Beach Good For Swimming?
Bophut beach is a charming place for swimming (however, the water goes deep pretty quickly, so it might not be the best for little kids), with the western part of the beach offering the best swimming conditions.
The eastern section isn't as nice for swimming, but it is closer to the great restaurants, shops, and Fisherman's Village.
3. Which Is Better, Chaweng Or Bophut?
It all depends on your preference, but we ranked Bophut above Chaweng. Each beach offers different things as Chaweng has a lively nightlife, but Bophut provides a more luxurious and boutique experience. There are water sports options at both beaches.
If you have children, I would suggest that Chaweng is the better option as the sand is much softer and the water is more shallow. Stick to the Southern end if you don't want to hang out with the rowdy backpackers.
Personally, if I love swimming, I would head to Chaweng beach. However, if you want to sunbake while hanging out with friends, then Bophut is great! We love heading to Bophut in the late afternoon when the bean bags are set up in front of Coco Tams.
Final Thoughts on the Best Beaches in Koh Samui
If you're looking for Thailand's best beaches, Koh Samui has them in abundance. This island caters to different travelers with shallow waters found on some beaches, while others feature a whole range of water sports activities. There are also several amenities found on the shoreline if you don't have an interest in getting into the water.
We hope this guide to the best beaches in Koh Samui has helped you make a choice — let us know what your favorite beach in Koh Samui was.
Few tips:
---