Stunning beaches, crystal clear waters, and some of the most delicious food make for an island holiday destination like no other.
Thailand's Koh Islands is a fantastic holiday destination – especially for first-time Thailand travelers.
Koh Samui is pretty extensive and almost feels like the mainland. The island is a very popular tourist destination for several reasons.
There are loads of ex-pats living in villas here, and the island is very developed, with people coming to stay in the luxurious 5-star resorts.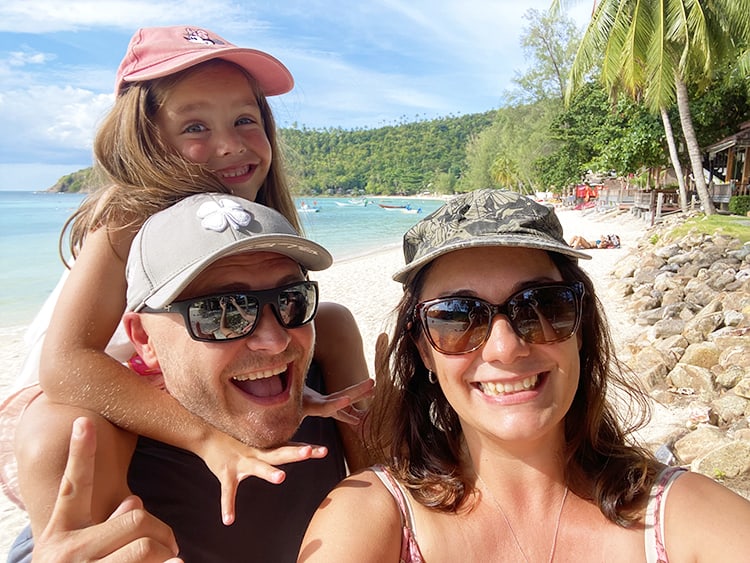 In comparison, Koh Phangan also spelled Ko Phangan, is smaller and has several lovely beaches hidden from the roads.
It's perfect for those in search of a holiday with a more secluded island vibe.
The majority of the island's shoreline is accessible by easy paved roads. The other half is less developed and challenging to access.
So which is better: Koh Samui or Koh Phangan?
Well, it really depends on what you want to do, what vibe you are after, whether you are time-limited, and whether you want a large or small island feel.
We spent 2 months exploring the three islands – Koh Samui, Koh Phangan, and Koh Tao in order to get a true feel (from a tourist perspective) about who these islands would be best suited for.
So let's look at each of those more closely.
Koh Samui Or Koh Phangan Comparison Travel Guide
When it comes to choosing either one, how will you decide?
Well, we've decided to help you with this detailed guide so you can get to know both – the same way we did!
1. When To Visit Koh Samui Island & Koh Phangan
Koh Samui experiences its ideal weather in January and February, which means those months are super busy!
However, April is the best time to travel to Koh Samui as it's only slightly hotter, way less crowded, and far cheaper.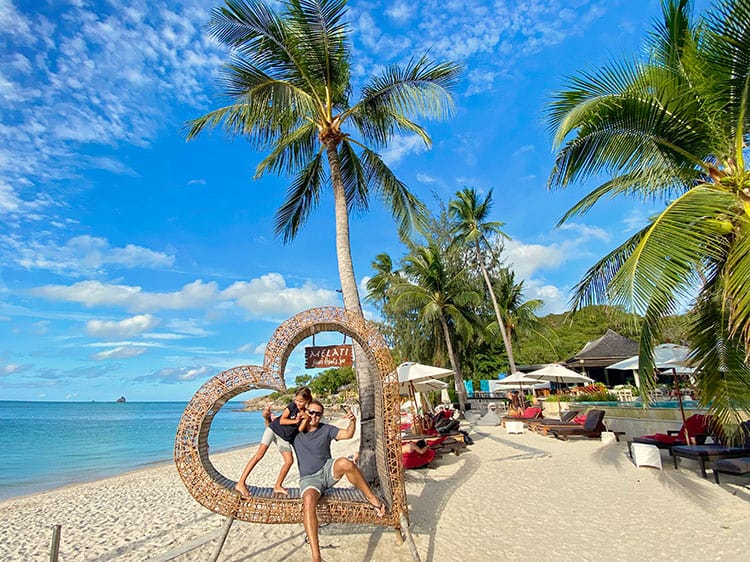 Koh Phangan is lovely between December and March, before the annual monsoons and when the humid season begins to fade. As with Koh Samui, April is a great time to visit Koh Phangan.
Due to everyone's excitement for the infamous parties, December and January are the busiest months on the Koh Islands but are great months for the keen party and festival goer.
---
2. How To Get To Koh Phangan vs Koh Samui – Which Is Easiest?
Koh Samui is one of Thailand's most popular islands, and getting there is extremely easy. On the other hand, getting to Koh Phangan Island is a little more tricky.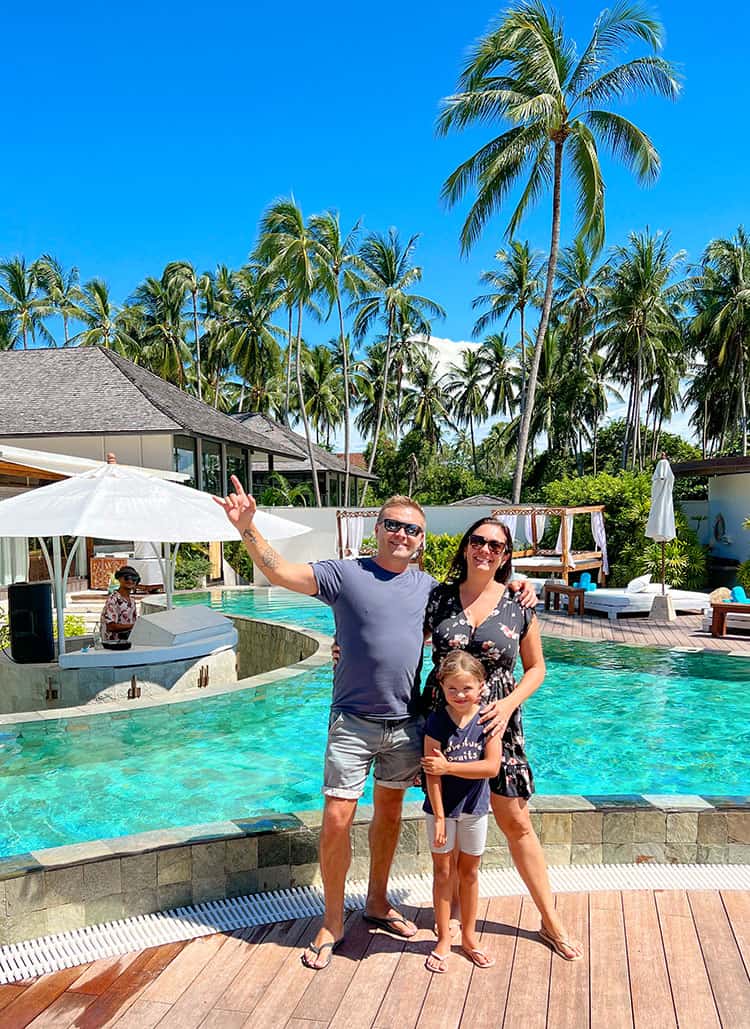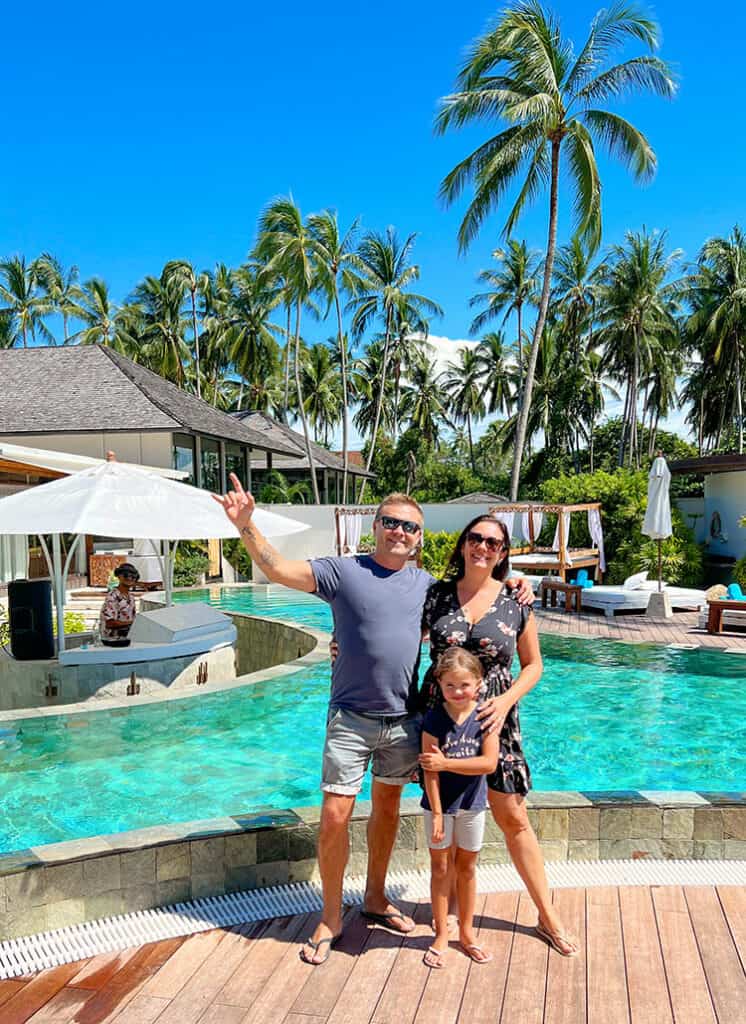 By tricky, we don't mean you'll have a hard time getting there; it may just take a bit longer with a couple of extra transfers.
2a) Where Is Koh Samui & Where Is Koh Phangan
Thailand's third largest island is Koh Samui, and it sits on Thailand's east coast.
Koh Phangan is a sizable Island (far smaller than Koh Samui, though) in the Gulf of Thailand off the coast of the Surat Thani province.
About 100 kilometers offshore and 15 km north of Koh Samui.
2b) Is There an Airport In Koh Samui?
Koh Samui has its own international airport, and the easiest and quickest way for international tourists to get there is to take a connecting flight via Bangkok or Phuket.
The flight from Bangkok or Phuket to Koh Samui Airport will take about an hour. You can book your Bangkok Airways tickets by clicking here.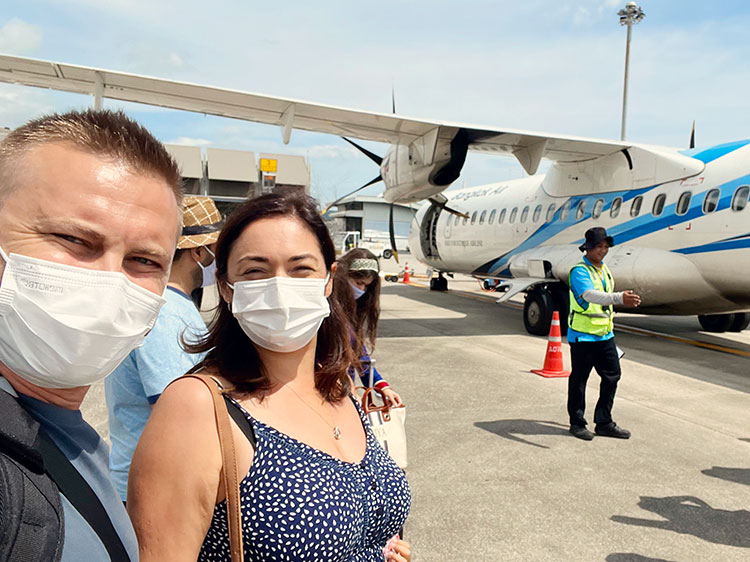 However, there are loads of different ways (flight, ferry, etc.) to get to Koh Samui and from different places around the world, not only from Bangkok.
Tip: Read our guide on how to get to Koh Samui (from Bangkok, Phuket, and more) for some tips and a deal or two.
2c) Is There An Airport In Koh Phangan?
Unfortunately, Koh Phangan does not have an airport of its own. Don't stress, though; it is possible to reach the island from Bangkok via a (not so quick) train, ferry, and bus combo, but this will take around 16 hours of travel.
It is far easier and faster to fly to Koh Samui and, from there, catch a ferry to Koh Phangan.
2d) How to Get from Koh Samui to Koh Phangan
So if getting to Koh Phangan faster fits into your budget, then we definitely recommend you fly to one of the nearby airports, such as Koh Samui International Airport, and catch a high-speed ferry from Koh Samui to Koh Phangan Island.
This trip will only take around 7 hours. Koh Phangan to Koh Tao is another great option to extend your island stay – if you have the time, of course.
Tip: Read our Easy Guide on how to get to Koh Phangan, and save yourself time, money, and unnecessary worry.
---
3. Which Koh Island Has The Best Vibe – Koh Phangan or Koh Samui?
The atmosphere is everything. What's peaceful and quiet for one may be boring for another.
Finding a spot to match your vibe is the ultimate goal, as you want to get the most out of your trip.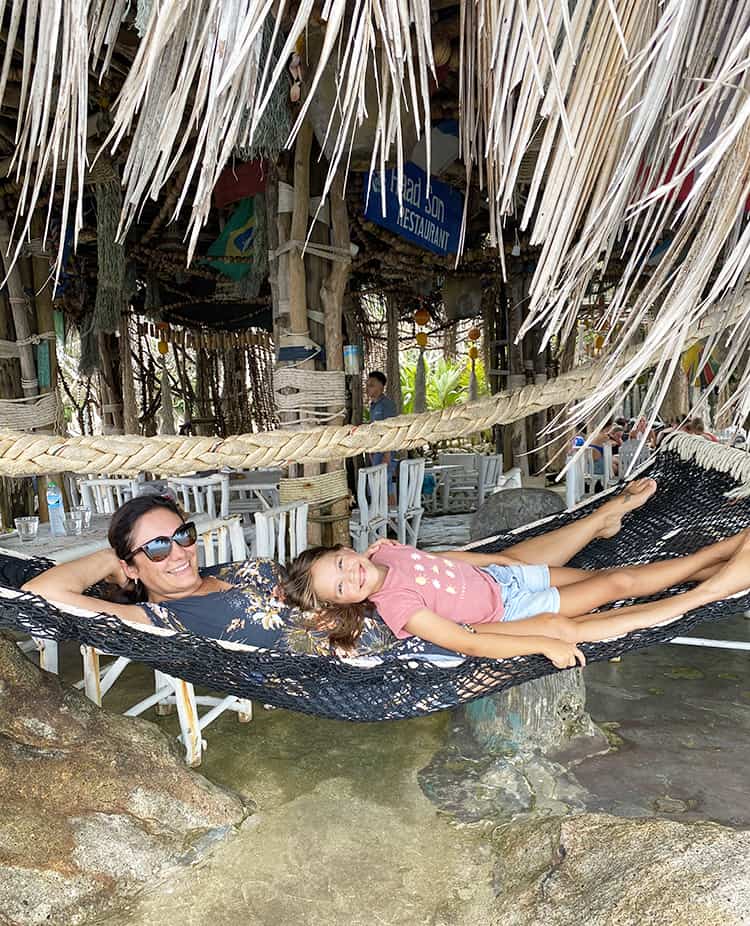 Koh Samui will tick all the boxes if you're seeking comfort and luxury. There are so many tourist attractions nearby, including an international food mall area, movie theatres, and more.
Some of the best beaches in Thailand are in great numbers on Koh Samui, such as our personal favorite – Lamai Beach.
You can also check out all the other activities on Koh Samui that you can enjoy during your vacation here.
If you're short on time and just want to go somewhere by the beach and escape the city, you will find Koh Samui an easy and convenient trip.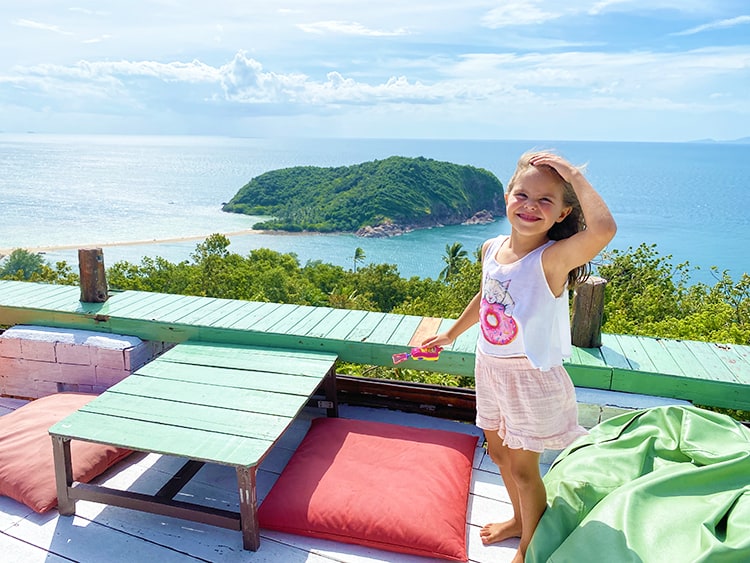 People typically travel to Koh Phangan to unwind and eat good food, hire a boat to another beach for some snorkeling and lunch, and explore other beaches on the island.
It's laid back, relaxed, and popular with yoga practitioners, the health-conscious, and alternative people (they have alternative and alcohol-free events too).
---
4. Best Beaches Koh Samui vs Koh Phangan
Both of these islands have white sand beaches like something out of a dream – crystal clear waters, fish swimming around, white sands kind of dream.
Picking one over the other will be difficult as they are both so unique in their ways.
Phangan Beaches are a bit more secluded, and you will find some lovely remote locations here.
The whole island is far quieter, while on Koh Samui, you'll have access to more luxurious beach options with plenty of sun loungers, massages, and restaurants.
4a) Best Beaches in Koh Phangan
If you're looking on a map, don't be surprised if you count over 30 beaches.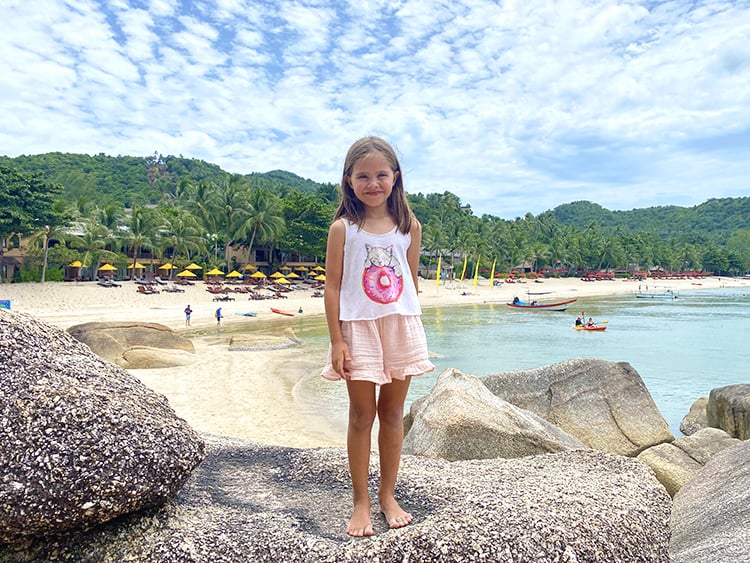 There are loads, and they are all stunning in different ways. We'd recommend hiring a scooter to be able to get around and discover some of them.
We've narrowed some down to help you choose.
Our top 6 best beaches on Koh Phangan:
Mae Haad Beach: Located on the northwest point of Koh Phangan, it's one of the best beaches on the island. During low tide, the beach connects with a sandbank to Koh Ma, a tiny raw island.
Bottle Beach: Located at the most northern point of the island, one of the most challenging beaches to reach but one of the most rewarding as it's super secluded.
Thong Nai Pan: Found in the north of the island is this chilled beach, which is one of the best on the island.
Haad Yao: Found on the west coast of the island, this beach is a little livelier.
Haad Salad: This beach is quiet and more family orientated.
Haad Rin Beach: This beach is where it's at during famous Full Moon Parties. Party animals flock over from Koh Samui to attend the party. However, it is pretty relaxed outside those five days of the month.
4b) Best Beaches In Koh Samui
On Samui, you'll be spoilt for choice regarding its beautiful beaches.
Finding the best beach in Koh Samui is not always easy, especially with many options.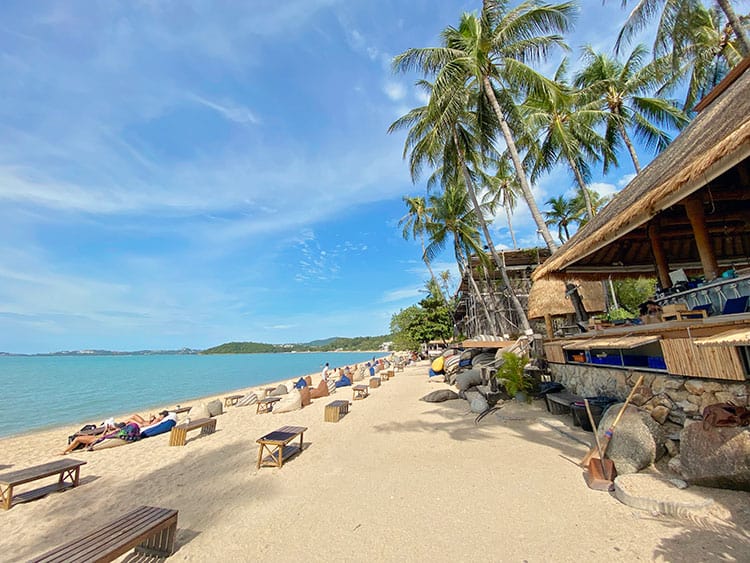 Don't worry though! Our guide to the best beaches in Koh Samui has narrowed it down for you.
Our favorite beaches were Lamai Beach, Maenam Beach, Silver Beach, and Choegmon Beach.
Personally, I thought the beaches on Koh Samui were prettier and I loved how easy it was to get a massage or find good food no matter where you were on Koh Samui.
---
5. Best Things To Do In Koh Samui vs. Koh Phangan
If jam-packed activity and tourist packages are something you're after, then Koh Samui is the island for you.
It's super easy to rent a good car (and child seat) or catch a taxi and zip from place to place.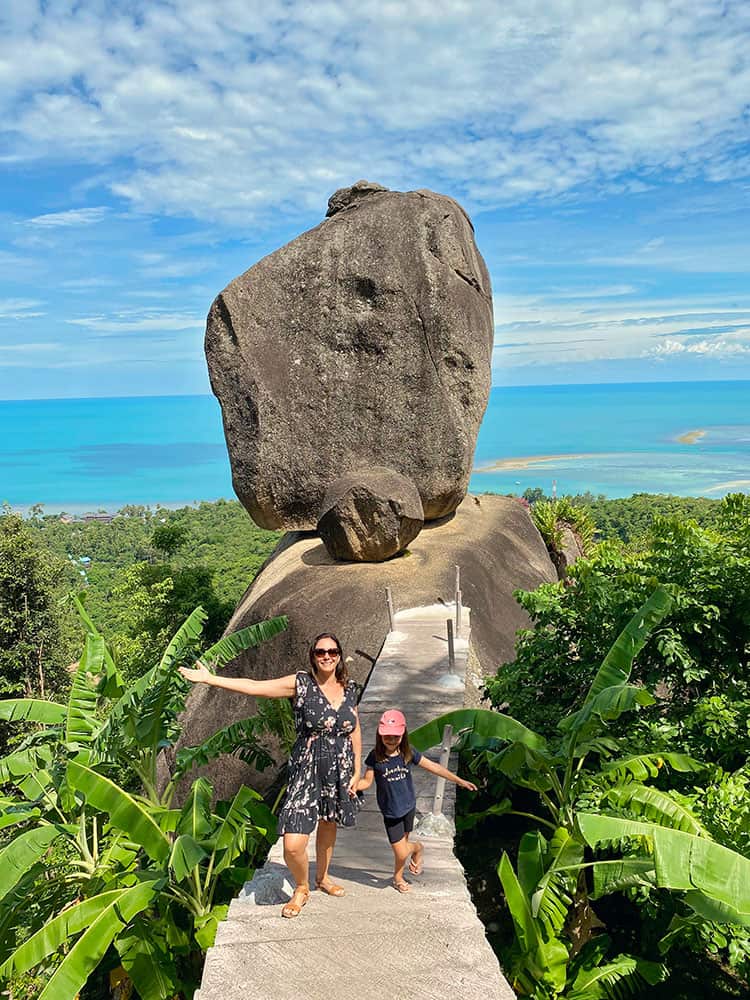 You'll be thrilled to find that most beaches have kayaks and paddleboards; some even have water trampolines. So if you love getting out into the water.
Koh Samui has loads of options for outdoor activities and we highly recommend you check out the spectacular waterfalls and tackle some of the hikes.
You could even opt for a Coral and Pig Island Boat Tour, where you can go on an island-hopping adventure and discover beautiful coral reefs.
Koh Samui has some pretty amazing day trips exploring the island, one of our favorite ones was the Wild Jungle Safari Tour. It includes lunch, visiting several sites, including the Big Buddha, and a great viewing platform.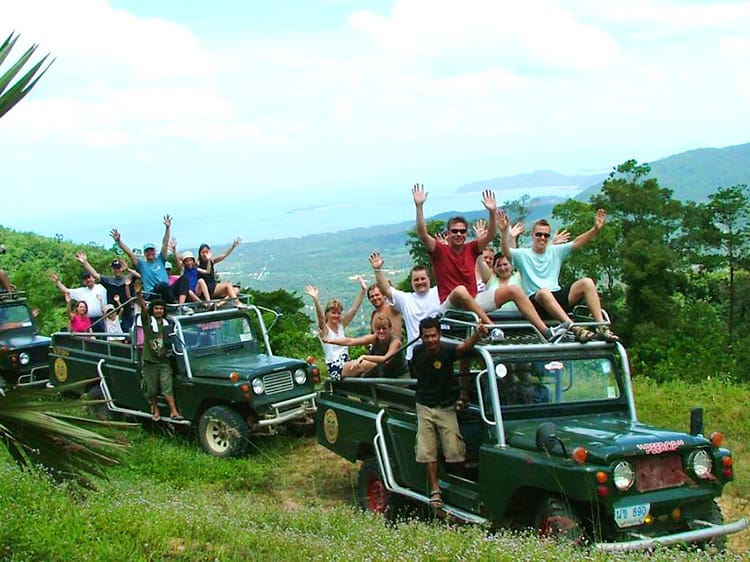 There are also plenty of things to do in Koh Phangan as well. Koh Phangan caters to the retreat destination side of things, with many spiritual workshops, snorkeling opportunities, and relaxing meditation.
Here you will find ample opportunity to laze the days away in a hammock. It's a soul-rebooting island, for sure.
If you're looking for a day trip, we'd recommend an Ang Thong National Marine Park Speedboat Tour from Koh Phangan.
It takes you to some of the most secluded snorkeling spots and is a fantastic way to explore beyond the island.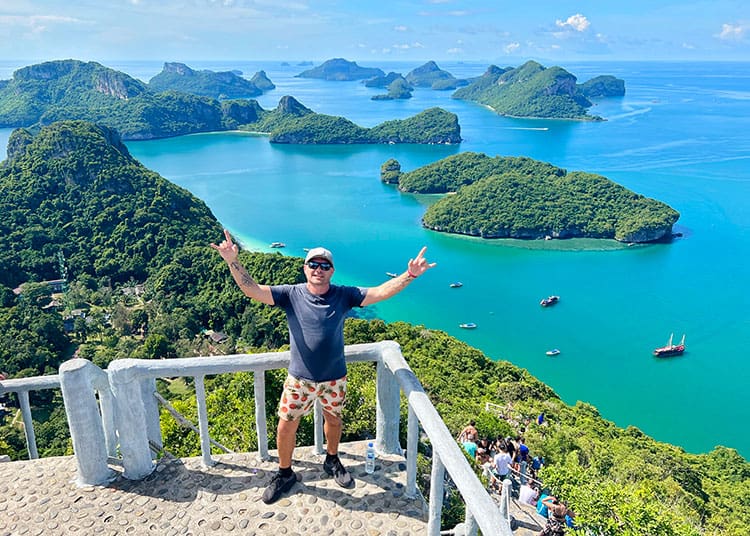 It's a tad tricky to get around here without a scooter, so we recommend hiring one for exploring the island.
---
6. Koh Samui Nightlife vs. Koh Phangan Nightlife
Whether you're looking for full-blown parties, quiet and quirky bars, or just avoiding that whole party/nightlife scene altogether, both islands have all three options.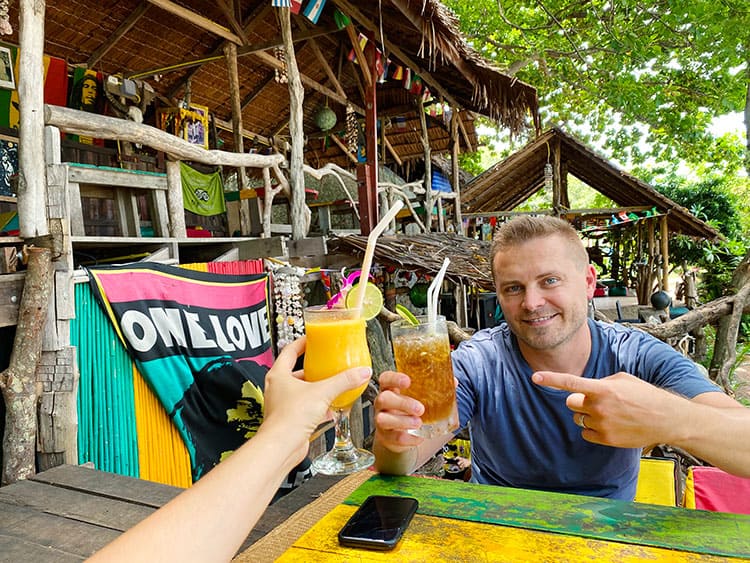 You can find vibey nightlife in Koh Samui, and if that's what you're looking for, head to Chaweng Beach.
It's the hub for clubs, pubs, and bars. Another fantastic spot for a more relaxed night out is Bophut, where you'll find night markets and craft beer bars.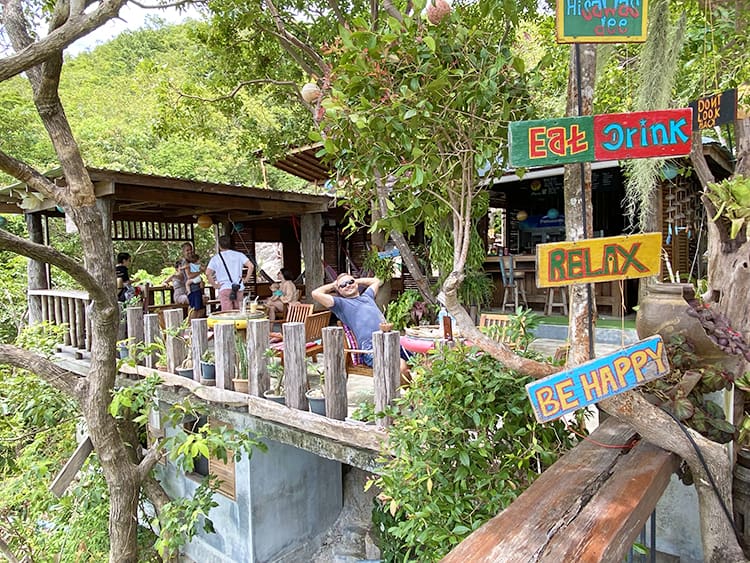 Nightlife on Koh Pha Ngan is the main draw thanks to the full and half moon parties on Haad Rin.
However, you can get experience the tenderness of a serene island getaway by stepping away from the island's south coast.
---
7. Tropical Thai Island Food: Koh Samui vs. Koh Panang
One thing is for sure; we ate well while holidaying on these two islands. Whether you're looking for 5-star cuisine, delicious street food, or a casual plate at the beach, you'll find it in abundance.
We've shared some of our favorites below for some inspiration if you're not sure what/where to eat.
7a) Places To Eat In Koh Samui
Andrzej loved the food on this island. It was hands-down the highlight for him.
Baobab restaurant has the most delicious Thai and French food, a great view, and fantastic service.
We absolutely loved sitting and enjoying a meal here.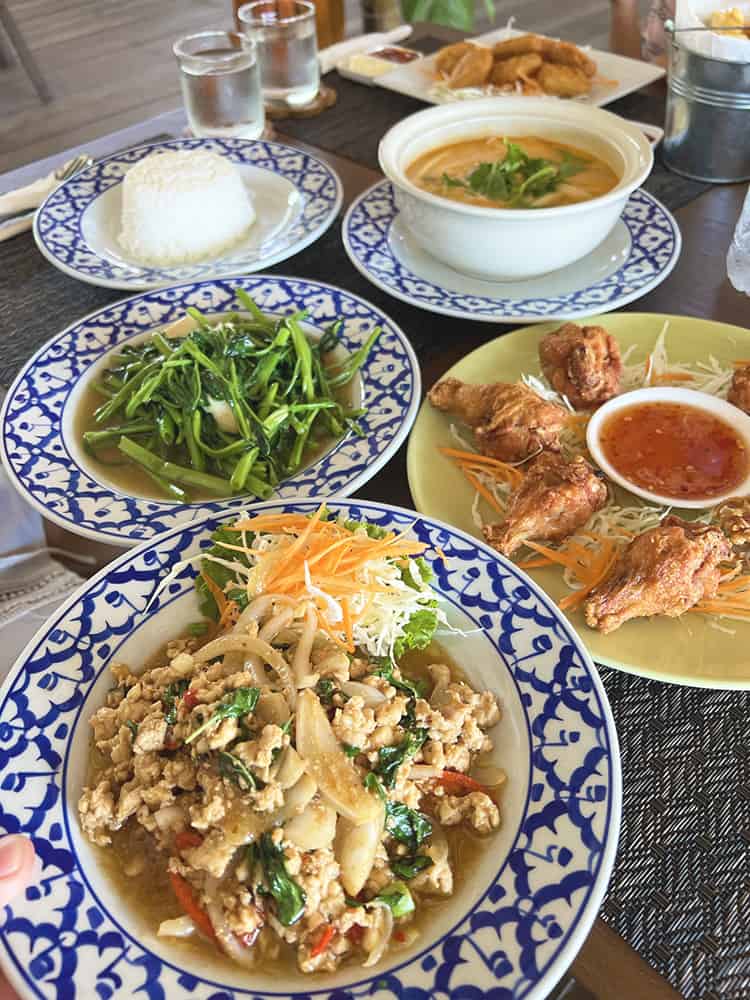 The Silver Spoon eatery was also a top favorite of ours, as the Pad Thai here is delicious, and they have such a great variety on their menu.
Marco Polo Resort & Restaurant is known on Samui for its seafood. However, they offer delicious traditional Italian dishes, including pizza.
Check out our article on the best restaurants in Koh Samui and see for yourself.
7b) Places to eat in Koh Phangan
We loved that there were so many healthy food options at Ko Pha Ngan.
It's great for vegans or just those who are more health-conscious, or if, like us, you pick up too much weight in Koh Samui, you can be healthier in Koh Phangan.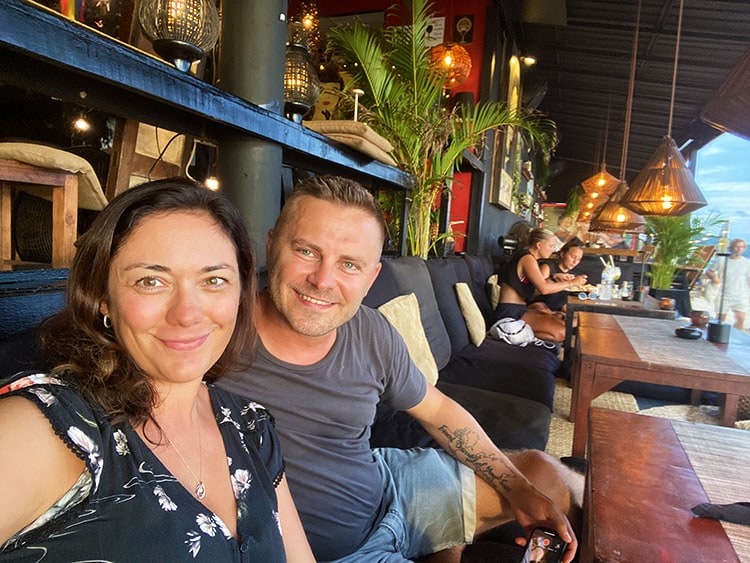 Downtown Thong Sala; you'll find a market that is open daily and every night with delicious Thai street food.
Some street food options? Well, to name a few: Moo ping (grilled pork skewers) are really good, and Pad Thai (fried noodles), or you could try some Khao Man Gai (chicken and rice). It's amazing.
The hugely popular restaurant Wasabi is well-known on the island for having the best sushi.
We suggest heading to Basilico Koh Phangan if you're looking to indulge in delicious pizza and you need a break from Thai food.
---
8. Accommodation Options in Koh Samui Hotels vs. Ko Phangan
Finding a beautiful place to stay on either of these islands is easy. Both have lovely hotels.
In Koh Samui, there are plenty of high-quality and luxurious hotels for a reasonable price.
So if you're looking for a vast choice of hotels at a 4- and 5-star level, then this island is most definitely for you.
If perfect views and pristine beach residences are more your things, Koh Phangan will check all your boxes.
There are some differences in hotel prices and variety between the two islands.
Koh Samui is a bit cheaper, and there are far more options to choose from, whereas Phangan has fewer to choose from, and they're slightly more pricey.
8a) Best Koh Samui Island Accommodation
You'll find that Samui offers the best value and a broader range to choose from, with plenty of 3-star, 4-star, and 5-star options, and most include breakfast.
There are also plenty of Koh Samui family resorts to choose from as well.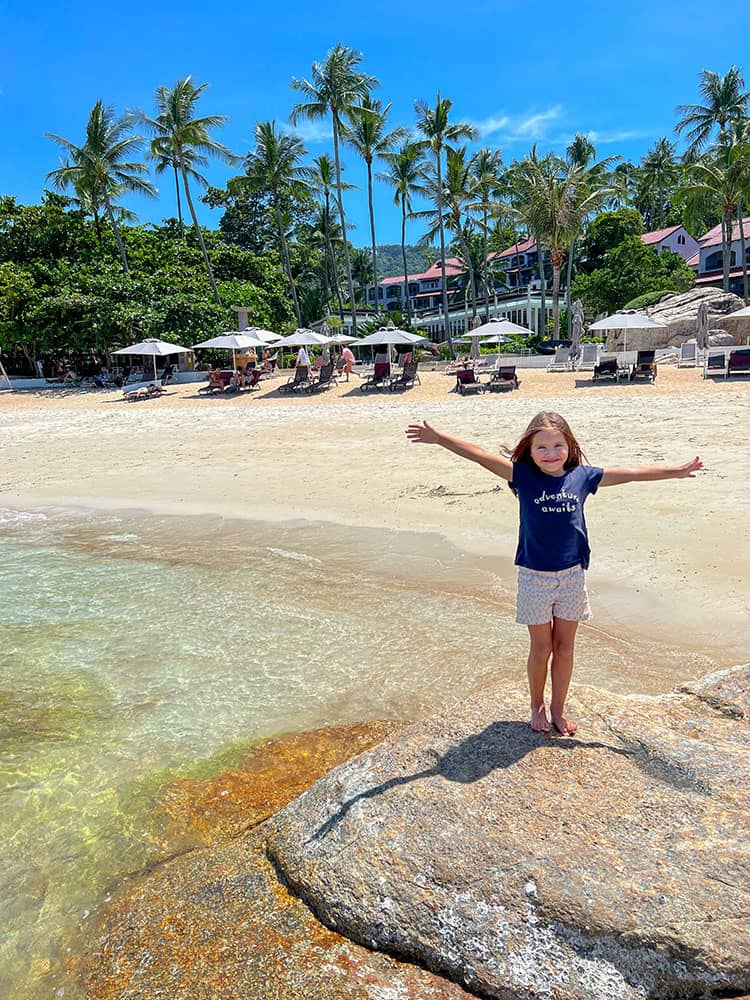 Best areas to stay, with accommodation options:
Best for: a quiet & laid back vibe.
Where to stay: Thai House Beach
Best for: It's shallow waters & a family-friendly atmosphere.
Where to stay: Lub d Koh Samui Chaweng Beach or Hansar Samui Resort
Best for: it's busier, close to markets (Fishermans Market) and has some vibey bars.
Where to stay: White Whale Beachfront Pool Villa
Best for: It's really accessible and the tourist hub of the island.
Where to stay: Casa De Mar Hotel
8b) Best Hotels on Koh Phangan Island
Koh Phangan Hotels have the best views. It's also far more secluded here, and you'll find a lot fewer tourists.
However, there are far fewer 5-star options on this island, but you will find loads of really lovely 3-star options.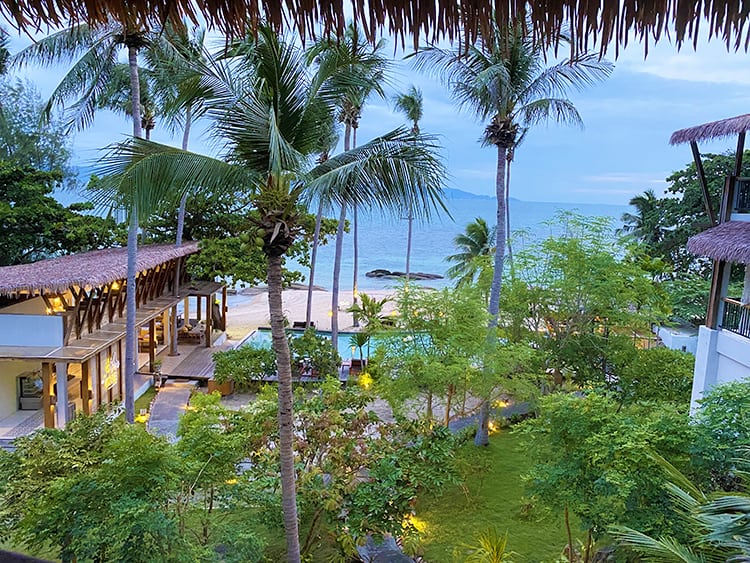 When it comes to finding the perfect place to stay in Koh Phangan, you need to look for the beach area that suits you best.
The beach area of Haad Rin is where all the full moon party action is, so unless that's what you're going for, we suggest looking elsewhere during that time in Koh Phangan.
Best areas to stay with accommodation options:
Best for: There is an amazing choice of restaurants along with a colorful food market.
Where to stay: Milky Bay Resort or Lime N Soda Beachfront Resort
Best for: An Ultimate beauty and very secluded (30 minutes from most things).
Where to stay: Panviman Resort or Santhiya Resort & Spa
Best for: Undeveloped and secluded. The coral reef can be found 300 meters off the beach.
Where to stay: Kupu Kupu Beach Villas & Spa
Best for: Beach swings, hammocks, and usual paradise hangouts.
Where to stay: Maehaad Bay Resort
---
Koh Samui vs Koh Phangan: The Verdict
Ask Andrzej, and he'll tell you his favorite island Koh Samui because it is just so easy for tourists.
This Thai island had high-end resorts galore, a massage shop at just about every turn, and a ton of tourist-focused facilities like cinemas, an international food mall area, and more.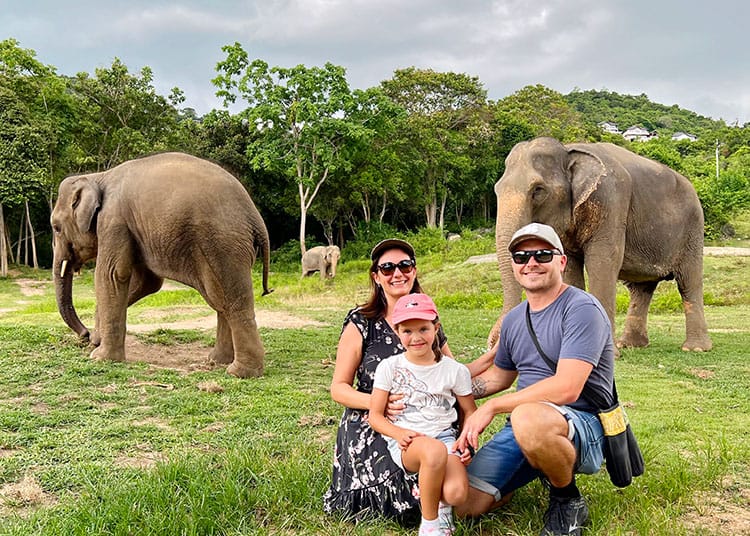 He enjoyed the food more in Koh Samui. There are tonnes of fantastic varieties of cuisines and loads of incredible restaurants.
It was also super easy to get sun loungers on beaches (for those not staying at a resort that is on the beach).
Koh Samui is a somewhat touristy island with many big and small hotels, restaurants that cater to tourists, and villages with loads of massage shops.
Finding private lush jungle spaces or a secluded beach may be difficult – especially during peak season.
Jolene cannot choose a favorite and recommends you get to both during your trip.
She thinks Koh Samui is the easiest island to adjust to. It is more tourist-friendly, and you'll see more tourists than locals.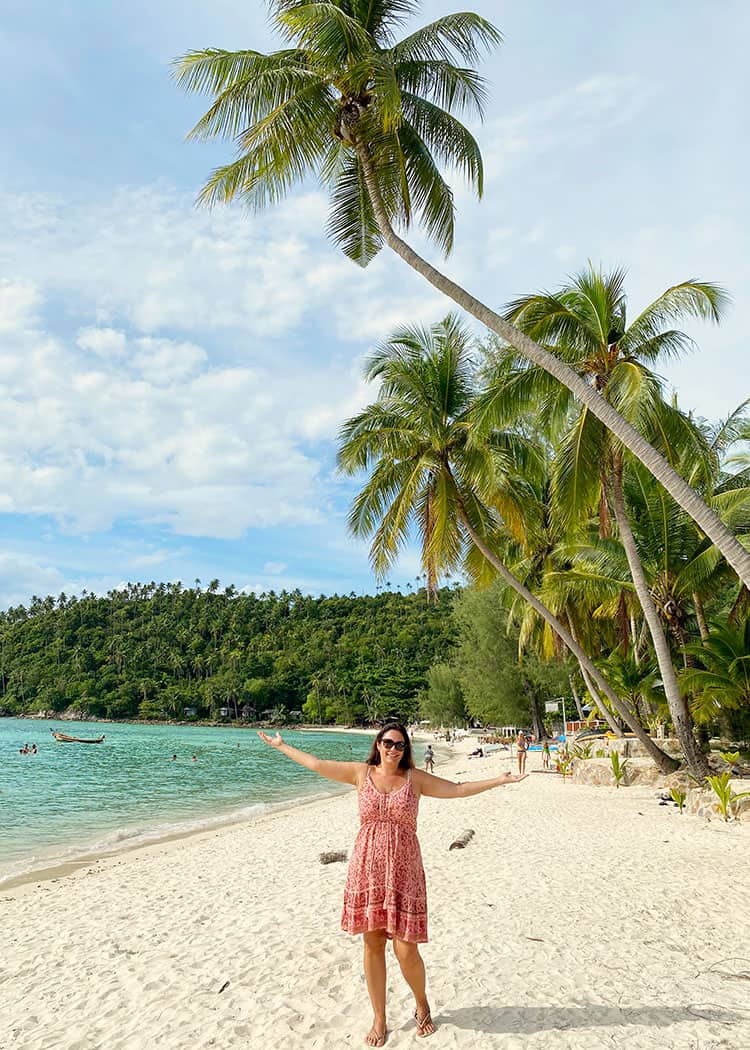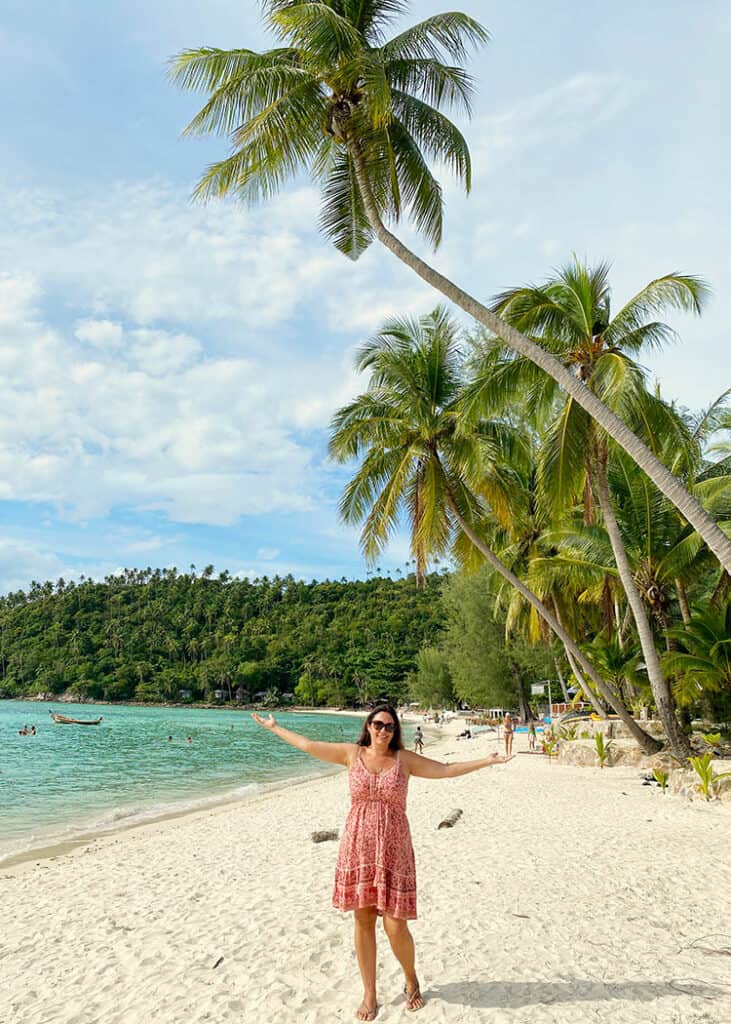 She believes Koh Phangan is more natural and the perfect place to get the island feel as tourists have taken over Koh Samui.
The former is a great place to slow down as everything felt so green and quiet after being on Koh Samui. You'll also find a ton of healthy food options, which is great for vegans and the health-conscious.
Final Thoughts On Koh Samui vs. Koh Phangan, Thailand
We would recommend that you try to visit both islands while traveling Thailand. They are just so different and unique!
However, it helps to understand the differences between Koh Samui and Koh Phangan.
The trick is to find the island that best fits you and your style of travel. Koh Samui is definitely the more popular destination due to the fact that it is easier and quicker to reach.
We hope you enjoyed reading our little Koh Phangan vs. Koh Samui guide as much as we enjoyed putting it together – onsite and behind the scenes!
Another great island to visit is Koh Tao, in fact, I prefer Koh Tao over Koh Phangan. See if you should visit Koh Samui or Koh Tao here.