Have you been wondering what to do in Koh Samui? I've got you covered!
As the second-largest island, located in the Gulf of Thailand, it's no surprise that there's no shortage of things to do in Koh Samui.
This idyllic paradise is most famous for its palm-tree-dotted white sandy beaches and attracts travelers from all parts of the world.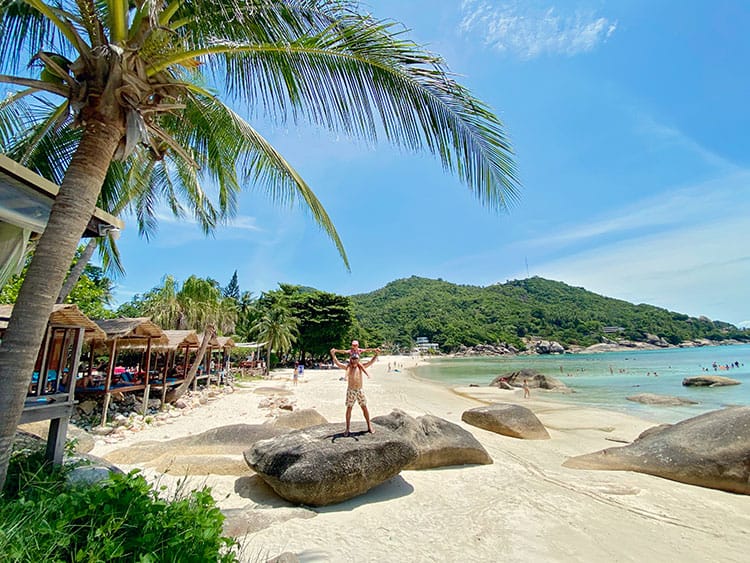 Go for typical water fun, snorkeling, and kayaking atop crystal-clear azure waters, and stay for scenic viewpoints and the amazing Thai culture.
A gastronomic adventure with Thai and international cuisines awaits, alongside markets featuring souvenirs to take back home.
You can also see more of Thailand's wonders by embarking on day trips to nearby islands like Koh Taen and Koh Madsdum.
We spent 6 weeks living in an Airbnb on Koh Samui. So it gave us plenty of time to try out local tours and explore to find a list of the top things to do.
Don't have time to read?
Here are the must-do tours whilst on Koh Samui.
---
We've compiled this itinerary to help you narrow down your list of Koh Samui activities.
Here Is A List Of The 30 Best Things To Do In Koh Samui
The most popular way to explore Koh Samui is via a scooter. Scooter hires are cheap and easy to come by.
However, if you are traveling with kids, you might prefer a safer option. While we rented a car for our 6-week stay in Koh Samui, if you are only visiting for a more normal holiday duration, you might prefer a private driver.
We highly recommend you book a private transfer for a day or two to check out various sights and attractions around this beautiful island. Hire an affordable private driver for the day here.
Wondering where to go in Koh Samui? Here's our comprehensive list of things to do and the must-see Koh Samui attractions.
1. Take A Day Trip To Ang Thong National Marine Park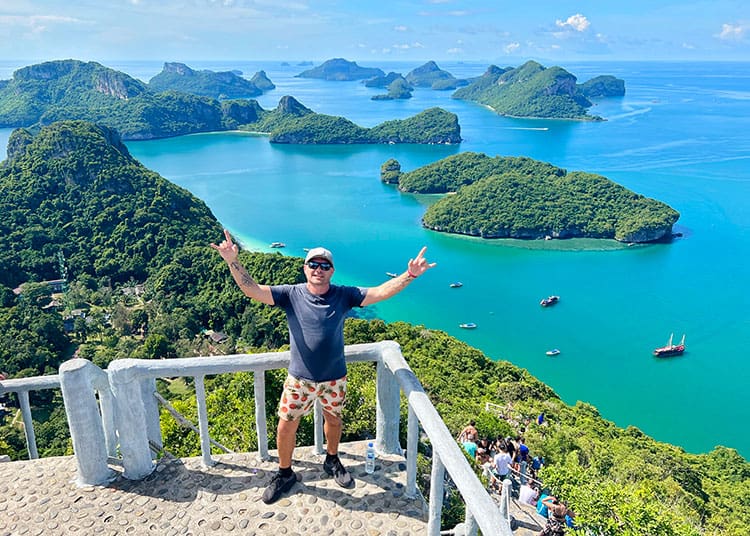 For one of the best things to do in Koh Samui, look no further than this incredibly popular day trip. This National Marine Park is one of the best places to visit in Koh Samui.
Covering over 102 square kilometers, Ang Thong National Marine is an archipelago spanning 42 islands. If there's a day trip to make while on Koh Samui island, we'd say it's this one.
Each island is unique, with interesting sights, including limestone cliffs, verdant jungles, waterfalls, and some gorgeous sandy beaches.
Be sure to bring your cameras to snap images of the fiction-like Emerald Lake or enjoy a scenic viewpoint after an amazing hike on Koh Mae.
The park is also ethical, with the government providing its exotic animals enough protection to ensure humans don't threaten their existence.
The only way to reach Ang Thong is via a government-approved boat tour – which is why you must book a tour to the National Marine Park.
We explored the park on a speed boat excursion, which included visits to Emerald Lake, kayaking, snorkeling, a hearty breakfast, and a Thai buffet lunch.
Here is a video of our day trip.
It was a pretty big day and we were exhausted by the end, but it is definitely our favorite day trip from Koh Samui and in my opinion, one that everybody should add to their itinerary.
---
2. Take A Day Trip To Koh Madsum And Koh Taen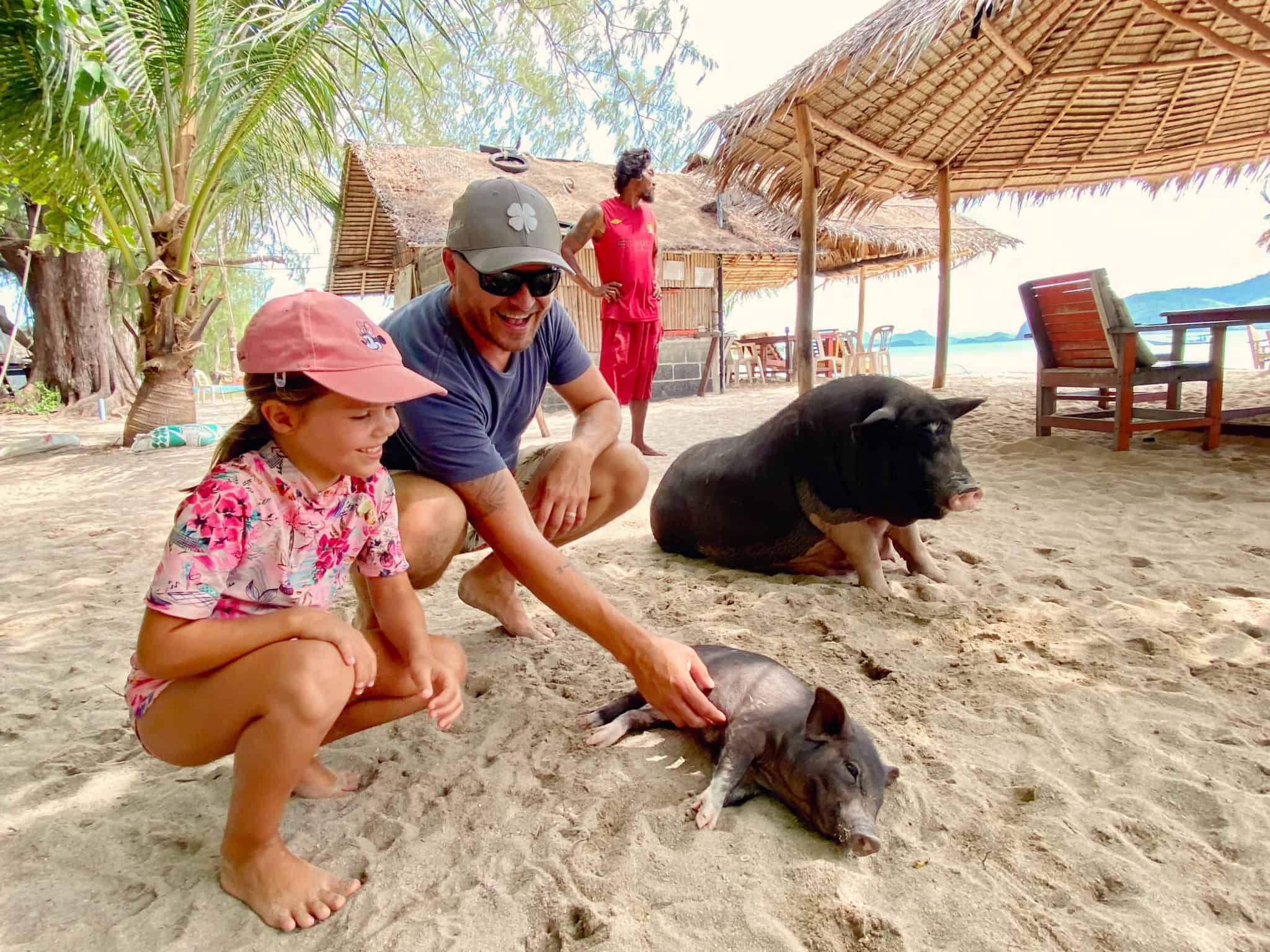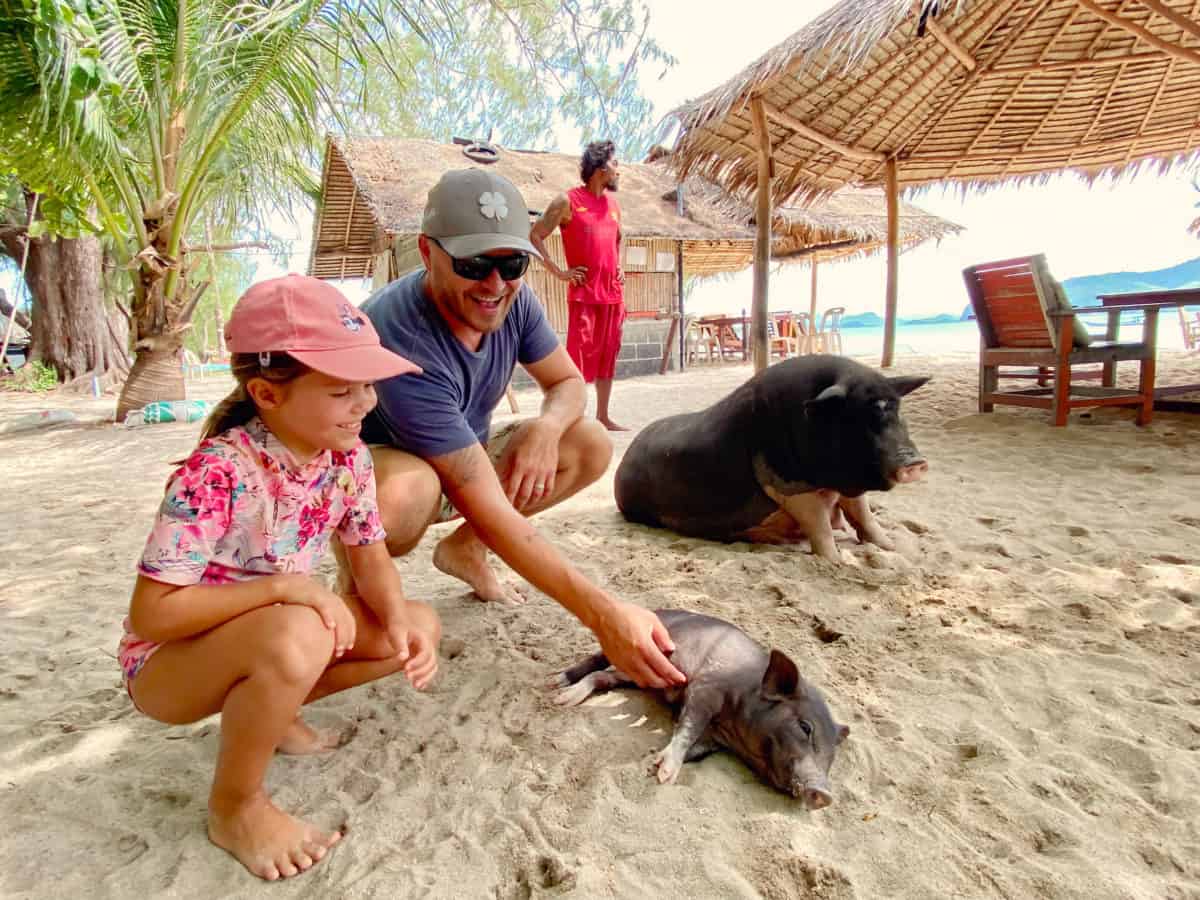 Another day trip idea to consider is this one that combines Koh Madsum and Koh Taen, two small islands near Koh Samui. The best way to do this is to join the Koh Madsum Day Tour.
During your island-hopping adventure, expect to see awe-inspiring coral reefs, swim with marine life, and meet some friendly pigs.
Your first stop will be Koh Madsum (AKA Pig Island). Here, you can enjoy a stroll on the island before snapping some pictures with the hogs on the beach.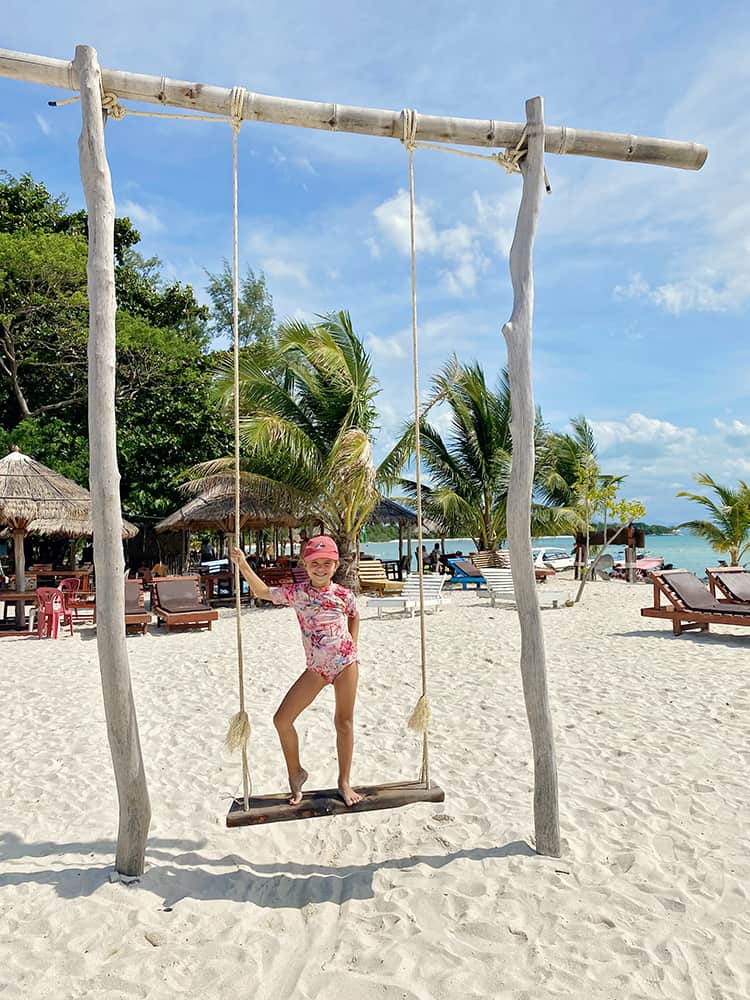 Koh Taen is where all the water fun awaits. Here, you can spend time swimming in the crystal-clear azure waters or sunbathing on the shore.
Add to the fun by snorkeling and kayaking among different marine species.
Our daughter absolutely loved this day trip. The island was pretty quiet on our visit, which was great as the island is pretty small.
There are some table and chairs and some sun loungers scattered around, but once we took some photos, enjoyed a cocktail, and played with the piglets we were ready to leave.
Note: This is a fun trip but does not compare to the Ang Thong National Marine Park day trip, so if you are limited on time, then we suggest booking the National Park trip instead.
---
3. Enjoy A Wild Jungle Jeep Tour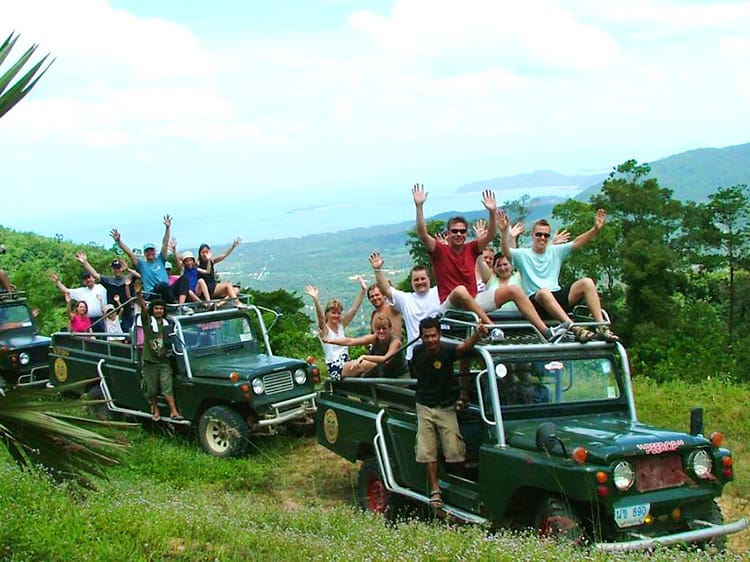 Looking for a fun, adventurous …. and maybe even slightly scary way to explore Koh Samui?
You should join in on this half-day wild jungle Jeep tour, which includes lunch and stops at many of the top places mentioned in our article.
The tour takes you up the Koh Samui jungle on 4×4 vehicles, with pick-up and drop-off at several hotels.
Stops on this tour include:
the famous Hin Ta and Hin Yai rocks;
seeing and swimming at the Na Muang waterfalls;
and visiting the mummified monk.
You'll also have a chance to meditate at the secret Buddha garden and
stop at Wat Phra Yai.
Squeezed into that day of adventures in Koh Samui is a mouthwatering traditional Thai lunch at a mountain-top restaurant with sweeping views of the island.
---
4. Opt For An ATV Tour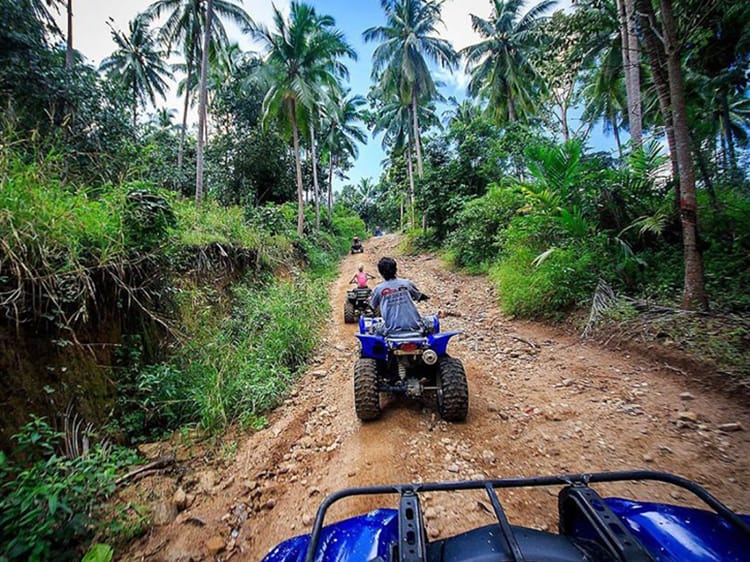 If you prefer a shorter and more exciting Koh Samui sightseeing experience, opt for this ATV tour filled with incredible off-road adventures.
Follow your guide through a verdant jungle and dirt roads, and you'll be rewarded with unforgettable sightings.
During the 1-hour tour, you'll stop at a selection of breathtaking viewpoints overlooking the mountain and ocean.
The 2-hour tour includes an additional visit to a seasonal island waterfall best seen during the wet season.
Tip: While the tour includes tea, coffee, and drinking water, it excludes food and eye protection.
---
5. Visit An Elephant Sanctuary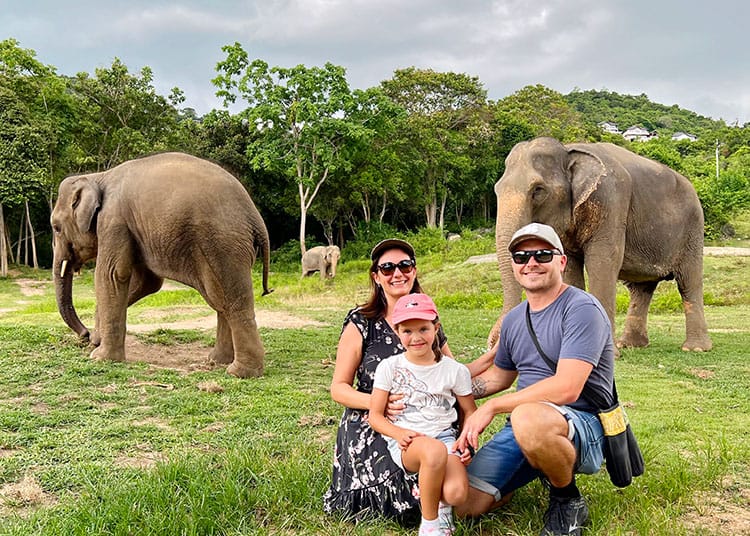 When you're in the land of elephants, seeing these incredible creatures in person is a must. While there are plenty of places to see these animals, you need to choose one that's ethical.
That's why we recommend paying a visit to Samui Elephant Haven. This ended up being one of our favorite things we did here.
The owner dreamed of opening a sanctuary for elephants to roam freely. He realized this dream and rescued 14 elephants from the clutches of the travel industry.
It's relatively pricey, but that was a small price to pay for seeing these joyous creatures roaming around happy and free.
While here, we fed the elephants, gave them water, and walked the grounds, meeting several of these colossal beauties.
We loved that swimming with the elephants is prohibited, keeping the visit as ethical as ever. After all, we're visiting the elephants rather than asking them to entertain us.
This was one of my favorite Koh Samui tourist attractions to visit during our 6 weeks stay on the island.
We actually visited the sanctuary for our daughter's 6th birthday and to celebrate we got a fruit and rice birthday cake done up for the elephants to enjoy. (You can order these online to help out to feed the sanctuary). They loved the watermelon!
>>> Organise a visit to Samui Elephant Haven, or book a spot on this popular Ethical Elephant Guided Tour (which includes transfer from your hotel)
---
6. Enjoy A Beach Lazy Day
Koh Samui is an idyllic destination perfect for beach lovers, with serenity and adventure found at different beaches.
This means adrenaline junkies can have their fair share of fun while other travelers can enjoy a tranquil and lazy day on the golden sands.
There are plenty of beautiful beaches on Koh Samui. We'd recommend lazing around on Lamai Beach, which was our favorite of the best beaches in Koh Samui.
It features a gorgeous palm-lined shoreline teeming with soft white sand and has restaurants, massage huts, and bars surrounding it.
If you're traveling with kids, you'll love its shallow waters as much as we did.
Where to Stay on Lamai Beach:
The Pavilion Samui Villas & Resort is a luxurious 4-star resort on the beach with a swimming pool. Rooms are comfy and you can also include a buffet breakfast for your stay as well.
For a budget option, the Hive Hotel Samui is a highly-rated hotel with over 2000 reviews on Agoda. It is beachfront and also has a swimming pool as well.
Watch our video showing you the top 5 beaches to check out on Koh Samui here.
Other beaches we'd recommend on the island include the hidden gem Chaweng Noi, the coconut-tree-lined Maenam Beach, and the picture-perfect Silver Beach.
---
7. Snorkel At Silver Beach Or Coral Cove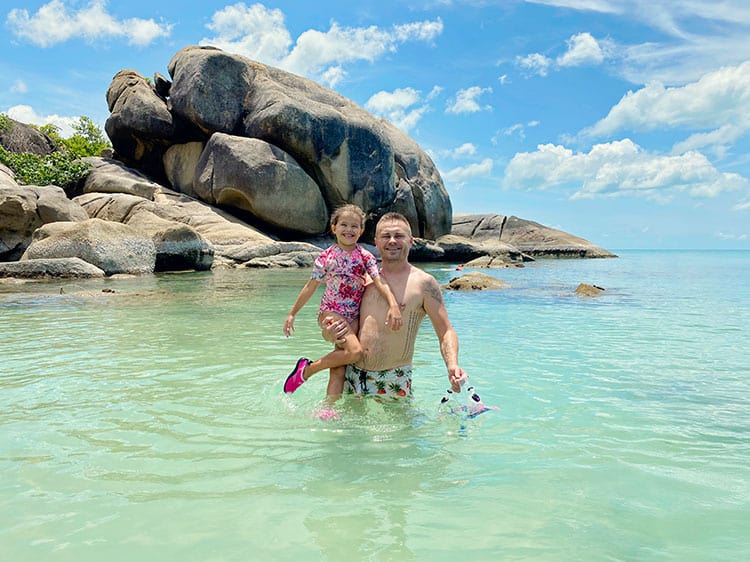 This beach has calm waters and myriad marine life, best seen while snorkeling (although the water is so crystal clear that you can see them while swimming, too!). You can also rent a kayak for fun on this beach too.
The Silver Beach seafront isn't bustling with modern amenities, but you can enjoy a beach massage.
We tried out the massages at both the Silver Beach Resort and also at the end of the beach and both were lovely!
You won't find sunloungers here, so bring a towel. We make sure to arrive early, so we can grab a spot under the protection of the shady trees.
Instead of having lunch on the beach (which we never found to be the best), we always head to Silver Spoon. Their food is delicious and really well-priced food.
You simply have to walk through the resort to the main road – easy and the food makes up for the fact that it is not on the beach itself.
Alternatively, you can choose to snorkel at the less popular but still spectacular Coral Cove.
Its light ocean currents are home to a large range of fish, including the yellow-tail barracuda. It more than makes up for its lack of modern amenities.
This beach has tiny little stones that can be rough on the feet (and gets super hot in the sun), so bring some water shoes if you have them.
---
8. Check Out The Hin Ta And Hin Yai Rocks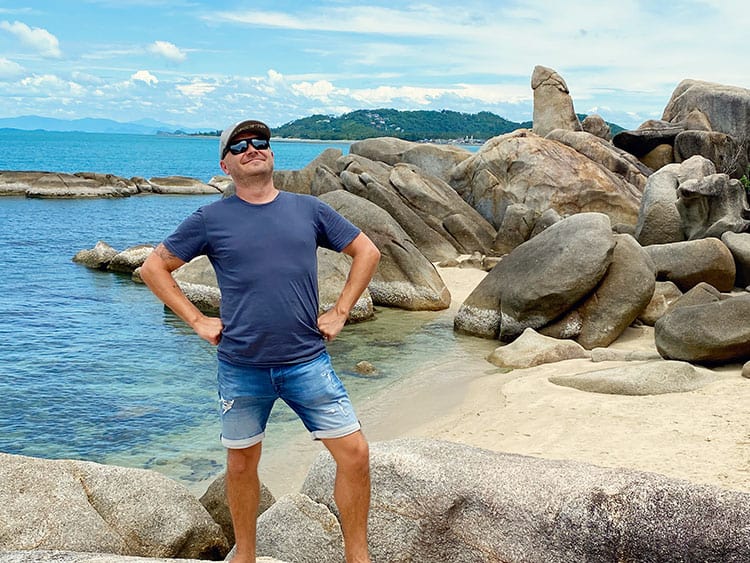 Wondering what to see in Koh Samui? Well, these are umm pretty unique, and because of that, they are probably one of the most famous Koh Samui attractions.
Thailand is a country home to the amazing and interestingly bizarre, with the Hin Ta and Hin Yai rocks being one of the oddest.
Locals named them Ta and Yai (grandpa and grandma) because they resemble genitals.
Apart from their looks, though, they have similarly bizarre folklore.
The most popular story is that an old couple was traveling to another province to see a male elder to ask for his daughter to marry their son.
Their boat shortly succumbed to a storm, and they turned into these rock formations.
Whether you believe the story or not, they're worth a quick stop for a fun photo op. They're located just off Lamai Beach, so you'll also see some turquoise waters here.
On the way to the rocks, you will walk by some local markets, and grab some Kalamae (sort of like a caramel made from coconut cream and palm sugar).
And then you can stop in at the Rock Bar (which is the next item on our list of what to do in Koh Samui).
---
9. Unwind At Rock Bar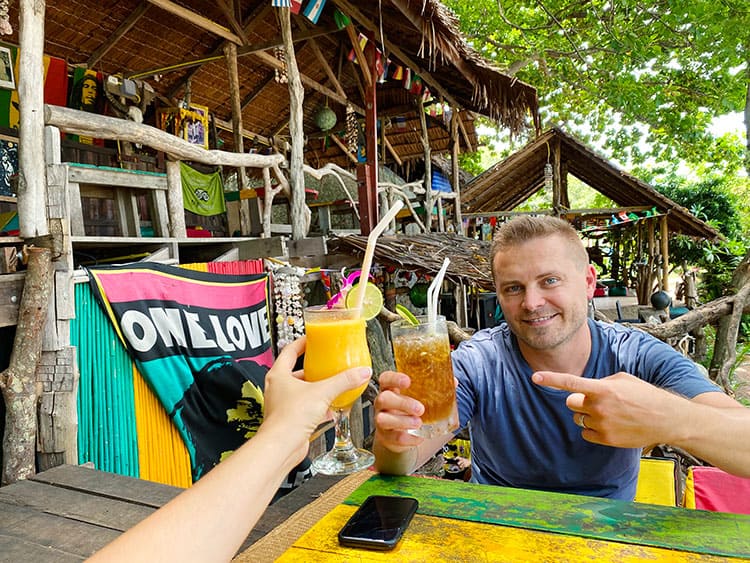 Tucked behind the Hin Ta and Hin Yai rocks, the popular Rock Bar is a great addition to your visit to the site. Instead of a conventional brick-and-mortar bar, it's a wooden construction that looks like a treehouse.
Sit down and unwind with the friendly staff ready to get you as relaxed as possible. There's also soulful reggae playing in the background for music lovers.
Here, you can enjoy some reasonably-priced food along with drinks like cocktails, shakes, and beer—all affordable too.
We absolutely loved the atmosphere here. It is such a unique little place.
I think they could definitely do better with their customer service, but it was a great place to stop for a drink.
---
10. Snap Instagrammable Shots At Overlap Stone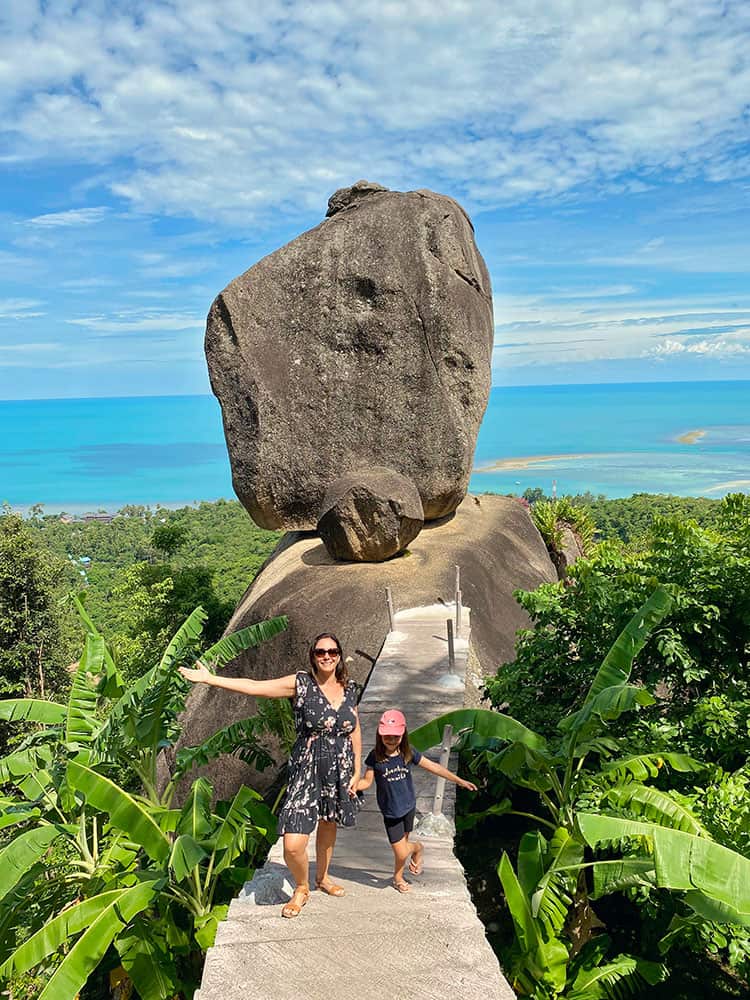 Koh Samui is home to many panoramic views just begging to be snapped up for Instagram.
Of these, we recommend the Overlap Stone vista, located just five minutes from Lamai Beach.
This giant rock has soared in popularity thanks to the unobstructed views of the Koh Samui greenery and ocean on offer.
You'll need to embark on a short trek to get to the stone. Just watch your step to be safe.
The stone is connected to the area by a bridge, and there's a house just by the bridge.
Here you'll find an old lady that charged us just 50 baht ($1.41) to get onto her property.
On our trip, we only had to wait for a few other couples to grab their photos before it was our turn.
We loved our little stop here, but if you are only in Koh Samui for a few days I would suggest your time is better spent at the beach.
---
11. Visit Lamai Viewpoint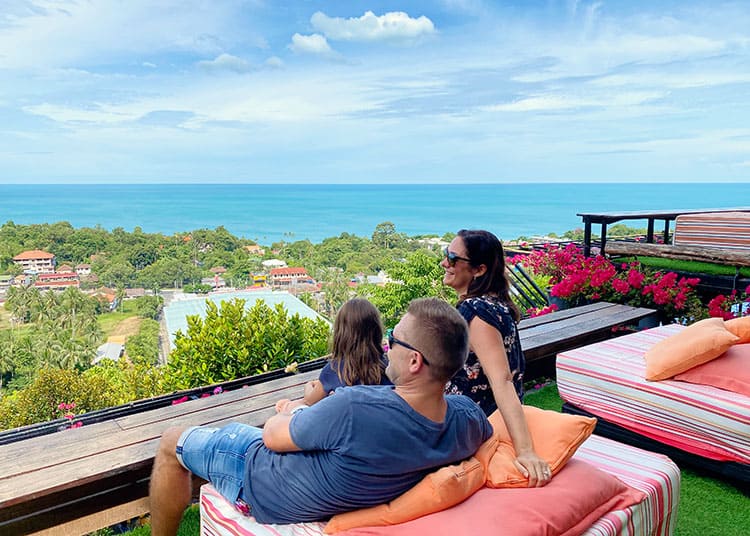 Koh Samui is home to incredible vistas, including the famed Lamai Viewpoint.
This viewpoint is perched on the Laem Mai mountain and surrounded by natural splendor.
The staff here offers two packages. The first includes a stop at the Valentine Stone, seeing the Siva Tara Waterfall, and finally, the Lamai Viewpoint.
Locals believe that lovebirds who touch the stone will last forever—try it, you never know.
The area at the bottom to me wasn't really that interesting or that impressive.
Andrzej did pop his feet in the fish foot spa so the fish could nibble his skin, but he only lasted a few minutes before pulling his feet out.
The second includes all that but adds an exciting ziplining experience. Zoom down the zipline with a verdant forest right below your feet and the valley in the surroundings.
You can put your faith in your legs on a 10-minute hike to the peak. Alternatively, you can pay out-of-pocket for a cable car ride (no judging here).
The first package costs 100 baht ($2.82) while including a cable car ride increases the price to 200 baht ($5.64).
You can add the zipline ride and pay an all-inclusive fee of 1000 baht ($28.20).
After enjoying a scenic view of Lamai and its ocean, you can fill up a meal at the restaurant.
We headed here late afternoon and it was really quiet upstairs in the cafe.
I think this would be a wonderful spot if you are traveling with friends and want to head up around sunset time.
For us, it was nice, but not necessarily a must-do for everyone's list.
---
12. Enjoy A Late Afternoon Stroll At Fisherman Village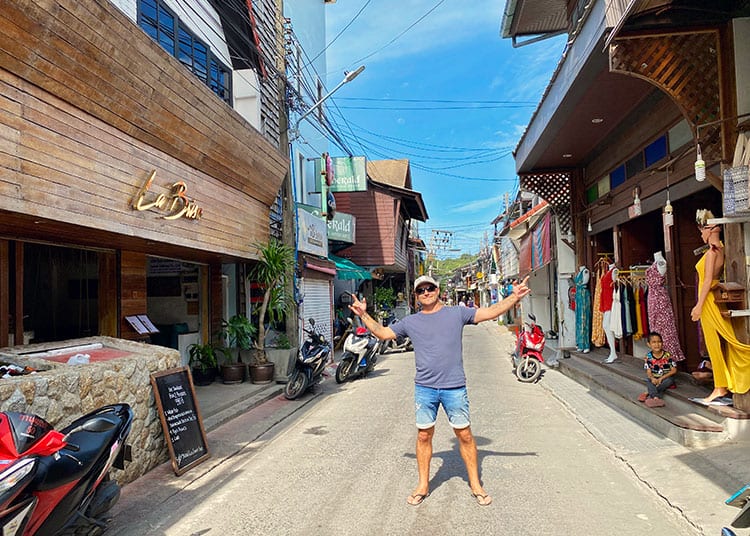 For something different, we recommend a visit to the Fisherman's Village at Bophut Beach.
It has some of the best shopping and food in Koh Samui and has a great vibe from late afternoons onwards.
Time your stroll for Friday, as Bophut Beach Road becomes a lively street market.
From 5 to 11 pm every Friday, you'll find souvenirs, live music, art, food like pad Thai and more.
Outside that time, you can enjoy local delicacies at the family-owned Hut Cafe, or head to the Red Moon for delicious French food.
Seafood lovers have various options at 2 Fishes Samui, while you can also enjoy some fine steaks at The Shack, Koh Samui's oldest steakhouse (be warned that the steaks are pricey – but they do taste great – the restaurant can get busy so make a reservation).
For a pricey meal with a view, head to Coco Tam's, which has a bar and restaurant that overlooks the beach. They also do an amazing fire show that is worth watching.
For a cheap alternative (but totally delicious food) we loved eating at The Hut Cafe. We ate here multiple times during our stay.
If you're in the mood to shop 'til you drop, worry not. You can find clothing, souvenirs, and accessories at the Wharf Samui Mall and the walking street market.
Ladies can head to Saona Collection and get their hands on some beautiful dresses, hats, and bags.
---
13. Watch A Fire Show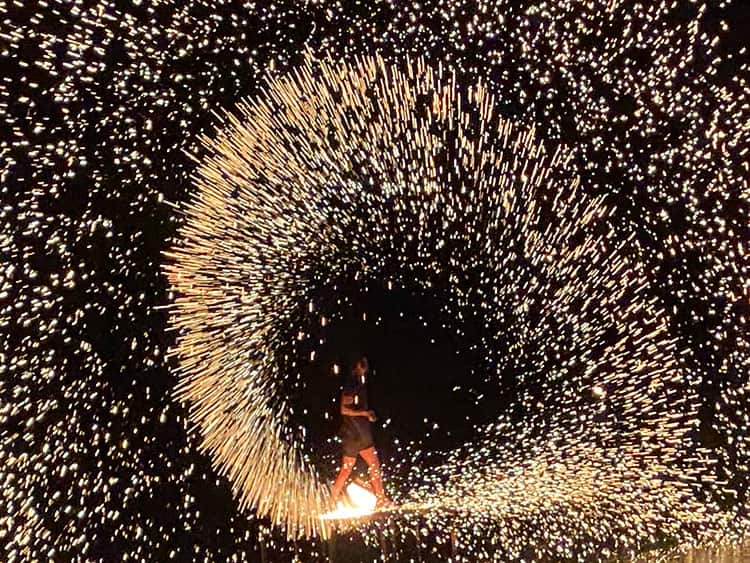 Fire shows are good fun to watch while in Thailand. You can find these shows across Koh Samui, but our absolute favorite fire show is in front of Coco Tams on Bophut Beach. You can catch it at 7:30 pm and 9 pm daily.
The performers typically use an array of fire toys while performing choreographed moves with music in the background.
It was pretty impressive, to say the least!
Coco Tams get really busy during this time so make sure you have a reservation if you want to see the fire show., or arrive early.
---
14. Spend The Day At A Beach Club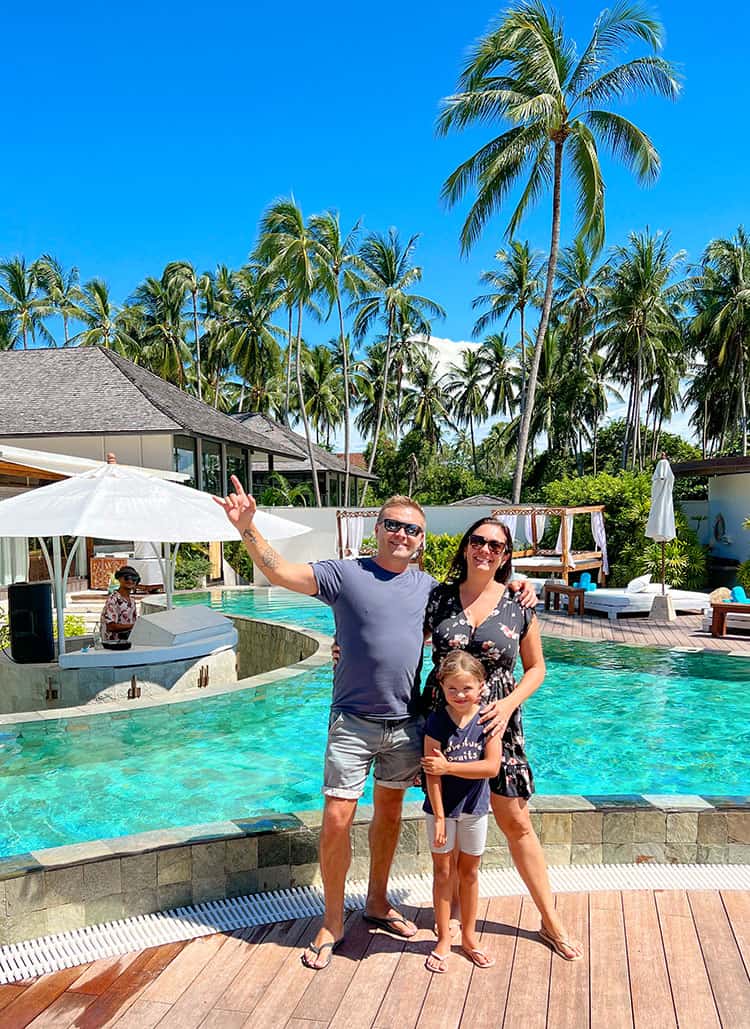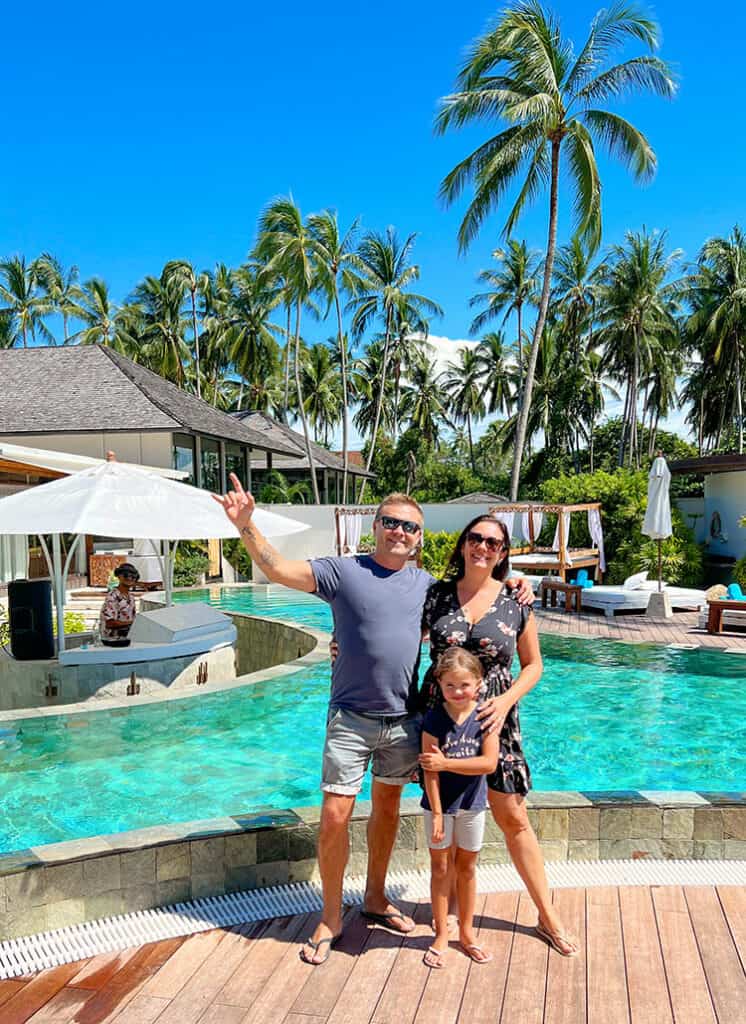 Instead of going to different places, you can get a combination of luxury, comfort, music, great food and drinks, and more at a beach club.
Koh Samui has a variety of beach clubs ready to make you lie back, relax, and have a fun outing. Our favorites include the Nikki, Chi, and Seen beach clubs.
Nikkis was the first-ever beach club here, and they had the experience to match.
We're talking signature cocktails, eclectic dishes, great music, entertaining films, glamorous fashion, and avant-garde art—they had it all.
At Chi, you'll have a swim-up bar and a 25-meter saltwater infinity pool that overlooks the turquoise ocean at your disposal, along with Thai food and drinks.
Seen is inspired by the 50s, but they're anything but archaic. It has Mediterranean, American, and Asian dishes on offer, as well as music blasting as the pool party rocks on.
Another beach club, Arkbar Beach Club, is super popular with the younger crowd.
It's a one-stop party destination that hosts international DJs by the pool and beach, with an a la carte menu and delicious drinks.
---
15. Visit The Night Markets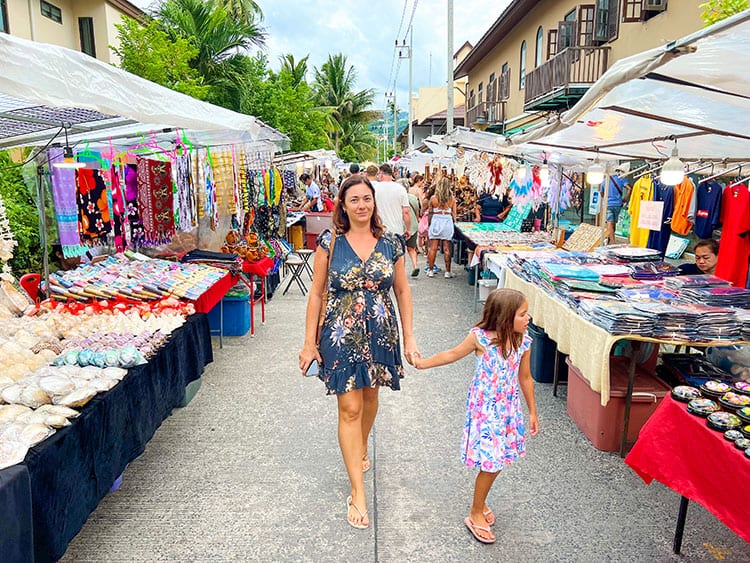 In addition to Fisherman's Village's walking street market, there are some more incredible night markets in Koh Samui.
If there's the one-night market you must visit in Koh Samui; it's the Lamai night market on Lamai Beach Road.
It happens every Sunday and buzzes with live music and entertainment (think fire breathers and the like).
In support are countless food stalls selling salivating Asian and European delights.
You can also buy fresh produce, crafts, and souvenirs to take back home, although some are noticeable knock-offs.
Another popular market in Koh Samui is the Chaweng night market, located behind the Star Gym in Chaweng.
It's an exciting and busy area dotted with food stalls selling some of the best authentic local snacks and meals. The food is the star of the show at this night market.
---
16. Sip And Zip At Tree Bridge Coffee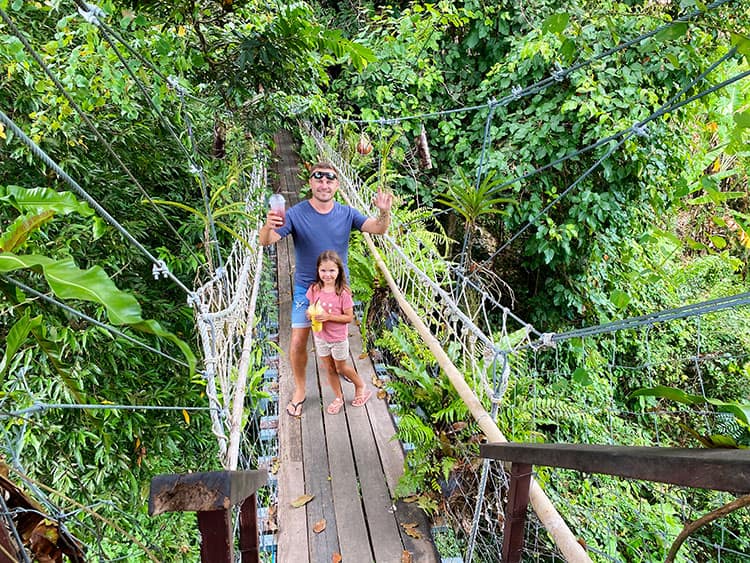 For some more ziplining fun, we highly recommend visiting Tree Bridge Cafe. Enjoy an exhilarating zipline ride above the lush Koh Samui rainforest.
You zip down from a mountain that has incredible ocean views and a waterfall nearby.
At the end or before your zipping experience, sip on hot and cold coffee while munching on some tasty pastry.
Even if you just go for a drink, we thought that the drive there is pretty, and the place is unique as it has rope bridges to get from here to there.
Ziplining costs 1800 baht per person ($50.72) and is only open to people between 6 and 70 years old. Only cash payments are accepted here.
You can skip doing all that yourself by joining a tour that takes care of all the fine details ahead of time. 
---
17. Drinks And Dinner At Jungle Club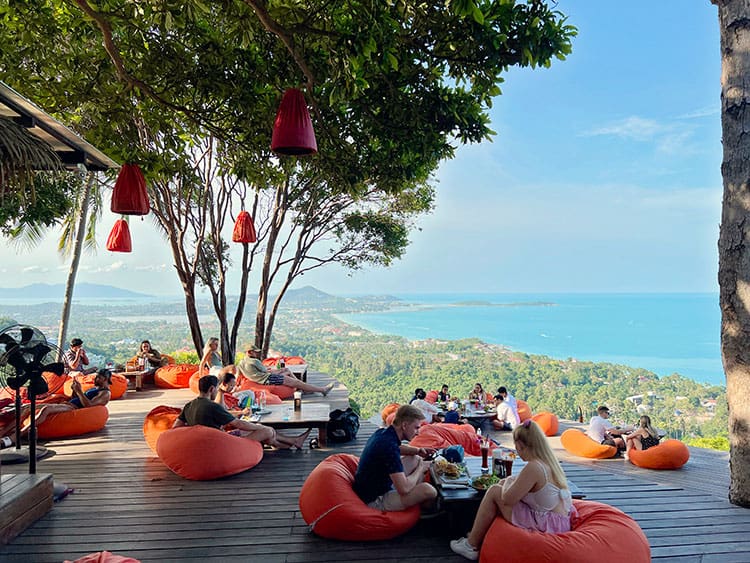 The Jungle Club is a restaurant that allows you to "dine in the heavens" while enjoying scenic viewpoints above the Chaweng beach.
The food here is prepared by a chef with over 30 years of experience in the kitchen.
You'll find Thai, French, Italian, Mediterranean, fusion delights, and a few signature cocktails on the menu.
The best area to dine here is on an open wooden deck, which has comfy bean bags and a panoramic view. However, you can only guarantee a seat here by making a reservation ahead of time.
Be aware that the road leading to the restaurant is incredibly steep.
You can call them and get them to pick you up from the road before you hit this steep incline – you will see a sign for this service with a phone number while driving towards the entrance to the resort.
We loved relaxing up here and highly recommend you head up around sunset time.
---
18. Visit Namuang Waterfalls 1 And 2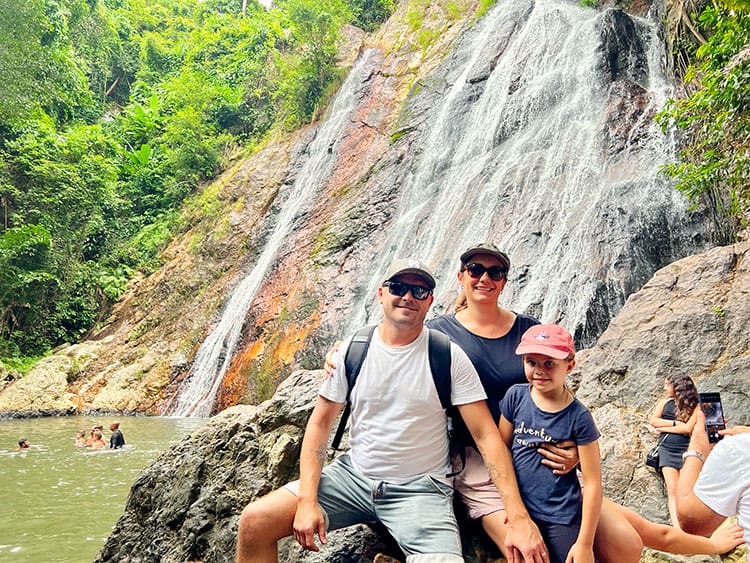 For more incredible sights, head to the two Namuang waterfalls found in a scenic jungle setting. The popular cascades are known as Na Muang 1 and 2.
The first waterfall flows into a pool you can swim in and is easily located only a short distance from the parking lot. It can get a bit busy here during peak season.
Please be aware that you will see elephants chained up in the parking lot of these waterfalls.
Please don't support the people here who treat the kind giants this way; please don't buy the food or ride on these elephants.
Instead, support the sanctuaries that rescue the elephants who have to endure a life in chains.
The second is a little harder to get to as you'll have to hike uphill for about 30 minutes, but the view is easily worth the trek.
---
19. Explore Wat Plai Laem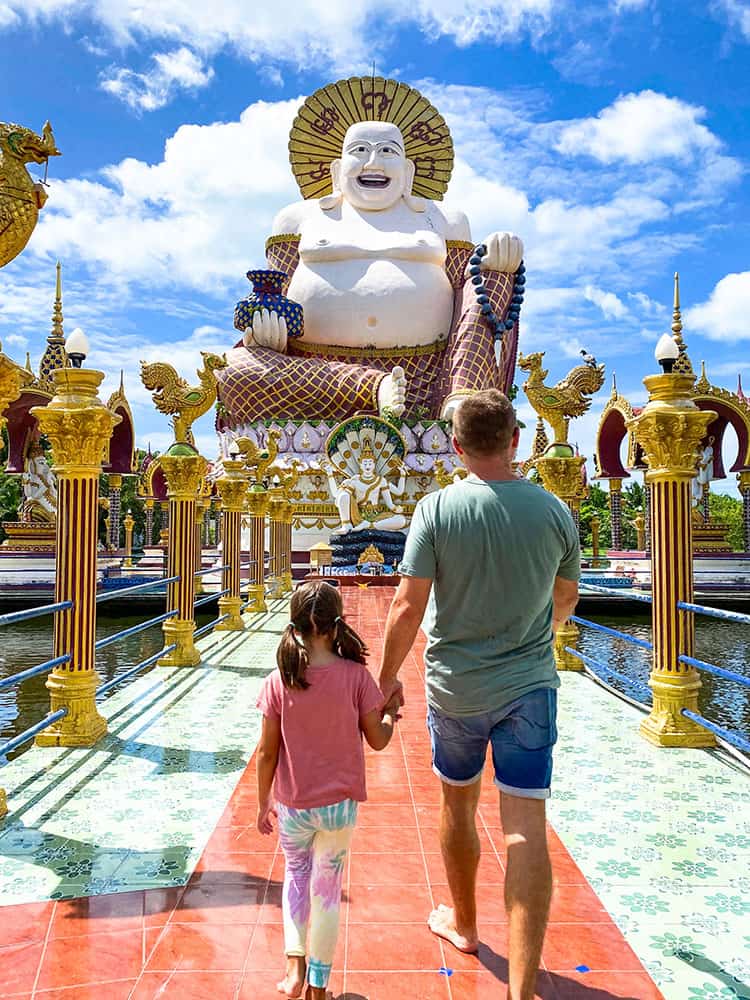 Koh Samui is also home to many temples, including Wat Plai Laem.
This Buddhist temple is dedicated to Guanyin, the goddess of compassion and mercy.
As such, her statue is the highlight of any visit here. The massive gold and white sculpture has 18 arms and sits above a large dragon.
Another statue found here is one of a laughing Buddha with prayer beads.
Tip: If you're traveling with kids, we recommend bringing coins so you can buy them some fish food – the fish basically crawl out of the water to get to the food, Avie just laughed and thought it was a great 'show'.
We also saw some turtles swimming in the lake here as well.
---
20. Visit The Phra Yai Temple Complex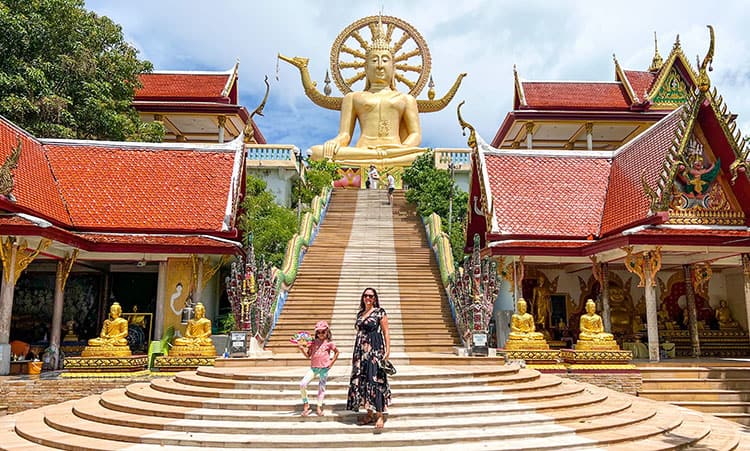 After seeing the laughing Buddha, visit the Phra Yai Temple Complex for an up-close encounter with the majestic Big Buddha.
The renowned statue is drenched in gold and has a dragon and wheel behind it, presenting a perfect photo op.
You won't need long here as you only need to climb a flight of stairs before reaching Big Buddha.
Combine a visit here with a stop at Wat Plai Laem, as they're located close to one another.
---
21. Enjoy A Day Trip To Koh Phangan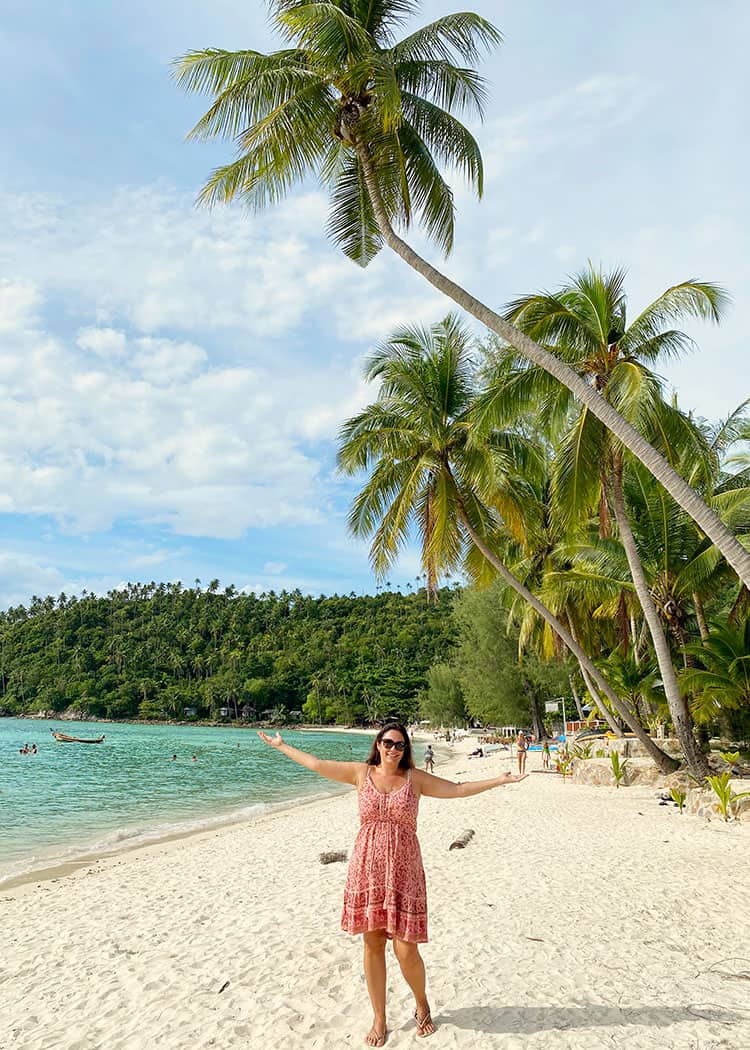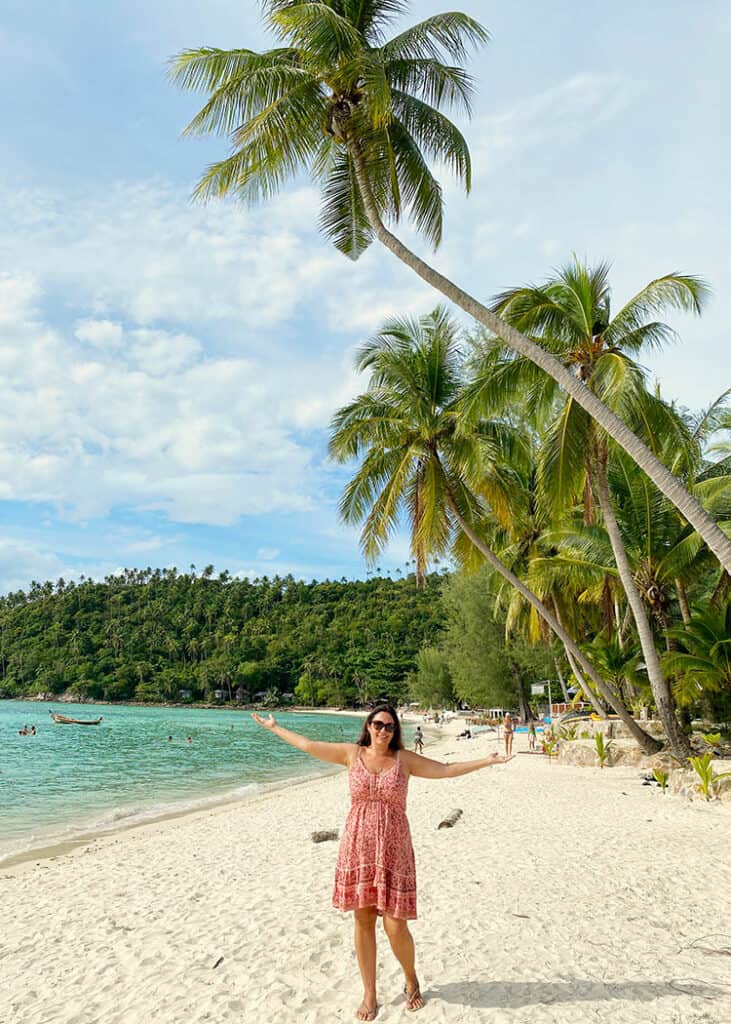 Given that you can see its shoreline from Koh Samui's one, you might as well visit Koh Phangan.
This island is home to plenty of attractions and beaches dotted with restaurants.
While you can organize the day trip yourself, we recommend letting someone else handle the logistics by joining a tour.
That way, you can see Koh Phangan's beauty on a 4×4 Jeep after a transfer on a high-speed boat.
Once in Koh Phangan, the guide will take you on an exploration that includes visits to several beaches. One is a hidden gem that allows you to swim alongside many Thai fishes.
Apart from the many Instagrammable attractions, you'll also enjoy a Thai lunch and drinks with sweeping views of Koh Tao and Koh Ma.
---
22. Visit Koh Phangan To Enjoy A Full Moon Or Half-Moon Party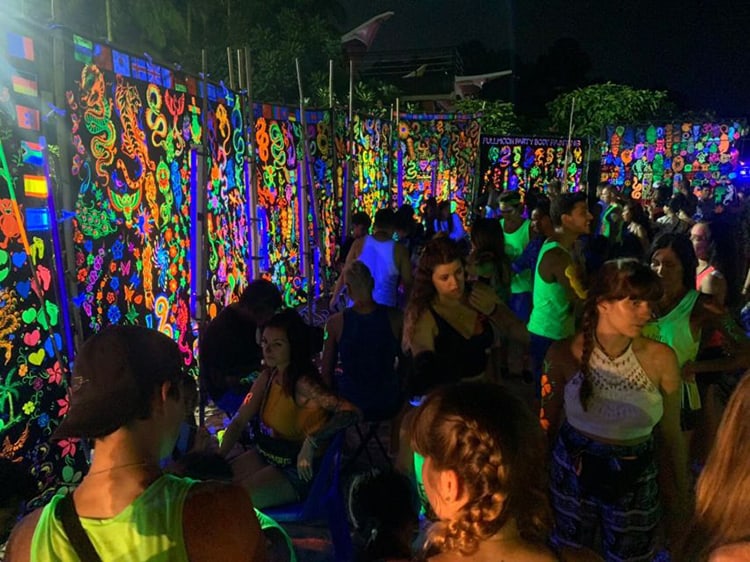 Koh Phangan throws pretty impressive parties. Among the most popular are the full and half-moon parties. The half-moon parties take place a week before and a week after the full-moon party.
The full-moon party typically occurs on Haad Rin Beach, while the half-moon parties take place deep in a tropical forest.
Each one features local DJs belting tunes from different genres while you dance the night away. There's also entertainment in the form of jugglers and fire-eaters.
Get ready to party while letting someone else handle the logistics by joining a roundtrip transfer that's safe and reliable.
Note: The transfer fee excludes food and drinks and the entrance fee.
---
23. Discover The Secret Buddha Garden
The Secret Buddha Garden is perched on Pom Mountain and was made by Khun Nim as a place of meditation and his final resting place.
It features a variety of statues, including Buddha sculptures as well as animals, angels, and his family.
This tranquil attraction also has small houses with roofs covered in greenery, which traveling monks have used to meditate in.
Climb the staircase, and you'll find a gorgeous garden with colorful flora.
You will only need around 30 minutes here. I recommend you wear some comfy shoes!
---
24. Drive Or Scoot Around The Island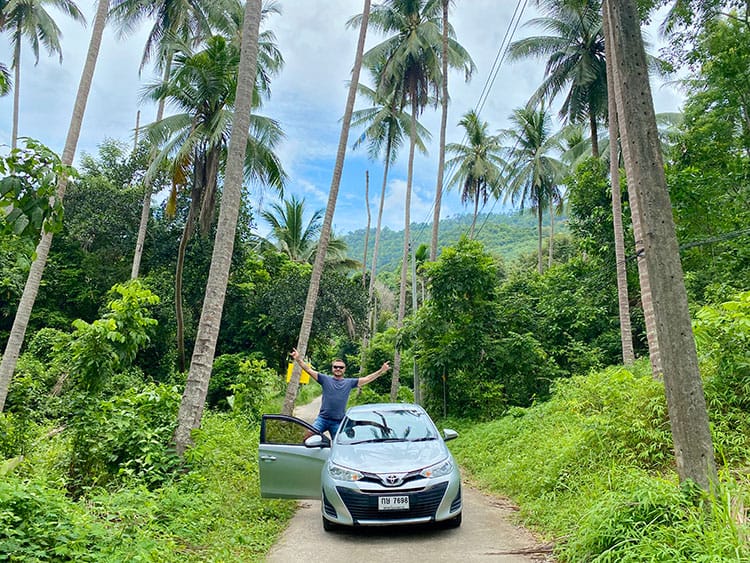 While Koh Samui island is the second largest in Thailand, it's nowhere near massive.
Spanning around 228.7 square kilometers, you can easily drive around the entire island in just a few hours (but give yourself a day so you can stop at various points to explore).
Stop by the best beaches for a swim, sunbathe, or just enjoy sightseeing.
Koh Samui's many areas have verdant forests, towering mountains, and gardens, each with splendor worth stopping for.
Our favorites are the cascades, with the Namuang 1 and 2 waterfalls, Tar Nim, and the Secret Falls hidden in the jungle.
A drive around the island wouldn't be complete without stops at some of Koh Samui's best viewpoints.
Apart from the Lamai and Jungle Club vistas we've touched on, we'd also recommend a few other stops.
Head to Lat Ko's panoramic viewpoint or soak up eclectic views at the Khao Hua Jook Pagoda Temple.
---
25. Marvel At The Mummified Monk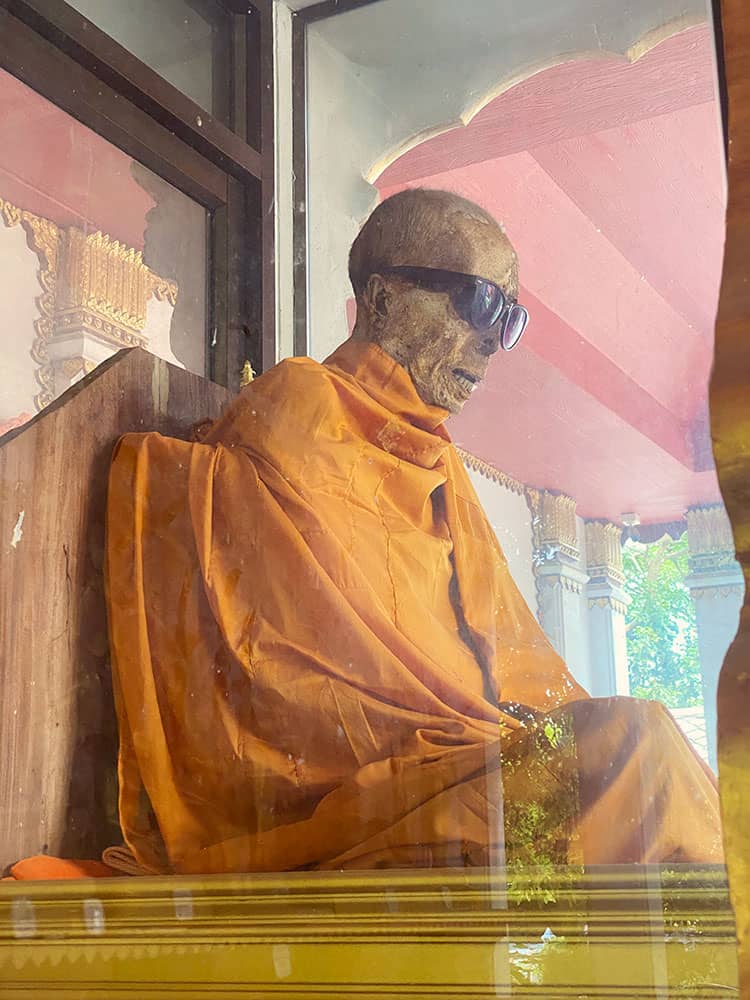 Mummies aren't just an Egyptian thing. You'll find a mummified monk at Koh Samui's Wat Khunaram, a Buddhist temple. You can come here to marvel or be horrified—we were a bit freaked out.
The mummified monk is Luang Pho Daeng, who died in 1973 and can be found sitting in a meditative position in a glass case.
If you're short on time, this isn't a must-do activity, but why not stop and check it out if you happen to be passing by? We spent just five minutes here.
Tip: As with all Buddhist temples, ensure no shoulders or knees are showing while visiting here.
---
26. Visit The Gorgeous Red Wat Ratchathammaram Temple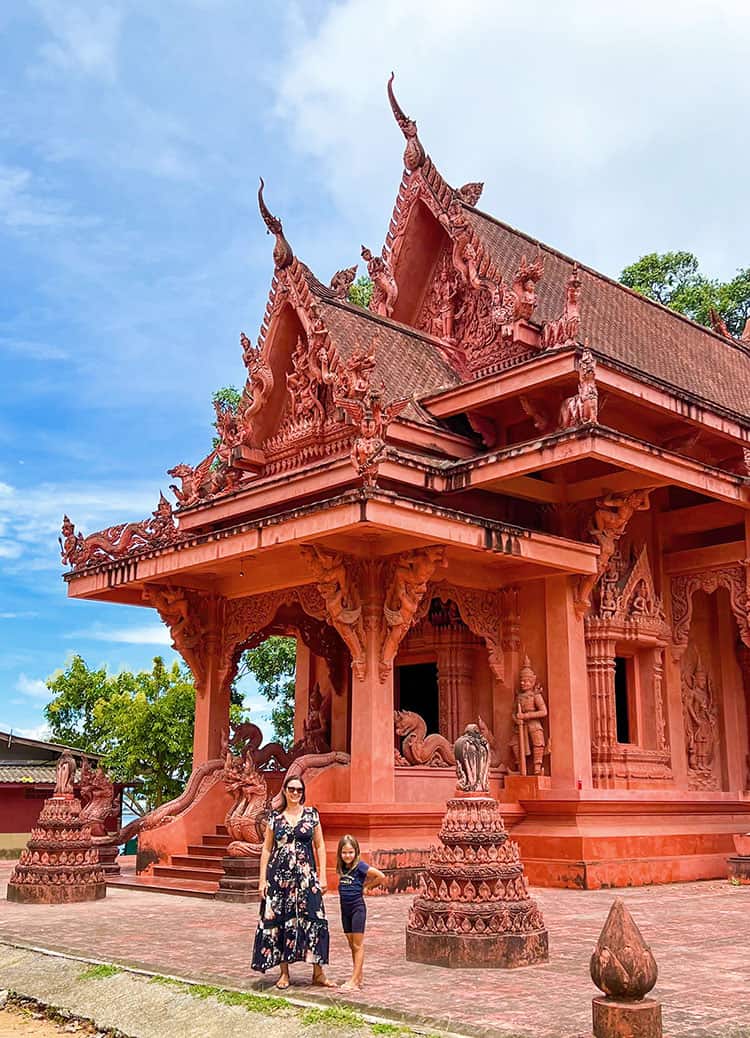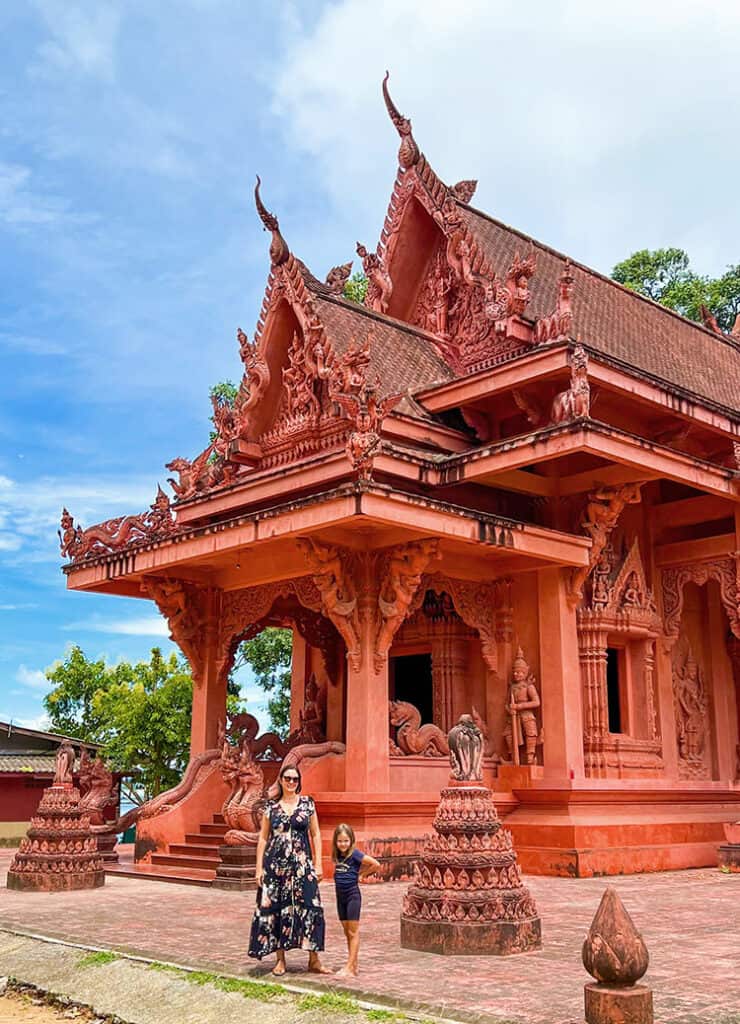 The gorgeous Wat Ratchathammaram is home to a newly-built terracotta temple boasting fascinating carvings and statues. We were here for just 10 minutes but were impressed.
Enter the temple and see wall designs of a being "eating" the sun, warriors fighting, and a fish swallowing someone.
The gold-painted big Buddha sitting in his corner is most impressive, though.
---
27. Check Out The Guan-Yu Shrine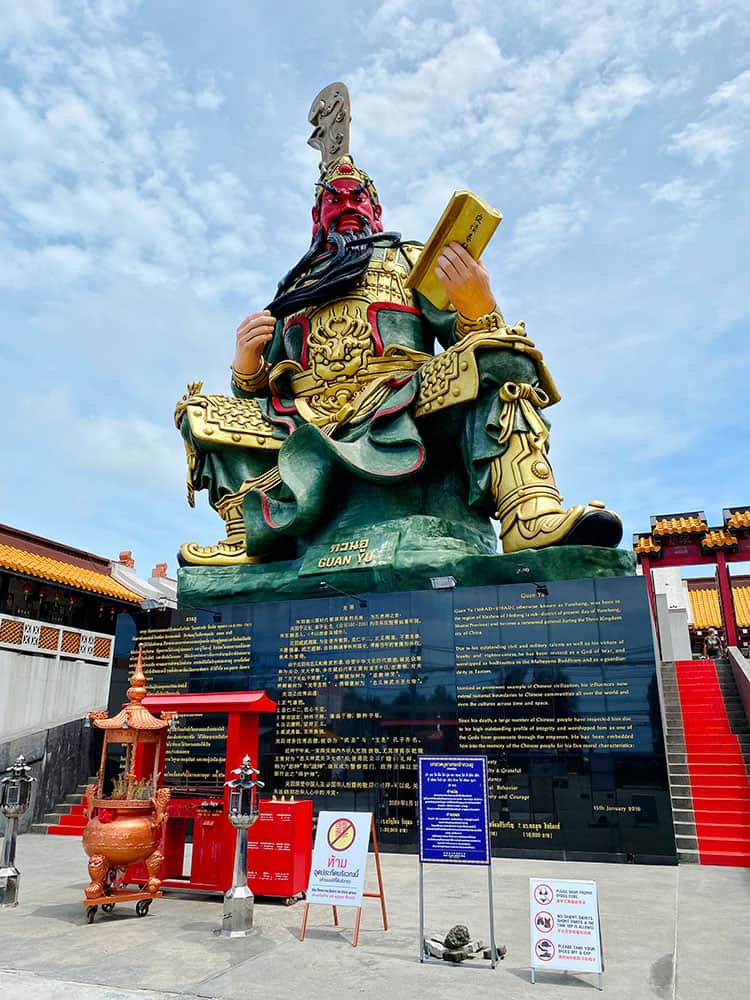 China has, throughout history, been an influential part of Thailand's rich history. One showcase of this is the Guan-Yu shrine.
This massive green, gold, and red sculpture depict Guan Yu, a notable general during China's Three Kingdoms.
The statue rises 16 meters high and is a popular stop for tourists and the Chinese community.
Guan-Yu is said to symbolize loyalty and honesty in a marriage, which has made the area a popular wedding location.
Again it is just a quick stop and maybe not super impressive, but we did enjoy our little stroll to check it out.
---
28. Get A Massage (Or Twenty)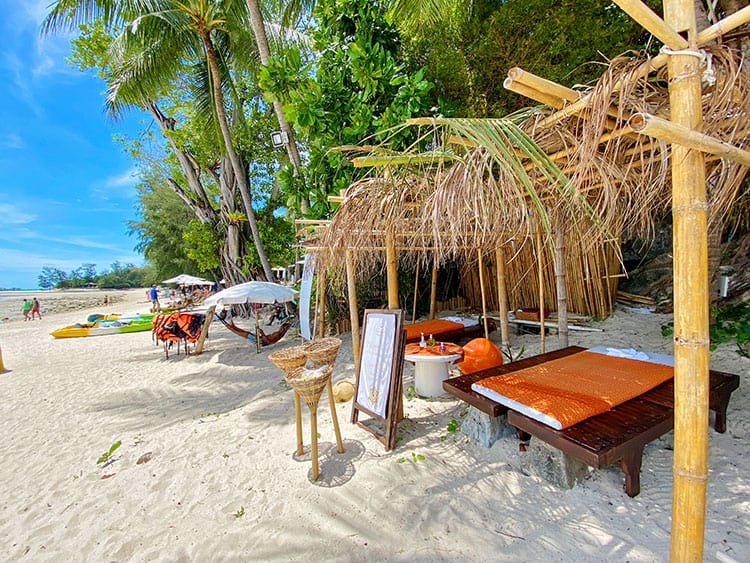 Massages are so damn cheap in Thailand! At that price, you could easily have a massage a day.
And while we might not have enjoyed a massage every day (blame it on our 6-year-old daughter), we did enjoy many massages, with some enjoyed right by the beach.
We enjoyed our favorite massages at Lamai Beach next to the Baobab Restaurant and at Choeng Mon Beach in front of the Kirati Resort.
Each location had massages starting at just 300 baht ($8.45). There are massage places around every corner in Koh Samui, so there is always one nearby.
---
29. Join A Muay Thai Class
How does the saying go again? When in Rome, do as the Romans do, right? The same applies here but for Muay Thai in this instance.
Muay Thai, which translates to "Thai boxing," originated in Thailand, so we recommend taking a class to learn from the masters.
Not only do you learn the techniques, but you also get a great workout.
---
30. Enjoy Cocktails, Shakes, And Coffee At The Mud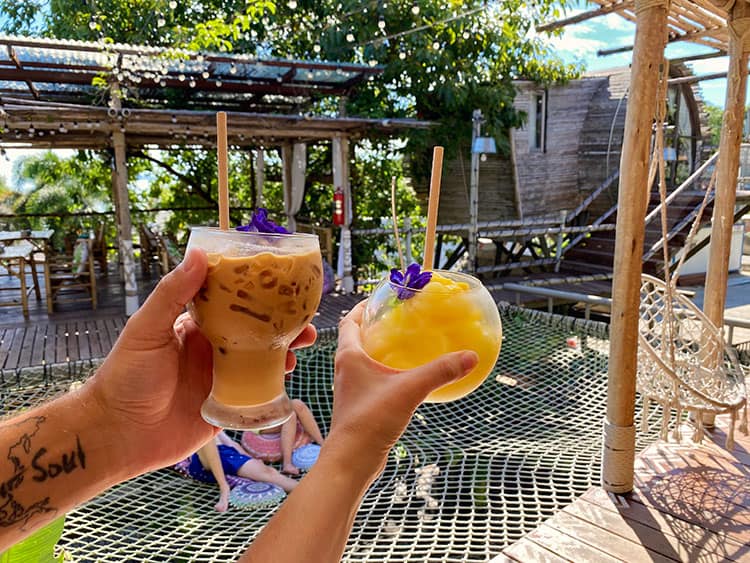 Don't let the name scare you; The Mud is as clean as any other establishment. But, it isn't just any establishment, as it's a unique and memorable cafe. Actually, it's a hotel first, but it also has a cafe you can visit.
They have rope bridges, and you can enjoy a delicious cocktail, shake, or coffee here.
They also have a small farm with chickens, ostriches, and more animals you can meet.
We loved stopping here on a drive around the island.
And if you have kids, they will love climbing around on the ropes and checking out the animals.
---
Where To Stay On Koh Samui
Wondering where to stay in Koh Samui? Here are our top recommendations of where to stay with some of our top picks for fantastic resorts to stay at.
If this is your first visit to Koh Samui, and you want to do some exploring together with some beach days, then I suggest you select either Chaweng (young people who like to party) or Lamai (families and older couples).
Another helpful post that we have is for families, you can find the best family resort in Koh Samui here.
Chaweng Beach: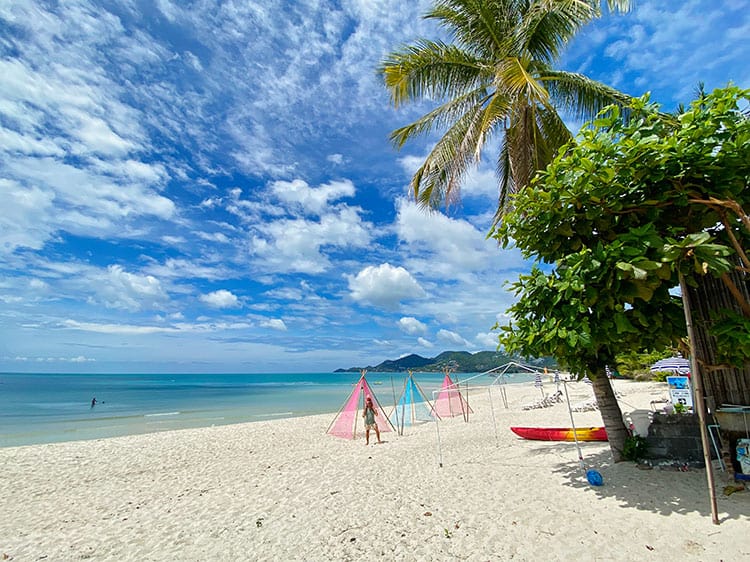 If you are young and want to be close to all the action and close to all the restaurants then Chaweng is where it is at.
As an older person with kids, this is the last beach I would want to stay at though.
My Favorite Resorts at Chaweng Beach:
Lamai Beach:
Lamai Beach is perfect for families. The sand is soft. There are many great resorts and fantastic restaurants in the area. I just love the vibe of this beach.
In my opinion, the prettiest part of this beach is towards the South of the beach.
This is where I love to base myself when I visit Koh Samui.
My Favorite Resorts at Lamai Beach:
Bophut Beach: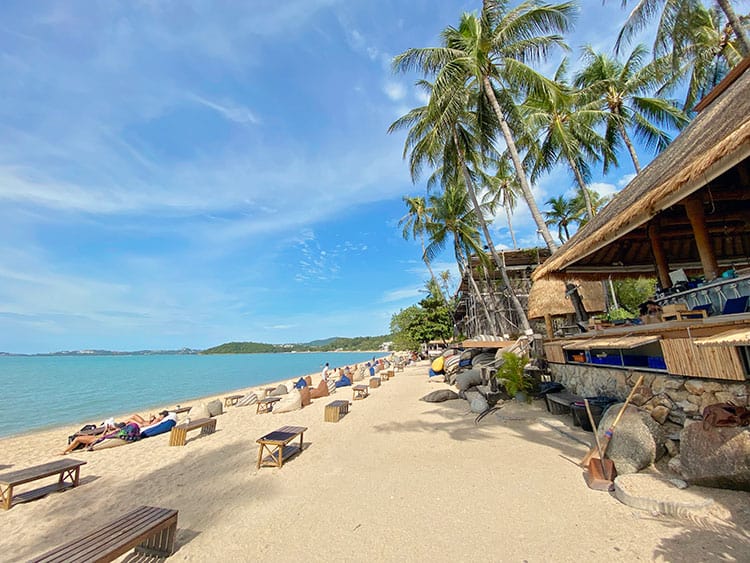 To me, Bophut Beach is for those who love to do a bit of shopping, love eating at the best restaurants, and enjoy some fancy spa days.
The sand at Bophut Beach is rougher and the water goes deep pretty quickly, so it is a beach for those who love to sunbake rather than go swimming.
My Favorite Resorts at Bophut Beach:
Maenam Beach:
Another fantastic beach for families. We loved this beach – especially the area around Santiburi and Maenam Resort (so beautiful with the palm trees).
This beach is a great option for those who just want to enjoy the resort and the beach (but maybe not as much into exploring the rest of the island).
My Favorite Resorts at Maenam Beach:
Choeng Mon Beach: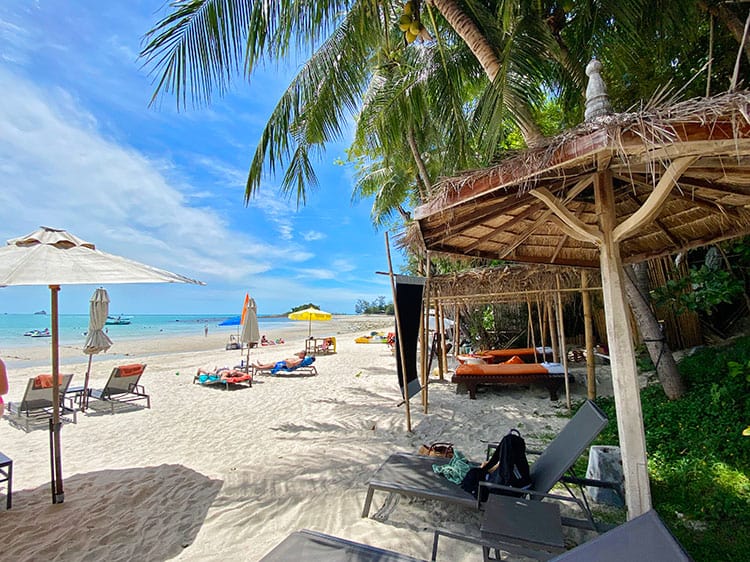 Choeng Mon Beach is a gorgeous little beach that is pretty quiet. So if you want to be away from all the busyness of the other beaches, this might be the one for you.
My Favorite Resorts at Choeng Mon Beach:
---
FAQs For Sightseeing In Koh Samui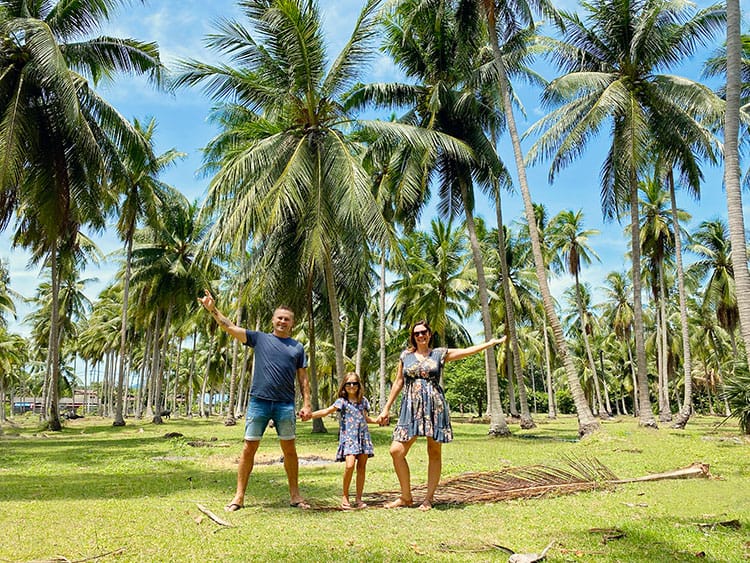 Here are the answers to some frequently asked questions about visiting Koh Samui.
1. Is Koh Samui Worth Visiting?
The Thai island of Koh Samui is an idyllic destination with a mixture of natural and man-made attractions worth seeing.
Whether you come for the beaches, scenic viewpoints, Thai food, or cultural marvels, you won't regret coming here.
It is actually the one Thai island Andrzej says he could go back to time and again.
2. How Many Days Do You Need When Visiting Koh Samui?
Koh Samui is a pretty large island, and there is so much to do! We think you would need five to seven days to explore Koh Samui's top highlights.
However, you could do it in three days if you really had to (although we don't recommend it).
3. What Is The Best Month To Visit Koh Samui?
In our opinion, April is the best time to visit Koh Samui.
While a bit hotter than the dry season of January and February, the month has fewer crowds, and prices tend to be lower.
4. What Is The Easiest Way To Get To Koh Samui?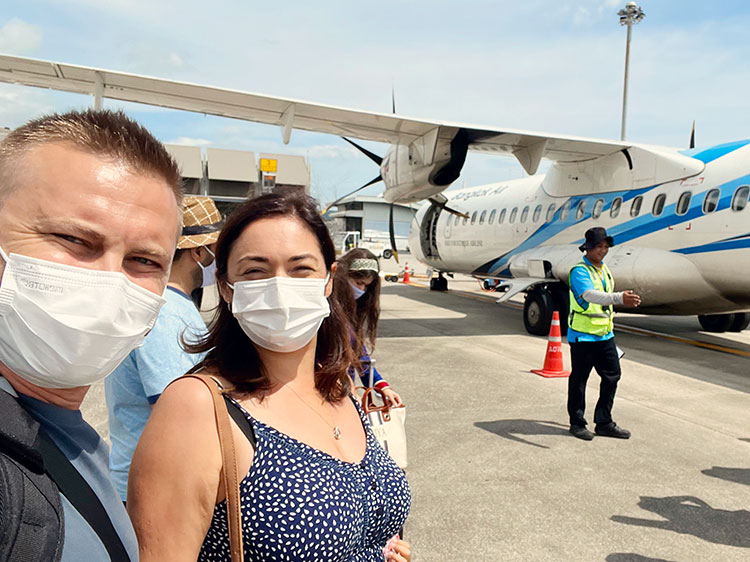 The easiest way to get to Koh Samui is by direct flight from Bangkok to Koh Samui, which lasts around 1 hour and 15 minutes.
However, there are some cheaper and alternate options that you can read about in our guide on how to get to Koh Samui.
---
Final Thoughts On What To Do In Koh Samui
Having reached the end of this guide, you should be equipped with all the knowledge you need to enjoy Koh Samui.
Whether you're a busy bee after endless adventure, a content creator after Instagrammable spots, or just looking for a relaxing vacation, you won't be short of options here.
Still Not Sure What To Do?
Here are the must-do tours whilst on Koh Samui.
---
We hope we've helped you narrow down your options with this Koh Samui itinerary; now go out there and experience this idyllic island.
If you've got time to spare and want to explore more of the country, check out our other Thailand travel guides.
Other things you might want to know:
If you can't visit all the islands, you might like to check out our post on whether you should visit Koh Tao or Koh Samui.