It's no secret that Koh Samui is a tropical paradise with breathtaking natural beauty, serene shores, and plenty of fun activities. With so many exhilarating experiences, you're sure to feel peckish during your island vacation. Luckily, you'll find some of the best restaurants in Koh Samui below.
When it comes to delicious meals, you're in for a treat on this island. But, we all know that deciding where to eat can be challenging, especially when traveling as a family. We've highlighted some of our favorite spots for a tasty bite to make the decision easier.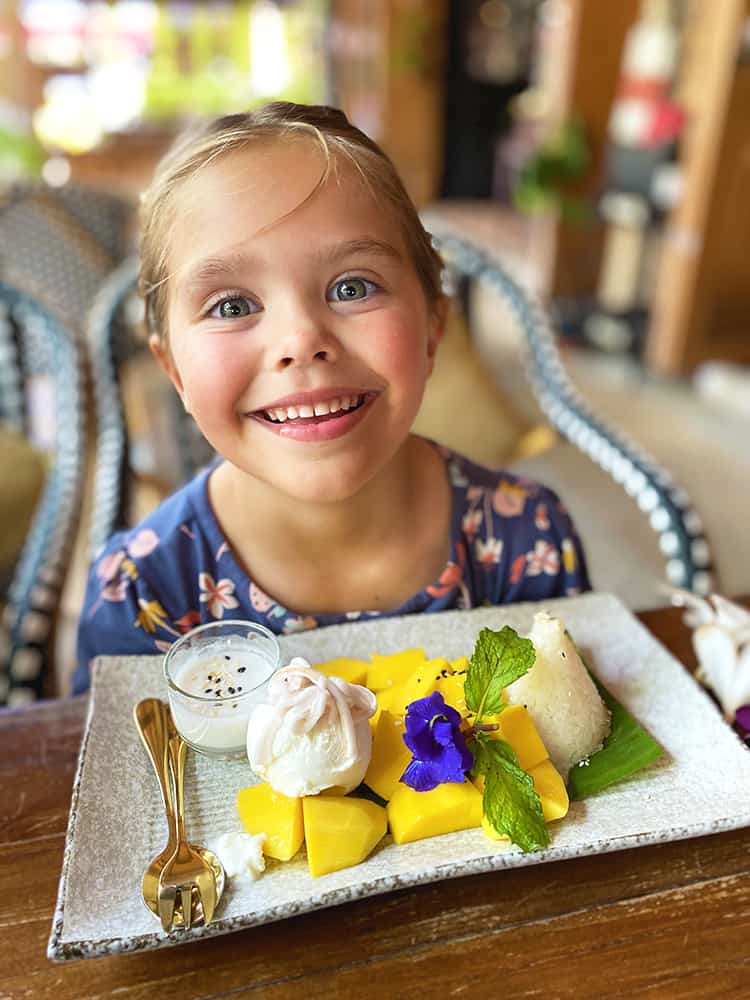 So without further ado, let's look at Koh Samui's best restaurants.
Looking for a restaurant in a specific area of Koh Samui? Simply click on the link below, which will take you directly to the restaurant suggestions in that area.
20 Best Koh Samui Restaurants
Whether you're craving authentic Thai cuisine or a refreshing drink while relaxing on a beach in Koh Samui, this list has various options, so you're sure to find something that suits your taste. Here are the best restaurants Koh Samui has to offer.
Restaurants in Chaweng
Here is a list of our favorite restaurants in Chaweng. Chaweng is the most popular area in Koh Samui. You can find everything there (it also gets really busy). (You can find our article on the best things to do in Koh Samui here).
1. Phensiri
Adorned with gorgeous greenery inside and out, Phensiri is a wonderful spot to grab a meal in Chaweng. Here you can enjoy Thai cuisine prepared by a family of locals and served with a smile.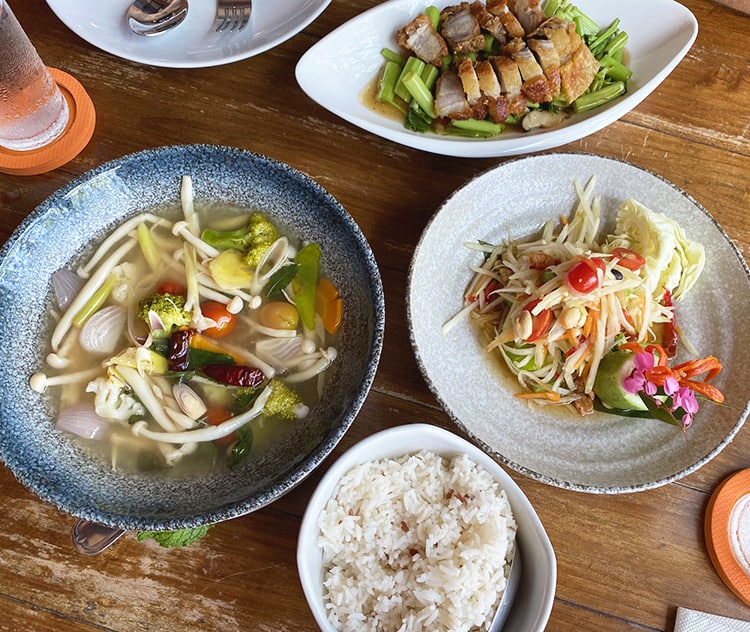 The varied menu includes tasty dishes and drinks like pineapple fried rice and fresh coconut water from a shell. There are vegetarian, vegan, and gluten-friendly options too. While the restaurant serves many flavourful dishes, the stir-fried morning glory is awesome beyond comparison.
The small space provides a cozy atmosphere but can fill up quickly. So it's always good to make a reservation.
---
2. Prego Samui
This Italian restaurant is worth visiting if you're in the mood for something a bit fancier.
The restaurant serves gourmet dishes in an upscale, air-conditioned space–which is always appreciated when experiencing the hot and tropical climate in Koh Samui.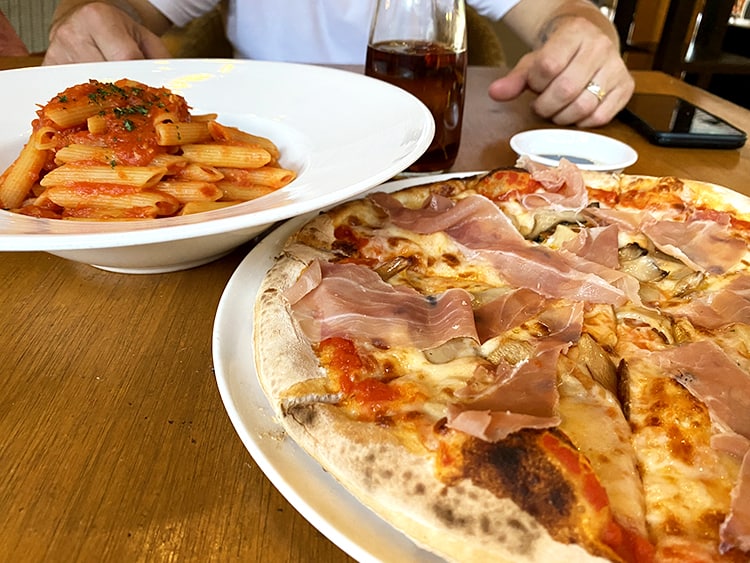 The wood-fired pizza and homemade pasta will have your taste buds tingling. There are gluten-free, and lactose-free alternatives, and the vegan options are good too. Wash all the food down with a refreshing limoncello—it's amazing!
The meals are great for sharing with friends, family, or your significant other. You can dine inside the stylish restaurant or take in the fresh breeze at one of the outdoor tables.
Tip: Prego Samui has rustic trattoria-inspired surroundings and a chic ambiance, so you'll want to dress up a little. Guest from Amari Koh Samui (a great resort in Koh Samui for families or couples) can get a discount when they eat here 😉
---
3. The Hungry Woolf
Tuck into filling comfort food in a friendly environment at The Hungry Woolf.
What's on the menu? Here you can enjoy pizzas, burgers, pasta, wraps, salads, healthy bowls, and more. There are many vegan options too. Try a vegan burger and sweet potato fries, or order a bowl or wrap for something lighter.
There is plenty to choose from, but the burgers are the star of the show. If you've built up an appetite, we recommend trying one; they're really good.
So why not treat yourself and your loved ones to a classic burger, fries, and shake (with a twist, of course)?
---
4. Baan Ya Jai
On Koh Samui island, Thai cuisine isn't hard to come by. But Baan Ya Jai serves delicious plates that will make you return for more.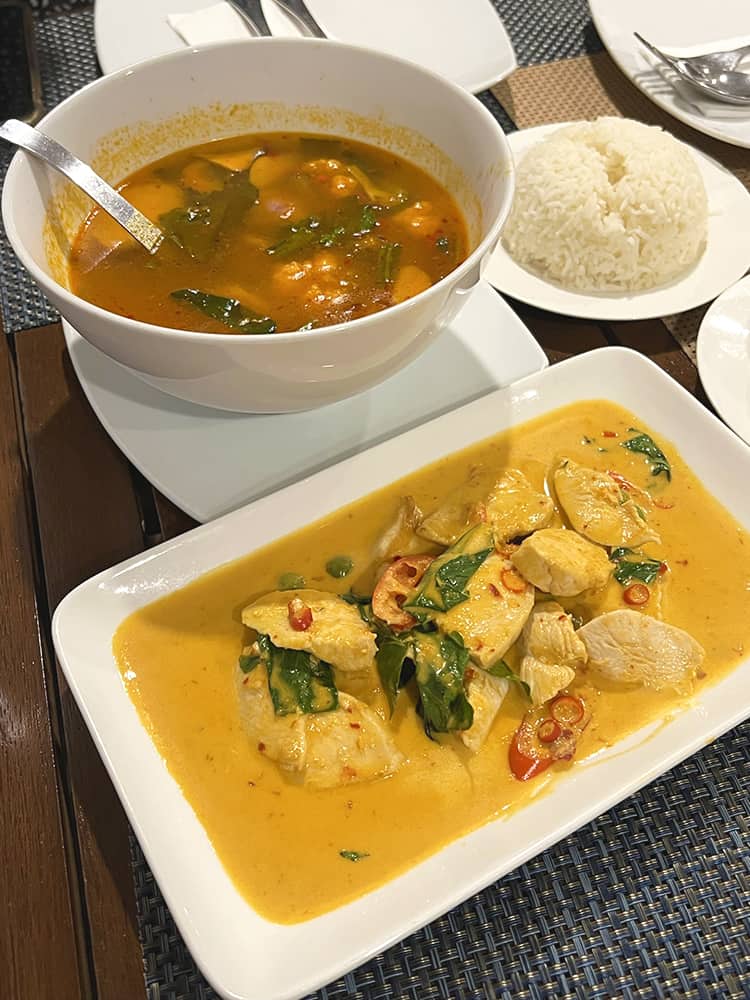 The food at this Thai restaurant is seriously yummy! The dishes are made with fresh ingredients, and some can be prepared as vegetarian meals.
The Tom Yum Soup is bursting with layers of flavor. For more flavorsome bites, try the Panang Curry Chicken or the Chicken in Pandaman Leaves with a sensational sauce. The little ones are sure to love the fried chicken breast with chips.
Pair your meal with one refreshing juice, shake, soft drink, beer, or wine. Or enjoy an espresso coffee for an extra kick before heading out to explore the island.
---
5. Duomo
This charming Italian restaurant in Chaweng Beach serves up tasteful plates in a warm, welcoming environment. Whether you're popping in for lunch or dinner, you will have an authentic experience.
There is plenty on offer, from cheesy gourmet pizzas and pasta to succulent main courses with meat or fish. The light and delicious wood-fired pizzas are a winner and great for sharing with family and friends.
The restaurant has really good limoncello too. End the experience with a delectable tiramisu; you won't regret it. So, why not take your taste buds on a trip to Italy at Duomo?
---
Restaurants in Chaweng Noi
Spending your day in Chaweng Noi? This restaurant is a perfect choice for healthy and delicious food.
6. Vikasa
If you're hoping to eat at a healthy restaurant in Chaweng Noi, Vikasa is an excellent option with super yummy items on the menu. Try their flavor-filled burritos, or opt for the mushroom veggie curry served in a fresh coconut. The smashed avocado on toast served on dark bread is divine too.
While the food is amazing, the view will have you staring in awe. So no matter when visiting Koh Samui, the lush greenery and glistening water provide stunning surroundings to accompany your meal.
---
Restaurants in Lamai
Here is a list of our favorite restaurants in Lamai.
7. Kawin's Kitchen
Kawin's Kitchen offers traditional dishes and a delightful atmosphere. Here you can enjoy tasty Thai food in an airy space with island-inspired décor and pops of greenery.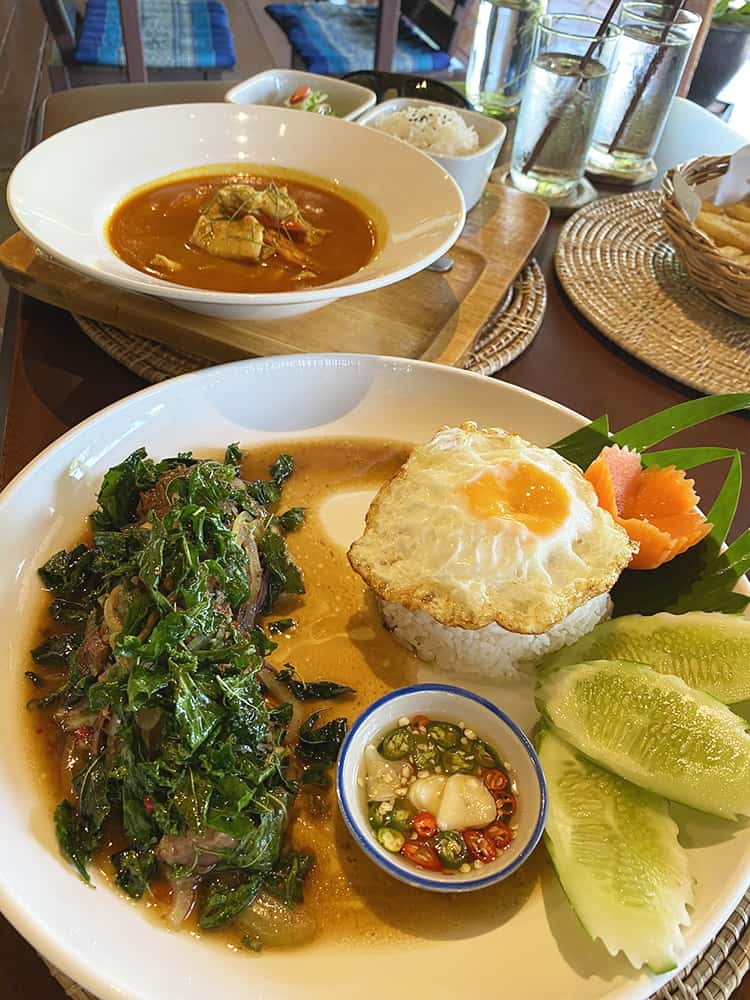 The menu includes several Thai dishes, and there are vegetarian and vegan options as well. Cool down with a healthy shake or drink made with fresh ingredients. Then, get ready to satisfy your belly with the tastiest treats.
Indulge in a delicious pan and curry. Or tuck it into the soft, slow-cooked beef—it just falls apart when you cut into it and melts in your mouth.
Each dish is carefully prepared, aesthetically plated, and loaded with flavor. But it's worth noting that the restaurant's offerings are a bit more pricey.
Tip: Kawin's Kitchen is a cash-only restaurant.
---
8. Baobab
When you're traveling in Koh Samui, you won't only have Thai food to choose from. Check out this lovely French restaurant if you're craving some European flavors.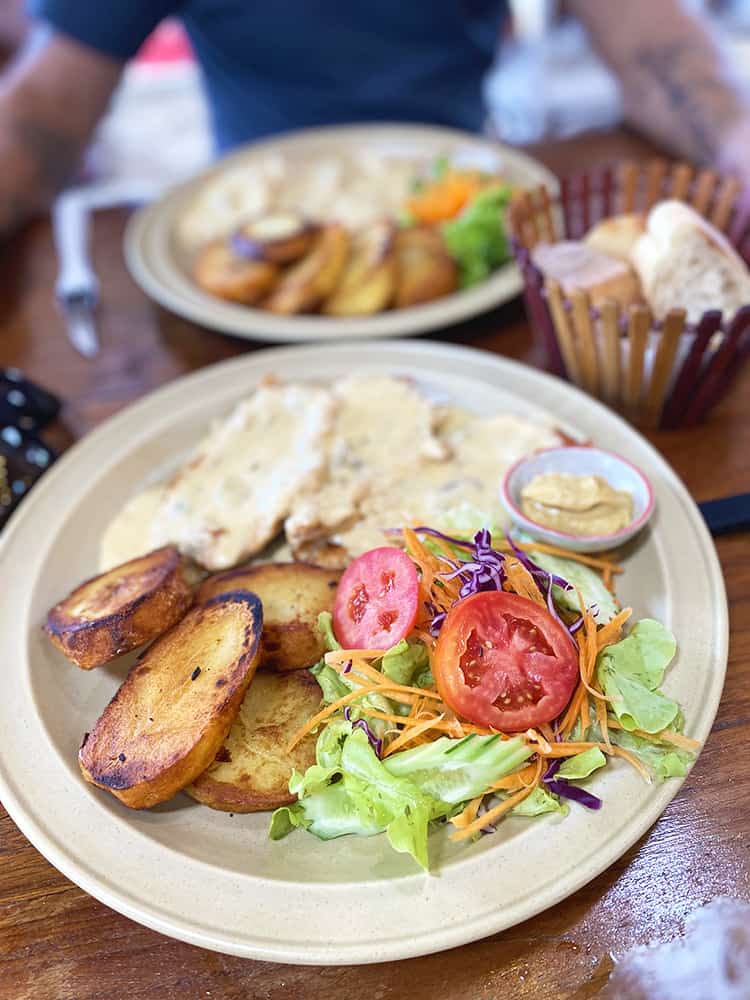 It serves both French and Thai cuisine. So if you're traveling with family or friends, there's sure to be something on the menu for everyone. The food is great and served in generous large portions.
The staff at Baobab Restaurant is super friendly, and the location is idyllic. You'll find it situated right on the beach in the sand. If you're visiting with kids, you can relax after a filling meal while the little ones dip their toes in the clear water. The restaurant also provides customers with free sun loungers on the beach.
---
Restaurants in Bang Por
I love the vibe of Bang Por at night. So we often headed out there to just unwind after a busy day of exploring. Here is a list of our favorite restaurants in Bang Por – right next to the beach.
9. Flavors Of India
Flavors of India, previously known as Wild Barefoot, is a cute Indian restaurant right on the beach with a relaxing vibe and great food. If you're in the mood for a little spicy kick, you'll want to try the talented chef's tasty creations.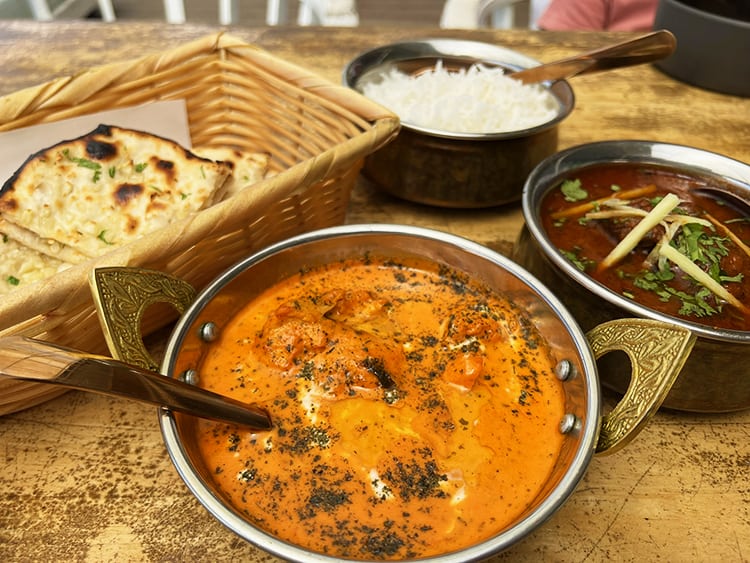 A few of our favorites include tomato soup, butter chicken, and lamb vindaloo. For kids, the buttermilk pancakes will have little ones smiling from ear to ear.
Another excellent option for Indian cuisine is Babu's Indian Restaurant in Maenam. Here you can enjoy really good Indian food, like well-cooked butter chicken, lamb madras, and good (but a little crispy) garlic naan. It's very different flavors from what we know, but still really yummy food.
Babu's Indian Restaurant is good but not as nice as Flavors of India. So if you're deciding between the two, we'd recommend trying Flavors of India if you're in the area.
---
10. Hug Samui
If you're looking for a place to eat on Bang Por Beach, you wouldn't want to miss this amazing restaurant. Hug Samui is a Thai restaurant with European choices, and they are happy to customize the dishes too.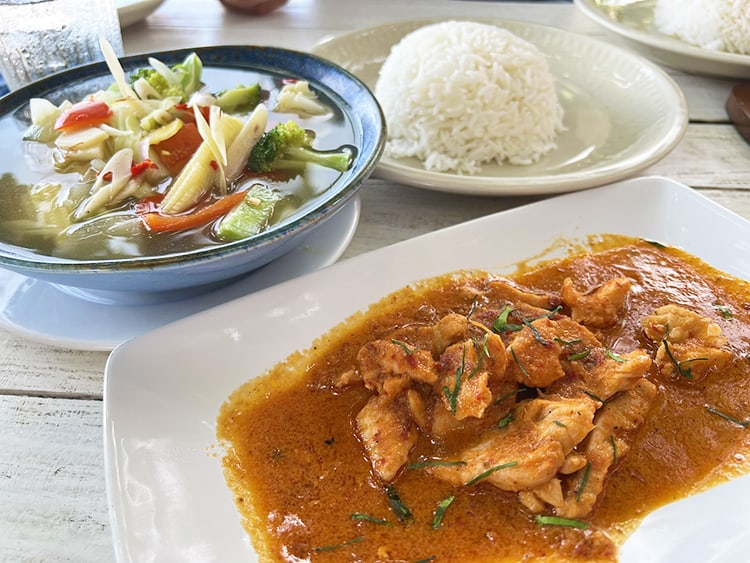 A few of the must-try dishes are the Panang Curry chicken, deep-fried bacon, and Tom Yam soup. Little ones will love the kids' meal of chicken nuggets with French fries.
The meals are divine, and the location provides a picturesque setting. There are fantastic beachfront tables with breathtaking views of the island.
So, why not visit for a family feast or enjoy a romantic sunset dinner with your partner?
---
Restaurants in Bophut
Here is a list of our favorite restaurants in Bophut.
11. Coco Tams
This relaxing beach bar offers a blissful experience on Bophut beach. You'll find Coco Tams in a great spot on the beach at Fisherman's Village.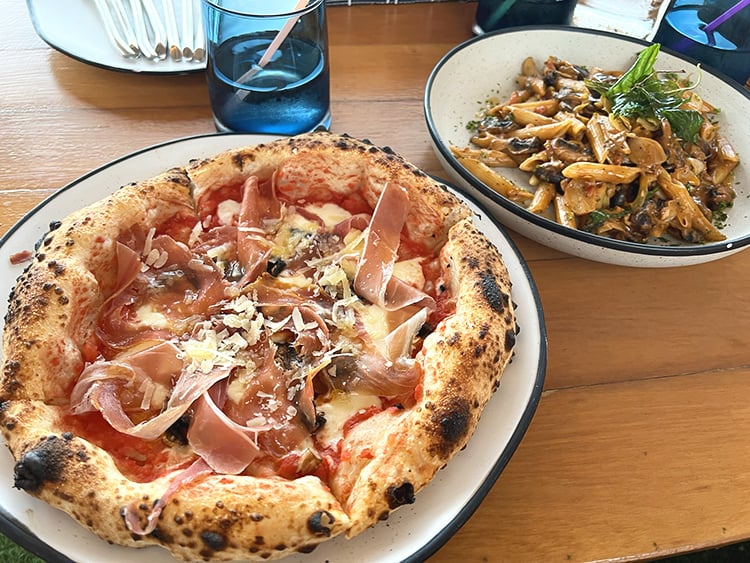 They serve really good food, from fresh seafood and salads to creative cocktails and other beverages. We like their delicious pizza and pasta, and a kids' menu too.
Visit for a yummy lunch or during sunset and admire the stunning beach views. The comfy bean bags on the sand are great for snuggling up with a loved one. There's also an exciting fire show at night.
---
12. Red Moon
Red Moon is another gem offering fun foodie experiences in Fisherman's Village. It has a cozy atmosphere, friendly owners, and a variety of flavorsome dishes on offer.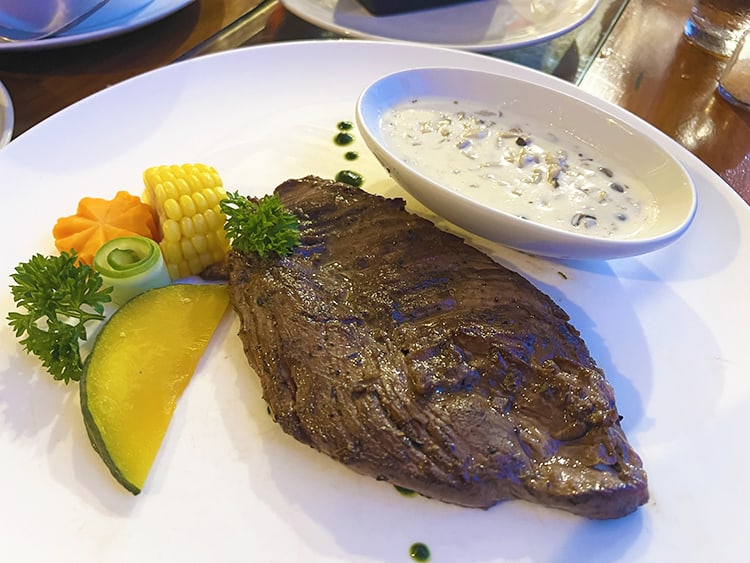 If you want good French food, this place is an excellent option. There are steaks from Argentina and Japanese Kobo steak, both mouth-watering.
We also tried the Vietnamese Pho (not on the menu but the owner's wife is Vietnamese so they had some ready to go), which was good, and the Thai satay chicken. But we must admit the sauce was meh, and the chicken was dry.
However, the fair pricing and specials provide a value-for-money experience.
---
13. 2 Fishes
When you explore and travel in Koh Samui, all the adventures can easily make your appetite grow—so why not dig into a tasty plate of pasta at 2 Fishes?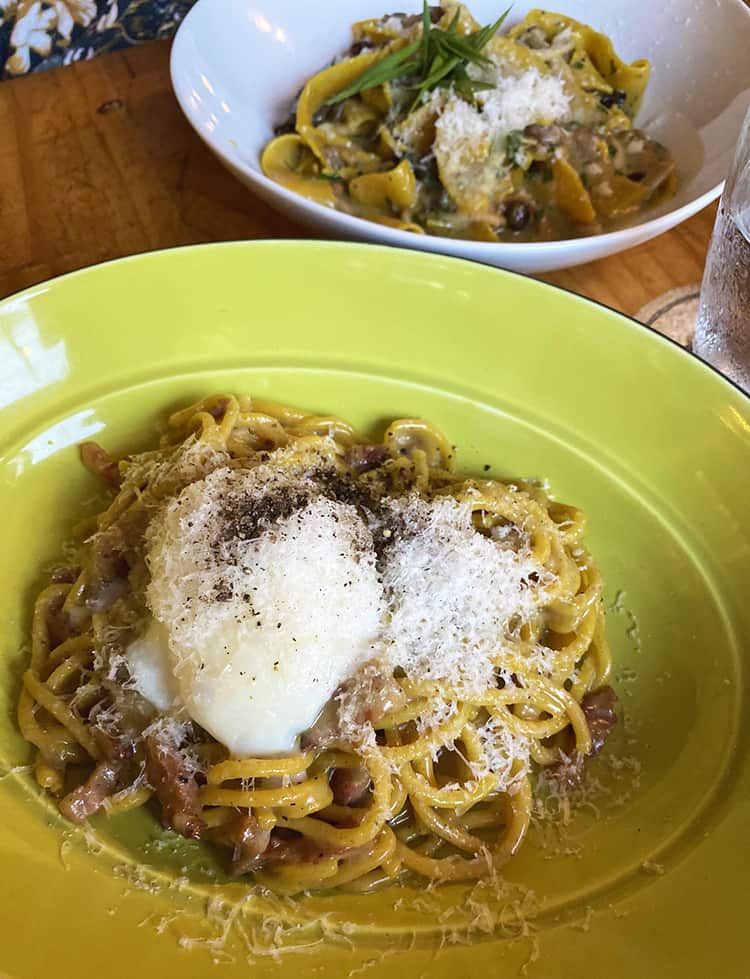 This Italian restaurant has some of the best homemade pasta. A standout dish is the creamy Pappardelle Fungi and Carbonara. And for kids, we had Butter and Cheese Spaghetti with solids of ketchup, as Avalee didn't want tomato sauces.
The menu isn't extremely extensive, but it's packed with flavor, and the portions are generous. It's worth noting that the restaurant is a little pricey but delicious and very filling.
---
14. Gusto Italiano
Nestled in the heart of Fisherman's Village, this Italian restaurant offers authentic, traditional dishes with a modern touch.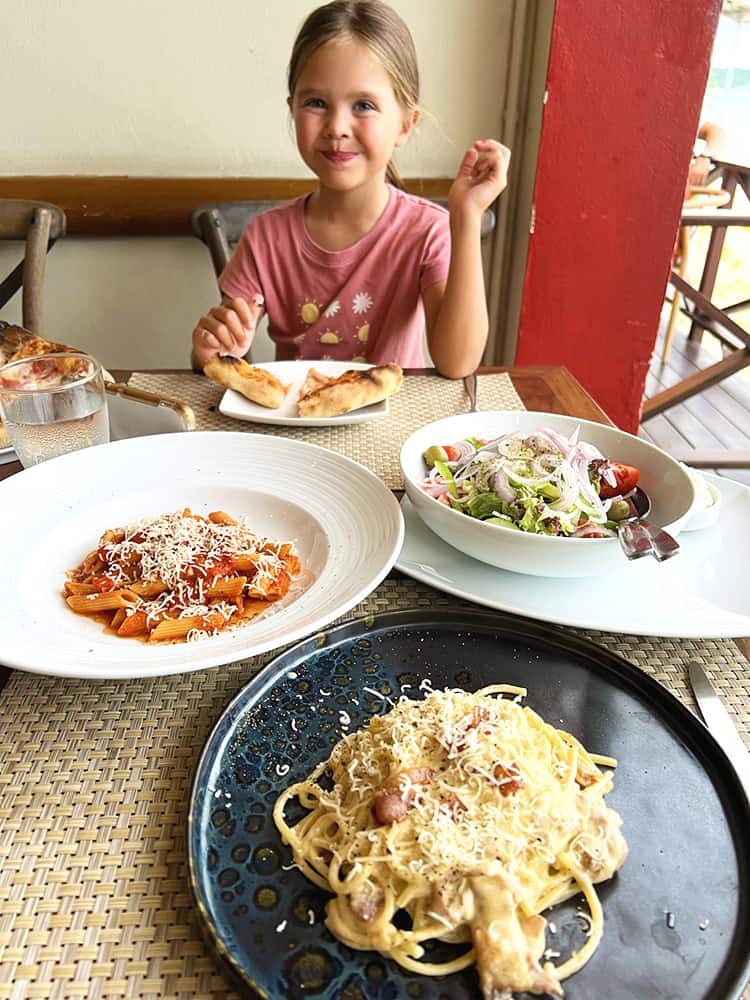 The wood-fired pizza is nice and light, with a crunchy crust. On the other hand, the pasta is okay. But lacking a little flavor on the carbonara. And the arrabbiata tasted like tinned sauce with chilly.
This would be a lovely spot if you were hoping to share a pizza with the fam with a stunning view. You can eat on the beach or dine on the terrace overlooking the sparkling sea for a more romantic vibe.
---
Restaurants in Maenam
Here is a list of our favorite restaurants in Maenam.
15. Treehouse Restaurant Maenam Beach
If you want a really good food experience in a scenic setting, make your way to Treehouse. This lovely restaurant is situated right on the beach, and it has great vibes and super delicious and cheap food.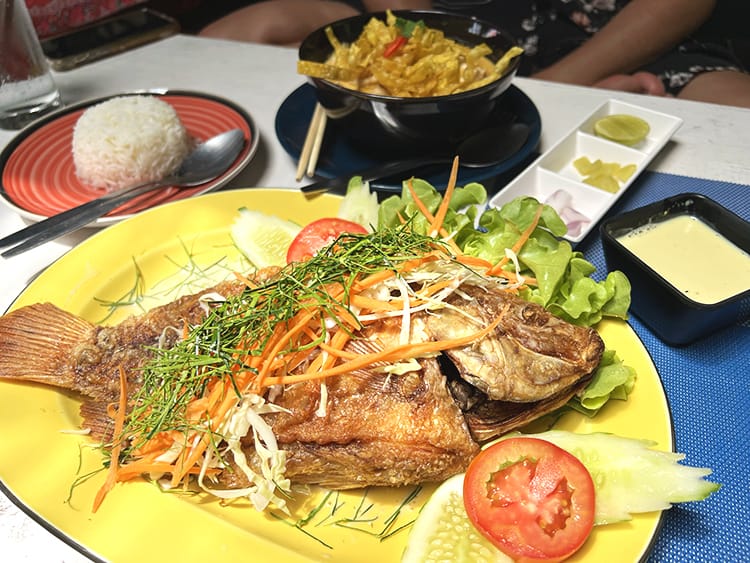 The food is freshly made and includes many typical Thai dishes. There are also a couple of innovative cocktails and special shakes on the menu.
The fried fish and Khao Soi and kids' meals are all so yummy. We also enjoyed the sour and full-body Tom Yam Soup and Nutella and banana pancakes. So if you have a sweet tooth, you'll love this little taste of heaven.
---
16. Homemade Burgers and Sandwiches
When it comes to comfort food, burgers are a firm favorite, so if you have a craving for some tasty and filling food that warms your heart, head to this restaurant in Maenam.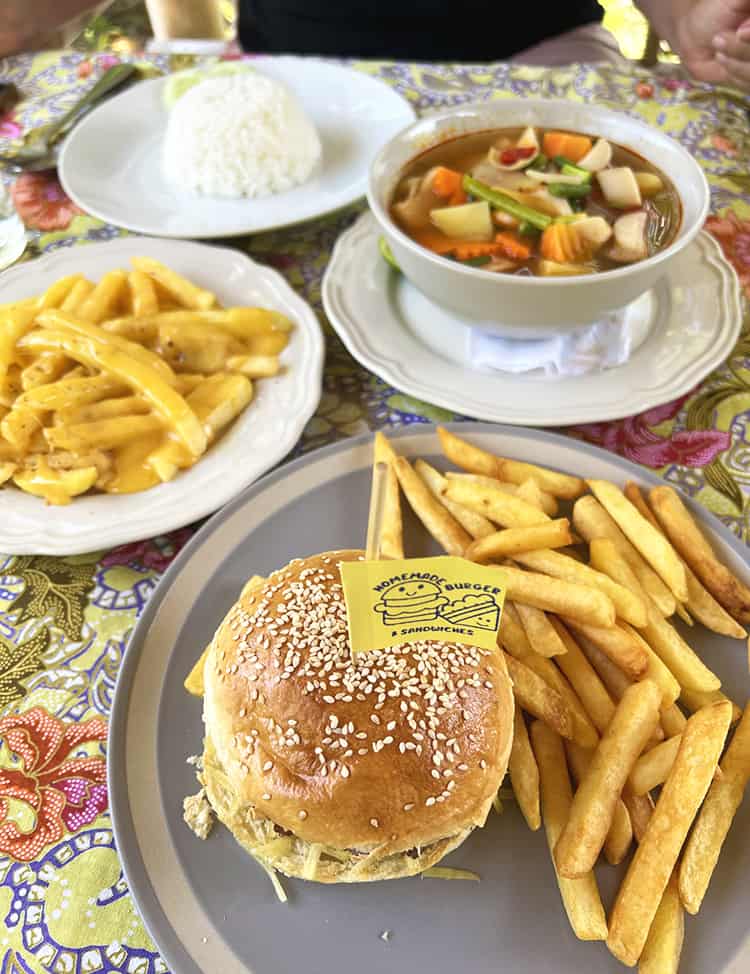 If you haven't guessed it from the name, their homemade burgers are divine. And they have vegan and vegetarian choices for burgers too.
While the homemade burgers and sandwiches are the highlight, several other options are on the menu, like breakfast meals and salads. And don't skip out on the Tom Yam, as it is super tasty.
There is also coffee for your daily caffeine fix, and nice fruit shakes. The kids' menu is good too, so there will be something for the entire family to enjoy.
---
17. Armando's
Armando's is a Thai and Swiss restaurant with plenty of choices on the menu and a lovely atmosphere. This place has it all, and the dishes are truly mouth-watering.
There's delicious Tom Yam soup, pork schnitzel with potato rosti and mushroom sauce, and mac and cheese that'll tingle your tastebuds. While the food is undeniably appetizing, the wonderful beach setting adds to the experience. It's a great spot to enjoy a meal while admiring the sunset.
---
Restaurants in Silver Beach
The silver beach is one of our favorite beaches in Koh Samui and whilst we aren't big fans of the restaurants on the beach itself, this little gem is only a few minutes walk from the beach – and the food is delicious and cheap!
18. Silver Spoon
Silver Spoon is a cute little spot that serves delectable food near Silver beach. This Thai restaurant has some Italian pasta and gnocchi on offer. There's also tasty Tom Yam and Pad Kra Pao.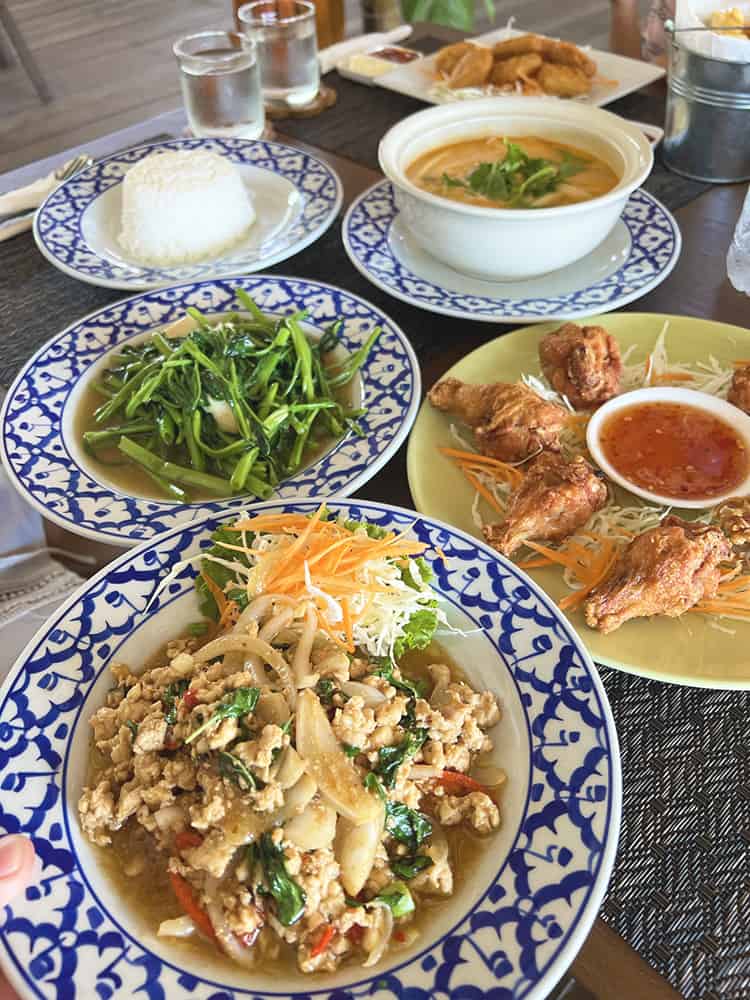 The Morning Glory lacked the Smokey flavor. But altogether, the restaurant serves awesome food. And you can enjoy it at low prices too.
---
Restaurants in Bangrak
This restaurant in Bangrak might be out of your way, but do yourself a favor, and make a reservation for dinner one night. You can get sunset views and upscale food.
19. Foxtrot
If you want a fancy dining experience, Foxtrot is a superb option. This lovely restaurant is very classy and has a great sunset view of the water.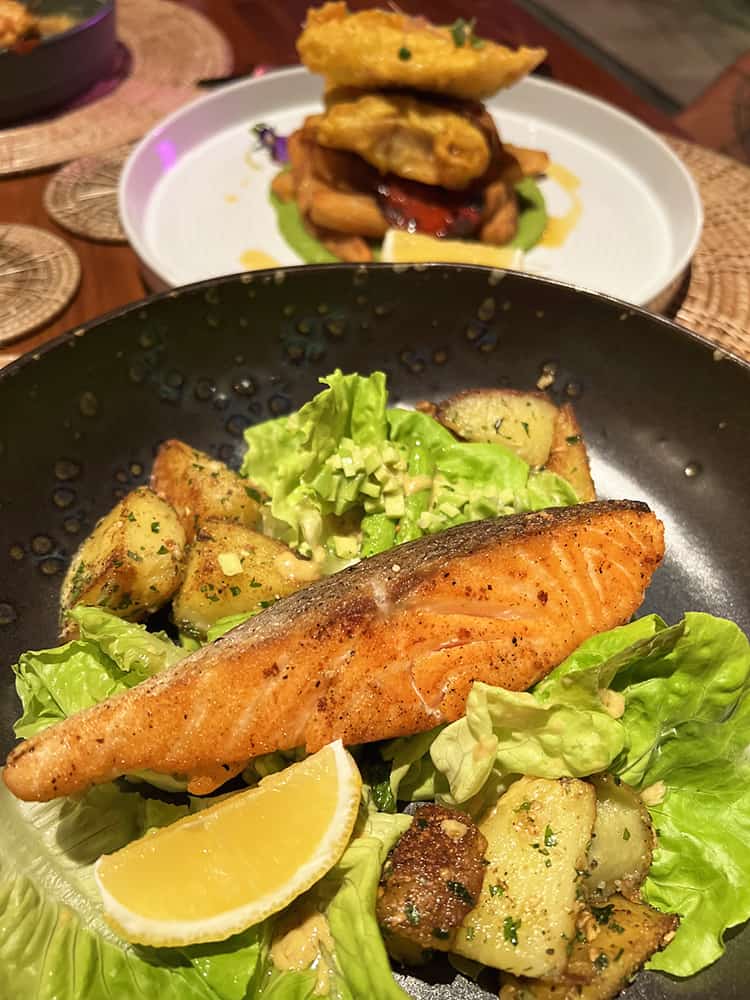 There's an extensive selection of meals and drinks, like delicious pan-fried salmon and awesome fish and chips with an upper-class twist. The mac and cheese for kids will fill your little ones with joy.
Foxtrot is a very nice restaurant, but it is a little pricey.
---
Restaurants in Nathon Town
Doing a trip around the island? This is a great restaurant to stop at for lunch.
20. Lucky Restaurant
Situated on the beach road in Nathon Town, Lucky Restaurant is an excellent place to eat while admiring beautiful views over the Gulf of Thailand.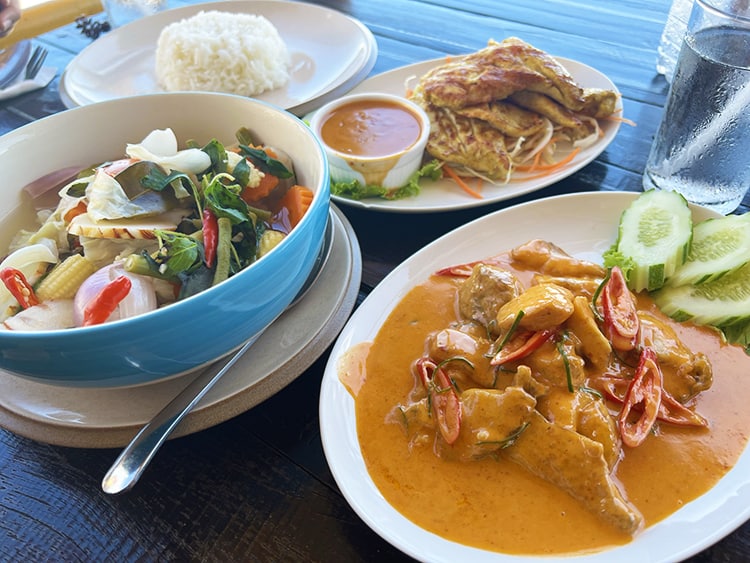 This Thai restaurant offers friendly service and scrumptious food at reasonable prices. We found the fish filet with Panang curry and satay chicken to be inviting. The Tom Yam was good, but not the best ever.
Still, this restaurant is quite nice and worth a visit.
---
Indulge At A Koh Samui Restaurant
Whether you're in the mood for comfort food or shakes on the beach, there are various options at the restaurants on this list. Hopefully, this guide has helped you plan out your foodie adventures.
Now that you know where to eat in Koh Samui, when will you taste these delicious dishes?
If you want more planning tips for your trip to Thailand, look at this guide on getting to Koh Samui for the best ways of traveling, and you can find loads of helpful posts on our Thailand Travel Blog section.
Other things you might want to know about Koh Samui: