I have been to many markets in my life, but I have never been to one quite like this. Vietnam markets are different.  Vietnam markets are special.
Why?  Because some of the markets in Vietnam explode with color.  Local minority groups walk far, to be able to show and sell the things that they make.  From delicious and famous Vietnamese food, to live cattle and other livestock.  From colorful household items to traditional intricately made clothing.  From souvenirs for tourists to the essentials of everyday life.  There is everything here.
Bac Ha Market, you are the most colorful of Vietnam markets that I have ever been to, and I loved it!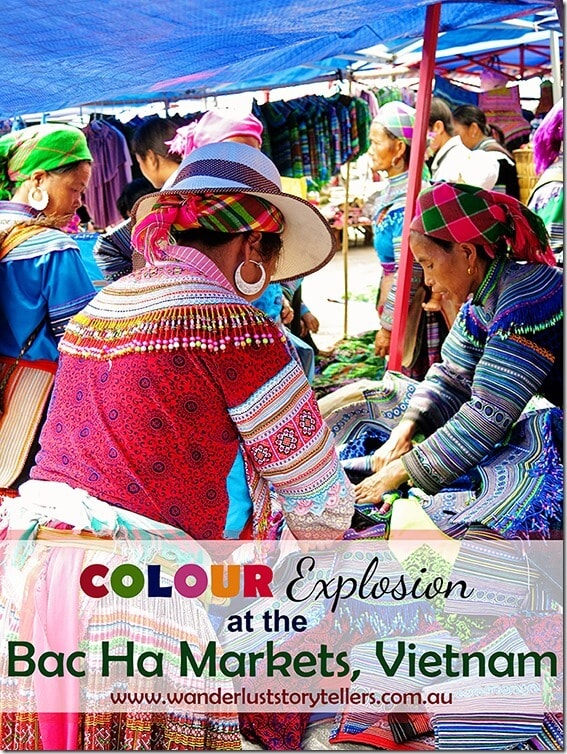 The Bac Ha market has left a mark on my mind.  Not only because of the Vietnamese-friendly people but for all the goodies that you can try and taste here.  I am very grateful to have the opportunity to see it and to be a part of it, even if just for a day.
–
Watch the Video of this Colourful Vietnam Market
>>>Click here to subscribe to our YouTube channel
Where is the Bac Ha Market:
Bac Ha Market is located in Ngọc Uyển, tt. Bắc Hà, Lào Cai, Vietnam.  This is a region close to Sapa in North Vietnam.  Getting to the markets took a little bit of planning, but I am glad that we did venture out all the way up here.
First on our list of things to see was Sapa and cascading down the Hoang Lien Son Mountains rice fields.  You can read more about our "Insanely Picturesque Sapa Hike in Vietnam" story here.
If you are coming this way from Hanoi, our recommendation would be to take the train from Hanoi to Sapa, or check out the alternative bus ride. We had the pleasure in testing both ways of getting there and back.
You can check out our story of "Hanoi to Sapa: A comparison between Sapa Express Bus vs. Sapaly Express Train" here.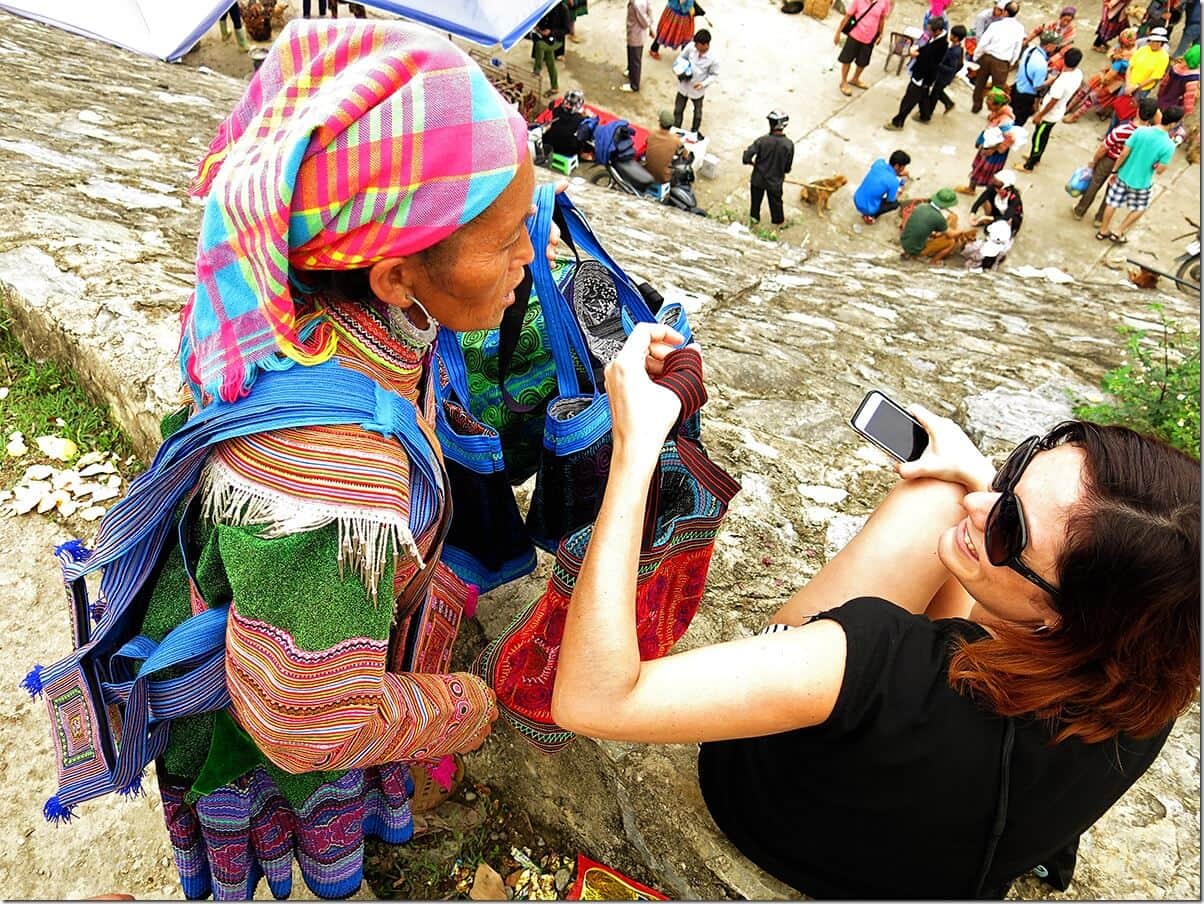 Once you arrive on your overnight train from Hanoi to Lao Cai, take a 2-hour taxi ride from Lao Cai to Bac Ha market.
Make sure that you take a ride from Lao Cai to Bac Ha early in the morning to avoid the crowds. Be aware that Sunday is the only day that the market operates.
–
____________________________
After an easy Option to get to Bac Ha Markets?
We loved this very popular Bac Ha Market Tour!  They will pick you up in Sapa and take you around, so you can just sit back and enjoy the experience!  
Check it out and Book the tour now!
____________________________
–
Bac Ha Market Food:
What you hear about famous Vietnamese food, is all true!  If it is awesome, delicious, and super yummy, that is.
I have fallen in love with Vietnamese cuisine from the moment I tried the first meal. Anywhere you go in this amazing country, the food is out of this world delicious and packs a punch full of flavor.
Bac Ha Markets is no different. I have tried plenty of goodies here, including Pho Ga (the famous chicken soup), the awesome BBQ beef, and even a thick green rice cake. You will not hear a complaint from me or Jolene about the famous Vietnamese food. It is our favorite Asian food by far!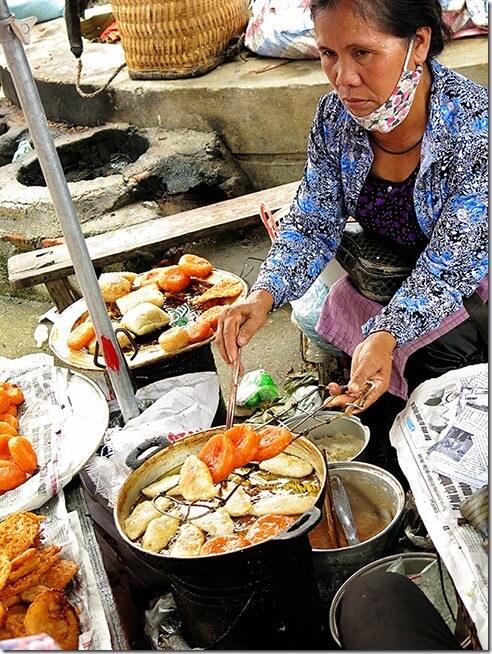 I am sure that you have heard about Vietnamese Coffee already, but to refresh your memory, hop over to our post "A Coffee Lovers Guide to Vietnamese Coffee."  Here you can check out a bit of a story about this heavenly drink and view some videos of me and Jolene explaining the experience.  Haha…  Love it!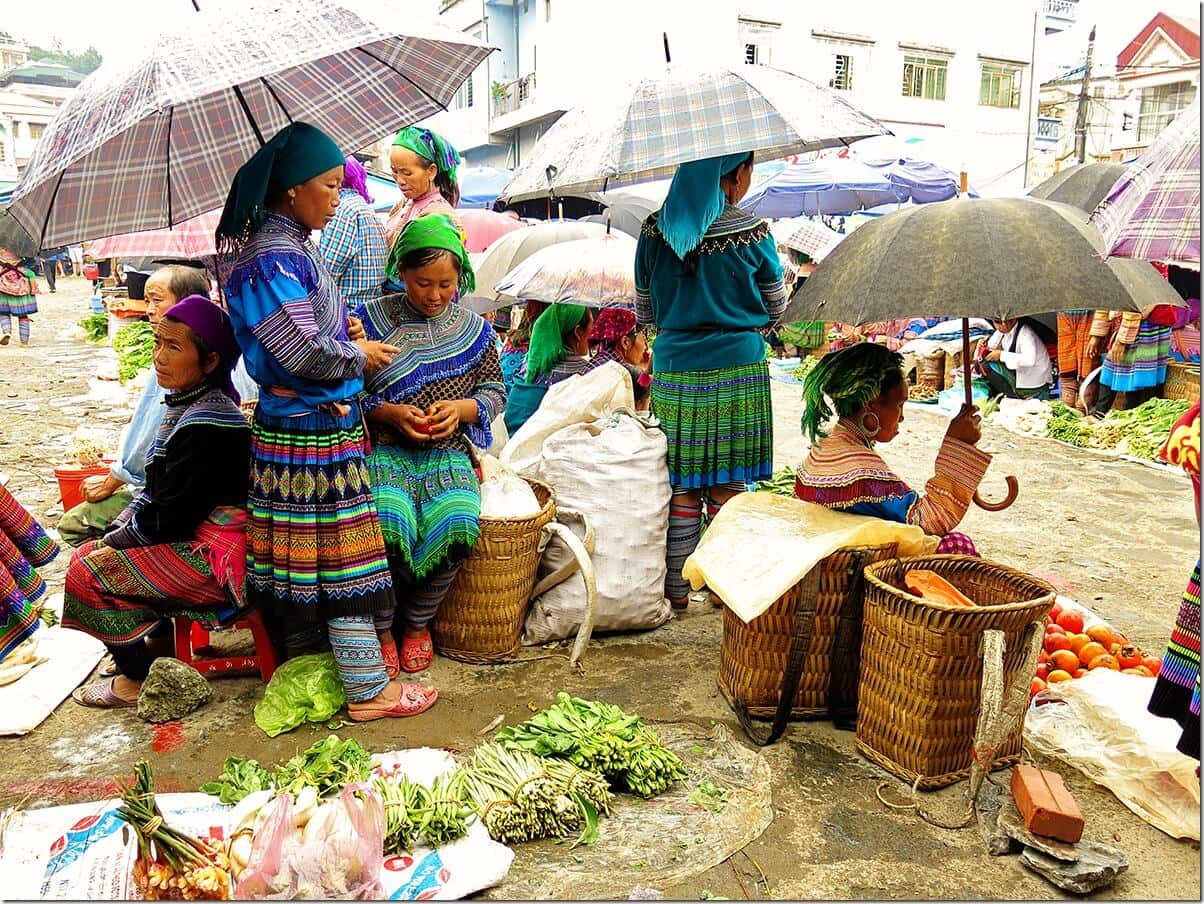 –
Bac Ha Market Variety:
Bac Ha Sunday market is truly spectacular!  I have never seen so much variety of things gathered in one area.  Literately everything is here.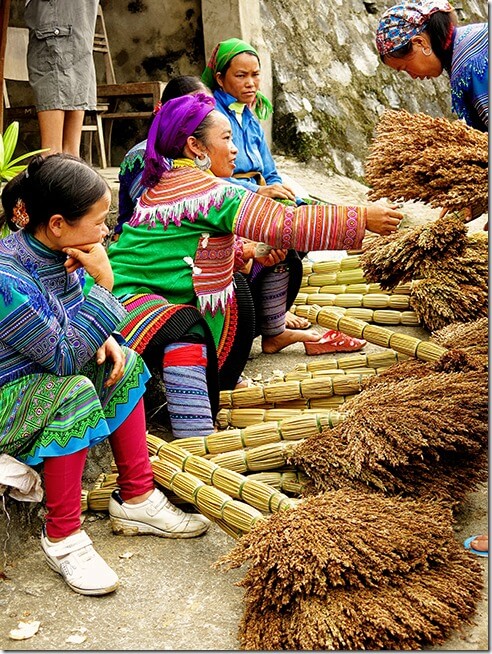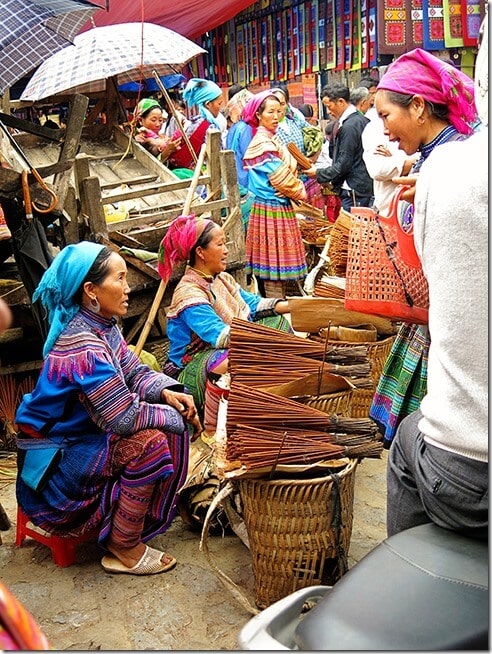 The market stretches quite a bit over a large area, so make sure to take comfy shoes and a loaded camera. We have used up both iPhone batteries and taken a million photos with the cameras. So much to see.
–
____________________________
Popular Bac Ha Accommodation!
Sao Mai Hotel Bac Ha –  Book it Now!
Ngan Nga Bac Ha Hotel – Book it Now!
Cong Fu Hotel – Book it Now!
____________________________
–
One recommendation; take an umbrella with you, just in case. We were caught in a bit of a shower, which is quite frequent in the area.  We were lucky, the shower didn't last too long as we explored the place.
The umbrella could be useful also as protection from the sun, which is sometimes unforgiving in Vietnam.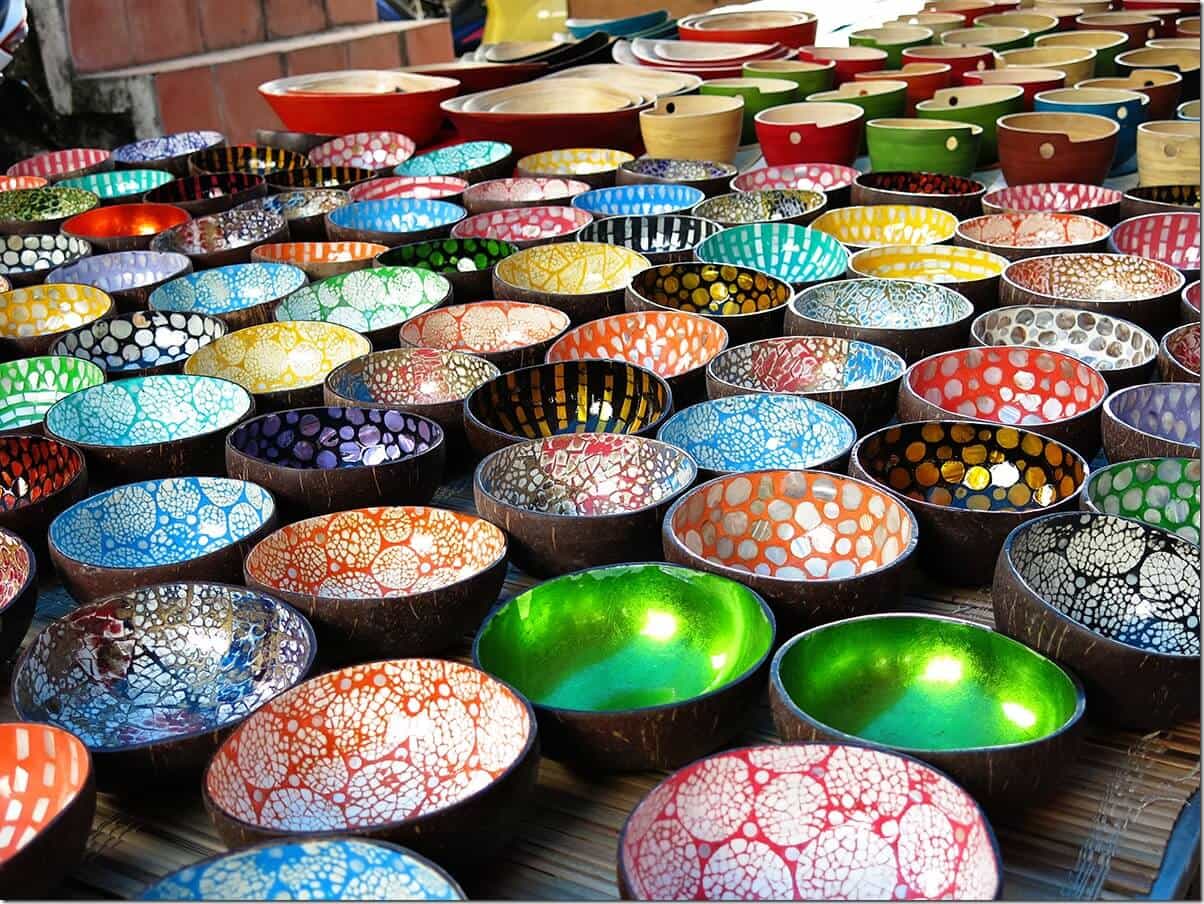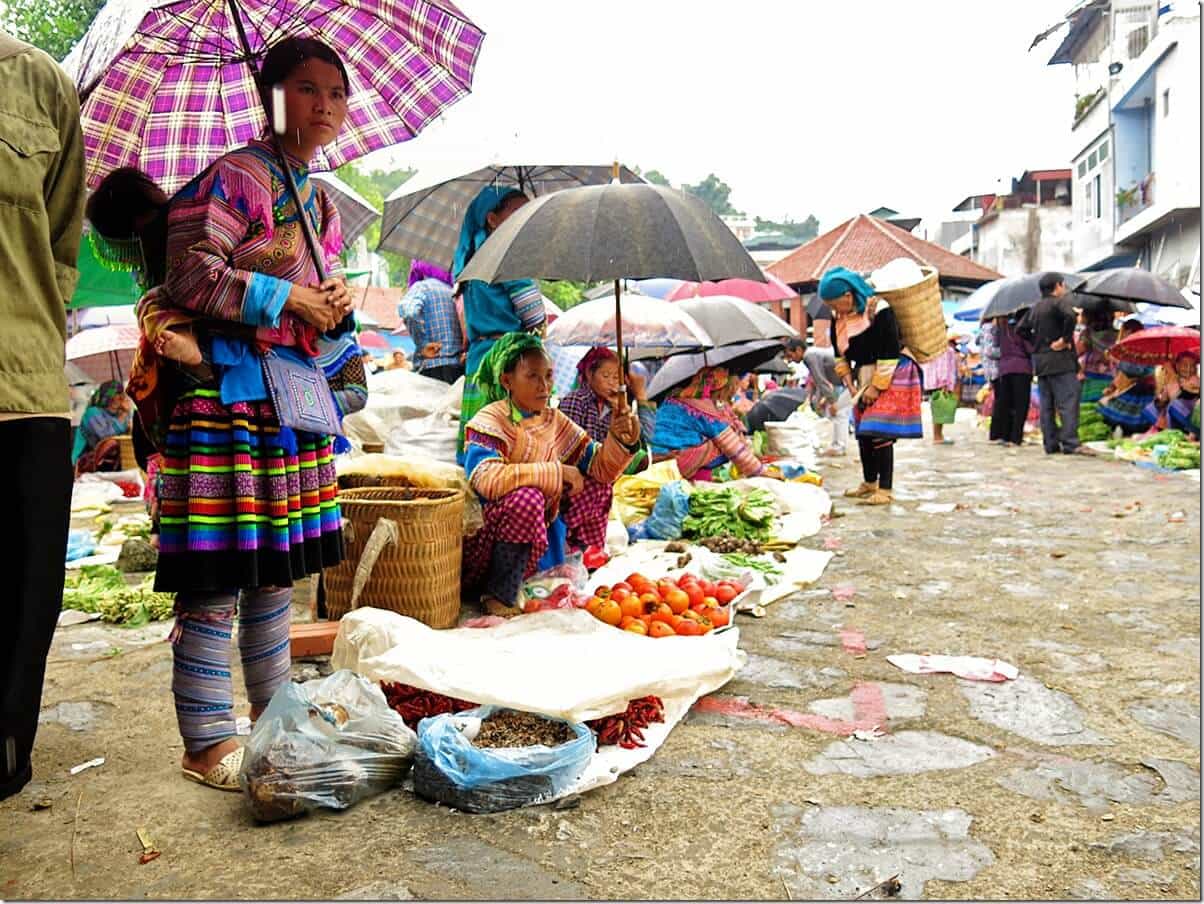 Nevertheless, the weather does not deter you from what is really important. See it all and absorb as much as you can.  I just love the vibrancy and energy of the Hmong village people.
The Hmong outfits of different colors dominate your visual senses. The colorful clothes somehow fuse all of what you see around you.
Mastership of craftsmanship, a symphony of tones, and yet harmony of it all.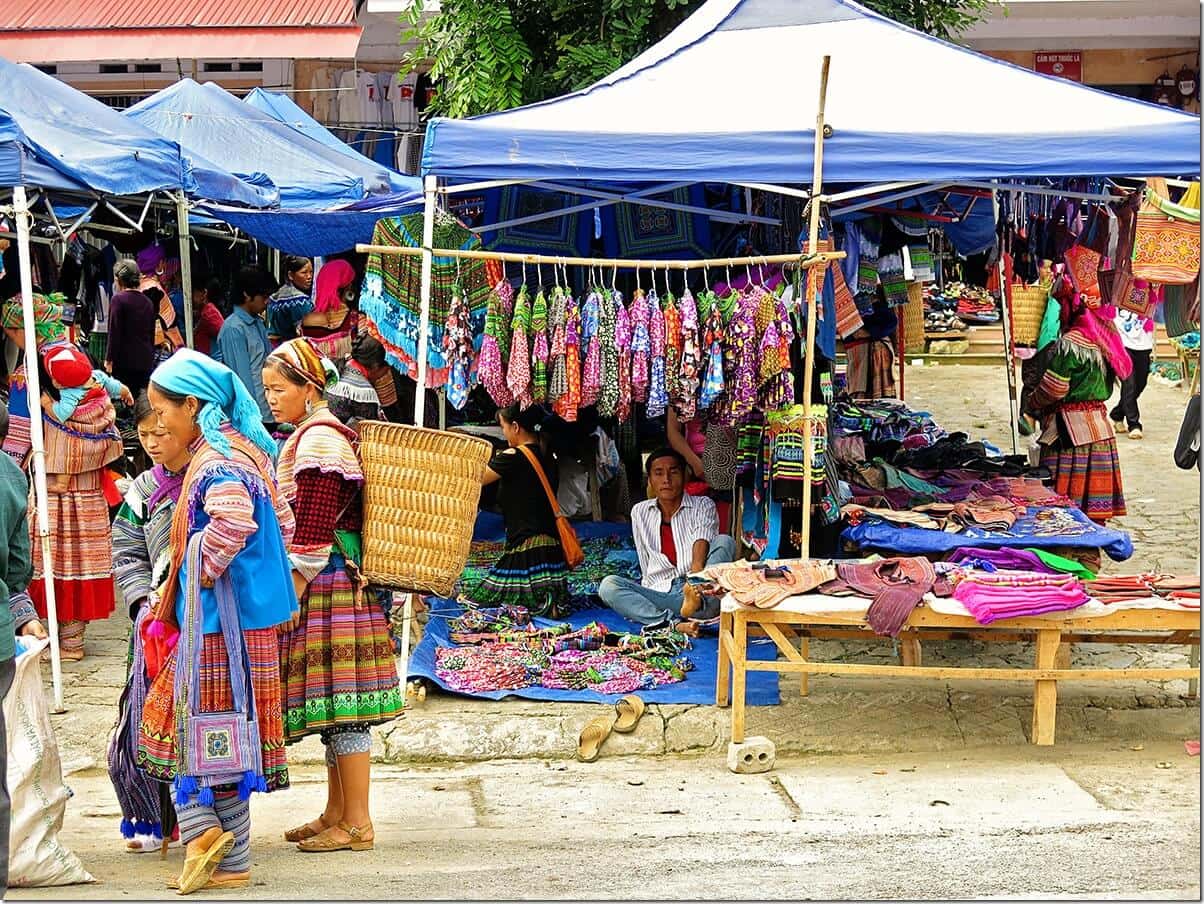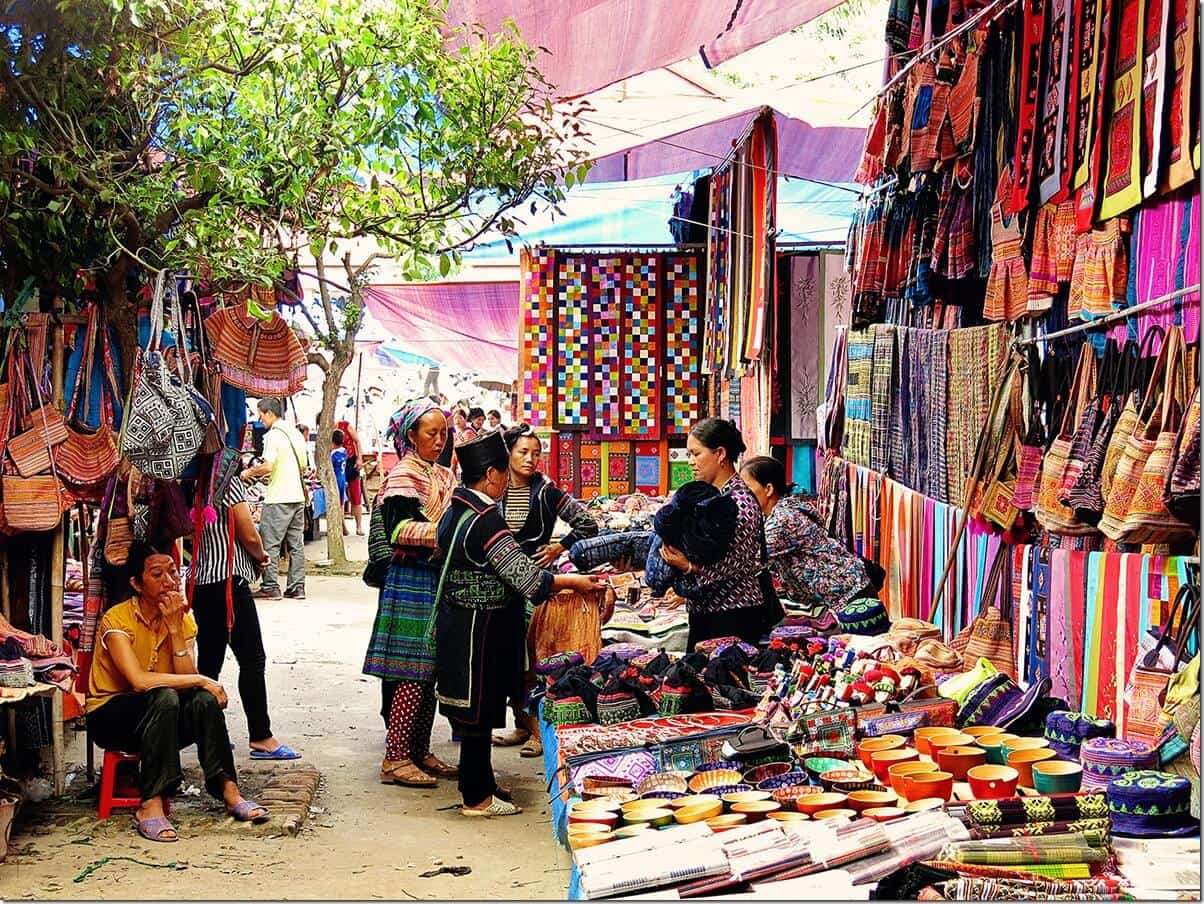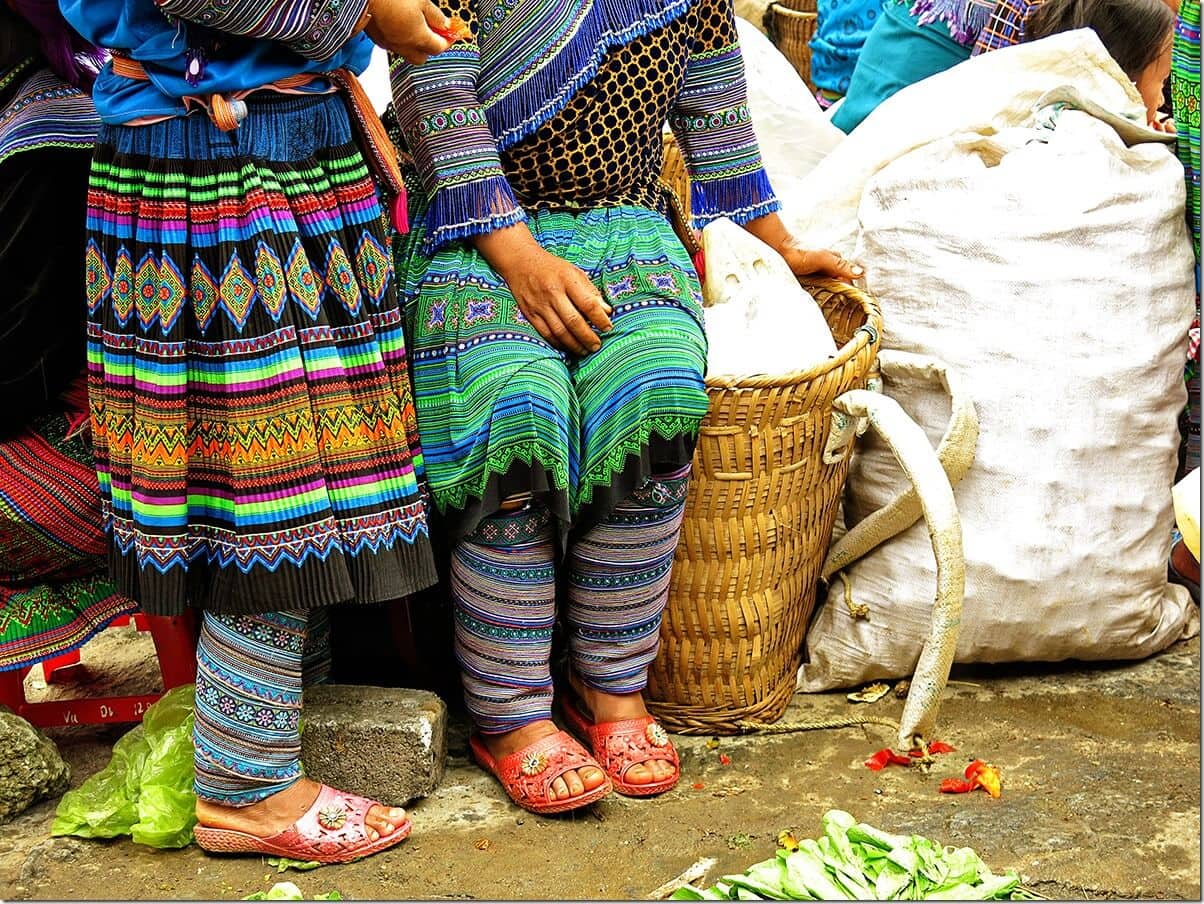 Here at Bac Ha Markets, you will find yourself in the place that has it all.  All kinds of trinkets, and souvenirs for travelers from afar.
You will definitely spoil yourself with all kinds of goodies and perhaps choose some traditional clothing for yourself, or choose a Hmong dress for sale for the wife.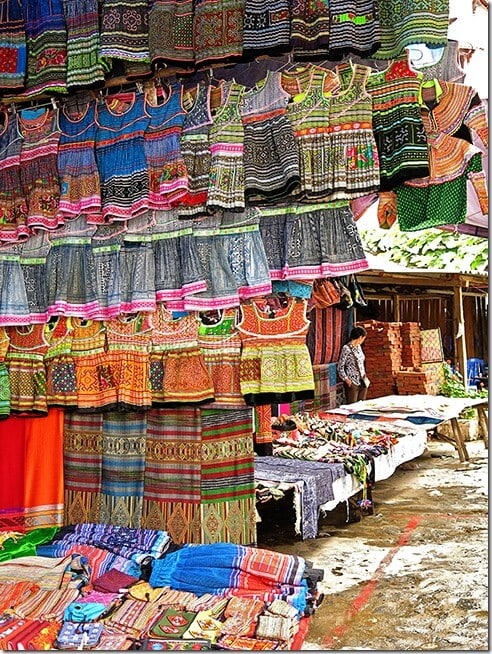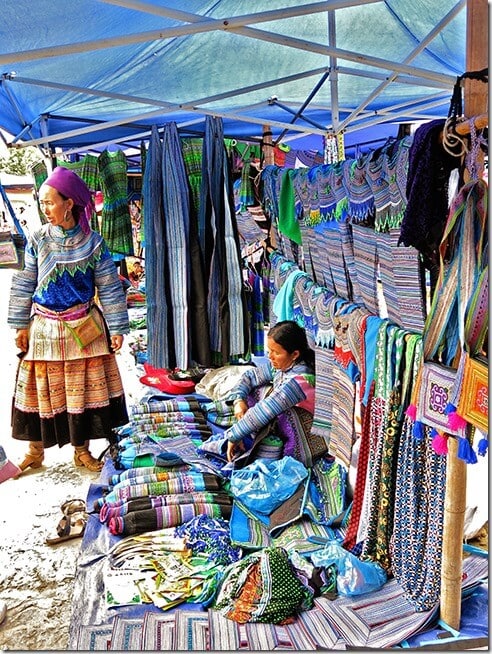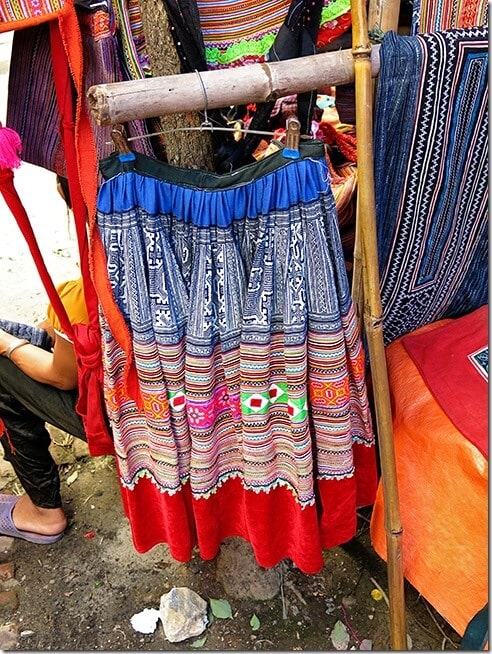 There are all kinds of sections in the markets. Some are dedicated to colourful traditional clothing and some to Bac Ha vegetables and fruit.  Some designated to sell meat and some to sell household necessities, like handmade brooms, baskets and other.  There is a whole section for water buffalo and pigs.  And what I love the most, there is a whole area for food!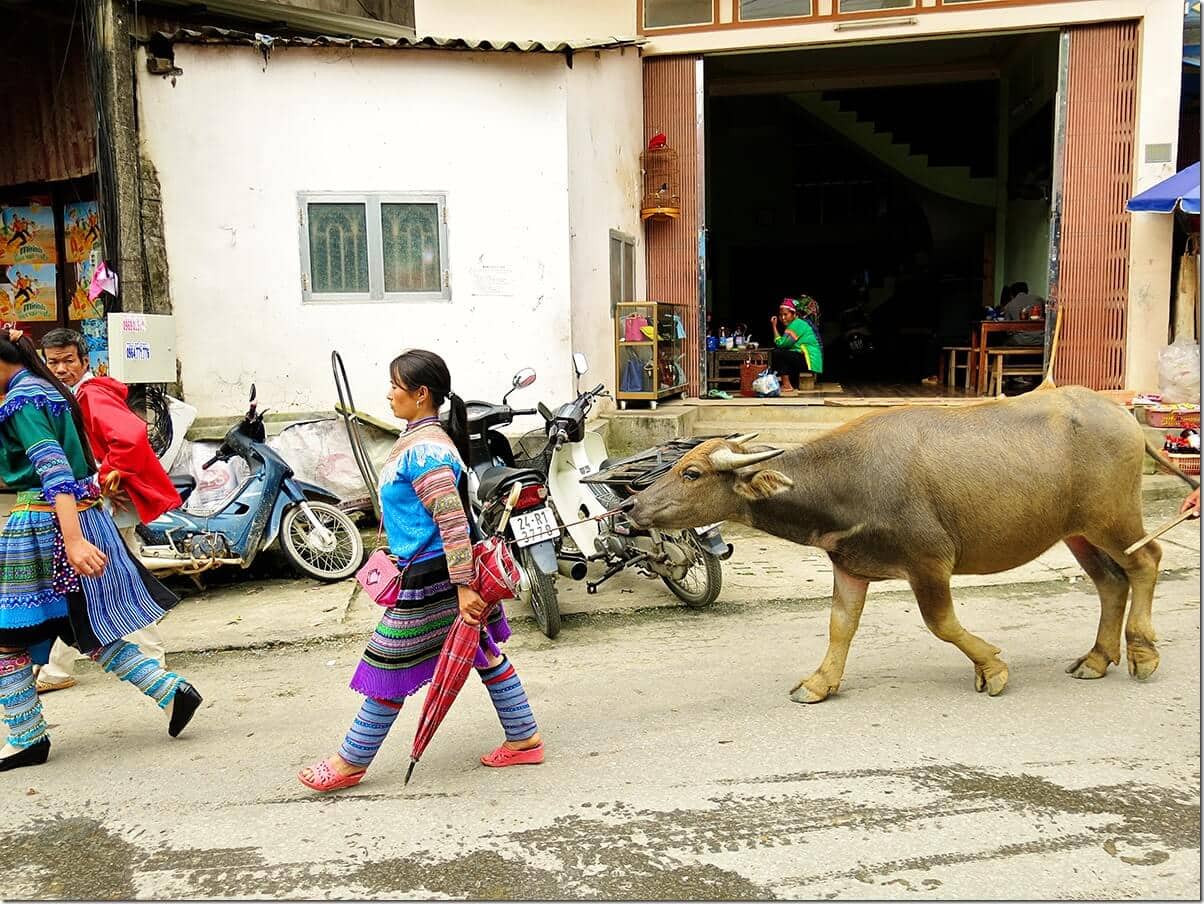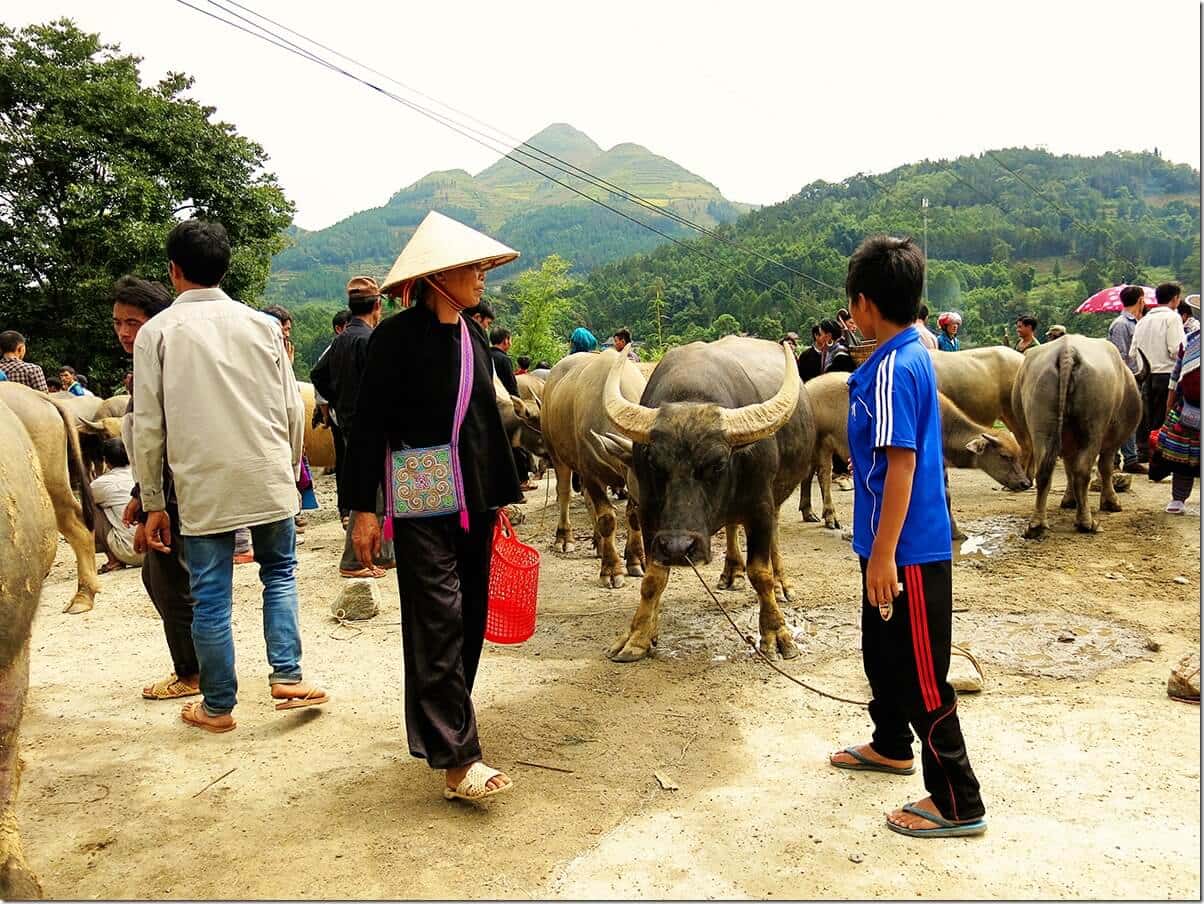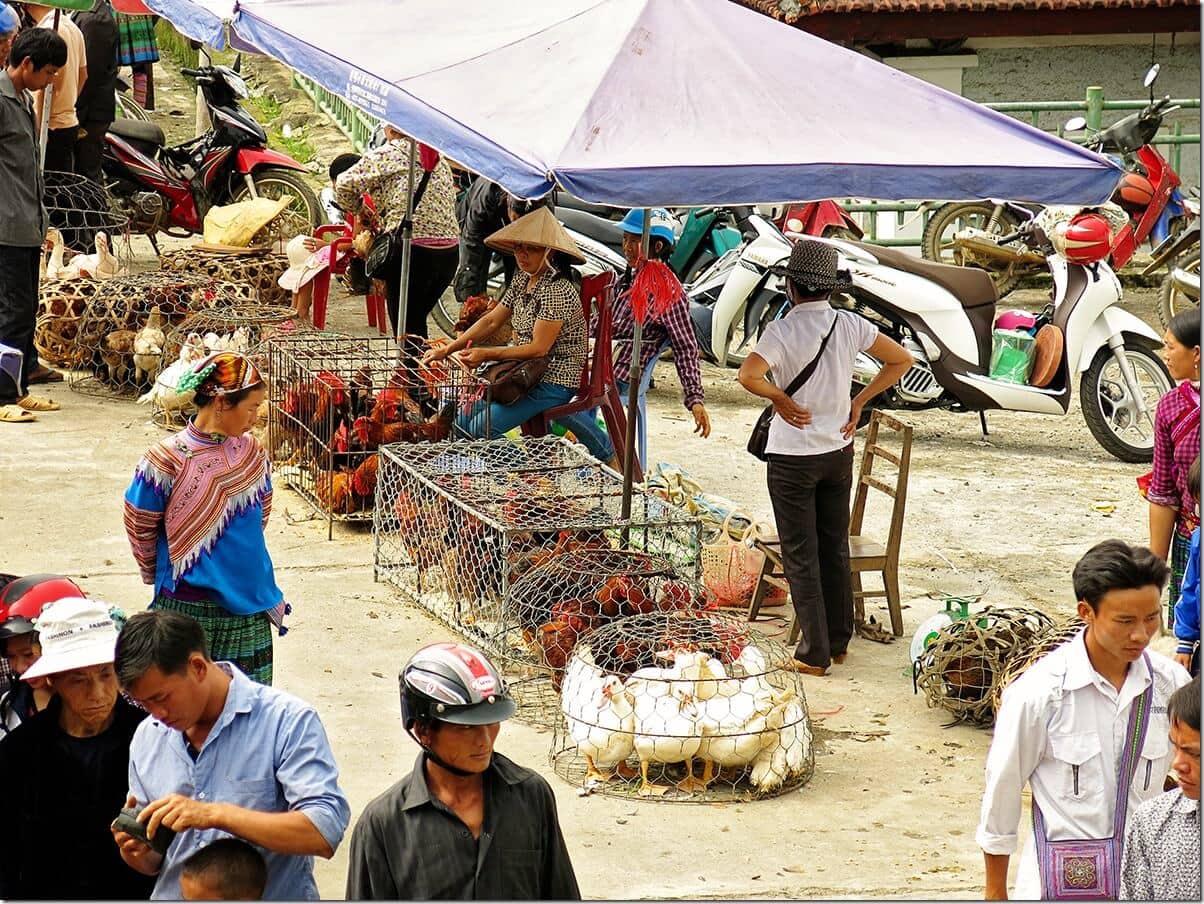 What really caught my eye at one spot, was a mountain of Tobacco.  Where we live, in Australia, tobacco is super expensive.  Here in Bac Ha Market Vietnam, the million dollar mountain is freely stacked up on a tarp.  Well, I am not advertising smoking here.  However, I am an ex-smoker and I know how much money I used to waste on the cancer sticks.  Not the best idea I ever had.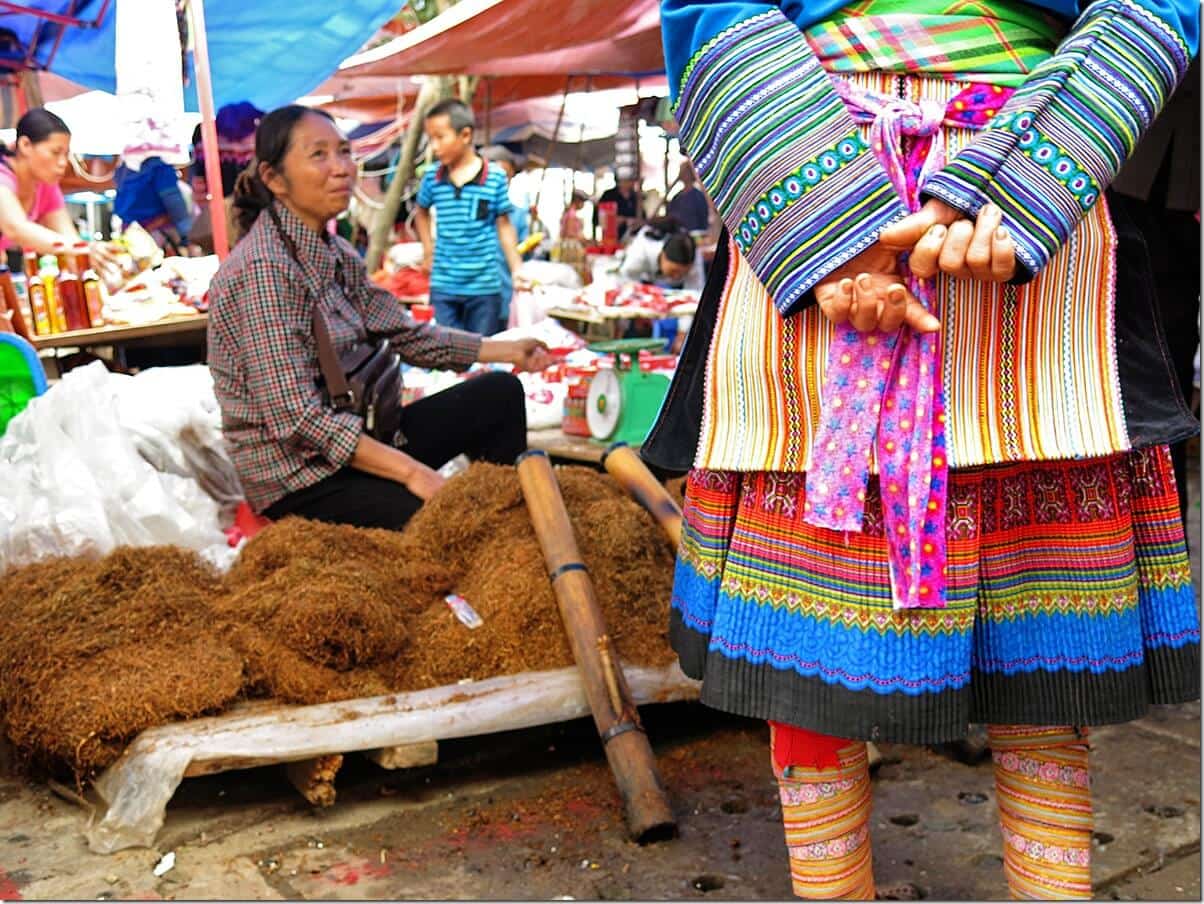 You can spend a whole day wondering around the Bac Ha Markets and you will still probably not see it all.  There are many alleys, nooks and crannies.  Even on the outskirts of the market, you will find some interesting things.  Few of the things I do not condone, but it is normal here, like cockfights.  Not a pretty sight, but like I said, you will find it all here!
–
____________________________
Popular Sapa Accommodation!
U Sapa Hotel – Book it Now!
Sapa Panorama Hotel –Book it Now!
Sunny Mountain Hotel – Book it Now!
____________________________
–
You will even find vendors selling homemade corn and rice wine.  All are presented nicely in recyclable plastic bottles. Hahaha…  Presentation is not a key here when you sell the bottle for just a few dollars.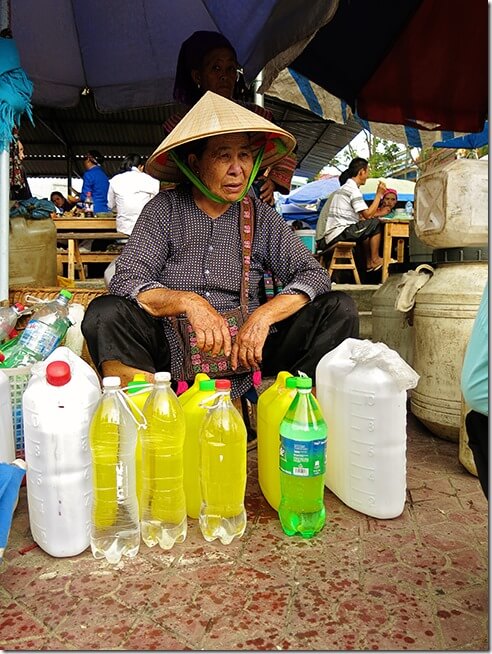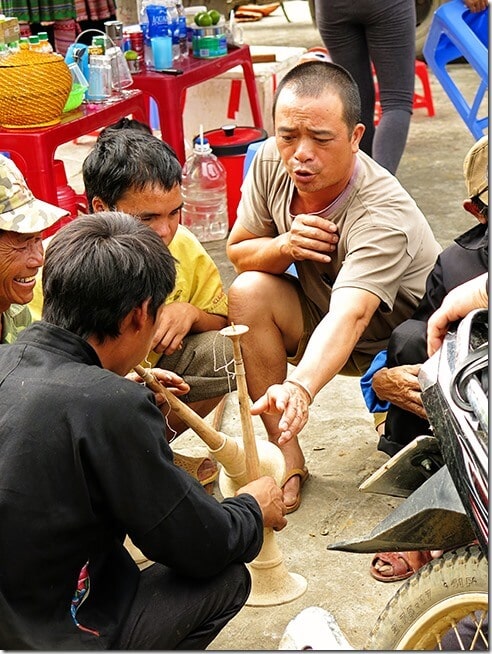 I loved Bac Ha Markets and will definitely go there again when we are in Vietnam next time.  I would go there for the sensory overload of the colour explosion and for the delicious Vietnamese food!  There is nothing like eating how the locals do!
–
Ban Pho Village
As a little treat and an added bonus, our guide Bee (from Sapa hike post that I mentioned earlier), has taken us to the Ban Pho Village located about 30 minutes drive from Bac Ha markets.  This is small Hmong village and it is known for its corn wine.  Corn wine here or any wine that I have tried in Vietnam could be easily classified in Australia as liquor or spirit.  This is a lethal, yet delicious drink, both when warm straight from the barrel, or chilled.  I am not a big drinker, so only had taste samples, but you could easily purchase a plastic bottle of the local brew for only a few dollars.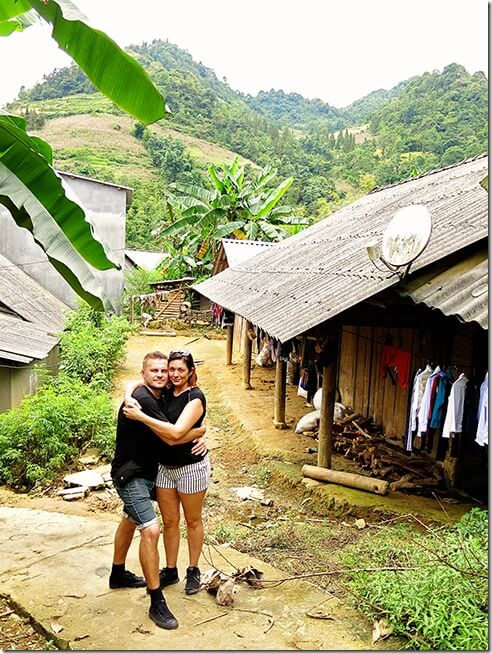 Bee guided us through the village from one side to the other.  On the way through, we saw how the corn is treated, sorted, dried, stored and brewed.  Quite an educational adventure I tell you and it was cool!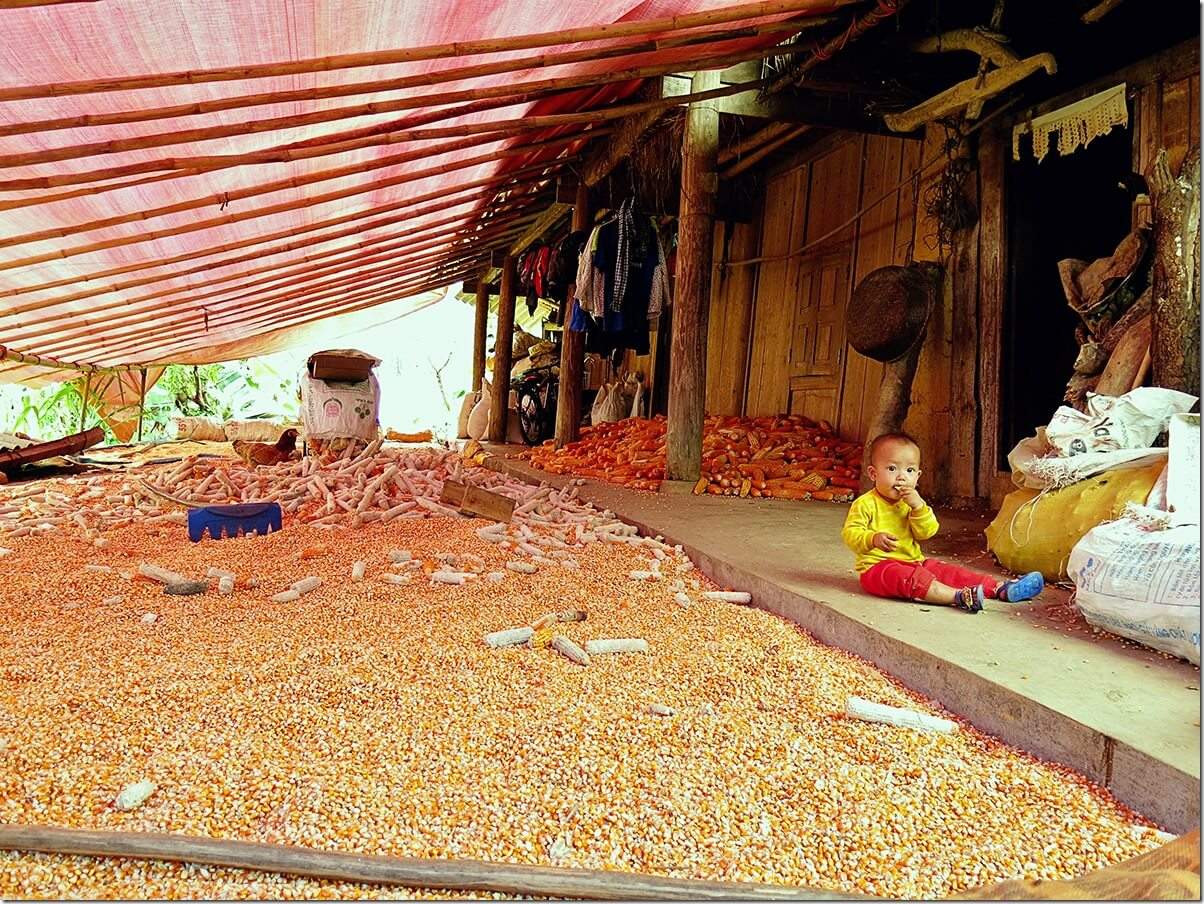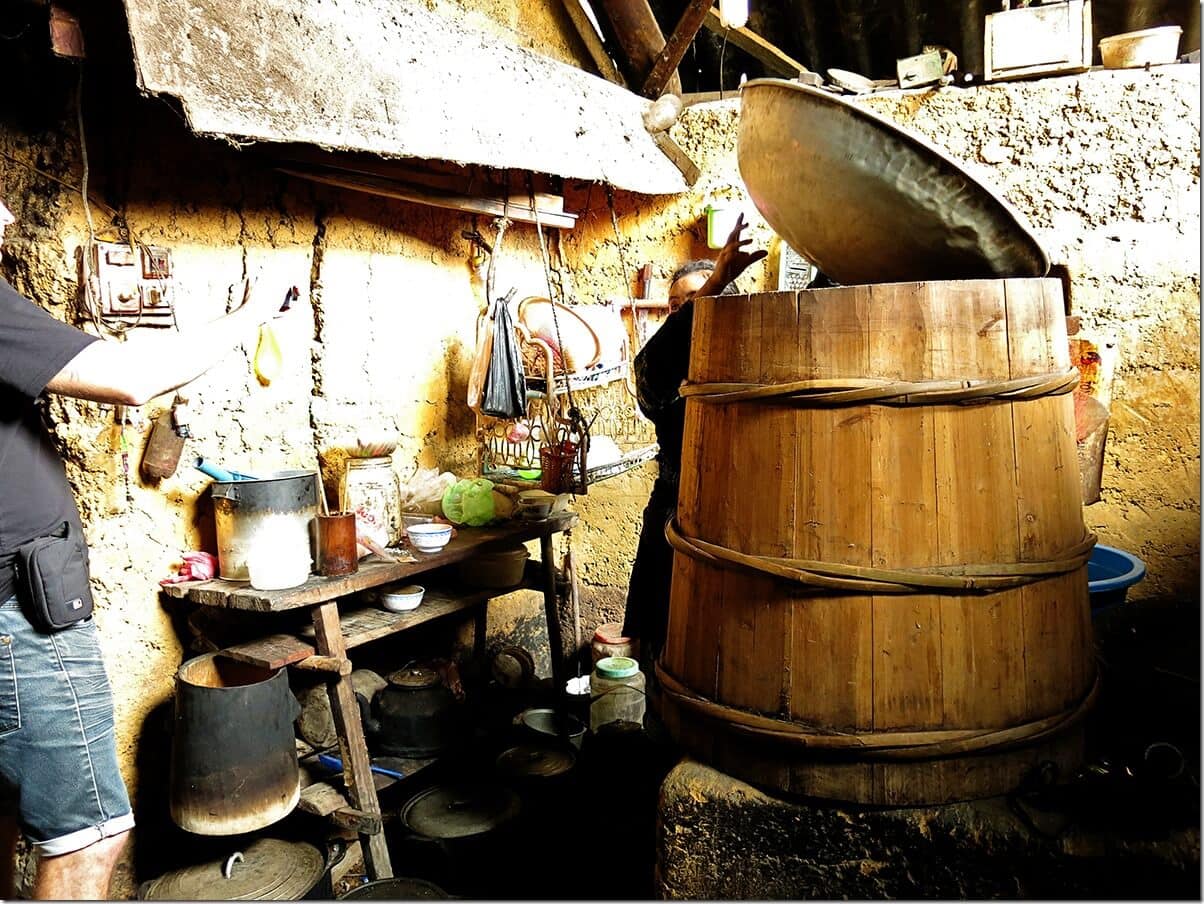 In case you were wondering how the traditional clothing of the Hmong people has dyed the deep blue colour, here you can learn a bit more about that too.  Dip dying in Indigo and water-filled barrels, dried and repeated to achieve the dark colour.  Pretty interesting.  Nothing gets wasted here in the villages.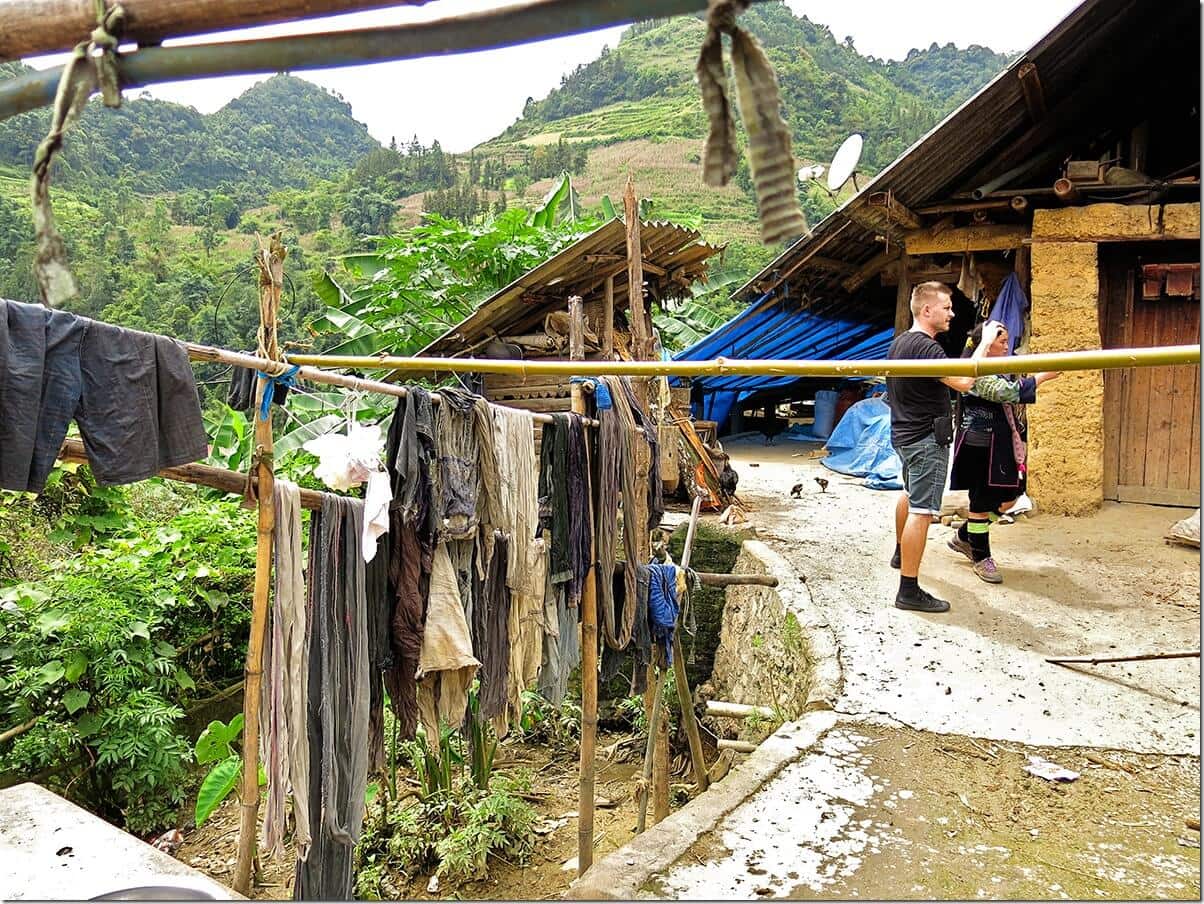 Whatever grows here is used either for food, drink, building, selling or clothing.  I think seeing how others live, makes you appreciate what we have and how easy sometimes our life is in comparison.  Still, I haven't seen an unhappy Vietnamese person.  All of our Vietnamese experiences are only bringing great memories and smiles to our faces.
–
Where to stay in Sapa:
After a luxurious option?  Read our Topas Ecolodge Review.
–
Where to next?
HANOI | HALONG BAY | HOI AN | HCMC
Prepare yourself for your trip to Vietnam by reading up on all the things you should know!
Check out the best sights in Vietnam here!
Check out the best time to check out Vietnam here.
Use our list of popular Vietnam Accommodation choices (including other Sapa Hotels) to help you plan your trip!