I have always wondered what a visit to Vietnam would be like.
Never would I have thought that this place would change my life and give me such a new sense of appreciation for a destination. Appreciation for history, culture, and spectacular food!!
Researching the places to visit and Hanoi attractions to see while there is a task and a half.
All the recommendations you find will usually point to the same places. Places, where other travelers have already walked, stood, or snapped selfies.
Please, do not deter from checking out the usual places to visit in Hanoi, because they are all amazing, and each Hanoi attraction has its own story to tell you. They will leave you feeling enriched, excited, and satisfied.
However, it is always important to take those lists you find, carefully reconstruct them, and create your own list.
Why not also read our list of the more authentic things to do in Hanoi? Create your own favorite Hanoi sightseeing list. This is ours!!
Top 5 'Must-See' Hanoi Tourist Attractions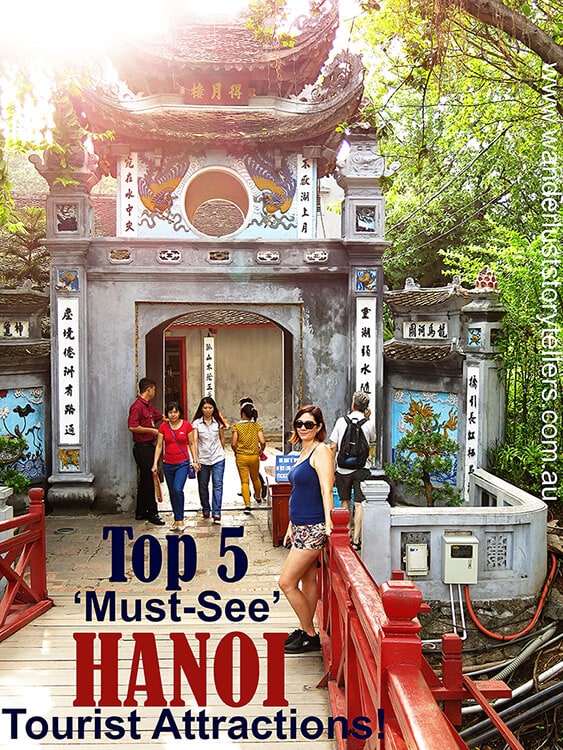 1. Hanoi Old Quarter Beer Corner
I use the words 'absolutely awesome' quite a bit, as my wife points out to me every chance she gets.. haha.. But sometimes trying to find a more descriptive word is just not necessary.
So, the first destination on our list of top places to visit in Hanoi begins with the absolutely awesome Hoan Kiem District or more commonly known as Old Quarter Hanoi.
Hidden deep inside its beaming-with-life heart, you will find the Beer Corner!!
To read more in detail about the amazing experiences we had in the Old Quarter, please stay tuned for the next post.

In that one we will share with you the Authentic life of Hanoi through our camera lens together with our story..

Can't wait to share that one with you!
The famous Beer Corner or Bia Hoi Corner is located at the crossroads of Pho Ta Hien and Pho Luong Ngoc Quyen.
We stayed only two streets away at the Paradise Boutique Hotel (a full guide on other hotels to stay at in Hanoi here), so we ended up visiting this street and corner many times on our visit to Hanoi.
The atmosphere here is next to none!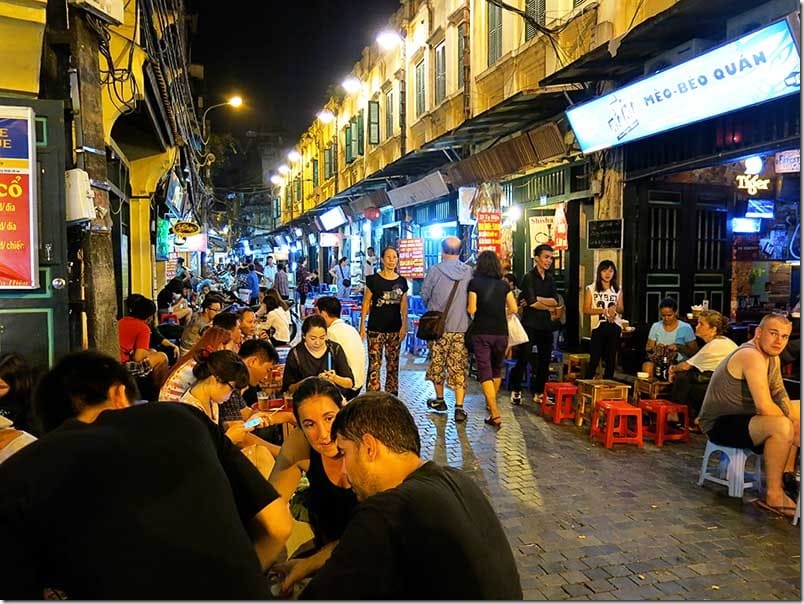 This spot has got to be one of the most awesome meeting places for all the multi-international tourists and locals alike.
Just take a pick from many little street pubs, pull up on a little plastic chair, grab some of the local snacks on offer and relax to Hanoi's delicious Bia Hoi beer.
Bia Hoi beer has to be one of the world's cheapest beers that you will ever find.
At the low price of about 8,000 VND or about 40 cents, this refreshing and light draught beer is the number one choice for most who visit this place. It was my number one!
2. Riding a Rickshaw in the Hanoi French Quarter
The second most well known and important districts in Hanoi is Ba Dinh District or the famous Hanoi French Quarter.
Here is where the streets get wider and the feeling of the city changes.
Within only a short walk from the Old Quarter, the city's exterior look completely changes.
It's like you are stepping out of Vietnam and straight into Europe. It's like opening a door and on the other side is a different world.
We chose one of the very persistent rickshaw drivers to take us on a very relaxing tour of the French Quarter.
Our feet were sore from walking for hours, so this was an easy way in order to explore and see this famous side of the city.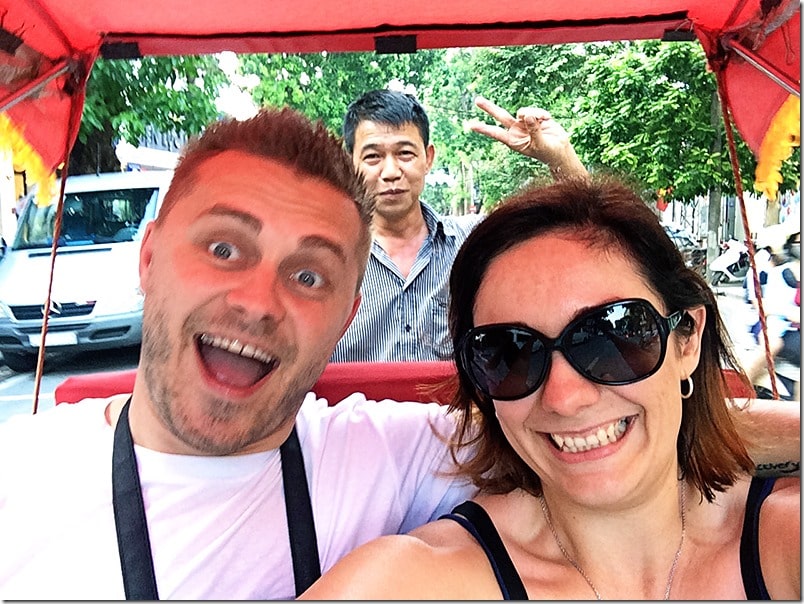 Here you will find Parisian architecture, an Opera House, expensive hotels and government buildings.
I grew up in Poland and I've been to many European countries, and it felt just like being there (with a touch of scooter madness).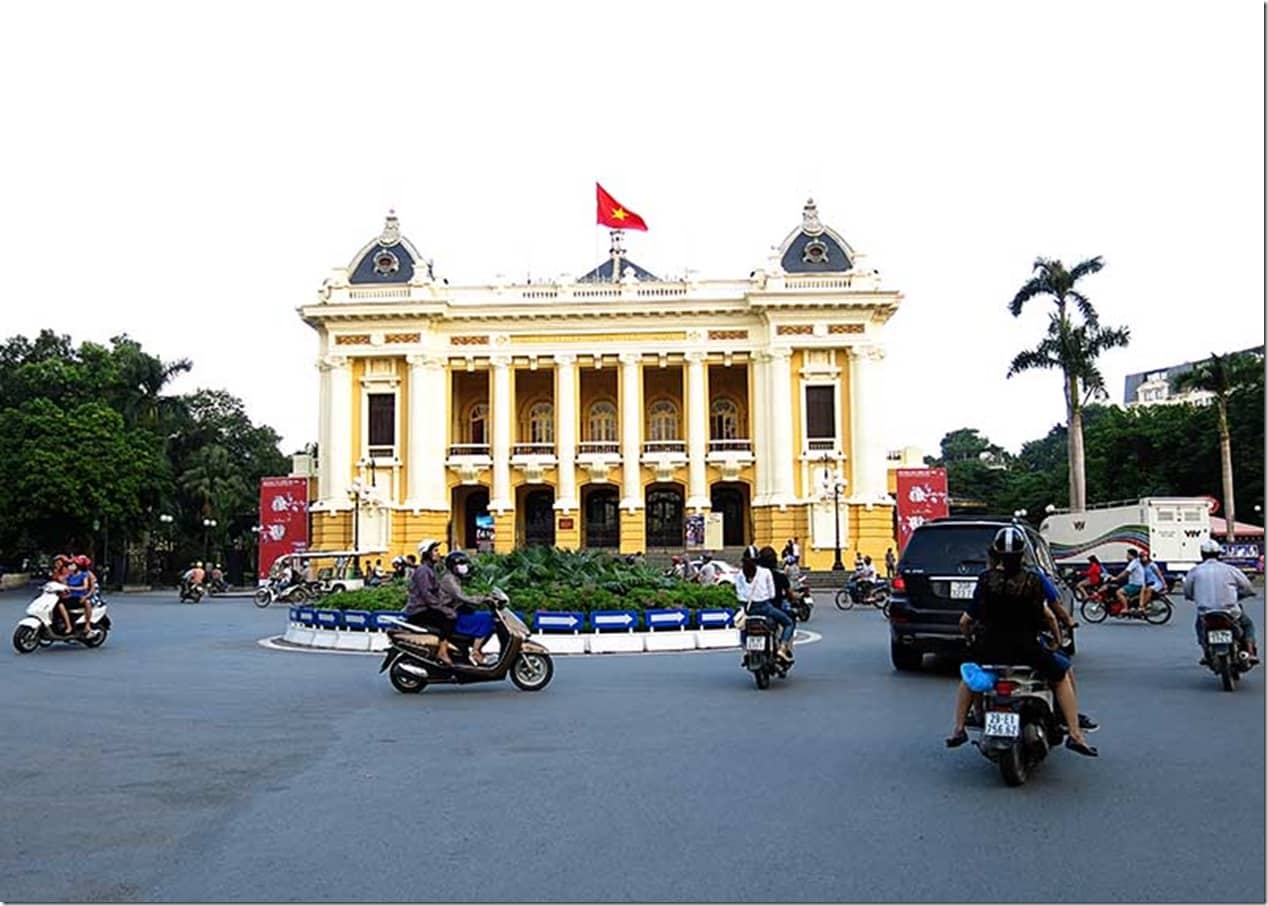 I guess for non-Europeans, this would be a very beautiful experience to see the French influence, wide boulevards and extravagant rich shops alongside the madness of the busy and narrow streets of the Old Quarter.
For me, the ride on the rickshaw was the highlight! I loved it!
The very informative driver gave us a history lesson on some of the buildings, which was very interesting, and took us on a 30-minute ride around the French Quarter, finishing where we started, right next to the Hoan Kiem Lake and the Red Bridge.
We bargained the price down to around 80,000 VND for 30 mins. The usual trips are around 1 or 2 hours and cost 200,000 VND per hour.
However, if you are into walking tours, check out our recommendations for the Best Walking Tours in Hanoi.
3. Hoan Kiem Lake, Ngoc Son Temple & Red Bridge:
A visit to Hoan Kiem Lake is definitely one of the best things to do in Hanoi.
The Lake of the Restored Sword or Lake of the Return Sword is truly a great site to see.
The relaxing stroll around the lake provides a number of photo opportunities.
We were witness to at least 4 or 5 couples getting their wedding photos taken here.
As you learn about the lake it becomes only more special. Hoan Kiem Lake has a legend and it goes something like this:
One day Le Loi King's friend was fishing in the lake and caught a shining metal bar instead of a fish.

King turned the bar into a sword and realized that two words appeared on the side of the blade.

It said 'Thuan Thien', which means 'Harmonious with Heaven'.

Le Loi King used the sword, thinking it was a gift from heaven, in the battle against the neighbouring country.

Thanks to the sword he achieved peace.

One day on the way back to the lake, he saw a tortoise raising, who pleaded: "Please return the sword to the Dragon King".

The King threw the sword to the lake and saw the tortoise disappear into the deep with it.
And that's how the lake got its name. Pretty cool hey?
Nowadays, both tourists and locals alike flock to this relaxing spot in the centre of crazy busy and noisy Hanoi.
You will see loads of people taking photos of the Thap Rua or Turtle Tower, a pagoda peacefully sitting on a small island in the centre of the lake.
This small tower was built to honour the magic turtle guarding the sword of Le Loi.
Tortoises come to this little island to bask in the sun and lay eggs.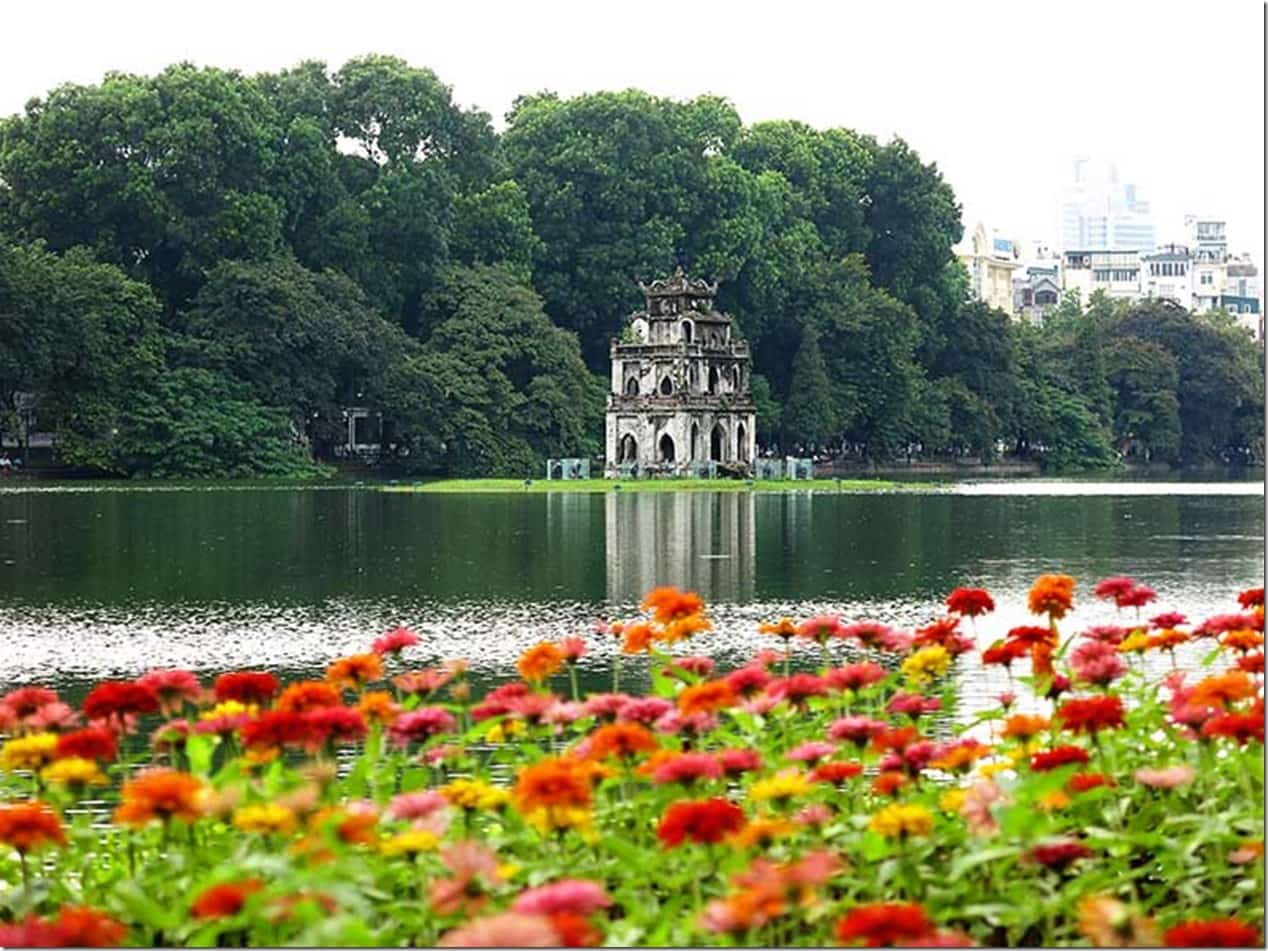 Few minutes walk up the Eastern side of the lake you will see the entrance to Hanoi's famous temple.
Walking through the beautifully decorated gates, you will find yourself on the truly spectacular and iconic red painted wooden Huc Bridge or Rising Sun Bridge.
It reminds me of a time when we were standing on the Rialto Bridge in Venice. Gorgeous bridge with a beautiful view and a magic feel to it.
The red bridge leads you to the famous Ngoc Son Temple.
This temple sits on the famous Jade Island and it commemorates Tran Hung Dao, a 13th century military hero, for the bravery shown in the battle against the Yuan Dynasty.
It also honours a Confucian master Nguyen Van Sieu and scholar Van Xuong.
Here you will need to pay a small fee of 30,000 VND if you would like a look inside.
4. Notre Dame of Hanoi
Wandering around town, checking out all the streets that we pinpointed on the map with our list of top things to do in Hanoi, we kinda stumbled across this beautiful building.
It was a typically hot and humid day in the absolutely awesome Hanoi, but standing in the sun admiring this marvel of construction was absolutely awesome.
Notre Dame of Hanoi or more correctly named as the St Joseph's Cathedral has some similarities to the famous architecture of the Parisian Cathedral.
However, it is located at number 40 Nha Chung Street, deep inside the heart of the Hoan Kiem District or the Old Quarter.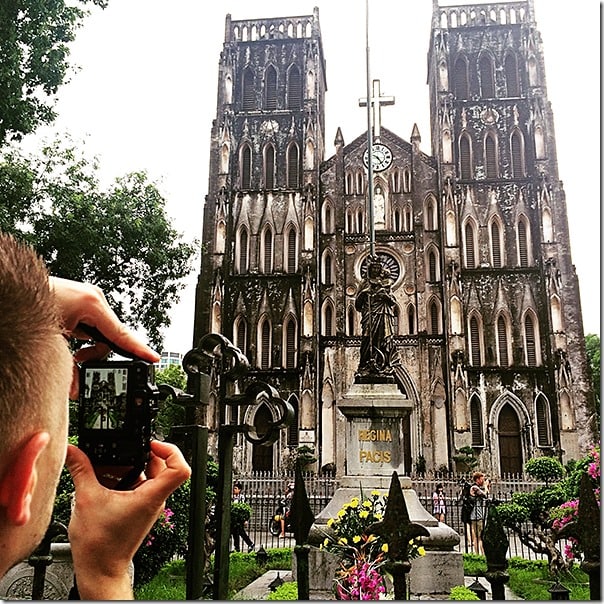 The cathedral opened its doors in 1886.
This is the oldest gothic-style church in Hanoi, built by the French colonial government.
Now it is one of the most visited tourist attractions in Hanoi. A magnificent sight to see!
5. Old Town Gate, Hanoi
There are plenty of gates existing around town here since 1749, but this one is probably the most famous.
Quan Chuong City Gate or the Old Town Gate is located at the end of Hang Chieu Street.
Man, just try to take a photo here, standing at the gate trying to dodge the crazy Hanoi traffic, while the other person tries to capture the moment.
It is almost impossible.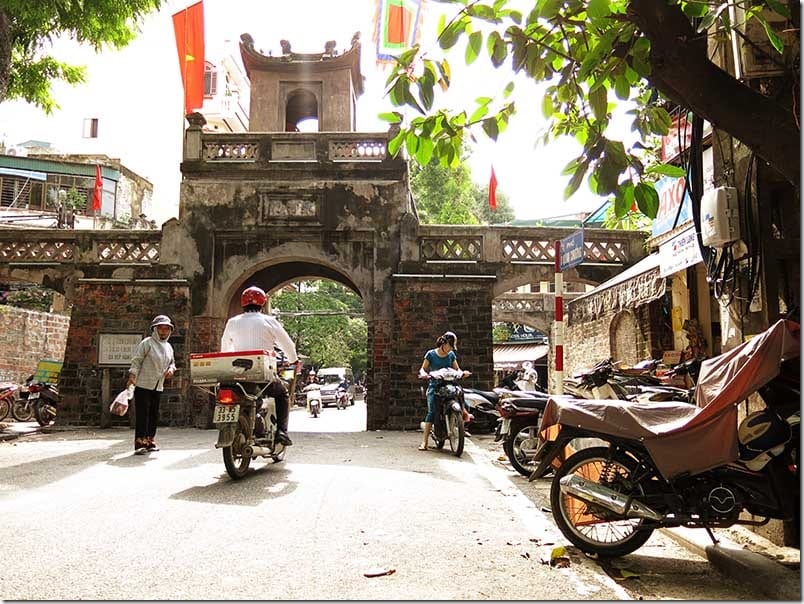 People walking in every direction, motorcycles swiftly zigzagging in between, trucks reversing weird ways and local women with baskets filled with bananas wandering through the madness.
Well, I'm describing quite a traffic jam, but trust me. What an awesome sight!!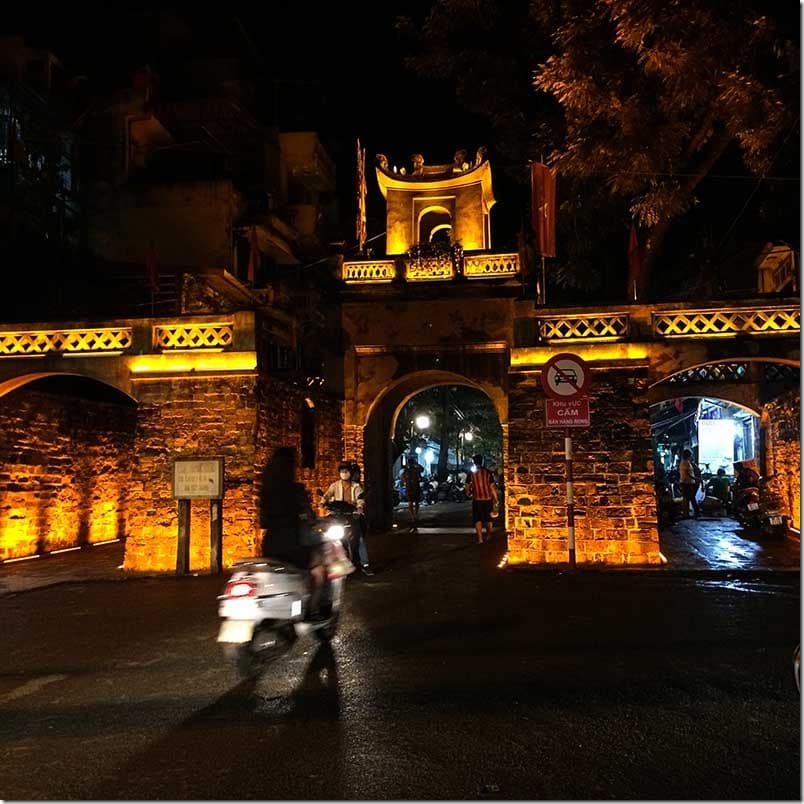 Probably some of the most awesome shots of the Hanoi experience are taken here.
A very cool place to find yourself in front of. However, we do recommend you check it out both during the day and when the sun is out.
The streets light up and the colors of the gate change, depending on your point of view or the camera lens.
I remember the walls lit up in all variations of gold and red.
So, with smiles on our faces and sore feet from walking around the amazing and colorful streets enjoying some Hanoi sightseeing, the only other thing to do here is to find a place to scoff down some yummy Vietnamese food and a cocktail or two.
Where to eat in Hanoi:
New Day restaurant
We had an amazing Curry Chicken, Sweet, and Sour Pork, Deep-fried Spring rolls, and a Papaya Salad – YUMM!!!
Little Hanoi no 9 (9 Ta Hien)
We had Chicken 5 Spices, Morning Glory, and Beef with Butter and Lemon – AWESOME!!!
Bistro Cafe Fast Foods (Pho Ta Hien)
The insta-delicious Vietnamese Beef BBQ – which we cooked right in front of us on a little table, while sitting on little plastic chairs. PERFECT!!!
Where to Stay:
Over to You:
Which of the places on our list of Tourist Hanoi Attractions are you going to pop on your list?
Can you see yourself walking down the streets of Hanoi yet?
Further Reading:
-j