Lucca is an incredible Tuscan city, renowned for its Roman and Medieval architecture. Beautifully preserved and surrounded by mountains, it's a dream destination for laid-back travel.
There's so much to see and do in the historic city, you'll want to spend a few days exploring. It's certainly one of the best Tuscan towns to add to your bucket list.
We've put together a guide on the best things to do in Lucca, and where to stay. Now all you need to do is pack your bags and book that flight!
What to Do in Lucca, Tuscany
Lucca is not only one of the best cities to visit in Tuscany, it is also one of the prettiest places in Italy to explore as well. Lucca's greatest draw is its history and enchanting architecture. With this in mind, these are the best things to do in Lucca.
1. Guinigi Tower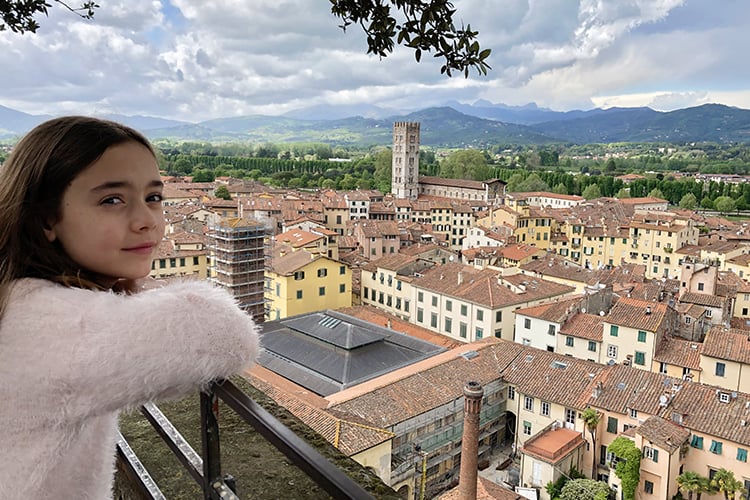 This towering structure is the first thing you'll see when entering the city, and one of the most beautiful Lucca Italy points of interest. It stretches up 45 meters high and is a beautiful example of the local architectural style.
Climb the 232 steps to the top, where you'll find its most unique feature – a rooftop garden with ancient oaks. From here, you'll have panoramic views over the historic city. Spend some time enjoying the warm breeze and looking out over a city known for its extraordinary beauty. You'll feel like fairytale royalty in your tower.
Guinigi Tower was built around 1384 and was once one of many towers in the city. In fact, at the time, anyone wealthy enough had their own defensive tower. They were tumultuous times.
2. Piazza Dell' Anfiteatro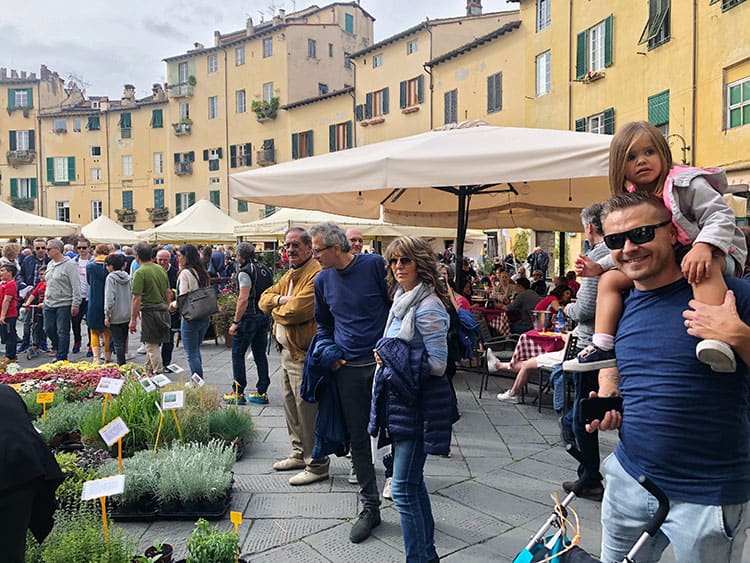 Lucca's town square has a very interesting history that makes it even more worth seeing than the exciting shops that line it. The piazza is elliptical in shape because it was built atop the ruins of the town's amphitheater.
Where people now stroll and shop and enjoy the sunny afternoons, gladiators were once battling and the townspeople sought their entertainment.
Vaults and arches from the original amphitheater have been incorporated into the shops and cafes that line the town square. See if you can spot them while you enjoy some Italian gelato.
3. Chiesa di San Michele in Foro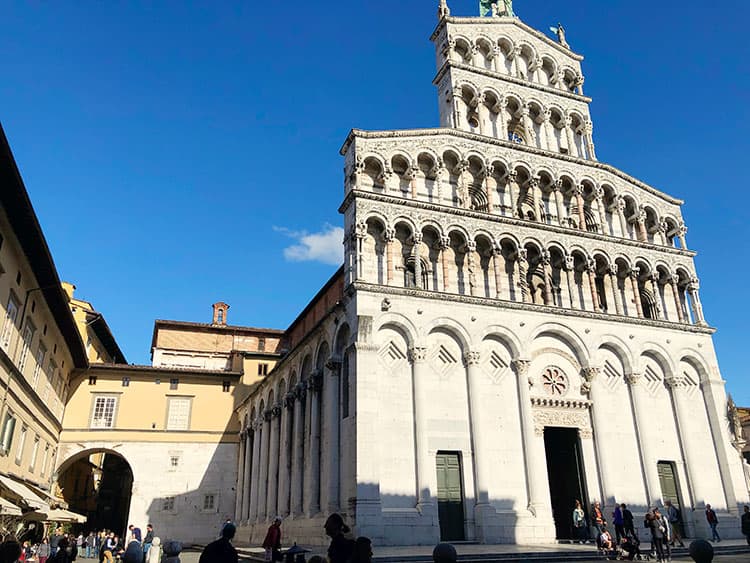 You can't visit Lucca city without seeing one of its most impressive cathedrals. Chiesa di San Michele in Foro in its current form was built in 1070! It's a perfect example of Roman Catholic architecture and shows how rich in skill and resources the local population was at the time.
The cathedral was built atop the ruins of the Roman Forum. So this, too, has a history that stretches far beyond the structure itself. Dedicated to the Archangel Michelangelo, it was the seat of the commune's major council till 1370.
Learn about its history, admire the richly decorated facade, and explore the interior. And don't forget your camera.
4. St Martin Cathedral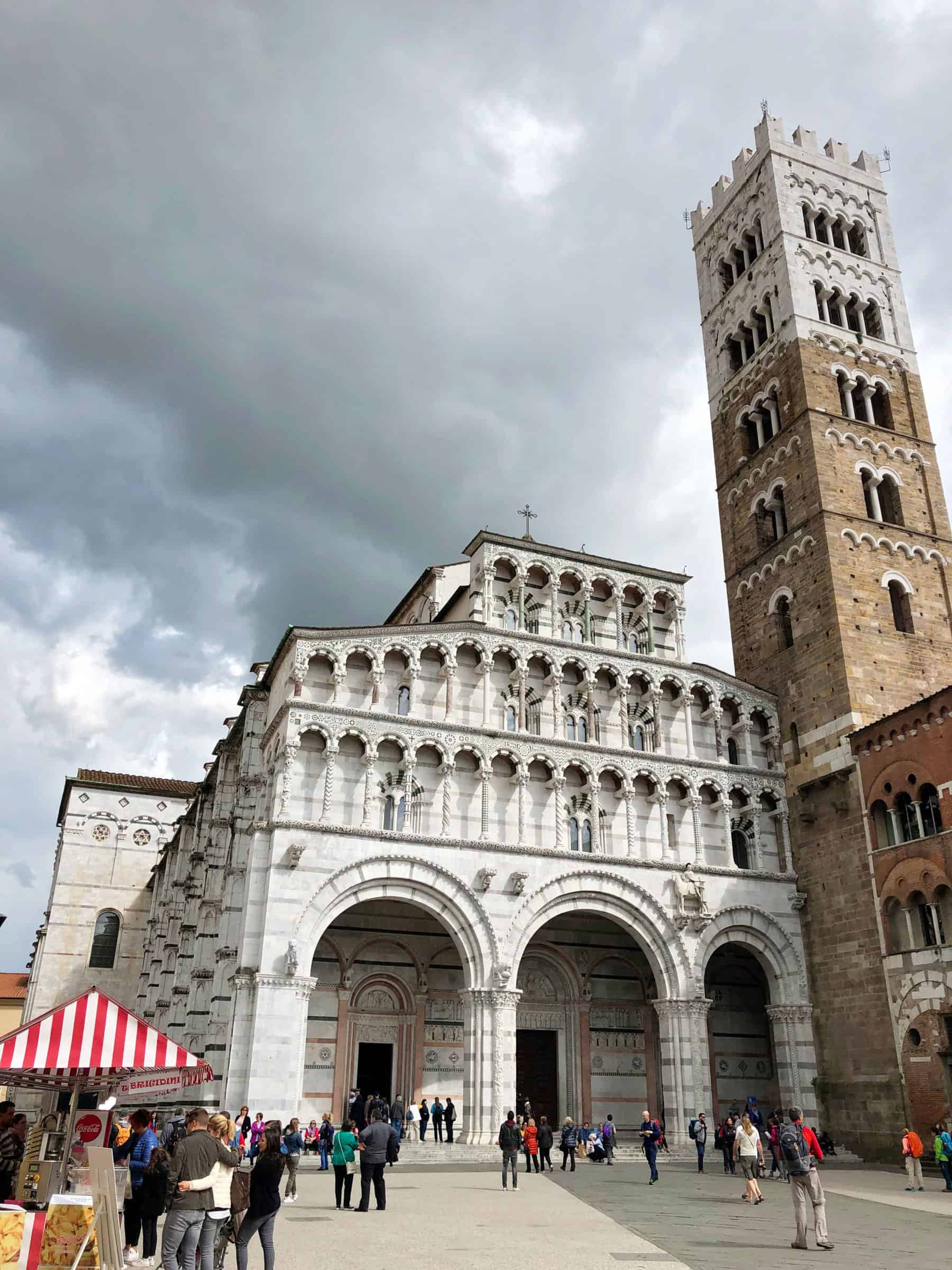 Rivaling the Chiesa is St Martin Cathedral. Completed in the same decade as the other, the immense structure looks entirely different. There are so many different architectural styles and influences, you could stay busy for hours trying to figure them all out.
The cathedral is just outside the tourist hub of the city, so at most times of the day, you'll find few other tourists – at least outside of peak season.
5. Bicycling on the Walls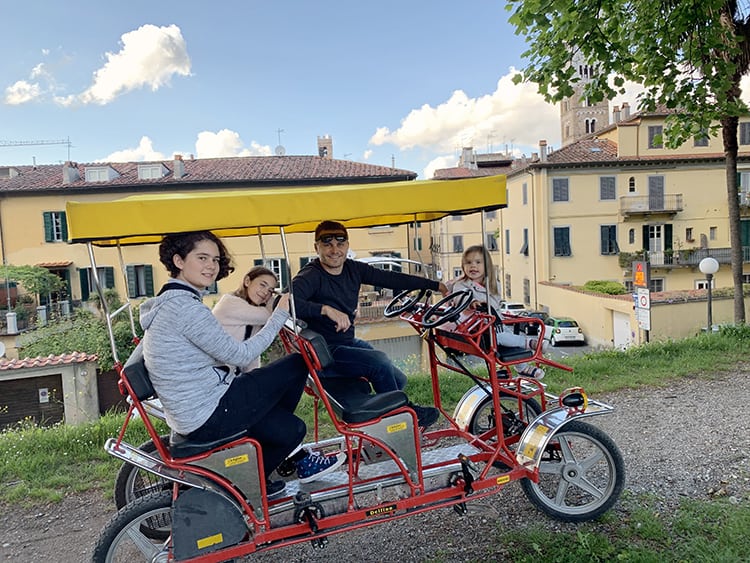 One of the best Lucca things to do is to rent a bicycle and explore the city's historic defensive walls. You'll get to see the whole city from above, with plenty of stops to take photos and enjoy the views.
It's a great fun family activity, and romantic for couples. The tree-lined walls surround the whole city, and stand 12 meters high, offering a perfect vantage point. You'll also be able to look out from the walls to the surrounding countryside.
We recommend you go bicycling in the evening when the sun isn't so hot and the golden hour makes everything even lovelier.
Where to Stay in Lucca
Lucca is so beautifully historic, that you don't even have to step out of your hotel to be immersed in it. The best hotels in Lucca are hundreds of years old too! These are the most unique and comfortable hotels in Lucca.
1) Hotel Alla Corte Degli Angeli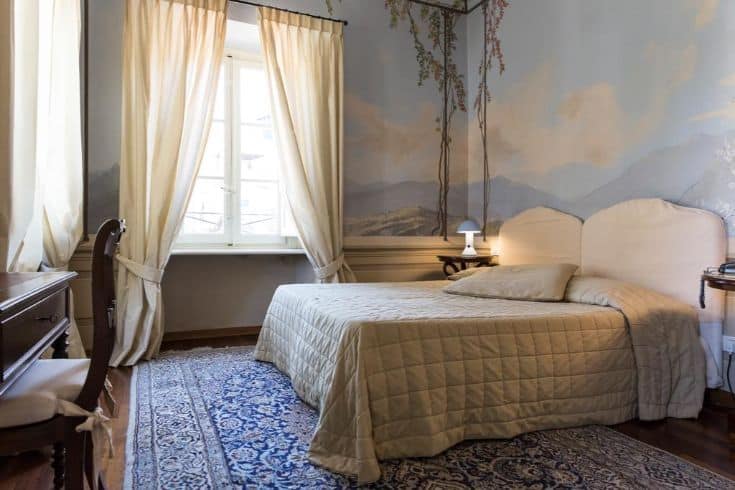 4-stars
If you're looking for that dreamy Tuscan charm, this hotel is idyllic. Beautiful hand-painted murals and wood-beamed ceilings make the rooms special. There are plenty of amenities, and a bar where you can grab a drink before you head out in the evening.
Why should you stay here?
Lovely atmosphere and friendly staff
Perfect location within the ancient Lucca city walls
Comfortable family rooms
Amazing breakfast
Check out the current prices for the Hotel Alla Corte degli Angeli here!
2) Hotel Ilaria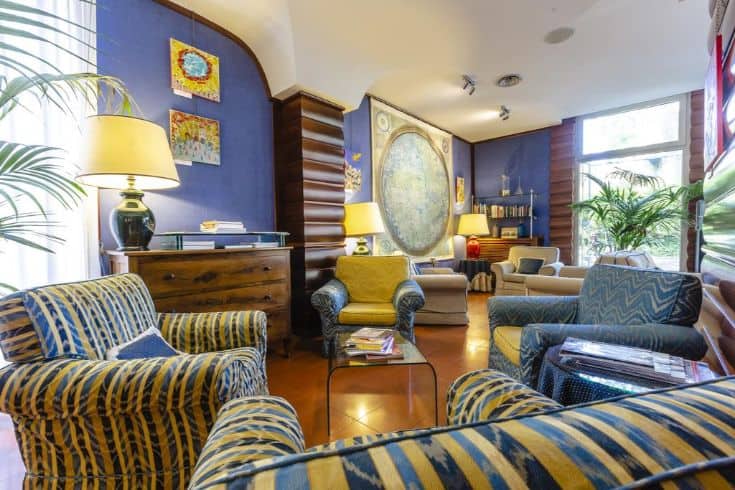 4-stars
Are you planning a Tuscany romantic getaway? This hotel is full of character and class. The huge terrace is gorgeous, and the garden is perfect for a picnic. The little details make this hotel spectacular. You can even take a free bicycle, and tour Lucca with free audio guides.
Why should you stay here?
Incredibly beautiful building
Luxurious, spacious rooms
Buffet breakfast
Pets are allowed
Check out the current prices for the Hotel Ilaria here!
3) Albergo San Martino
3-stars
Situated in a beautiful historic building, this boutique hotel is perfect for families. The rooms are comfortable and large, with great options for family groups. The staff are attentive and great with kids, although there are no childcare facilities.
Why should you stay here?
Situated a short walk from Lucca's attractions
Gourmet Italian breakfast
Comfortable rooms at a good price
Check out the current prices for the Albergo San Martino here!
4) B&B Anfiteatro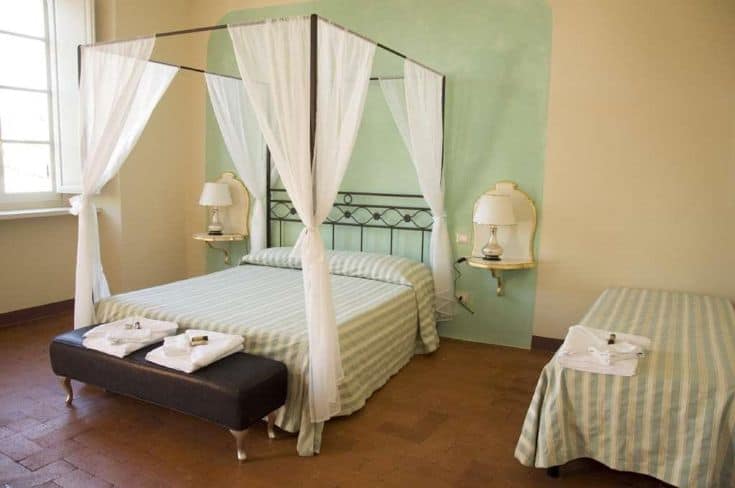 Overlooking the Piazza dell' Anfiteatro, you can't get a better position than this lovely B&B. the elegant rooms are air-conditioned and spacious. A daily breakfast is offered at a charming nearby restaurant. And despite its central location, it's quiet at night.
Why should you stay here?
Lovely family rooms
Ideal location and historic building
Family-owned
Check out the current prices for the B&B Anfiteatro here!
Last Thoughts on Lucca Italy
Lucca is such a fun and impressive holiday destination. Whether you're spending a day here or a week, you're bound to enjoy these awe-inspiring stops.
Read More Tuscany Posts:
Read More Italy Posts:
You find over 50 different articles about various Italian destinations in our Italy Travel Blog section.