The cities in Tuscany are all joined by twisty, winding roads that run along the glorious countryside.
Although you can easily travel to each Tuscan town in a day, why would you miss the chance of driving through this region on a road trip?
The more popular cities are always worth visiting, but it's the small countryside towns that'll really delight you and your family.
This wouldn't be Tuscany without the medieval villages, romantic cities, and rolling hills.
Tip: Did you know that we have created a kid's travel diary filled with fun activities? You can check it out here.
---
Tuscany Road Trip Ideas
Whether your kids are into history or not, there are plenty of adventures to be had in this enchanting region.
And with plenty of pizza and gelato, Tuscany is a thrilling place for kids of all ages.
We personally rent our cars through Discovery Cars, they find the best car rental deals by comparing prices and insurance rates across all companies.
If you have young kids you will also need to decide if you want to rent a car seat or bring one along.
You can find a list of the best travel car seats and the best travel booster seats here (if you wish to bring your own along on the trip).
---
9 Best Towns to Explore on your Tuscany Drive
There are countless beautiful towns that deserve exploring. Each town that's nestled in the gently rolling hills reveals something marvelous about the Italian countryside.
You won't get enough of the fairytale castles, charming olive groves, and picturesque vineyards.
1. Lucca
There is plenty to do in Lucca and it's a stop that can't be missed during your road trip.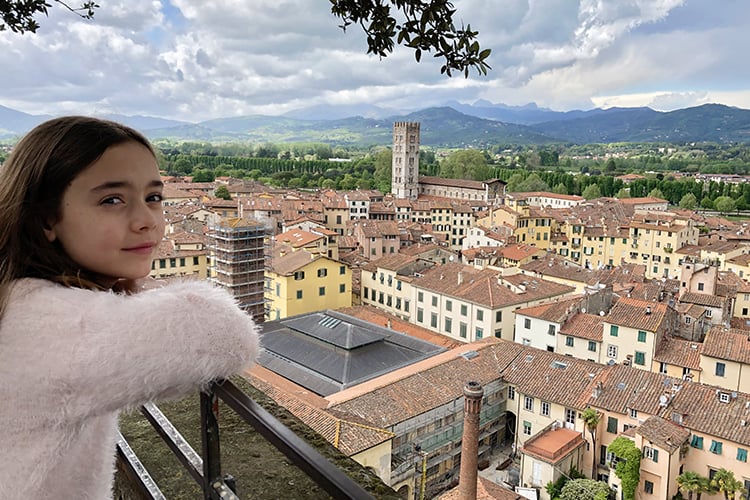 After all, it's one of the most loved cities in Tuscany. It's famous for its protective Renaissance walls and well-preserved historical sites.
With its medieval feel, you'll easily fall in love with the city. You can spend your days cycling along the tree-lined paths and climbing up the Torre Guinigi tower for panoramic views of the town.
Click here to book a tour walking around Lucca with a local.
---
2. Florence
Florence is another place that you have to visit in Tuscany. With all the incredible museums, renaissance art, rolling hills, and endless vineyards, you can happily spend a couple of days here.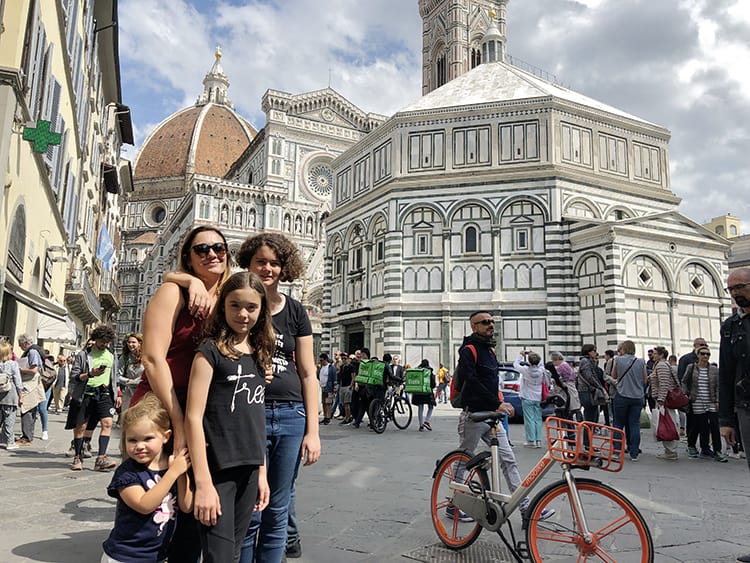 With little ones on the journey, it'll be a good idea to break up museum days with outdoor adventures.
You can plan a trip to the Boboli Gardens or head to Piazza Della Repubblica to ride on an antique carousel.
If you want to go wine tasting, you can also find a few kid-friendly wine tasting tours from Florence.
Click here to book a tour to climb the famous Florence Dome.
---
3. Arezzo
Arezzo may be one of the less-known towns in Tuscany, but that doesn't mean it's any less fantastic.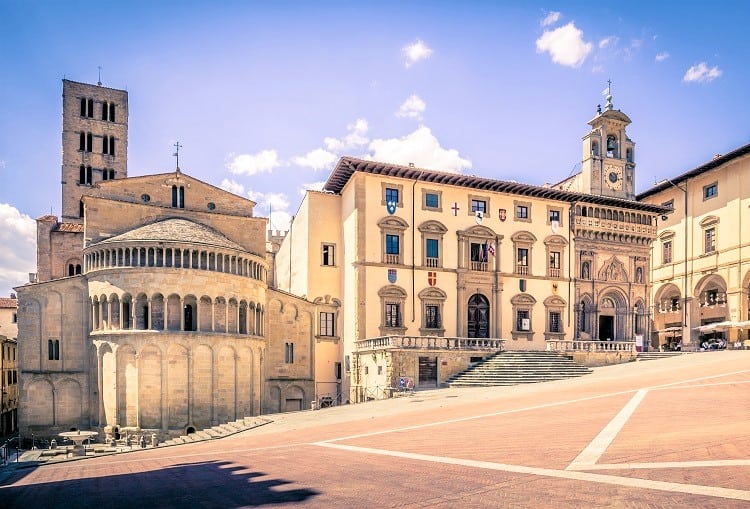 Part of the appreciation of the town comes with understanding its deep history. Filled with churches, cathedrals, and historical sites, you can get lost in its magic.
Besides its history, Arezzo is extremely pretty. Go for walks to the top of the Arezzo Cathedral and marvel at the beauty from above.
If your road trip in Arezzo happens to fall on the first weekend of the month, then check out the antique fair in the town square.
Click here to book a tour around Arezzo's historical center.
---
4. Montepulciano
If there was one town that perfectly depicts the Tuscan scenery, it would be Montepulciano.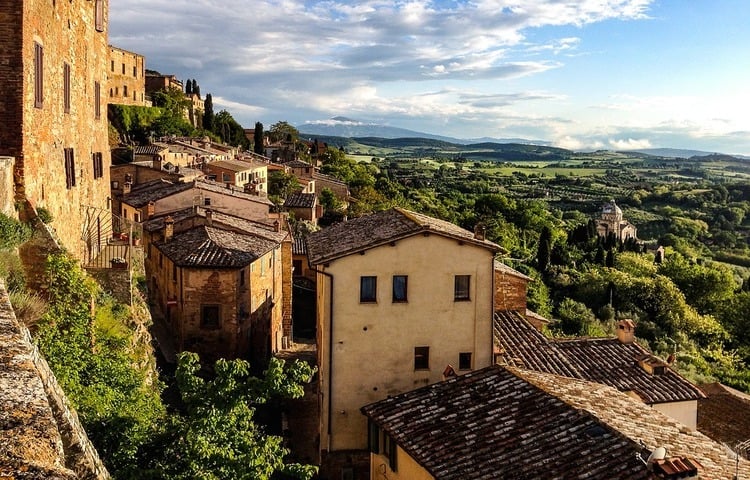 Other than being recognized for its Vino Nobile red wine, Montepulciano is a town that is dotted with cypress trees and gorgeous architecture.
Drive right through the vineyards where you can admire the greenery of the Tuscan countryside.
The best way to discover parts of Montepulciano is to hop out the car and wander around on foot. Walk along the cobblestone streets, grab some gelato, and enjoy some of the beautiful cathedrals.
---
5. San Gimignano
San Gimignano is famous for its well-preserved tower houses that sit along the hilltop. The medieval architecture is the epitome of Tuscan hilltop towns.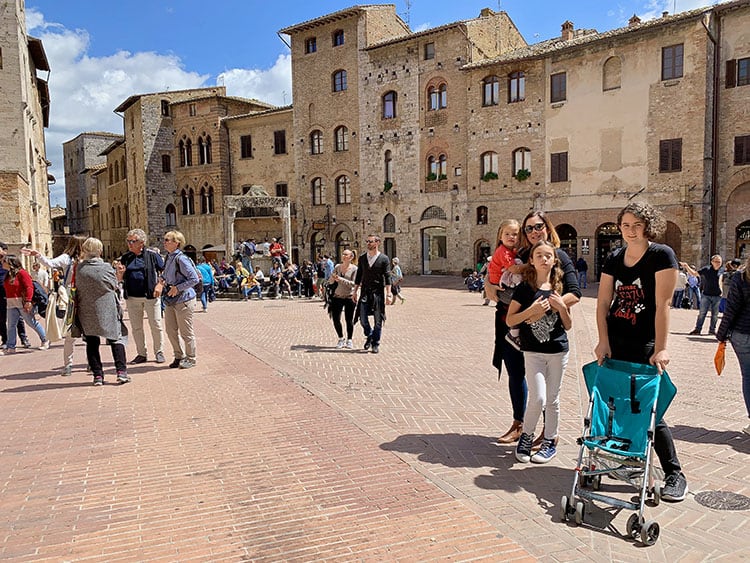 As you drive into the town you'll immediately notice the 13 towers stretching toward the sky.
Climb to the top of the Torre Grossa, the most famous viewpoint, to get the best look of the medieval towers. It's also a great opportunity to get a glimpse of the gorgeous San Gimignano countryside.
Click here to book a tour through the San Gimignano countryside on horseback.
---
6. Volterra
The city of Volterra is known for its particularly peculiar urban layout. The town was once surrounded by protective walls, at a time when you needed to enter through two large gates.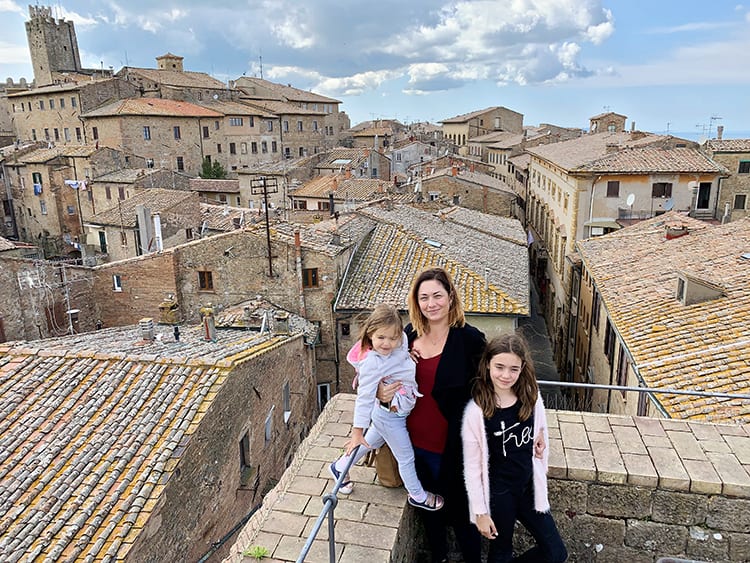 Now, tourists can still see the remnants of the walls as they wander through the twisting labyrinth of streets.
---
7. Civita di Bagnoregio
Civita is a surreal hilltop town that can only be accessed by crossing a narrow pedestrian bridge. Crossing the bridge is an adventure of its own.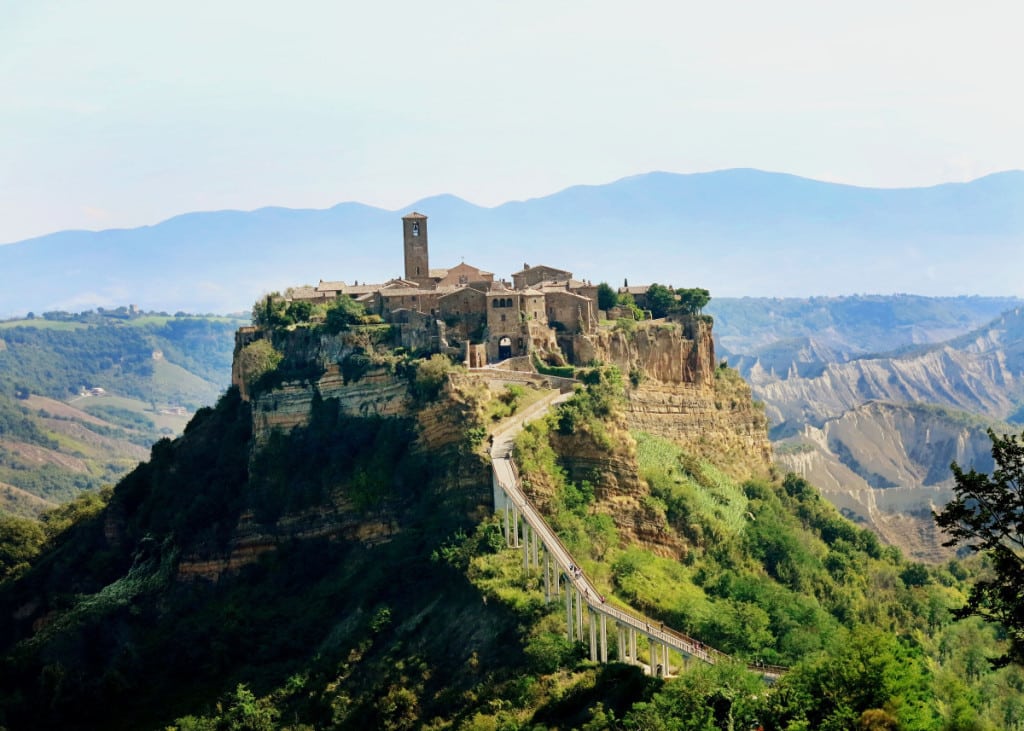 On each side, you'll have insane views of the mountainous Lazio region and Italian villas nestled in the greenery.
Once you've crossed the bridge, you'll be blown away by this fairytale town. Tiny alleys, low-rise houses, and small balconies suggest a touch of magic.
---
8. Siena
Siena is a romantic, small Tuscan town with plenty of historic buildings and open-aired country houses.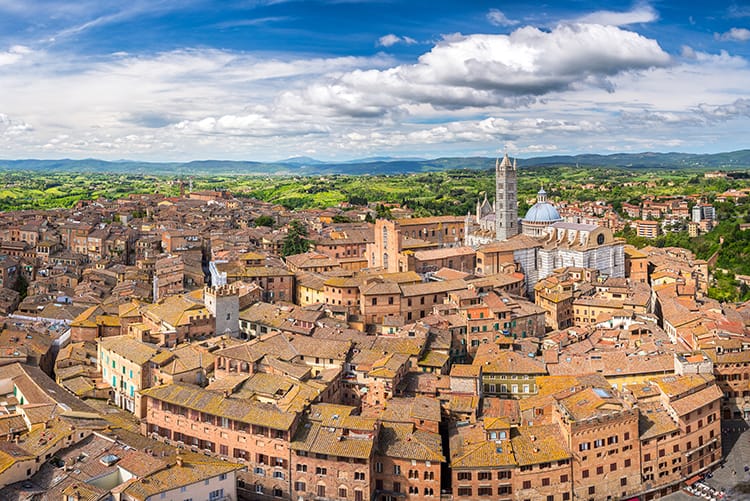 Begin your Siena adventure by journeying into the heart of the town, Piazza del Campo. You can enjoy the town square by sipping a coffee or grabbing a fresh pizza.
Siena is also famous for its desserts. Be sure to grab a ricciarelli, which is an Italian cookie made with almonds.
Click here to book a tour through the medieval town of Siena.
---
9. Pisa
Pisa is probably one of the most important Tuscan cities, given that it's the birthplace of Fibonacci, Pisanello, and Galileo Galilei. The city is bursting with culture, art, and renaissance history.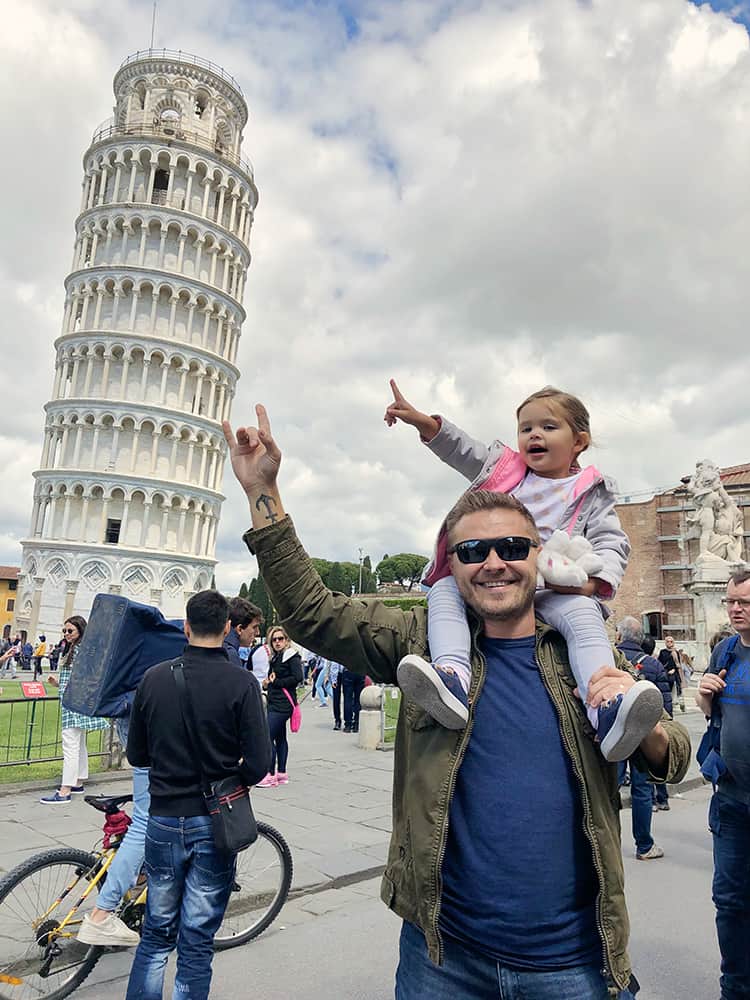 Of course, a visit to the Leaning Tower of Pisa is a must. But there are plenty of other things you can explore in the city. Enjoy the outdoors at San Rossore Park, travel across the Ponte di Mezzo bridge, or visit Scotto's Garden.
Click here to book a tour of the cathedrals and tower in Pisa.
---
Best Time to Go on a Road Trip in Tuscany
The most ideal times for a road trip are in spring (May and June) and autumn (September and October). Given that Tuscany has a fairly pleasant climate, you can enjoy the warmth of the seasons and squeeze in some beach time.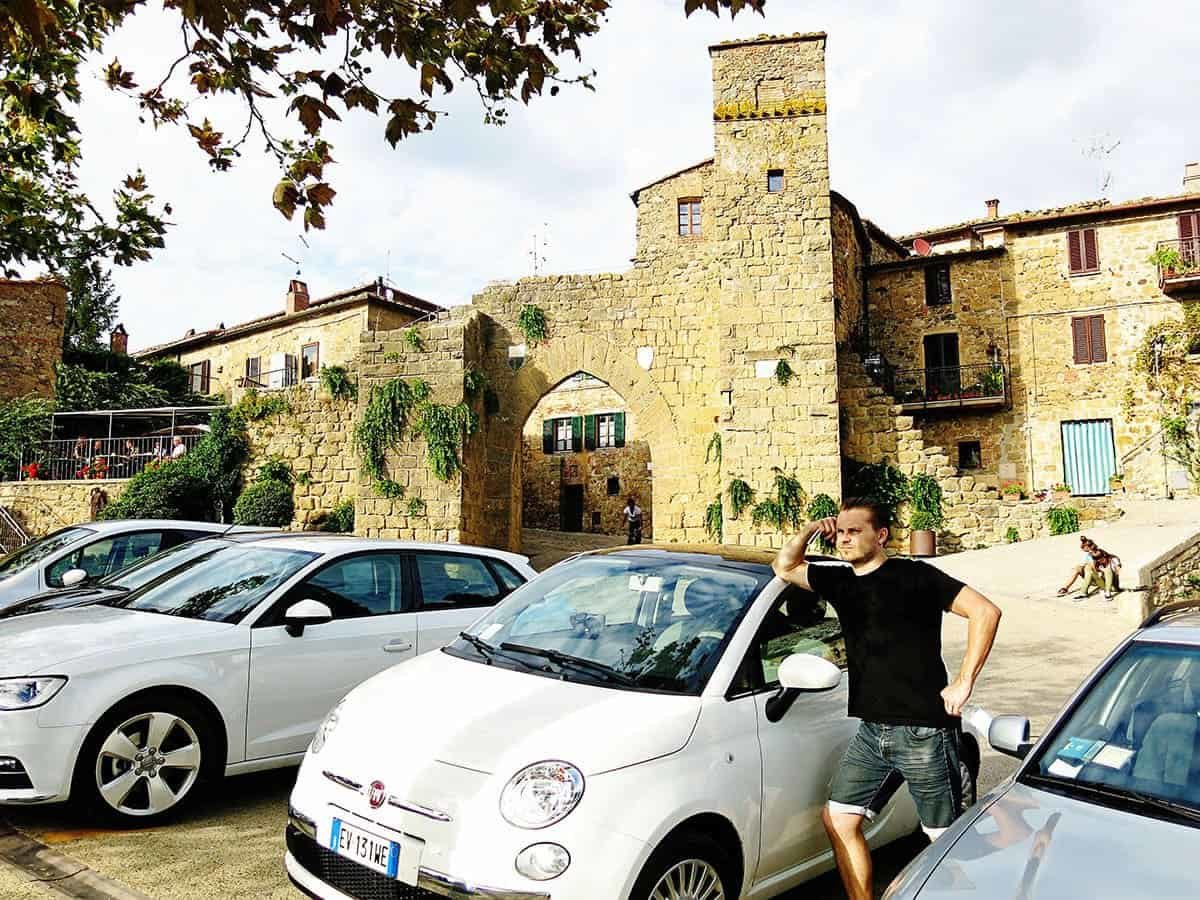 We'd recommend a trip to Tuscany in July and August if your hearts are set on a coastal holiday. But keep in mind, that while planning a Tuscan trip in summer is ideal for beach trips, the roads, hotels, attractions, and restaurants become extremely busy during this period.
This means summer is not the best time to be road-tripping through Tuscany. If you're road-tripping in the summer, be sure to plan in advance.
Some nights you might not have accommodation booked, and if you're traveling during peak season, this may be a problem.
---
5 Tips for a Successful Tuscan Road Trip
While it may be unusual for some to drive on the opposite side of the road, driving in Tuscany is easy. Take things slowly, this isn't a journey that's worth rushing.
There's too much beauty and charm along the way that you may miss.
1. Rent a Car with GPS
This is a must for Tuscany road trips. A GPS saves you a whole lot of stress and plenty of time. If you can't manage to rent a car with a GPS, we recommend purchasing an Italian sim card.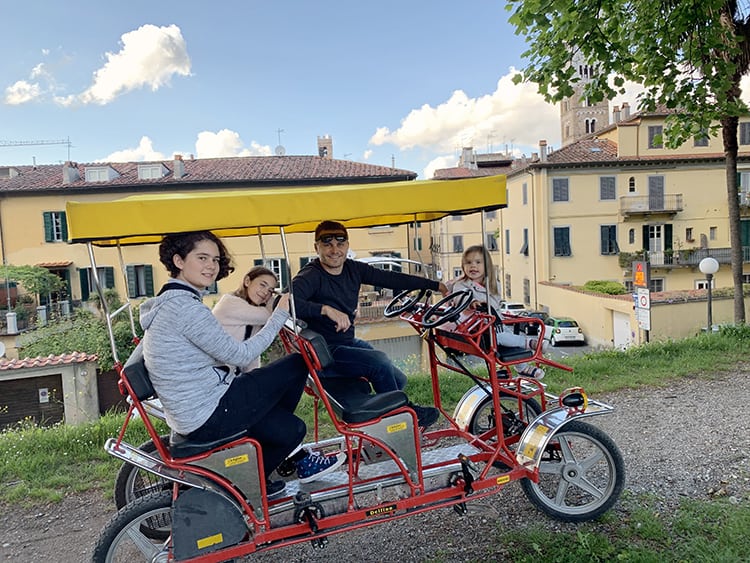 ---
2. Get an International Driver's Permit
You'll always be required to be driving with an international driver's permit during your Tuscany trip. You can easily collect one of these from your home county's AAA, just don't forget to add it to your to-do list.
---
3. Drive with a Limit
A speeding ticket won't be sent to you immediately during your stay in Italy. They take a while to process and you might not even know you have a speeding ticket.
It's not going to be fun when you get back home and realize you have an extra cost.
Drive with a speed limit to easily avoid this happening. It's also an extra safety precaution on the curving countryside roads.
---
4. Avoid Driving in Old Towns
There tends to be plenty of speeding cameras in small towns, and the fines are pretty hefty! Rather hop out once you've found parking and wander along on foot.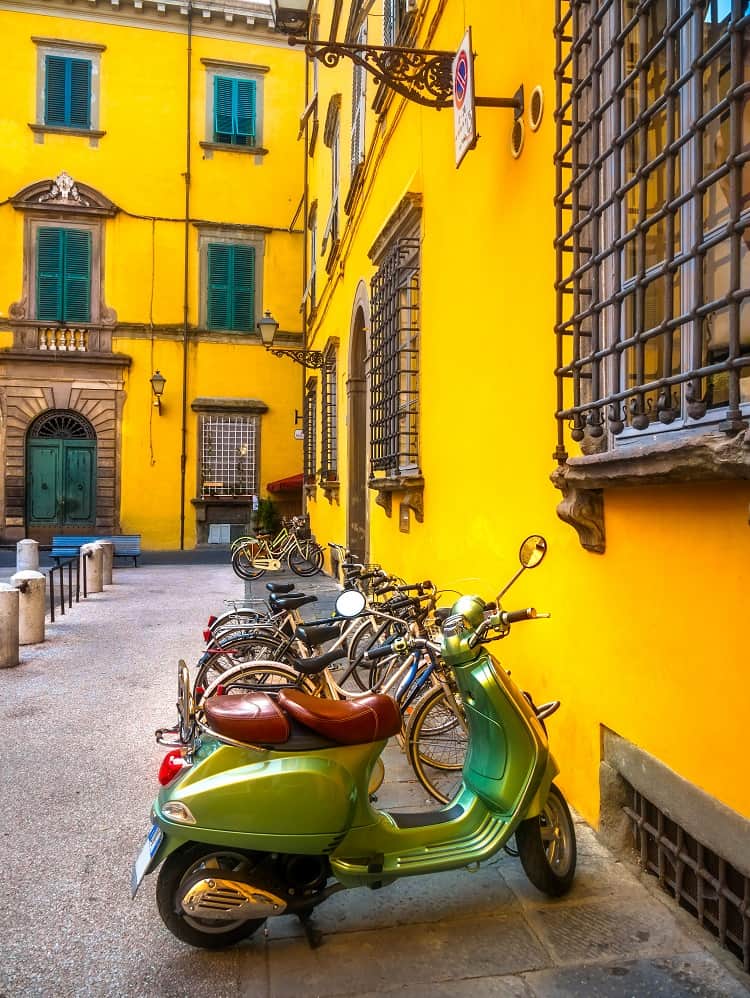 ---
5. Have a Backup Sim Card
A sim card is super useful for road trips, as you can google what's what and learn some fun facts about a town. You can also research parking spots, and places to eat, and find out what the main attractions are.
---
Where to Stay When Driving Around Tuscany
Where you'll be staying depends largely on how long you're planning on road-tripping around the region.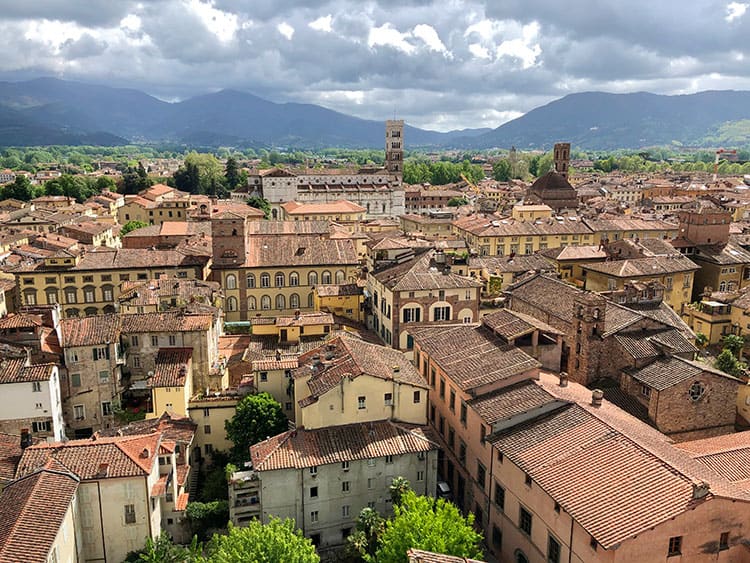 You have the freedom to create a road trip that'll get the most for your family. One way to road trip around Tuscany is to plan out a circular route to the region.
Or, the easier approach would be to establish a base that's stolen your heart, and journey out to a new town each morning.
Lucca is a particularly charming little Tuscan town that is absolutely perfect for staying over and doing day trips to other towns.
Check out the current prices for Lucca in Villa Lucrezia here.
---
To Conclude your Tuscany Road Trip
To make the most of your Tuscan road trip, plan ahead. There are so many cities here that are worth adding to your bucket list. You won't want to miss them out.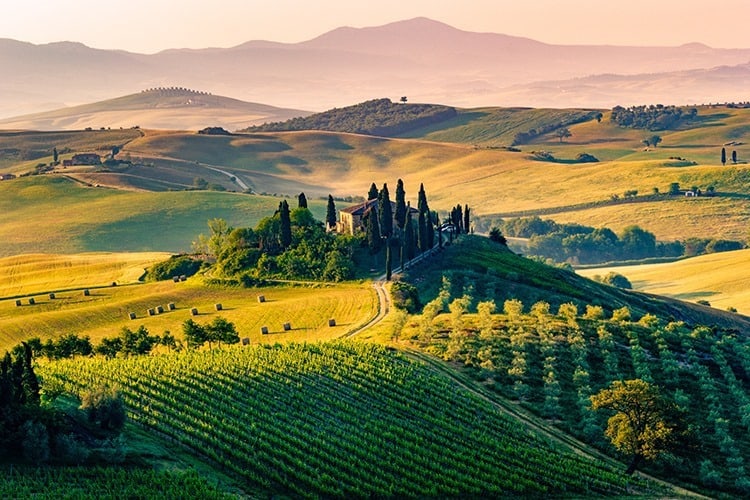 Visit famous museums, explore the ancient ruins, zip along the heavenly countryside roads, and have your fair share of family adventures.
Because all the towns are relatively close, you won't have to spend all day in the car. Which is another reason why there's no better place to do a family road trip than the iconic Tuscan countryside!
''Jobs fill your pockets, but adventures fill your soul.''

Jaime Lyn (Click through to see more quotes on adventure here.)