Italy is probably one of the most beautiful places in Europe to visit. It boasts a rich cultural heritage and picturesque landscapes and is a great favorite among solo travelers, families, and kids alike.
There are so many beautiful cities in Italy to visit from the historic beauty of Rome to the many canals of Venice and of course, when visiting these beautiful places in Italy one should definitely indulge in lots of pasta and wine!
One could very easily spend many months exploring the beautiful country of Italy exploring every little street but if you don't have a lot of time on hand, this list of the most beautiful cities in Italy will help you decide where to visit.
25 of The Most Beautiful Cities in Italy
Our prettiest cities in Italy guide will help you decide when and where to visit and make the most of your stay here in Italy.
From the must-see places in each city to even where you can enjoy and sample some of Italy's finest food and wine.
1. Rome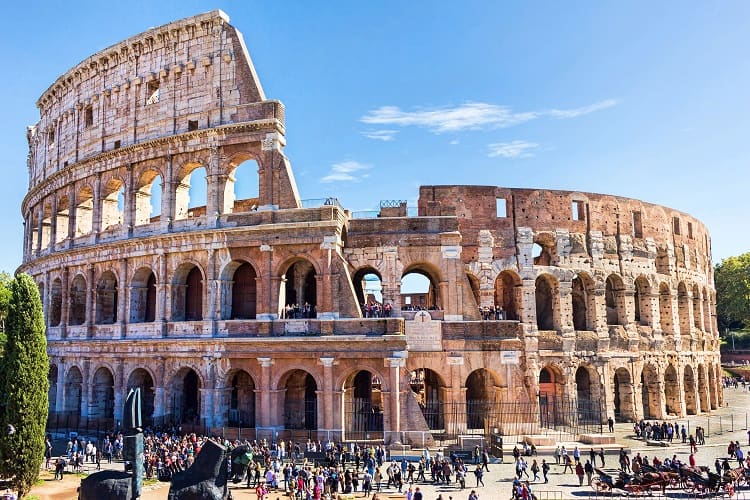 The glorious Eternal City is called Rome. A city so incredibly rich in history, from the glutinous Romans and the almighty gladiators to the deep dark secrets of the underground catacombs.
There are so many things to see in Rome, and so much fun to have whether you're a traveling couple, family on holiday, or solo traveler.
Explore the streets of Rome by visiting some of its most iconic landmarks like The Pantheon which is nearly 2000 years old or the gorgeous Trevi fountain that boasts a grand 26-meter structure built in the 18th century.
If you fancy a guided tour in Rome and be sure to visit the crypts and catacombs of Rome, Italy. The tours for these landmarks are kept in small groups and the tour guides have such a wealth of knowledge that you will find them so interesting! We were extremely impressed and recommend this tour to anyone wanting to travel to Rome.
One of the best sites to visit with kids is the Mouth of Truth or known to the locals as Bocca Della Verita. The legend that goes with this giant carved statue will be sure to get the kids excited and intrigued. The legend (that will get the kids talking or not) has it that if a liar sticks their hand into the mouth, their fingers will be bitten off!
If visiting any of the many sites in Rome, remember to wear clothes that cover shoulders and knees, or take along a cover-up for the visits, as you may visit and enter many churches or religious sites.
Finish your days in style! There are plenty of great places to grab a drink after your full day, however, we recommend that you pick one of the many rooftop bars in Rome.
Further Reading:
---
2. Venice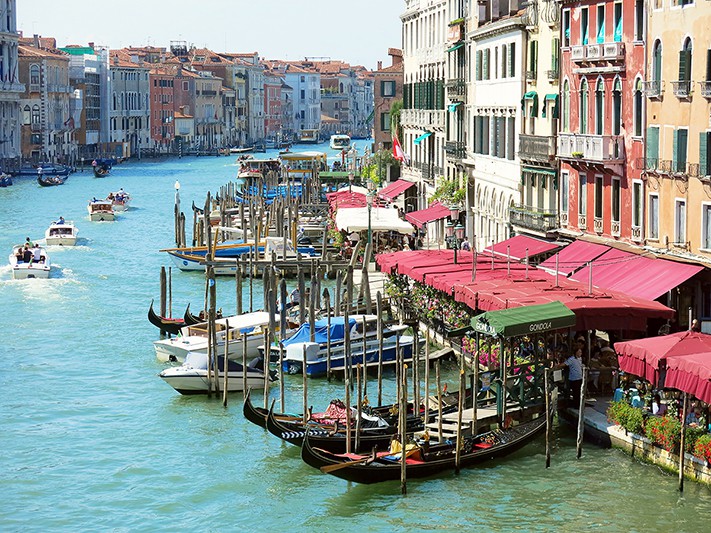 Many refer to Venice as The City of Love due to the many canals and romantic Gondola rides that you can enjoy through Venice. This is definitely not incorrect but you may be please to know that Venice is a gorgeous city in Italy and has so much to enjoy and see.
The city of Venice is a city full of gorgeous rustic canals and picture-perfect walkway bridges with small, inviting cafes scattered along the many stunning lanes – make sure to stop at one and enjoy a lovely Italian coffee when exploring the streets of Venice.
When you would like to immerse yourself in history explore Doge's Palace and be blown away by the splendor and rich details of this magnificent place, it is almost overwhelming!
Visit one of Italy's world-renowned squares, San Marco Square. This historic and beautiful site is over a thousand years old, that displays a great example of Renaissance architecture.
When strolling through the streets at night, you must visit St. Mark's Basilica, It is one of the world's most magnificent churches, especially when viewed at night! The mosaics at night are just stunning as the evening light streams through them, illuminating the faintly lit church, you'll lose your breath.
These are just a few of the Venice activities to do when visiting Venice but for a full list of all the romantic things to do in Venice be sure to read our guide.
This city might be extremely touristy (and I highly recommend you avoid visiting during the high season), but it is so worth going as it is the prettiest city in Italy!
---
3. Matera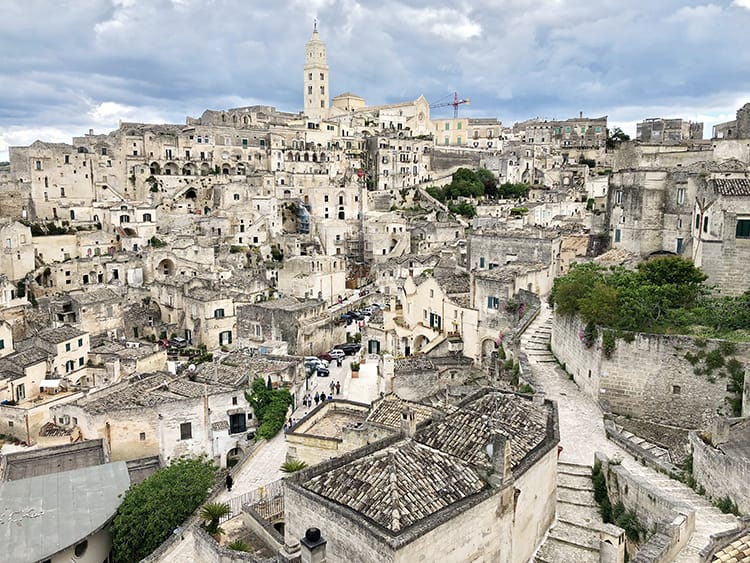 Located in the region of Basilicata, in southern Italy is an ancient town called Matera. This small town is famous for its vast cave networks, which have been inhabited since the Paleolithic era. These caves are referred to as the Sassi, which means 'stone' in Italian.
If you are looking to explore one of the most unique and interesting places in Italy, then Matera is a must-visit as the Sassi caves are among the most stunning architectural structures in the world.
Of course, if you are visiting Matera you will want to visit the caves. Among the Matera Italy caves, Casa Grotta is a must-see. It is a former cave home that is still furnished and made to reflect the living conditions of the past.
Another interesting site is the Church of Madonna de Idris. It is a very small church in the town of Matera that is cut into a large rock. Head inside and you will be surprised by the fresco painting on the walls dating from the 12th – 17th-centuries.
Top tip: Visiting Casa Grotta over Casa Noha is a more pleasant experience as it is much quieter and not as busy with tourists and visitors.
If you fancy a little trip to just outside Matera, you should visit the Crypt of Original Sin – a cave in southern Italy, on a private vineyard, filled with thousand-year-old biblical frescoes. It is available to visit with advanced reservations only.
Here is a list of other things you can do in Matera during your stay.
If you stay in Matera there are some great options however we recommend the Corte San Biagio which is located inside Matera's Sassi. The home is spacious and although carved out of stone, it is so luxurious and equipped with all modern amenities. The view of the city from the sun terrace is spectacular.
---
4. Florence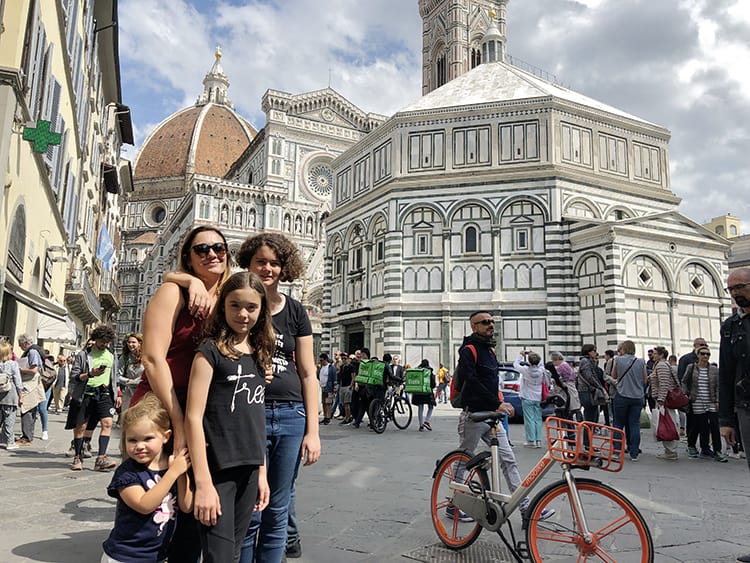 A trip to beautiful Italy without a visit to Florence at least once is not complete!
Florence has it all so no matter if you are traveling as a family, a couple, or even alone, you will find plenty of things to do when visiting this spectacular city.
Florence is steeped in history from the Renaissance era and is beaming with culture and beauty.
One of the best things to do in Florence is to visit the famous Piazza Della Repubblica.
If you are traveling with kids let them have a ride on the antique carousel whilst you enjoy a coffee from one of the amazing Florentine cafes!
Reminisce about your childhood and bedtime stories and visit the Bartolucci wooden toys workshop. This store is famous for the generations of wooden toy creations; such as the one and only Pinocchio!
For some history and culture be sure to visit the Statue of David located in the Galleria dell'Accademia.
This infamous statue was created by non-other than the amazingly talented artist, Michelangelo.
Head to the Basilica di Santa Maria del Fiore which is located in the heart of the great city of Florence.
Its' marvelous marble construction is a stunning gem to gaze your eyes upon and once you reach the 463 steps to the top of the tower, the view over the city will definitely serve as a great reward for all your effort!
If you want to make sure that you tick off the best activities to do when in Florence make sure to read our Florence guide that has all the best places and sights to see.
And for those looking for a more adult experience, we can also highly recommend booking at least one of these Tuscany wine tours from Florence.
If you plan on staying in Florence, the Corte Calzaiuoli Elegant Suites is situated in the heart of Florence with a breakfast room that overlooks the Orsanmichele and Via Calzaiuoli is just 200 yards from Piazza Della Signoria and Palazzo Vecchio.
---
5. Orvieto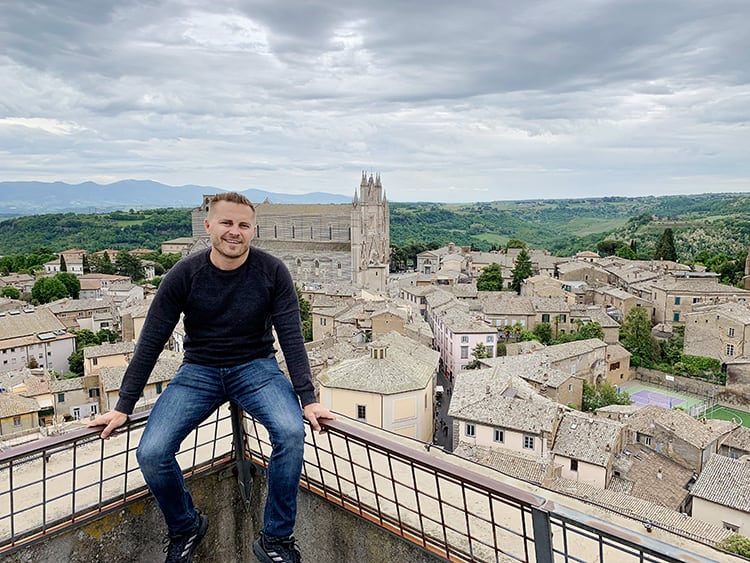 Orvieto has some truly incredible sights to see in this historic city. The great thing about this city is that you can see most of these sights on a walking tour so you are sure to love every second spent exploring its storied streets.
Discover the Pozzo di San Patrizio, a historic well in Orvieto. The well was built when the city's water was feared to run out in the event of a siege and has become an incredible example of innovation. Take a memorable walk into the well as you pass little windows and get a unique taste of the city's history.
Take a stroll through the Pozzo Della Cava and discover remnants of the pottery made below the city. You will be amazed amazing by the underground cellars that were used for all sorts of activities including workshops, stables, and a ceramics furnace.
After exploring the city of Orvieto, you are bound to be hungry and there is no better place to experience the delicious food than at Ristorante Grotte del Funaro Nuova. It has a great laid-back atmosphere and incredible dishes at a great price. You can enjoy a variety of dishes from tasty seafood to hearty soups or classic pizzas.
This is just a glimpse of what you can see and do in Orvieto and no matter what you do decide on doing you are sure to have an incredible time.
---
6. Ostuni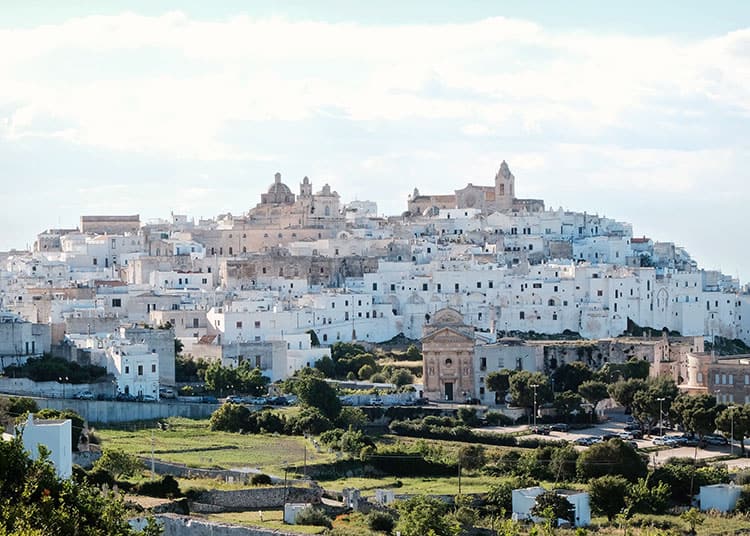 Ostuni, also known as the White City, is one of the greatest jewels of the Puglia region in Italy. With winding alleyways, whitewashed stone buildings, and plenty of historic charm, this southern Italian city can't be missed.
Ostuni is built atop a hill, surrounded by beautiful olive groves of the Trulli country. Ostuni is a fairly small destination, however, there are so many details and things to take in. Spending at least 1 to 3 nights here will give you enough time to really explore and learn about this wonderful city.
The ultimate joy of visiting Ostuni comes from simply immersing yourself in the old town, or the Centro Storico. Walking around the winding little streets and stone alleys reveals the character and history of Ostuni.
Spend some time admiring the unique white city architecture typical of Puglia. There are plenty of cute little shops, trattorias, and cafes that are well worth popping into.
If you are in Ostuni over the weekend be sure to visit the Ostuni Street Market that happens every Saturday. Farmers from around the area gather to sell their fresh produce and local goods. Whether you are interested in purchasing the most authentic local ingredients, or just want to join a fun buzz, then this market is the place to go.
When strolling through Ostuni, you will most likely end up at the lower city walls. Take a walk along the walls for wonderful views and perfect photo opportunities.
If you plan a visit to Ostuni, you should also include some of these top places in Puglia.
---
7. Ragusa Ibla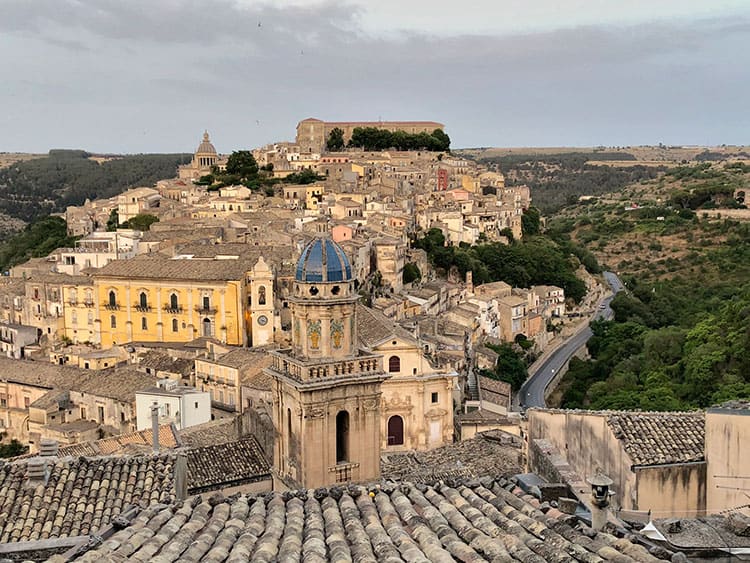 Ragusa is made up of two towns, the old and the new. Ragusa Ibla is the oldest section in the city of Ragusa in Southern Italy and is of course in the old town. It has a unique layout, with a seamlessly never ending row of buildings and houses.
It's the perfect city to get lost in, as it is one of the best cities to visit in Southern Italy.
Ragusa Ibla is a gorgeous hilltop city that boasts some incredible baroque churches and palaces, including the elegant Cathedral of San Giorgio. The stunning church facade has a long staircase leading up to large columns, ornate statues, and decorated portals.
The main reason to visit, though, is to explore the old streets and admire the captivating architecture and we recommend visiting both the old and new sections as they are both well worth exploring.
If you fancy getting away from the streets and city or town, there are some wonderful walking trails at a local nature reserve called Irminio.
---
8. Lucca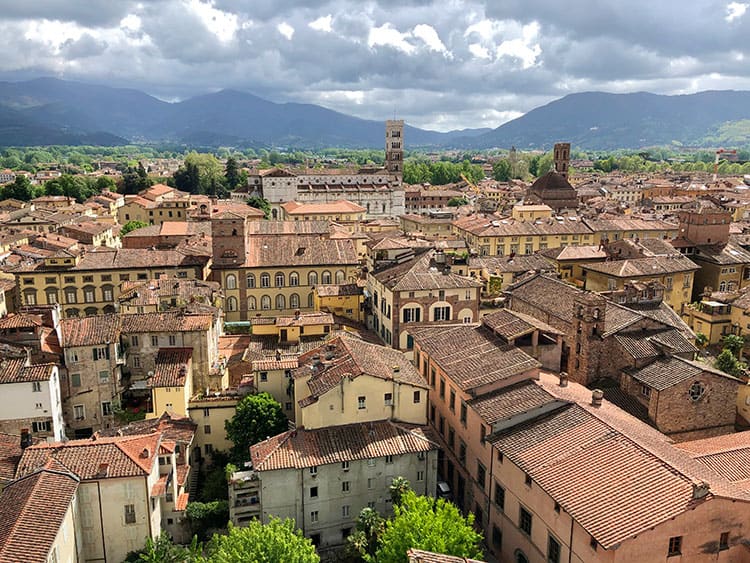 Lucca is a Tuscan city, renowned for its Roman and Medieval architecture. Beautifully preserved and surrounded by mountains, it's a dream destination for the laid-back travel.
It is definitely worth spending a few days as there is so many things to see and do in Lucca that a day trip is not enough time!
Lucca's greatest draw is its history and enchanting architecture.
Take a trip to the Guinigi Tower. No doubt when you first entered this amazing city this is the first thing that you saw. This towering structure is one of the most beautiful Lucca Italy points of interest. It stretches up 45 meters high and is a beautiful example of the local architectural style.
There are 232 steps to the top, where you'll be rewarded with its most unique feature – a rooftop garden with ancient oaks. You will also have an amazing panoramic view over the historic city.
One of the best Lucca things to do is to rent a bicycle and explore the city's historic defensive walls. The tree-lined walls surround the whole city, and stand 12 meters high, offering a perfect vantage point.
You'll be able to look out from the walls to the surrounding countryside and get to see the whole city from above.
It's a great fun family activity, and romantic for couples. We recommend you go bicycling in the evening when the sun isn't so hot and the golden hour makes everything even lovelier.
To immerse yourself into the local feel of Lucca, head to the town square. The piazza is elliptical in shape because it was built atop the ruins of the town's amphitheater – so interesting to see! Vaults and arches from the original amphitheater have been incorporated into the shops and cafes that line the town square.
---
9. Verona
– Recommendation by Heather of Conversant Traveller –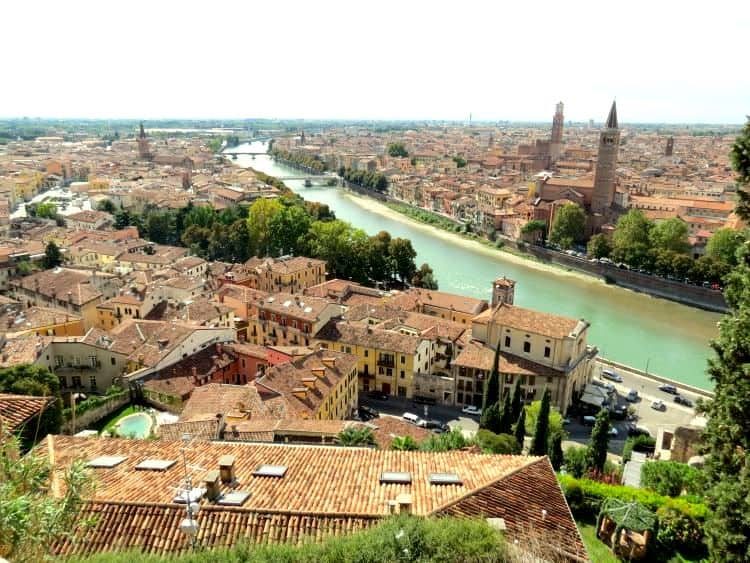 Standing proudly beside the Adige River, Verona is a beautiful medieval city with bags of charm and plenty for visitors to see and do. It's a lot quieter than the busier cities of Rome and Verona, which adds to the laid-back atmosphere, especially if you visit outside of July and August. The streets are full of history, and the architecture is colourful with terracotta roofs adding to the effect. It's one of those places where you really feel like you're stepping back in time.
Whether you're taking a day trip to Verona from Venice or staying a few days, there's a lot of sightseeing to pack in. The city was made famous by Shakespeare's "Romeo and Juliet" which was supposedly set in one of the historical houses here in the old town. You can visit the property and stand on the balcony, see props from the film by Zeffirelli, and pay your respects at the iconic Juliet statue.
For the best city views, climb the pretty Lamberti Tower, which was built in the 12th century and is a great place for getting to grips with the lay of the land. Head to the Arena for an open-air theatre performance or climb the hill to Castel San Pietro for more showstopping views out across the city.
If you're staying for a few days, Le Suite di Giulietta is a lovely place to stay and overlooks Juliette's house. You can even catch some evening Shakespeare performances for free from the guest house balcony!
---
10. Triest
– Recommendation by Cosette of KarsTravels –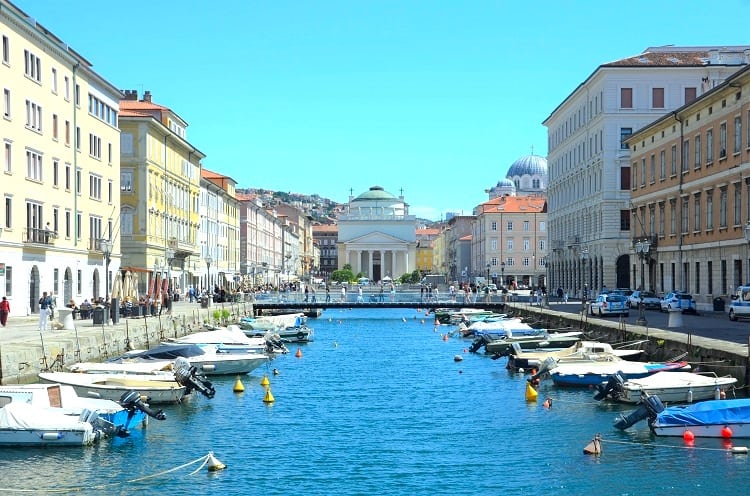 Trieste is a port city in Northern Italy, between the border with Slovenia and the Adriatic Sea. Trieste is a grand city with piazzas, palaces and a canal. From the large piazzas to the beautiful seafront to the Castello di Miramare everything in this city can be described as beautiful.
Castello di Miramare is a beautiful white castle on a coastal cliff. The neo medieval palace is open for visits and is a true fairytale castle. The most beautiful part of the harbor of Trieste is by far the Canal Grande, a canal from the 18th century with the famous Ponte Rosso. A pedestrian bridge crossing the canal.
The Piazza Unita d'Italia is the largest square in Europe harboring the sea. Surrounded with palaces and on one side the Adriatic Sea, you'll feel the grandness just strolling over the square. There's a promenade along the seafront to enjoy mesmerizing sea views.
Trieste is famous as the coffee capital of Italy, the brand Illy has its origins here. So sit down at the historical Caffè San Marco. The café was founded in 1914 and intellectuals, such as James Joyce, gathered together here.
Campground Mare Pineta in Sistiana is a perfect place to stay. It has a swimming pool and a restaurant.
---
11. Bologna
– Recommendation by Trijit of Dog Travel Buff –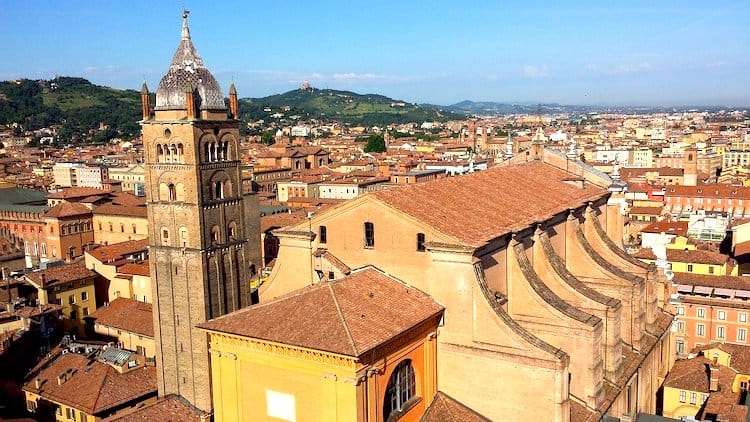 Bologna is the capital of Emilia-Romagna, a northern Italian region. This medieval city is known for its unique food as well as its magnificently designed porticoes and towers, universities, and rich history. This city is also considered as Italy's food capital.
Bologna is a compact city with many of its top attractions clustered together. Bologna, home to its rich cuisine history, notably its namesake Bolognese pasta, has a rich history, high-tech innovations, and some of the best eating in Italy. It is a must-see destination for those seeking a really authentic Italian experience.
Bologna is an underrated tourist destination in Italy. You can visit sites that are still authentic, away from the throng, yet offer everything that other popular Italian attractions do. Piazza Maggiore is the main public square located in the heart of Centro Storico. The enormous public square is bordered by religious and administrative buildings and connects several smaller squares. You can find here some of the city's best pastry shops.
The Garisenda and the Torre degli Asinelli, two medieval towers that are emblematic of Bologna, should not be missed. The Torre degli Asinelli has around 500 steps to the top. It's not easy, but you'll be rewarded with breathtaking panoramic views of the city. The Asinelli Tower is the world's tallest medieval structure.
Thankfully, all of Bologna's landmarks are within walking distance.
In Bologna, there are numerous places where you may sample traditional Italian cuisine. Spending a good lunch at one of Bologna's many great restaurants is the best way to ensure you end your Bologna trip on a positive note. Casa Monica is highly recommended. It's warm and inviting, and the food is of fine dining quality at a fair price.
You can stay at Zanhotel Regina which is located between the main train station and Piazza Maggiore. They offer elegant modern rooms, free WiFi and all other basic amenities at a reasonable price.
---
12. Genoa
– Recommendation by Sarah of A Social Nomad –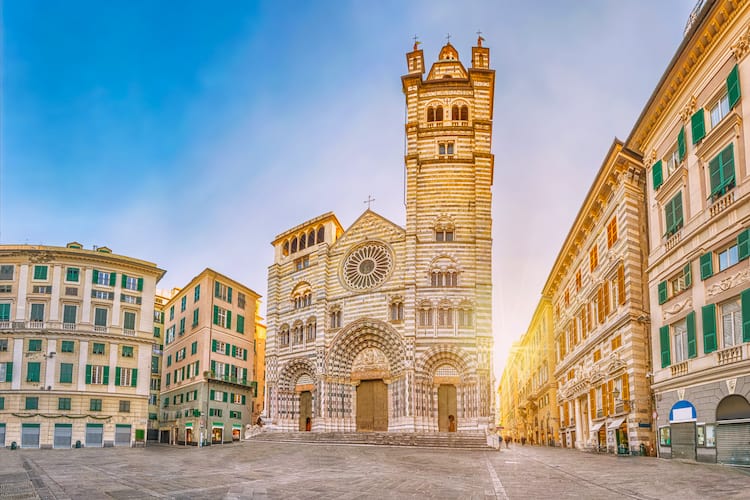 Located on the Mediterranean sea, Genoa has a glorious large natural harbor, with the historic center crowding down to the water's edge.
Much of the beauty of Genoa was built in the years between the Renaissance and the Baroque era, in a time known as the Golden Century. This was when the rich nobles of Genoa built the "Rolli" Palaces – unofficial palaces available for state visits.
Still standing today they are Genoa's UNESCO Palaces and are stunning. But Genoa's beauty doesn't stop there – intricate mazes of tiny, narrow streets safe from the traffic make this city easy to walk around and explore.
There's very much a café society here too, on these pedestrian streets and they add significantly to the ambiance of the city.
There are a variety of ways to explore Genoa, but the best is to start with a walking tour of the historic center that will orient you to the city, and lead you to all the great places to eat here, after all, this is the region of Italy famous for pesto, focaccia and amazing olive oil too.
It's recommended to stay in the old town to be close to all the Genoa Attractions, the Hotel Bristol Palace is perfectly located and its elegance will remind you of the Rolli Palaces.
---
13. Bergamo
– Recommendation by Maggie of The World Was Here First –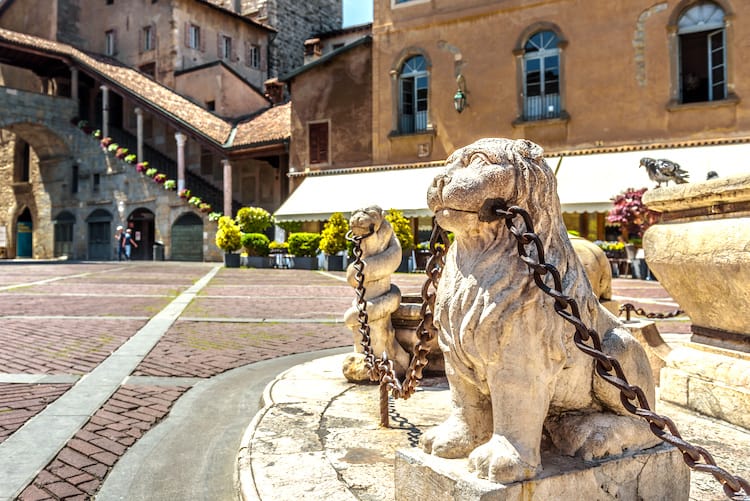 If you're on the hunt for an absolutely beautiful city to visit in Italy, then look no further than Bergamo.
Located in the Lombardy region of Northern Italy, many treat this beautiful historic place as simply an airport city as it is one of the main cities close to Milan.
However, it is very much worth spending at least a day in Bergamo itself as the city has a lot to offer visitors.
Bergamo is split into two areas – the Citta Alta and the Citta Bassa (or the upper and lower towns). The Citta Alta is the historic centre of Bergamo – home to the incredible Basilica di Santa Maria Maggiore, the Duomo di Bergamo, the lovely Piazza Vecchia among many other sites.
Take in the views from the Campanone tower or ride the funicular up to the Castello di San Vigilio to get one of the best vantage points of Bergamo below.
If you're a fan of parks and landscaping, make sure to explore the botanical gardens and, of course, you cannot miss a walk along the UNESCO-listed Venetian Walls.
The Citta Bassa also has a lot to offer, from plenty of wonderful restaurants and cafes to a bustling energy that is worth experiencing.
All in all, visiting Bergamo is never a bad idea and it is certainly one of the most beautiful cities in all of Italy.
---
14. Siena
– Recommendation by Martina of Places of Juma –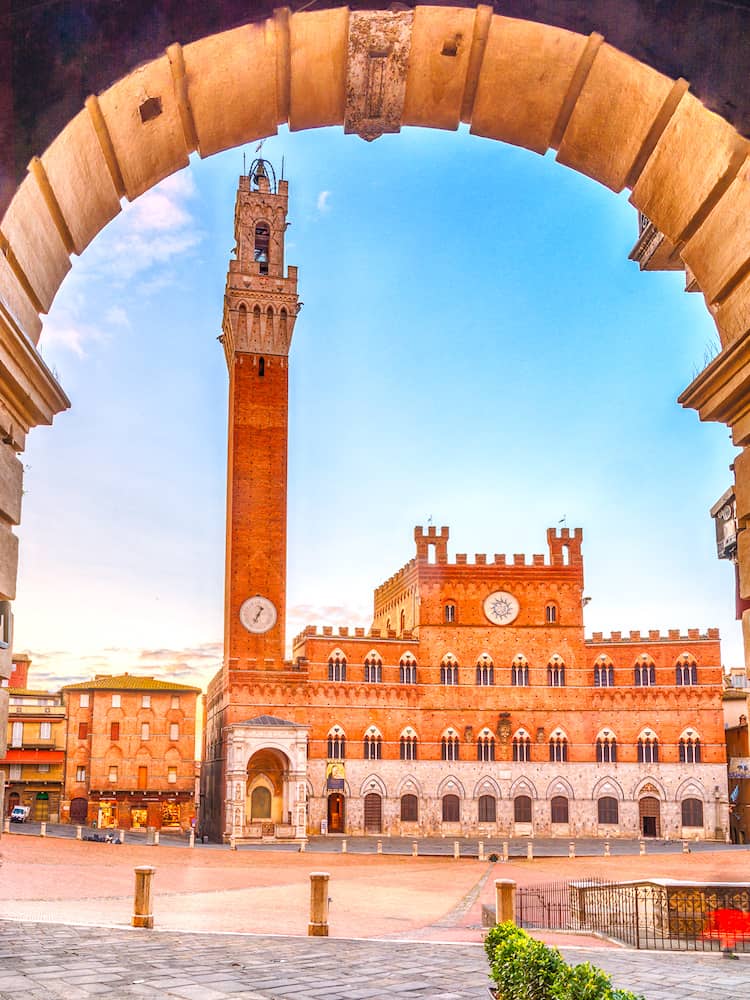 Siena in Tuscany is definitely one of the best cities in Italy and it is definitely worth a visit! During a city trip you will discover a whole series of interesting sights, romantic squares and buildings dating back to the middle age.
The absolute highlight and truly unique is the Piazza del Campo, known as one of the most beautiful historic squares in Italy! There you will be amazed by the medieval buildings that make this city so unique in Italy.
Truly beautiful is also the Fonte Gaia fountain, which used to supply Siena with water and today delights with its numerous decorations and details. Very interesting is the Palazzo Pubblico, the town hall, and the imposing Torre del Mangia, the 102-meter-high tower, from whose observation deck you can enjoy a breathtaking view over the city, but also over the Tuscan hinterland.
But not only the main square is worth seeing, also the offer of pretty cafes and restaurants is fantastic there. During lunch or a romantic dinner visitors have the chance to enjoy Italian flair at its best.
Not far away is another highlight: the Cathedral of Siena, also called Duomo Santa Maria della Scala, which is one of Italy's most important sacred buildings. In the cathedral complex there are also museums, libraries as well as brilliant viewpoints, which should not be missed on any trip.
However, the Italian city of Siena is also famous for the traditional horse race Palio di Siena from the Middle Ages, which is held in the main square. This event takes place twice a year, on July 2 and August 16.
---
15. Ferrara
– Recommendation by Sarah of Life Part 2 and Beyond –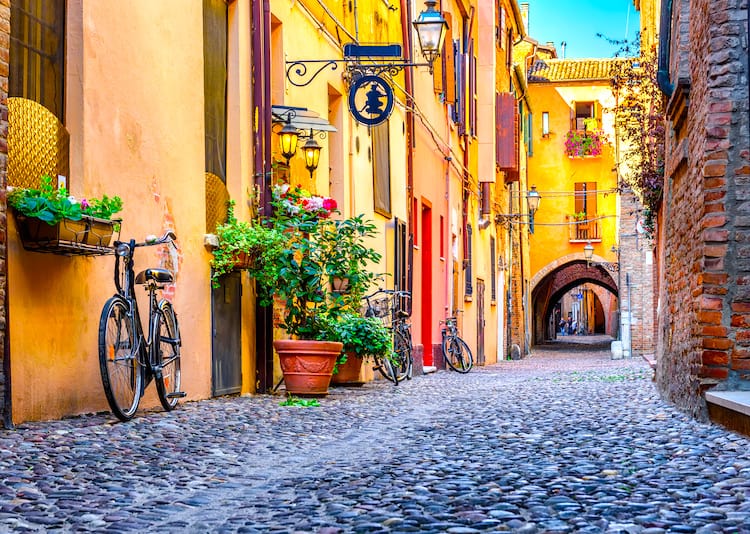 The beautiful city of Ferrara in the Emilia-Romagna region of northern Italy is a delight to explore. With a towering castle, an impressive cathedral, fabulous piazzas, a diamond palace, parks and many monuments, there is plenty to keep you busy in this delightful UNESCO world heritage city.
Do as the locals do and enjoy a coffee or something a little stronger in one of the charming Piazza Trento e Trieste cafes. It's a fabulous place for people watching and relaxing.
Then take a wander around one of the weekend farmers' markets.
Enjoy a bicycle ride around the old city walls, followed by a drink at the world's oldest wine bar.
Join a walking tour and learn the fascinating history of the historic centre and its Jewish ghetto.
Be sure to try Ferrara's signature dish, the capellacci di zucca – hat-shaped pasta filled with pumpkin – delicious.
Top tip: If you visit Ferrara on a day trip, especially on a Sunday, make lunch reservations in advance. The city is a very popular day trip from nearby Bologna.
Fallen in love with the city and want to experience one of the many excellent restaurants and stay overnight? Then I'd recommend staying at the Locanda Borgonuovo B&B, a very short walk from Ferrara's main sites.
---
16. Parma
– Recommendation by Balogun of The Quick Travel –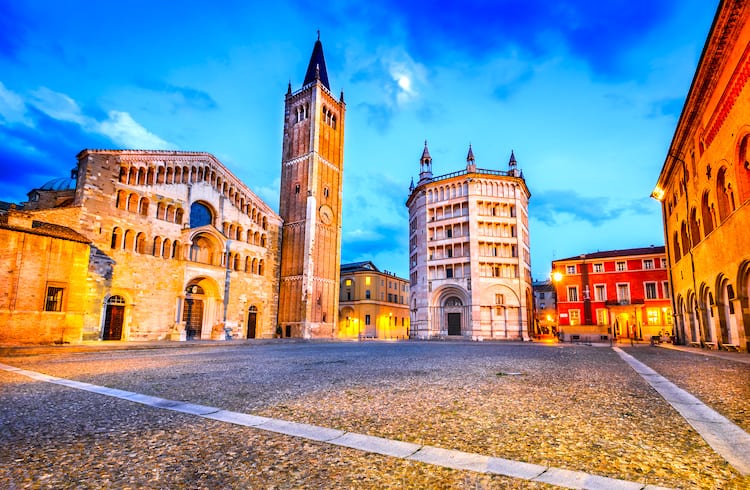 The city of Parma boasts of several good food choices. It is a beautiful city with lots of Italian food you can choose from.
My favorites are the famous Parmesan cheese and Parma ham eaten in the restaurants and areas of Parma. They taste so good and the best thing is – they're made with local produce and traditional cooking.
I know some people prefer Bologna but really, I prefer Parma as I find this city to be very open, clean, and elegant.
There are also lots of great shops and is a very important city in Italy as far as music is concerned as it's home to Toscanini and Verdi.
When you explore Parma be sure to get a cumulative ticket which includes the Duomo, the Baptistery, and the Museum on the Piazza. They were all magnificent and a must see when visiting Parma.
Hotel Torino is located in a great location in Parma and has some of the best views of the city activities.
One of my favorite experiences in Parma is the lovely Ducale Park. The amazing Ducale Park is situated in the middle of the city and has a very relaxing atmosphere.
If you need a break from city life, that is the place you need to go. Not packed with tourists either, so you can enjoy a whole new Italy to the fullest.
---
17. Bolzano
– Recommendation by Lyndsay of The Purposely Lost –

As the capital city in the Trentino-South Tyrol region, Bolzano can easily be considered one of the prettiest places in Italy. It's surrounded by the Dolomite Mountains, which means that you can find excellent outdoor activities like hiking, skiing, and snowshoeing no matter the time of year.
Wander through the city's cobblestone streets to window shop and grab a bite from a cafe. The city also has several historic buildings in the Gothic style from the Middle Ages that you can visit.
The best way to see Bolzano's most incredible views? Take a ride on the Renon cable car. You'll soar high above the city into the mountains to capture breathtaking views of the peaks with Bolzano below.
Although the city is incredible to visit anytime throughout the year, Bolzano at Christmas is the best time to go. It is home to the largest Christmas market in Italy, which runs from the end of November through early January.
If you want to stay in Bolzano in style, book a room at the Stadt Hotel Città. Right in the center of town next to Piazza Walther. This 4-star hotel offers luxe amenities like spa services, a steam room, a sauna, and finishing touches like soundproofed rooms, down duvets, and heated floors–perfect for those cold winter nights.
---
18. Modena
– Recommendation by Melissa of High Heels and a Backpack –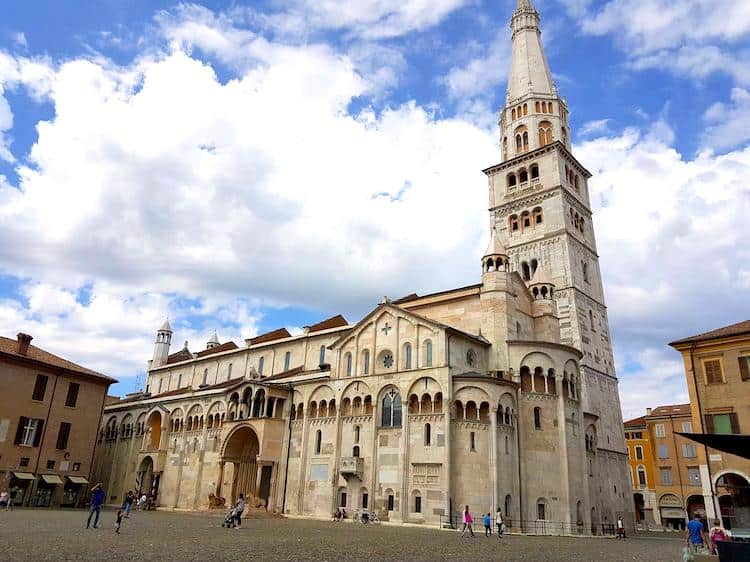 A lot of people forget about Modena when they are planning a trip to Italy. However, this gorgeous foodie city is a highlight of any visit to the country's Emilia Romagna region.
The city boasts a blend of ancient and modern architecture. Here, centuries-old masterpieces sit beside sleek, contemporary creations.
In particular, look out for the Torre Ghirlandina. This spectacular tower dates back to the 12th century and is visible from virtually all corners of the city.
It is part of the Cathedral of Modena and has become an iconic postcard image of Modena Indeed, the structure is so beloved that it received UNESCO world heritage status in 1997.

Sampling regional cuisine is as much of a highlight of a trip to Modena as seeing the sights and there is ample opportunity to do that. Several renowned Italian products and dishes originate from Modena. Most notably, balsamic vinegar which is a product of designated origin (PDO) that hails from this area.
Many of the delicatessens in Modena offer balsamic vinegar tastings. It may sound peculiar, but you will be surprised by how much variety there is between the different products.
This also makes a great souvenir from your trip! In particular, Enoteca Ducale, Mercato Albinelli, and Acetaia di Giorgio are excellent delicatessens to add to your radar while in town.
Piazza Grande is the main square of Modena. It is encompassed by a plethora of charming stores selling the very best in Italian fashions.

Many of the stores here selling exquisite handmade scarves, leather shoes and purses. The nice thing about shopping here is that you are assured to have something that nobody else has.
Treat yourself to lunch at Osteria Francescana – one of the best Italian restaurants in the entire country. If you are feeling brave, you can sample the local delicacy ¨zampone¨ – stuffed pigs feet.
---
19. Viterbo
– Recommendation by Lisa of Travel Connect Experience –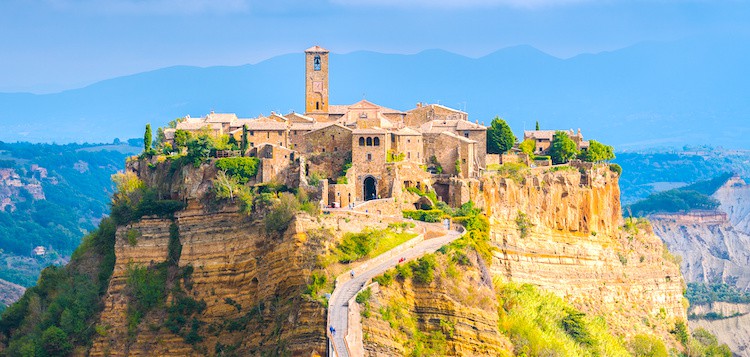 Viterbo, in the northern part of Lazio, is one of the most beautiful cities near Rome.
Of very ancient origins, as the name Viterbo (from Latin vetus urbe or "ancient city") suggests, it is surrounded by Etruscan necropolises (10-4 century B.C.), the finds of which are preserved in the Etruscan Museum of Rocca Albornoz in the city center.
The most fascinating part of the historic center is the medieval quarter "San Pellegrino" with the centerpiece being the Palace of the Popes and the Cathedral of San Lorenzo, built with the local pepper stone. As you stroll through the narrow streets and picturesque tiny piazzas di Viterbo, admire its many fountains.
Viterbo's restaurants offer tasty local food of Lazio at modest prices. Try the "fieno" type of pasta at Restaurant Il Gargolo in Piazza della Morte and the pizza at Il Labirinto in Via San Lorenzo.
On a visit to Viterbo, you can't miss a swim in one of the many thermal pools that are filled with the water from the nearby Bullicame Hot Spring. The pool of Terme Dei Papi thermal center and SPA is 2000 sqm wide (ticket is €18 for the whole day).
---
20. Milano
– Recommendation by John of Your Destination is Everywhere –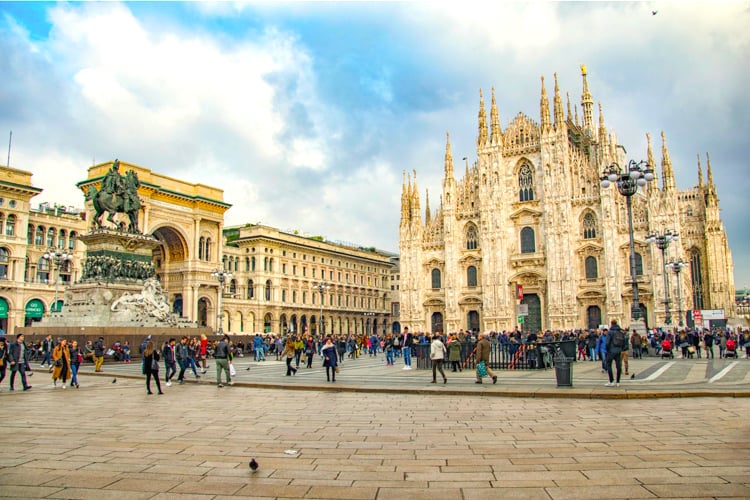 Milan is a beautiful city in Northern Italy, known for being the global capital of fashion and design. Its large collection of museums, art galleries, and shopping centers makes it one of Italy's most visited cities, drawing in over 10 million visitors every year.
A trip to Milan would be incomplete without a stop at the Duomo di Milano. This impressive cathedral is the face of Milan and it will take your breath away. It was completed over the course of 600 years with contributions from 78 architects!
If you love shopping, be sure to stop by the Galleria Vittorio Emanuelle II, the oldest shopping gallery in Italy. You'll see exquisite mosaics, marble columns, high glass vaults, as well as numerous luxury retailers. The "Golden Triangle" neighborhood is another great place to shop, with brands like Prada, Versace, and Louis Vuitton.
For a more unique experience, consider taking a tour of the city on the historic trams while enjoying dinner and wine. Art lovers will also want to visit Santa Maria delle Grazie to see the Last Supper painting by Leonardo da Vinci.
At night, I would recommend venturing out to less touristy neighborhoods like Isola and Navigli because you will get a more authentic Milano experience. Not to mention that the food is likely to be cheaper as well.
---
21. Syracusa
– Recommendation by Annabel of Smudged Postcard –
The Sicilian city of Syracuse has a beautiful old town, hidden away on the island of Ortigia. This warren of medieval streets leads visitors to Piazza del Duomo – one of the most stunning squares in Italy. Here, Sicily's history is displayed in the structure of the cathedral – Doric columns blend with elements of Baroque and Norman architecture. This is the perfect place to sit back and enjoy a coffee or granita whilst admiring 2000 years of Italy's rich history.
Ortigia is surrounded almost completely by the sparkling blue Ionian Sea which contrasts against the glowing limestone palazzi of the city. The narrow streets – with plants cascading from balconies – are filled with interesting shops and inviting bars and restaurants. Evenings see locals and visitors walking along the seafront while children might enjoy a show at the traditional puppet theatre.
Syracuse can be reached from Catania in under an hour and there are some excellent beaches close to the city – although some people swim off the rocks in the city itself. For a stay right in the heart of Syracuse, the Antica Hotel Roma 1880 is in a brilliant location in Piazza del Duomo.
A visit to Syracuse is not complete without a trip to the Archaeological park on the edge of the city. Here visitors will find both ancient Greek and Roman remains.
---
22. Lecce
– Recommendation by Anda of Travel for a While –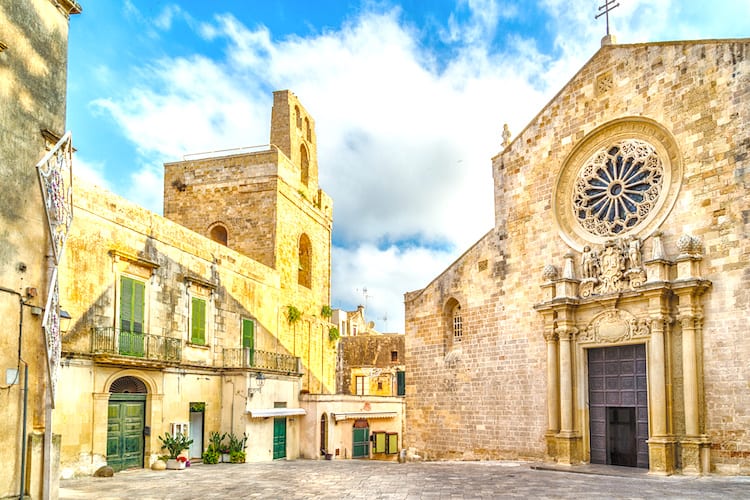 Lecce is the most beautiful city on the Salentine peninsula. It's also called the Florence of the south because of its beautiful Baroque buildings. The local limestone or the Lecce stone makes it even more special. It's a honey-colored stone, soft enough to be easy to carve into but very durable over time.
You can visit the beautiful Baroque Cathedral and the Roman Amphitheater in Piazza Sant'Oronzo. Then, stroll around the streets and enjoy the Italian-style passeggiata. The city has an artistic feel, with many boutique shops selling leather and ceramic. The Old City is delimited by three surviving gates, Porta Napoli, Porta Rudiae, and Porta San Biagio.
Everywhere you look, a beautiful corner, church, or detail will catch your eye. Add to all that the perfect weather of Southern Italy, some great food and a glass of Primitivo wine, and you're in for a perfect getaway.
Lecce is easy to access by train from either Bari or Brindisi. Though it's not a sea town, it's a great base to explore the villages on both the Adriatic coastline and the Ionic sea.
If you want the best possible experience, choose to stay at Lu Leccio, a cozy aparthotel making the most of a traditional building.
---
23. Pisa
– Recommendation by Andreea of Andoreia –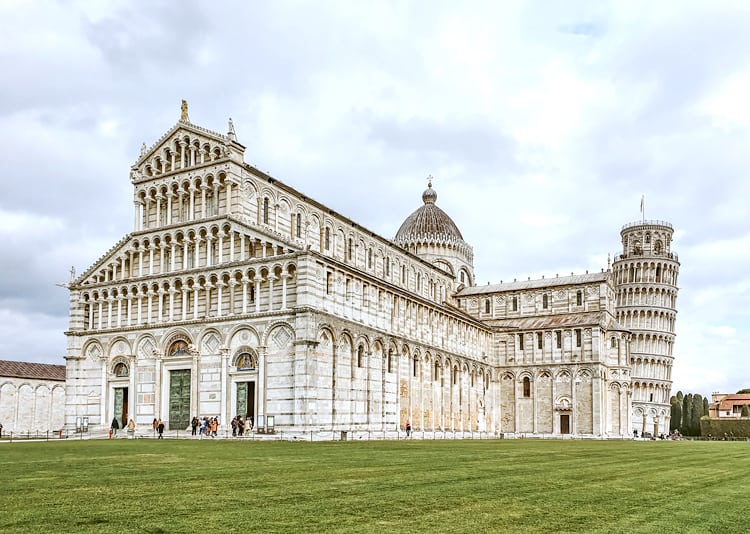 Pisa is a small, picturesque Italian city in the Tuscany region, most famous for its Leaning Tower. Part of the Cathedral complex located in Piazza dei Miracoli, the free-standing Bell Tower started to sink during its construction due to its unstable foundation in the soft ground. And while for a long time, the white marble structure was viewed with shame, now it is one of the most important sights in entire Italy.
However, the Leaning Tower is not the only thing that beautiful Pisa has to offer. Make sure you also visit the other landmarks in Piazza dei Miracoli, take a stroll along Arno river, admire Piazza dei Cavalieri, and marvel at the beautiful gothic architecture of the tiny Santa Maria della Spina church.
Many people choose to spend one day in Pisa, usually as a day trip from Florence and in my opinion, it's the perfect amount of time to discover the best of this historic city. However, you could also opt to spend a few nights here if you want.
If you do visit from Florence, then taking the train is the easiest and most comfortable way of traveling to Pisa. The journey takes about one hour. Don't forget to stamp your ticket before you board the train (unless you bought it online of course). You'll see stamping machines either inside the station or on the platforms.
---
24. Turin
– Recommendation by Or of My Path in the World –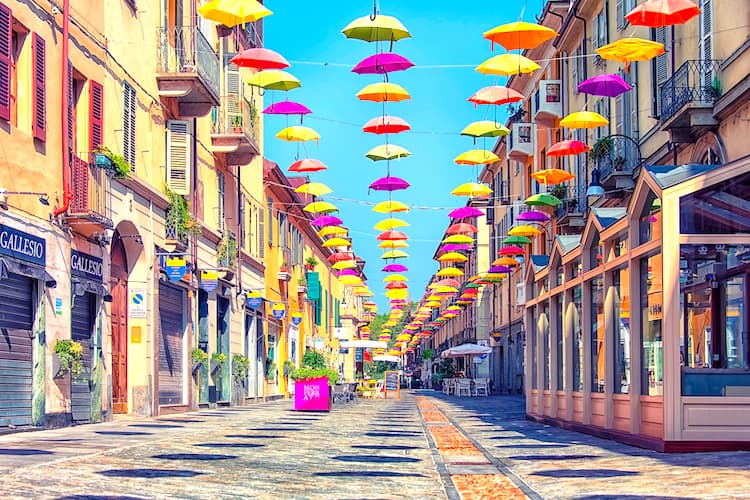 Turin, the 4th-largest city in Italy, is an underrated destination. While it's more known as an industrial city, it is, in fact, a beautiful place steeped in fascinating history and culture. With a charming historic center packed with lovely streets, lively squares, and centuries-old buildings (including some UNESCO-listed palaces), it's impossible not to fall in love with it.
Some of the best things to do in Turin include visiting the 16th-century Royal Palace (Palazzo Reale) which was the power center of the House of Savoy, sipping a cup of bicerin at the city's regal historic cafes, going chocolate shopping, and visiting museums like the Egyptian Museum and the Lavazza Museum.
While the historic center is the main focal point of first-time visitors to Turin, you'll find beauty in other neighborhoods too, including Cit Turin (the queen of Art Nouveau buildings), San Salvario (home to the lovely Valentino Park), and Borgo Po, which is located on the other side of the Po river.
The historic center is also the most popular area to stay in Turin, with an abundance of accommodation options, like Savoia Suite Torino and the famous Grand Hotel Sitea. You can also choose to book your stay in other neighborhoods – Crocetta is a wonderful choice, with great hotels like Liberty Hotel and Maison Rêve.
---
25. Catania
– Recommendation by Lori of ItalyFoodies –
The Sicilian port city of Catania is one of the most beautiful and unique cities in all of Italy, largely due to the active volcano Mount Etna which looms large over the city and in the hearts of every resident.
Once nearly completely destroyed by earthquakes and eruptions in the 17th century, the city was later rebuilt using the very lava that destroyed it, an act that speaks as much to the resiliency of the Catanian people as it does the city's facade. Some refer to Catania as The Grey City due to the rebuilding of the city with the once-molten rock, which gives the structures a distinctive weathered look.
Today, Catania draws adventure travelers and foodies from around the world. Mount Etna is Europe's highest active volcano and many activities revolve around the volcano from hiking to the crater, to night-time tours that let you witness spewing lava from a safe distance.
Despite being Sicily's second-largest city, the Old Town of Catania is surprisingly walkable, and there's plenty to see and do, especially for foodies. Start off with a visit to the Cathedral of the Badia di Sant'Agata where you can see the ruins of a Greco-Roman bath house underneath the church foundation.
Food lovers would head to La Pescheria, Catania's oldest fish market adjacent to the Piazza Duomo. The bustling local scene and food stalls selling fresh fish and prepared tastings will captivate foodies for the entire day.
At the day's end, rest your head at the Agatha Hotel, an historic and moderately priced hotel that offers a great stay
---
FINAL THOUGHTS
This list of the prettiest Italian Cities is a great guide to help you compile your Italy travel bucket list. Which city do you think is the most beautiful city in Italy?
If you want to explore more Italy be sure to look at our Italy Travel Blog Posts to give you more inspiration and ideas of where to travel when visiting Italy.