We agree – there's no place like home! And the time spent away from home makes you miss it even more.
So, how about getting a place that makes you feel at home while you vacation amidst the clear, blue waters of Hamilton Island in Australia?
I think that that sounds pretty good, right?
How To Get From Brisbane To Hamilton Island
First things first, check out our short guide on how to reach Hamilton Island from Brisbane: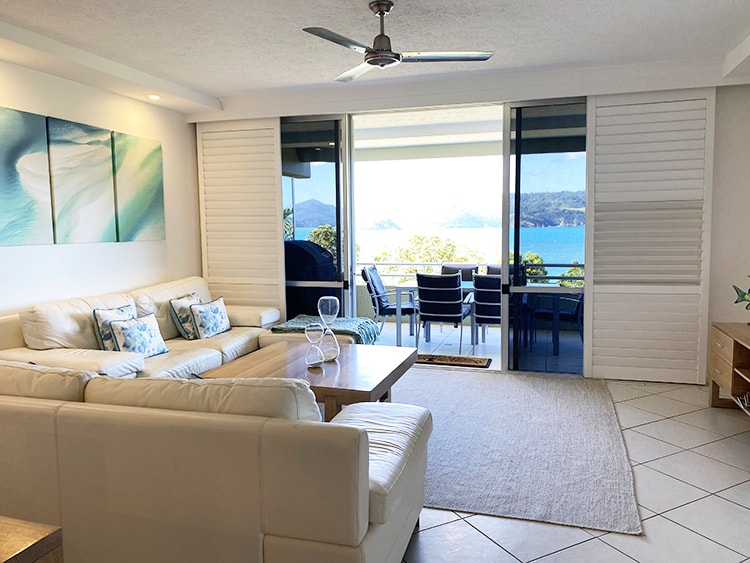 Brisbane To Hamilton Island Flights
The most convenient way to travel from Brisbane (Brisbane International airport) to Hamilton Island (Hamilton Island airport) is via flight. All major airlines like Virgin Australia, Jetstar, and Qantas Airways operate their flights between these two destinations.
On average, there are about 41 daily flights and 291 weekly flights between the two destinations. Hence, you can easily travel at your convenient day and time.
Brisbane To Hamilton Island Flight Time
The distance between the two places is around 557 miles, and non-stop flights may last for anywhere between 1 hour 40 minutes and 2 hours on average.
How To Get To From Airlie Beach To Hamilton Island
Alternatively, you can make your way to Airlie Beach, and then hop over to Hamilton Island from Airlie Beach in no time. Here are a few ways of how to do it: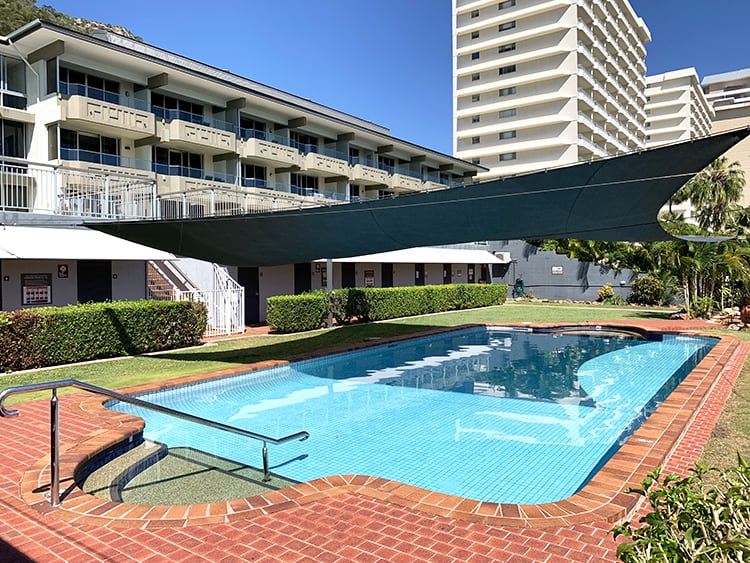 Airlie Beach To Hamilton Island Ferry
Cruise Whitsundays is the only company currently that operates a ferry service between Airlie Beach (or Shute Island and Hamilton Island, covering a distance of about 21 miles in a little over an hour. There are about 49 to 56 weekly ferries between these two destinations, which depart from the port of Airlie and arrive at the Hamilton Island marina.
However, we'd suggest checking the holiday and weekend schedules to note any changes in frequency.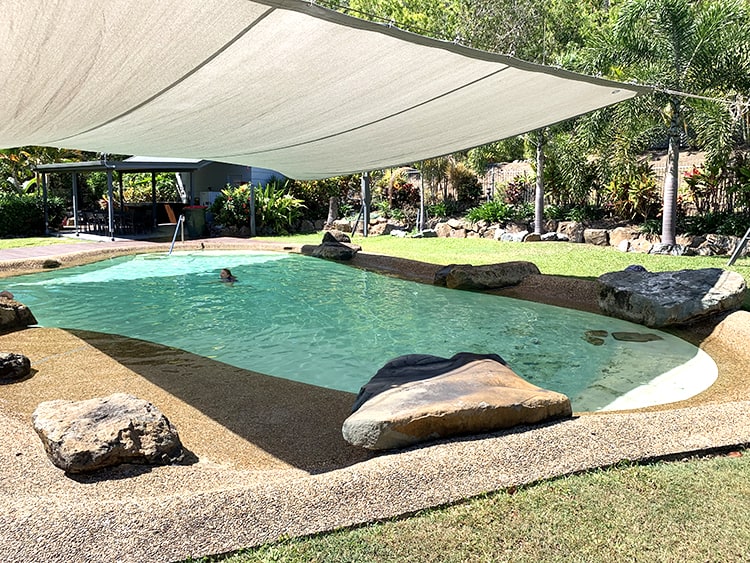 Airlie Beach To Hamilton Island Ferry Times
Some of the popular ferry timings from Airlie Beach To Hamilton Island are mentioned below:
Departure at 7.15 am and arrival at 8.20 am- via Daydream Island
Departure at 8.00 am and arrival at 9.00 am- direct transfer
Departure at 9.20 am and arrival at 10.30 am- via Daydream Island
Departure at 11.35 am and arrival at 12.45 pm- via Daydream Island
Departure at 2.05 pm and arrival at 3.15 pm- via Daydream Island
Departure at 2.55 pm and arrival at 4.05 pm- via Daydream Island
Departure at 4.05 pm and arrival at 5.10 pm- via Daydream Island
Lagoon 104 Hamilton Island Whitsundays Review
Here is a little bit about the apartment, amenities, location together with some of our personal things that we loved and things that we would improve:
The Apartment – Lagoon 104
The Lagoon 104 Hamilton Island Whitsundays is a two-bedroom apartment, which has been recently renovated to meet 5-star standards.
The best thing about the apartment for us was, that it is waterfront-facing and we could spend some quality family time all whilst staring at a beautiful view.
While one of the bedrooms has a king-size bed, the other one may have another king bed or two single beds, as required.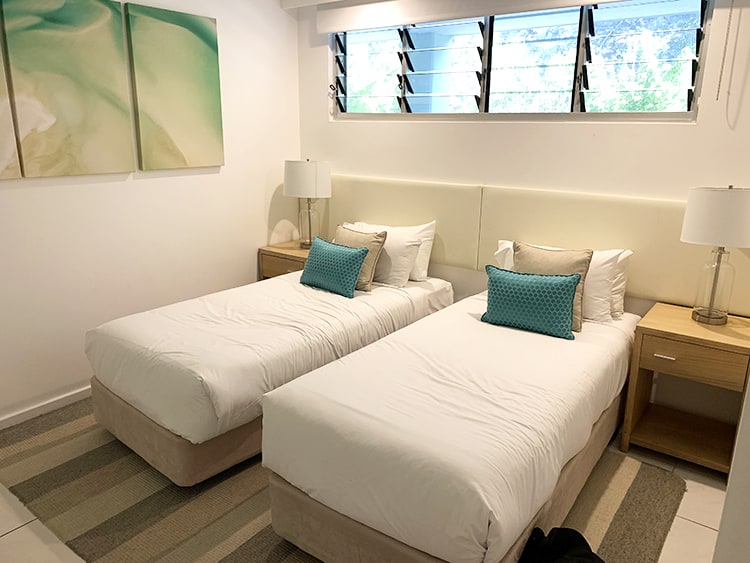 And if you are traveling with little ones and/or three kids like us, you will be provided with an additional rollaway bed on request.
We have asked for one of those for Avalee. Although it was a bit crowded in the second bedroom, the kids didn't mind at all. They only slept there after all.
Tip: Traveling with kids? Check out what to our cool kids travel journal here, and/or popular kids travel accessories here.
Amenities
The amenities also include basic facilities like a TV with Netflix, a washing machine, a dryer, air conditioning, a fully stocked kitchen, and free parking in the apartment complex.
Yes, you heard me right, Netflix. For us, it is always a bonus. Not only you can chill out to your favorite show once the kids are all asleep, but your kids can also watch their favorite shows while you veg out on the balcony with a glass of bubbly.
Other than that, you will get a free (but limited) Wi-Fi connection, sparkling wine or arrival, and a 4-seat buggy for transfers to the beach (and return) – included in the rental (which is an awesome bonus).
Perhaps, the only thing that may disappoint you about the apartment is the pool, which doesn't seem too welcoming and is smaller than what you'd expect for an apartment complex like this.
Tip: Check out our list of kids' travel gear.
What we Loved and Improvement Tips
Here are some of the things that we loved about the apartment and some things that would be awesome if improved:
Check out some of the things that we really liked about Lagoon 104:
Lots of kids games: UNO, cards, Guess Who, Genga, etc
Lots of DVD's and books
Netflix on the TV
Super comfy couches
Very well equipped kitchen, tonnes of tappaware, lots of bowls, plates, etc
A private buggy was an awesome bonus
Beach towels, as well as beach and pool toys
Here are a few small things for improvement:
Noisy aircon in leaving room
Garbage bin shute right next to the kettle
Leaking shower in the second bathroom
No blackout blinds in the master bedroom
Location
The apartment is located right opposite the scenic Catseye beach, which is one of the most popular beaches on Hamilton Island.
In fact, its strategic location provides easy access to the nearby shops, restaurants, and most importantly, the beach.
Plus, the large balcony gives you a clear view of the beautiful landscape from day to night!
We loved eating most of our meals on the balcony, enjoying the view, and playing card games in the evenings with our kids.
Having a buggy included with the rental gave us the freedom to venture out around the island with ease.
That being said, without it, getting groceries (from the one supermarket), would've been a long and unpleasant walk. So, we were very grateful for that.
Catseye Beach
The Catseye beach is located on the resort side of the island and offers visitors a tone of watersports. You will find the required equipment for hire on the beach itself.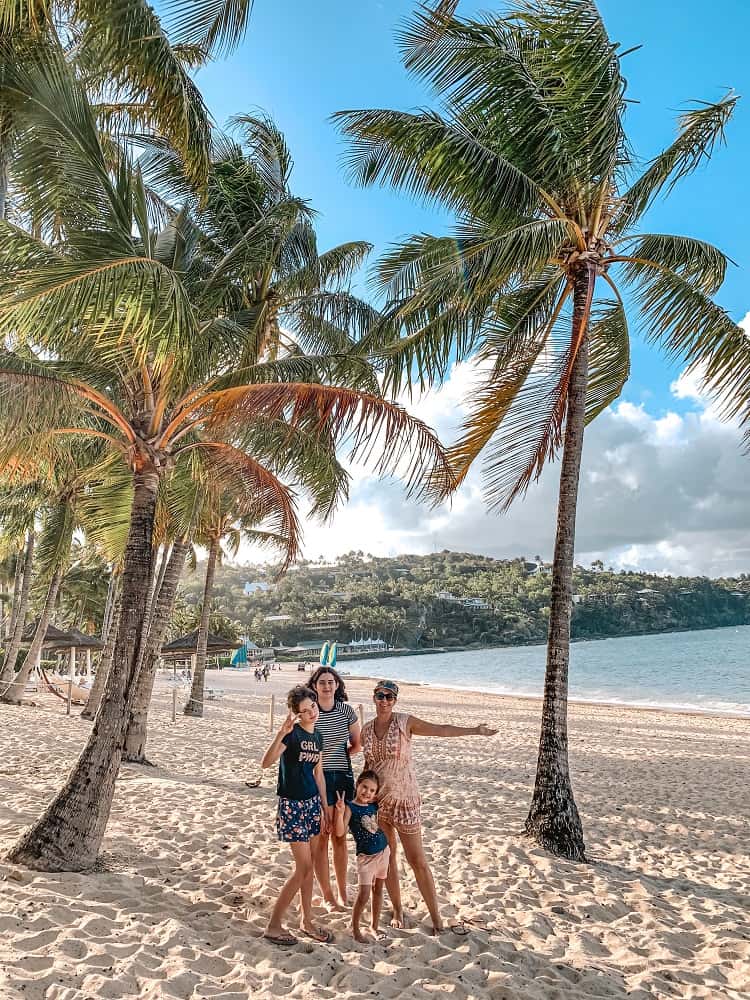 Not only that, but it also has a number of family-friendly beachside pools, which make for the optimum relaxation spots with your loved ones.
But if you're feeling adventurous, take a guided snorkeling tour to explore the breathtaking fringing reef of the beach.
And during low tide, a leisurely walk along the sand flats will surely calm your senses while soothing your eyes.
Final Words
If the sea is your calling this holiday season, then Hamilton Island is the perfect place for you.
Its palm-tree filled-beaches and the clear water provides the perfect ambiance for a lovely vacation with your family, friends, or partner.
And with apartments like the Lagoon 104 Hamilton Island Whitsundays, a very pleasant stay close to the beach won't be a problem anymore.
Additional Reading: