Looking for the best kids travel journal that will keep your young ones busy on your next flying or road-tripping adventure? You came to the right place.
Are you sick and tired of boring long flights and car drives on your vacation?  

It is time to eliminate boredom and turn your trip into a Fun-Filled and Happy Adventure!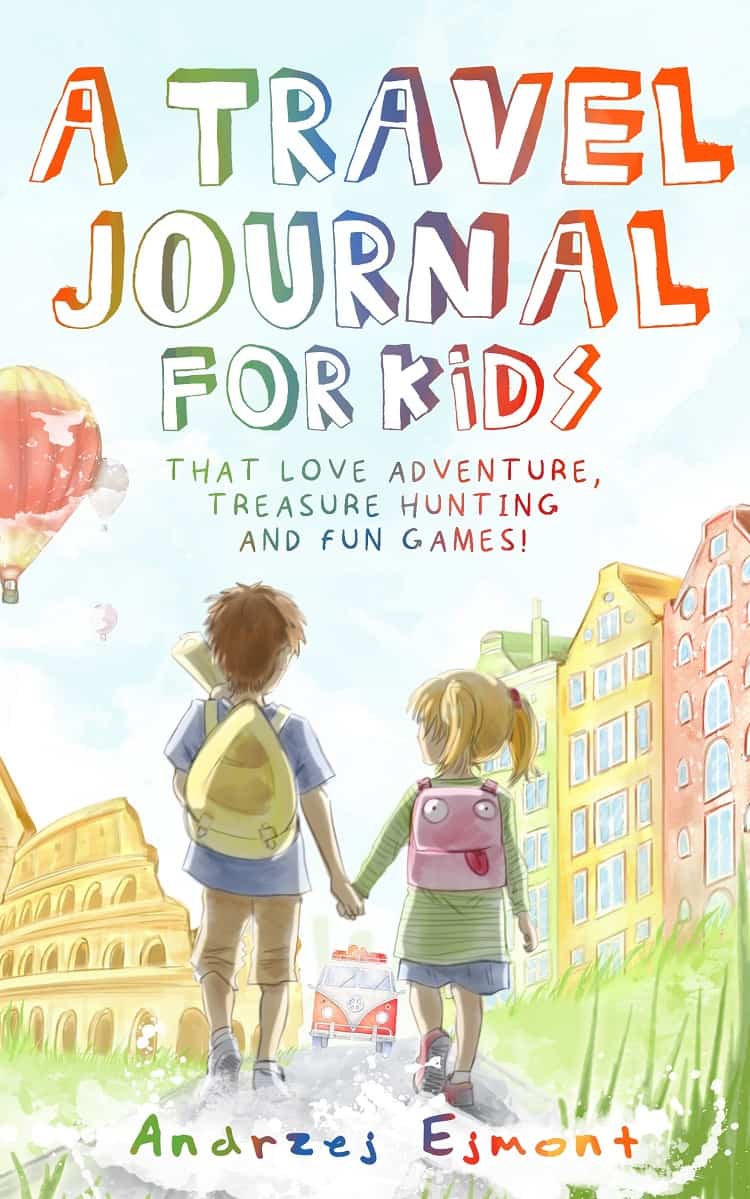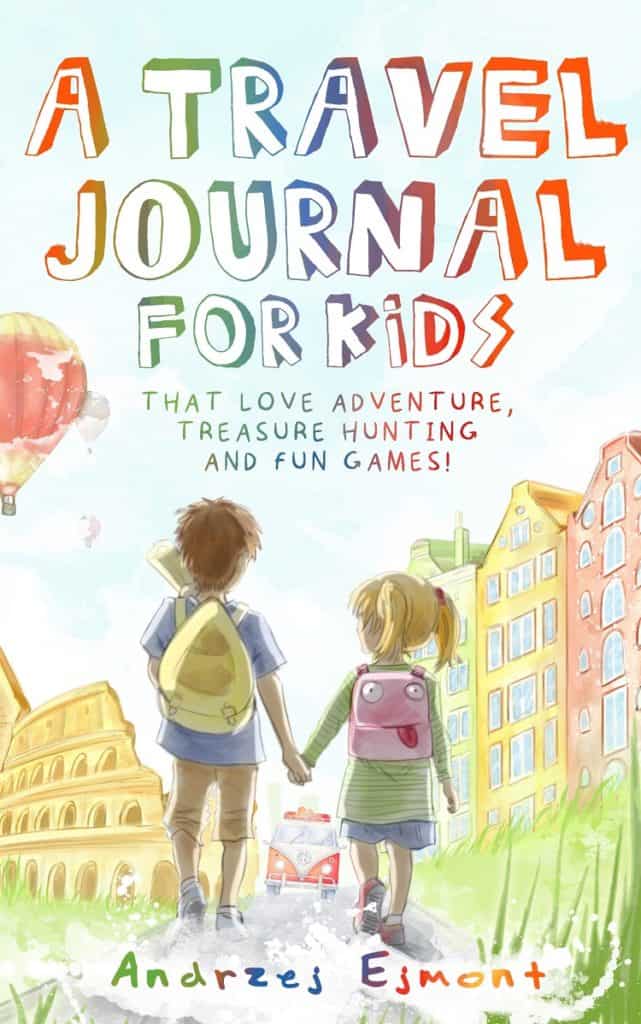 Click the button and get your copy of the "A Travel Journal for Kids" on Amazon now:
We have spent a tonne of hours flying and driving around with your kids and it is not always a relaxing time, right? Especially when our kids simply cannot sit still and are constantly asking "Are we there yet?" Haha… Funny, but not funny!
Did you know that all the illustrations in the book were painted by Andrzej too 🙂 Which ones are your favorite?
Wouldn't it be nice to have something in the car or on the flight for our kids to play with, scribble in, journal in, draw… and how about something that is an all-in-one thing?  And that's how the idea for the kids' travel journal was born! 
A Kids Travel Journal
Are you ready to make your next family adventure that much more fun for your kids? I know you are. Cause happy kids in the back seat, happy parents in the front seat.
Let me tell you what travel journal ideas for kids we have in your new book here.
Why you should take A Travel Journal For Kids for your next family vacation?  
Bring with you your ultimate Travel Journal! It is filled to the brim with fun activities, games, treasure hunts, spaces to jot down your favorite memories, draw, scribble, color-in, and decorate with souvenirs found on the trip.  
Here are the things that you will enjoy: 
Tons of Super-Fun Travel Activities and Games
Go on ultimate treasure hunts, check out the fun crossword and word games, venture out on adventurous individual and family activities and so much more. 
Finding Unique Travel Souvenirs
Engrave your travel memories inside your heart with guided activities to find magical souvenirs that you can collect and/or place into your travel journal.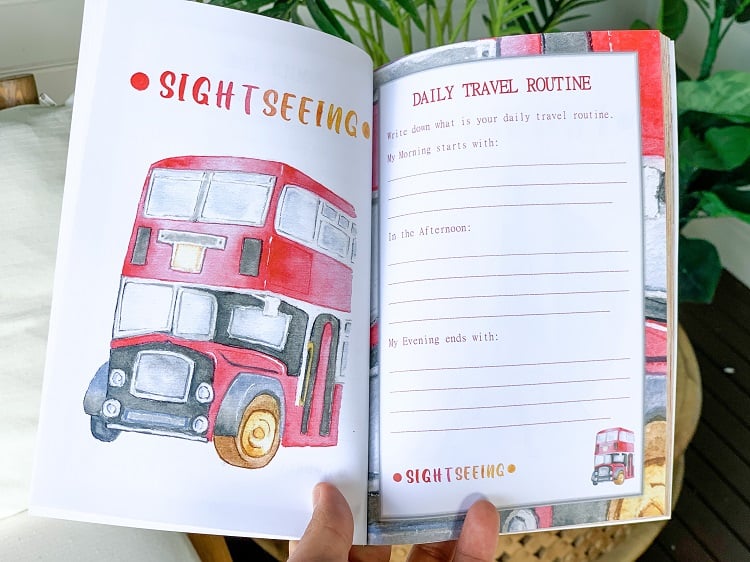 Ultimate Travel Journaling Spaces
Scribble down the stories from your travels, draw, scribble, and color-in in prompted travel journal spaces as well as in your free play spaces.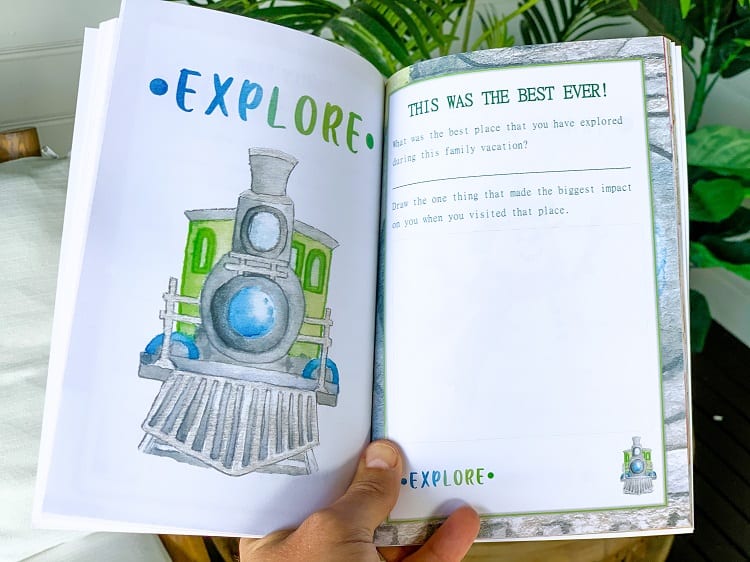 Extraordinary Travel Journal Prompts for Kids
With your boredom buster of a kid's travel journal, you are sure to have an unforgettable adventure like never before.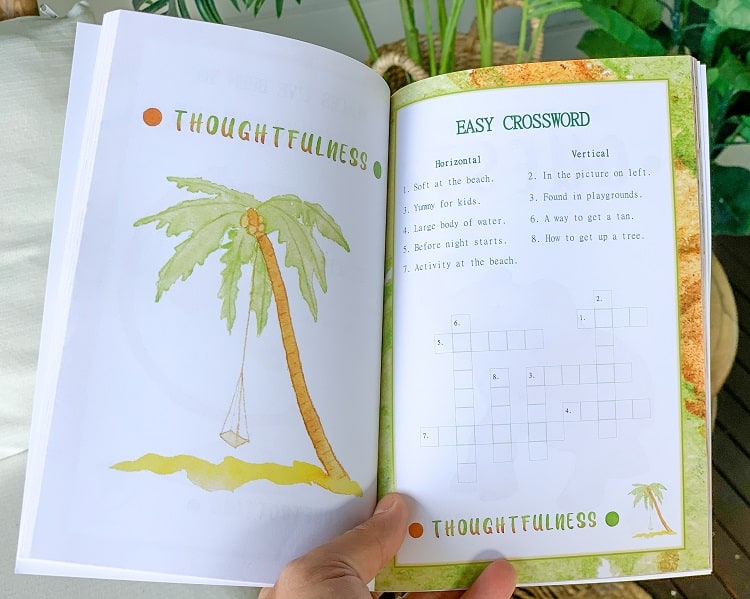 Your One-Of-A-Kind Scrapbook
Your travel journal comes with spaces where you can explore your creativity and create memories that will last forever.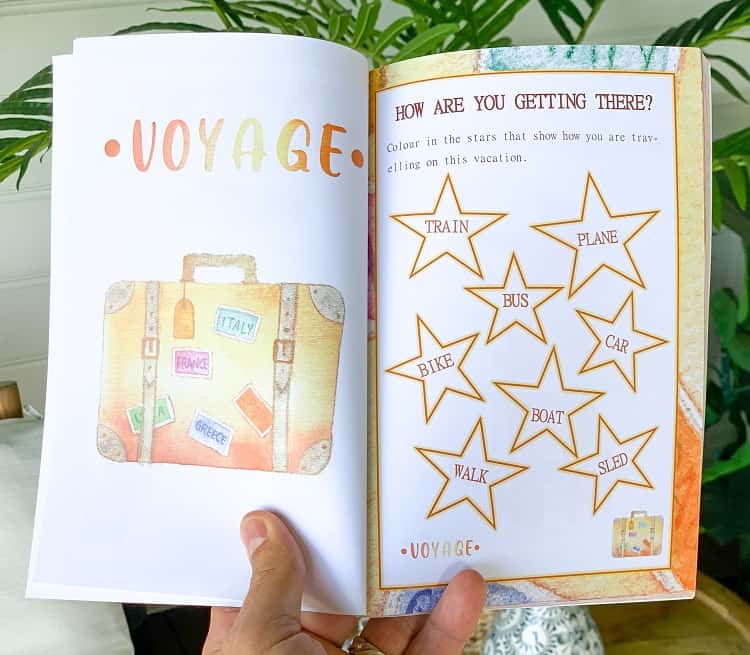 Who is this Travel Journal For? 
This fun-filled travel activity book/child travel journal is great for kids 6-12. Not to say that the big kids can't join in on the fun if they really want to.  
So, what are you waiting for?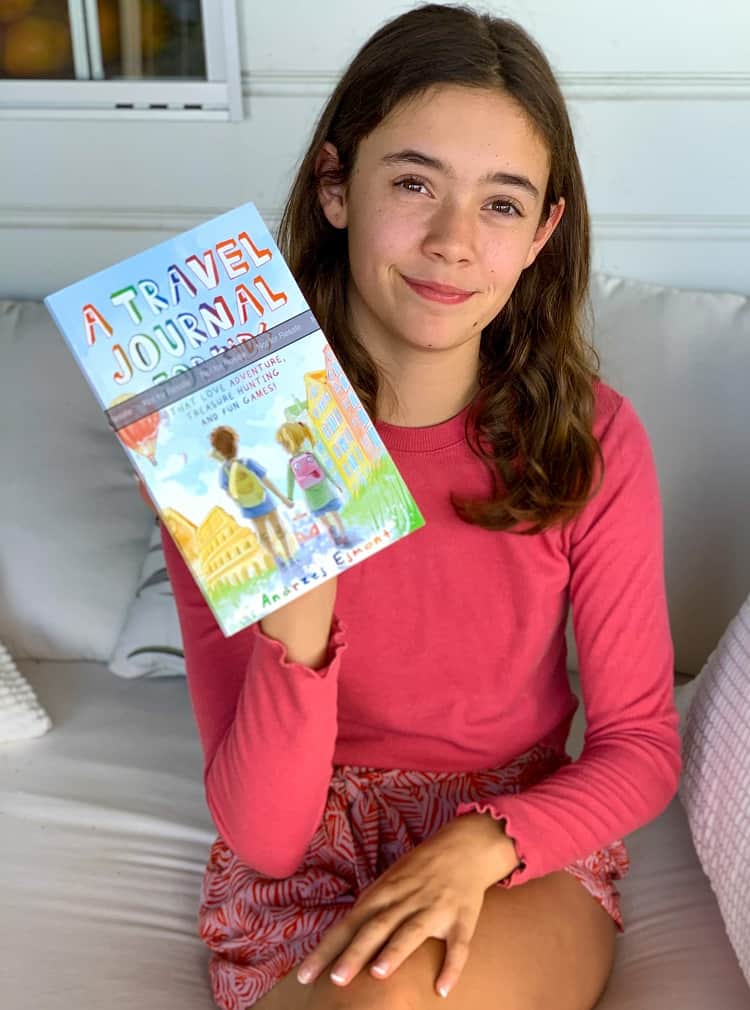 Yes, this is my first test copy, hence the "Not for Resale" on the cover. 
Get your copy of this inexpensive kids to guided travel journal today and enjoy the family travels to the max.  
Go on your unforgettable adventure with The Best Travel Journal!
Click the button and get your copy of the "A Travel Journal for Kids" on amazon now:
Testimonials from Happy Travelers
Here are some of the testimonials from travelers that purchased the book already:
"My kids absolutely love this children's travel journal and all of the activities were really great. Our kids had a tonne of fun and it kept them busy for hours at a time."
– Josephine B. –
"It's really great that there are so many pages and a good variety of things to do in my travel journal so that the kids not get bored on the trip too easily."
– Terry Campbell –
"Thanks Andrzej! Your book has made a big difference when it comes to the enjoyment of our road trips. It's was really like sent from above…
Our children were so enthusiastic to go on all the treasure hunts and playing all the games. It was really great to see them so happy and to have a breather for ourselves as well. So, thank you lots! Keep it up and get some more out there for our road tripping wanderlusters!"
– Abby Townsend –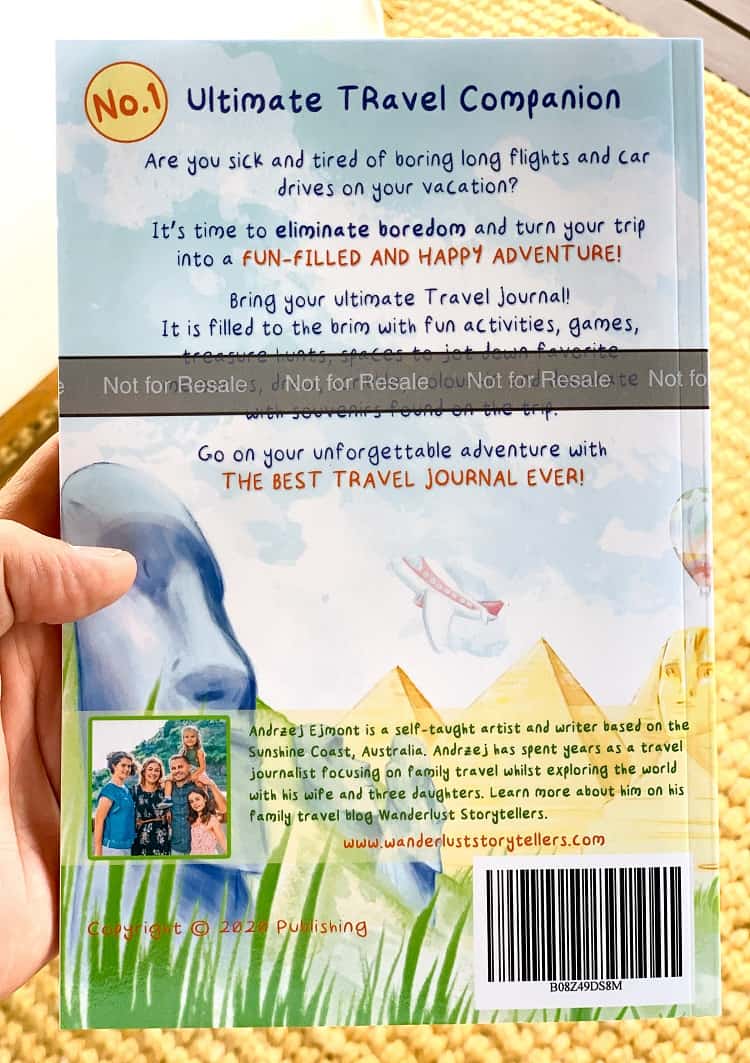 From the Author:
"Hope that you have a fantastic time on your travels and that you enjoy the fun times with your new travel journal.
Your feedback is invaluable and I would love it if you left me a comment after you complete the trip. 
Biggest thank you for your time have a safe and wonderful time on your travels! "  – Andrzej Ejmont
TIP: Find out more about Andrzej and check out more of Andrzej Ejmont Art here.
What is a Travel Journal for Kids?
A travel journal, a travel diary, or a travel journal diary is a book where your kids can collect their memories in a form of written stories, scribbles, drawing, and scrapbooking.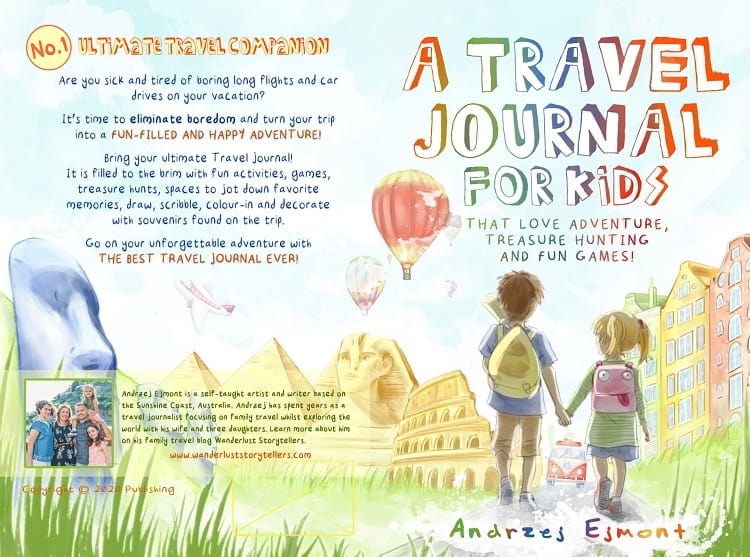 In our case, this is childrens travel journal is a place where your kids will find a tonne of games and super-cool activities as well.