The Intercontinental Hayman Island Resort is a stay that's tough to top. We found it to be even more special, given that it's on its own private island. There are endless opportunities for quality family time, adventure, and relaxation in the heart of the Great Barrier Reef.
We particularly loved this resort because of the top-notch service. The staff went above and beyond to make the trip memorable with awesome advice, a very helpful attitude, and general friendliness.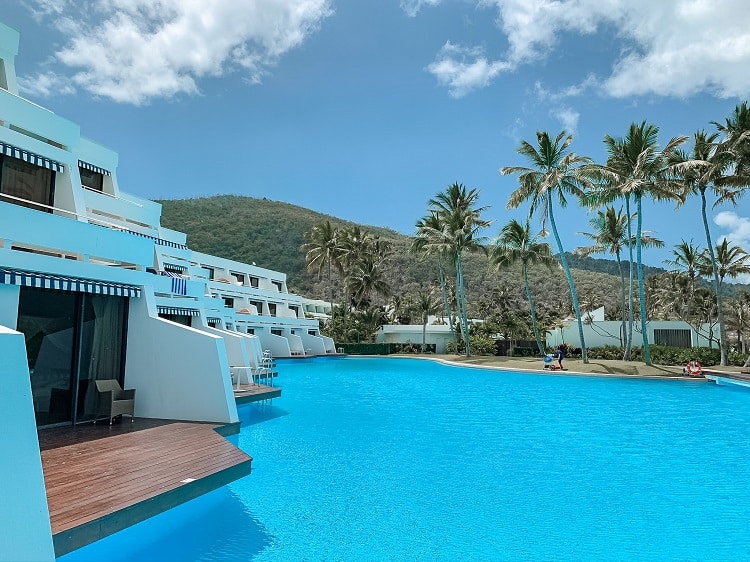 Overall our stay can't be faulted. Daily catamaran sails, service at the press of a button, underwater snorkelling, and incredible suites are some of the highlights of the Hayman Island Resort.
Check out the latest prices for the Intercontinental Hayman Island Resort.
How to Get to Hayman Island from Brisbane
If you are flying to Hayman Island from Brisbane, there are two easy to navigate travel options for you to choose from: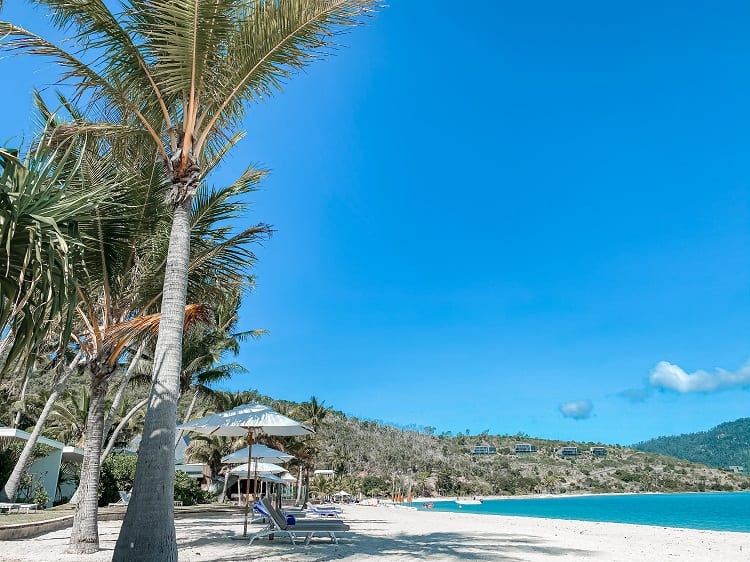 1.  Brisbane to Hayman Island – Option 1
Here is the first option of how to get from Brisbane to Hayman Island:
1. Flight Brisbane to Hamilton Island
The beautiful resort that we stayed at is located on Hayman Island, and not too far from sunny Brisbane. The flight is just under 2 hours.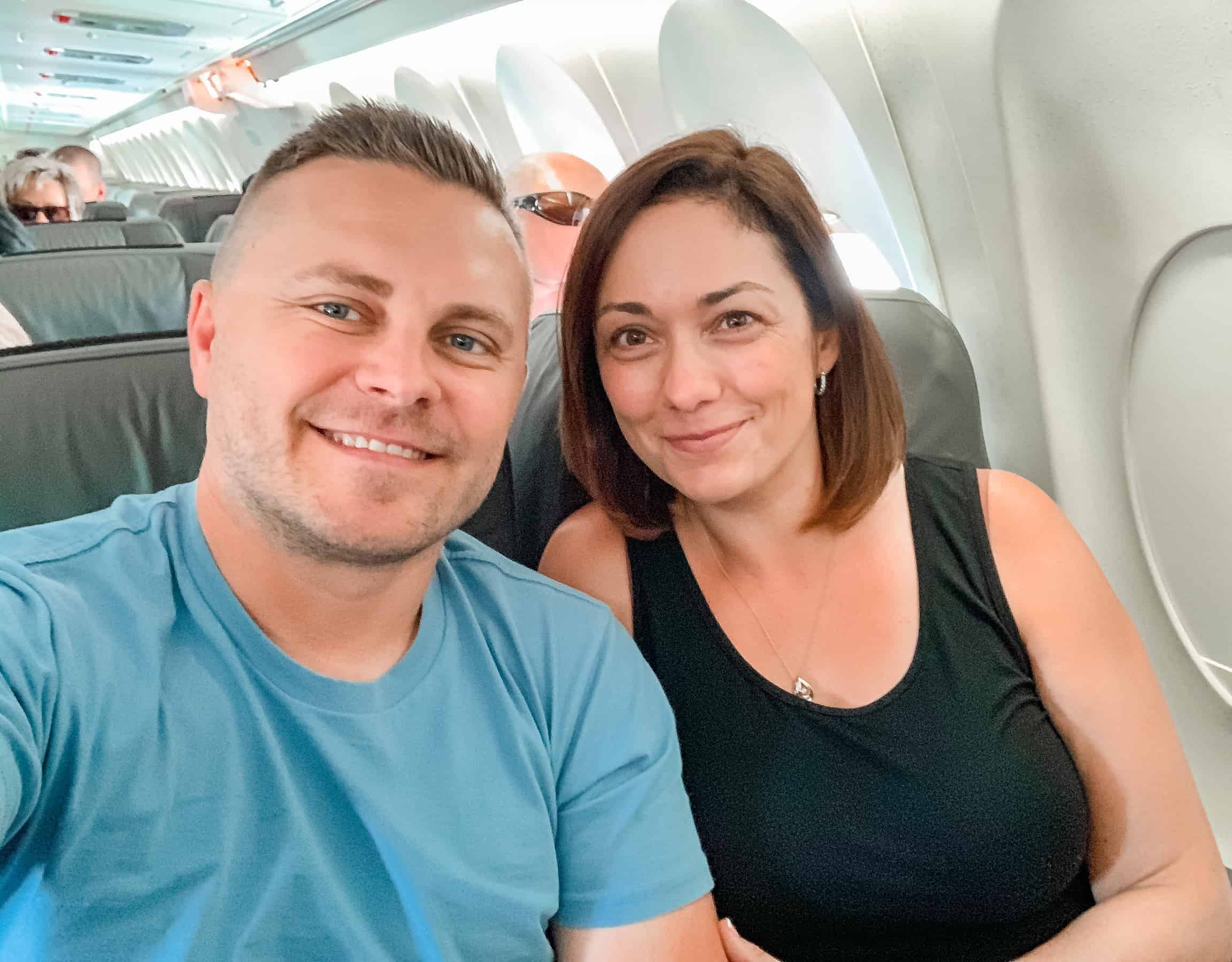 The simplest way of getting to Hayman Island from Brisbane is to book yourself a direct flight to the Great Barrier Reef Airport, which is located on Hamilton Island.
Brisbane Airport offers regular domestic flights to the island, so finding one at any point in the day should be easy.
TIP: To make your life easier, why not book your Brisbane Airport Parking ahead of schedule with Flyparks to get the best deals."
2. Luxury Boat Transfer from Hamilton Island to Hayman Island
While flying certainly has its thrills, the highlight of the journey is most definitely the luxury boat transfer. Glide upon the waters before reaching the paradise island. The entire boat journey is approximately 60-minutes.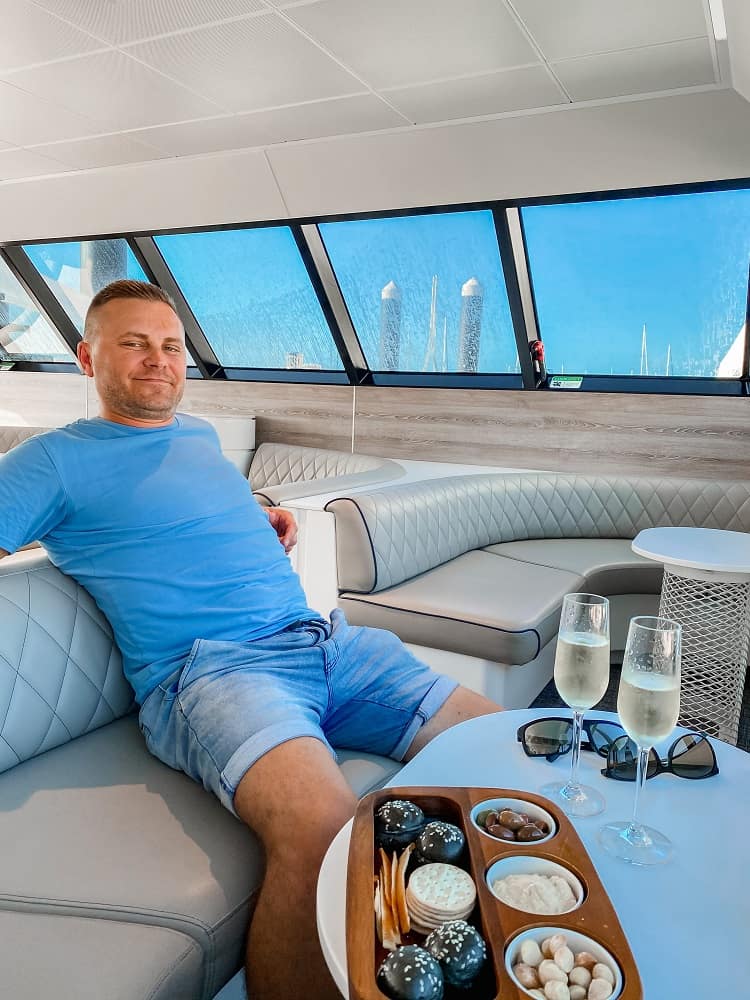 Alternatively, you can embark on a seaplane or helicopter ride. The ride will take you to Hayman Island's marina or a helipad, with the hotel offering transfers.
This is an ideal option if you're looking for a speedy journey, as it's only 15-minutes from Hamilton Island to Hayman Island. The views are also stunning from the air.
---
2. Brisbane to Hayman Island – Option 2
Check out the second option of how to get from Brisbane to Intercontinental Hayman Island Resort. This is the option that we have taken:
1. Flight from Brisbane to Proserpine
The flight itself is also just under 2 hours and will take you from the Brisbane Domestic Airport to a small Proserpine Airport located just 30-minute drive from Coral Sea Marina.
2. Transport from Proserpine to Coral Sea Marina
There are a number of transport options to get from Proserpine to the Coral Sea Marina, including taxi or a bus. We opted for a bus transfer which only cost us $22 AUD one way. Please note that you can save if you purchase return tickets.
3. Luxury Boat Transfer from Hamilton Island to Hayman Island
We loved getting spoiled by the staff on board the luxury boat. As we gazed out onto the sensational views, we were served with a platter of cheeses, crackers, olives, nuts and more, as well as topped up with a yummy sparkly wine. Not bad at all!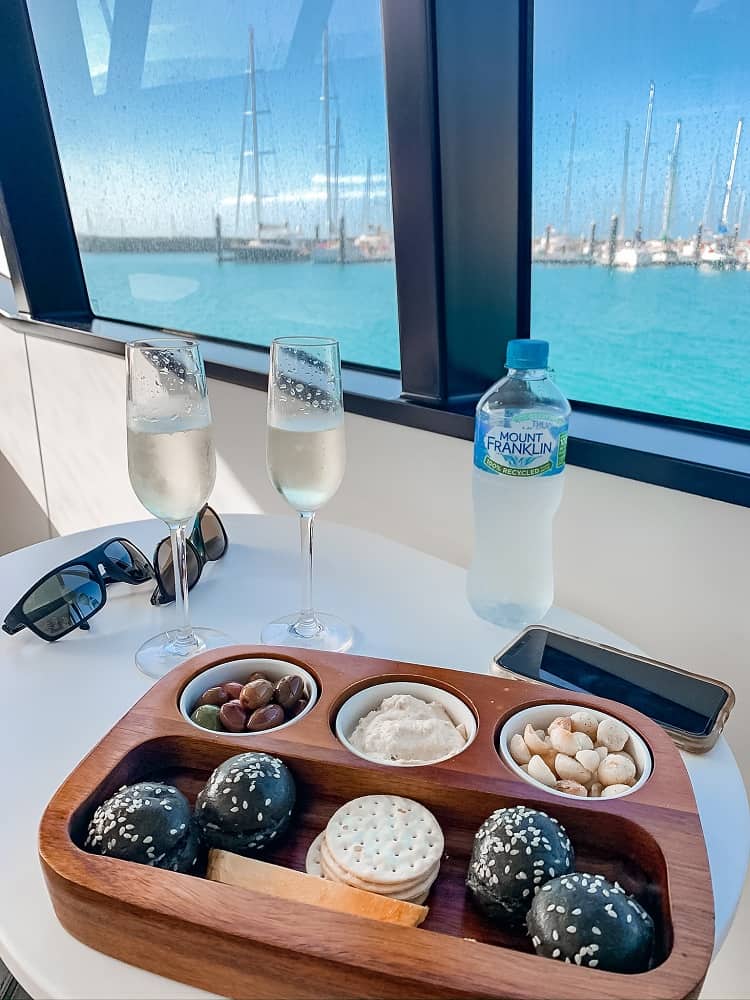 Whilst onboard, the staff checked us into our room, offered to make dinner reservations for us for the first night and gave us a little run down on the ins-and-outs of our stay. She was lovely.
---
Intercontinental Hayman Island Resort Review
This brief review includes our fantastic experience at the resort, which suite we stayed at, the unique activities, and incredible amenities.
Hayman Island Accommodation – Room Review
We loved the opportunity of staying in a modern suite that had all the amenities we needed for a comfortable stay.
One Bedroom Pool Access Suite
During our stay, we booked the one-bedroom pool access suite, and it was more than perfect for us.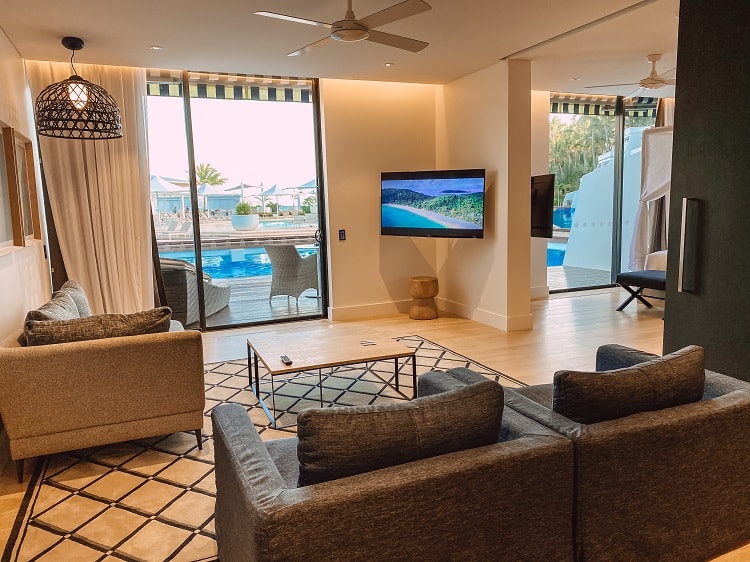 The biggest draw of the room was the direct-access from the suite to the Hayman Pool. We came hoping for plenty of chances to be in the water, and that's exactly what we got.
The room has a private double balcony that was utterly relaxing, with space to lounge in the sun and read. The whole suite was light and airy, with the lounge featuring coastal tones that accentuated the island-style vibe.
We were treated with a sumptuous king-sized bed and open-plan dressing space, which was more than big enough.
The bathroom was another great feature of the room. It was super luxurious and had the necessary bathroom amenities, like a large bath for evening soaks and a separate shower to freshen up in.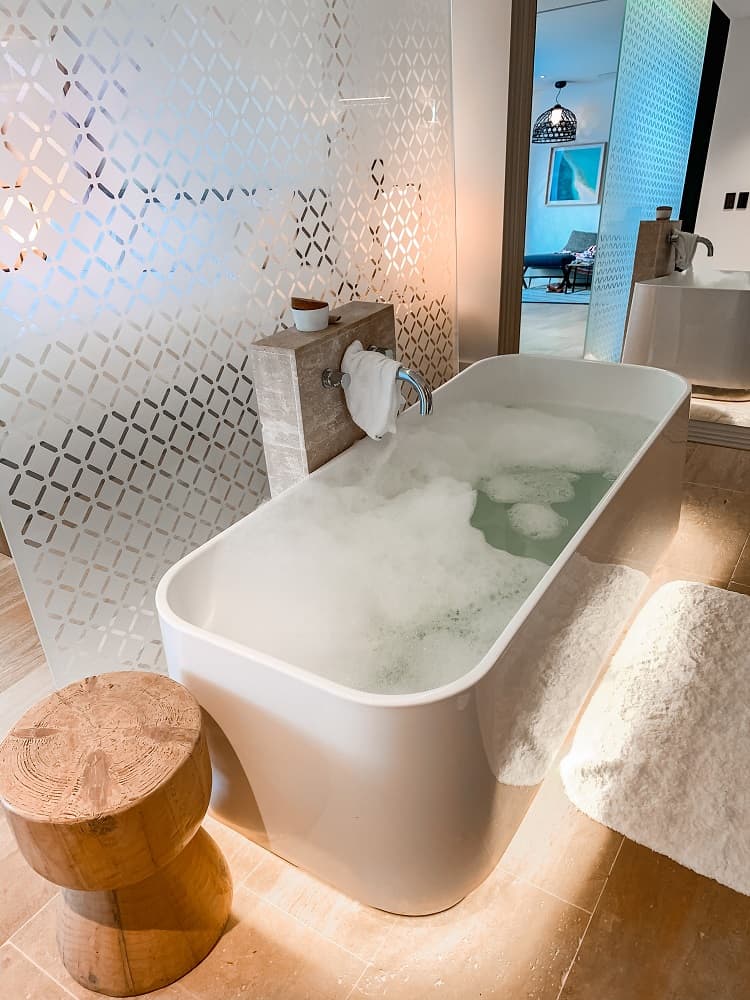 And to make it even better, there's a spacious living room that'll make you feel right at home.
---
Intercontinental Hayman Island Resort Amenities
Hayman Island Resort offers a number of luxurious amenities:
The Pools
It goes without saying that the Hayman Pool is one of the biggest amenities, and its size is rather impressive.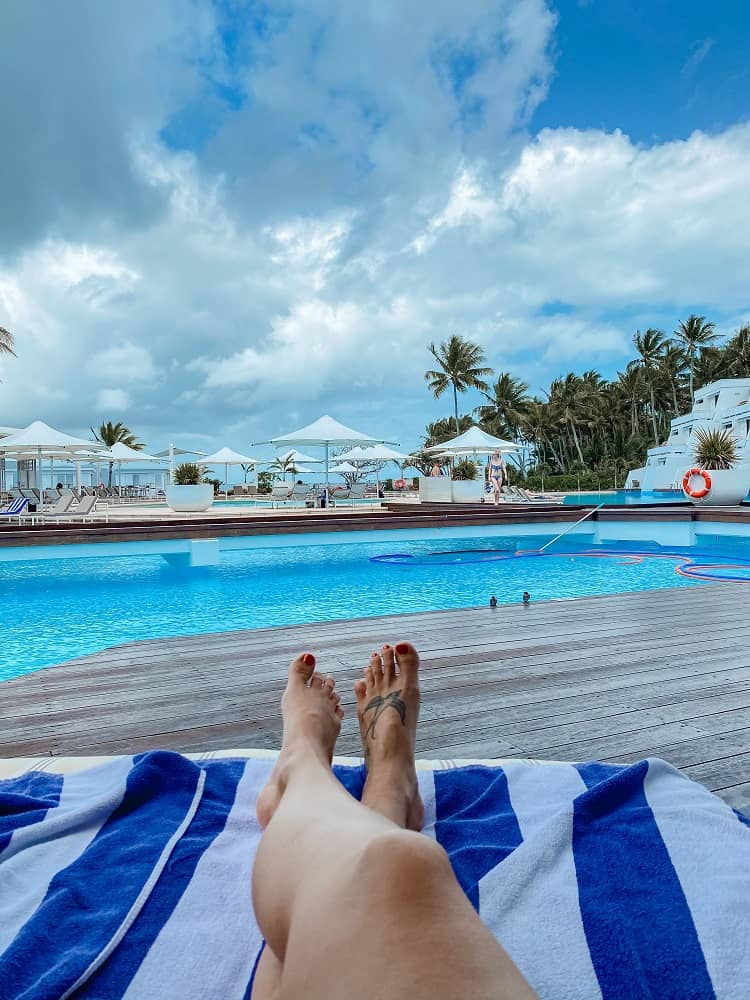 Situated right along the coast, with views to match, the pool features umbrellas and comfortable loungers, some are even private and away from the busyness.
In the centre of the pool, there's a shallow area that's ideal for younger kids. A top tip from us is to book a pool snorkelling lesson that's designed for building your skill for venturing out into the Great Barrier Reef.
Dining at the Resort
Dining is designed to show off the cuisine found in Queensland. You can discover a collection of five fantastic restaurants on the island.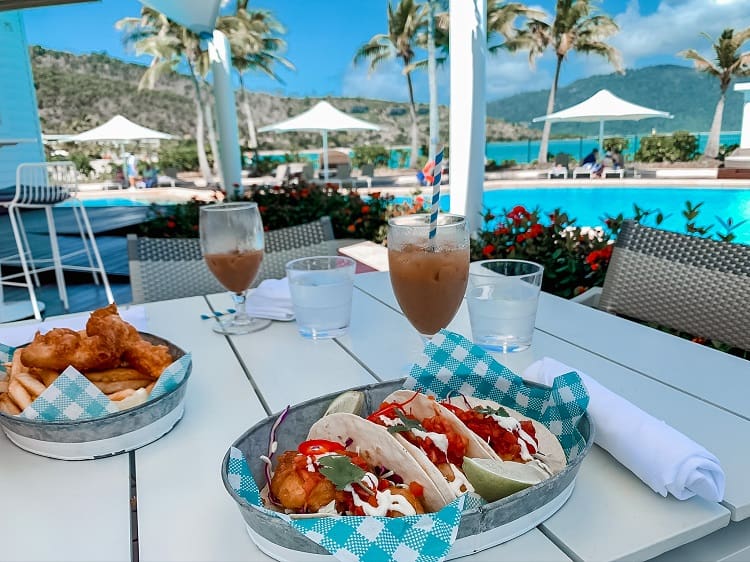 One of them has a Mediterranean influence, while another has a Bold Pan-Asian Flavour. You're honestly spoilt for choice, and you can't go wrong with any of the restaurants, no matter your tastes.
There are various bars as well. We tried some of the cocktails, but to be honest, they could have used a bit more oomph.
Intercontinental Hayman Resort Spa
And of course, it wouldn't be called a resort without featuring a spectacular spa.
The resort offers wellness-related experiences such as sunrise yoga and detoxing body-wraps. You can also choose to book yourself a revitalizing clay wrap or soothing massage.
Shopping
If you're looking to do some shopping on the island, or perhaps a little gift shopping for a loved one, you'll be glad to know that there's a boutique shop. Purchase gorgeous bathing suits, hats, jewellery, and items from luxury retail brands.
---
Intercontinental Hayman Island Resort Activities
If you thought you'd be limited for activities, given the fact that you're on a private island, you're wrong. This Hayman Island Resort offers on and off-island experiences.
A few of the top activities include that are great for families, couples, and solo travellers:
Beachfront Activities
If you'd prefer not to spend extra money on activities, the resort offers fun complimentary activities at the beach.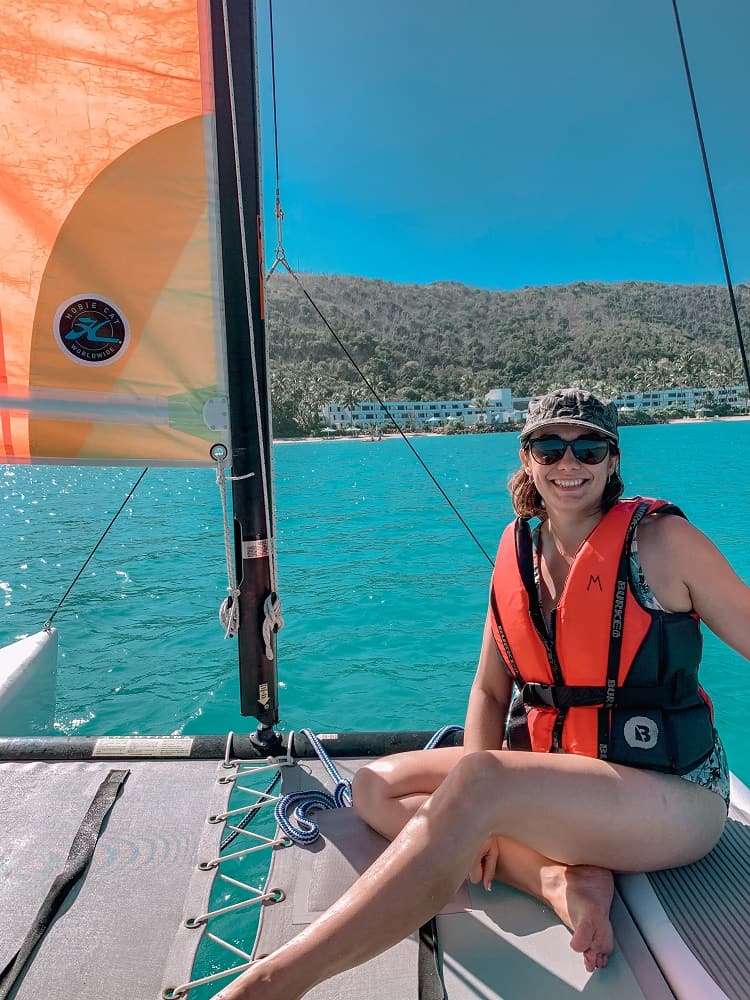 This includes kayaking, sailing, and paddleboarding, all of which involve the friendly team helping you navigate the waters.
Blue Pearl Bay Guided Hike and Snorkel
This is a tour that's perfectly fit for nature lovers and hiking enthusiasts. Embark on a guided tour through the island bushland, before ending the tour off with a swim in a secret cove.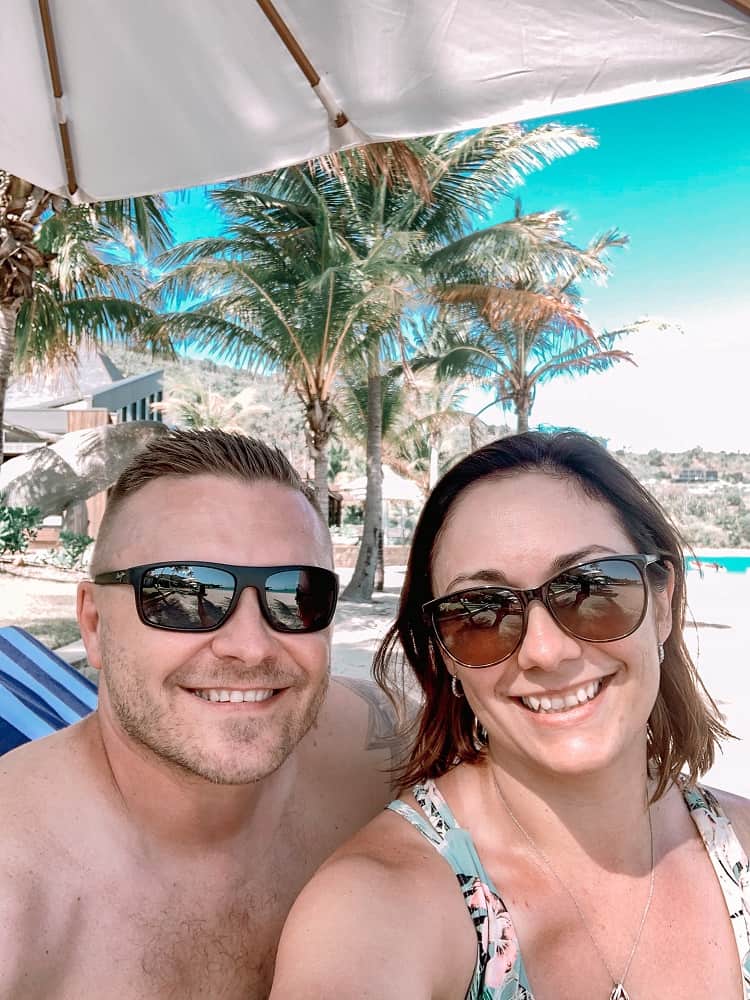 Fish Feeding at the Marina
Each morning, at 10:30 am, the hotel offers fish feeding at the Marina Pontoon. It's a treat to see and feed giant trevally, and great fun for travellers with young kids.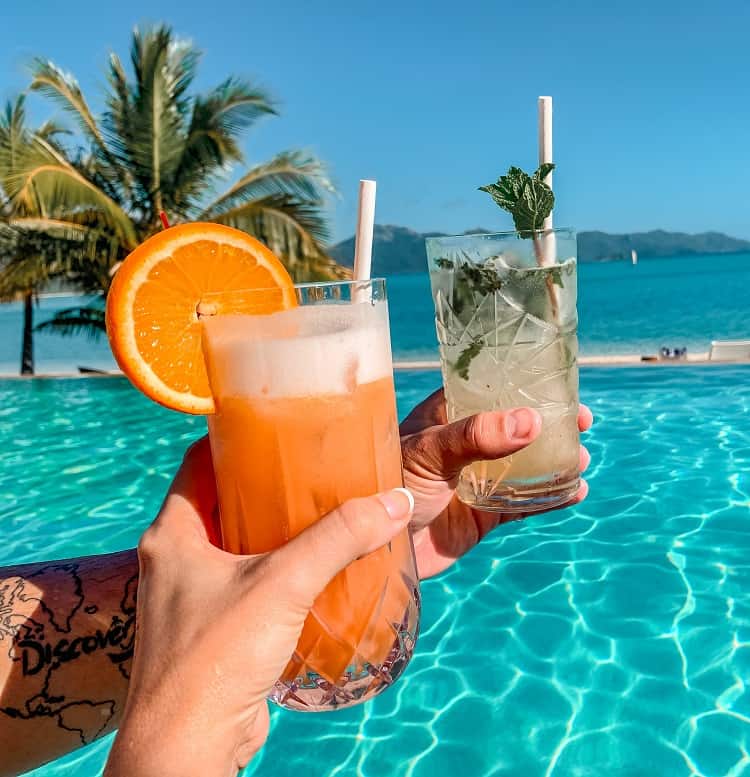 Sand Flats Tour
During low tide, the sands expose 100 meters of shoreline that is usually hidden by the water.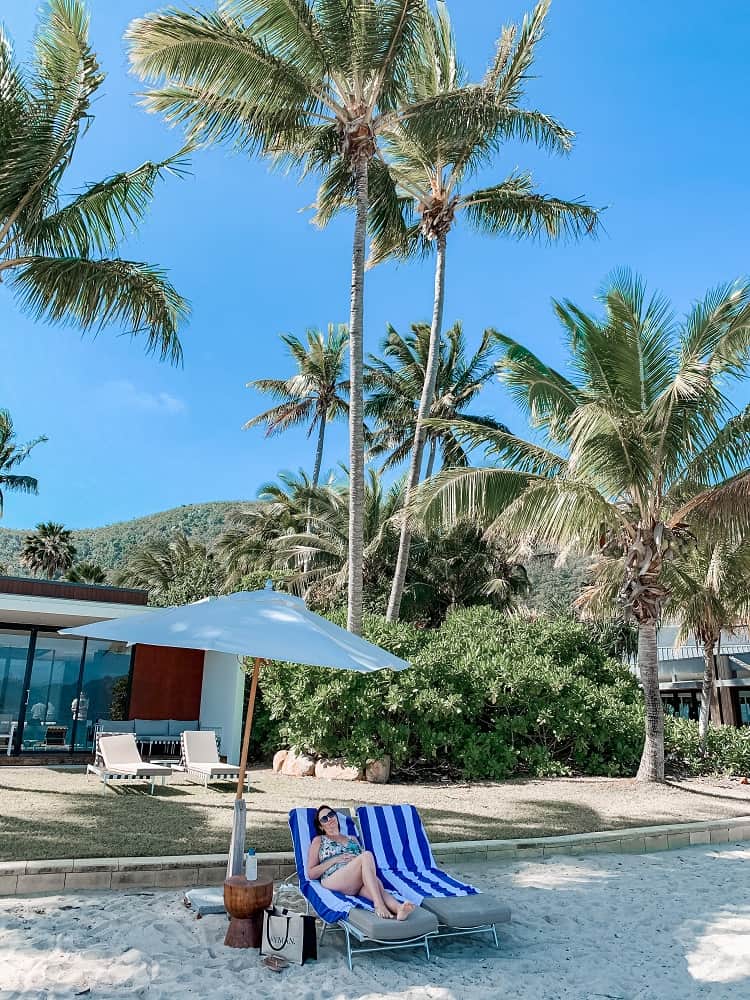 With your guide, you'll spot a variety of sea life, including sea urchins, colourful coral, and beautiful seashells.
Weaving Classes
This is a unique chance to develop a new skill. The master weaver, who lives on the island, collects palm leaves from the island and then teaches guests how to create these exquisite baskets and handmade crafts.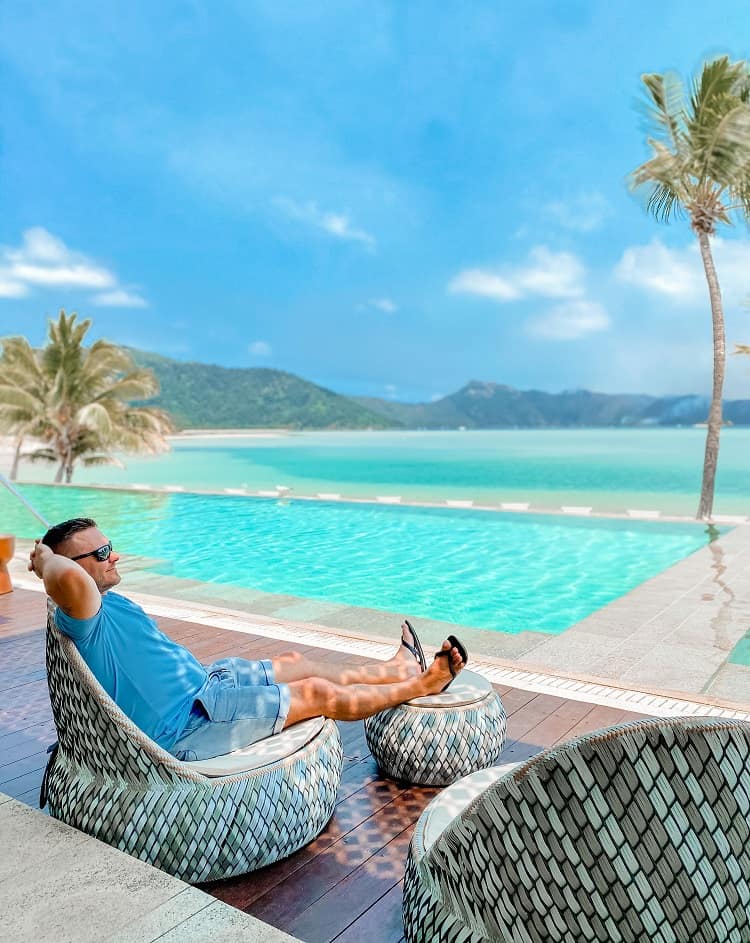 ---
Ready to Visit this Spectacular Resort on Hayman Island?
If the budget allows, it'll be tough to beat a stay in such an incredible resort. With the promise of luxury, fine dining, rejuvenating spa treatments, and spectacular activities, what more could you ask for?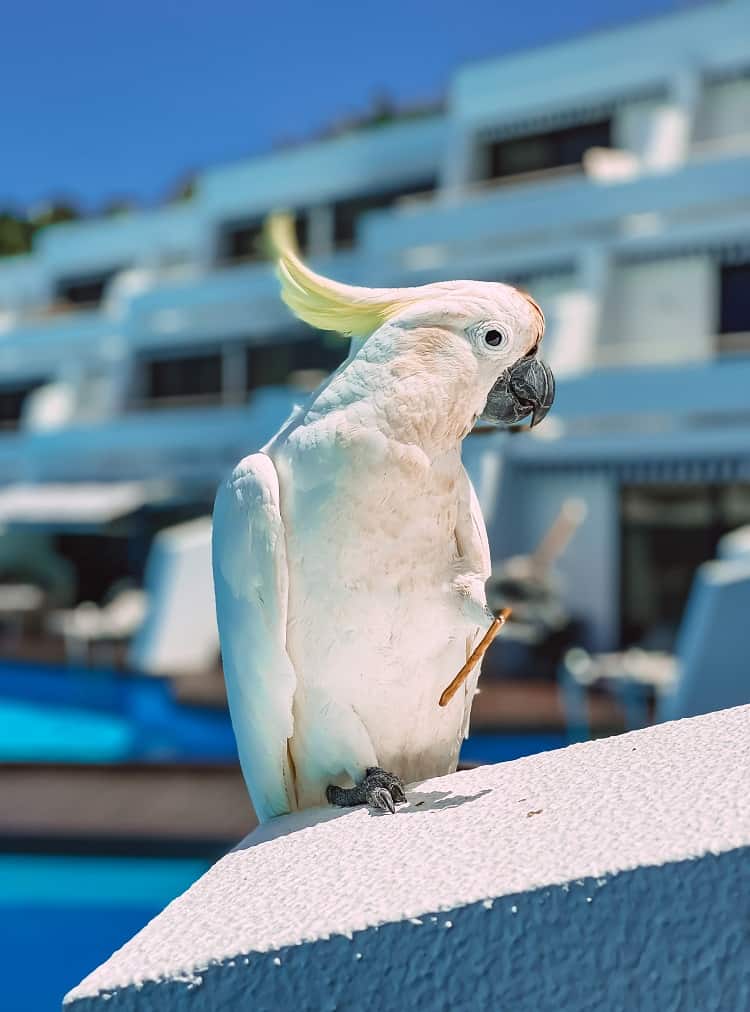 Our stay here was quite special, and with incredible staff and service, as well as luxury living, we'd be glad to book another stay here in a heartbeat.
Additional Reading:
Check out one of our latest blogs Hamilton Island, Daydream Island or Hayman Island.