When deciding which of the Whitsunday Islands to visit, it really depends on what kind of experience you are looking for.
Hamilton Island is a great option if you want an active holiday and lots of activities, Daydream Island offers plenty of relaxation opportunities in its natural environment and Hayman Island will provide an unforgettable luxury getaway.
Ultimately, all three islands offer unique experiences that cannot be found elsewhere.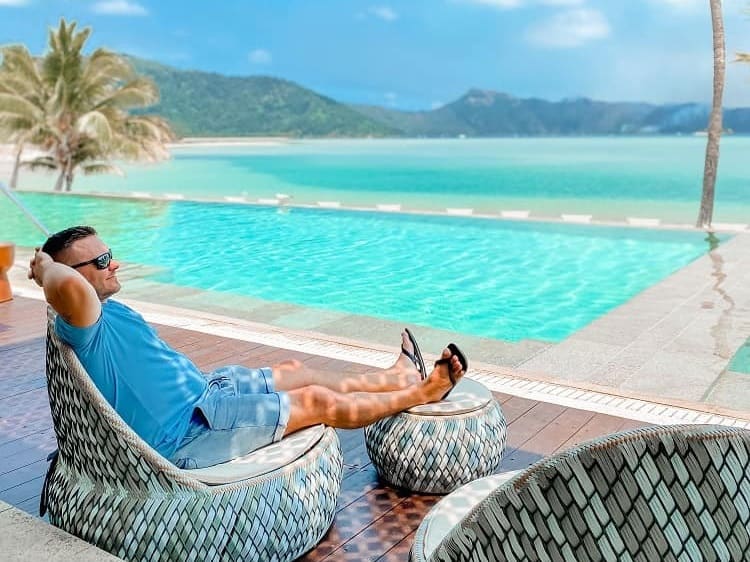 With their stunning beaches, lush rainforests, and crystal clear waters, whichever island you choose when visiting the Whitsundays will surely leave lasting memories!
We've curated this guide based on our personal experience, so you'll know exactly what to expect on these islands.
So let's help you to decide whether you should visit Hamilton Island or Daydream Island or Hayman Island.
Comparison Guide: Hayman Island vs. Hamilton Island vs. Daydream Island
No matter which island you decide to visit, the Whitsundays are guaranteed to take your breath away.
From snorkeling with turtles to sipping champagne on a private beach, these islands have something for everyone.
So here it is, our honest reviews of the three of the most popular islands in the Whitsundays:
1. Hayman Island Review
Hayman Island is our definition of "Heaven on Earth," with its turquoise waters, vast beaches, and pleasant blue sky.
Despite visiting the island last year, we'd gladly plan another vacation in a heartbeat!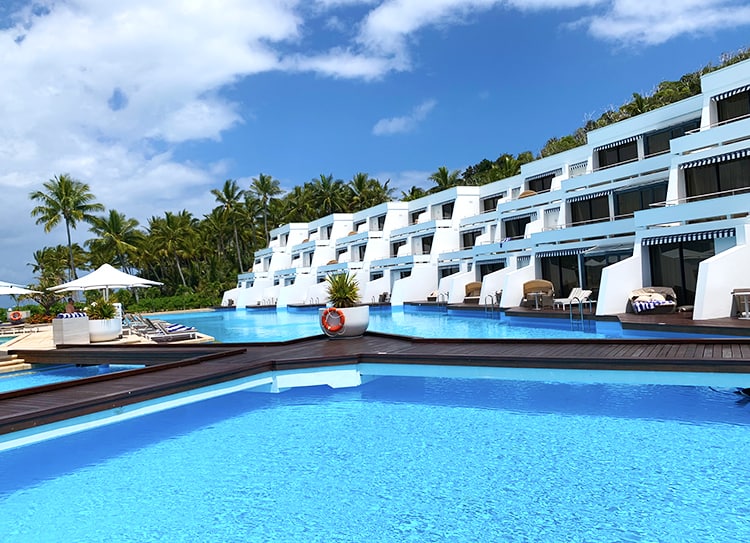 A major part of the credit for our amazing stay in Hayman Island goes to the Intercontinental Hayman Island Resort.
The staff left no stone unturned in ensuring our comfort and enjoyment with large rooms, prompt service, complimentary activities, finger-licking delicacies, and more.
However, the highlight of the trip was the pool-view suite, which was perfect for hydrophiles like us. Be it the pool, the oversized bathtub, or the beach- we just couldn't resist a dip!
Hayman Island is for those looking for luxury, peace and seclusion. The accommodation is pricey but so worth it!

Whilst there is family accommodation, to me this island is all about couples, honeymoon and romance.
Additionally, our room boasted a double balcony that invited plenty of sunshine and made the perfect backdrop for our holiday pictures.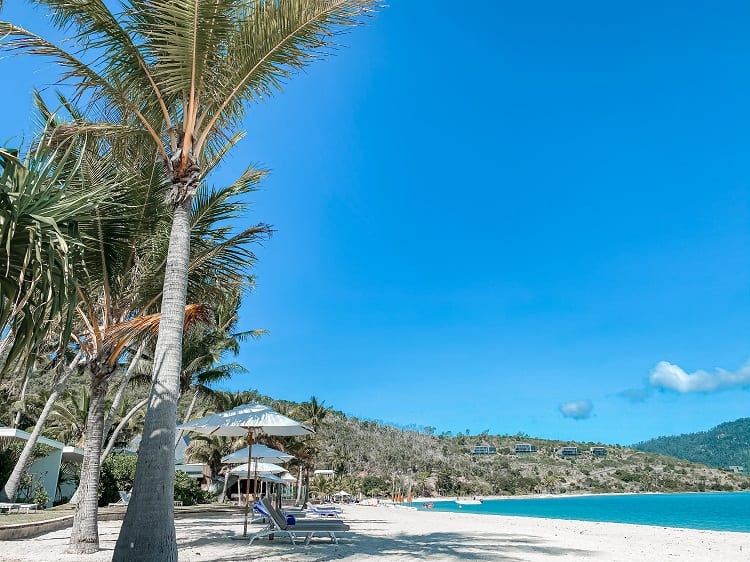 If you visit the resort with kids, we recommend enrolling them in a snorkeling lesson conducted on the shallow end of the pool.
Not only will they learn a new skill, but it will also keep them busy while you steal a sip of wine at the bar!
The restaurants at the resort also did not disappoint. From Mediterranean flavors to Pan-Asian cuisines- you name it, and they've got it.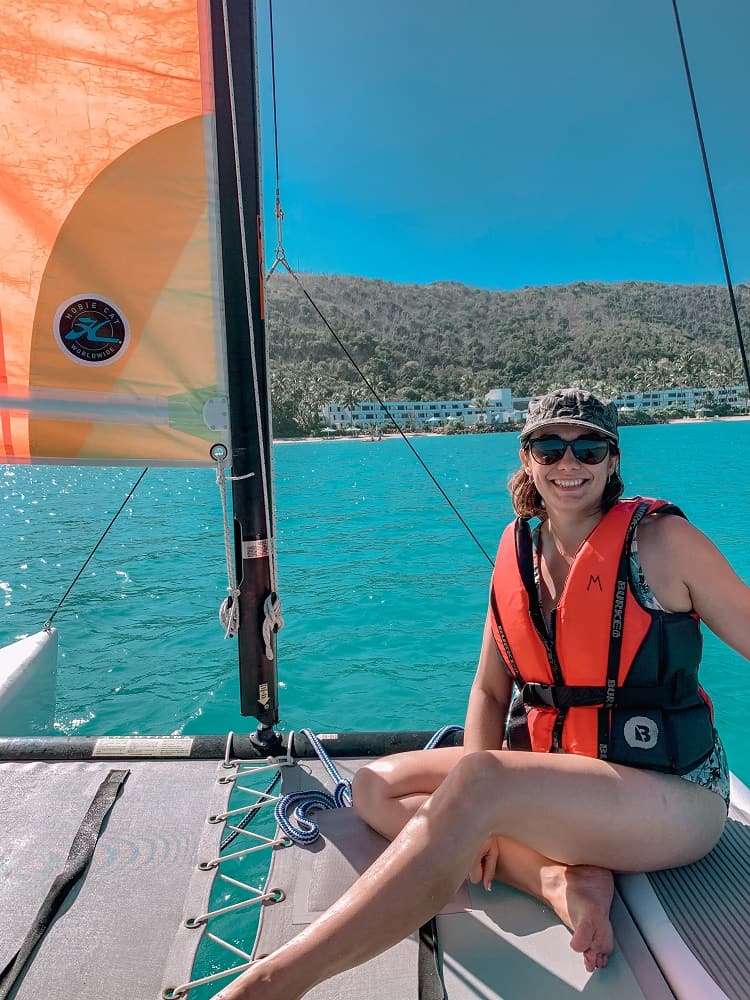 We also recommend calling it a day with a detoxing clay wrap at the resort spa, or a session of sunrise yoga.
The resort even offers fun activities at the beach like sailing, kayaking, and paddleboarding.
Moreover, the hotel conducts a fish feeding session at the Marina Pontoon every morning.
We bet your children are going to love it! Or you can take them to the beach to marvel at the beautiful seashells, corals, and sea urchins.
Finally, you can visit the boutique shop to grab some souvenirs or luxury items for friends and family back home.
Tip: Check out our review of the Intercontinental Hayman Island Resort.
Exceptional

We could not fault anything. The room, staff and food were all amazing.

We stayed 5 nights for our honeymoon and it is safe to say we will be back.

We did not want to leave this beautiful place.

Chloe (Read more reviews on Booking.com)
Check prices and read reviews of the Intercontinental Hayman Island Resort.
Hayman Island is all about relaxation. The best thing to do here, besides enjoying the luxurious resort, is to go for a hike and to schedule some day trips.
There is a 2-hour walking trail that is 7.8km long. The walk will take you past Blue Pearl Bay, Dolphin Point, and Butterfly Grove.
On top of that the resort will happily organize day trips to Whitehaven or to go snorkeling. They also have a helicopter for those who wish to see Whitsundays from above.
---
2. Hamilton Island Review
Enveloped by sparkly water and sunny beaches, Hamilton Island is the hotspot for those who wish to explore the Great Barrier Reef and soak up some sun at Whitehaven Beach.
Hence, it is another one of our favorite family holiday destinations.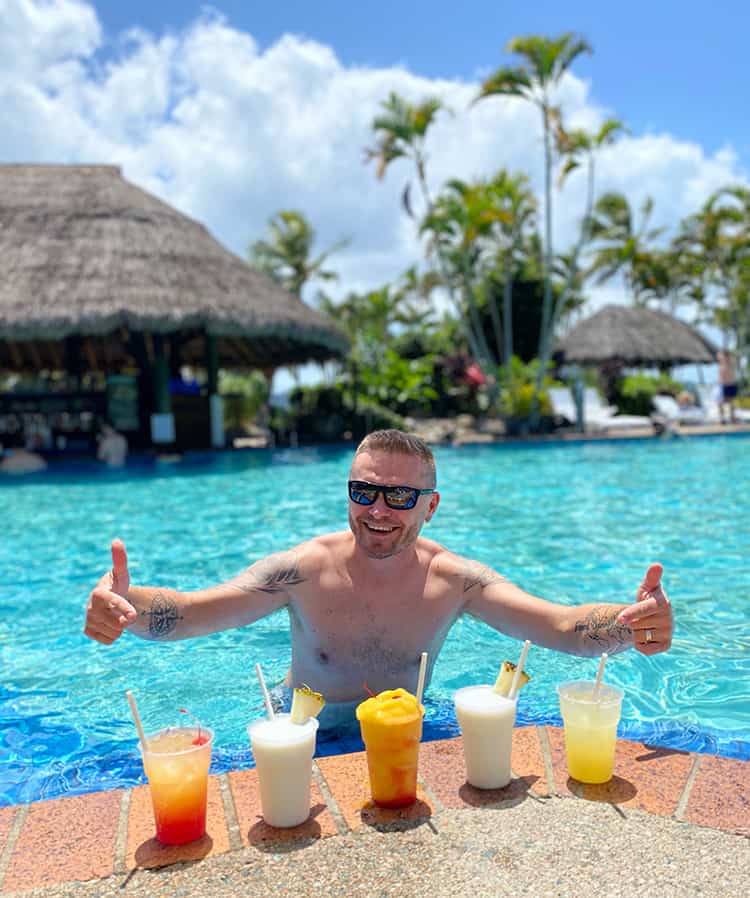 The island offers a variety of exotic cuisines and drinks, which you can enjoy with your partner while the kids indulge in exciting water and sports activities.
Hamilton Island is perfect for everyone who doesn't mind a busy island vibe.

We think it is perfect for families, for groups of friends, for younger adults and older couples.

There is much more to do on Hamilton Island in comparison to the two other smaller islands.

You can also find cheaper accommodation on Hamilton Island in comparison to Hayman Island or Daydream Island.
Notably, Hamilton Island boasts a range of award-winning, fine-dining restaurants as well as budget-friendly cafes.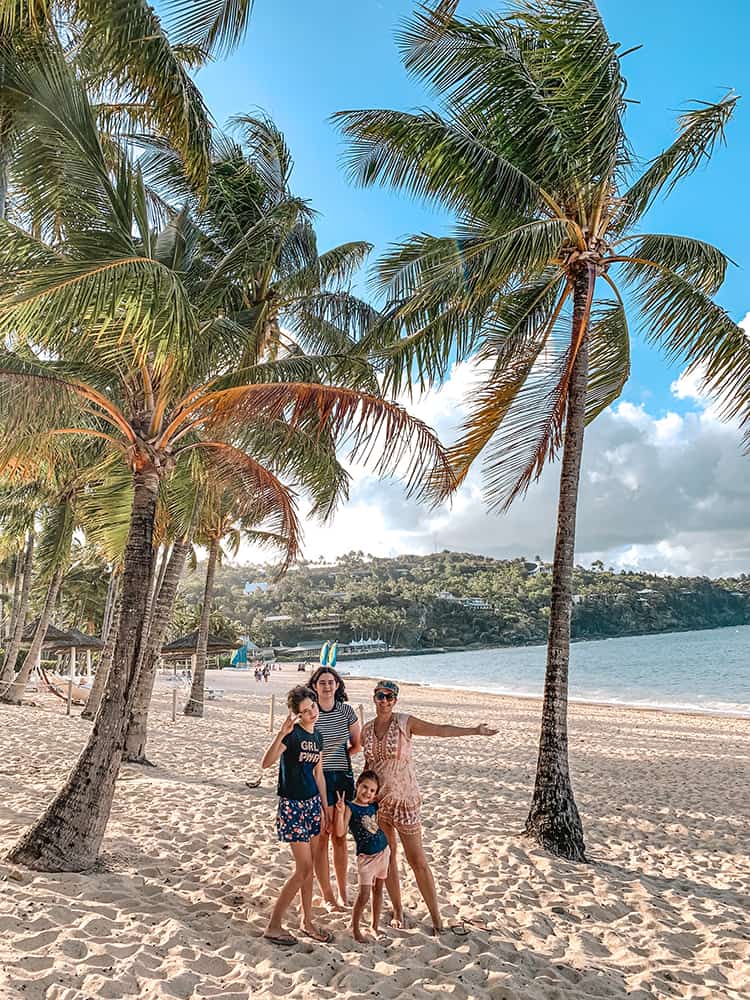 However, the best part about eating on this beautiful island is the incredible view that accompanies most of the bars out there.
Apart from the usual swimming and snorkeling, we suggest signing up for the Hamilton Island Yacht Club to experience the joys of sailing across vast water bodies.
Additionally, you can check out the Hamilton Island Golf Club if you enjoy the sport.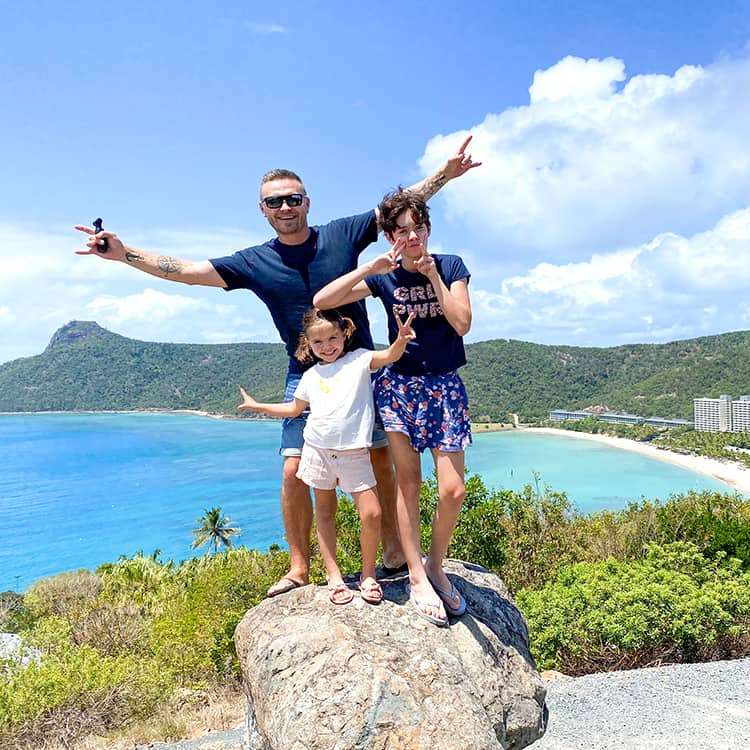 You will be spoilt for choice in terms of accommodation, too. From luxurious couples' suites to cozy holiday homes- Hamilton Island has got something for everyone!
Need help choosing between Hamilton Island or Hayman Island?

If you have kids choose Hamilton Island. If you are after romance or seclusion, choose Hayman Island.

If you are young and get bored easily, choose Hamilton Island.

If you want to organise plenty of day trips, choose Hamilton Island.

Want to choose the Island that is easiest to get to? You can fly straight in to Hamilton Island.
Popular accommodation options (much cheaper than Hayman Island):
Further Reading:
---
3. Daydream Island Review
A favorite among sailing enthusiasts, we were certainly looking forward to our trip to Daydream Island.
We booked a room during their nearly-renovated promotions.
Daydream Island Resort & Living Reef had lots of damage caused by Cyclone Debbie and it was closed for ages whilst it went through renovations.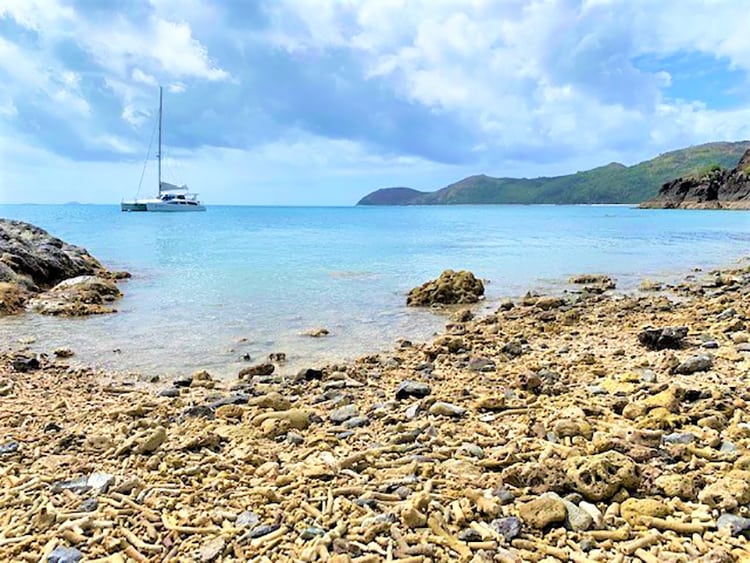 The beach was still in a poor state with lots of dead corals, and no sandy beaches as advertised on the website at the time.
Despite the website being full of photos of a beautiful beach area and luxurious accommodation, the whole stay was just a massive let down – and we ended up leaving early (fortunately they gave us a refund for the unused nights).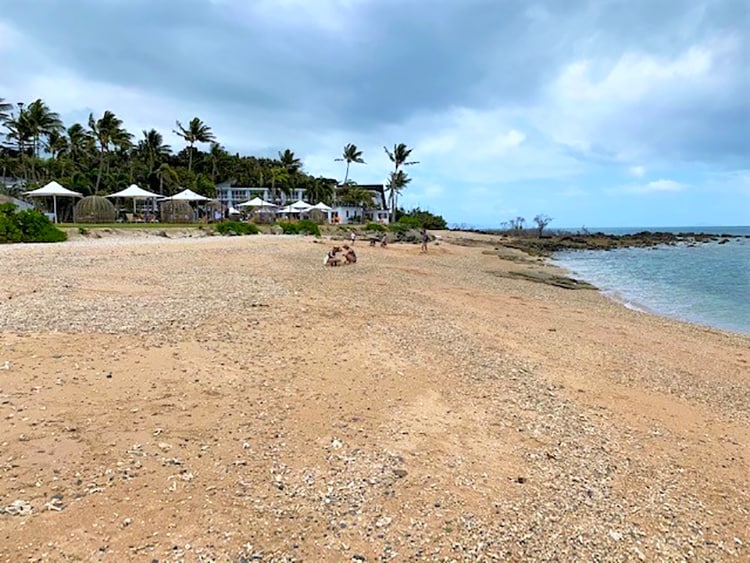 Stepping away from the average beach area, the choice of food is pretty limited and we got sick of the options pretty quickly.
Despite offering average service and food, the food is pretty expensive and it doesn't take long till you end up with a high bill.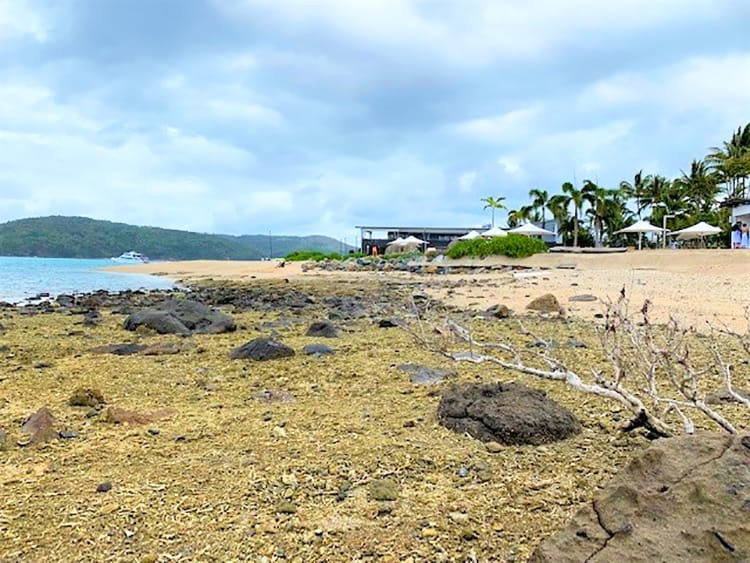 Only recently, we heard of other travelers who left early as their room was full of mold – mold on the pillows and curtains.
And beach sun loungers were broken and looking very sad.
Honestly, there is nothing 'dreamy' about Daydream Island and I suggest you stay clear of this resort.
The island is very small and there is not much to do besides enjoying the resort grounds.
So if you are trying to decide between Daydream Island or Hamilton Island then we suggest you book your stay on Hamilton Island!
However, if you are still set on this island for your stay, you can research prices and read more reviews about Daydream Island resort here.
I also recommend you book these two tours so that you can get off the island and explore the beautiful Whitsundays.
---
How To Get To The Whitsunday Islands
The Whitsunday Islands in Australia are accessible via either plane (fly into either Airlie Beach or Hamilton Island) and/or boat.
In fact, you can even get a one-day ticket for a ferry ride to the island and many other tourist attractions on the way.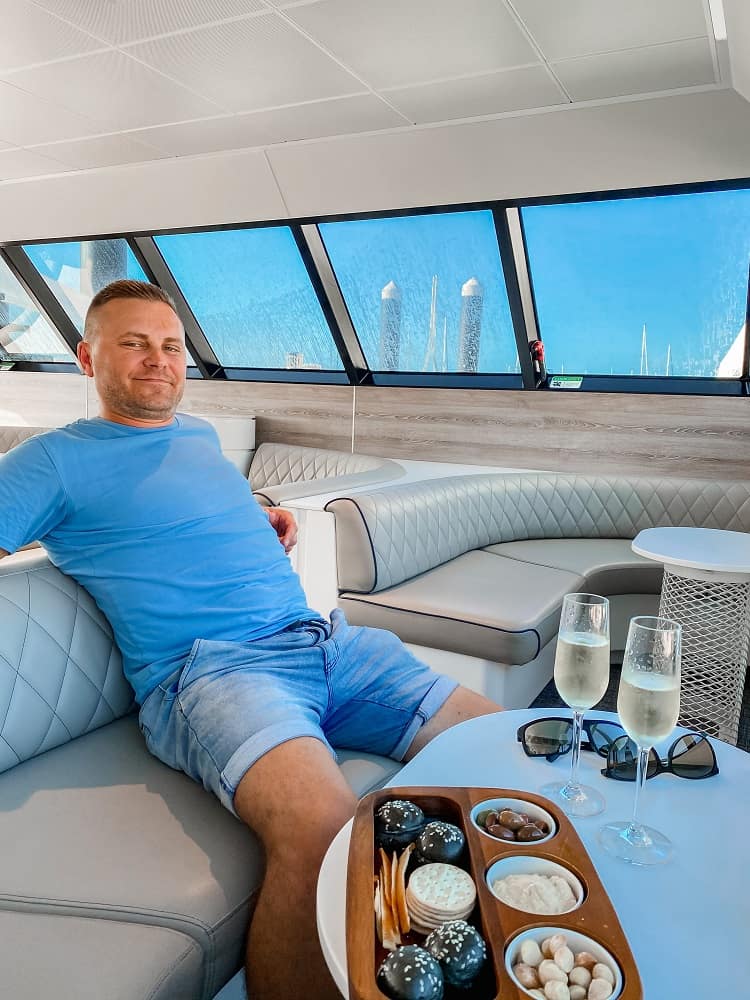 We chose to travel by air as that felt like the fastest option since we wanted to allow more time for the main destination.
We got off at the Whitsunday Coast Airport located at Proserpine. It is roughly 20 km away from Airlie Beach, which was a 30-minute drive.
The Great Barrier Reef Airport is also a viable option as it is the central point between Hayman Island, Hamilton Island, and Daydream Island.
---
Hayman Island vs Hamilton Island vs Daydream Island FAQs
Here are some answers to some of the most commonly asked questions about whether you should stay at Hayman Island, Hamilton Island or Daydream Island.
1. What is the difference between Hayman and Hamilton Island?
Hayman Island is a private island and offers exclusive, high-end luxury accommodation and facilities, while Hamilton Island is a more accessible, family-friendly island that offers a range of accommodation options, from budget to luxury.

Hayman Island is smaller and more secluded than Hamilton Island, with fewer activities and attractions but a stronger focus on relaxation and wellness.

Hamilton Island, on the other hand, offers a wider range of activities, including water sports, hiking, and wildlife experiences, as well as more dining and entertainment options. Plus it is fun zooming around on Golf Buggies.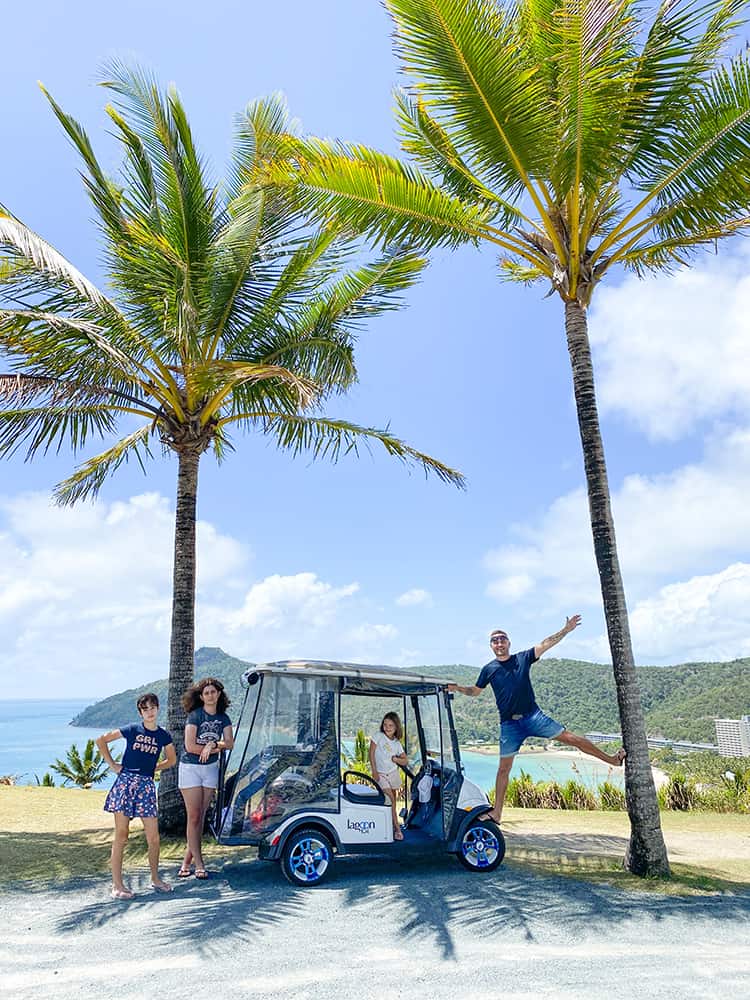 2. What is the most expensive island to stay in the Whitsundays?


The most expensive island to stay in the Whitsundays is generally considered to be the private island of Hayman Island, which features luxurious accommodation, world-class dining, and exclusive facilities.
3. Why is Hamilton Island so popular?
Hamilton Island is popular because of its stunning natural beauty, crystal-clear waters, and lush greenery, making it an idyllic tropical paradise.

It offers a range of activities and attractions, including snorkeling, diving, sailing, and hiking, as well as world-class dining, accommodation, and facilities.

Additionally, Hamilton Island is easily accessible, located in the heart of the Whitsundays and has its airport, making it an ideal destination for both domestic and international travelers.
4. What part of Hamilton Island is best to stay?
The best area to stay on Hamilton Island depends on your preferences and needs.




However, the most popular areas to stay on the island are the Marina Village, which is the main hub of the island with shops, restaurants, and bars, and the beachfront resorts, such as Palm Bungalows, and Beach Club, which offer stunning ocean views and access to the island's beautiful beaches.

We personally love staying close to Catseye Beach – we try to rent a VRBO that includes a gholf buggy so we can get around easily.
5. Is Daydream Island Adults-Only?
No, Daydream Island is not exclusively adults-only.

The island offers accommodation and activities suitable for all ages, including families with children.
---
Final Thoughts: Hamilton Island vs. Hayman Island vs. Daydream Island
That was all we had for you. We hope this guide will help you choose your next dream holiday destination!
As you can probably tell, our pick is Hayman Island. The resort staff, the fun activities, and the sumptuous food stole our hearts, and we can't wait to go back!
Although we went there without our daughters for a "parent-only" getaway, the resort seems to be suitable for kids as well.
On the other hand, Hamilton Island gets the second spot on our list. It is more affordable and kept our family of 5 busy for a week.
We loved that there is a larger variety of options of where to eat and that it is easy and affordable to organize day trips from Hamilton Island.
Lastly, our trip to Daydream Island was quite disappointing. So I suggest you avoid going there and stick to one of the two other islands instead.