As the saying goes, "a family that smiles together stays together."
And Catseye Beach provides the right setting for any family to be in each other's vicinity and still be able to enjoy their favorite activities.
With moms relaxing by the waters with a book in hand, dads surfing the waves, and the kids playing in the sand — everyone will be all smiles all day.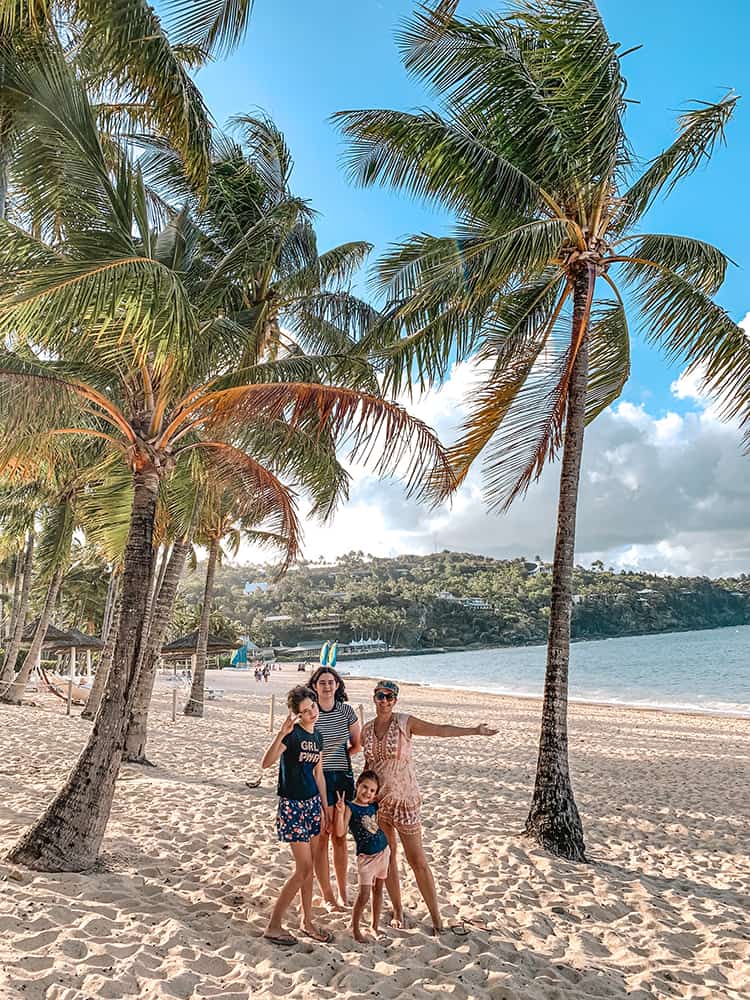 That's exactly how our family spent the weekend on Catseye Beach, which is aptly named after the beautiful curved beach that sits amidst crystal clear waters. And while the view itself is a sight to behold, Catseye Beach offers so much more.
Read on for a quick glimpse into what made us fall in love with this Australian holiday destination.
Catseye Beach, Hamilton Island
Here is a little bit about Hamilton Island's best beach:
1. Where is Catseye Beach?
Even before stepping onto the cool sands of Catseye Beach, we were already soothed by the gentle crashing of waves. Indeed, this beach is just an earshot and a short walk away from some Hamilton Island resorts.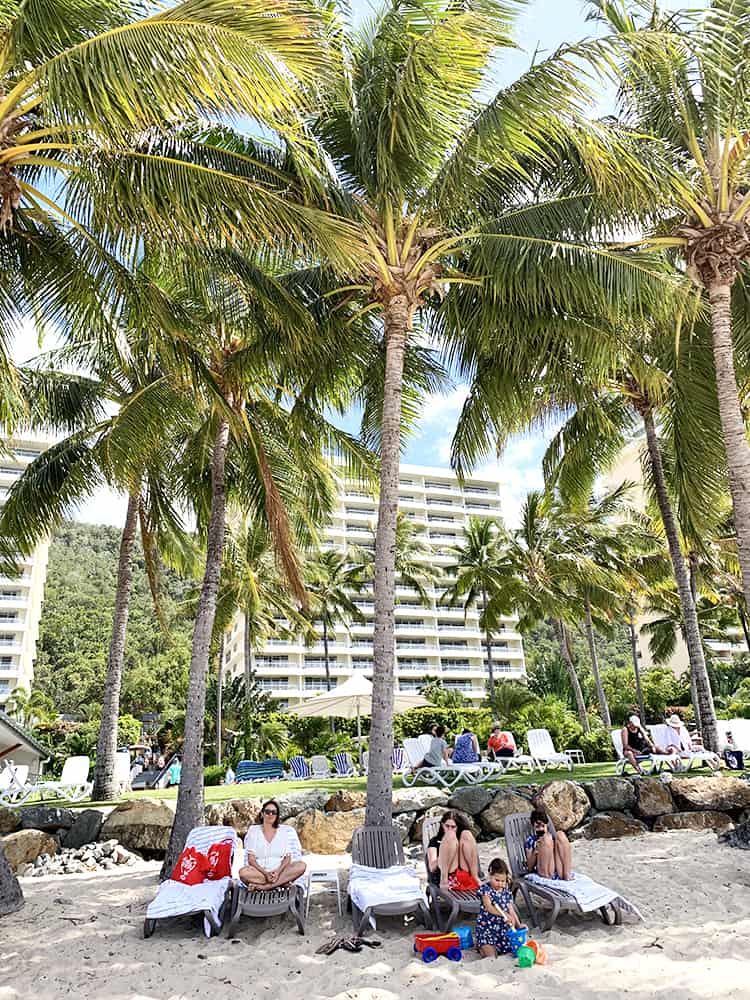 What's more, there were plenty of on-site buggies to transport us from our accommodation to the beach and back in just a couple of minutes.
Tip: Check the review of the place that we have stayed at Lagoon 104 Hamilton Island.
2. Accessibility To The Catseye Beach
Once we reached Catseye Beach, we knew it would be an entire day of fun and frolic on the waves.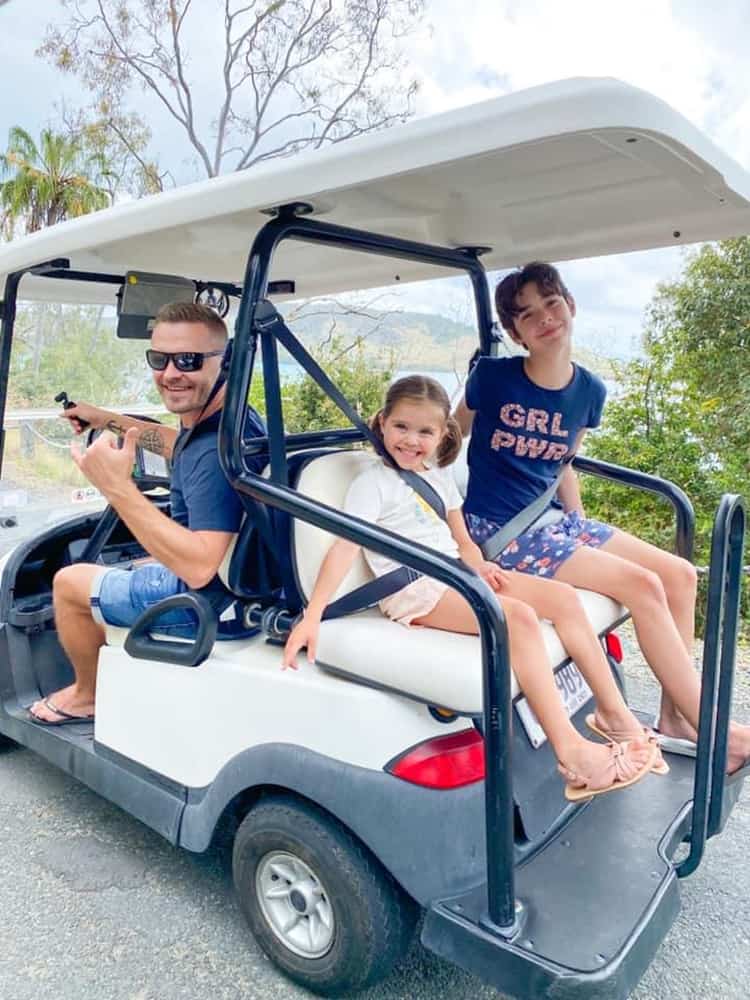 Fortunately, the beach provides ample parking space for buggies — and it's right next to the beach.
3. Water Sports
Adventure and sports enthusiasts are in for a treat at Catseye Beach. The beach provides facilities for all kinds of water sports, including kayaking, windsurfing, snorkeling, paddleboard surfing — you name it.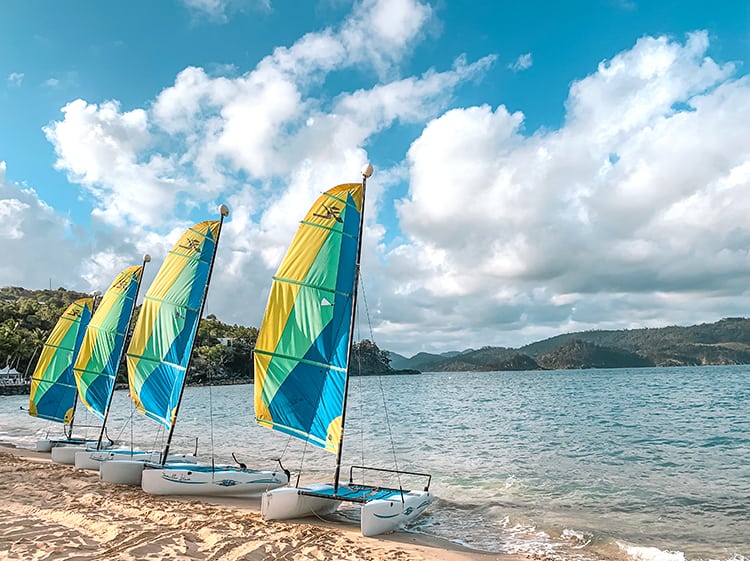 And considering how gorgeous corals and aquatic life surround Hamilton Island, sailors and boating enthusiasts won't be able to resist hiring a catamaran to explore the surrounding waters.
4. Relaxation On The Beach
While some prefer surfing the waves, others may be just as satisfied staying at the beachside with a good book or a beer in hand. Either way, Catseye spreads over a large area, providing plenty of space for kids to play and winding down on beach chairs.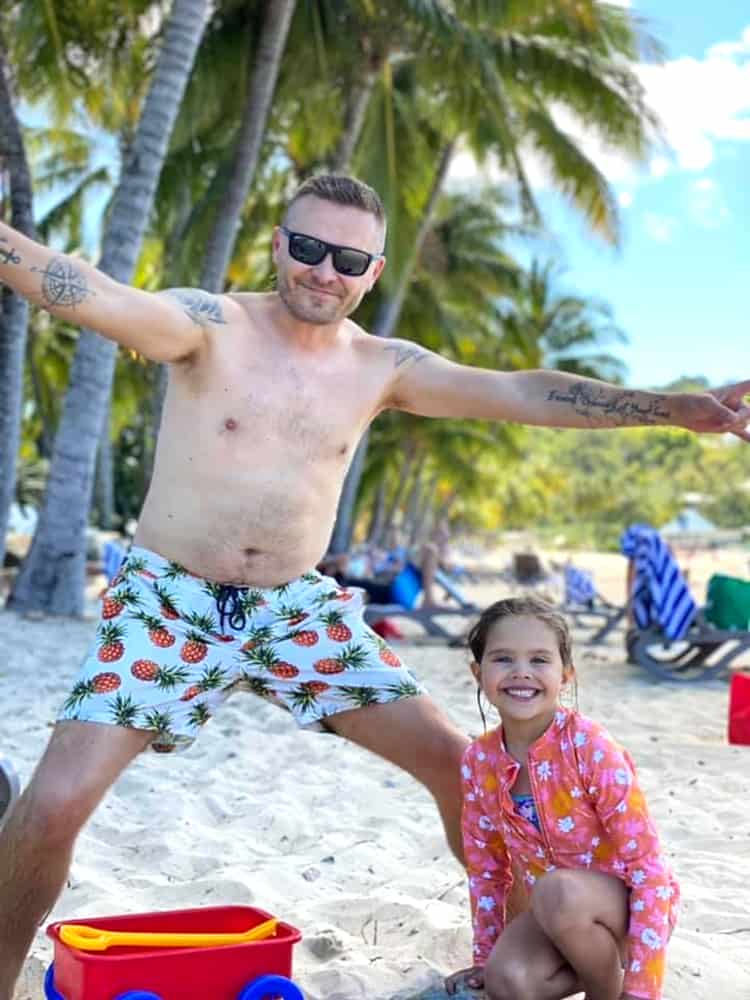 From here, parents can watch the kids making castles in the sand or admire the gorgeous view in front of them.
5. Snorkeling
Want to get close to nature? Hire or bring your snorkeling gear and swim with the turtles that live around the island. That said, you will need flippers if, like us, you are planning to catch the turtles in action.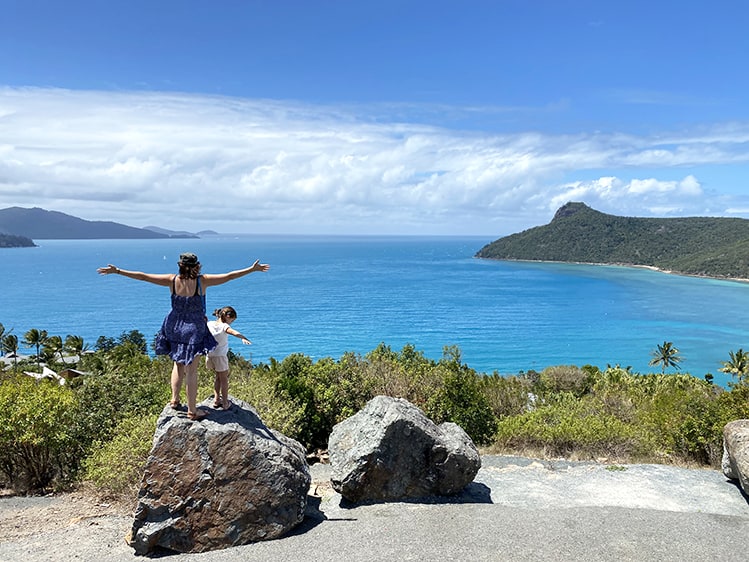 However, bear in mind that you have to research the tide in the area to catch a glimpse of what is under the sea. In fact, we were unaware that a low tide may not be ideal for snorkeling and had to walk and swim a long way before spotting any aquatic life.
Anyhow, you can always check out the snorkeling tour for a guided exploration around the reef.
6. Beachside Pools
Check out the two amazing family-friendly pools at Catseye Beach:
A) Bougainvillea Pool
Take a dip in the luxurious Bougainvillea Pool or sit at the poolside bar with a refreshing drink after a long day on the beach. Nestled among palm trees, this pool provides a majestic view of the sea and a fun activity for the kids.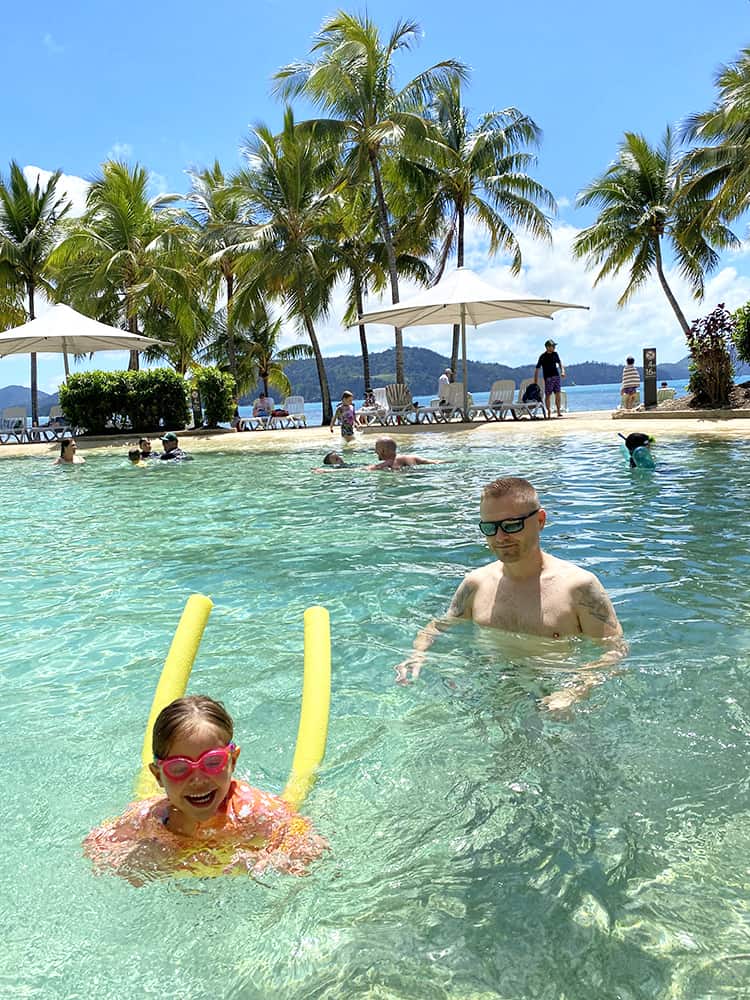 In fact, our daughter Avalee-Rose couldn't get enough of it. And as she swam and splashed till sundown, we lounged around on the beach chairs with a quick drink from the Bougainvillea Bar.
B) Main Pool
The Main Pool features a freeform pool style and a tropical jungle theme to provide the ultimate island experience. But the best part about swimming and relaxing here was probably the swim-up bar.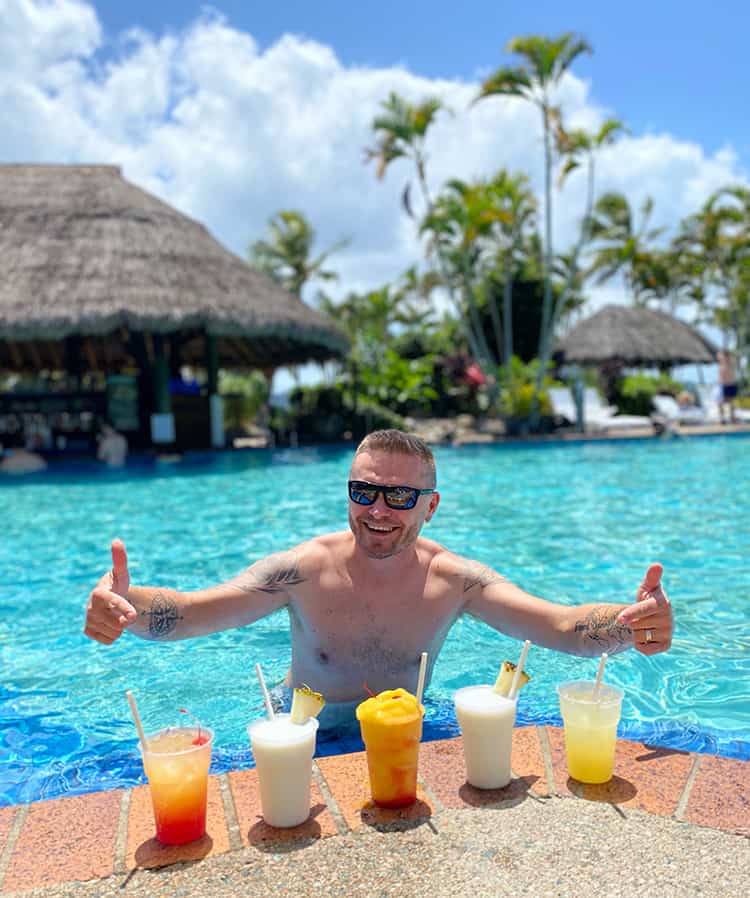 And once the after-swim hunger pangs overcame us, we decided to grab lunch at the renowned Sails restaurant, which was conveniently just a short walk away.
Final Words
Pleasant weather, sporting adventures, sea explorations, luxurious pools, beautiful views — Catseye Beach had it all.
Considering the diverse experiences offered by this holiday destination, one might even say that our family was sitting in the lap of nature and luxury, all at once!
Additional Reading: