Puglia is a region of southern Italy that makes up the 'heel' of the country's boot. The region is becoming an increasingly popular destination. While still maintaining a sense of peace and authentic Italian charm that has become lost in many popular tourist areas.
This beautiful area is famous for its historic little towns, incredible food and fresh produce, stunning natural landscapes, and some of the best beaches in southern Italy. There are plenty of fantastic Puglia points of interest found all around the region. Exploring the different towns and villages here is easy, and it makes for an amazing Italian road trip!
Here are some of the most unmissable places to visit in the Puglia region, Italy.
The Best Places to Visit in Puglia, Italy
Wondering where to go during your Puglia itinerary? Be sure to include some of these essential towns during your visit.
1. Alberobello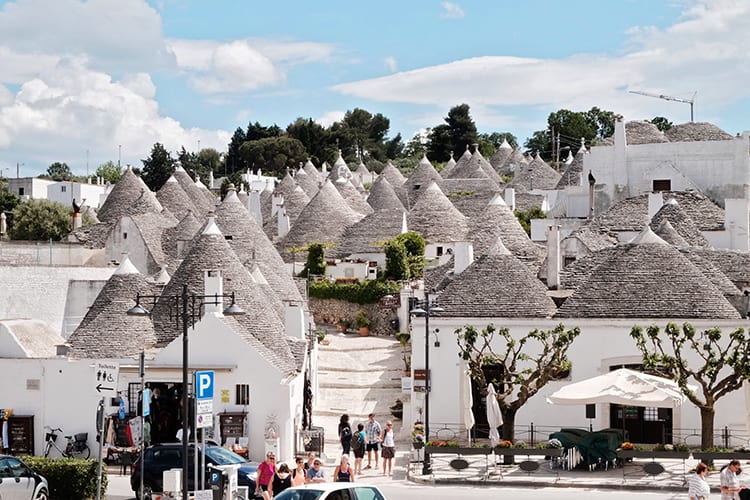 Alberobello is one of the most charming and unique little towns in Italy. This small town is most famous for its cute conical houses called Trullo. The Trulli houses of Alberobello have been designated UNESCO World Heritage status due to their rich historical and cultural value.
The main reason to visit Alberobello is to simply wander between the beautiful Trulli and soak up the charming small-town atmosphere. You could take a walking tour for a deeper insight into the town. There is also an informative museum (Museum Trullo Sovrano).
As with any Italian destination, food in Alberobello is always a highlight. This town is especially loved for its delicious vegetarian cuisine.
Click here to book your guided walking tour of Alberobello!
2. Polignano a Mare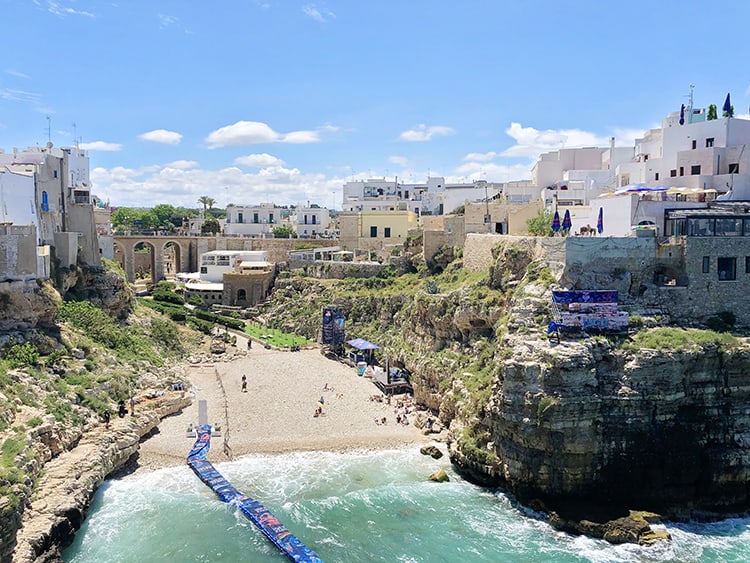 Polignano a Mare is one of the most beautiful Italian coastal towns. Sure, the beach here is stony (walking on it barefoot isn't much fun). But the dramatic cliffside location and sparkling blue waters make this one of the most breathtaking Puglian destinations to visit.
The town of Polignano a Mare consists of whitewashed houses perched on top of dramatic limestone cliffs. The entire place is steeped in history, making it a wonderful place to just walk around and explore. Located only 30 minutes away from busy Bari, Polignano a Mare is an easy to reach coastal escape.
Cala Porto (the pretty beach) is the main drawcard here, but there are also plenty of other fun activities available. Top things to do here include cliff jumping, a spritz or coffee on the main square, and a historic tour of the town. Or simply enjoying the amazing food and views on offer. Polignano a Mare will be a rewarding destination for any visitor.
3. Monopoli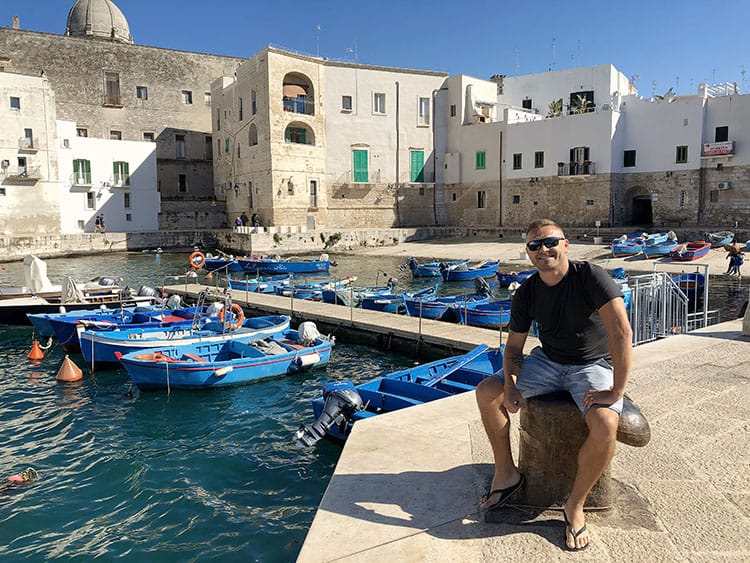 Monopoli is a quiet fishing town with loads of personality. If you're looking for one of the best places in Puglia to enjoy an authentic port town experience (without too many tourists), then Monopoli would be the place. This town is a bit bigger and less crowded than the more popular Polignano a Mare.
Monopoli also consists of old buildings made from white stone, built along the coast. There are many magnificent churches around here, built with incredible detail and artistic touches. Simply walking through the old streets of this town is a real joy.
Visitors can still enjoy the warm coastline, with some inviting rocky areas to swim from. There are some great cafes and trattorias around here that offer a laid back, non-touristy experience.
4. Ostuni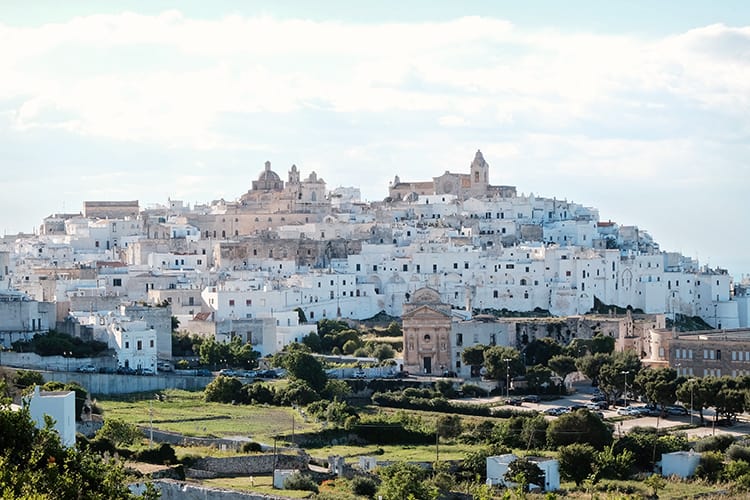 Ostuni in Apulia, Italy, is a city with a truly spectacular location. Also known as 'The White City' thanks to its iconic white stone building, Ostuni is a destination that any Puglia visitors should definitely check out.
The Ostuni Cathedral is one of the most striking landmarks in the city – with its enormous Romanesque, Gothic and Byzantine design. There are also some beautiful arched medieval gates worth checking out if you love architecture. For those interested in the history of Ostuni, the Civic Museum is a really interesting stop.
This is one of the best places to visit in Puglia to just absorb the unique environment, culture, and history of the region.
5. Otranto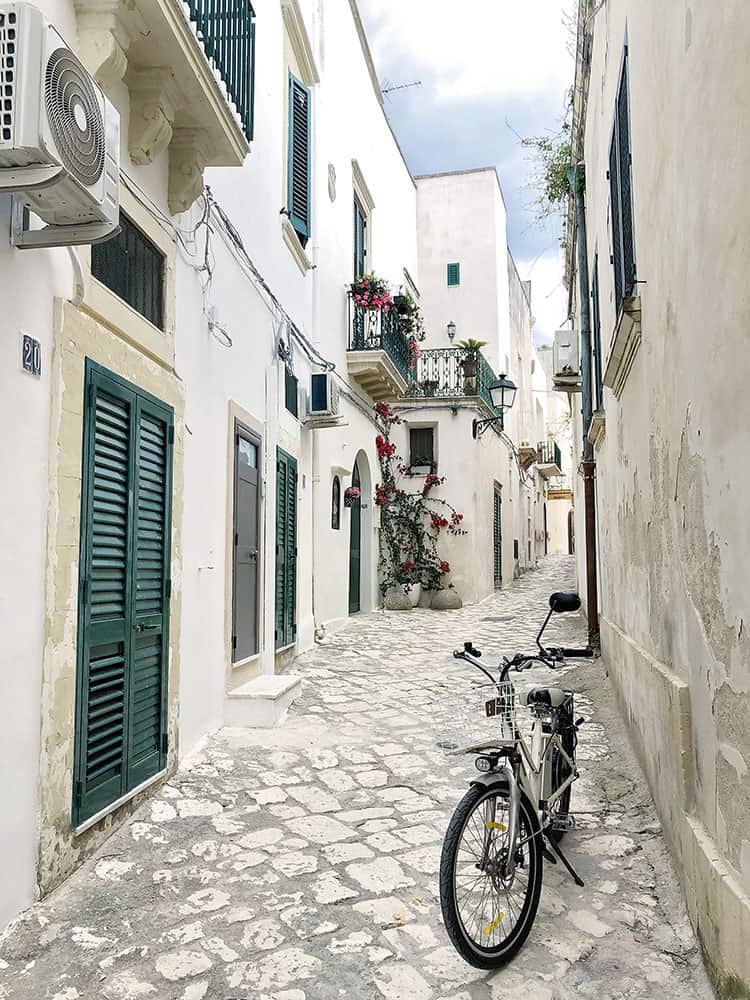 Otranto, Puglia, is one of the top coastal destinations in the region. This town, built right along the clear blue water, is one of the great gems of southern Italy.
Some major points of interest include the 15th century Aragonese Castle, and the Otranto Cathedral – dating back to the 11th century. The old harbor is also a beautiful part of the town, with the Torre Matta tower offering panoramic views out over the coastline.
This little slice of heaven offers some great beaches (Alimini Beach is the most popular), lakes for swimming, and the typically beautiful stone architecture of the region. Take a walk around Otranto, relax at a cafe in the town's main square, and soak up the laid-back Puglian lifestyle.
6. Martina Franca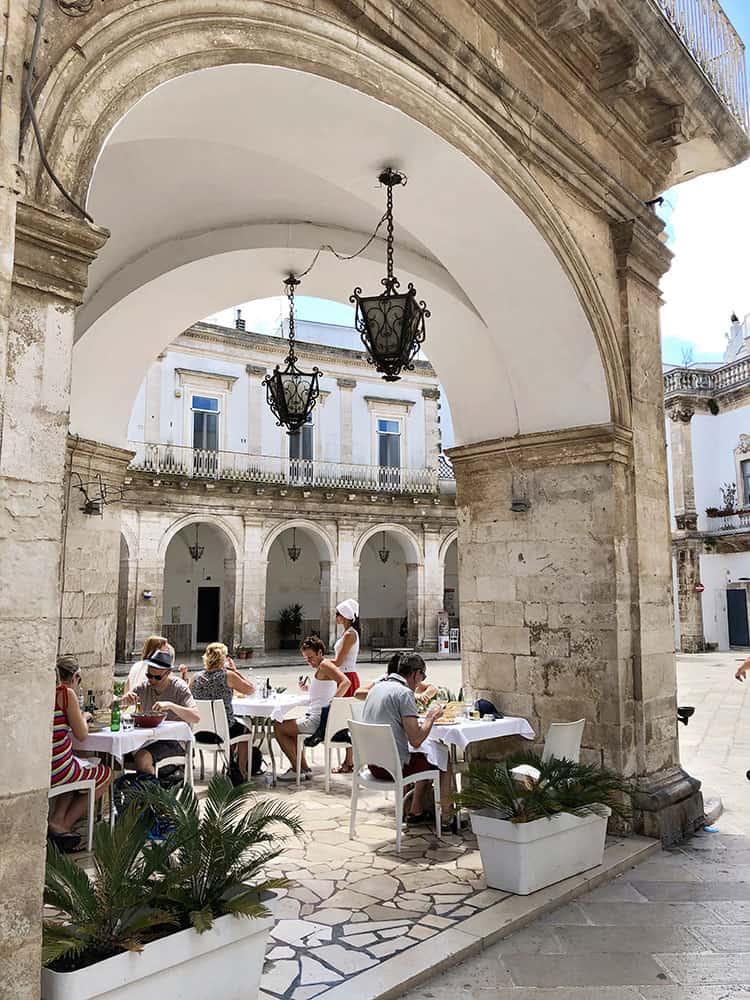 Martina Franca is one of the busier towns in the Apulia region of Italy. The main reason to visit this pretty town is to explore its old quarter. Here, you will be able to wander through historic alleys, passing white stone buildings, and enjoying the baroque and rococo architecture.
Being one of the busier commercial hubs in the Taranto province, Martina Franca offers a slightly different perspective to the small villages around Puglia. However, the town still maintains a deep sense of calm and serenity.
Enjoy a drink in one of the beautiful piazzas here, and simply watch the world go by.
7. Lecce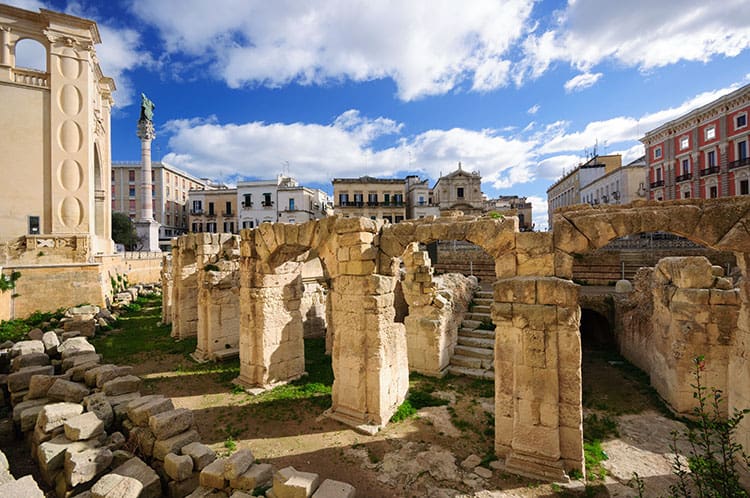 Lecce is becoming an increasingly popular destination in Puglia, thanks to its historic charm and wonderful architecture. The city is often referred to as the 'Florence of the south'. The name comes from its multitude of historic buildings and fascinating points of interest. If you are exploring the best of Puglia, then a stop at Lecce is an absolute must.
Some highlights to see here include the:
Basilica di Santa Croce (a simply amazing church)
Cattedrale dell'Assunzione Della Vergine (an important religious building)
Lecce Castello (an interesting castle fortification)
Faggiano Museum.
While walking around Lecce, you will pass a number of stunning piazzas (Piazza del Duomo is possibly the most impressive), delicious trattorias, and cute espresso bars. Sites like the Roman Amphitheatre show just how much history can be found in beautiful Lecce.
Click here to book a Lecce walking tour for a great guided experience of the town.
8. Monte Sant'Angelo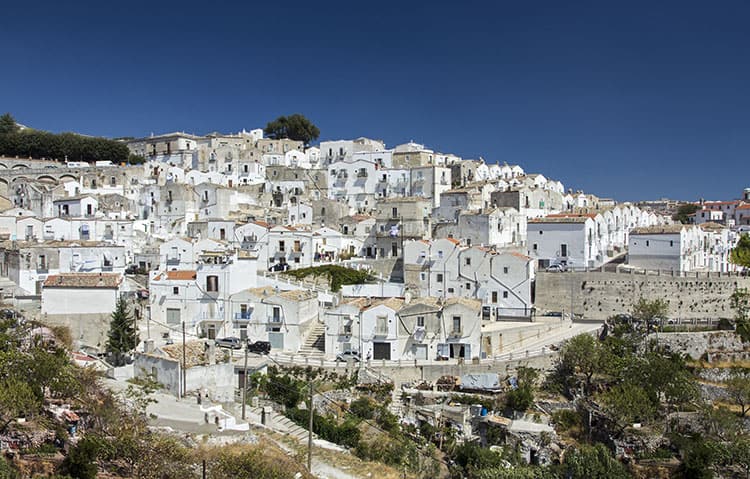 Located along the southern slopes of Monte Gargano, this historic town offers some fantastic Apulia points of interest. From its UNESCO World Heritage-listed Sanctuary of San Michele Arcangelo to the town's ancient castle, there is plenty to experience here.
Monte Sant'Angelo shows off some of that classic Puglian architecture, with plenty of visible history. With its hillside location, this town offers dramatic views and spectacular photo opportunities.
Monte Sant'Angelo is well worth visiting, even if to just walk around the old town and admire the buildings. Life is slow and relaxed here – a perfect example of why Puglia is such an inviting Italian region.
9. Vieste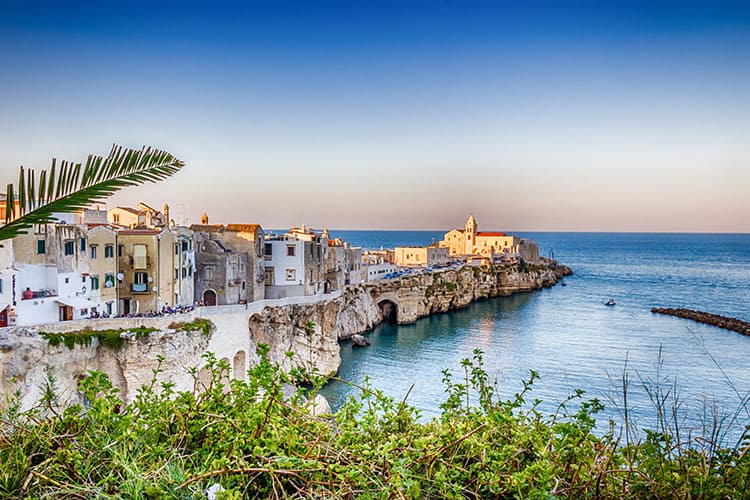 Found inside the Gargano National Park, Vieste is a coastal town brimming with unspoiled beauty. Stunning white stone houses are perched along the edges of cliffs, overlooking the peaceful ocean below.
If you're wondering where to go in Puglia for an unbeatable coastal escape, then Vieste would be your best choice. The old part of this town offers one of the most beautiful atmospheres for those that love sleepy Italian fishing villages. Wander through the narrow alleys, decorated with fishing boats, dogs, and a unique Puglian charm. The new part of the town is unpretentious, and it can get pretty busy during the summer.
Vieste is great to visit for its natural beauty and ocean views, its cute little streets, old buildings, and seaside appeal. This is one of the best destinations in Puglia for anyone to experience.
10. Gargano Peninsula
Gargano is one of the most unique, and utterly beautiful, regions in Puglia. Situated along narrow coastal cliffs, Gargano offers spectacular views wherever you go. Don't miss out on the fabulous boat tours that takes you around the coastline – be sure to admire the fantastic arched cliff in the ocean while visiting Gargano.
Visitors come here mainly to enjoy the brilliant coastline, the awe-inspiring clifftop views, and the peaceful old town. As Puglia is gaining in popularity as a tourist destination, there are some great places to stay, eat, and drink around Gargano.
The main reason to visit here is to just relax under the sun and enjoy the stunning Adriatic coast. Being so close to Croatia, this town has a one-of-a-kind architectural beauty.
Final Thoughts On Visiting Puglia
If you're planning a trip to Italy, exploring some of the southern regions comes highly recommended. Puglia is an absolute gem, with loads of amazing places to visit.
This area displays historic towns, serious natural beauty, and rich regional culture. Puglia is not as popular as other destinations in Italy. So towns here seem to offer a bit more authenticity – allowing you to get a real sense of local tradition. Puglia is undeniably one of the most fantastic regions to visit in Italy.
Be sure to check out some of these amazing destinations out during your trip.