Heading to the south of Italy and looking for the best places to visit in Puglia?
This southern Italian region makes up the 'heel' of the country's boot. The region is becoming an increasingly popular destination while maintaining a sense of peace and authentic Italian charm that has become lost in many popular tourist areas.
This beautiful area is famous for its historic little towns, incredible food and fresh produce, stunning natural landscapes, and some of the best beaches in southern Italy.
Plenty of fantastic Puglia points of interest are found all around the region. Exploring the different towns and villages here is easy, making for an amazing Puglia road trip with kids!
This guide lists the most unmissable places to visit in the Puglia region, Italy and covers everything you need to know to prepare for your trip.
The Best Places to Visit in Puglia, Italy
Wondering where to go during your Puglia itinerary? Here is our list of the best destinations to see whilst in Puglia.
1. Alberobello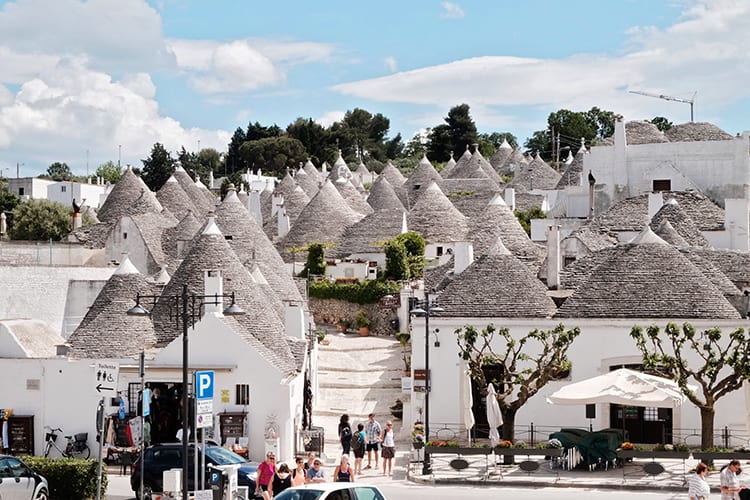 Alberobello is one of the most charming and unique little towns in Italy – which is why I concluded that it is one of the best towns to visit in Puglia.
This small town is most famous for its cute conical houses called Trullo. The Trulli houses of Alberobello have been designated UNESCO World Heritage status due to their rich historical and cultural value.
The main reason to visit Alberobello is to simply wander between the beautiful Trulli and soak up the charming small-town atmosphere. You could take a walking tour for a deeper insight into the town. There is also an informative museum (Museum Trullo Sovrano).
As with any Italian destination, food in Alberobello is always a highlight. This town is especially loved for its delicious vegetarian cuisine.
Click here to book your guided walking tour of Alberobello!
Click here to watch our video of Alberobello
---
2. Polignano a Mare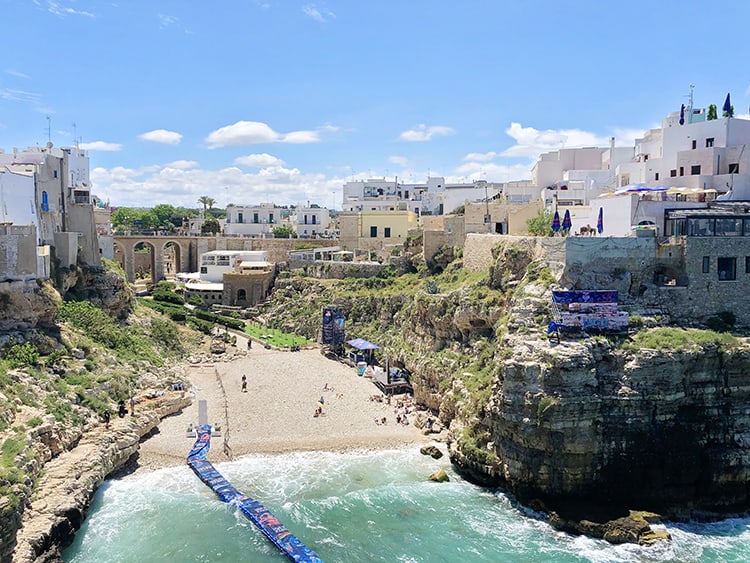 Polignano a Mare is one of the most beautiful Italian coastal towns. Sure, the beach here is stony (walking on it barefoot isn't much fun). But the dramatic cliffside location and sparkling blue waters make this one of the most beautiful places in Puglia.
The town of Polignano a Mare consists of whitewashed houses perched on top of dramatic limestone cliffs. The entire place is steeped in history, making it a wonderful place to walk around and explore.
Located only 30 minutes from the busy Bari, Polignano a Mare is an easy-to-reach coastal escape.
Cala Porto (the pretty beach) is the main drawcard here, but plenty of other fun activities are also available.
The top things to do here include cliff jumping, a spritz or a coffee on the main square, and a historical tour of the town. Or simply enjoying the amazing food and views on offer. Polignano a Mare will be a rewarding destination for any visitor.
Click here to book a boat tour of Polignano a Mare's dazzling caves.
---
3. Monopoli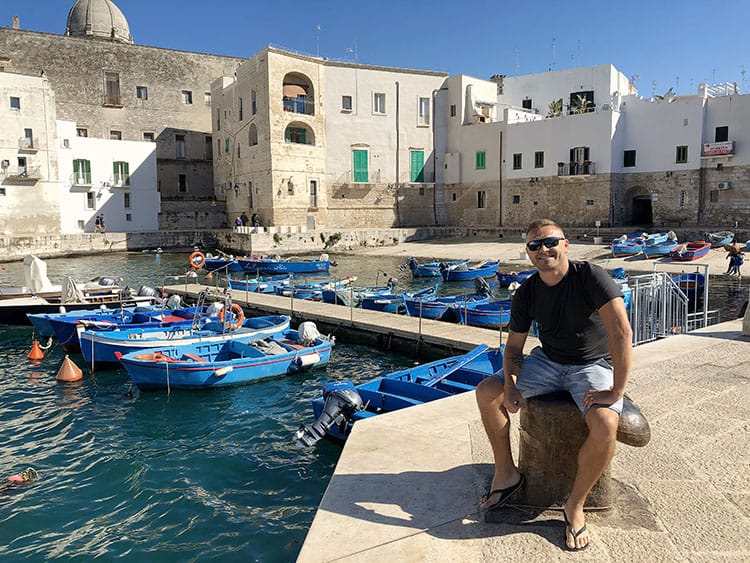 Monopoli is a quiet fishing town with loads of personality. If you're looking for one of the best places in Puglia to enjoy an authentic port town experience (without too many tourists), then Monopoli would be the place.
This town is a bit bigger and less crowded than the more popular Polignano a Mare.
Monopoli also consists of old white stone buildings built along the coast. There are many magnificent churches around here, built with incredible detail and artistic touches. Simply walking through the old streets of this town is a real joy.
Visitors can still enjoy the warm coastline, with some inviting rocky areas to swim from. Some great cafes and trattorias around here offer a laid-back, non-touristy experience.
---
4. Ostuni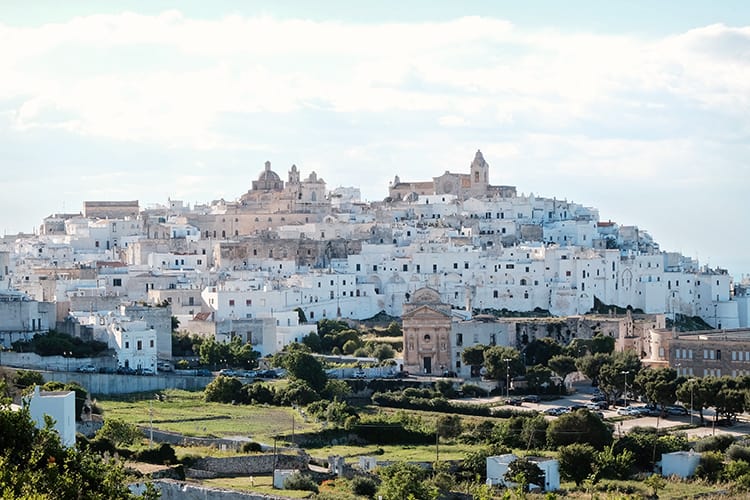 Ostuni in Apulia, Italy, is a city with a truly spectacular location. Also known as 'The White City' thanks to its iconic white stone building, Ostuni might just be one of the best cities to visit in Puglia.
The Ostuni Cathedral is one of the most striking landmarks in the city – with its enormous Romanesque, Gothic, and Byzantine design.
There are also some beautiful arched medieval gates worth checking out if you love architecture. For those interested in the history of Ostuni, the Civic Museum is a really interesting stop.
This is one of the best places to go in Puglia just to absorb the region's unique environment, culture, and history.
---
5. Otranto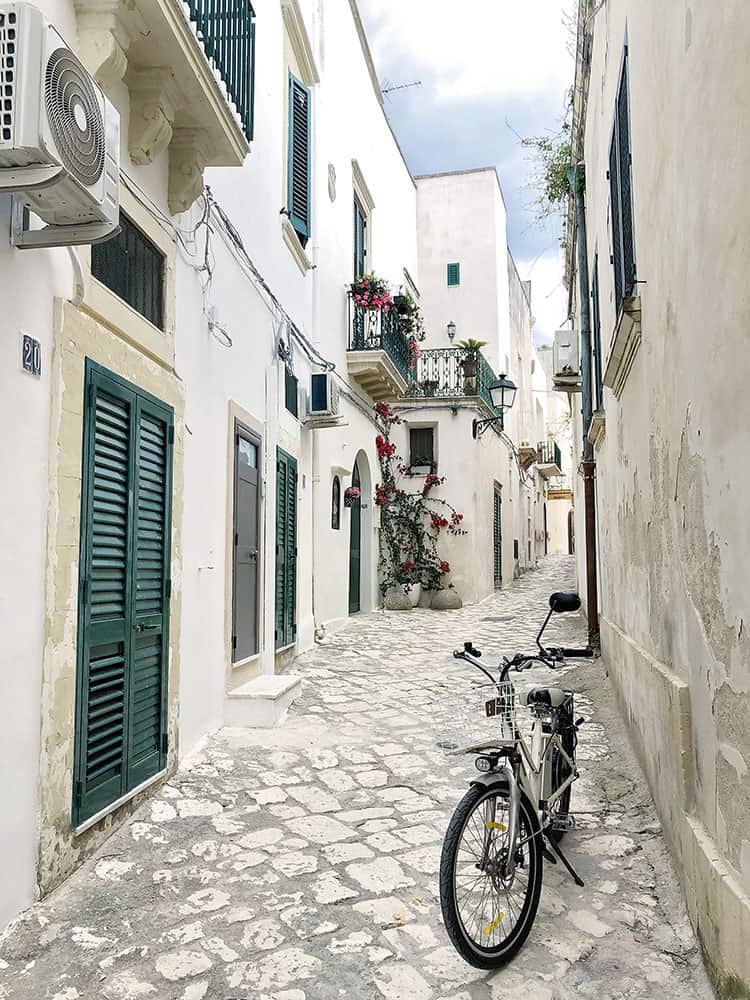 Otranto, Puglia, is one of the top coastal destinations in the region. This town, built right along the clear blue water, is one of the great gems of southern Italy.
Some major points of interest include the 15th century Aragonese Castle and the Otranto Cathedral – dating back to the 11th century. The old harbor is also a beautiful part of the town, with the Torre Matta tower offering panoramic views over the coastline.
This little slice of heaven offers some great beaches (Alimini Beach is the most popular), lakes for swimming, and the typically beautiful stone architecture of the region.
Take a walk around Otranto, relax at a cafe in the town's main square, and soak up the laid-back Puglian lifestyle.
Click here to book a walking tour of the beautiful Otranto.
---
6. Martina Franca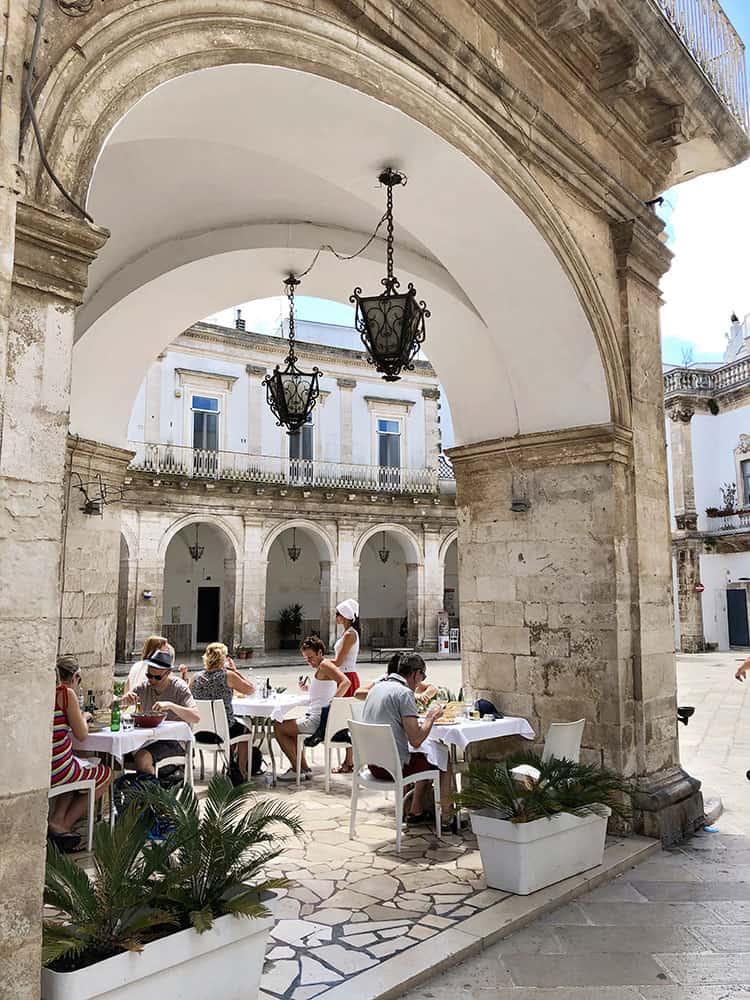 Martina Franca is one of the busier towns in the Apulia region of Italy. The main reason to visit this pretty town is to explore its old quarter.
Here, you can wander through historical alleys, pass white stone buildings, and enjoy the baroque and rococo architecture.
Being one of the busier commercial hubs in the Taranto province, Martina Franca offers a slightly different perspective than the small villages around Puglia. However, the town still maintains a deep sense of calm and serenity.
Enjoy a drink in one of the beautiful piazzas, and watch the world go by.
---
7. Lecce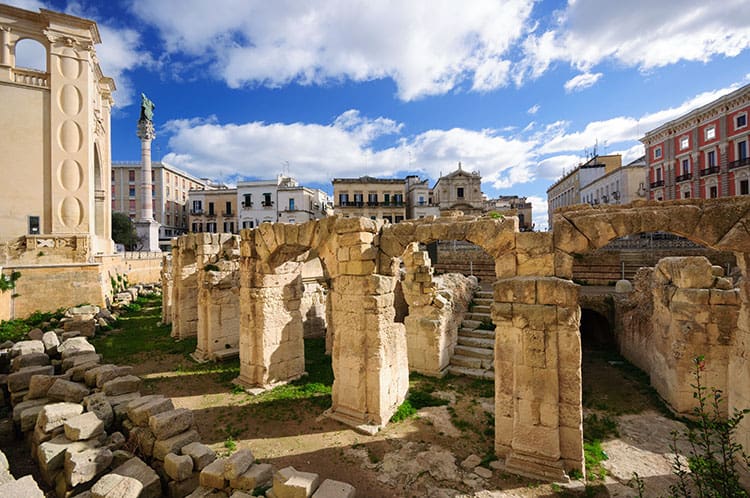 Lecce is becoming an increasingly popular destination in Puglia, thanks to its historic charm and wonderful architecture.
The city is often called the 'Florence of the south.' The name comes from its many historical buildings and fascinating points of interest.
If you are exploring the best of Puglia, a stop at Lecce is an absolute must.
Some highlights to see here include:
Basilica di Santa Croce (a simply amazing church)
Cattedrale dell'Assunzione Della Vergine (an important religious building)
Lecce Castello (an interesting castle fortification)
Faggiano Museum.
While walking around Lecce, you will pass several stunning piazzas (Piazza del Duomo is possibly the most impressive), delicious trattorias, and cute espresso bars. Sites like the Roman Amphitheatre show how much history can be found in beautiful Lecce.
Click here to book a Lecce walking tour for a great guided experience of the town.
---
8. Monte Sant'Angelo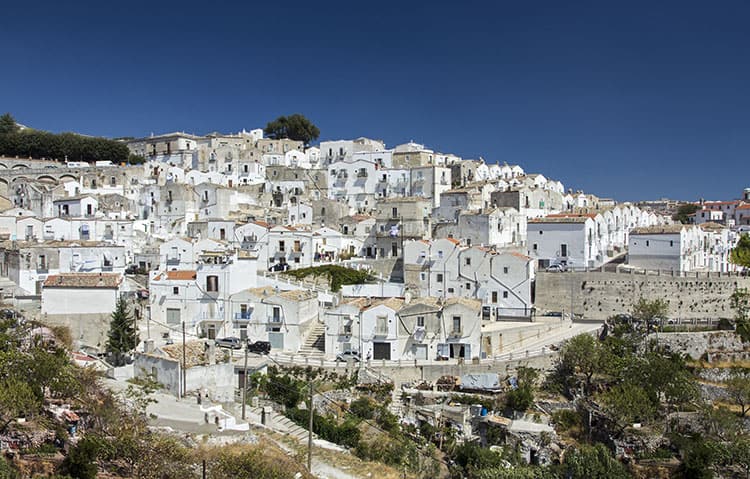 Located along the southern slopes of Monte Gargano, this historic town offers some fantastic Apulia points of interest. From its UNESCO World Heritage-listed Sanctuary of San Michele Arcangelo to the town's ancient castle, there is plenty to experience here.
Monte Sant'Angelo shows off some of that classic Puglian architecture, with plenty of visible history. This town offers dramatic views and spectacular photo opportunities with its hillside location.
Monte Sant'Angelo is well worth visiting, even if just to walk around the old town and admire the buildings.
Life is slow and relaxed here – a perfect example of why Puglia is such an inviting Italian region.
---
9. Vieste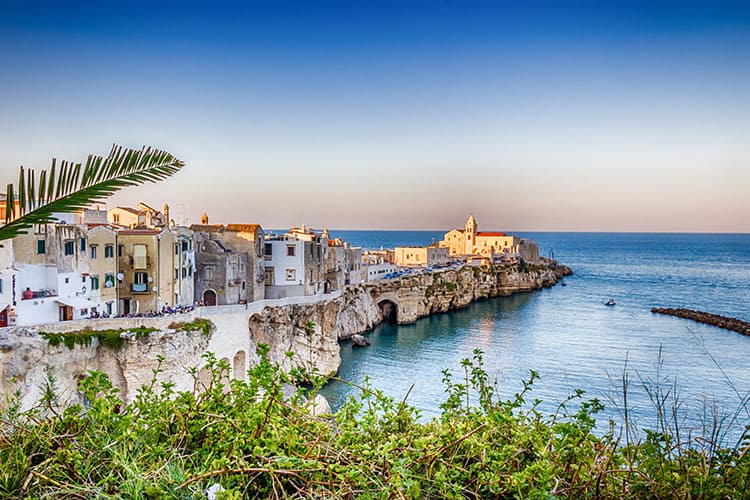 Found inside the Gargano National Park, Vieste is a coastal town brimming with unspoiled beauty. Stunning white stone houses are perched along the edges of cliffs, overlooking the peaceful ocean below.
If you're wondering where to go in Puglia for an unbeatable coastal escape, then Vieste would be your best choice.
The old part of this town offers one of the most beautiful atmospheres for those that love sleepy Italian fishing villages. Wander through the narrow alleys decorated with fishing boats, dogs, and a unique Puglian charm.
The new part of the town is unpretentious and can get pretty busy during the summer.
Vieste is great to visit for its natural beauty and ocean views, its cute little streets, old buildings, and seaside appeal. This is one of the best destinations in Puglia for anyone to experience.
---
10. Gargano Peninsula
Gargano is one of Puglia's most unique and utterly beautiful regions. Situated along narrow coastal cliffs, Gargano offers spectacular views wherever you go.
Don't miss out on the fabulous boat tours that take you around the coastline – be sure to admire the fantastic arched cliff in the ocean while visiting Gargano.
Visitors come here mainly to enjoy the brilliant coastline, the awe-inspiring clifftop views, and the peaceful old town.
As Puglia is gaining in popularity as a tourist destination, there are some great places to stay, eat, and drink around Gargano.
The main reason to visit here is to relax under the sun and enjoy the stunning Adriatic coast. Being so close to Croatia, this town has a one-of-a-kind architectural beauty.
---
11. Cisternino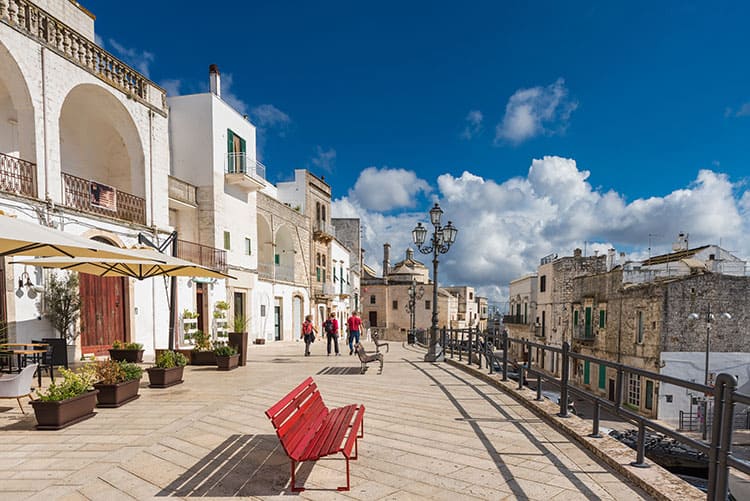 Forming part of the three historic towns in the Valle d'Itria, Cisternino is a charming, whitewashed town perched on a hill. With its narrow walkways, balconies decorated with vibrant plants, and centuries-old churches, it's no wonder Cisternino is known as one of Italy's most beautiful towns.
This relatively quiet region provides excellent views of the unique trulli from Villa Communale — a small park near the 13th-century Chiesa Matrice.
Other interesting sights include the baroque Church of San Cataldo, the Church of San Nicola, and Piazza Vittorio Emanuele.
The piazza is a great place to view the locals go about their passeggiata. To truly experience Cisternino like the locals, order a few pieces of meat, and the butchers will barbeque it for you. Try the Puglian bombette — a meat parcel of ham, mince, and cheese.
---
12. Tremiti Islands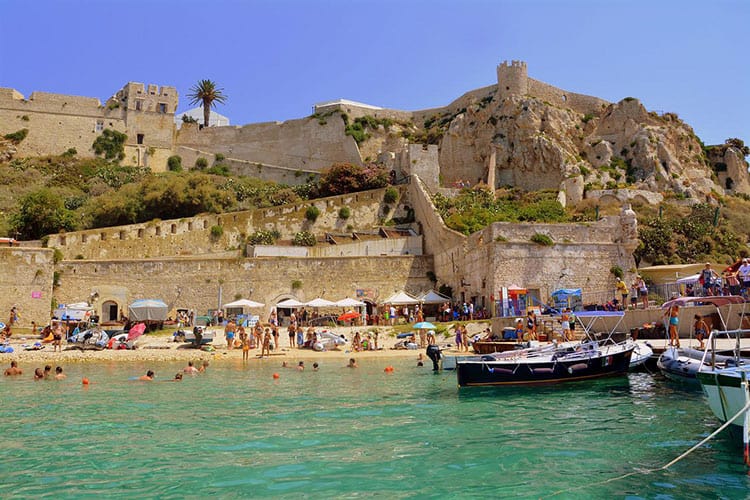 You'll find the Tremiti Islands around 22 km north of the Gargano Peninsula. In the past, it was used as a penal colony by Roman and Italian leaders. Today, the archipelago is a tourist and holidaymaker's paradise.
The archipelago consists of five islands: San Nicola, Capraia, San Domino, Creataccio, and Pianosa. These islands form part of Gargano National Park and feature dramatic, rocky cliffs, lush greenery, and turquoise waters.
The largest and most popular of the five islands is San Domino. This is the only island in the archipelago where you'll find sandy beaches to lounge about on. This island and nearby San Nicola — where you'll find an incredible fortified abbey — are the only two inhabited islands.
The other three are smaller and uninhabited but still worth seeing on a boat tour around this spectacular archipelago.
---
13. Brindisi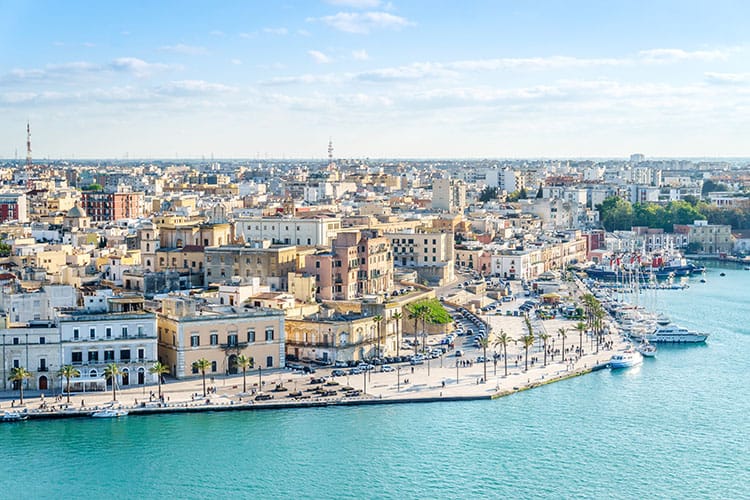 Originally named Brundisium, this port town on the Adriatic coast is often overlooked as a tourist spot. Brindisi is home to one of Puglia's two main airports, so tourists see Brindisi as a mere entryway to Puglia. But, this town has a lot going for it.
Brindisi is not only the place where the iconic poet Virgil died. It's also the end point of the ancient Roman Appian Way, a route that was frequented by pilgrims and traders. Two Roman columns marked the end of this road, one of which can still be seen today.
Besides that, Brindisi has a natural harbor which has added to its success as one of Italy's most important ports. Here, you'll find palm-tree-lined boulevards, the 12th-century Tempio di San Giovanni al Sepolcro, and a provincial archaeological museum with an impressive collection of bronze Greek sculptures.
---
14. Gallipoli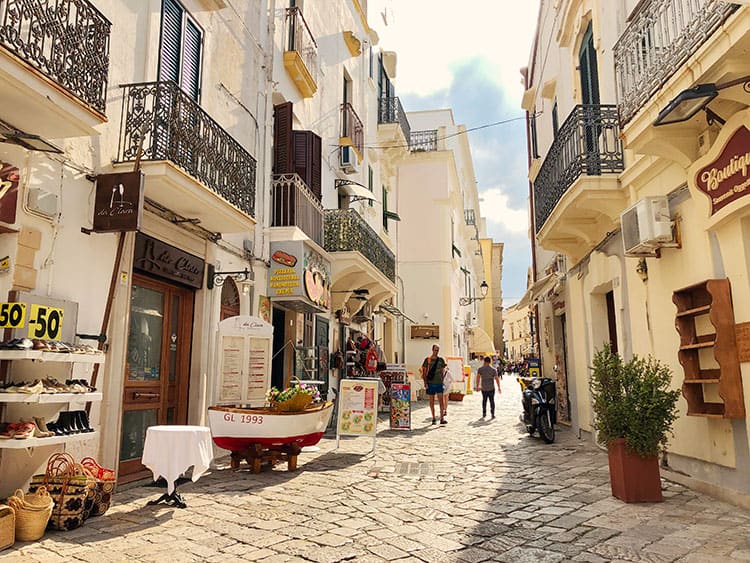 Situated on the west coast of the Salento Peninsula, this port town has some of the most beautiful beaches in Puglia.
Gallipoli was often a target for attacks due to its prosperity as a port. You'll thus find the city enclosed in defensive walls and spot the Aragonese Castle at the entrance of Gallipoli Vecchia — the old town.
The charming old town stands in strong contrast with the more modern side and sits on a separate island connected by a 17th-century bridge. Head across the bridge on a scenic route to the old town and wander about the winding little streets, many of which lead to the seafront promenade.
Highlights of this town include the 17th-century baroque Cathedral of Saint Agatha, the spectacular aristocratic palazzi, and an intricately carved-stone Greek fountain.
You also won't want to miss the fine, golden sand beaches — Spiaggia della Purità being one of the most popular.
---
15. Locorotondo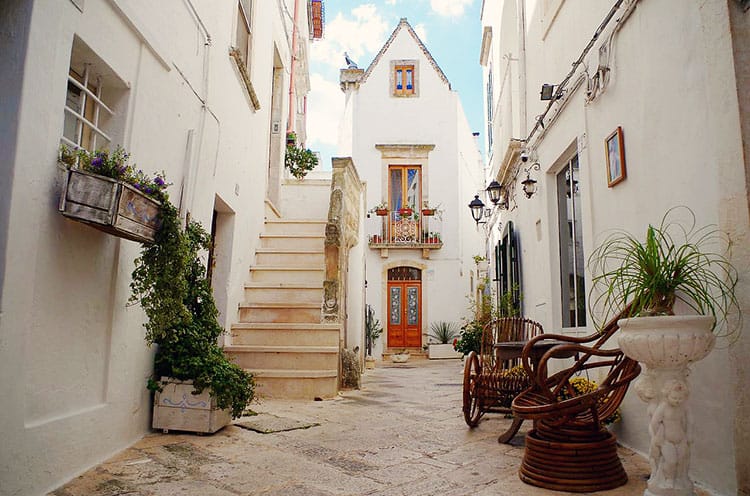 This hilltop town in the Valle d'Itria is a picture-perfect spot, often overlooked for its more popular neighbor, Alberobello. But, since the town is perched on a hill, you'll still have a chance to view the valley and the distinctive trulli that make Alberobello so popular.
The old town of Locorotondo — which means "round place" — is built around the Chiesa Madre di San Giorgio.
This area features stone walkways, unique "a cummersa" pointed roofs, and floral balconies. The locals take great pride in keeping their town beautiful and hold a yearly competition to vote for the most beautiful balconies.
Be sure to bring your camera along and consider taking a walking tour to learn more about the town and see the best attractions.
Click here to book a walking tour of charming Locorotondo.
---
FAQs About Where to Visit in Puglia
Here are a few answers to some of the most frequently asked questions about visiting Puglia, Italy.
1. Is Puglia Worth Visiting?
Puglia is absolutely worth visiting!
With its ancient towns and crystal clear beaches with cliffs that offer magnificent views, you won't regret visiting this region. It's also much less frequented by tourists than the more northern regions, so you'll have a much more authentic and peaceful trip.
2. What Is the Best Time To Visit Puglia?
The best time to visit Puglia is during the warmer months, stretching between May and September.
The warmest months are July and August. These months are perfect if you're looking to soak up the sun on the beach all day. But it's also peak tourist season, so you can expect more crowds.
The ultimate time to visit Puglia would be during the "shoulder seasons". So during the spring months of May and June, and the autumn month of September. During this time, both the weather and the tourist crowds are moderate.
3. How Many Days Should I Stay In Puglia?
The number of days you spend in Puglia will depend on how much you want to see. We'd recommend spending at least five days in Puglia to get a decent feel for this vast region.
But, if you'd like to immerse yourself in the Apulian culture and life without rushing through the top destinations, we recommend budgeting ten days for your trip.
4. Where Is A Good Base In Puglia?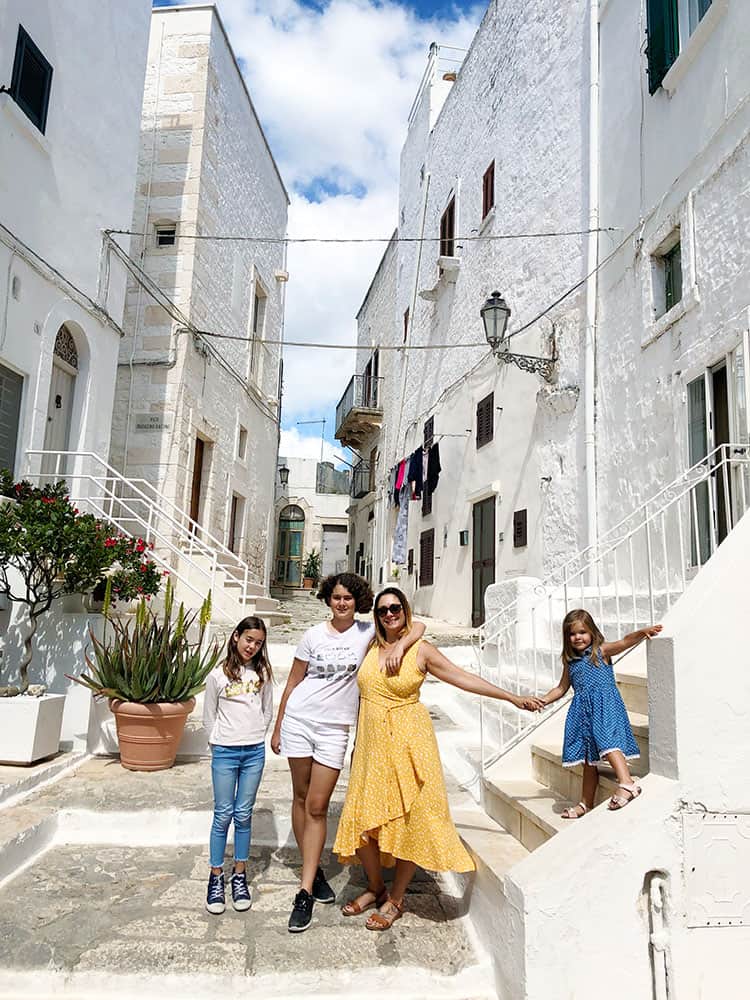 We based ourselves in the beautiful white city of Ostuni. There's so much to explore in Ostuni alone. But this city is also located near some of the top destinations on this list, like Brindisi, Polignano a Mare, and Lecce.
If you're looking for a coastal base, we'd recommend staying in the charming town of Polignano a Mare. You can also base yourself in Lecce for longer trips. All of these towns are well connected by train, and each has its own unique character.
5. How Do You Get Around Puglia?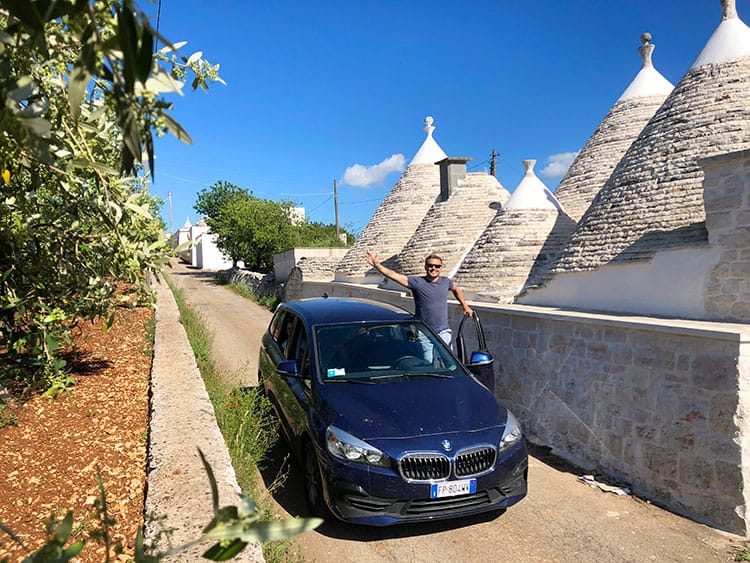 One of the best ways to get around Puglia is by renting a car. This allows you to explore at your own pace, avoid any confusion with public transport, and reach smaller towns that are not easily accessible by train. You'll also get to explore the many scenic routes in Puglia.
---
Final Thoughts On Visiting Puglia
Exploring some of the southern regions is highly recommended if you're planning a trip to Italy. Puglia is an absolute gem, with loads of amazing places to visit.
This area displays historic towns, serious natural beauty, and rich regional culture.
Puglia is not as popular as other destinations in Italy. So towns here seem to offer a bit more authenticity – allowing you to get a real sense of local tradition. Puglia is undeniably one of the most fantastic regions to visit in Italy.
Check out our guide to the best places to visit in northern Italy if you're planning a full tour of the country. You may also find these Italy tips and travel information helpful.
Feel free to pin this pin to Pinterest so you can find this post easily in the future!