When you think of the perfect beach, what comes to mind?
Is it crystal clear water, white sand or just having plenty of shade and an adequate place to set out a blanket?
What would the best beaches in NSW ideally look like to you?
Discover the Best Beaches NSW has to Offer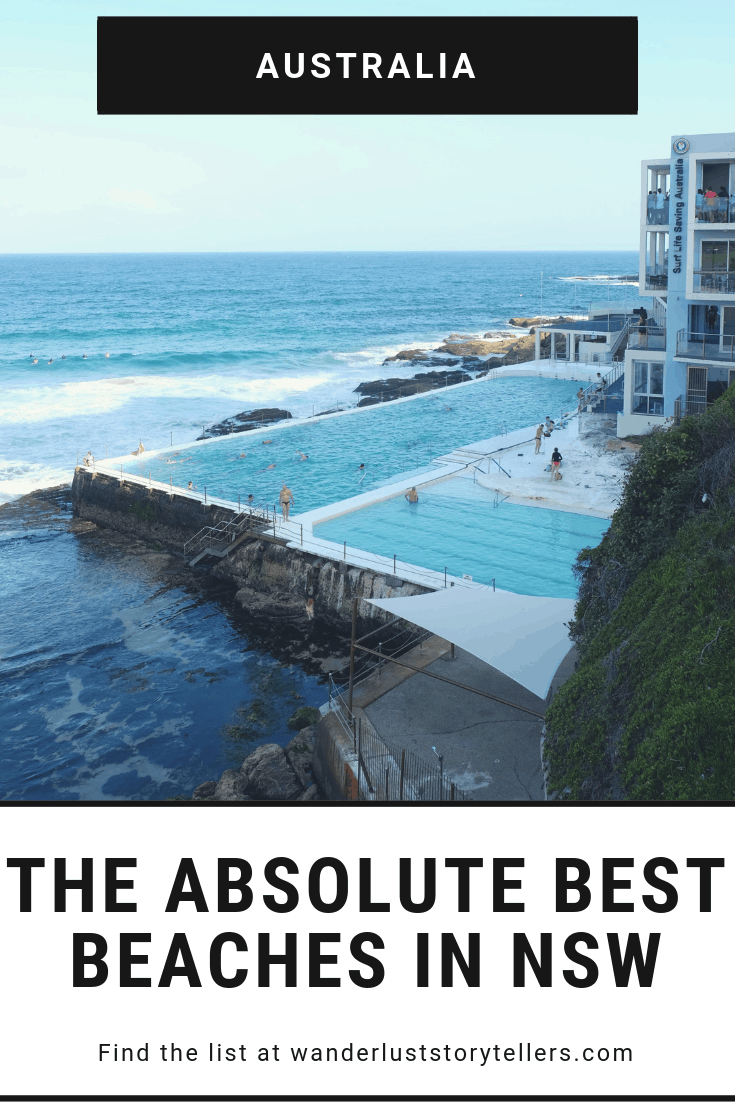 Many individuals are surprised at the fact that Australian beaches are amongst the beautiful beaches in the world. Most people associate this country with its wildlife or the foliage even, but not necessarily the beaches.
For beach lovers that are planning a trip to NSW, Australia, they are in for a real treat as this state is full of great beaches, and you get to explore the best coastal towns NSW is known for.
From crystal-clear water to beautiful sand, you'd be hard-pressed to find beaches that are more gorgeous than the ones located here. And with so many to choose from, a mere list of the top 10 beaches in NSW just won't crack it.
So, here are 13 of the very best beaches in New South Wales, Australia!
The Best Beaches in NSW
Below, you will find a list of the best New South Wales beaches; including the best beaches in Sydney, Northern NSW beaches and also the best beaches south of Sydney.
You can't go wrong by choosing any one of these beautiful beaches in NSW.
Take your pick from our carefully compiled list for your best NSW beach holidays yet!
1. Jones Beach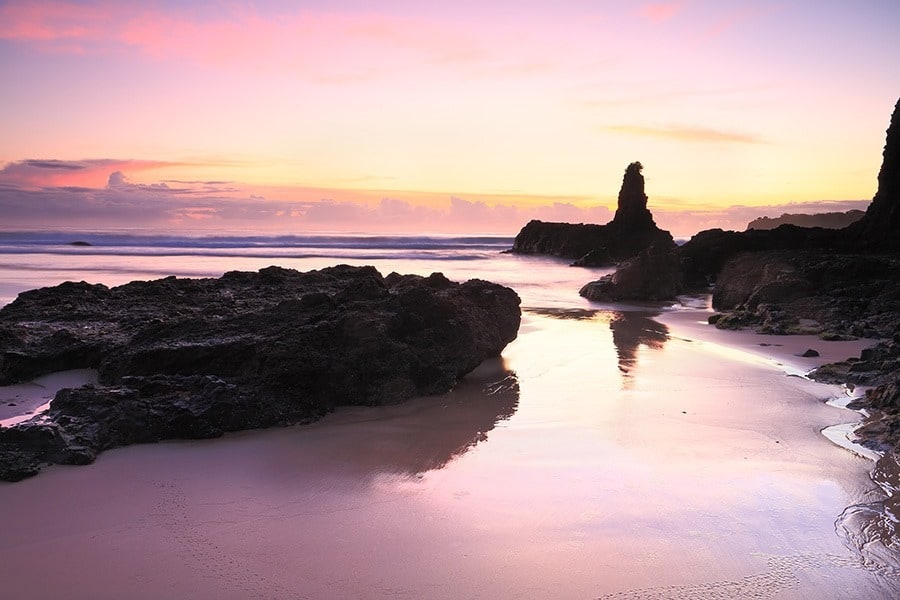 Also known as Boyd Beach, this beach faces the Tasman Sea. It's about 3,000 feet long. It is one of the best beaches on NSW coast and one of the most beautiful beaches in NSW.
This is a popular tourist destination and the beach is patrolled.
Waves average anywhere from 3 feet 3 inches to 4 feet 11 inches. This makes it a popular spot for surfing.
In fact, there are several surfing competitions held here each year. If you plan on doing some surfing on one of the beaches in New South Wales, Australia, why not head over to Jones Beach to try to catch the perfect wave.
Enjoy one of the best drives in Sydney, including a visit to the famous Sea Cliff Bridge, a Buddhist temple and even the largest blowhole in the world!
Follow this gorgeous road trip from Sydney to Kiama in order to reach this beach.
2. Bronte Beach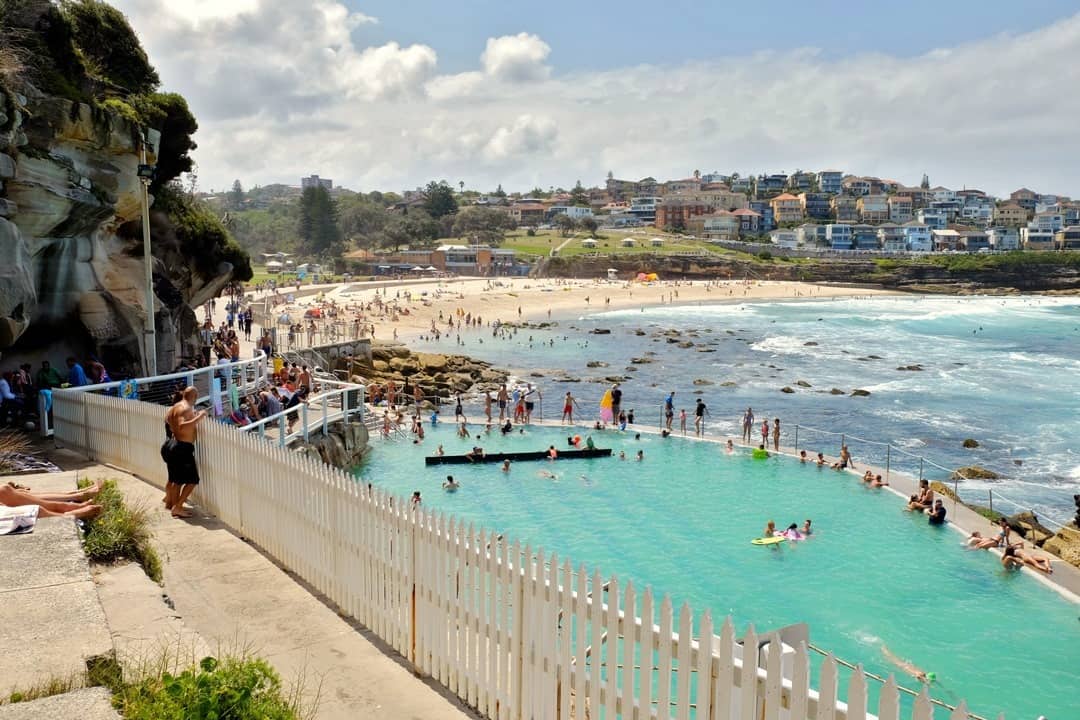 Located in Sydney, this is a lively beach, even though it's rather small in size. There's a main street nearby which means there's plenty to do both before and after going to the beach.
Bronte Beach Sydney is considered a family beach, as there's a rock pool that's great for kids to swim in. It's located along the beach's southern end.
Bronte Beach is one of the best beaches in Sydney due to the beautiful ocean pools. It's 30 meters large, this means that there's plenty of room to swim no matter how many people are visiting the beach.
There's also plenty of grass for those that want to enjoy a game of frisbee and there are places to barbeque as well.
3. Bondi Beach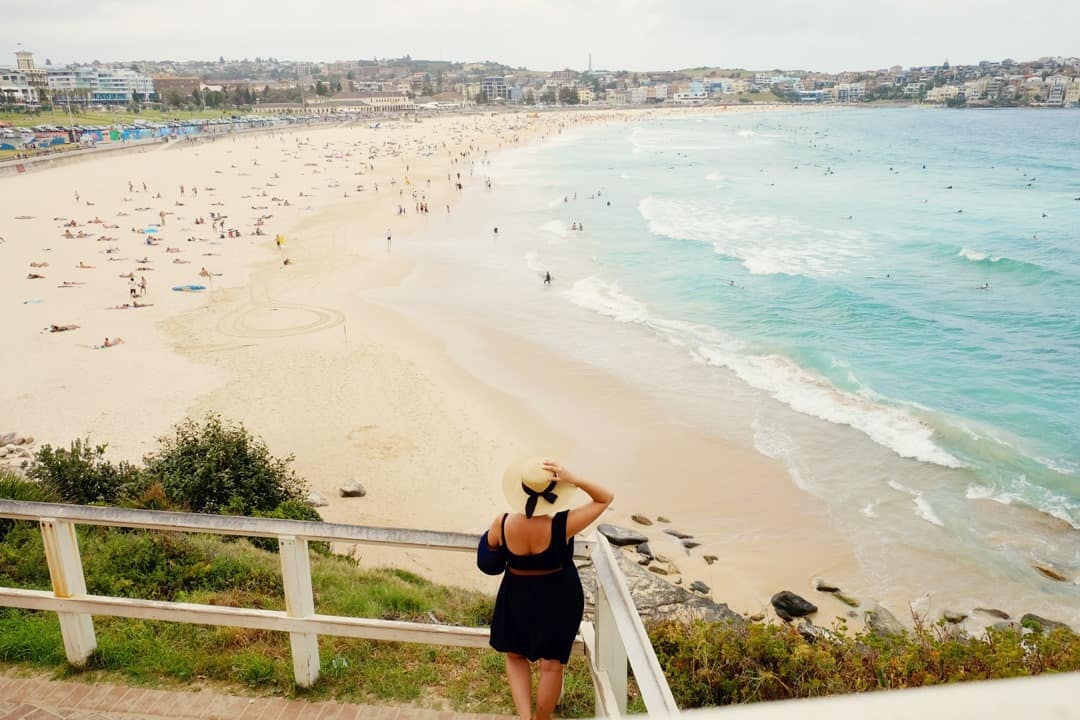 Bondi is 'that' famous beach in Sydney and is probably the most visited of all the NSW beaches.
Whilst I don't feel that it really is the best beach in NSW, it's definitely one of the best Sydney beaches as far as fame is concerned.
Many people come to Bondi Beach just to learn how to surf. Even if water sports aren't your thing, you can still find a spot on the sand and watch others take part in these activities.
This beach can be quite dangerous for those that aren't experienced swimmers. The water appears smooth and flat, but there are strong rip currents, so swimmers should be cautious.
Whales, dolphins and fairy penguins can sometimes be seen here. A lot of tourists come to this beach just to see the wildlife (and sometimes to spot some celebrities).
4. Hyams Beach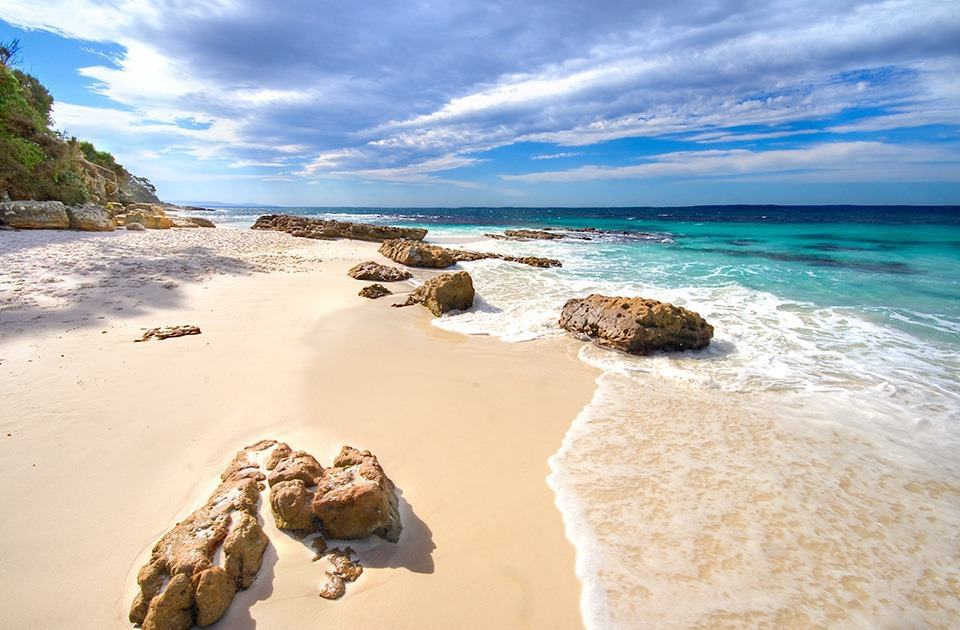 The best beach in Jervis Bay, this beach has the distinction of having the world's whitest sand in The Guinness Book Of World Records.
Hyams Beach is without a doubt one of the best beaches in Australia!
The sand is soft and fine, and it just feels good between your toes. It is our top choice amongst the best quiet beaches in Sydney. There are also cafes nearby to grab a bite to eat as well.
While in the area, it's a good idea to check out Jervis Bay Marine Park or to just go on a walk on one of the trails to see some of the area's wildlife.
The area is fairly walkable and there isn't much rough terrain to try to navigate around.
5. Pebbly Beach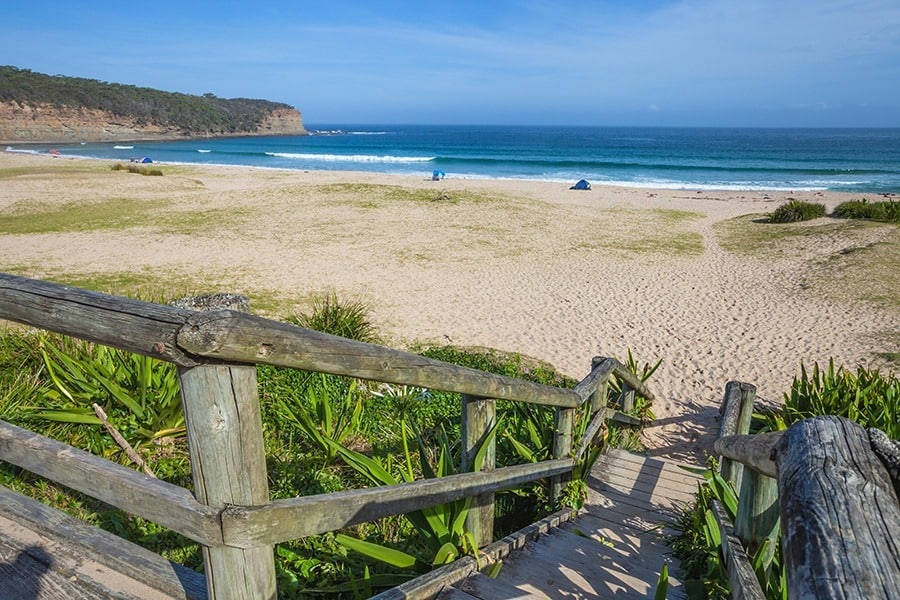 This beach is located in Murramarang National Park. While the beach is beautiful, a lot of people come here just to see the kangaroos, as they have been known to hop around on the beach.
Pebbly Beach has a rather large kangaroo population that seem to be very friendly and don't run from tourists who are trying to take a photograph of them.
Dolphins can also be seen swimming in the water quite often. Eagles also tend to fly overhead. There are bush walks that take place here and it's also a popular place to camp.
6. Seal Rocks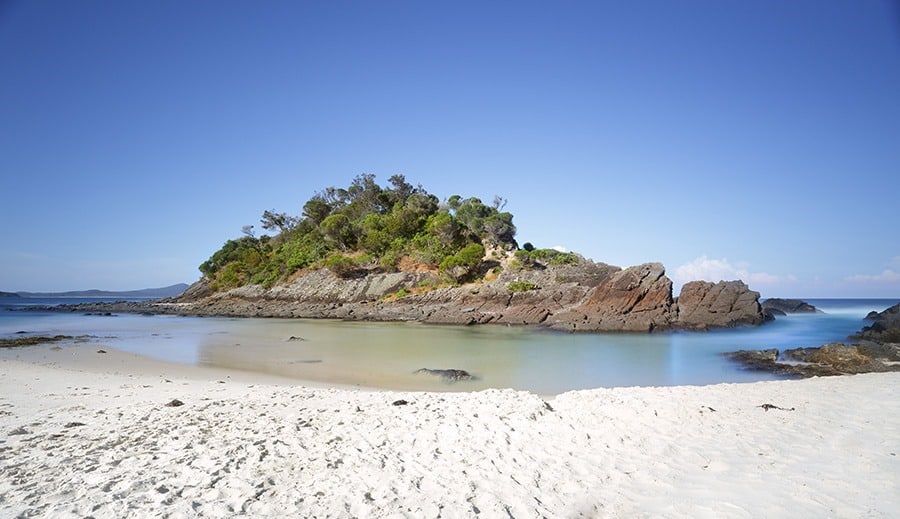 This quiet little beach is a great place to snorkel and swim. It's a quiet area as there are less than 200 residents.
Seal Rocks is one of the best NSW beaches due to its clear waters and relaxed vibe. It's a great escape from many other NSW beaches that tend to be busy and crowded.
Many people come here to fish or go boating as well. Lighthouse Keepers Cottage is nearby and is a great place to stay for a night or two.
Sugarloaf Point Lighthouse is a popular spot for tourists to see who is visiting the beach. It's the perfect spot to take some pictures near the sea.
7. Byron Bay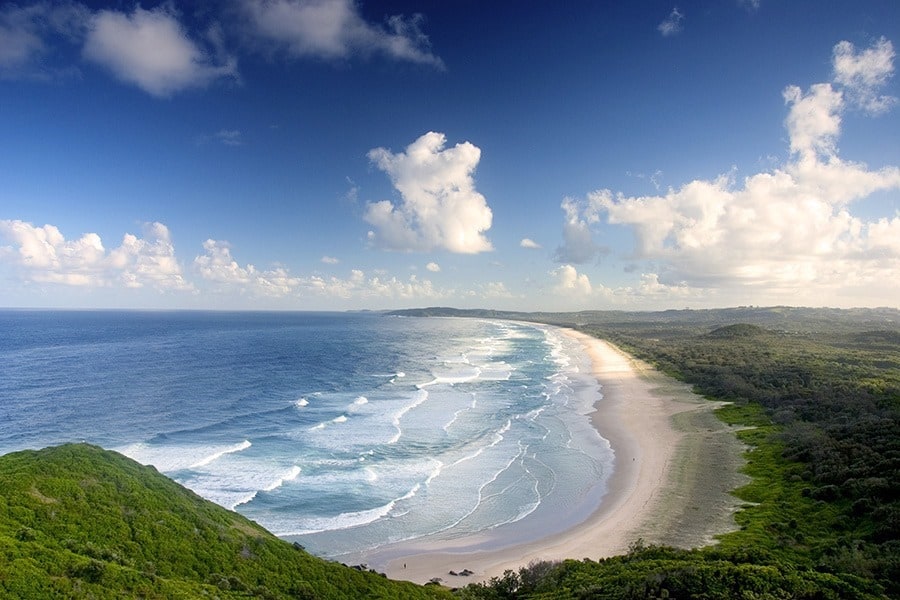 If you want to get away from the busy Sydney beaches, why not head to Byron Bay?
This bay is actually made up of 5 different beaches. All of them are great to visit, but the Main Beach is where many tourists choose to go. It's not usually hard to find a good spot to sit, and there are plenty of places to have a beach BBQ.
If you do plan on visiting Byron Bay, plan on spending the entire day here. There is an ocean-way which allows visitors to easily walk from the town's center to the popular, Cape Byron lighthouse.
Further Reading:
8. Red Rock Beach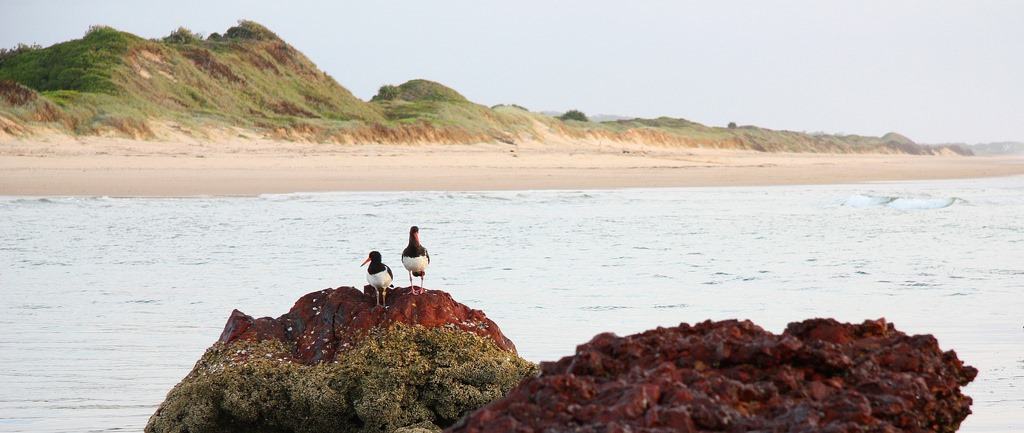 Photo Credit: DanLoaTmba| FLICKR
Located around 30 minutes from Coffs Harbour, Red Rock Beach is considered to be a hidden gem.
It's not well known, despite its beautiful water, and it gets its name from its red rocks that are scattered all around.
The official name for these rocks is the "Redbank Riverbeds". They are made up of Jasper that's approximately 300 million years old and they are rather large, at up to 20 meters high.
It's just as much fun to walk around and explore these ancient rocks as it is to enjoy the beach.
9. Palm Beach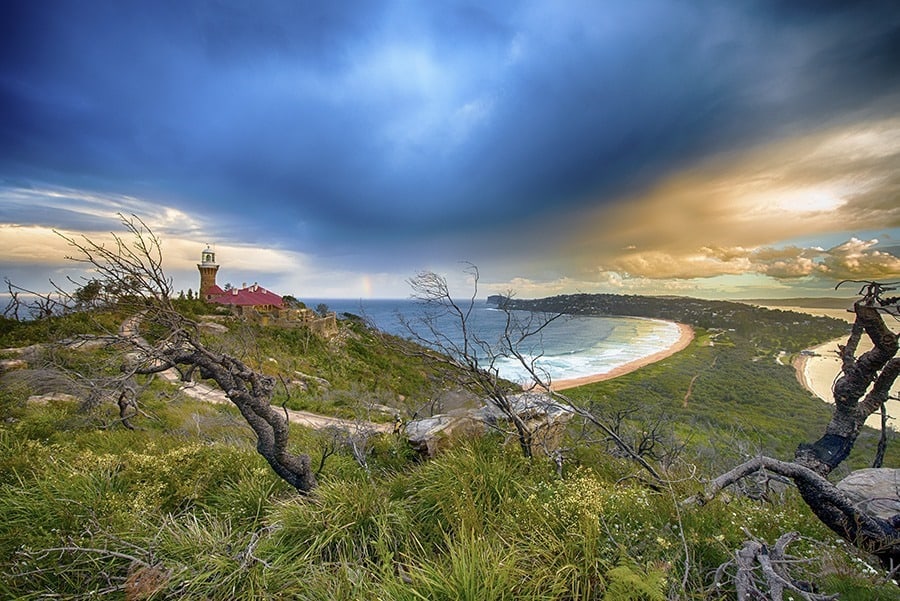 This is the northernmost beach in Sydney, and as such happens to be one of the best beaches in North NSW. It's very popular with its golden sand, and its water that seems to change colors between aqua and turquoise.
It isn't as crowded as Bondi Beach, and a perk of visiting this beach in the winter is that you can often see humpback whales migrating here.
When visiting Palm Beach, you must see the lighthouse that's a short walk from the beach.
10. Green Patch Beach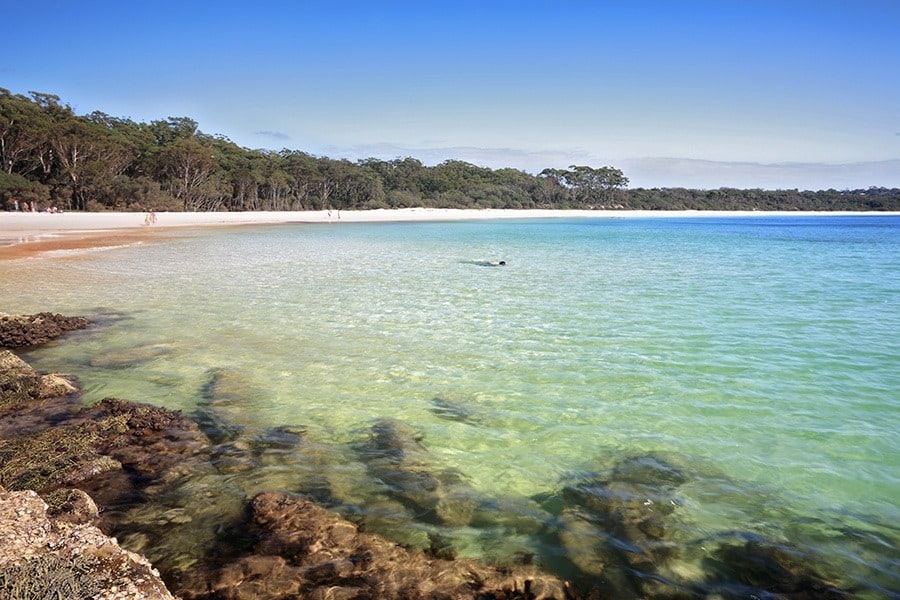 This area is known for its amazing beaches, and Green Patch Beach certainly won't disappoint.
The water is clean and clear. It might even have the clearest water in NSW.
It does tend to be on the cool side during certain months, but it's also refreshing when trying to deal with the steamy Australian weather.
The sand is very soft which makes it a great spot to take a walk and see the area's scenery. The beach is home to a lot of different animals including wombats, kookaburras and kangaroos.
Don't be surprised if you spot one of these animals while relaxing on the beach. The name of this beach fits as there's a lot of greenery that surrounds it.
11. Greenfield Beach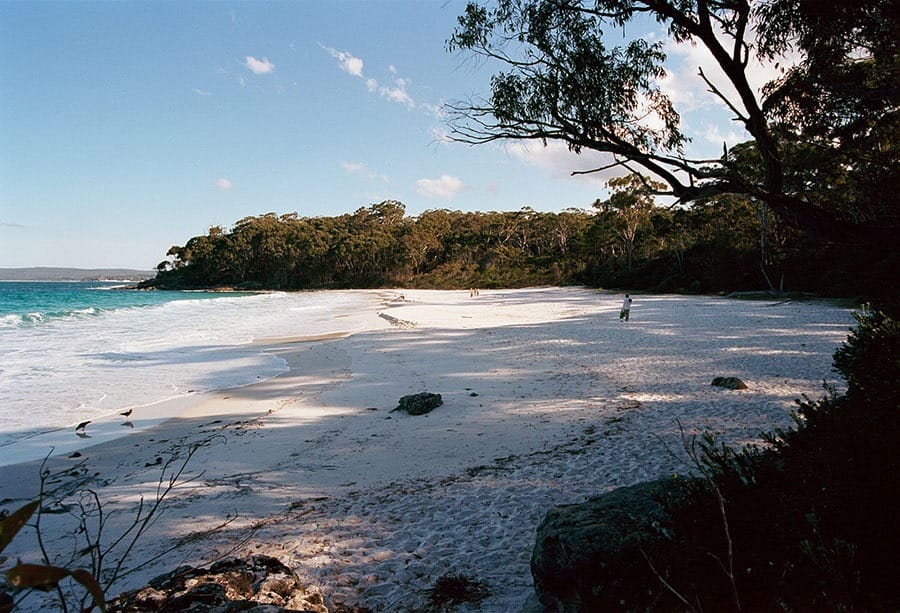 Photo Credit: njcull | FLICKR
This is another great beach that's located in Jervis Bay. The water is a clear, aqua color and there are only small waves, which makes it a great choice for those that aren't strong swimmers.
This white sand beach in NSW is the starting point for the popular coastal walk, White Sands Walk. As you can probably guess, the walk is filled with white sand that has a powdery texture.
The beach got its name from Colin Greenfield, who from the early 1940s until the 1970s, lived nearby.
There is a shelter shed here that has panels that tell a little bit of history of the area. This shelter allows visitors to have a spot to cool off while learning a bit as well.
12. Wategos Beach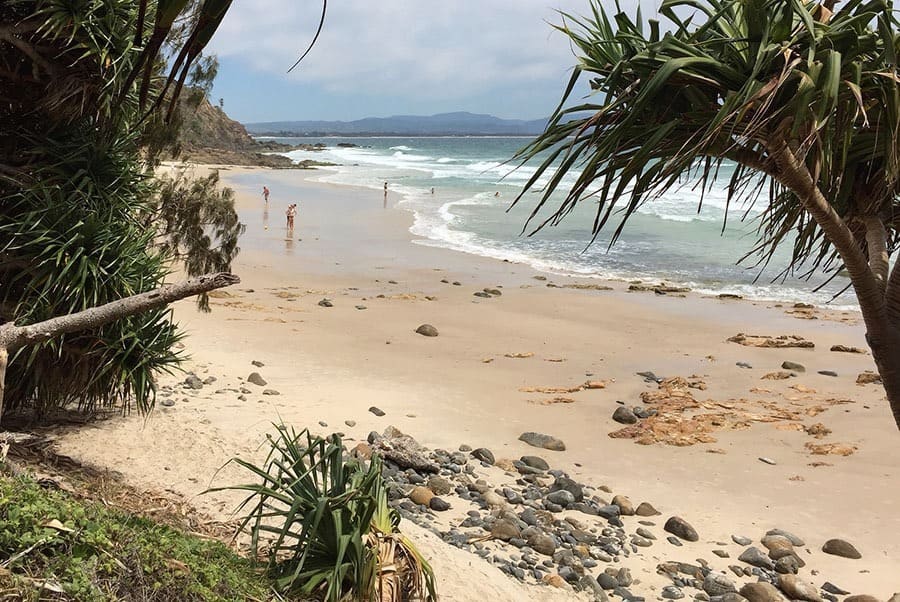 Photo Credit: David McKelvey | FLICKR
Located close to Byron Bay is Wategos Beach. The beach is known for surfers, who get the chance to ride longboards here, because it has gentle waves.
It's a great place to swim or relax with your family and enjoy the beautiful views, and one of the nice things about this beach is that it's sheltered.
Visitors are often surprised to find that Bottlenose dolphins can often be seen in the waters, as they like to frolic around here. At the end of the beach, there is also a lighthouse to visit that's easily accessible.
13. Manly Beach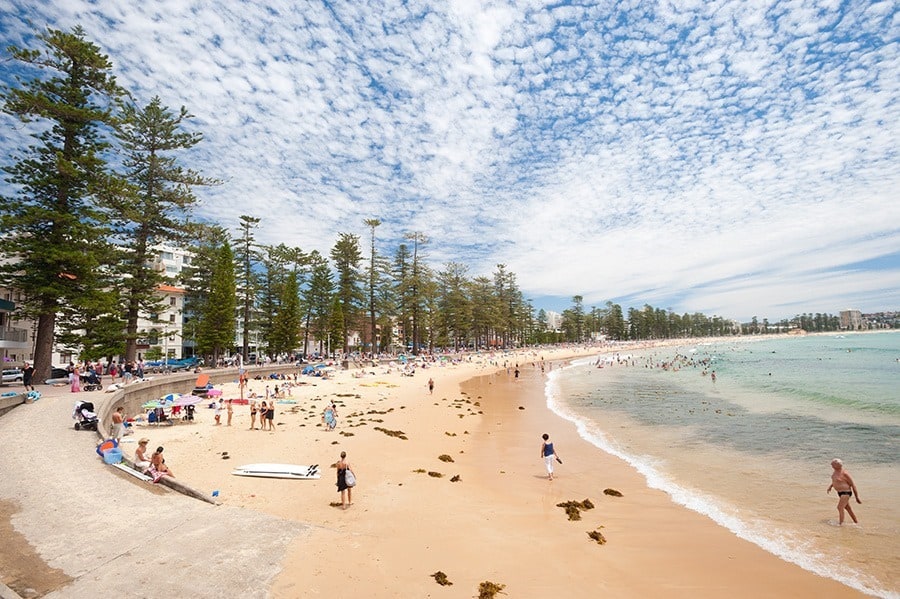 Manly is another one of the many beautiful beaches near Sydney. There are three main sections to this beach, including North Steyne, Queenscliff and South Steyne.
This beach is easily accessible by taking the Circular Quay public ferry. It takes about 30 minutes to get here using it. For those that want faster service, there are two "fast ferries" that are privately operated and only take about 18 minutes to get to the beach.
Nearby there are shops and plenty of places to dine at, and Manly is one of Sydney's best beaches due to the fact that it is such a great beach to swim at.
Tip:  If you are traveling with a baby, you might want to check out our guide on best baby beach items here.
Some More of the Best Beaches near Sydney
Looking for more nice beaches in NSW? Here are some great options closer to Sydney.
Newport Beach Sydney
Balmoral Beach Sydney
Shelly Beach Sydney
Freshwater Beach Sydney (one of the best of the North Sydney beaches)
Clovelly Beach Sydney
Tamarama Beach Sydney
Sydney Coogee Beach
Lady Beach Sydney
Complete Sydney Beaches List:
Sydney has more than 100 beaches. Stretching from Sydney Harbour beaches all the way to Sydney's northern beaches! Head over to Wikipedia to see the complete list, and learn more about the best beaches in Sydney list.
Secluded Beaches Sydney
Do you love getting away from the crowds and find your own secluded piece of beach paradise to relax on?  Click to see a great post about 10 hidden beaches in Sydney, and where to find them.
Sydney Beach Walks
There are plenty of gorgeous coastal walks to enjoy around Sydney, but one of our favourites is the Bondi to Coogee beach walk, a cliff-top coastal walking track spanning over 6 kilometers that will see you pass some of the most popular Sydney beaches.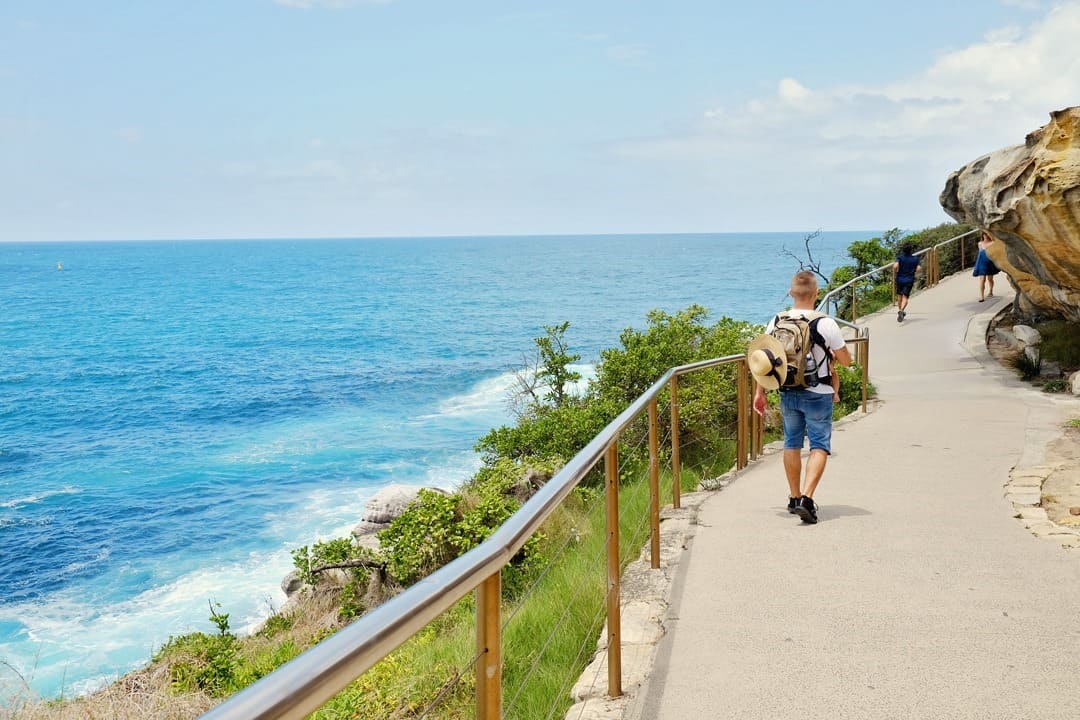 Now You Know Where to Find the Best NSW Beaches!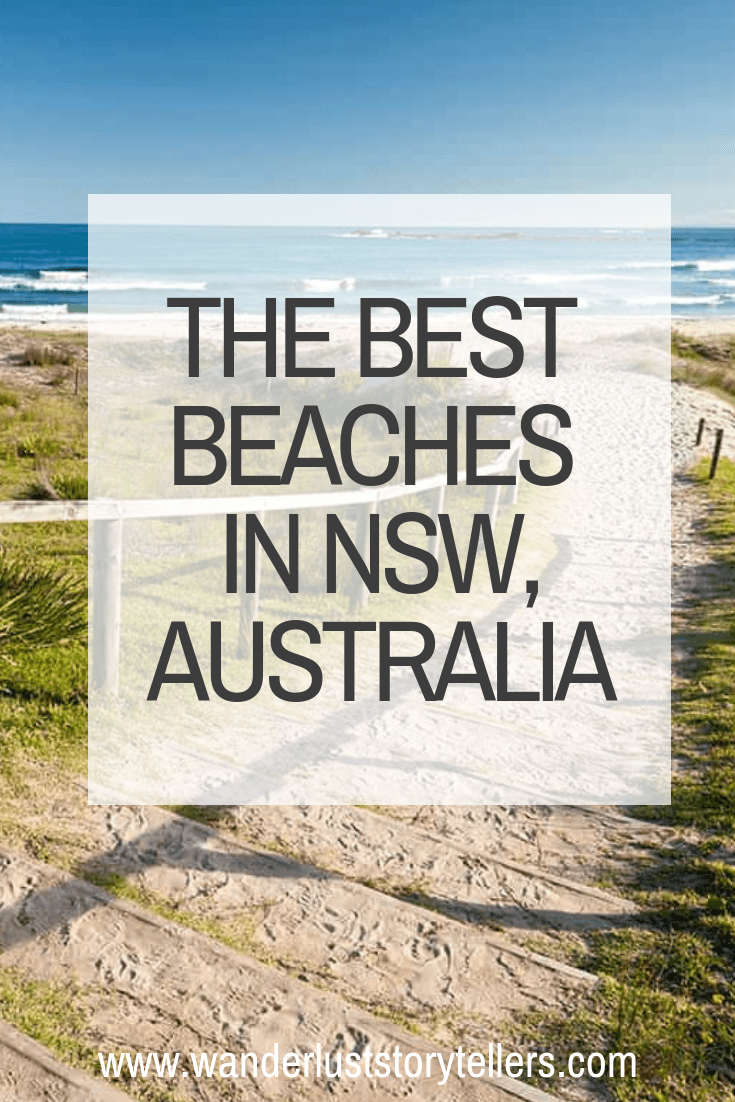 We hope you have enjoyed our list of the top beaches in NSW!
There truly are some nice beaches in Sydney, and some great NSW north coast beaches a little further out. Some of these beaches are not only the top beaches NSW has to offer, but the best Australia-wide!
Leave us a Comment:
Which of these beaches around Sydney do you want to see the most?
Which beach do you think belongs in the top 10 beaches in NSW list?