The Grand Pacific Drive happens to be one of the best short drives from Sydney! It is a truly spectacular road trip, with various fascinating stops; from a sensational lookout to a unique Sea Cliff Bridge.
From stunning beaches to National Parks.  Add in a touch of culture at one of the world's largest Buddhist temples and why not finish it off with a big explosion at a Blowhole!?
We love exploring new places via a road trip!  We love having our own little rental car where we can have the freedom to come and go to various destinations as we please!
And this Sydney to Kiama drive is one of the most glorious drives we have enjoyed here in Australia!
–
Sydney to Kiama Drive | One of the Best Drives in Sydney!
After leaving Sydney, you will have your longest stretch of drive lying ahead of you!
Your first stop for the day is a 45 minutes drive south of Sydney International Airport.
This section of the drive is pretty dull and boring, but trust me, once you reach the Royal National Park as you approach Bald Hill, you will truly start feeling the buzz of excited butterflies in your stomach!
1. Sea Cliff Bridge Lookout at Bald Hill
The Sea Cliff Bridge Lookout at Bald Hill is truly mind-blowing!
I was slightly stunned at how beautiful the outlook was from up there. One view will delight you with endless blues of nothing but the beautiful stretch of ocean scenery.
It makes for a great place to simply just sit and relax!  Soak up some sun, enjoy the breeze, and be grateful for life.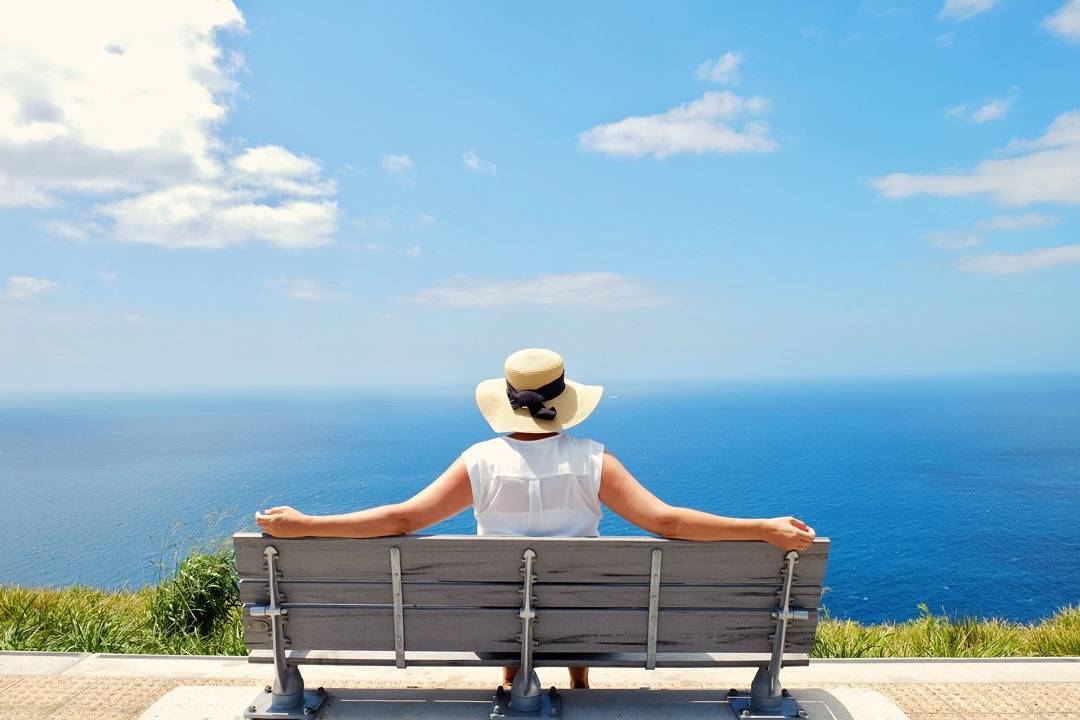 The second view is of course the famous and super popular view over Sea Cliff Bridge itself!
In the forefront you will see the beautiful and charming coastal village of Stanwell Park; if you are after a really quiet beach then this one is for you.
The Sea Cliff bridge was further in the background and we were slightly disappointed that our camera couldn't zoom in close enough to get a close-up shot of the unique bridge from up above!  So if you own some great zoom lenses do bring one along for the drive..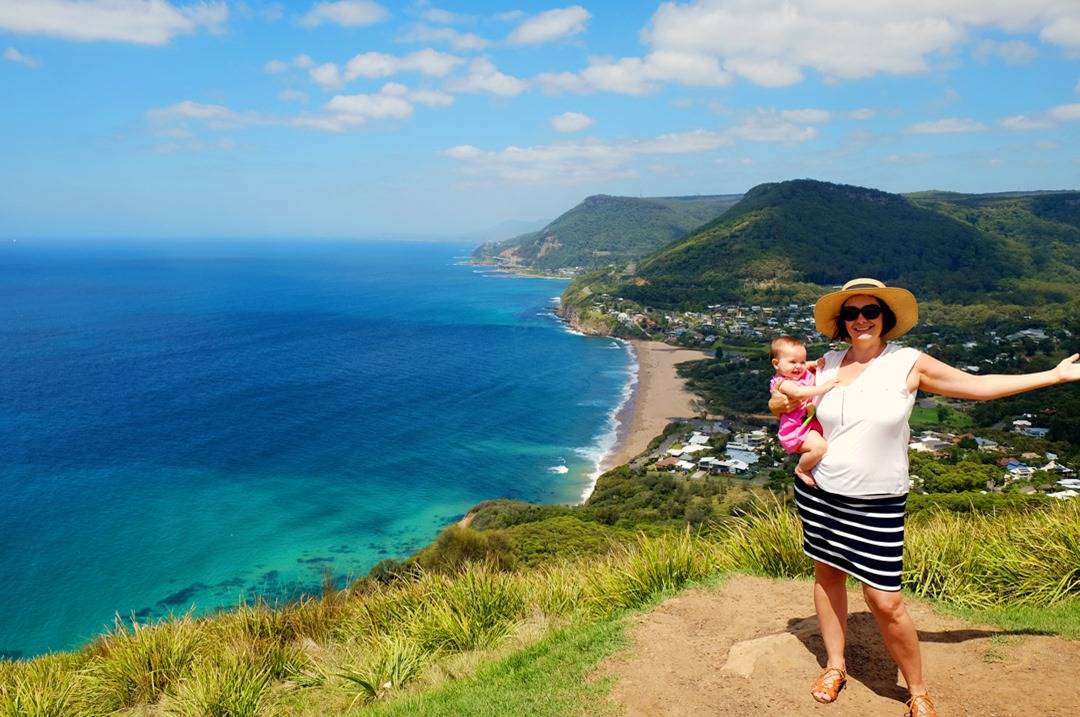 There is also a great little coffee shop up here at the lookout!  We grabbed an iced coffee to cool us down before venturing onto our next pit stop for the day!
–
2. Sea Cliff Bridge Walk | Famous Bridge in Australia
The Sea Cliff Bridge itself is only a short drive away from the lookout itself.
To be honest, the only reason we decided to tackle this drive was because of this bridge. I was researching some ideas of what to do on our second trip to Sydney; as we had explored the city itself already; and a photo of this famous bridge in Australia caught my eye!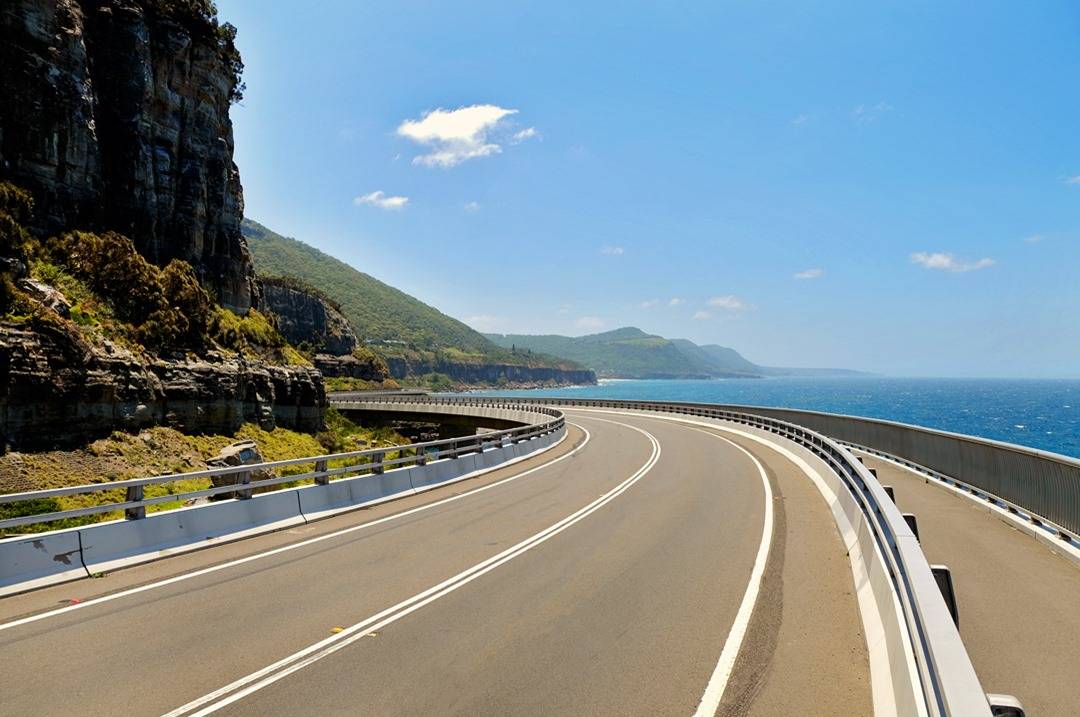 The bridge itself is just such a unique example of great engineering!  The bridge was built to link the coastal villages of Coalcliff and Clifton and cost a whopping $52 million dollars!  (HOLEY MOLEY!)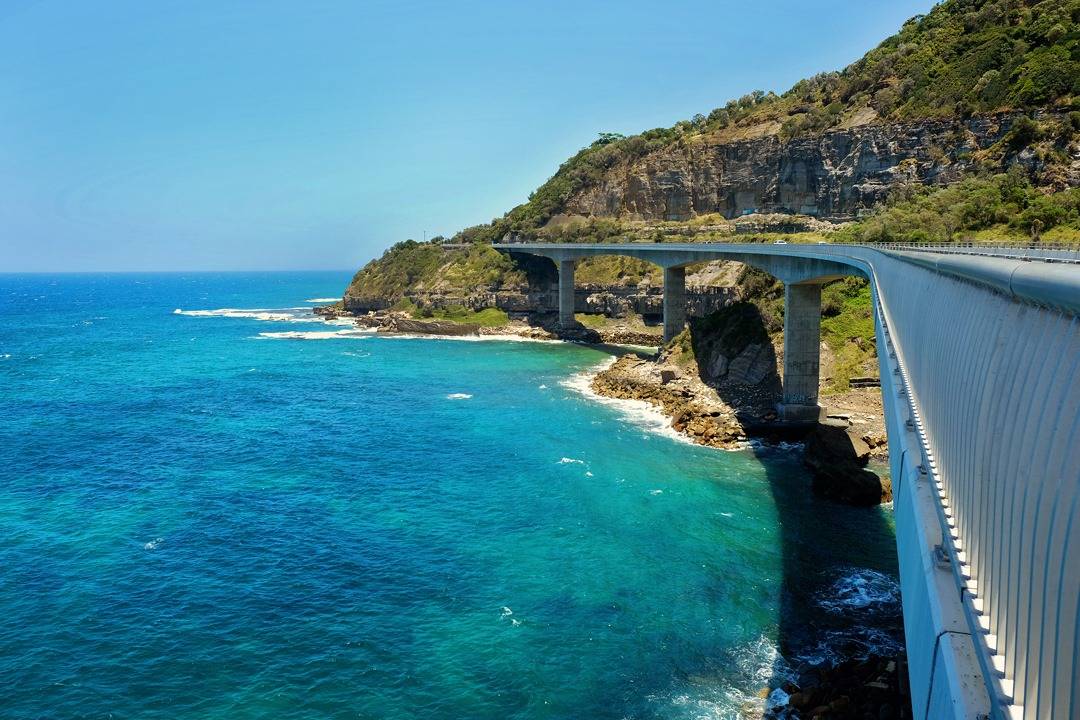 There are two ways in which you can explore this bridge; the first is of course by car!
The drive itself over the 665 meter bridge is not really as exhilarating as you would expect it to be.  It kinda just feels like any oceanside road.
So what we highly recommend is that you drive over the bridge and park your car on the other side.  From there you can enjoy a walk on a special pedestrian footpath that runs along the bridge!
I truly enjoyed the Sea Cliff Bridge walk and the views were incredible!!
3. Wollongong
If you are starting to get ready for lunch at this point, you can either choose to stop in at the beautiful Austinmer Beach (10 min drive from the Sea Cliff Bridge) for some fish and chips; followed by gelato.
Or like us, you might choose to head straight towards the town center (30min drive from the Sea Cliff Bridge) of Wollongong to chase some other cuisines!
After lunch, hop over to Wollongong Foreshore, where you can enjoy a quick stroll to work off the lunch.  We enjoyed checking out the Wollongong Lighthouses before heading on our journey toward Nan Tien Temple.
4. Nan Tien Temple | One of the World's largest Buddhist Temples!
To add in a bit of culture and a bit of variety to your pit stops for the day, why not stop in at Nan Tien Temple?
This temple happens to be one of the world's largest Buddhist temples. It has massive prayer halls, an eight-level pagoda, and beautiful oriental gardens to have a troll in.
Source: FLICKR | Marc Dalmulder           Source: FLICKR | vijay chennupati
There are loads of photographic opportunities here.  From thousands of tiny statues of Buddha together with massive ceremonial bells.  Nan Tien literally means 'Paradise of the South'.
The temple is reached within a short 14-minute drive from the Wollongong Foreshore.
Just as a heads-up, the temple is closed on Mondays!
5. Shellharbour Village and Killalea State Park
Continue on your drive for another 22 minutes to reach the beautiful Shellharbour Village. The seaside village has loads of little cafes, restaurants, and boutique shops, however, we recommend you make your way toward Killalea State Park instead.
There you will find two of the most stunning beaches; Mystics & The Farm; along your 66km coastal drive!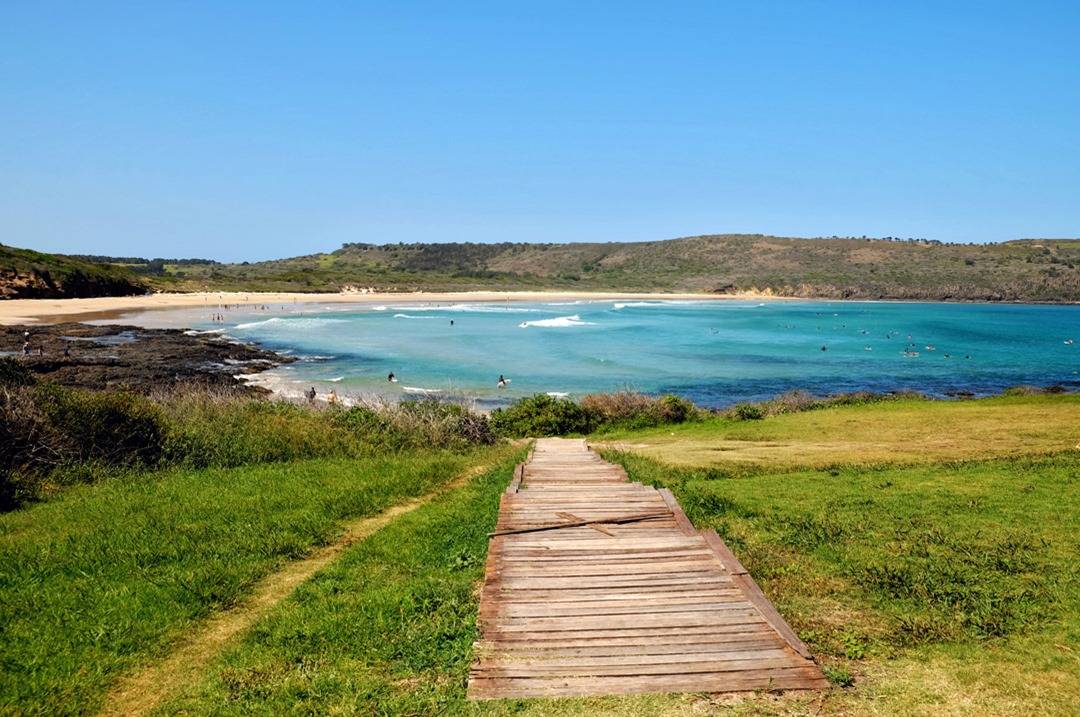 Killalea State Park 'The Farm' is a surfing reserve and boasts over 260 hectares of coastal reserve.
You will find some truly beautiful beaches there; add on some rainforest walking trails, seabird breeding areas as well as extensive estuarine wetlands and you will understand why you will feel a bit rushed on your pit stop here.
If you ever have time, you can come back for a camping holiday in the State Park, in order to absorb the atmosphere more.
6. Kiama Township and Blowhole | The Largest Blowhole in the World!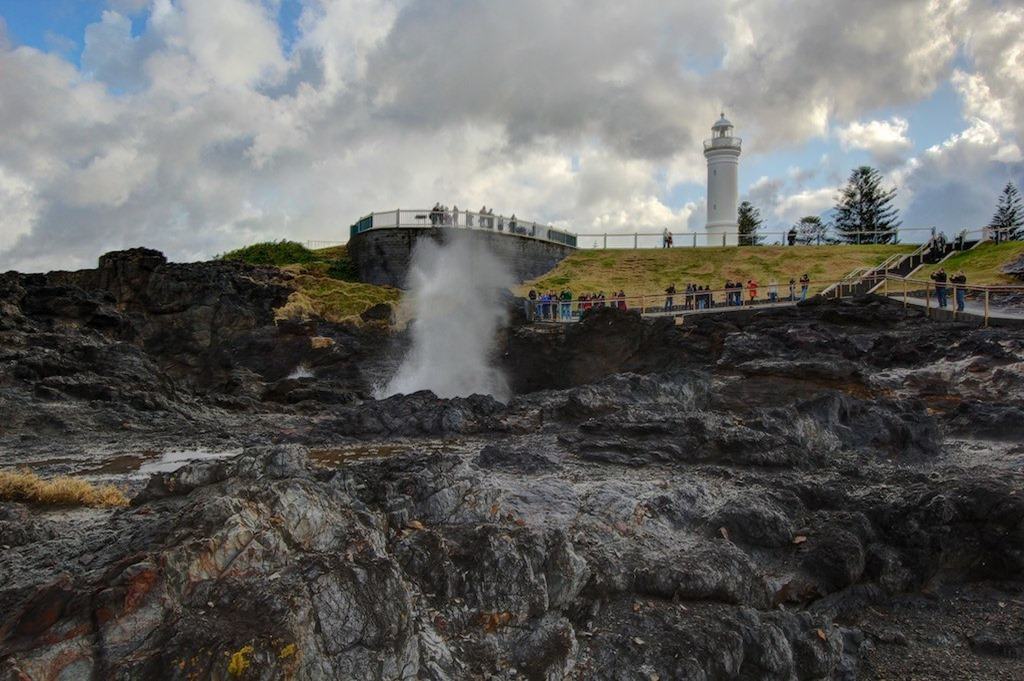 Source: FLICKR | Steve Dorman
We didn't make it all the way to the Kiama Blowhole, even though it was on the itinerary.
Our little 6-month-old bubba had had enough of our road trip and for us, it was time to head back to the hotel!  I was slightly disappointed and I do highly recommend that you try and make it all the way to Kiama.
But I guess just as with other things in life, it is important to be flexible and not hold onto your travel plans too tightly.
The Kiama Township can be reached within a short 16 min drive from Shellharbour Village.
This blowhole is a major tourist attraction for a pretty cool reason! According to the NSW Tourism Website; the Kiama Blowhole happens to be the LARGEST blow hole in the WORLD!!! Pretty impressive huh!
What a way to finish off your Sydney day road trip with a bang!
The Blowhole has a viewing platform with disabled/pram access. There are also great picnic grounds as well as a rock pool close by!
If you still have time left, why not hop over to Saddleback Mountain lookout where you can get a bird's eye view of the entire district and coastline?
At this point, you might choose to head back toward Sydney. If this is the case, we recommend heading back through the Southern Highlands where you can enjoy views of rolling hills.
There is no doubt in my mind that this drive happens to be one of the best drives in Sydney.
After all, in one day you will visit one of Australia's most famous bridges, you will wait patiently for the world's biggest blow hole to explode and you will explore the grounds of the largest Buddhist Temple in the Southern Hemisphere!!
A perfect day!!
Perhaps a very tiring one and you might choose to head that pillow for snoozeville a little bit earlier than normal, but every bit of energy spent on a day like this is worth it!
Distance from Sydney to Kiama
Around 120km if you follow our suggested route
Time required for this drive
We recommend a nice and early start to your day (around 7am).  We would expect that you will finish the drive at Kiama in the very late afternoon around 5pm, before making your way back towards Sydney.
For more information
I highly recommend you spend some time checking out the information on The Grand Pacific Ocean Drive website.
__________________________________
Wondering where to stay in Sydney?
Have you seen the 'Top 3 Landmarks in Sydney'?
After some fun kid-friendly things to do in Darling Harbour?
Scout out the Best Beaches in NSW
_________________________________
Please Pin Me! Visit my Australia Pin Board for more Inspiration!