A total jaw-droppingly beautiful cliff top Sydney coastal walk that bends and winds itself around some of the most beautiful ocean-side scenery that you will find in NSW. 
The Bondi to Coogee walk is a 6 km walking track that runs along some of the most popular beaches in Sydney, Australia.
The walk makes a start at the famous Bondi Beach and you can either choose to follow the track to Bronte Beach or if you are keen, we suggest you follow the trail all the way to Coogee Beach (or alternatively walk the opposite way from Coogee to Bondi!)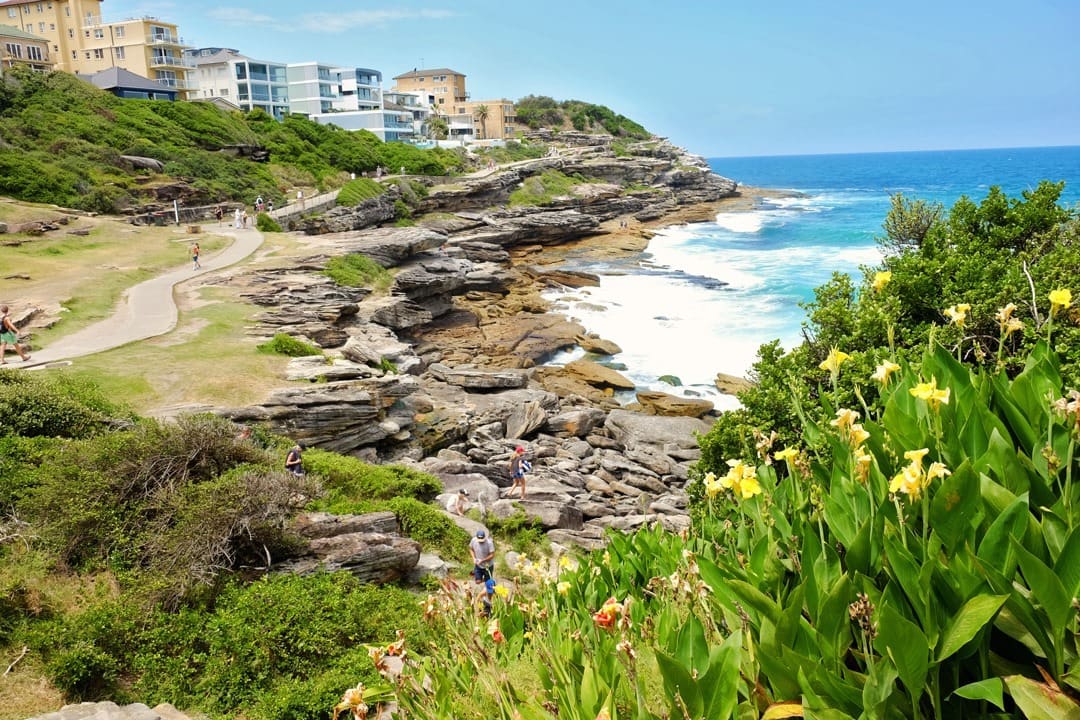 The incredible Bondi beach to Coogee walk!
–
Bondi to Coogee Coastal Walk Distance:
The Bondi to Coogee beach coastal walk track (or vice versa from Coogee to Bondi) is a 6 km walk.
The Bondi to Coogee walk time is around 3 hours if you walk at a leisurely pace (one way); however, we recommend you turn this walk into a full day activity so that you can enjoy some of the beaches and cafes along the way!
Bondi to Bronte Walk Distance: 2.5km (One Way), allow approx 1-2 hours for this section; depending on how often you stop to take photos!
Bronte to Coogee Walking Distance: 3.5 km (One Way), allow approx 1.5–2 hours for this section.
–
Bondi to Coogee Walk Map:
You can access a Coogee to Bondi walk map on the official site here!
 –
What to Expect on the Bondi Beach to Coogee Walk:
The Bondi to Coogee coastal walk is a medium grade urban walk.  Most of the walk is pretty flat and easy, but expect to find some sections that have steep hills as well as several staircases along the track.
–
What to Take with on the Coogee Bondi Walk:
When we left Bondi is was cloudy and drizzly, so we left slightly unprepared for hot, sunshine weather and got completely sunburnt!
We had our baby with us, but were grateful that we got advice about leaving the pram behind as it would have been impractical to attempt the walk with a pram.
So if you have a bub pop him/her in a pouch (We love our ErgoBaby Carrier).  So we suggest, you take the following along:
Sunscreen &

Sun Hat

Water Bottle/s

Money for water, coffee and the bus tickets for the ride back

Comfortable Walking Shoes

Togs and Towels
Bondi to Coogee Walk
– One of the best Sydney Coast Walks! –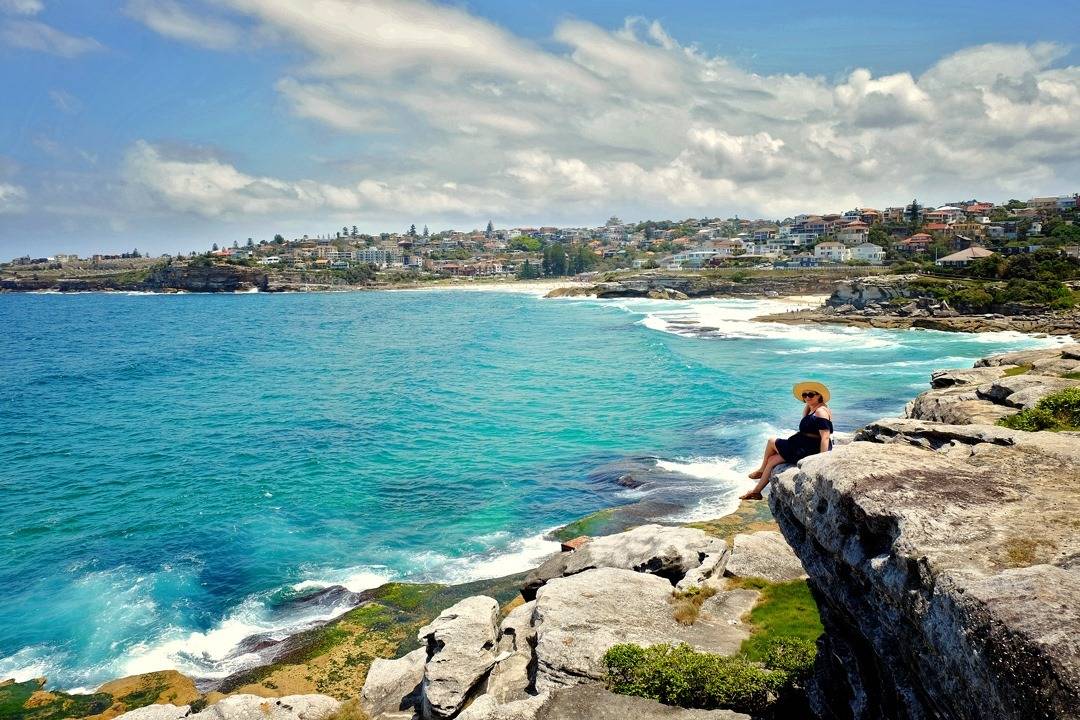 Section 1: Bondi to Bronte Walk
The Bondi to Bronte walk, happens to be one of the most walked tracks in Sydney!  This section of the popular Sydney coastal walk includes the famous Bondi beach, Tamarama beach, as well as the beautiful Bronte beach.  If you are lucky and it happens to be low tide on your walk, you might just spot the smallest beach in NSW; Mackenzie's Point Beach.
The 2.5 km (for this section) track weaves and bends its way along the sandstone cliffs, giving you stunning panoramic views of the South Pacific Ocean.  There are various vantage points where you can enjoy the stunning ocean cliff views!
–
Bondi Beach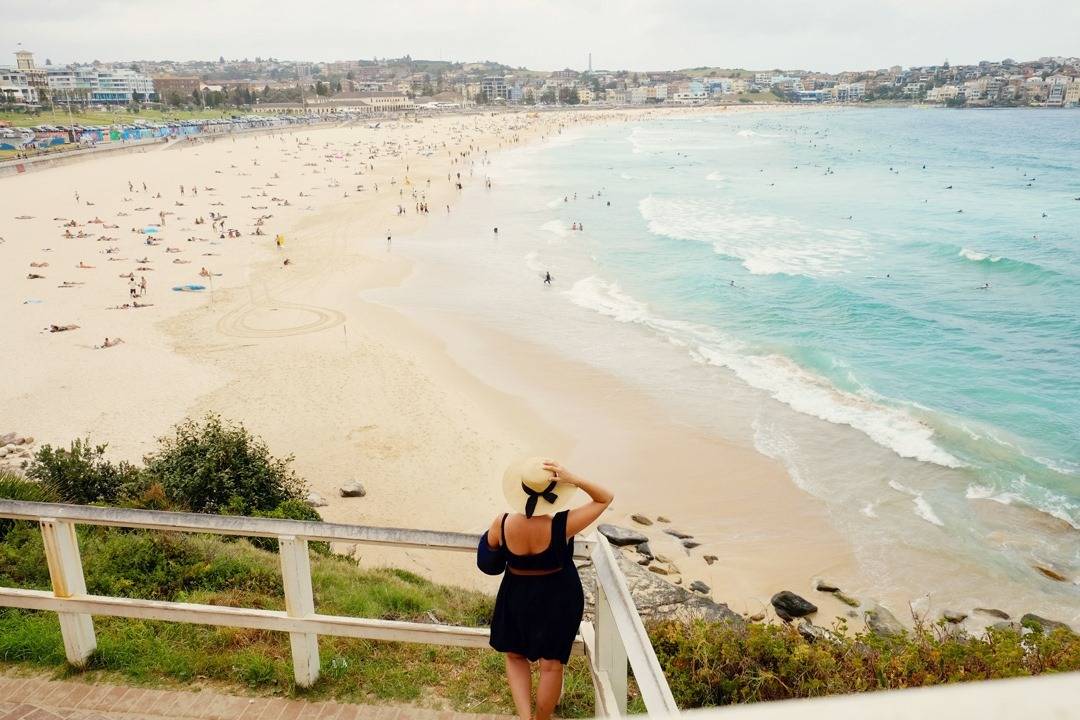 Bondi beach probably doesn't need much of an introduction!  It is definitely one of the most famous beaches in Australia!  So much so that it is said that this beach defines Australian beach culture and is listed on the Australian National Heritage List.
We got a complete kick and thrill out of seeing this beach in real life!!  Our day started out a bit miserable, with cloudy grey skies and drizzly rain on-and-off.  So we parked our car in one of the car garages (BEWARE the car parking fees, it HURTS!!!  We paid $55 for our park!) and headed off for some lunch whilst hoping for the weather to improve!
TIP:
If you would like a more affordable experience, consider catching one of the regular buses that runs to Bondi.

If you prefer to save some money (and you are driving), it would be worthwhile to twist this walk around and complete it as a Coogee to Bondi walk.  It will be easier to find a park at Coogee and it should cost you less in parking fees!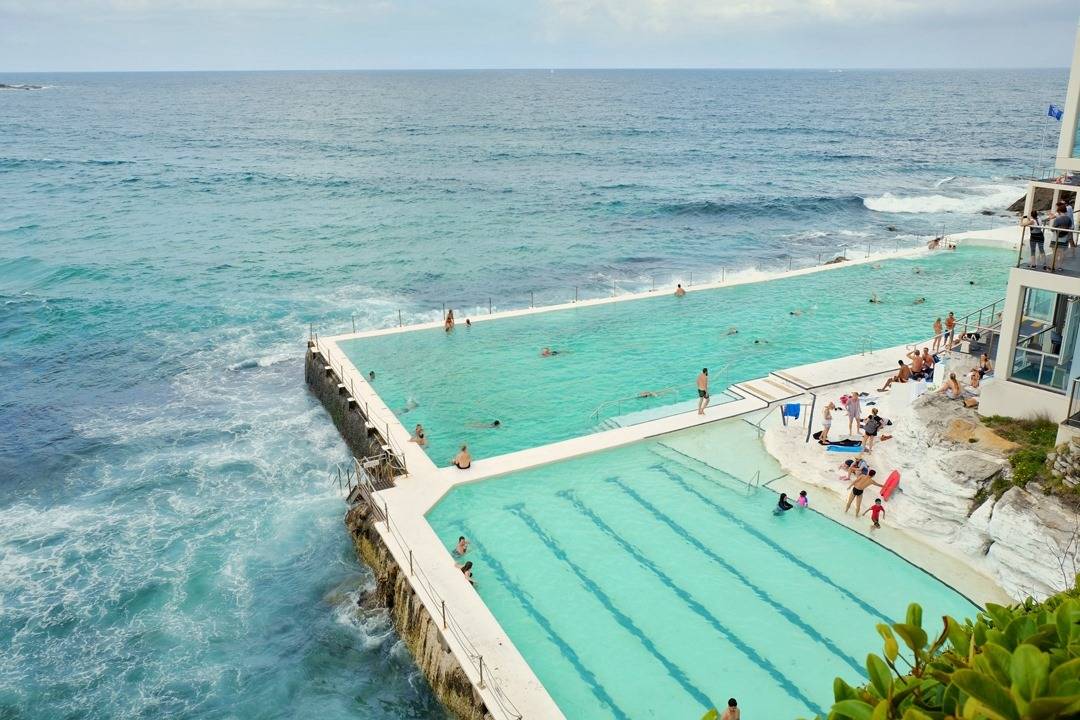 After lunch, we decided to tackle the temperamental weather and headed off on our walk!  If you are facing Bondi Beach, and you look to the right, you should be able to spot the famous Bondi Pool at the Bondi Icebergs Club.  This is your starting point for the walk and from there the paved walkway that weaves around the bends and curves of the cliff-top walkway will be clearly visible!
As you make your way towards Tamarama beach, see if you can spot the Aboriginal rock carvings!!
Info for the walk from Bondi to Tamarama:

Distance: 1.5 km ; Time: around 30 minutes –  1 hour; Difficulty: Easy (but expect some steep stairs)
–
Tamarama Beach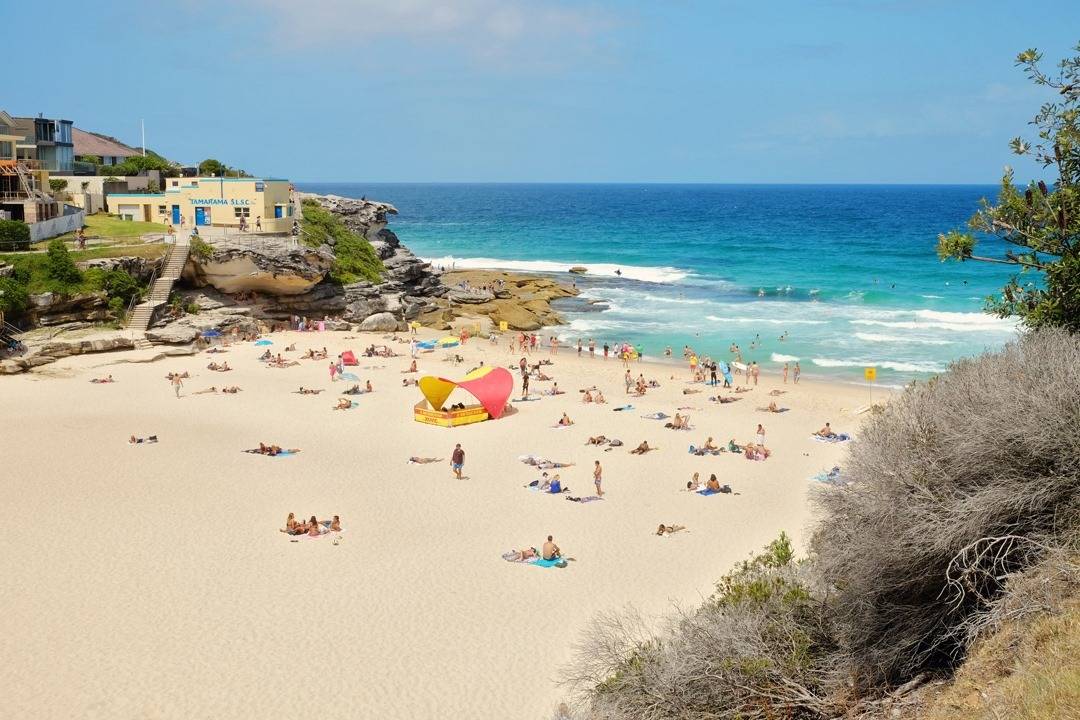 Tamarama beach is a gorgeous small and narrow little beach along the Bondi coastal walk.  The beach here is more about sunbathing than it is about swimming as swimming conditions are usually not that flash.  So our recommendation for this little beach is to head to the gorgeous little café!  The atmosphere is totally relaxing, the setting is beautiful and we enjoyed a gorgeous glass of ice cold coffee to cool us down before venturing on further on the walk!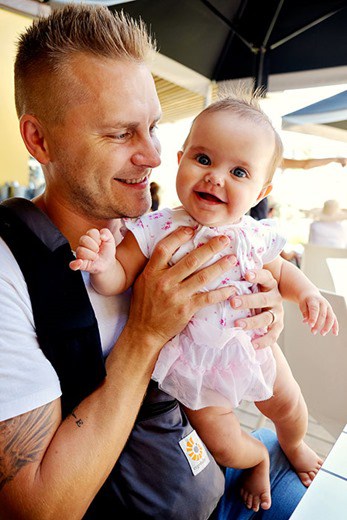 From here you keep following the coastal walk along a fairly flat and easy walking track towards the popular Bronte Beach.  You will find some gorgeous vantage points to stop at to enjoy some of the views on offer!
Info for the walk from Tamarama to Bronte Beach:

Distance: 1 km ; Time: around 30 minutes; Difficulty: Easy
–
Bronte Beach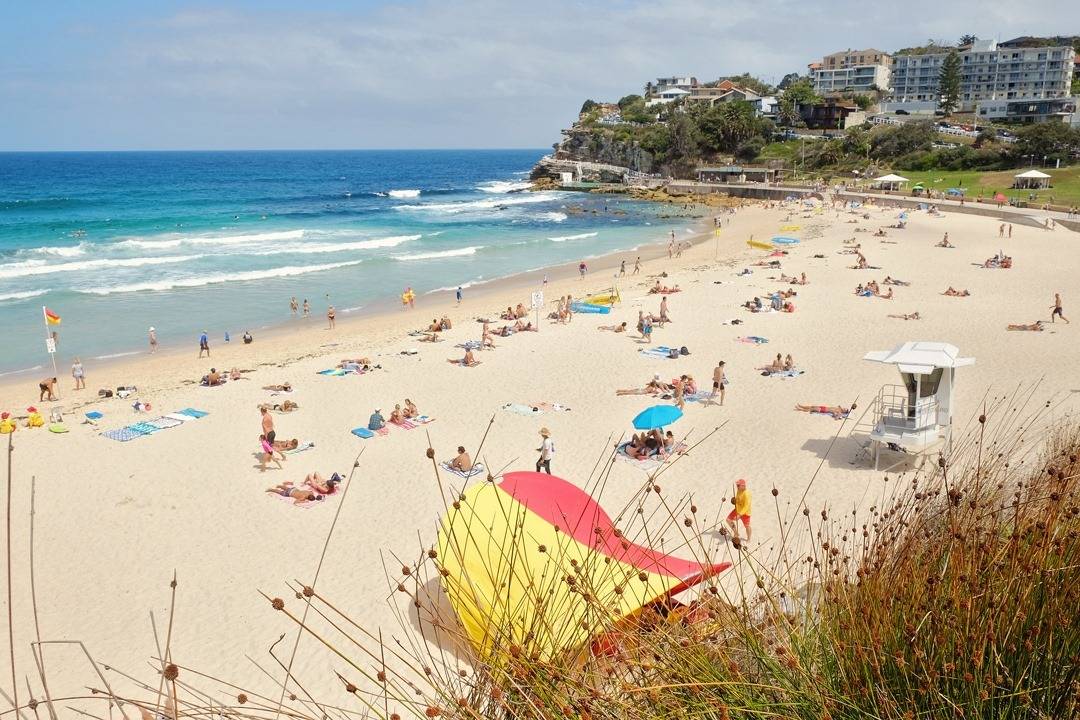 Bronte beach is much larger in size than Tamarama beach and it happens to be a popular beach for the local families!  The ocean water here is not always safe for swimming, but the great thing about this beach is that it has a free ocean-side rock pool which is a favourite; especially amongst kids.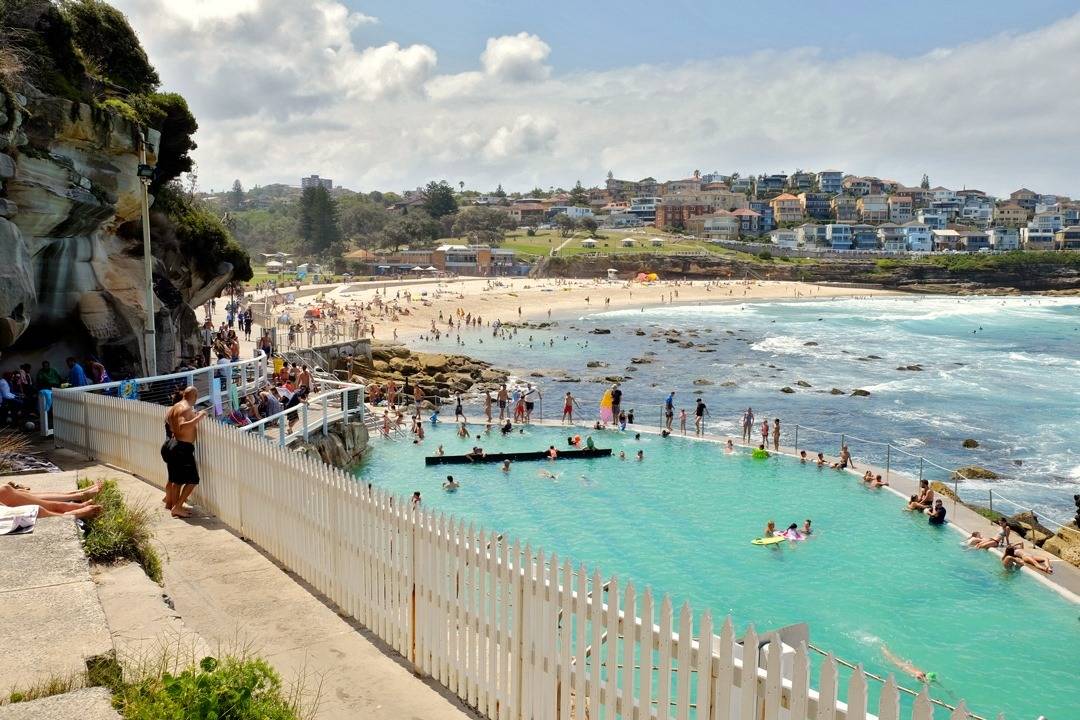 If you are after another little break, we recommend spending some time here to have a swim and refresh!  Or if you keen, why not head up to the strip of gorgeous little cafe's where you can enjoy a coffee and light refreshment to gather up the energy for the next section of the walk.
Info for the walk for section 2 from Bronte Beach to Coogee:

Distance: 3.5 km; Time: 1.5 – 2 hours; Difficulty: Easy (some steep stairs)
Section 2: Bronte to Coogee Walk
For section 2 of the Bondi Coogee walk follow the coastal trail from Bronte beach; you will find some stairs near the toilets at the rock pool, climb them up to the top where you will be able to continue along the track to Waverley Cemetery.  Stop for a minute at the start of this part of the track and enjoy the beautiful views of Tamarama, Bronte and Bondi to the north and Malabar Headland to the south.  Continue along this track towards the most beautiful cemetery you might possibly ever see!
–
Waverley Cemetery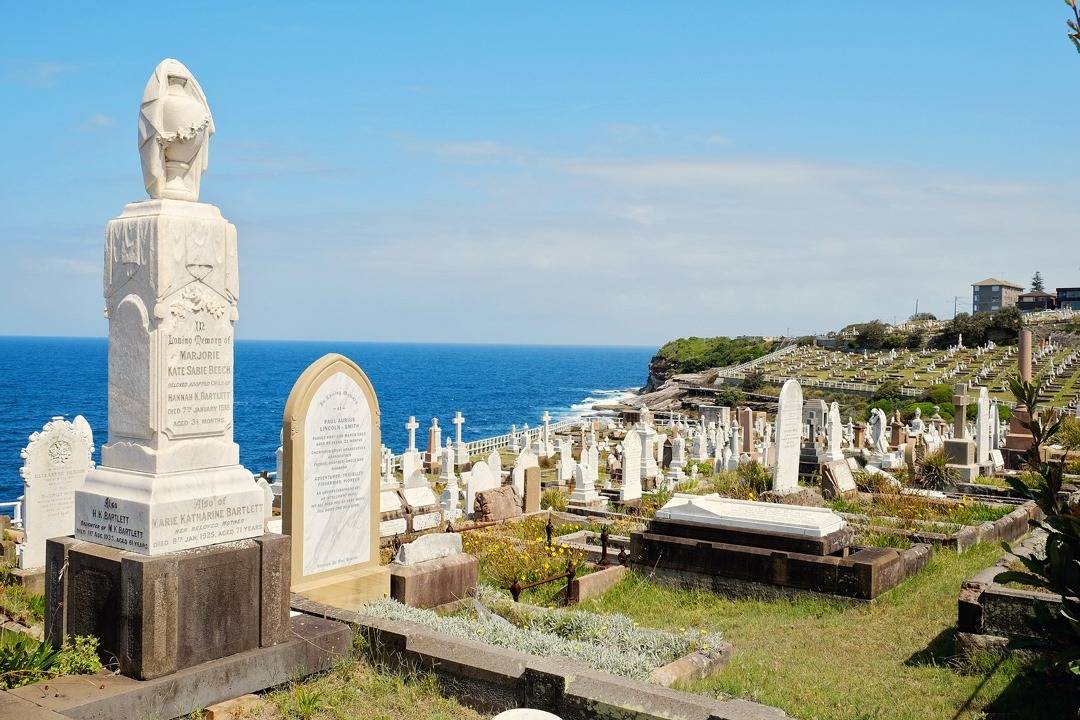 One of the world's more scenic cemeteries!  The Waverley Cemetery is a state heritage listed cemetery, which has been in operation since 1877.  You can find graves of famous Australians here; such as Henry Lawson.
For me though it was just the beauty of the decorative headstones that will stay with me.   Being an artist by nature, I wanted nothing more than to wander around the graves and find those that inspire me!  Sitting down to learn more about the person buried there and scribbling away with a notebook and pencil; sketching out the details of the statue decorating his/her resting place.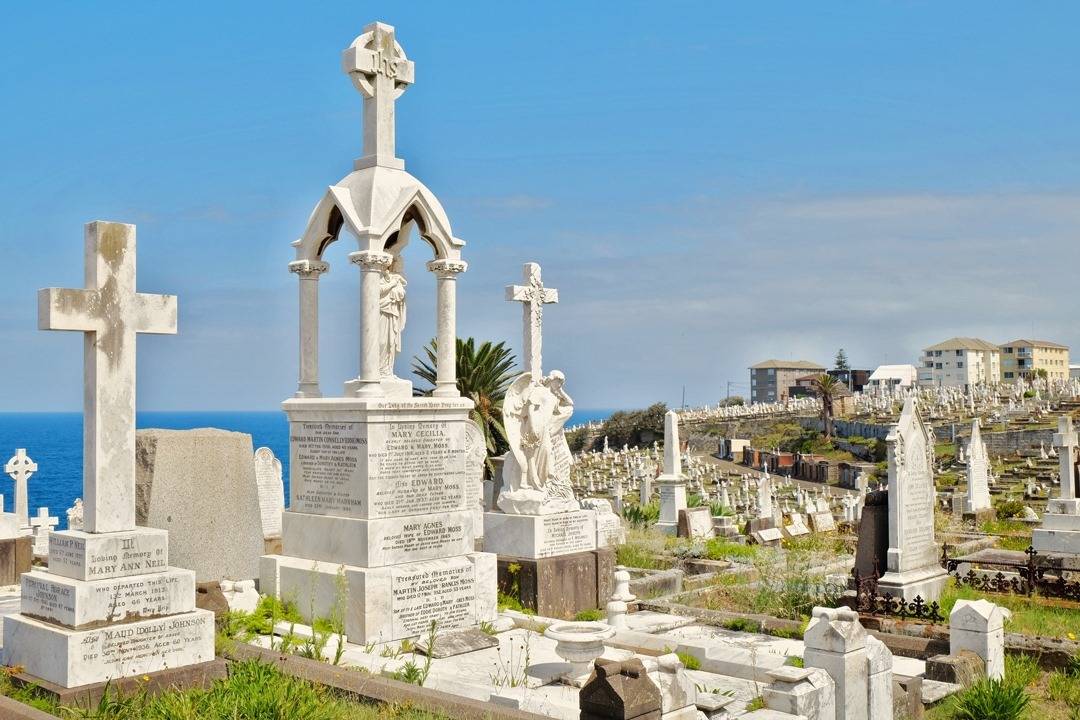 I think I could get 'lost' here forever!  The expanse of the white marble in contrast against the blue of the ocean was just stunning to me!  I'd never seen a graveyard as beautiful as this one!
Unfortunately the sun was absolutely BAKING and RADIATING off these marbled headstones and we couldn't stand the heat for very long!  Thus making our way onwards towards the next destination along this coastal walk.
–
Clovelly Beach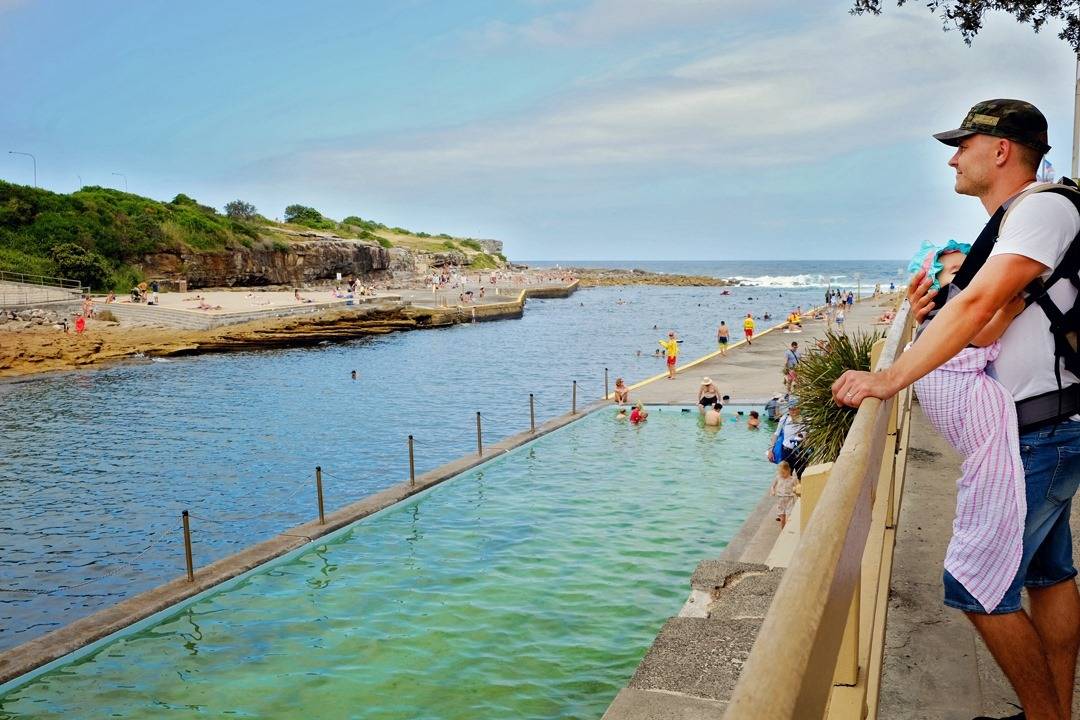 Following the beautiful path, you will find yourself at yet another unique little beach!  Clovelly Beach  is a narrow bay that runs out to the ocean.  On both sides you will find strips of concrete.  I'm sure you find plenty of sunbathers enjoying these concrete patches!  Plenty of families were enjoying this beach with their pontoons!  Simply bobbing around on the water as there aren't really any waves here.
Along the bay water, you will also find another rock pool, a favourite spot for families with young children!  Our stop here was a sweet but brief one.  We restocked up on some water and kept heading on our trail as our little baby girl was starting to get wiggly in the pouch we carried her in.
The next section of the Bondi to Coogee coastal walk is probably your toughest by far!  To get from Clovelly Beach to Gordon's Bay you will have to master some pretty steep staircases.  Trust me, there was lots of whinging and whining from both me and Andrzej as we tried to weave our way through the Cliffbrook Parade.
–
Gordon's Bay
You will know when you reach Gordon's Bay as the fishy smell will welcome you!  Gordon's Bay is only accessible via the walkway.  It is a pretty small and secluded little bay.  Along the forefront you will find racks with little fishing boats from the local fishing club.  What caught my eye though was the sign that gave you more information about the Gordons Bay Underwater Nature Trail!!  How cool is that!?  If you are a keen diver or snorkeler, you can stop here to enjoy a 600m underwater nature trail, pretty special I say!
Your walk is nearly complete and if you are like us, you might be keen to reach the last destination!
From Gordon's Bay, you can enjoy the walk towards Dunningham Reserve, a great spot to get a lovely view over your last stopping point for the day!  Coogee Beach!
–
Coogee Beach
Coogee Beach is lovely, but was probably the least impressive of our stops for the day!  I was glad to reach the end.  Even though we had hats on and tried to be sun smart we still managed to get ourselves burnt a bit.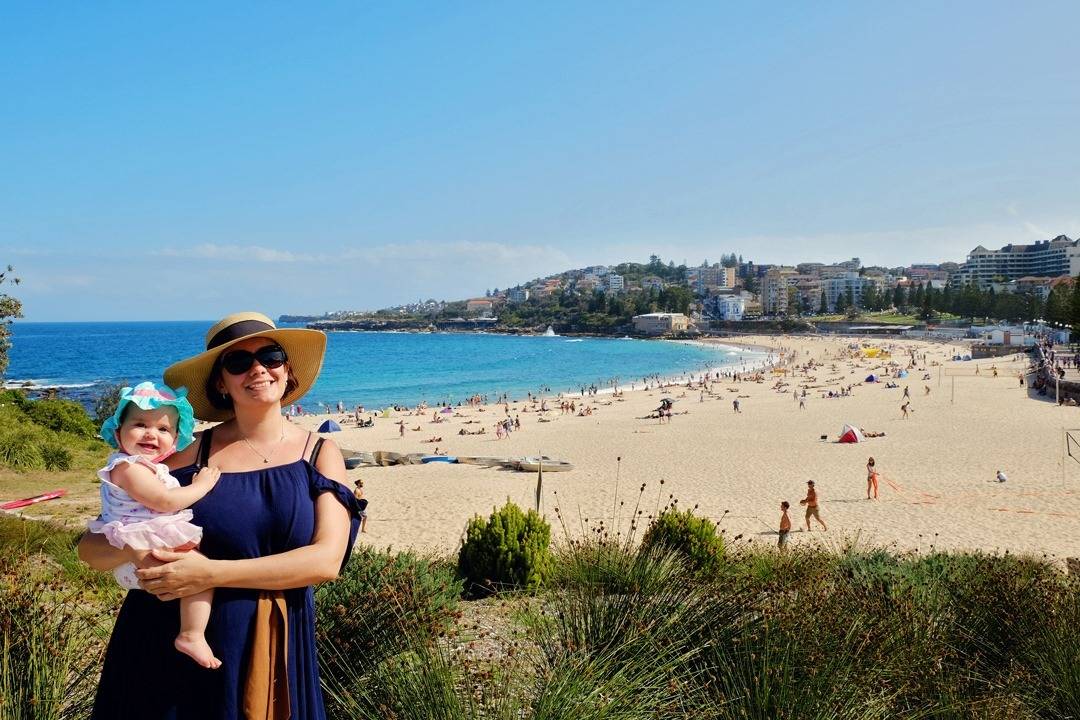 On arrival here we could hear all the chatter and socialising that was coming from the Coogee Pavilion.  You might want to join in on the atmosphere and head into the pavilion for a cold beer or snack.  I'm sure your feet will be thanking you for some time to rest!
From here we caught one of the regular buses and made our way back to Bondi Beach.
The Bondi to Coogee Beach Coastal Walk, Sydney
–
It doesn't really matter if you tackle and complete the track as a Bondi to Coogee walk or vice versa from Coogee to Bondi.  What matters is that you stick with the track and complete it from start to finish as it truly is a beautiful walk and in our opinion happens to be one of the best walks in Sydney.  If you have young kids and a child carrier option is not for you, then we highly recommend that you cut the track short and enjoy a the Bondi to Bronte walk instead.  Have a fun day out!
–
Further Reading:  Love beautiful walks?  Here is a comprehensive post on more walks around Sydney (by The World on my Necklace)
–
Over to You:
Do you enjoy exploring new destinations via walks, hikes or tracks?

Have you completed the Bondi Coastal Walk before?  What is your recommendation, would you recommend to do it from Bondi to Coogee or complete it as a Coogee to Bondi coastal walk?
_________________________________________________
Still wondering where to stay in Sydney?
Have you seen the 'Top 3 Landmarks in Sydney'?
After some fun kid-friendly things to do in Darling Harbour?
Venture out on this beautiful full day road trip from Sydney to Kiama
Scout out the Best Beaches in NSW
__________________________________________________
Please Pin Me!