Life is all about wanting to do more of what you love, but are we really doing it?  Are we taking enough time out form our jobs and careers to simply enjoy ourselves and spend more time with our families? 

The message is simple.  "Do more of what you love this summer!"   It is about exploring more, seeing more, hearing more, tasting more and to us it is about being in the present moment to appreciate these things in life more!
Sydney is an amazing city! There are so many beautiful places to see, however on this journey we specifically wanted to visit and explore the three top world-famous Sydney Landmarks; the extraordinary Sydney Opera House, the spectacular Sydney Harbour Bridge and the super cool historical district of The Rocks!
Of course, it makes sense to stay somewhere that is close in location to these sites!  We know from experience that Holiday Inn hotels are known to be in convenient locations.
On this family trip to Sydney, we stayed at the lovely and historical Holiday Inn Old Sydney, which is located in The Rocks itself.
It is one of the best hotels location-wise in order to explore these top 3 Sydney Landmarks, and what is more, it also has views of all three of these Australian Landmarks from its rooftop!  If you wish to stay at this hotel, why not click here.
The Top 3 Must-See Sydney Landmarks
1. Sydney Opera House
The Sydney Opera House is an icon of Australia.  It doesn't matter where you are from, this extraordinary building brings masses of tourists every day.
As soon as you set your eyes on the magnificent sails soaring towards the sky, your heart will be captured in awe forever!  A true mind-blowing UNESCO World Heritage-listed site; world-famous for its unique design!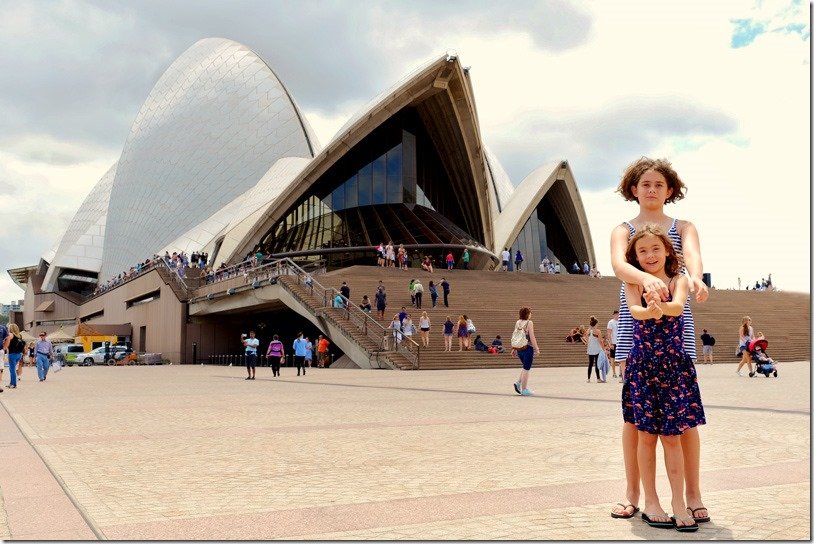 Originally the building was built for opera and was officially opened in October 1973.
These days it is a multi-venue performing arts centre with four main attractions for the viewers; the Opera Australia, the Sydney Theatre Company, the Sydney Symphony Orchestra and the Australian Ballet.  The best way to learn more about this architectural marvel is by booking a 1 hour guided tour!
While you are waiting for the show or tour to start, there is so much more to do here; so much more to explore; so much more to see!
Why not relax at one of the foyer bars or at one of many restaurants in the footsteps of the Opera House.  The atmosphere here is amazing and you could not ask for a more perfect setting.
Enjoy your meal or a drink, all whilst looking over to the world-famous, gigantic and spectacular Sydney Harbour Bridge.  The view is absolutely awesome, both during the day and at night.
When the sun goes down and the golden sparkle ceases to twinkle on the water, the lights of the city come alive.  Locals and tourists alike swarm to the Opera House for another look.
Couples come for a romantic dinner; as if it was Valentine's Day here every day.  And it does feel like this here!  You can feel the energy beaming from hundreds of relaxed smiles.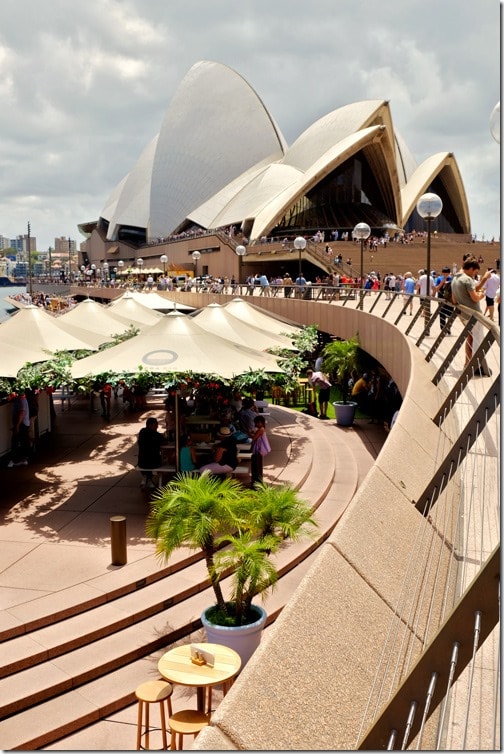 For me, I couldn't leave this place without looking back at least ten times.  Haha…  I know.  Don't you just love to visit places that do that to you?  Places where you wish that the time could stop just for that little bit longer.  Instead, you turn around million times to absorb just a little bit more of the view…  This is truly one of the most spectacular the Australian landmarks – Love it!
Where:  The Sydney Opera House is located within a short 15min walk from Holiday Inn Old Sydney.
–
2. Sydney Harbour Bridge
The Sydney Harbour Bridge is the most spectacular bridge that I have ever seen!  It is the sixth longest-spanning arch bridge in the world and the world's tallest steel arch bridge ever built!
This giant construction stretches across the water 134 metres above the water level.  It is an incredible sight!  I don't think one fully understands the size of this bridge until you are standing underneath it.
We also highly recommend that you take the local ferry ride to Darling Harbour so that you can experience this bridge from the water level as well!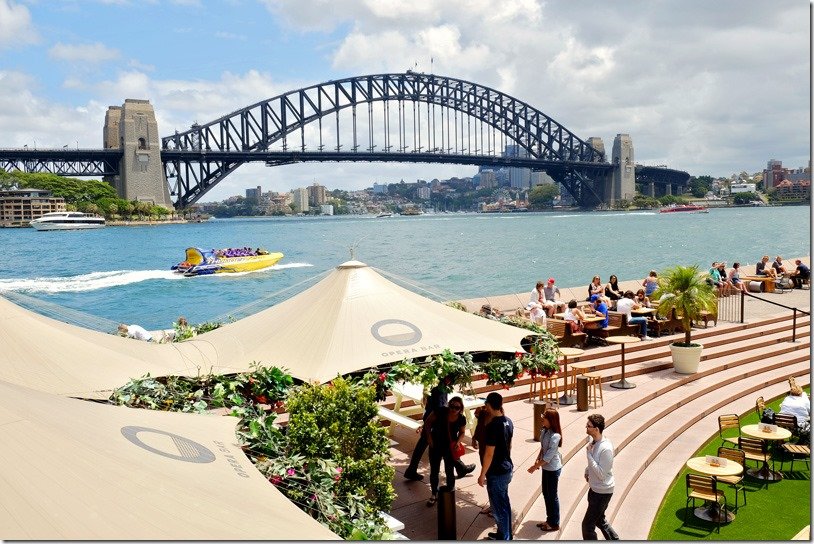 You can take a tour in order to climb Sydney Harbour Bridge, I think we always found a stream of people making their way up or down in order to get those panoramic views over the Sydney Harbour!
We did not go to the top of the bridge this time around; as we were travelling with small kids; but this activity might interest you!  The Sydney Harbour Bridge walk is definitely on both Andrzej and Katie-Lee's bucket lists.
I think I would need to build up a big dose of bravery before I attempt this one!  If you do happen to have kids … or maybe you are just like me a little bit scared of giving the climb a try; we do recommend you go for a walk on the bridge at the very least!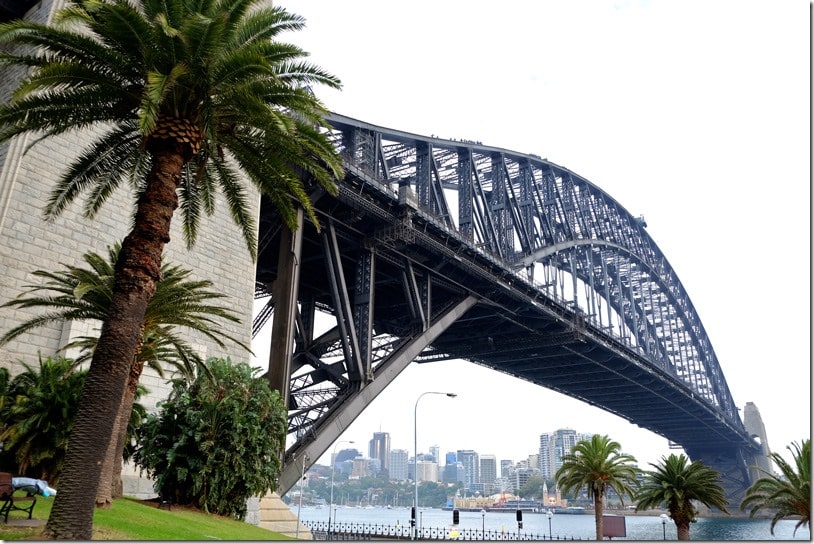 There are multiple viewing points in order to see this bridge from various angles!
Our favourite views of the bridge from a distance were from the Sydney Opera House as well as from the top level of the local ferry (or if you want to do this cruise in style, try the Tall Ship Cruise instead).
In order to fully understand the enormous scale of this bridge, we recommend you make your way to Dawes Point Park from The Rocks district.
And if you want a more unique photo of the bridge, why not book yourself into the Holiday Inn Old Sydney where you can get some glorious views over the bridge from their rooftop pool area!
–
3. The Rocks
We love the charm and cosy atmosphere that you will find in the historical precinct of Sydney; The Rocks.  Some of the buildings here date all the way back to the 19th century, making this the oldest district in Sydney!
You will find many hidden lanes and alleys here; loads of gorgeous little street cafe's to sit down at; interesting art displays on some of the historical walls.
Enjoy browsing through the shops at George St and Playfair St.  Perhaps the best way to find out about the stories of the people that used to live here would be via a 90 min walking tour of The Rocks!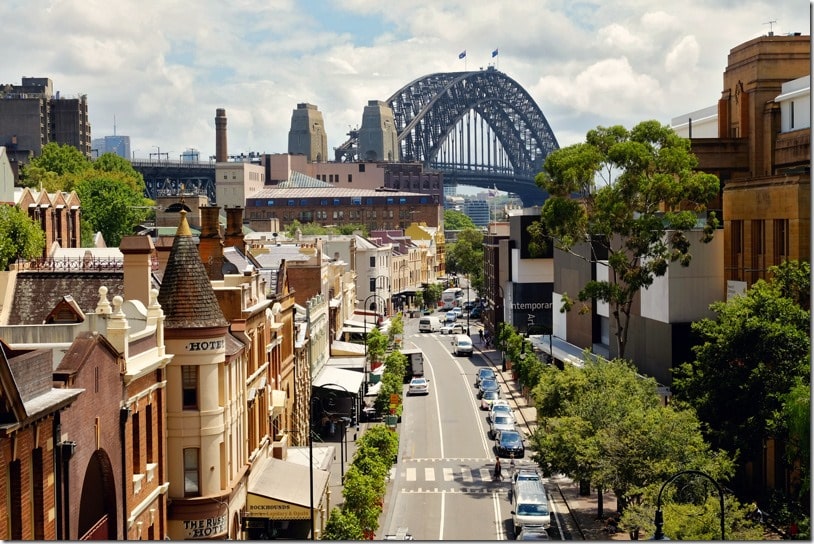 This is definitely my favourite area of Sydney, and we highly recommend that you base yourself on this area as all the top Sydney landmarks are within walking distance!  The Sydney Harbour Bridge is always looming protectively over this district; visible from most lanes and alleys.
Sydney Harbour is only a few steps away, making it easy to explore other popular areas such as Darling Harbour in Sydney.
The views over the Opera House await you as you stroll down the pathways that head to the harbour, or why not enjoy a short walk around the harbour to find yourself in the footsteps of the world-famous Opera House.
Our favourite view over The Rocks can be found from the Cahill Walk.
Simply head to the furthest end of the harbour and grab a lift up to higher grounds, where you can walk back to enjoy a view over the Old Sydney district as seen in the photo above.
–
Additional Reading:

8 Must Eat Food in Sydney by Bel Around the World

Top 10 things to do in Sydney by The Boutique Adventurer

Scouting out the Best Beaches in NSW
–
Our Choice of Hotel, near Sydney Harbour Bridge | Holiday Inn Old Sydney
We loved staying at the Holiday Inn Old Sydney for various reasons; and you can read more about them in our post about this hotel here. 
The hotel is perfectly located in The Rocks precinct of Sydney.  It is within close proximity to all of these top landmarks!  Add in the fact that it offers panoramic views over the Sydney Harbour, The Rocks district, as well as Sydney's Central Business District and you, have found the perfect hotel to celebrate your NYE at!
Perfect views of the fireworks without even having to leave the comfort of your own hotel (plus they have a beautiful New Year's Eve Spectacular Package on offer as well)!
As we travel with three young kids, it is always important to us to find family-friendly hotels!  Not only are Holiday Inn hotels kid-friendly, but they also make your stay more affordable with offers such as where the kids can stay and eat free.
They also had a great Family Entertainment package on offer which always ensures that the kids are busy and having loads of fun!  But most importantly, the Holiday Inn Old Sydney has a rooftop pool where our kids could kill some energy whilst we enjoyed our surroundings!!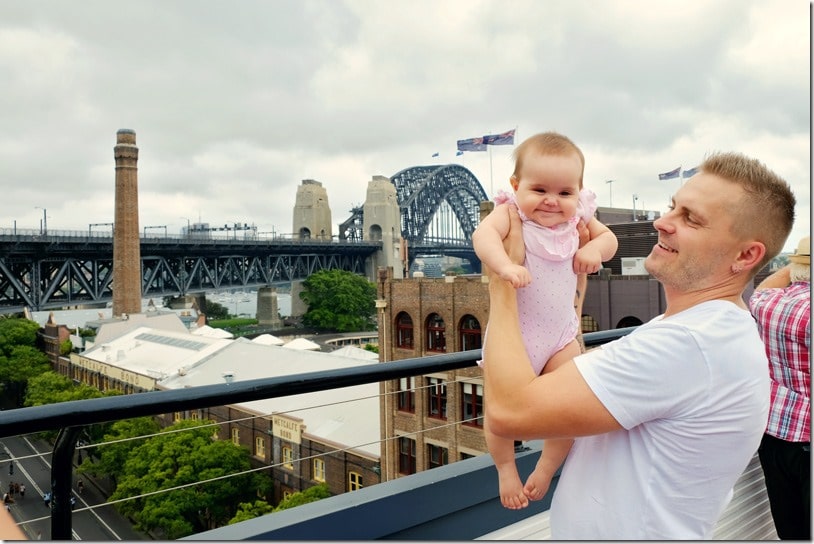 –
Holiday Inn Old Sydney Booking Information:
· Where:  Holiday Inn Old Sydney is located in the heart of the Rocks at 55 George Street, New South Wales in Sydney
· Suitable as: either a parent (couples)-escape or for a family stay.
Pin this post for later!

* Disclaimer: We stayed at this hotel as guests of Holiday Inn Old Sydney and the IHG Group.  All thoughts, opinions and experiences are our own.