There's no denying it: All countries are different. But believe it or not, Japan is somehow more different than most.
Imagine a country where tipping is considered disrespectful; English is not the national language but is widely used and understood!
For any grown-up visitor, Japan is an exotic destination. It is a unique country that offers an exciting escape from familiar surroundings, with its peculiarity being part of the captivating appeal.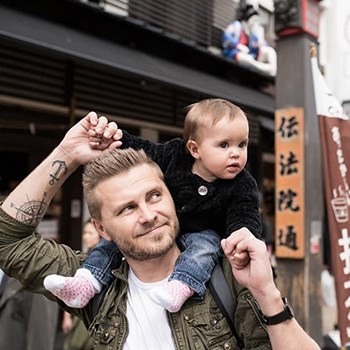 The big question, however, remains; can you travel to Japan with a baby or toddler?
Is Japan safe and baby-friendly? And where can you stock up on baby supplies?
We cover all these questions in our guide below.
What You Will Find In This Article:
Click to hop straight to these sections.
Traveling to Japan with a Baby: Is Japan Baby-Friendly?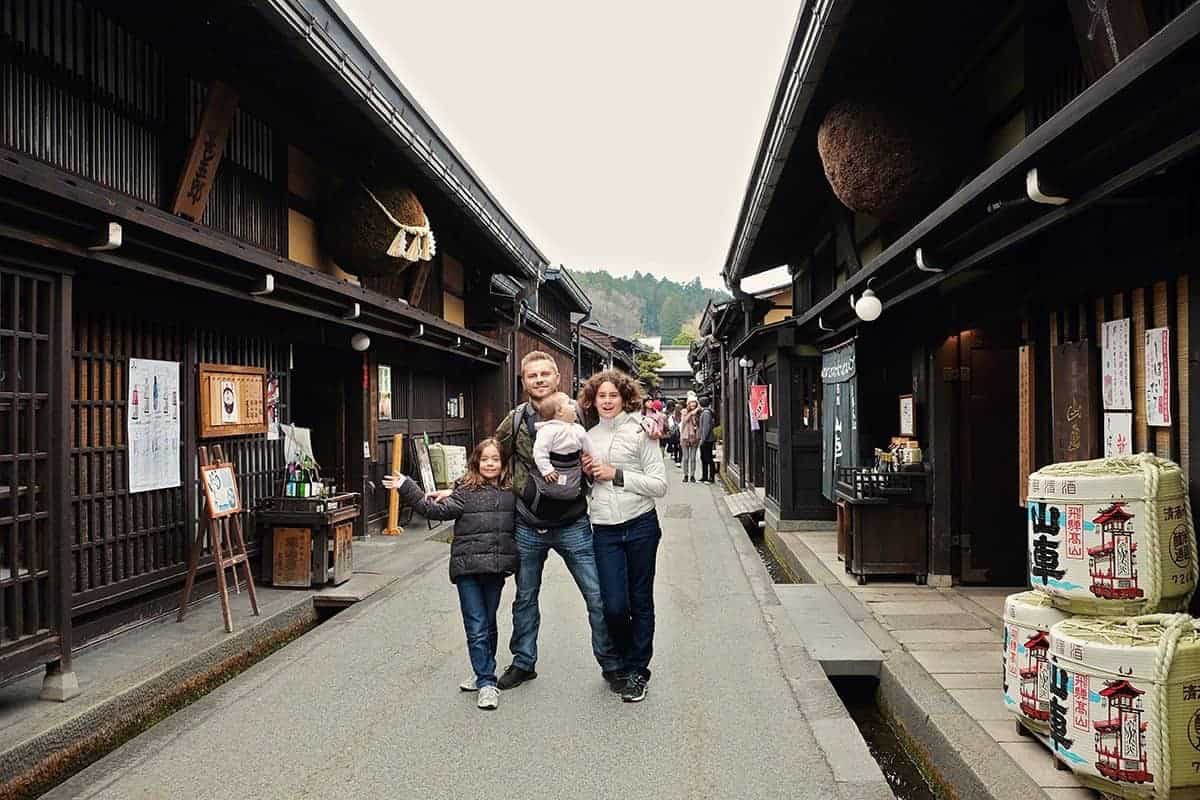 We have read repeatedly about how baby-friendly Japan is, yet we found the holiday a bit challenging (*honest truth).
(We have a complete guide of other ideas on the best places to go on a holiday with a baby.)
So here are my thoughts: if you are traveling to Japan with only a baby (and no other kids), I think Japan is a great destination. It is also crucial to pick one to three destinations at most to visit during your trip (we did seven different places). Keep it easy.
We were traveling with three kids, though, and together with having to drag luggage + hold hands + carry a baby up and down stairs to subways & train stations regularly; we found the trip REALLY HARD. The same would be true if you visited Japan with a toddler.
However, I have some invaluable tips on how to ensure your holiday will be easier than ours! Learn from our mistakes and take them on board.
There are definitely many benefits to visiting Japan with a baby. The country is safe.
You can find baby supplies in the stores. The streets are stroller-friendly.
You will even often see little baby seats in toilet cubicles so you can pop your baby down whilst you do what you need to do.
A vacation to Japan is a once-in-a-lifetime opportunity that promises lots of adventure, education, and a giddy blend of culture, it is always worth a little challenge.
Guide to a Baby-Friendly Japan Trip: Top Tips + Everything You Should Know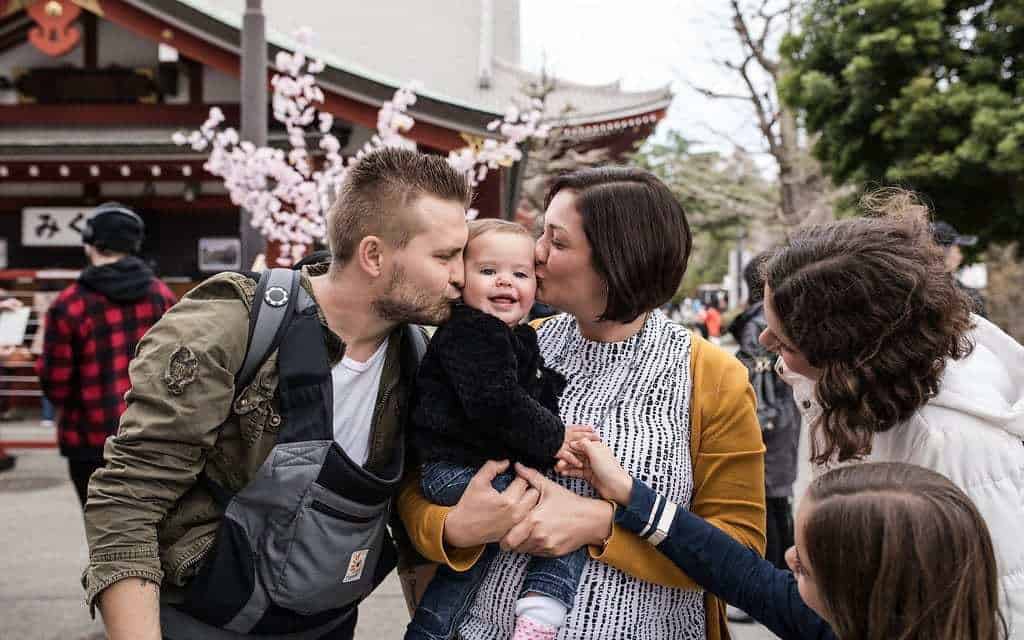 Before you embark on your journey to Japan, these great tips will help you create the ultimate baby holiday in Japan.
This guide will also be helpful to those traveling to Japan with a toddler.
You will find all the information about how to prepare for your trip, where to find baby supplies, how to explore, and more!
You will find information on where to go in Japan with a baby or toddler down lower in the post.
1. Passports
Children are required to have their passports to be allowed to travel to and around Japan.
You will also need to carry the passport when you travel on trains as you might be required to show it.
2. Vaccinations
There are no mandatory vaccinations for a child to travel to Japan.
3. Don't Pack Too Much!
Getting from one destination/attraction to the next in Japan can be a bit of a mission when you have too much luggage, especially when traveling with your baby!
While the train system is super-efficient, taxis are costly, so you will most likely use the trains to get around.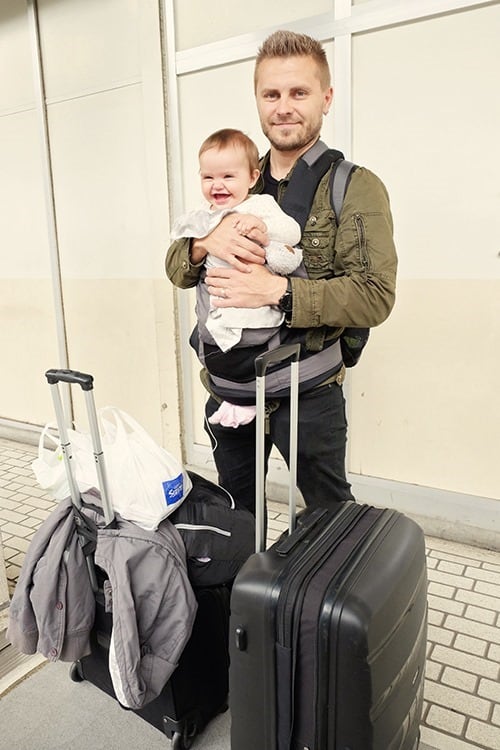 We found that very few stations had lifts or escalators, which meant that we had to carry our baby (in a carrier) and all the luggage down and up too many stairs.
So is Japan baby friendly? Not always!
Try to minimize and pack as light as you can.
Think hard about which items you will really need. (We have a complete list of the best baby travel gear you might find helpful).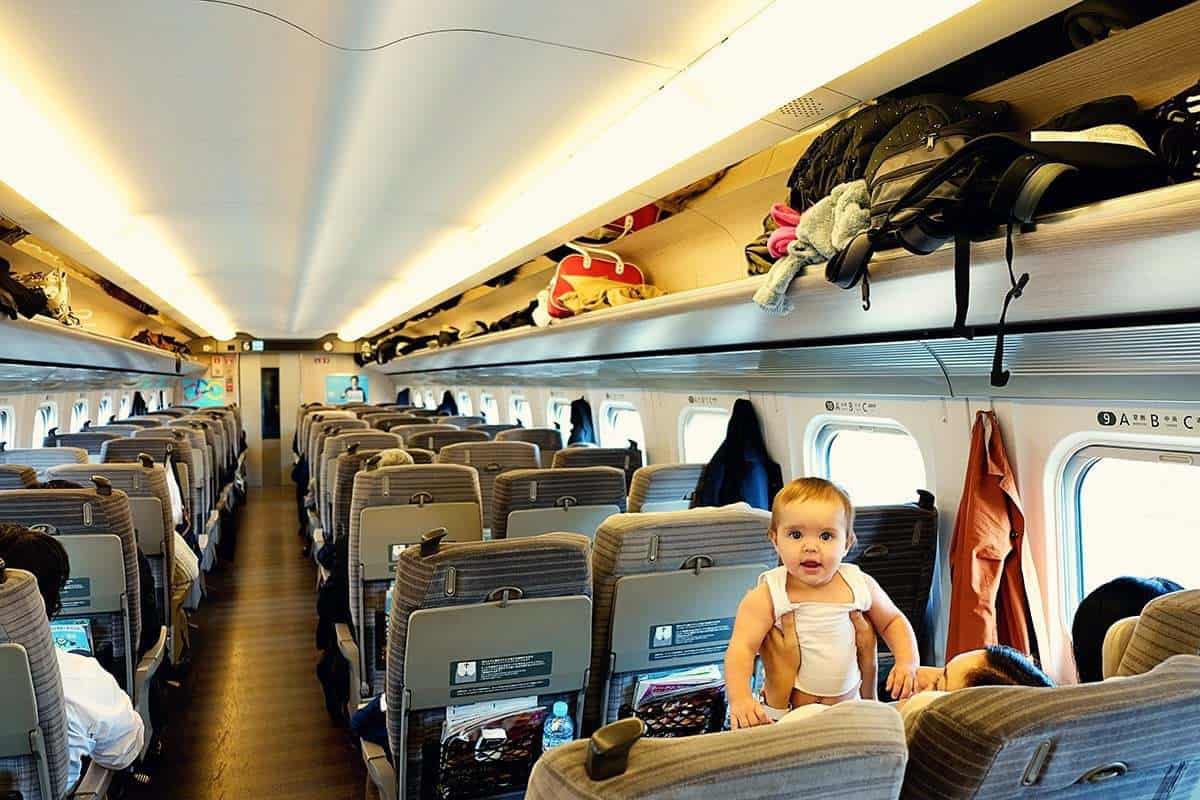 You will also need to be able to fit the luggage in the luggage compartment above your seat (see the photo above to see how much space you have – not much!).
Tip: If, like us, you find it too hard to drag all your luggage from one destination to the next, here is a handy tip: Japan has a luggage forwarding system!
We used this because we got so sick and tired of struggling to get from point A to point B.
Essentially, you can organize and pay for your luggage to be collected from your hotel in one city and dropped off at your hotel in the next city.
You can do this at the hotel reception. We thought the prices were pretty reasonable (nothing in Japan is cheap).
Important to note that the process typically works overnight, so you will have your bag the next day (depending on how far they have to travel).
So we always took our essentials in one suitcase and only carried that suitcase with us.
You can learn more about this forwarding system here.
4. Be Prepared for the Flight to Japan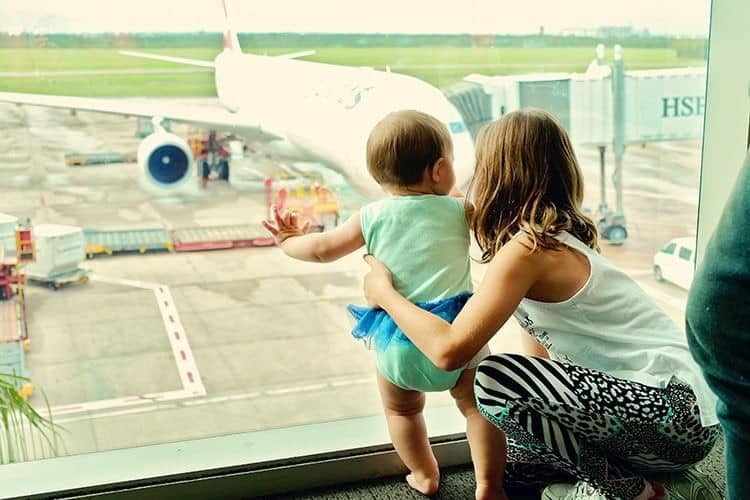 Remember to book bulkhead seats with a bassinet when traveling to Japan with a baby.
You can use the bassinet and have loads more room (and no reclining seats in front of you!).
You should also know what your ticket price includes.
If your baby is eating solids, remember to call the airline and request a baby meal. This meal usually includes a drink box and some pureed food pouches.
Remember, airline food is never guaranteed to be a hit with kids. So make sure you have your own snacks and baby food supplies for the trip on hand.
5. Is Japan Stroller Friendly?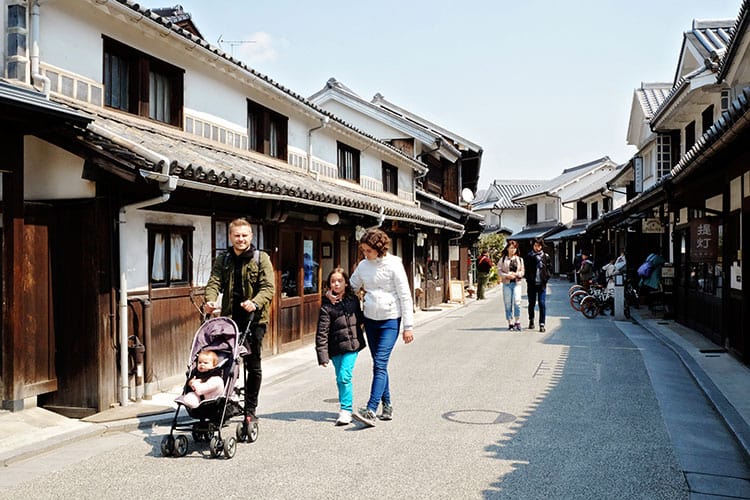 The streets and parks are definitely stroller friendly! In fact, there is so much walking from subway stations to tourist attractions that a stroller could definitely be useful.
The only thing is that there are typically no lifts or escalators leading to the subway station and you might have lots of stairs to climb, so my suggestion is to make sure that you have a lightweight stroller.
When we visited Japan, our daughter was still pretty young and so we mostly had her in a baby carrier.
It was cold during our trip so it also helped to keep her warm as we didn't have all the fancy gear that Japanese moms use to keep their little ones warm in the strollers.
We actually ended up sending our stroller to the storage at the airport as we got sick and tired of carrying it up and down the stairs at subway stations, but if our daughter was older and heavier I think we would have kept our stroller instead.
6. Travel Slower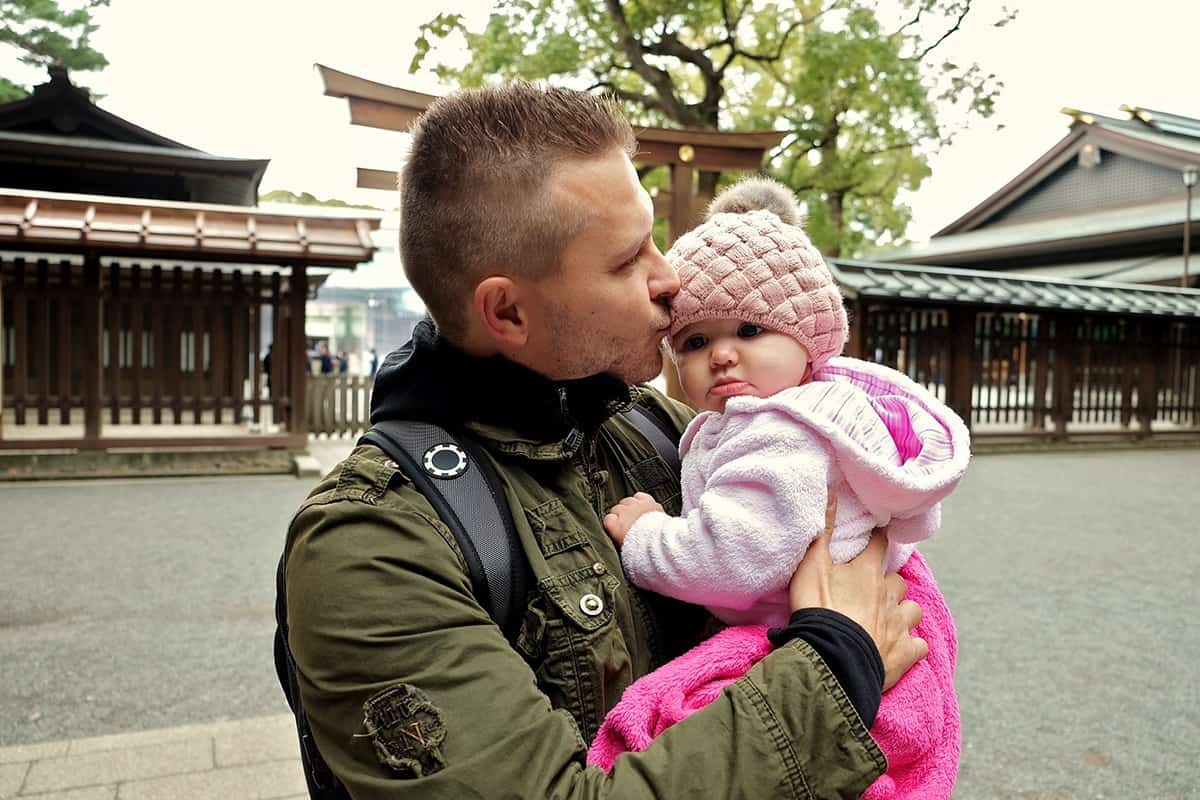 Traveling through Japan with a little one will undoubtedly slow you down.
One of the downsides is that you won't be able to visit as many locations as you'd have wanted.
You should, therefore, always consider planning activities that are close to one another.
Ensure you travel slower and allow plenty of time for your baby to be changed, fed, or rocked to sleep.
Don't forget to schedule some downtime for yourself too; otherwise, you might get exhausted.
Because it can be so tricky getting from point A to B in Japan with a baby, I recommend minimizing the number of cities you will be visiting.
We tried to see Tokyo, Kyoto, Miyajima, Nara, Shirakawa-Go, Takayama, and Kanazawa on our 3-week trip, and we were exhausted by the end of it!
So pick 1-3 cities for your trip and keep it simple and easy.
Tokyo with a baby is lots of fun, and so is Osaka and Tokyo – you can find more information about these cities down further in our post!
7. Always go for Public Transport in Japan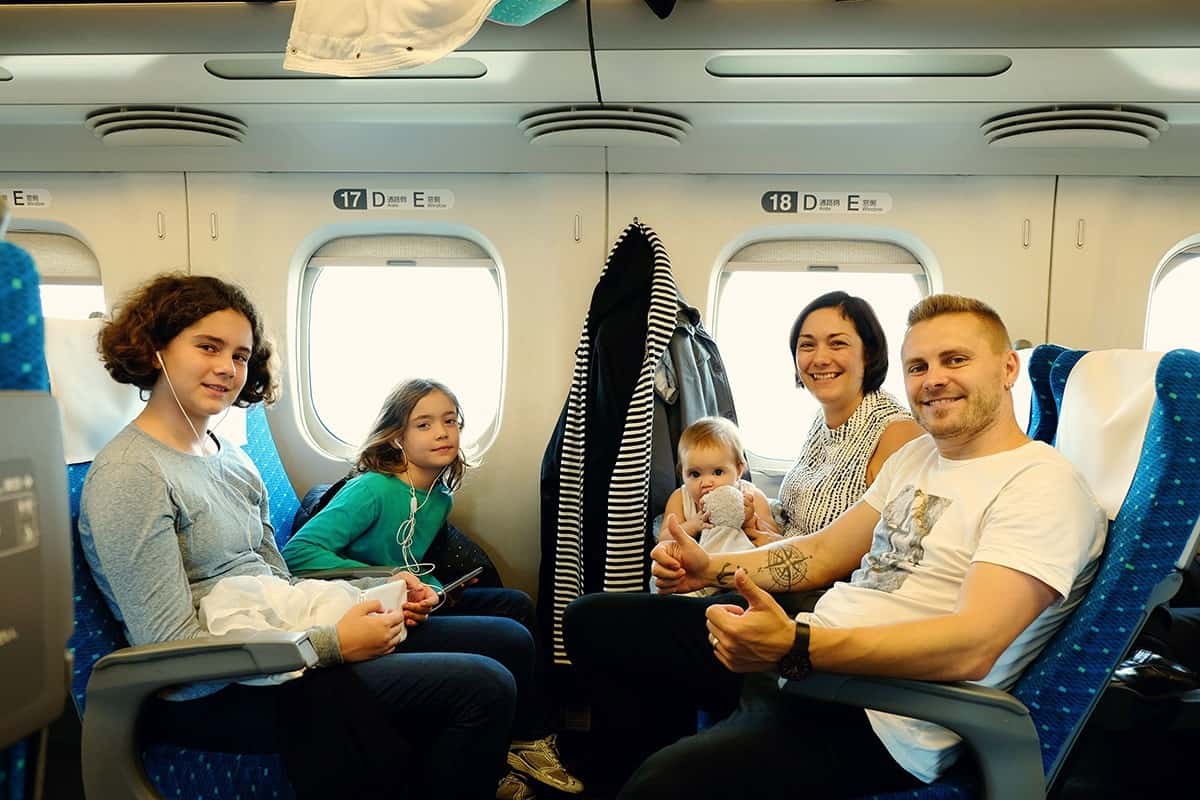 While we are on the topic of transport, here is another tip: If you're planning to stay in Japan for longer than a week and plan to travel between major cities such as Tokyo, Osaka, and Kyoto (which is obvious), traveling by rail would be the most economical option.
Japanese public transport is undoubtedly one of the best in the world!
So whether it's a bus, a subway, or the Japan Rail Pass (basically long-distance train travel), Japanese public transport is a great option for those with kids. Kids under the age of 6 can travel for free, and kids between 6 and 12 will be half-price.
This makes Japan with kids a whole lot more affordable!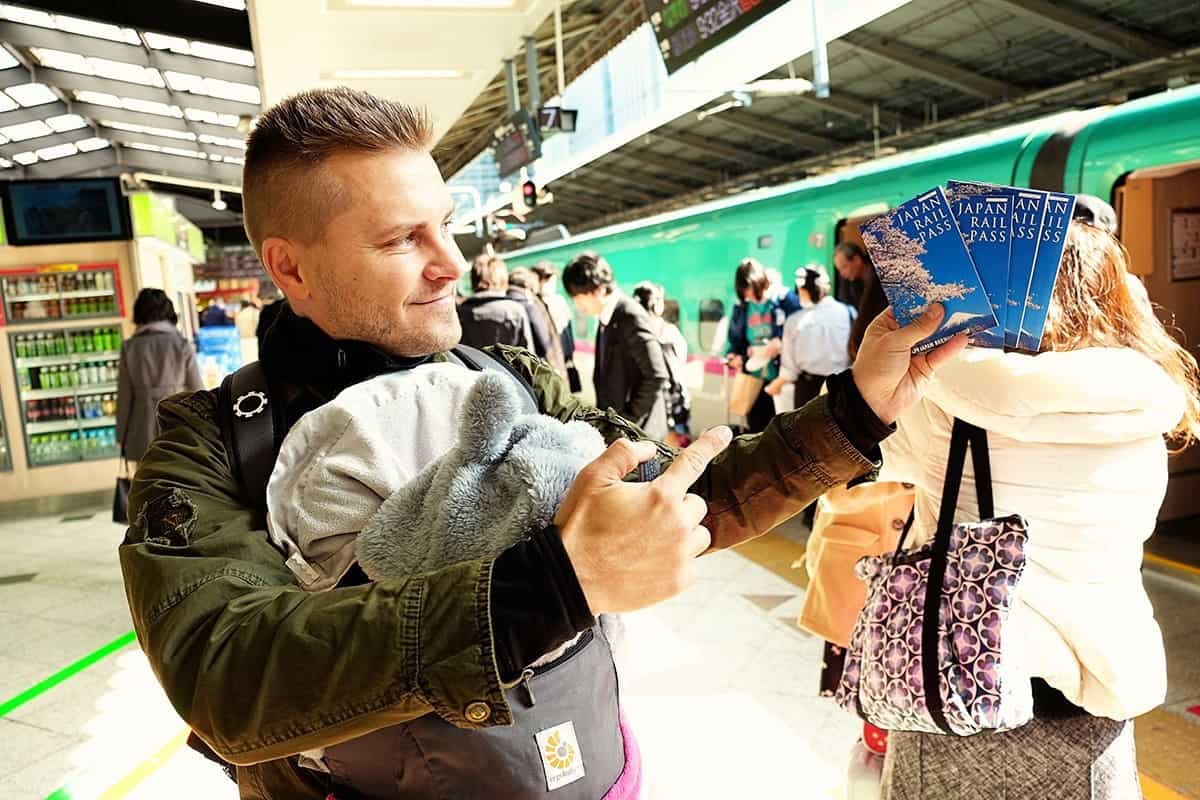 Further Reading: Let us help you decide whether the Japan Rail Pass will be of benefit to you.
Tip: Always avoid rush hour in the main cities. This is because it can sometimes get hectic, and the lack of space can scare the little one.
You will be surprised at how many people can squash into the trains at these times. I wouldn't recommend it.
The weekday rush hours peak between 8 am and 9 am in the morning and shortly after 5 pm in the evening.
8. Do you Need a Car Seat in Japan?
Legally if you rent a car you do need to use a car seat for children under 6 years of age, you can find more information on car seats in Japan here.
Because taxis are so expensive we only used a taxi once and we did not use a car seat for the taxi.
We also hired a private driver to take us from Kanazawa to Shirakawa-Go because the bus was already sold out. The drive took around 1 hour and we did not have a car seat.
Overall I highly suggest a car seat for obvious safety reasons. We planned on public transport and relied on trains and buses because we did not want to carry a car seat around with us on top of all the other luggage.
9. Try to Travel Hands-Free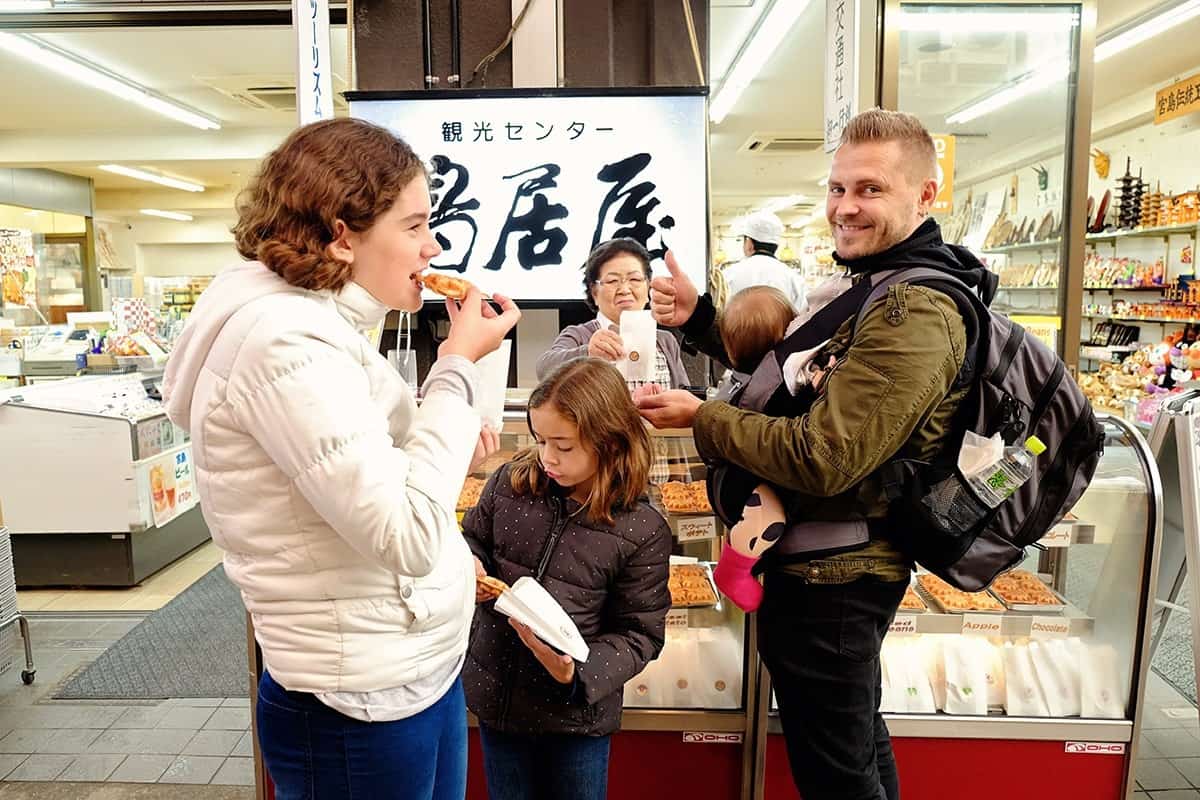 We found that many attractions were located in beautiful hilly areas, which meant that not only did we have to deal with stairs at the train stations, but we also had to climb stairs at the attractions!
While we did indeed take our baby stroller along, we barely ever used it on our Japan trip, and I would suggest that you leave it behind altogether.
Instead, try to travel hands-free. We had Avalee in a baby carrier all the time. It made life so much easier as we climbed many stairs at attractions or headed down all the stairs to the subways.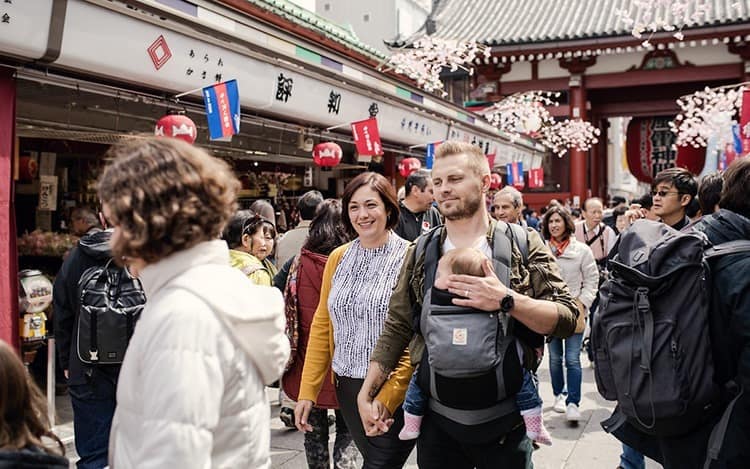 We also prefer to travel with a backpack diaper bag, which is great to not only balance out the weight of our baby on the front but also makes it easier for us to have our hands free to deal with money and tickets (and to hold our other two daughters hands at the busy train stations).
Tip: If you find that you do need a stroller, you can always rent one.
There are a lot of online shops that offer baby cots, car seats, baby carriers, and many more baby amenities at affordable prices.
There's also some great baby food in Japan! Everything is in Japanese, so best to ask your hotel receptionist to help you. They tend to be super friendly and happy to help.
Most of the department stores and shopping centers in Tokyo have free stroller rentals, which will give you a break from the carrier if you need it.
10. Japanese Department Stores Are Baby-Friendly
Most department stores in Japan are extremely baby-friendly.
They have nurseries with changing tables and private breastfeeding rooms. Some well-known stores with these amenities include; Daimaru, Isetan, Matsuya, and Mitsukoshi.
We often found it best to head to the drug stores instead of the supermarkets for food and baby supplies.
Drug stores are an excellent source of baby supplies, and you can typically find them easily. They will sell your pre-packaged baby food, formulae, snacks, and diapers.
Pureed Baby Food:

Our baby didn't like Japanese baby food and purees, so make sure you pack your own just as a backup.

Baby Formula:

Our baby didn't mind the baby formula in Japan. The best brands are Meiji, Morinaga,

and Icreo. We couldn't understand how many scoops to add, but our hotel receptionist managed to translate the instructions for us, so

ask if you are confused.

Baby Diapers:

While they are readily available, they are expensive. Our Australian diapers were much better quality as well, so we made sure to keep a good supply of our diapers for the flight home (because nobody wants to change a baby's diaper more often on a plane than is necessary)
Note: We did struggle to find supplies in the smaller towns, so stock up in the cities before you head out to islands or remote destinations.
11. Restaurants in Japan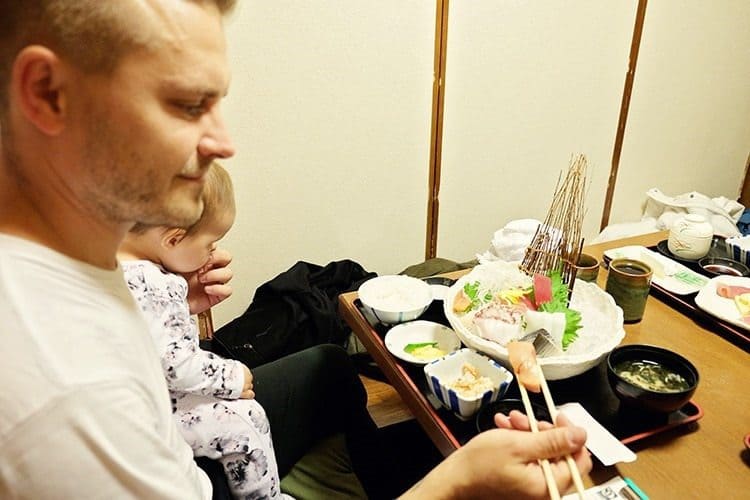 While most restaurants and pubs allow babies, use your common sense when deciding which restaurant is appropriate for him/her.
Many restaurants in Japan are tiny, crowded, and noisy, which is such a great atmosphere for us but can be pretty overwhelming for a baby.
Smoking in restaurants is also allowed, and we often walked into a restaurant only to turn back around when we realized how heavy the cigarette and cigar smoke was.
You also won't easily find a high chair in these restaurants, so expect to hold your baby on our lap or in your baby carrier.
If your baby is a bit older, you might like to take a lightweight travel high chair with you. Here are our recommendations for portable high chairs.
Dinner time for us typically meant that our baby Avalee was tired, but the restaurants were way too noisy, so we struggled to get her to sleep, and she spent dinner crying. It wasn't fun.
So my tip here is to remember that they have Domino's Pizza Delivery.
We ended up ordering delivery for a few nights so that we could eat in our VRBO apartment instead (and that way, Avie could get some sleep in her portable cot) – dinner + peace = heaven!
12. Breastfeeding in Japan
If you are planning on breastfeeding in Japan, I highly suggest you pack in a cover-up.
While breastfeeding in public is fine, I never saw anyone with their boob visibly out; it is all about discretion.
If you prefer to feed in breastfeeding rooms, you will always find them in department stores, museums, and play centers.
13. Book a Machiya (Japanese-Style House) or VRBO Apartment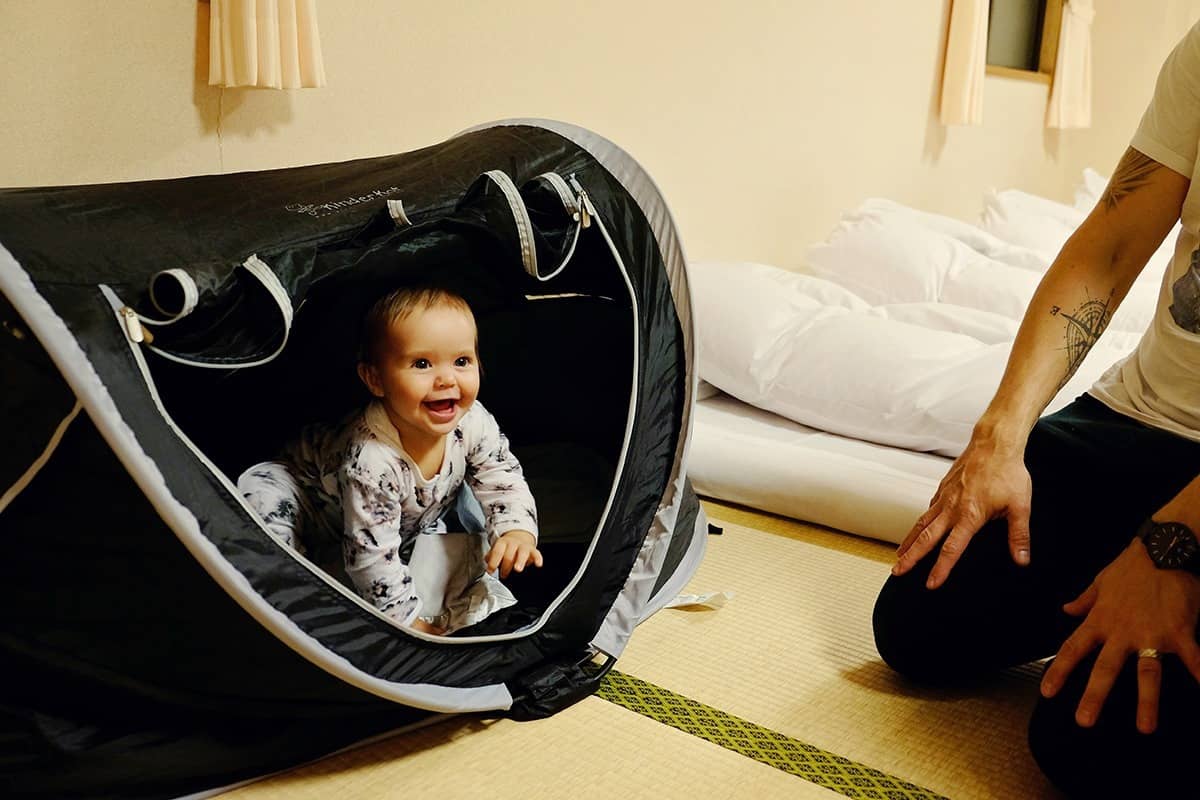 As a pre-warning, hotel rooms in Japan are really tiny and pretty pricey. I also highly recommend asking them if a baby cot will be available.
If your baby is moving, you might prefer a Machiya or an VRBO rather than a hotel so that there is room for your little one to crawl and play.
They are also fabulous choices for those who can't afford the pricey prices of the hotels.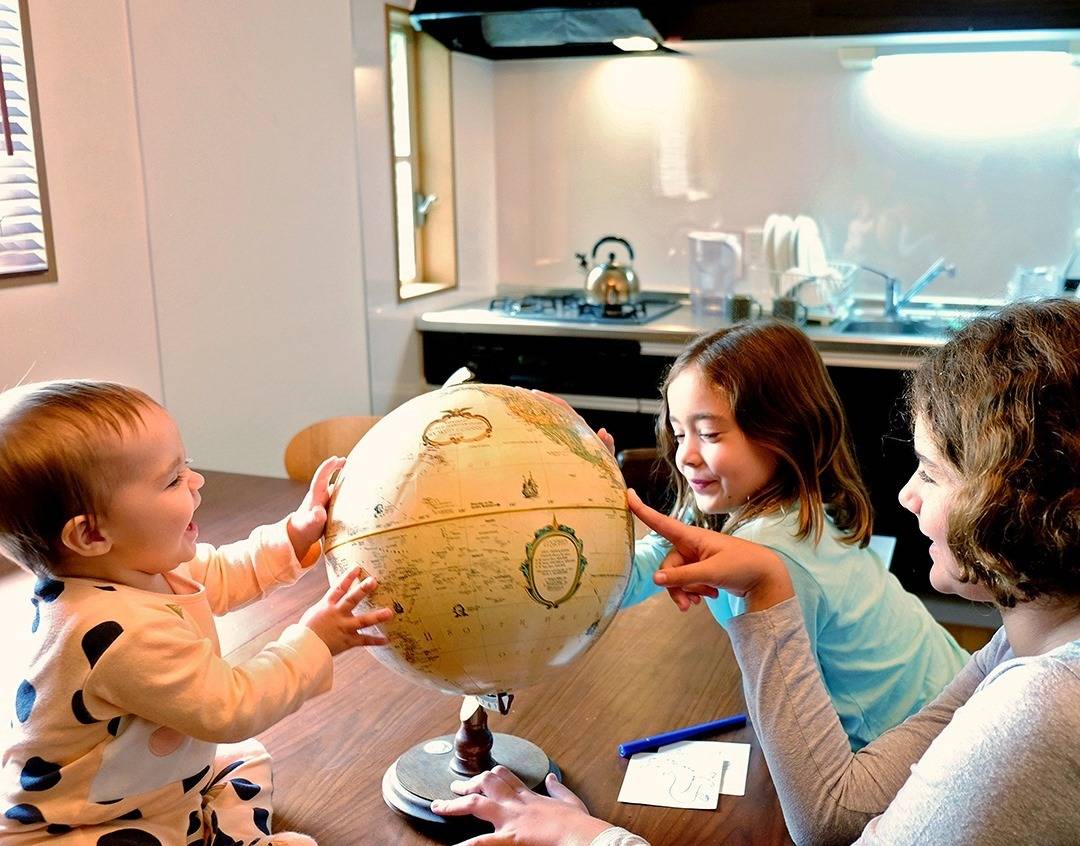 We enjoyed staying in a mix of all three of the above.
We loved our VRBO's in Japan as they typically come with a fully functional kitchen that certainly allows you to cook your meals, especially for the baby.
Most also have a washing machine that will make the baby's laundry easier.
I will share some hotel links below for those who wish to stay in a hotel.
You will find that most hotels will have some information on their cots/extra beds that say, "There is no capacity in this room for a cot", so if you use our links below for hotels that do offer and have space for cots it will save you loads of research time.
Note about cots: We ended up taking a portable baby cot with us to Japan as many of the hotels and VRBO's did not have a cot available, so it is essential to ask the question before you book to ensure that baby has a safe space to sleep.
>>> Click here to see a list of recommended travel cribs to take along.
Let's look at our top recommended places to visit with a baby and I will also include our recommendations of which hotels actually provide a baby cot.
Where to go In Japan with a Baby or Toddler
Wondering where to go in Japan with your little one? We share a simplified version of our way-to-busy itinerary.
Find below 3 destinations that I recommend you include in your Japan Itinerary with a baby or toddler.
1. Tokyo with a Baby or Toddler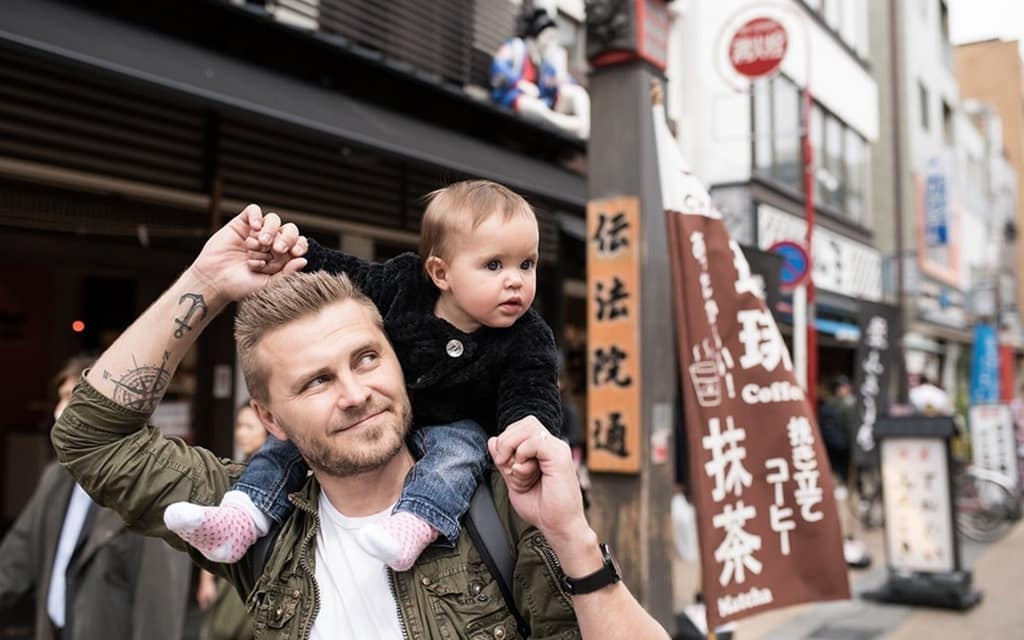 Is Tokyo baby-friendly? Yes – well mostly!
Here are our top tips for traveling to Tokyo with a baby or toddler.
Tokyo's streets are narrow and popular spots will be packed to the brim with people. Many of Tokyo's subway stations don't have elevators or escalators, so keep in mind that you need to be able to carry all your luggage and strollers up and down stairs if you take public transportation.
So a small lightweight stroller will be key. A stroller will be helpful though because you will be walking A LOT.
So even if you have a toddler that loves walking, they will get tired and the stroller will be very helpful to have.
See if you can book a hotel or VRBO that is close to the subway station – honestly, you will be surprised at how many trains you will be catching during your stay.
Things to do in Tokyo with a Baby or Toddler:
Meiji Shrine & Yoyogi Park
Senso-ji Temple Tokyo and Ueno Park
Day Trip to Nikko (lots of stairs so don't bother taking the stroller – book a tour here)
Visit the Government Building for views over Tokyo
Shinjuku Gyoen National Garden
Imperial Palace
Tokyo Disney Parks (for older toddlers – buy your 1 day pass online here)
How Many Nights to Stay for:
I recommend staying for 5-7 nights in Tokyo.
Where to Stay in Tokyo with a Baby:
Find below our three favorite accommodation options for those traveling with a baby.
Imperial Hotel Tokyo (5-Star): This hotel is perfect if you can reach the price. It is convenient with an airport shuttle drop-off at its front door. It is also in a central location with three stations within a 5-minute walk. They have family rooms available that offer more space. Babysitting is available, as well as cribs. Click here to check availability and prices.
Four Seasons Hotel Tokyo at Marunouchi (5-Star): Another fabulous option as it is directly accessible from JR Tokyo Station. They also have babysitting services as well as cribs available. Fabulous location; you can't go wrong. Click here to check availability and prices.
Nohga Hotel Ueno (4-Star): This hotel is conveniently located 3.3 km from Tokyo Skytree, in the Taito district of Tokyo. No babysitting services here, but you can request a cot for free. Click here to check availability and prices.
After more suggestions of where to stay in Tokyo? You can find our list of the best family hotels in Tokyo here.
---
2. Osaka with a Baby or Toddler
Osaka is fairly easy to explore with a baby or toddler. Our favorite thing to do in this city was to use it as a base for some stunning day trips.
Things to do in Osaka with a Baby or Toddler:
How Many Nights to Stay for:
I recommend staying for 3-4 nights in Osaka.
Where to Stay in Osaka with a Baby:
Find below our three favorite accommodation options for those traveling with a baby.
InterContinental Hotel Osaka (5-Star): In an excellent location and only a 5-minute walk from JR Osaka Train Station. Their rooms are lovely and soundproof. They have babysitters available as well as free cribs. Click here to check availability and prices.
Art Hotel Osaka Bay Tower (4-Star): This hotel is conveniently located close to the train station. They have larger family rooms available to offer space. The rooms are soundproof, and cribs are available as well. Click here to check availability and prices.
Hotel Nikko Osaka (4-Star): The Hotel Nikko brand is a popular one for travelers due to their affordable prices. They are also located with direct access from the airport shuttles. It is also directly connected to Click here to check availability and prices.
---
2. Kyoto with a Baby or Toddler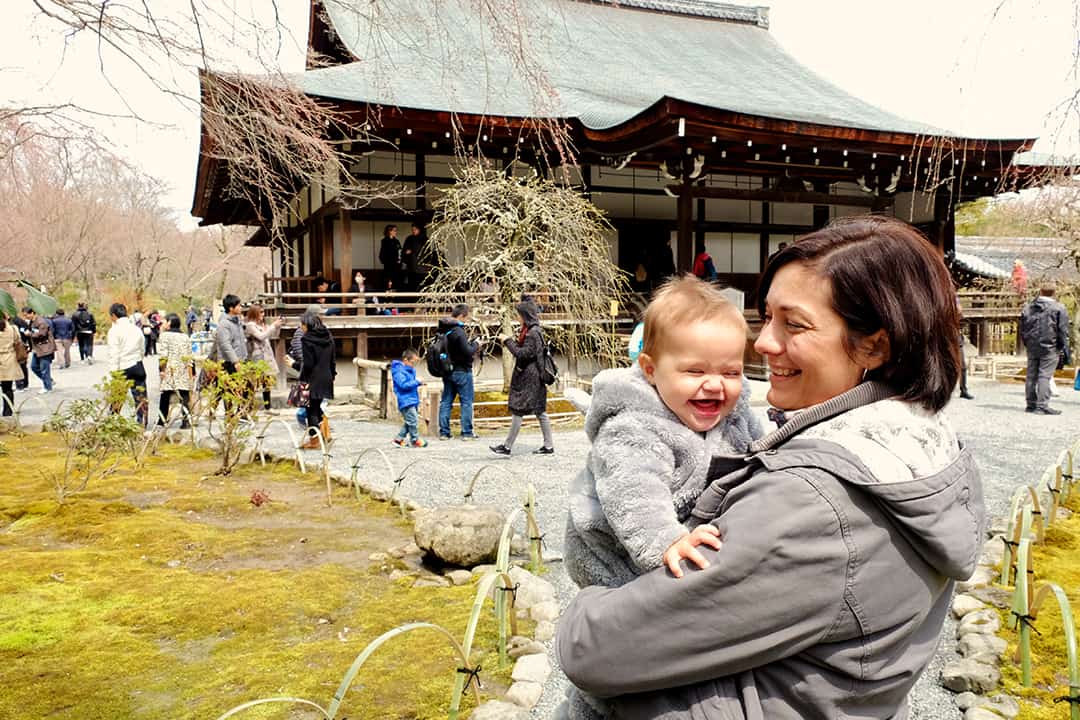 Kyoto is a BIG city. Expect to spend a lot of time on public transport in order to get from one tourist attraction to the next.
Try to stay close to a train or bus station to make life a bit easier.
Streets and many tourist spots are stroller-friendly.
Things to do in Kyoto with a Baby or Toddler:
Explore Arashiyama and the Fushimi Inari Shrine (Included highlights include The Kimono Forest of Arashiyama, Arashiyama Bamboo Grove, Tenryu-ji Temple, and Fushimi Inari Shrine)
Ginkaku-ji Temple, Nanzen-ji Temple, Shimbashi Street, and Gion District (A great way to see these sights is on a private walking tour).
Southern Higashiyama, Nijo Castle, and the Golden Pavilion
To make life really easy, you could also see all the Kyoto highlights on a full-day tour. Check prices and availability for the Kyoto highlights tour here.
How Many Nights to Stay for:
I recommend staying for 4-6 nights in Kyoto.
Where to stay in Kyoto with a baby: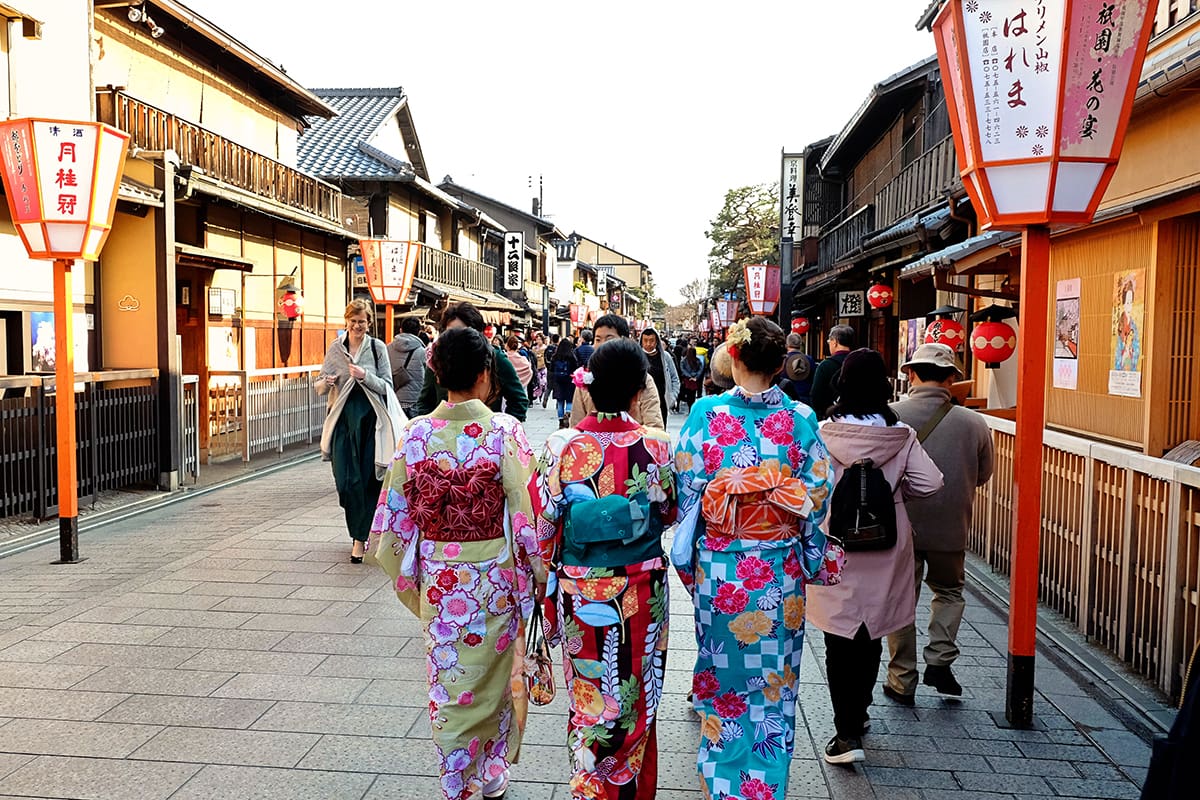 Find below our two favorite accommodation options for those traveling with a baby.
Hotel Imagine Kyoto (4-Star): What we love about this hotel is that all the units have a seating area (which means more space). The hotel is close to Kyoto station, so exploring other areas of Kyoto is easy. Free cots are available too. Click here to check availability and prices.
Kyoto Tokyu Hotel (4-Star): This hotel offers a free 5 min shuttle to the Kyoto Station. The World Heritage site Nishi Honganji Temple is just a 5-minute walk away. We love their family-size rooms, and they have cots available as well. Click here to check availability and prices.
Of course, if you want to include a few more destinations, then you can check out our guide on the most beautiful places to visit in Japan for first-timers.
Conclusion To Our Japan with Toddlers or Babies Guide
The idea of traveling to a foreign country is often an intimidating prospect for many.
The idea of making the trip with a baby or toddler in tow is even more worrying to many, but that doesn't mean parents cannot have an exciting holiday in a foreign land far away from home.
You can travel to Japan with your baby; you must be well-prepared!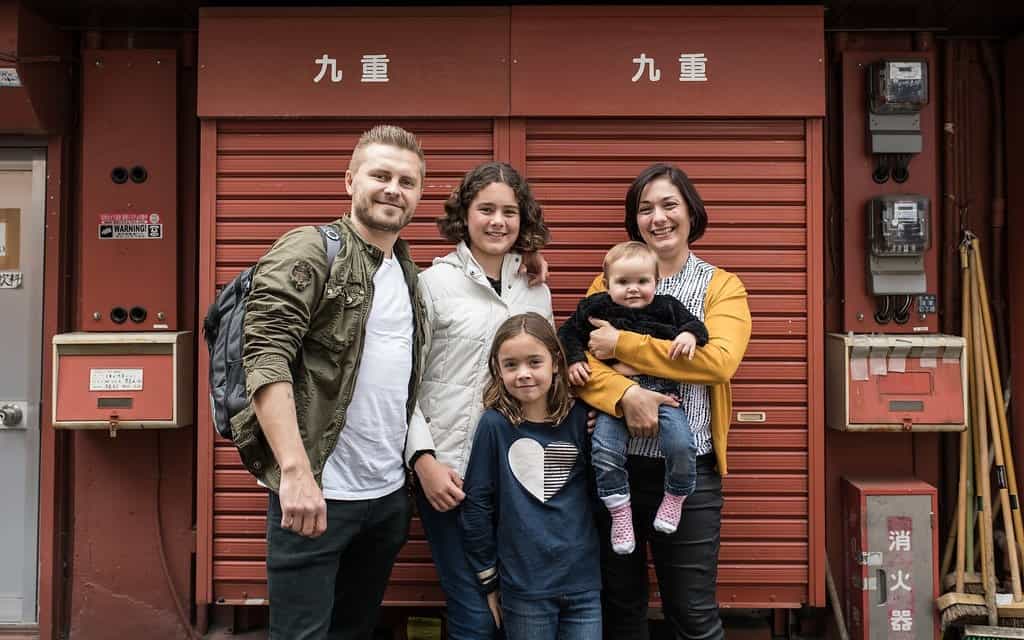 Visiting Japan with a baby is more straightforward than in many other countries.
That's because Japan is a baby/kid-friendly country, and everybody seems to love babies.
To highlight this, there are seats for babies to sit on in many public places and kid areas for children to let loose, run around and have some fun!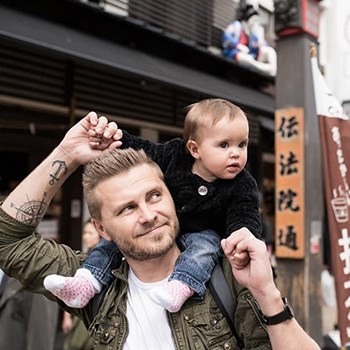 Believe it or not, changing tables are everywhere, including in the men's bathroom! Some places even offer free diapers and microwaves.
This is a place where you'll walk in big cities such as Tokyo and Kyoto and see babies everywhere.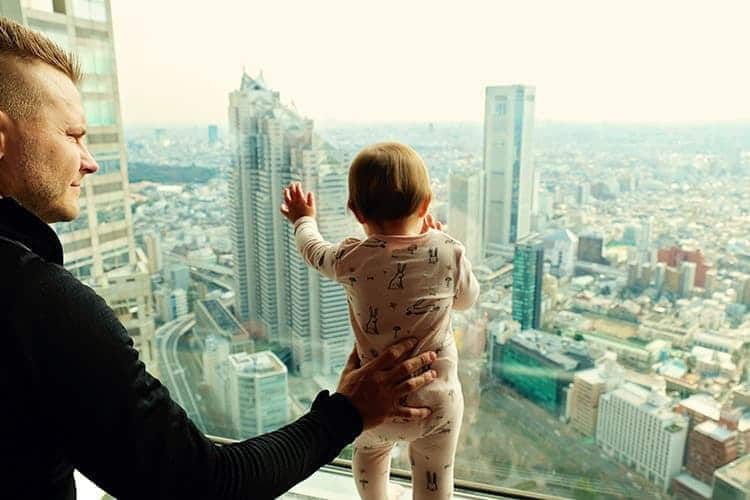 But do learn from our mistakes and travel slowly and lightly for your Japan travels.
So if you've been planning to travel to Japan and have some worries about going with your baby, know that it is an excellent destination if you use our tips above (do it better than us!)
Traveling to Japan with a baby or toddler is possible! All you have to do is keep up with the above fantastic tips, and you and your baby will be good to go.
Over to You:
Do you have any helpful tips to add to our Japan baby travel guide?
Do you have any other questions that you need answers to?
Looking for best places to travel with toddlers? Read our complete guide to worldwide destinations.