Shopping for the best travel diaper bag? We got you covered!
Let's Face it! Traveling with a baby can be pretty challenging!
If it is your first time traveling with bubs it might even be slightly scary!
I know it might seem like a simple thing, but if you can find one of the best travel diaper bags, it will honestly make life SOOOOOOO much easier!
I know, because I struggled with the wrong style of baby travel bags before figuring out what works really well!
Which baby travel bag will make life easier?
The right travelling diaper bag WILL make life easier for you; not harder!
What defines the 'right' baby diaper bag for travel?
What is the best diaper bag for travel 2023?
We will outline all the requirements as well as give you our top 10 picks for the best travel baby changing bags in this post!
At the age of only 12 months, our little baby Avalee-Rose had already been on over 22 flights!
It took us a few flights to figure out which travel baby bag worked best for us, but I think we have finally found the best travel nappy bag backpack!
And we love this bag!
>>> Click here to see our favorite travel baby backpack or click the button below.
---
---
Baby Carry Bag Policies at Airports
Different airlines have different policies and it will be important to check up on these before you fly and travel with baby!
As a general rule of the thumb though, the following applies:
Is a diaper bag considered a carry on? Most airlines allow you to bring one carry on bag on to the flight.

They don't allow an additional bag for baby. You can however bring an extra bag for the food and nappies. More info later in the post.

The carry on baby bag needs to be small enough to fit under the seat or in the overhead lockers. The size differs from airline to airline, but as a general guideline your bag should be around 14 x 9 x 22″.

We have never had an issue with the size or weight of our best diaper travel bag. I think that airport staff are fairly considerate when they see that you will be flying with a baby!
---
Top 10 Options of The Best Diaper Bag for Travel
Below is a comparison chart of, in our opinion, the top rated diaper bags for travel which are mentioned in this article.
You can then read our diaper bag reviews below featuring our pick for best baby bag for travel 2023 has to offer.
Please scroll to the right if on mobile!
---
How to Choose the Best Travel Bag for Baby
Here are some of the most important things to consider before buying the best travel diaper backpack:
1. Size and Weight
Find a baby bag for travel that is lightweight. Trust me, this is so important.
Some diaper bags are designed to be pretty and they end up weighing a bit.
We will be carting this bag on our shoulders for long periods of time, so it is so important to find a bag that is large enough to fit all of your goodies for the plane.
The backpack must also be light enough, for once the bag is full so that it is still easy to carry around.
2. How Easy it is to Carry Around
It is important to think about how easy it is to carry the travel nappy bag around.
Reality is, you need your hands free to either drag a suitcase behind you or to lift your bags up onto the belt for scanning, or to find your passport and tickets and hand it over for inspection.
This is why we personally have a travel diaper bag backpack instead of one of the shoulder style bags.
Because the backpack sits on both of your shoulders, the weight is evenly distributed and it sits securely on your back.
It really doesn't matter if you bend down, swing around or sit down, the backpack will stay in one place, comfortably on your back.
They are our favorites!
3. Comfort Level
Another important thing to think about is also how comfortable the travel diaper bags are!
There is nothing worse than a baby bag that causes you to have sore shoulders and back.
Because you will be carrying around a decent amount of baby supplies it really is important to ensure that the bag has padded straps as well as a cushioned back wall.
Even better if the material allows you to breath so that you don't end up with a wet sweaty shirt!
4. Pockets and Organization
Let's face it! We will be packing a lot of different baby items in to this bag!
And when you are on a plane, you sometimes need to get hold of these items ASAP (like when you realize you forgot to grab something just as you are ready to take off!!)
You really need the best nappy bag (nappy travel bag) that has lots of pockets of different sizes, so that you can organize your baby supplies.
5. Insulated Bottles for your Milk and/or Food
I find insulated bottle holders a necessity when it comes to travel nappy bags.
It just makes it easier when bubs is drinking milk/formula and eating food.
It is also really helpful if you head out with your baby diaper bag to go and explore at your new destination.
So if this is important to you, do make sure that the bag has some insulated pockets as few of them actually offer this!
6. Extra Features
Extra features that are nice to have, but not as important are: diaper change pad, wet and dry bags, stroller straps, included wipes container and pacifier holder.
You can easily purchase all of these as extras at pretty reasonable costs if need be.
---
Best Travel Diaper Bag Bubbybags Reviews 2023
Below you will find our pick of the best travel diaper bag. We will have a close look at our pick for the top 10 baby bags for travel.
I will outline the top features, the pros and cons of each in detailed travel diaper bag reviews, which should help you choose the best baby travel bag 2023 has on offer for you and your baby.
1. Ruvalino Multifunction Diaper Backpack Review - Best Seller
In our Opinion the Best Travel Diaper Backpack
The Ruvalino Multifunction Diaper Backpack is not only one of the best diaper bags for dads, but it is also the best diaper bag for air travel!
This is the diaper bag that we personally use for travel and we absolutely love every single thing about it!
There are plenty of colors and to choose from; the men will particularly love the camo diaper bag!
The Ruvalino Multifunction Diaper bag is a large backpack diaper bag, but still really lightweight to carry around.
It has just the right amount of pockets and can fit 4 or more bottles for long-haul flights.
A separate quick-access diaper, wet wipes, and changing pad storage compartment make diaper changing quick and easy.
The clamshell design means that you can find things quickly and easily. This bag truly is brilliant as either a day bag or a baby travel diaper bag.
This is one of the best diaper bags for long travel and our choice for the best diaper bag backpack!
This one is also our choice of the best diaper bag for airplane travel and one of the best large diaper bag backpack options out there.
Clam-shell design
Loads of pockets and compartments
Waterproof fabric
Fits underneath a plane seat
Includes change pad
Unisex design
Stroller straps not included like other bags reviewed
We grabbed the Ruvalino backpack diaper bag after reading your review and honestly it has been the best diaper backpack for travel for us!
It has so many pockets for me to organize my stuff.
It is large enough to fit enough gear for both my kids for the plane and I am in love with the quick-access diaper compartment!!
This is our best baby backpack for travel as well as an awesome travel diaper backpack!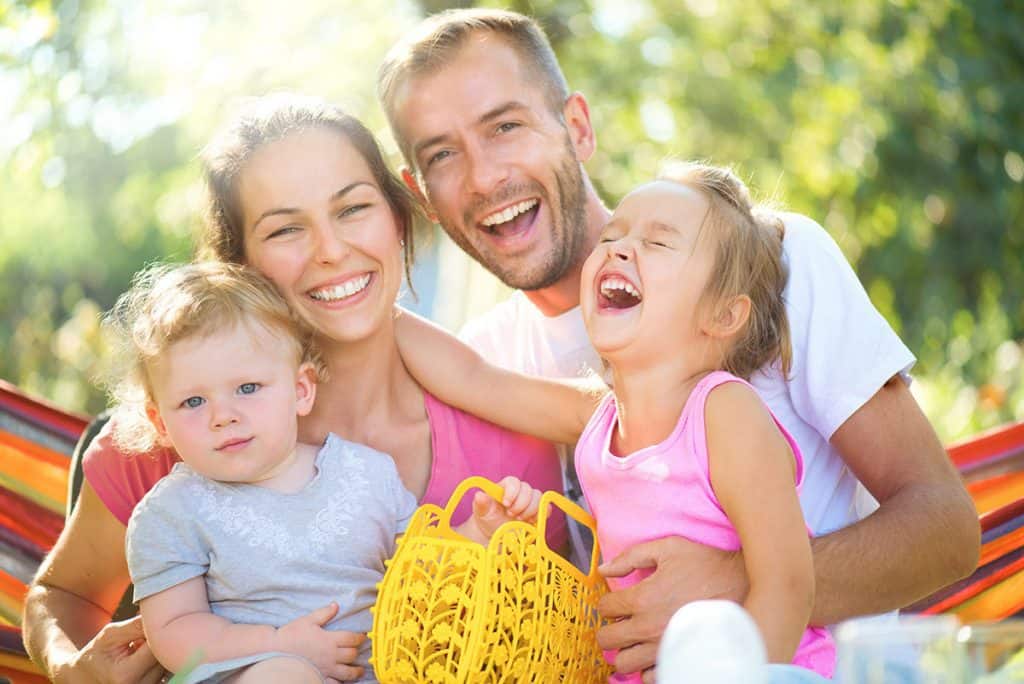 The Baker's Family
Full Time Family Travelers
This is, in our opinion, the best backpack diaper bag for travel! It has everything you could possibly need.
The bag is spacious and features loads of compartments to organize. Added features are just a bonus!
Seriously what is not too love about this bag!