Are you a parent searching for the best places to travel with your toddler?
Traveling with toddlers can be an exciting and rewarding experience, but it can also present many challenging moments.
That's why finding the right destinations is key to making those special family trips unforgettable.
Whether it's taking in the stunning sights of Japan or strolling along the sandy beaches of Mexico, there are endless possibilities for where you can jet off to with your little one.
Discover some of the top destinations including Europe with toddlers and around the world – all hand-picked by parents like yourself who have successfully tackled traveling with their perpetual energy balls and lived to tell about it!
Here is our list of over 43 best holiday destinations for families with toddlers, so that you can ensure that your first toddler-friendly vacation will be as stress-free as possible.
---
43 Best Places To Travel With Toddlers
Below is a complete list of the best holiday destinations for toddlers that have been tried and tested. No matter where you are traveling from, you will find the best international places to travel with toddlers.
Best Places To Travel with Toddlers in Europe
1. Greece
– Recommendation by World Wild Schooling –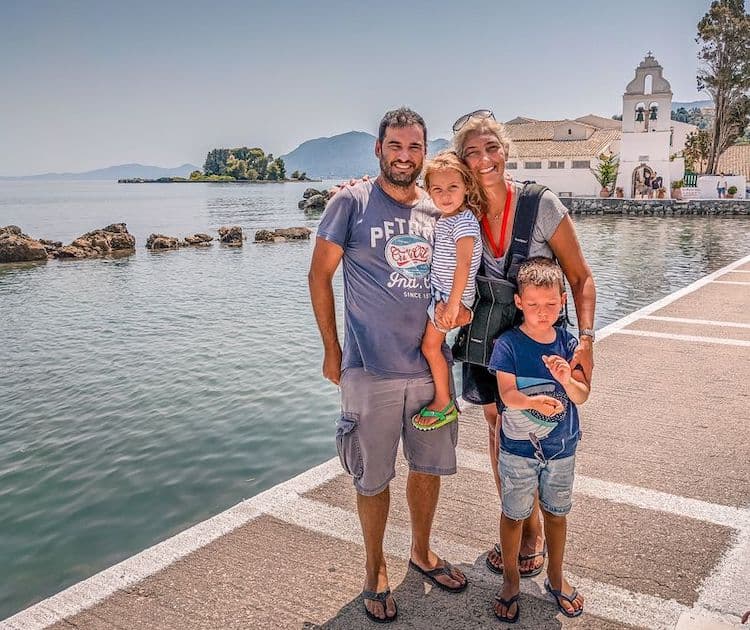 Greece is an idyllic family vacation destination, especially if you are traveling with kids. Greeks adore kids, so you don't have to worry about noise from your toddlers running around.
Breastfeeding is easy in Greece, and there is no shame in doing it anywhere. Although there are not too many changing rooms for babies, Greeks are fine with you changing your baby's diaper in public.
Greek cuisine is also very toddler friendly and you can find food suitable for little ones in almost any restaurant, such as grilled meat and vegetables.
Tip: Some of the beaches in Greece will hurt little feet. I highly recommend you bring some beach shoes for both your toddler and yourself. You can find a list of the best toddler water shoes here.
Best Places In Greece To Visit With A Toddler
When it comes to places to visit in Greece with toddlers, Corfu and Naxos are great options.
These islands are stroller friendly and offer plenty of activities for toddlers to enjoy, such as a pirate ship cruise and a water park in Corfu, and long sandy beaches in Naxos.
Tip: Wondering where to stay in Corfu? Check out the family-friendly and all-inclusive Corfu Dreams Resort here.
There are plenty of other destinations that are perfect for Toddlers. Click here to find a list of some perfect destinations to visit in Greece for first-timers.
Where To Find Toddler Supplies
If you need supplies for your toddlers such as diapers, formula, or food, you can find them all readily available in supermarkets. Moreover, most hotels will offer a crib if you request one in advance.
In conclusion, Greece is a toddler-friendly destination, ideal for family vacations.
With the Greeks' love of kids and the many activities available for toddlers, your little one is sure to have a great time exploring the country.
---
2. Malta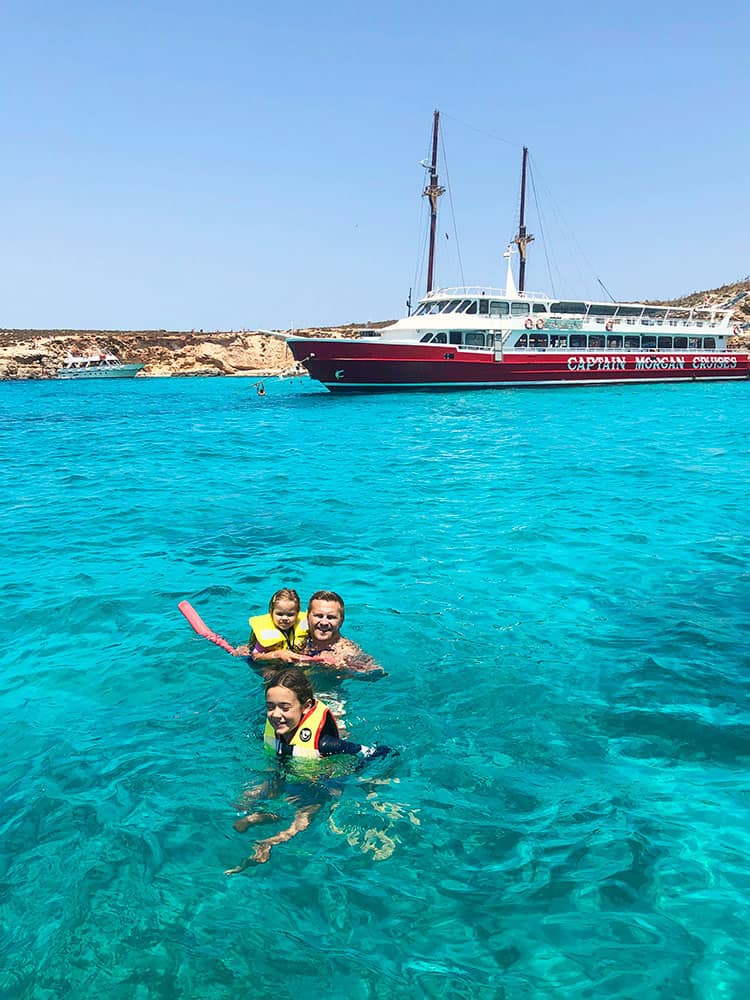 Malta is a stunning island that forms part of the Maltese Archipelago along with Gozo.
From the magnificent Mediterranean coastline to the towns, historic landmarks, and the stunning natural beauty that make up this gorgeous location, this is one of the best European toddler holiday destinations that you can take.
Best Places To Visit In Malta With A Toddler
The top of the list of places to visit with a toddler is Popeye Village. Originally built for the Popeye Musical, it has now been turned into a theme park with boat rides, inflatables, and small food stalls.
A visit to Malta would not be complete without a day in the capital city, Valletta. There is so much to do from museums to stunning palaces and even churches which are all worth visiting.
Even whilst walking around this city you will be awed by the architectural beauty of the buildings that make up this city.
If you head over to the island of Gozo, a visit to the Xwejni Salt Pans is well worth it.
Other great towns to visit are MDina, The Three Cities and Rabat.
If you love swimming in turquoise waters, visits to The Blue Grotto and Comino are a must.
Where To Get Toddler Supplies
Walking around the towns of Malta is a great way to experience the culture and we recommend that you take a stroller for when your toddler's legs get tired of walking.
Food and supplies for your toddler are available in most supermarkets.
---
3. Italy
Italy is a great destination for a family vacation and makes one of the best toddler-friendly holidays in Europe. From the people to the many towns, villages, and activities that you can see and do, Italy is the perfect holiday destination.
The Italians are so accommodating to families traveling that at times you are even allowed to skip the queues!
Best Places To Visit In Italy With A Toddler
If Italian cities are on your itinerary there is no better than the many cities of Tuscany. Bike around the walls of Lucca, in Florence, enjoy a picnic, or stroll around Boboli Gardens then head to Piazza Della Repubblica and enjoy a ride on the antique carousel.
In Sicily, visit the Greek theatre in Taormina which is one of the most famous sites in Taormina. Your toddler will enjoy spending time climbing the tiered seating. For a great adventure, head up to Mount Etna on the cable car ride and see the fantastic views of the surroundings.
Puglia is the place to go for beaches. You can spend many laid-back days here building sand castles on the stunning beaches and then enjoying one of the short walking tours on offer or visiting the Castellana Caves.
Where To Get Toddler Supplies
You will not be stuck when needing to buy supplies and essentials for your toddler. It is recommended that you take a stroller if you plan to walk around the many stunning Italian cities and towns.
When eating out most cafes and restaurants do have high chairs for your toddler to use and are also accommodating if your little one would like anything specific like a plain bowl of pasta.
In my opinion, Italy is one of the best toddler-friendly countries to visit. If you have decided to head to Italy for your family vacation, you will find our guide on how to visit Italy with a toddler really helpful.
---
4. Spain
– Recommendation by 3 Tickets Please –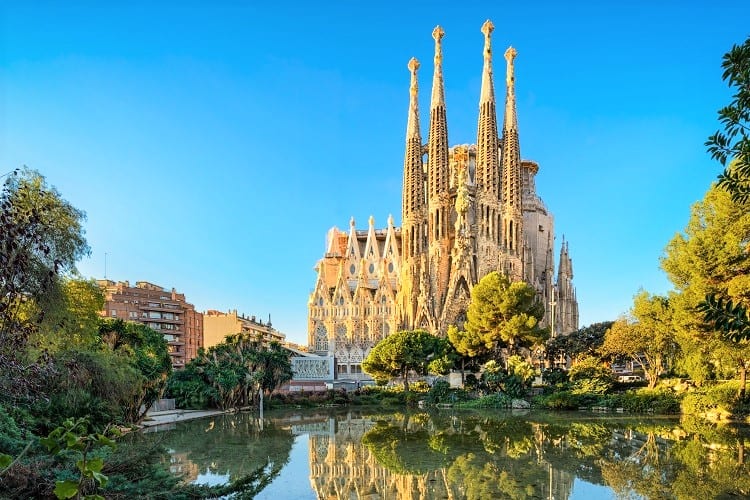 Spain is one of the most toddler-friendly places to visit. The country not only has an outdoor culture that encourages families to take advantage of their numerous parks and playgrounds for toddlers to explore.
Even their historic sites always convey the sense that children are welcome and cherished.
Best Places To Visit In Spain With In A Toddler
Truly there is no part of Spain that should feel off-limits to a toddler. Toddlers are welcome in historic sites like the Alcazar in Segovia and even on the ancient walls of Avila, with some extra eyes of course. There are so many sights to see in Spain and it is nice to know your toddler can enjoy them alongside you.
But for the most toddler-friendly parts of Spain, consider the Mediterranean coast. Alicante and Benidorm are specially set up for toddlers.
In Alicante, a great day with toddlers will center around the water. Playgrounds dot the waterfront landscape so that you can enjoy some sun and keep an eye on your little one playing. You can also stroll along the Rambla, a pedestrian path along the beach, which is great to tire out little legs or stroller friend
In Benidorm, there is a zoo, waterpark, and more of the shoreline of the Costa Brava to enjoy. Restaurants cater to families.
Where To Get Toddler Supplies
Carrefour is the best place to get your toddler supplies. While the local markets are certainly charming, Carrefour, is typically larger and less expensive for diapers and wipes.
---
5. Denmark
– Recommendation by Parenthood and Passports –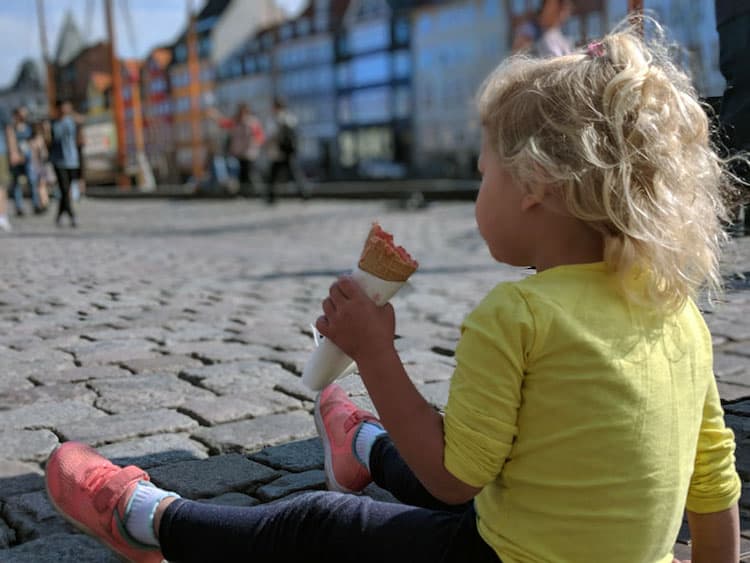 Denmark is known across Europe for its numerous child-friendly attractions and museums, many of which have dedicated areas for toddlers and young kids.
In addition, one of the most common features that makes Denmark so child-friendly is its incredible public transportation system. Trains and buses are reliable and make it easy for families with strollers to get around.
And of course, of utmost importance to parents traveling with kids of any age, Denmark is one of the safest and cleanest countries in the world.
Best Places In Denmark To Visit With A Toddler
If you visit the country's capital of Copenhagen with kids, the city's famous Tivoli Gardens amusement park has countless rides and even miniature roller coasters that your toddler can go on and will love.
Additionally, many parks and playgrounds throughout Denmark, like the Nature Playground in Valbyparken on the outskirts of Denmark, activities specifically designed for toddlers while also encouraging imaginative play by incorporating natural elements.
Where To Find Toddler Supplies
Supplies like diapers, formula, infant and toddler medicines, and other necessities are readily available at grocery stores, general stores, and pharmacies – which you can typically find at or near the train stations or within a short walk in the city center.
In Denmark, breastfeeding, changing diapers, and generally anything essential to a baby or toddler's well-being, is viewed as acceptable even in public areas. Many public places, such as shopping centers, even have dedicated areas for nursing mothers.
---
6. Portugal
– Recommendation by Those Johnson Boys –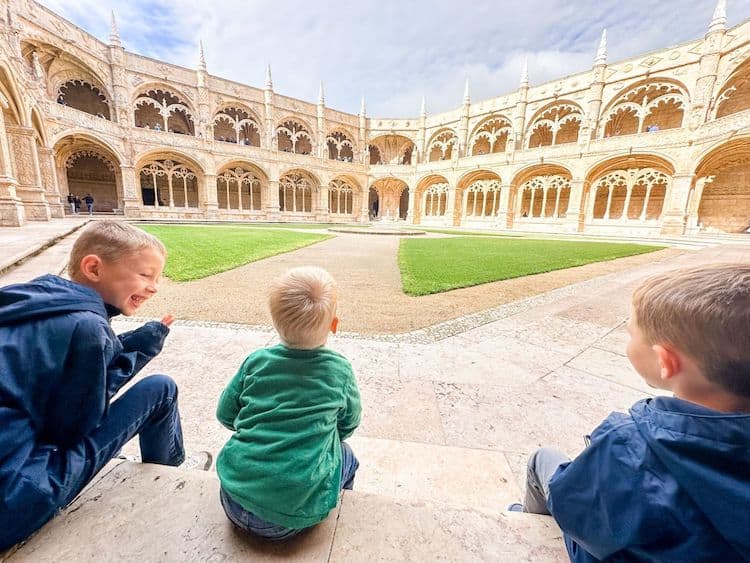 Portugal truly caters to families with young children, making it the perfect place to visit with your toddler. During your time there, you'll quickly realize that the things you want to see as an adult are also fun for a child.
Your toddler will love to explore castles, ride on trolleys, and play at the beach. All while you're able to take in the culture, history, and beautiful scenery.
Most of the attractions are outside, so no need to worry about your little one being too loud. And restaurants offer a variety of options, so it's not hard to find toddler-friendly food.
To top it off, taking your toddler to Portugal means you'll get priority entrance to all the main attractions (and even customs at the airport!).
Best Places In Portugal To Visit With A Toddler
When visiting Portugal, choose 2-3 main hubs, such as Lisbon and Lagos, to stay while you explore nearby areas.
While in Lisbon, you can take a day trip to Sintra, where your toddler's imagination can run wild while wandering through castles and palaces.
In Lagos, your toddler can play at the beaches, as you walk along the boardwalk on the coast. While Portugal is toddler-friendly, it is not very stroller-friendly, so don't forget to bring a carrier.
Where To Find Toddler Supplies
Local grocery stores sell all toddler supplies needed. If staying at a Martinhal resort in Portugal, all baby gear will be supplied, including but not limited to a crib, diaper pail, baby bathtub, and highchair.
---
7. Poland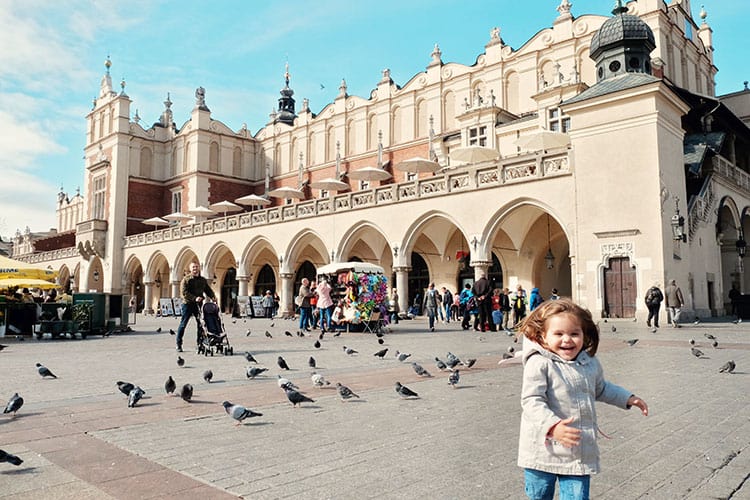 If you are considering a holiday with your toddler to a country in Eastern Europe, then a great place to visit is Poland.
Some of the most beautiful cities in Europe can be found in Poland and the cultural experiences and attractions are just a few of the reasons why you should visit.
Best Places To Visit In Poland With A Toddler
Poznań is the perfect blend of both the old and the new Poland. Established in the 10th century, the city is filled with rich Polish history and vibrant culture. The top of the list of attractions for toddlers is the Museum dedicated to Poznan's "sweet ambassador", St. Martin Croissant.
The museum is such a fun place for both kids and adults; there is a live show where you can learn more about the whole process of baking a Croissant and at the end, there are tastings of these yummy treats that are included in the ticket price.
To run off some energy, a visit to the Citadel Park is a great place for toddlers. It is full of lush greenery and Polish history. There is a beautiful flower garden as well as interesting sculptures designed by Magdalena Abakanowicz.
If you find yourself in Krakow, the horse carriage ride is one of the best fun things to do, and if you want to continue feeling like royalty, head to the Wawel Castle.
Where To Get Toddler Supplies
Everyday items like food, diapers, and wet wipes are readily available in Poland. You can find most supplies in the supermarkets around the cities.
Most restaurants will have a high chair available for you to use.
If you plan on walking around the cities that you visit, it is recommended to take a stroller with you.
---
8. Austria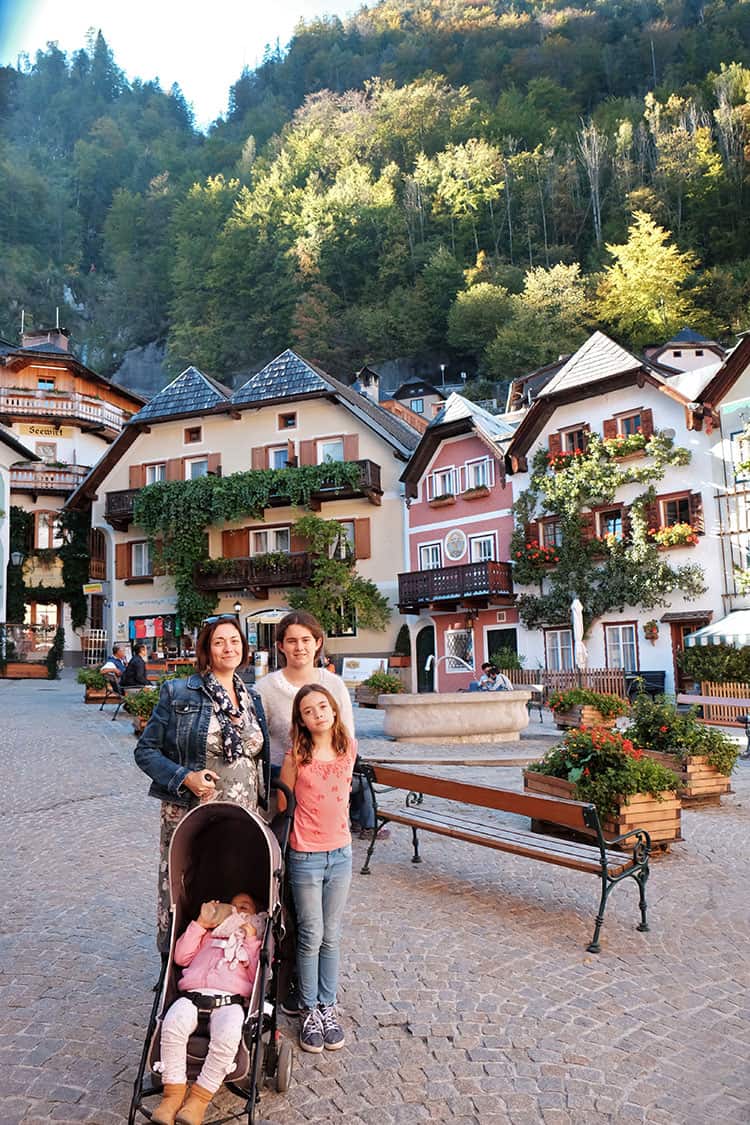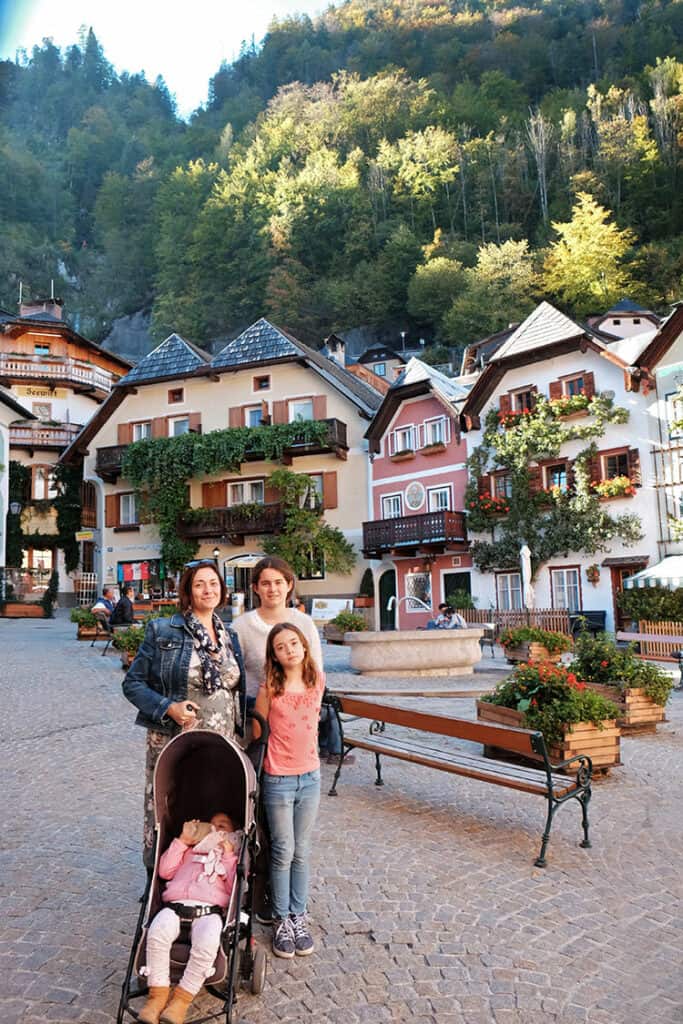 Austria has to be one of the best places to visit with a toddler.
What makes this such a great country to visit with kids and a hard place to beat?
Apart from being more known for its mountain villages, baroque architecture, fascinating history, and rugged alpine terrain, it has the oldest amusement park in the world, salt mines that are walkable, the world's most extensive ice caves, and dinosaur parks.
What more could you kids want?
Best Places To Visit in Austria With A Toddler
Austria has many interesting things to do, and fun places to visit that will make this a great family vacation destination!
In Vienna, you can visit the world's oldest amusement park, Prater! Here you will have fun riding the many roller coasters that cater to young and old.
Take the kids to enjoy the attractions at Schönbrunn Palace, which has a maze and a large zoo to explore!
Check out the ZOOM Children's museum, with numerous exhibitions and events for kids!
If you head to Salzburg, you can visit the world's largest ice cave in Werfen. Or take a trip to the famous Hallstatt Salt Mine. Find a list of more Salzburg day trip ideas here.
Where To Get Toddler Supplies
You can buy supplies at all supermarkets around Austria so if you do run low on diapers, wipes or even snacks you will not be stuck finding what you need.
The Austrians are very welcoming and most restaurants will cater to children with food menus as well as high chairs if you need them.
It is recommended to take a stroller for the days you walk around any of the cities and attractions. It will also be super handy if you visit the amusement park as your toddler is bound to get tired legs walking from attraction to attraction during the day.
---
9. France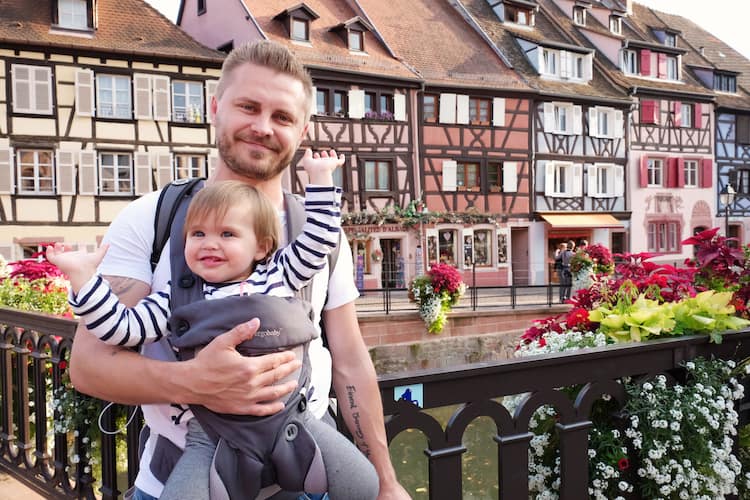 France with toddlers or even younger children can be a slightly tricker European destination however you can still have a great holiday if you plan ahead. There are so many wonderful places around France that will make your family vacation enjoyable for all.
Best Places In France To Visit With A Toddler
Some of the more commonly known places in France that are perfect for your toddler vacation are the French Riviera, Alsace Region, and Annecy.
The smaller villages in these areas are more relaxed than some of the larger cities but nonetheless, visiting Nice or other cities are still worth the visit.
If you are planning a quick city break one of the best places to visit in France would be Paris with a toddler.
To make your holiday stress free there are a few items that we think you should take along. A portable high chair for eating in restaurants as not all cafes or restaurants have high chairs, Make sure to take a stroller and a baby carrier will all make moving around your French destination much easier.
If you plan on hiring a car to travel around the beautiful French countryside, you can hire a car seat from the car rental company very easily.
Where To Find Toddler Supplies
Finding food and any baby essentials like diapers or wet wipes is pretty easy as all supermarkets stock these items readily. You will also be able to purchase any toddler snacks and food items however they may not be the same as your usual brand.
---
10. Netherlands
– Recommendation by World by Weekend –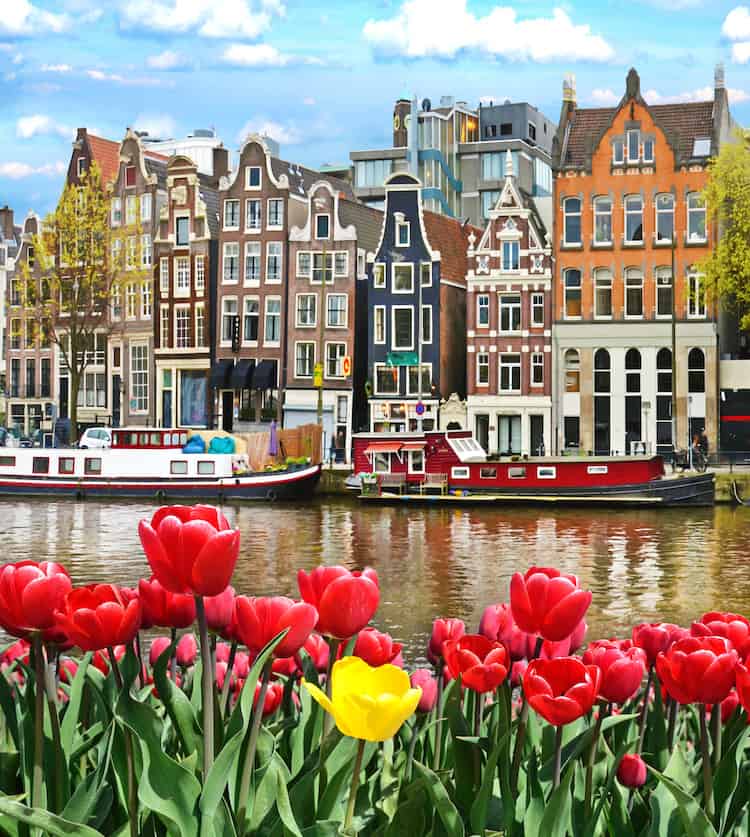 One wonderful country to visit with toddlers is the Netherlands. Although small, the Netherlands has many interesting sights that will delight parents and toddlers alike.
From exploring bustling cities on foot to bike riding alongside tulip fields, the Netherlands is the perfect destination for your next vacation with your toddler.
The Dutch have a family-oriented culture that values children. Parents traveling with breastfed babies or toddlers will be pleased to know that Dutch society encourages breastfeeding, and that breastfeeding in public is a common occurrence.
Changing tables are available in museums and large restaurants, although may be non-existent in smaller establishments. While not all restaurants are family-friendly, many are equipped with highchairs and toddler-friendly meals.

Best Places In The Netherlands To Visit With A Toddler
An Amsterdam city break is a must when traveling to the Netherlands with a toddler. The city has many toddler-friendly museums, such as the NEMO Science Center, ARTIS Royal Zoo, and the Tropenmuseum Junior.
Families visiting Amsterdam with a toddler can also enjoy many fun outdoor activities such as the many parks and playgrounds, a bike tour, or a boat tour along the canal.
Another fun activity to do with toddlers in the Netherlands is to rent a bike and explore the countryside. You can easily rent bikes with child seats or trailers, so even families with toddlers or babies can experience this popular Dutch pastime.
Cycling culture is a way of life in the Netherlands and one of the best ways to get out and explore the country. Enjoy biking atop dykes, alongside tulip fields, and past the windmills that dot the countryside.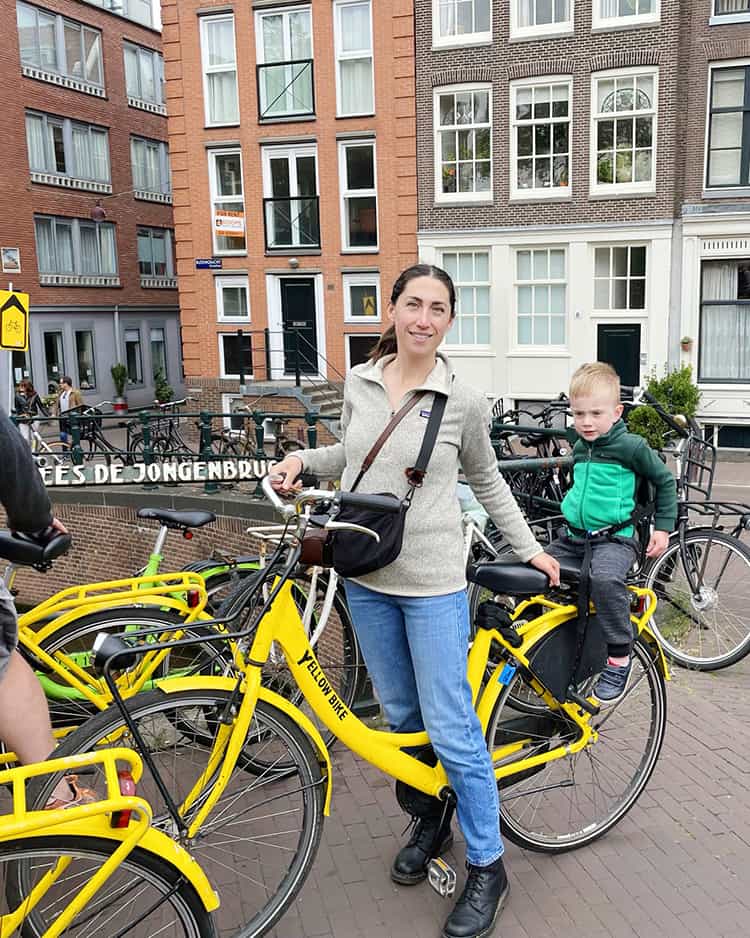 Where To Find Toddler Supplies
Supermarkets and convenience stores in the Netherlands are well-stocked with food and supplies for toddlers. You will have no difficulty finding diapers, wipes, or snacks for your child.
If your child gets sick while traveling, children's cold medicines are readily available over the counter in pharmacies. Albert Heijn is the largest supermarket chain in the Netherlands, but other worldwide names such as Aldi and Lidl are also prominent.
Overall, the Netherlands is a great vacation destination for families with toddlers. With plenty of green spaces, museums, and attractions to keep little ones entertained, it's sure to be a memorable and enjoyable trip for the whole family.
---
11. Germany
– Recommendation by Travels in Poland –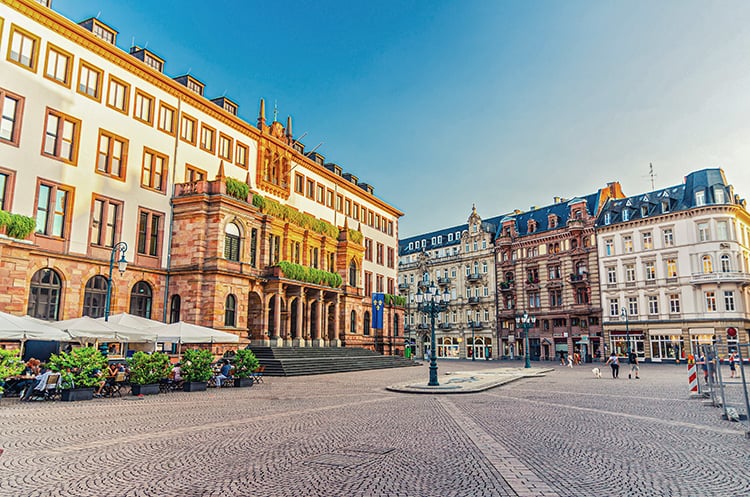 Germany is likely one of the most toddler friendly countries to visit in Europe. The country caters to families with children anywhere you go.
Breastfeeding in public is normal, and is a part of the culture and it is never an issue.
Best Places In Germany To Visit With A Toddler
Given Germany's toddler friendly spaces everywhere, it's easy to suggest any city in Germany as a toddler friendly place.
There is a vast number of playgrounds that can be found everywhere. Playgrounds are everywhere, in small towns, and in the middle of major cities. There are parks everywhere and a lot of green space for playing and picnicking.
Wiesbaden is a great city to take kids to, as its right on the Rhine River. There are dozens of parks and pathways along the river with playgrounds and Biebrich Castle on the Rhine has hundreds of acres of green space.
Stuttgart is another great city with kids, with Germany's largest indoor playground close by.
Mainau Island in southern Germany is known as flower island and has playgrounds, green space and so much for kids to do.
Where To Find Toddler Supplies
Toddler supplies can be found at BabyOne, but also at nearly any large chain grocery store like Rewe, Edeka and Globus.
Babyone is a larger children's supply store that sells everything from children's bathtubs, car seats, and strollers, to baby supplies. For needs such as diapers and formula, grocery stores are your best bet.
Many stores and malls have family rooms or bathrooms with diaper changing stations, many of which have free diapers and wipes.
Restaurants have high chairs and almost always either have a toddler friendly friendly or will make smaller portions or children to eat.
---
12. UK
– Recommendation by Travel Mad Mum –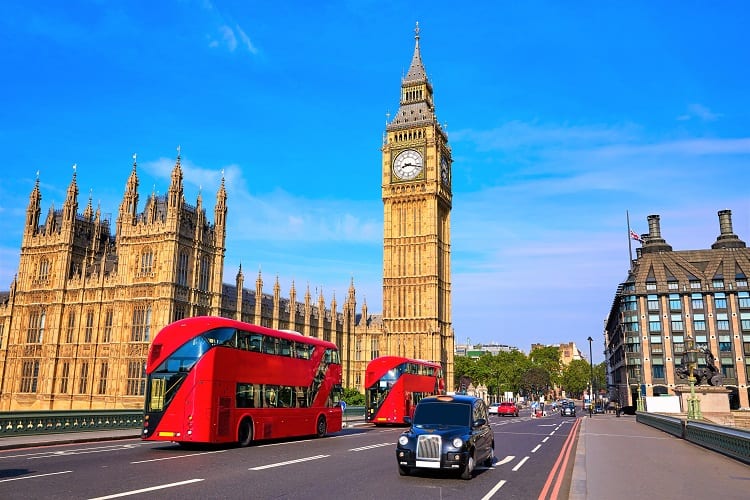 The UK is full of exciting vacations. From luxurious family hotels, to toddler-friendly restaurants, theme parks, outdoor playgrounds, historical sites, museums, and walks along the beach.
One of the easiest things to look at no matter what area you visit is the nearby National Trust site. There are hundreds across the UK!
Best Places In United Kingdom To Visit With A Toddler
National Trust sites usually consist of beautifully landscaped gardens, as well as countryside hiking trails. There is almost always a quintessentially British restaurant on site and of course, they always have play areas for toddlers.
In some cases, the play areas blend in with the landscape often made from tree stumps and wood.
Aside from the countryside, London has to be the next best place to visit with a toddler in the UK be it on public transportation or on foot with a stroller.
A London favourite with toddlers has to be the Discovery Centre in Stratford. it's a little out of town in London's East End but worth a visit. The centre makes different popular stories such as the Gruffalo come to life.
Other places to visit include the Transport Museum in Covent Garden, the Emirates Airline Cable Car, the London Eye, Hyde Park.
Not to mention a Toddler Rave which can sometimes take place on weekends in different spots across the capital.
A few restaurants, including Giraffes, Inamo, Jungle Cave and Pizza Express, are toddler-friendly.
Where To Find Toddler Supplies
London Equipment Hire is a rental company leasing everything toddler-related, from car seats to a stroller and a box of toys. It's an excellent way to make the trip easier.
---
13. Belgium
– Recommendation by Next Stop Belgium –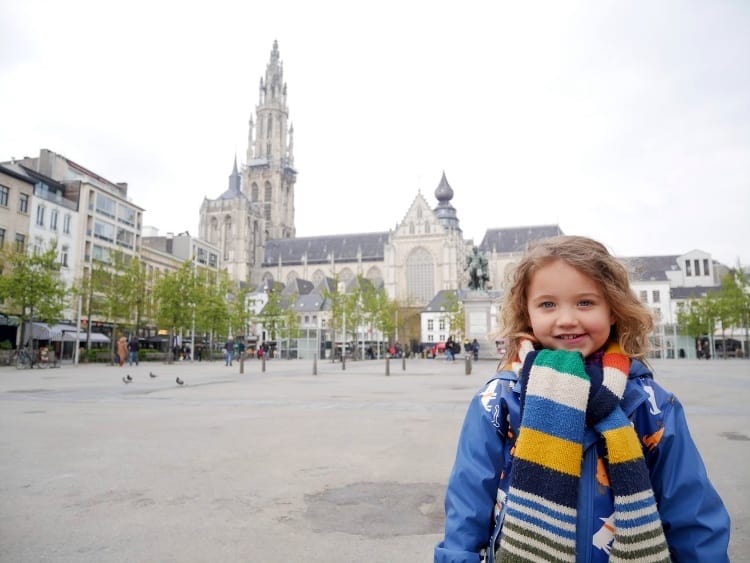 Belgium is an ideal destination to visit with a toddler, offering plenty of activities and amenities that make traveling with small children easy. As far as breastfeeding goes, you won't get into trouble but nursing a toddler is not the norm (only about 20% breastfeed their baby longer than 6 months) so you might get some looks here and there.
Best Places In Belgium To Visit With A Toddler
Head to Brussels with your toddler and check out its many interactive museums, parks, and playgrounds. it's an ideal destination to explore and discover.
Paved roads and sidewalks make it easy for strollers to get around.
Ever popular destination Bruges is a great option for parents traveling with toddlers, as it boasts a car-free pedestrian center that provides an ideal environment for little ones to explore and discover at their own pace.
Ghent is another ideal destination to visit with toddlers with plenty of family-friendly activities and attractions such as boat tours, scenic walking paths, and a large playground close to the city center.
Where To Find Toddler Supplies
Most cities in Belgium have large supermarkets where you can find all the necessary supplies for your toddler, including diapers, formula, and food.
Pharmacies also offer a wide range of products, including diapers and formula for toddlers.
Diaper changing tables are available in nearly all toilets. Restaurants provide high chairs and usually have kids' menus on offer.
Most hotels in Belgium have travel cribs available upon request and car rental companies offer car seats to make traveling with toddlers safe and comfortable. When making your reservation, be sure to ask about their availability and cost.
---
14. Bulgaria
– Recommendation by Sofia Adventures –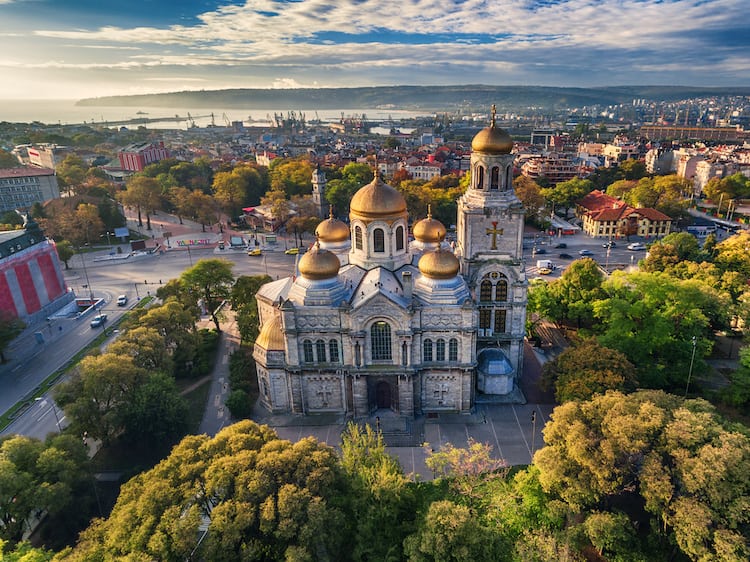 Many parents might not instinctively think to plan a vacation to Bulgaria with their toddler, but it's a family-friendly destination. Children (and their noises) are welcome in restaurants and public spaces, and Bulgaria's prices (about 60% of comparable experiences in western Europe) mean families can stretch their precious vacation dollars.
Best Places In Bulgaria To Visit With A Toddler
You can visit the two cultural capitals of Sofia and Plovdiv, have a beach vacation in Sunny Beach, Nessebar, or Sozopol, or enjoy a ski vacation in Bansko, Borovets, or Pamporovo.
Each of these has pros and cons for toddlers, but all are wonderful family experiences.
In the cities, you can enjoy how walkable the historic centers are and enjoy using the stroller-accessible public transportation.
At the beaches, you can relax and appreciate how calm and temperate the Black Sea is for swimming.
Finally, at the country's ski resort, you can put older toddlers in ski school at a fraction of the cost of a western European or North American ski resort.
Where To Find Toddler Supplies
Formula, diapers, wet wipes, and toiletries are available in grocery stores. Medicine is sold separately at pharmacies.
Families who want to enjoy a road trip around Bulgaria will be happy to know that car rental companies can reserve toddler car seats in advance. Otherwise, pre-arrange an airport pickup to your accommodation to avoid having toddlers in taxis without car seats.
---
15. Slovenia
– Recommendation by Passports and Adventures –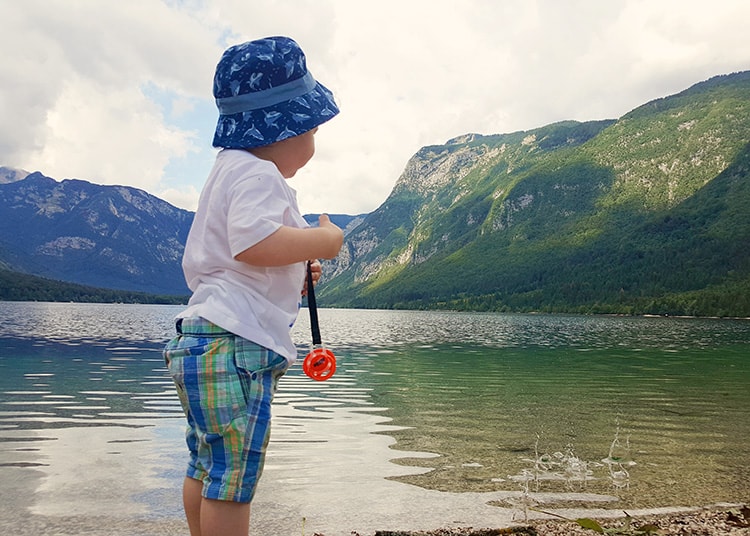 A great toddler-friendly vacation spot in Europe is Slovenia. This small country is family-friendly, with lots on offer for those traveling with kids.
Best Places In Slovenia To Visit With A Toddler
One of the best places in Slovenia to visit with a toddler is Lake Bled. The town of the same name surrounds the lake and it is the perfect place for families with young kids to enjoy a relaxing vacation.
There is a complete circular walk around the lake, much of which is stroller-friendly and flat, along which you can stop to allow your toddler to throw stones in the water. The lido has pools to dip your feet into, and the boats to the island in the middle can accommodate both toddlers and their strollers (folded up of course).
Further afield, the capital of Ljubljana is a great place to explore, and even the Postojna Caves are suitable for taking toddlers in as they'll love the train you have to take to start exploring the caves. And don't miss Lake Bohinj either.
Where To Find Toddler Supplies
All local supermarkets and stores such as Lidl have toddler supplies such as formula, diapers, and food.
Car rental companies can supply car seats and all restaurants have high chairs if your toddler is still young. There are also playgrounds to be found where your little one can run off some energy.
If you are looking for a toddler-friendly place to visit in Europe, pick Slovenia.
---
16. Ireland
– Recommendation by Let's Go Ireland –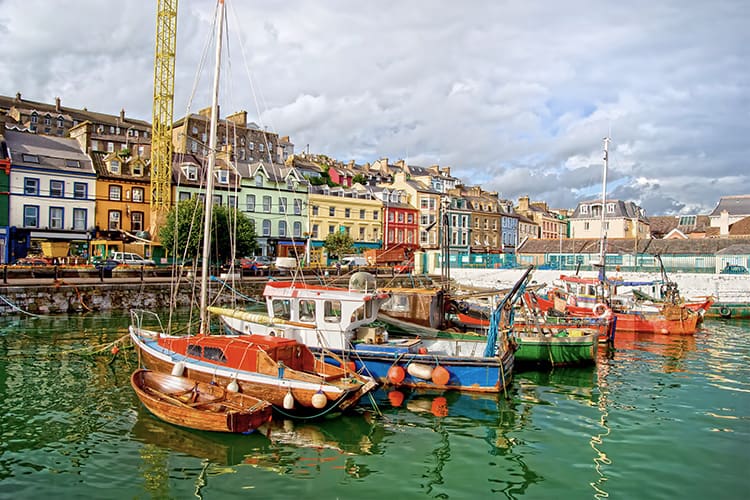 Ireland is known for its friendly culture and this is certainly true when it comes to children. They are also a great subject for conversation wherever you go.

Irish people are usually very accommodating and tolerant when it comes to young children.
Many of them are more than willing to help a parent if you need some assistance. Just be sure to ask!

Breastfeeding in public is perfectly acceptable, but not very common.
Best Places In Ireland To Visit With A Toddler

Toddlers love to have space and run around. Ireland has so many outdoor possibilities including fantastic beaches where toddlers can spend hours playing in the sand or in the rock pools.
Alternatively, head to Dingle Oceanworld Aquarium, where they can see marine life up close.
Another great spot to bring your toddler is the West Cork Model Railway Village in Clonakilty.
You can also find plenty of incredible Irish castles to visit. Plenty of these castles are fantastic for toddlers to explore!
Where To Find Toddler Supplies

Toddler essentials can be found in supermarkets and pharmacies.
Many local convenience stores also have a limited selection of toddler items such as diapers. Supermarkets are open every day of the week in Ireland.
Restaurants are typically well equipped for children with everything from high chairs and coloring utensils to kids' menus.
In many locations, it is also acceptable to ask for a spare plate rather than opting for a full kid menu.
Many public toilets also have baby changing facilities, although usually only in the female toilets.
---
17. Croatia
– Recommendation by Places of Juma –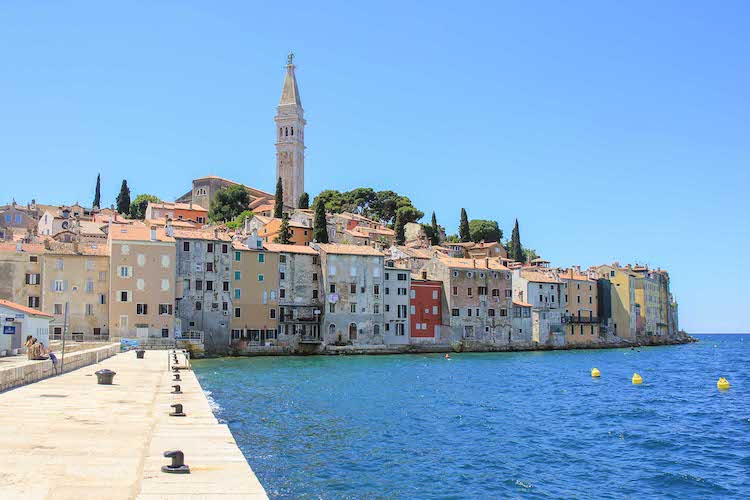 If you are looking for a wonderful destination for a vacation with a toddler, then Croatia is just right for you!
The beautiful nature, the varied cuisine, the hospitality of the people, and the numerous beaches make Croatia a true paradise for young and old.
Croatia is a very child-friendly country. The people are very open-minded and warm and they love kids.
Moreover, most restaurants have high chairs for children and there are also many playgrounds and numerous activities suitable for toddlers.
Best Places In Croatia To Visit With A Toddler
Istria is actually best suited for a vacation with toddlers.
The region is located in the north of the country and so even in summer, the temperatures are less hot than in the south.
In addition, the range of toddler entertainment options is a bit better and there are many resorts that offer children's friendly programs and have children's pools and children's buffets.
Most resorts in Istria have a promenade where you can easily have walks with a stroller.
Recommended resorts along the coast are Umag, Porec, Rovinj, Medulin, and Novigrad.
Another fantastic destination to visit with a toddler in Croatia is Dubrovnik.
The Old Town of Dubrovnik is a pedestrian-only area, making it easy for parents with strollers to explore the city's historic landmarks, such as the City Walls and Stradun, the main street.
Dubrovnik also has several beaches that are safe and suitable for toddlers, including Banje Beach and Copacabana Beach.
You could easily spend 2 or 3 days in Dubrovnik with a toddler.
Where To Find Toddler Supplies
In Croatia you can really get everything you need for a toddler. In every resort there are several supermarkets like Konzum, Spar, Plodine where you can get everything you need.
There are also drugstores like DM and pharmacies in case someone gets sick.
---
Best Places To Travel with a Toddler in Africa
18. South Africa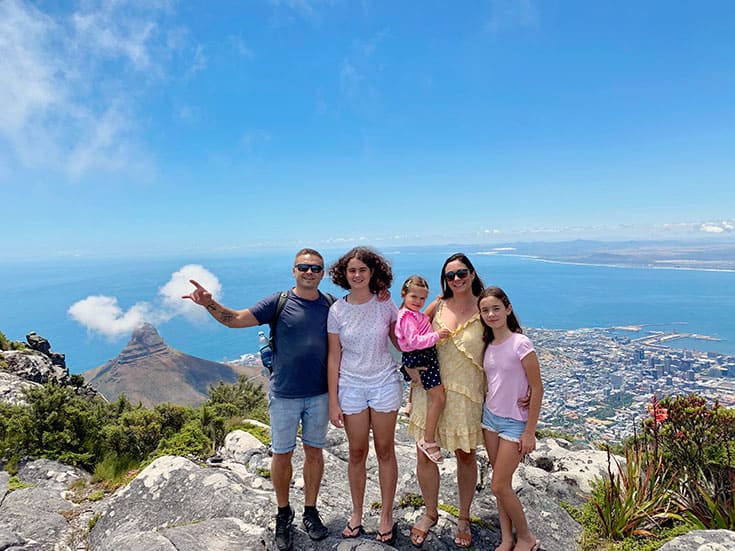 One of the best countries to travel with toddlers is South Africa. A very warm and welcoming country with so much to see and do, you are all guaranteed a great family vacation.
You will be spoilt for choice of what to do or places to see that you may find you will want to return again.
All family restaurants will have high chairs and children's menus and are happy to accommodate variations from the menu options if you need them.
Best Places To Visit in South Africa With A Toddler
The top pick of must-see places in South Africa is Cape Town. With an abundance of hotels, white sandy beaches, and restaurants just in the city itself you can spend your whole time in Cape Town if you did not want to venture too far.
Take a cable car up Table Mountain for some amazing views across the whole city bowl. Head to the V& A Waterfront to the aquarium and the gemstone scratch patch. When you are done, head to the mall for shopping and a bite to eat.
If you hire a car, take a drive to Boulder's Beach to see the magnificent penguin colonies and their nesting areas.
A trip to the many wine farms is perfect for adults and children as many have play areas and equipment to keep the kids entertained whilst you enjoy a leisurely meal or afternoon.
If you want to head out of Cape Town, a trip up the Garden Route is perfect to experience more of South Africa.
There are many seaside towns with stunning beaches where you can spend lazy days or even head to one of the many wildlife safari parks where you can experience a game drive and some of Africa's amazing wildlife like elephants, rhinos, lions, and more.
Where To Get Toddler Supplies
If you hire a car, be sure to ask for a car seat from the car rental company. If they do not have one available we strongly recommend that you take your car seat with you.
A stroller, baby carrier, or hiking backpack are all great options to take with you and will be used whilst out and about. The hiking backpack or stroller is perfect if you plan to do any nature walks.
Supplies like diapers, food, formula, wipes, and more are readily available at all supermarkets and even small corner shops.
Find out everything you need to know about visiting South Africa with a toddler in our guide.
---
19. Namibia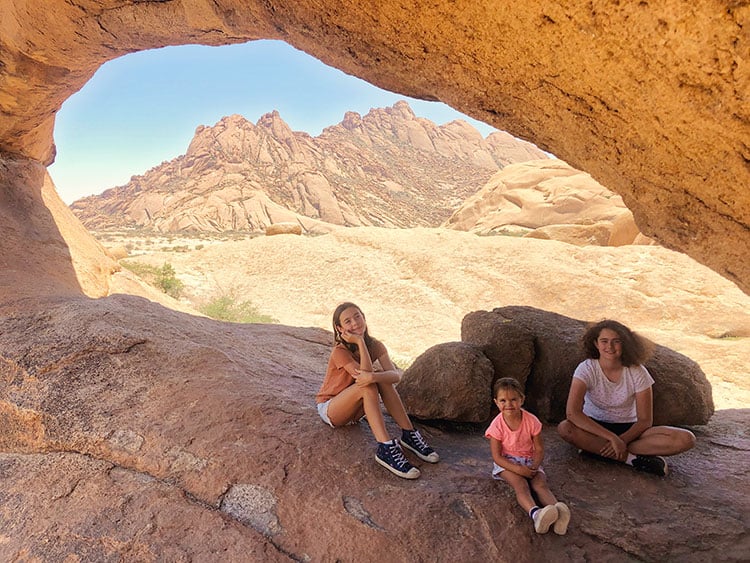 Namibia is a wonderful country to travel with kids as there is so many fun places to visit and things to do.
It is a very friendly country and is one of the best places to visit in Africa with a toddler. From the stunning landscapes that you can experience to a large amount of wildlife and nature, there is so much to enjoy in this amazing country.
Best Places To Visit In Namibia With A Toddler
You will want to hire a car to travel around Namibia to make the most of your time.
Swakopmund is ideal if you're keen on seeing a different side of the wildlife that Namibia has to offer. The oceanfront shows off the town's promenade and is a great spot for afternoon strolls with the stroller, or you can head to the town's playground for more fun.
Head to the only aquarium in Namibia where you can see the wonderful marine life that can be found in the cold Benguela Current. Walk underneath the underwater walkway and be amazed at the sharks and rays swimming right above you.
Continue your adventure to Sossusvlei situated in the largest conservation area in Africa, the Namib-Naukluft National Park.
A visit to Dune 45 is a must as it is one of the most famous dunes in the world. The kids will just love the fact that they can run down these striking red dunes, such a fantastic place to have an adventure as a family.
Etosha is one of the most popular attractions in Namibia and any trip would not be complete without it. Discover the wildest parts of Namibia that are home to cheetahs, hyenas, lions, giraffes, and many more.
You can experience the park yourself by driving around in your car rental or, what is highly recommended, is a guided game drive or a guided walk with a guide.
Where To Get Toddler Supplies
You should be able to find all you need at the large supermarkets in the cities of Namibia from diapers, to snacks to formula.
Be sure to stock up on what you need when you are in the larger towns and cities as you may not find the supplies you need when you are traveling through the smaller towns.
All restaurants and resorts will be able to cater to your toddler's needs. They will have high chairs available and if you need a sleeping cot, most accommodations with have this for you.
---
Best Places To Travel with a Toddler in Asia
20. Thailand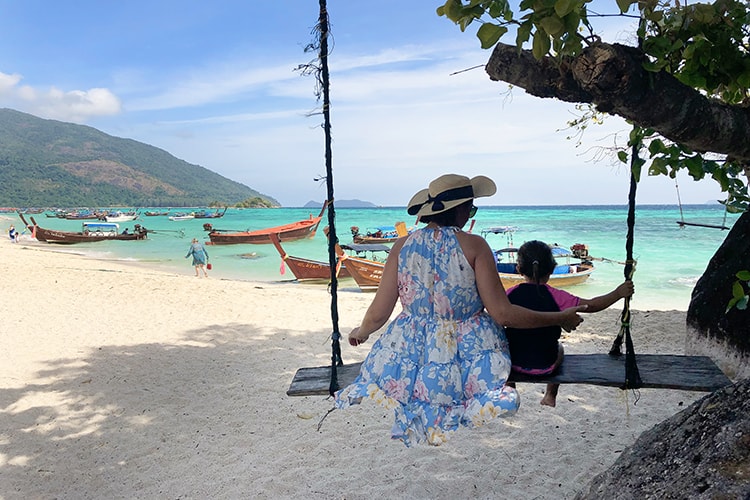 One of the best holidays with toddlers is a vacation to Thailand. This is truly a magical destination where you can all enjoy the sand, sun, and sea as a family.
The local people of Thailand are extremely friendly and welcoming. They also adore children so you never fell that you are not welcome if you travel with a toddler in Thailand.
Best Places To Visit In Thailand With A Toddler
Of course, there are many places and beaches to travel to in Thailand that your toddler can spend all day frolicking in the warm ocean water or building sand castles on the beaches. You will love the fact that you can of course join in or lay on a sun lounger (many of which can be hired when at the beach) sipping on a delicious cocktail.
When the beaches get too much, jump on a local tuk-tuk and head to one of the many temples that can be found around Thailand to get a cultural fix.
Or head to the town center where you can enjoy local cuisine from the many street markets and food vendors.
Many of the resorts that you can stay in cater to young children and will either have swimming pools with ocean views which are perfect for days when you fancy just staying close to your accommodation.
The best places in Thailand that are perfect for traveling with toddlers are:
Tip: Not all the beaches in Thailand are sandy, so make sure to take some toddler beach shoes with to help protect their soft little feet.
Where To Get Toddler Supplies
It is best to take what you need for your trip to Thailand with your toddler as supplies are not easily accessible.
A baby carrier is probably your best option over a stroller as there are not many paved areas to walk with a stroller and it can be difficult pushing a stroller on rough ground.
When eating out, if you do not have an adventurous eater most places will be able to provide you with a plate of chips which are sure to make your little one smile.
Some hotels and resorts do offer cots, when booking be sure to check with them and secure one in advance.
---
21. Singapore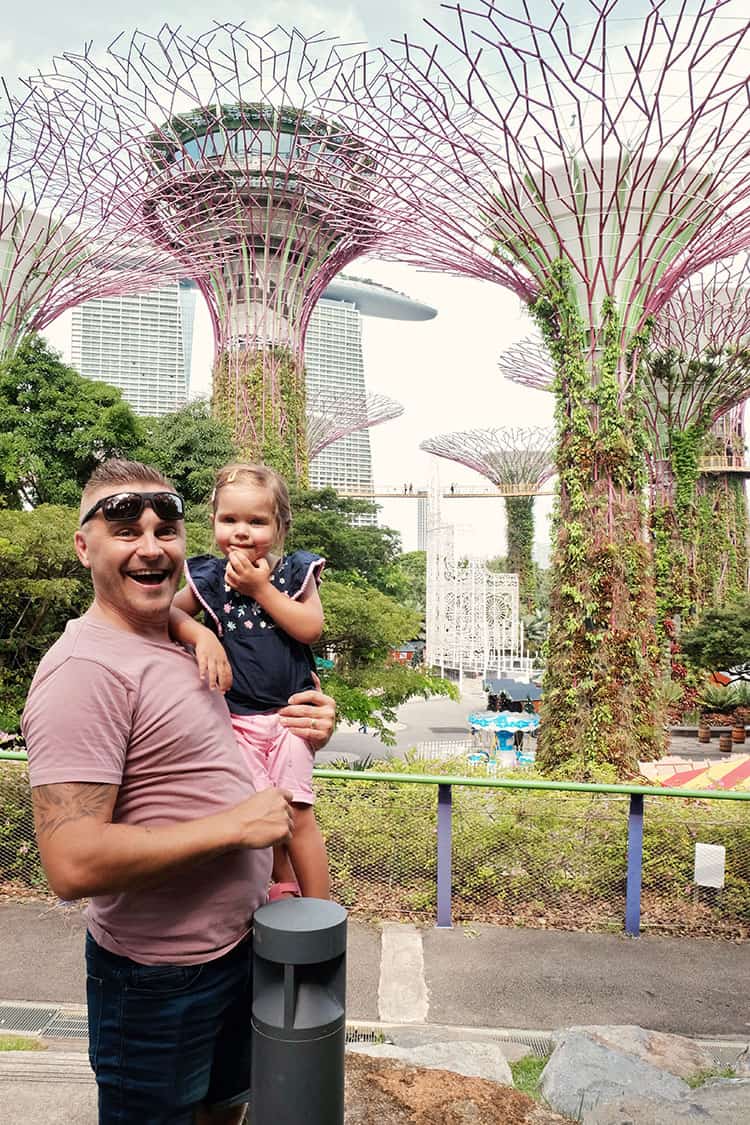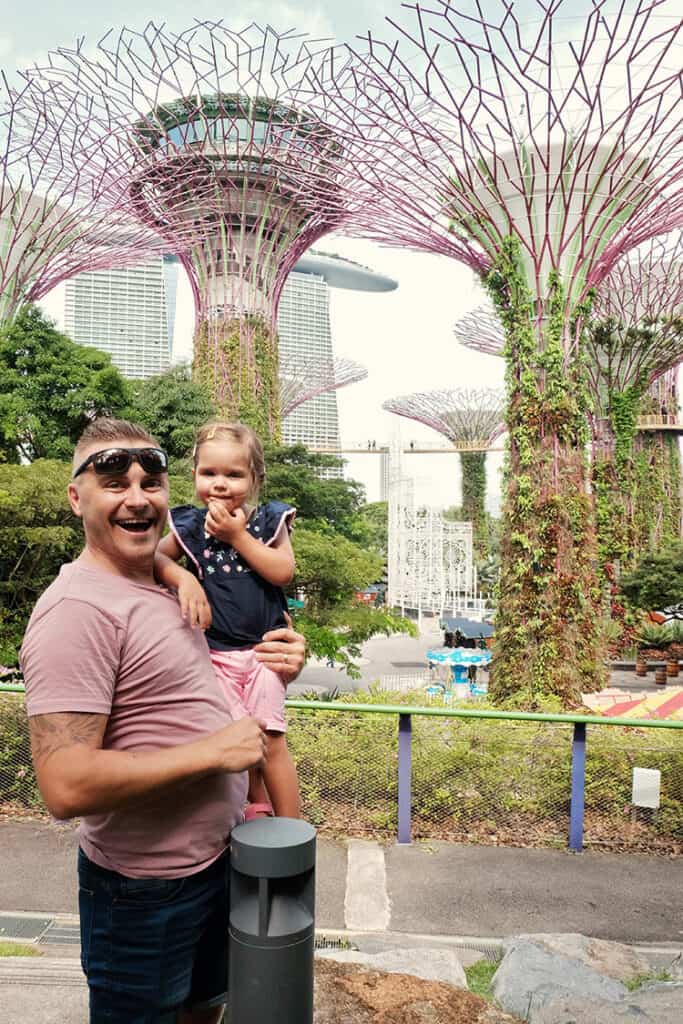 The city of Singapore may not be seen as a toddler destination because of the hustle and bustle of this great city.
A day or two in Singapore is definitely worth a visit as it is very safe and clean.
However, if you want an island destination with your toddler for some much-needed time to relax and recharge with your toddler, head to one of the many islands off Singapore.
Best Places To Visit In Singapore With A Toddler
There are plenty of fun things to do in Singapore with kids.
In the city of Singapore, there are many outdoor play parks but to beat the heat you can visit the aquarium or The Artground.
Other city activities include the Singapore Zoo, Jurong Bird Park, and the Singapore Botanical Gardens.
The Gardens by the Bay is a children's haven. Head to the Children's Garden where toddlers can spend time playing in the fish fountain and when done continue along the many paths and suspended walkways.
For island getaways, the Telunas Private Island is only a ferry and boat ride away from Singapore.
This island is perfect for families looking for peace while immersed in nature. It has 15 overwater sea villas, an open-air restaurant, an overwater spa facility, and a poolside bar.
The resort also organizes daily activities like cooking classes, bonfires, treks, and more to keep the guests entertained.
Another great location is Cempedak which is reachable via a direct ferry from Singapore.
This island getaway boasts bamboo villas along white sandy beaches, a rainforest, and white granite boulders.
The island is not commercialized so make sure to take all you need with you.
Where To Get Toddler Supplies
When in the city of Singapore, you will be able to purchase all you need in terms of supplies for your toddler.
Most hotels and restaurants will be able to accommodate your toddler's needs for a cot and or high chair.
Be sure to stock up on any supplies and essentials before heading on the island getaways.
Do check with the resort (find the best hotels for families in Singapore here) where you will be staying to see if they can provide a cot for sleeping and a high chair.
---
22. Vietnam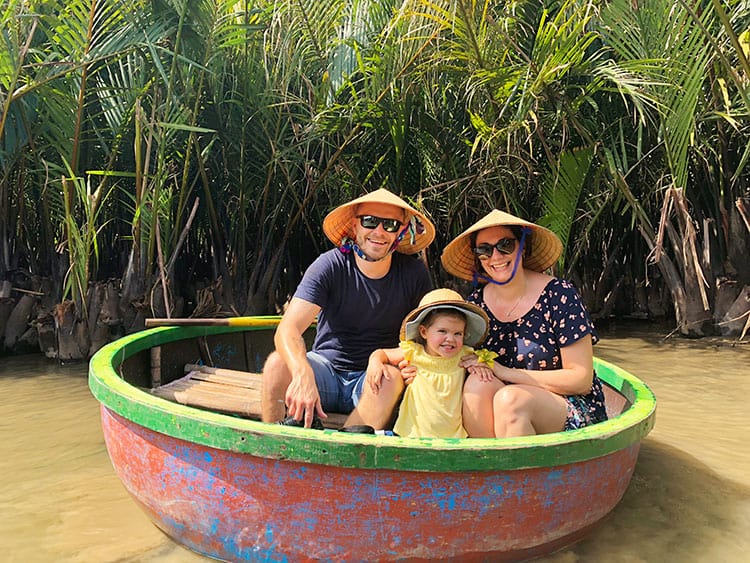 Vietnam has to be one of the most friendliest countries to visit. No matter where you travel the local people always greet you with a wide, welcoming smile and want to share stories and provide a helping hand.
If you want to travel to this wonderful country you may feel overwhelmed with where to go because there are truly so many amazing places to visit in Vietnam, and it can be difficult to decide.
Best Places To Visit In Vietnam With A Toddler
When traveling to Vietnam with a toddler the best place to visit is the Hoi An area as it has beaches which is always a win for kids.
It also has a very cute town that is great for walking around in when you want to head away from the beaches or experience some more of the local culture. The Ancient Town with the colorful brick buildings is a big Vietnam tourist attraction. Make your way through the town from the comfort of an authentic wooden Vietnamese boat as you glide along the serene canals that cut through the town.
The Hoi An area is also great for resorts that are perfect for kids either close by to the town center or head further out to one of the many resorts along the beaches.
Where To Get Toddler Supplies
It is best to take what you need for your trip to Vietnam with your toddler as supplies are not easily accessible.
A baby carrier is probably your best option over a stroller as there are not many paved areas to walk with a stroller and it can be difficult pushing a stroller on rough ground.
When eating out, if you do not have an adventurous eater most places will be able to provide you with a plate of chips which are sure to make your little one smile.
Some hotels and resorts do offer cots, when booking be sure to check with them and secure one in advance.
---
23. Japan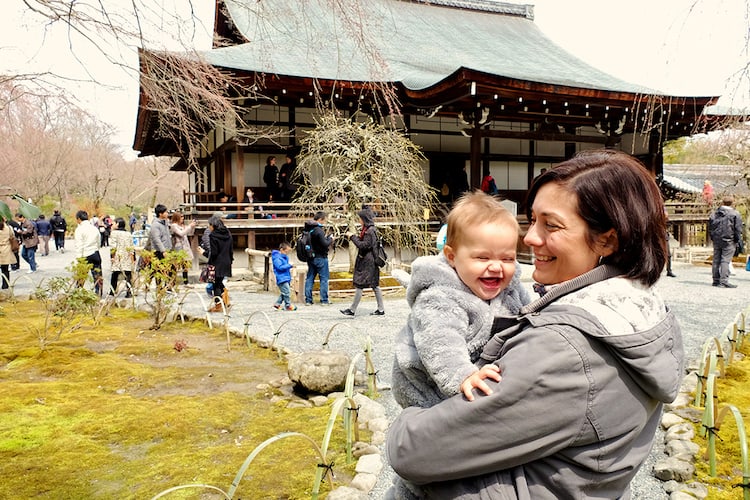 Japan is a magical and memorable trip and may not be a country on the top of your list to visit with your toddler or even a baby.
When we visited Japan we traveled with a baby however the places to see and things to do in Japan will be exactly the same if you plan on traveling to Japan with a toddler.
There are definitely many benefits to visiting Japan with a baby, the country is safe and is known to be baby friendly.
It does come with some challenges yet can be overcome if you try and keep your trip as simple and easy as possible. It is a once-in-a-lifetime opportunity that promises lots of adventure, education, and a giddy blend of culture making it well worth a little challenge or two!
Best Places To Visit In Japan With A Toddler
Wondering where to go in Japan for first-timers? It is also crucial to pick one to three destinations at most to visit during your trip keeping your travel to a minimum as dragging luggage, ensuring kids are close by, or holding hands whilst carrying a baby up and down stairs to subways & train stations regularly is super hard! The same would be true if you visited Japan with a toddler.
To make it easy we recommend you visit these top three places in Japan – Tokyo, Kyoto, and Osaka. You can also make use of the luggage forwarding system where you can pay for your luggage to be collected from your hotel in one city and dropped off at your hotel in the next city.
In Tokyo, the very popular Shinjuku Gyoen National Garden must be one of the more beautiful sights to see. Located close to the Shinjuku Station makes it easy to get to.
The park features a Japanese Garden, an English Garden, and a French Garden. It is a great place to view the Cherry Blossom trees whilst in bloom too!
For older toddlers, a great place to visit for a day packed full of fun is Tokyo Disney Parks.
If you head to Osaka you take many day trips from this base point or visit Universal Studios which is perfect for older toddlers and kids.
Where To Get Toddler Supplies
You can find baby supplies in the stores. The streets are stroller-friendly. You will even often see little baby seats in toilet cubicles so you can pop your baby down whilst you do what you need to do.
---
24. Malaysia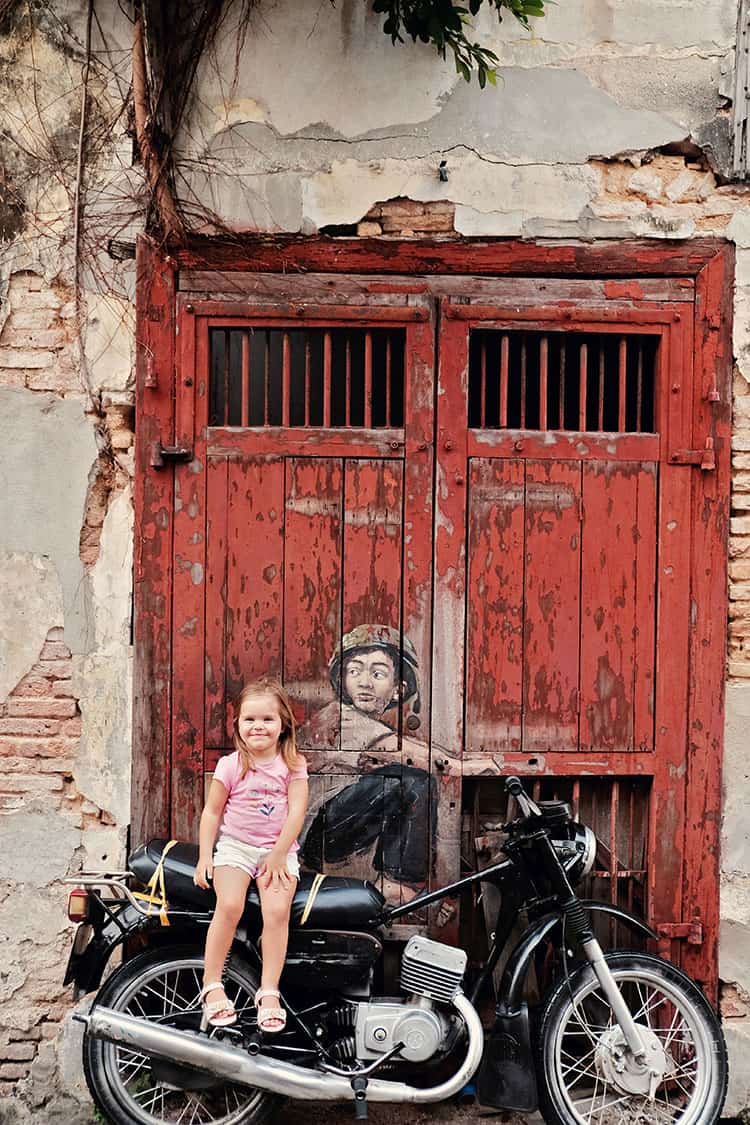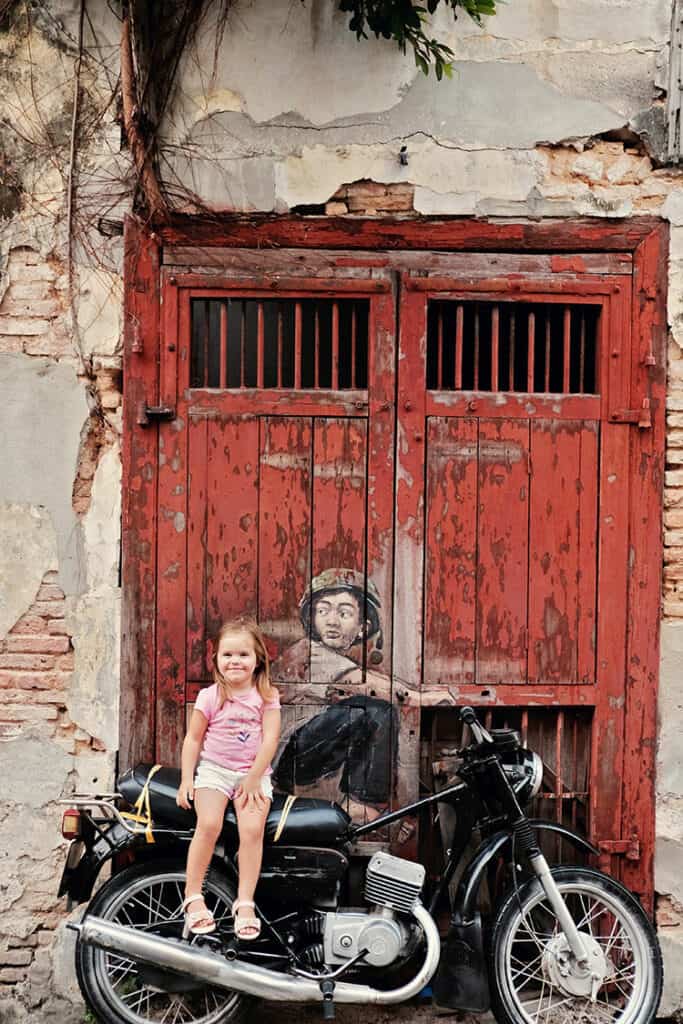 Malaysia is a perfect destination to visit with your family. It is a destination with so many diverse cultures and ethnicities all living together in harmony providing a wonderful holiday experience for the whole family.
One of the great benefits of traveling to this diverse country is a large number of activities to keep your toddler entertained, from Legoland to Thomas Town to a ride in a cable car.
Best Places To Visit In Malaysia With A Toddler
Penang is one of the best places to visit with a toddler, it is a small island with British colonial architecture and Old Hindu and Chinese temples as well as beaches for your little one to enjoy.
If you are keen to check out Penang and are wondering where to stay, take look at our blog post on the best Penang hotels with private pools here.
The island is host to a stunning living garden, Entopia. Here you will be immersed in a world of butterflies and creatures from insects to reptiles. Entopia has 15,000 free-flying butterflies of 60 different species.
If natural rainforests, mountains, and stunning beaches are more your thing, head to Langkawi in the Andaman Sea. This is an archipelago comprising 99 islands and is one of the best places to let your hair down and get some R&R.
If your toddler is keen on some action-packed fun and amusements, visit Legoland and Thomas Town in Johor Bahru. If you find yourself in Kuala Lumpur it has its own Kidzania town where kids can explore and experience a variety of jobs safely.
If your little one is a little Einstein, head to the Petrosains Discovery Centre, the hands-on museum is perfect for making science fun as they can build a model car or even experience what a hurricane may feel like!
Where To Get Toddler Supplies
You will be able to find supplies for your toddler when in Malaysia, they may not be brands that you are used to but is super handy for when you run out of diapers or wipes.
If you are heading to the islands and beaches, a stroller may not be best as it may be a little tricky to use in some areas. However, if you are staying in the larger cities then a stroller is worth taking.
---
25. Bali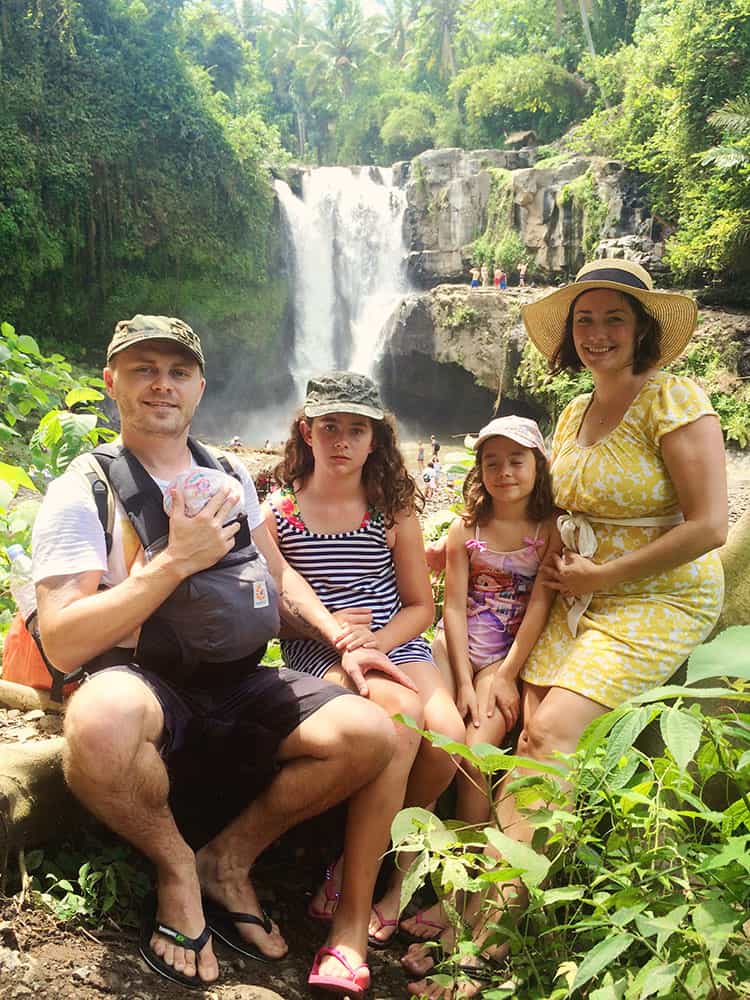 Bali has a lot to offer travelers, whether you are solo, a couple or traveling with a toddler Bali is one of the best destinations for a toddler vacation. We traveled with a baby but your experience and the information of what to do with a toddler will be relevant.
Not only is it super affordable but this dream destination has such the most gorgeous nature from beaches, waterfalls, and rice paddies with the most wonderfully natured people to match.
Family-friendly hotels and resorts offer activities both onsite and offsite that will help keep everyone in the family entertained and happy for your Bali with kids trip!
If you fancy some time out as a couple you will be pleasantly surprised as nannies or babysitters are really reasonably priced and affordable. You can also book a nanny to tag along with you on your outings to make things easy and have an extra pair of hands.
Best Places To Visit In Bali With A Toddler
For more family-friendly areas head to Canggu, Ubud, Legian, Jimbaran, or Nusa Lembongan.
The best family resorts can be found along the beaches of the areas such as Canggu or Jimbaran. From here you can head to Ubud to walk around the Ubud market which is a buzz with activity.
In Ubud you will also be able to soak up the peaceful rice paddy atmosphere with a walking tour through the terraced rice paddies.
On your way home, stop at the Pulina Coffee Plantation where you will learn the process of coffee production followed by trying out a variety of different teas and coffees (which even the kids will love!).
Other great activities to do whilst in Bali are to visit the Tegenungan Waterfall, Saraswati Temple or take a walk around the Jimbaran Fish Market.
Where To Get Toddler Supplies
You can also very easily rent baby gear and equipment for super low prices if you need them.
Hotels and resorts will be equipped with baby cots and high chairs, but make sure to always have a baby change mat on hand as baby changing facilities are not what you would have back home.
Make sure to bring your baby carrier along and leave your stroller behind. When booking your transfers book your car seat at the same time to ensure you have one to use.
For spending time at the beach make sure to pack your sun tent as well as some handy and essential beach items for your toddler to play with.
---
26. Lombok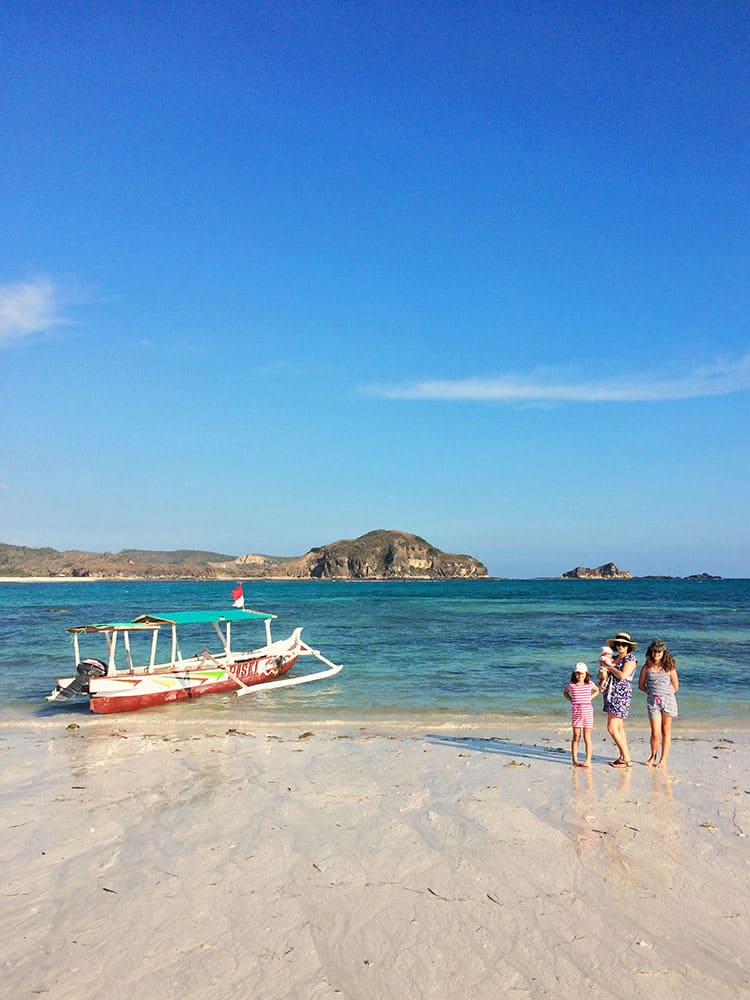 Limbok is a small Indonesian island that is definitely one for the bucket list and is a perfect destination to travel with toddler.
This island is relatively undiscovered which makes this destination so wonderful as it is not overrun with tourists and is the perfect escape for some quiet time out on an island destination.
When exploring the island hire a private driver who can take you and your toddler safely and comfortably from one site and attraction to the next.
Best Places To Visit In Lombok With A Toddler
As you can imagine, this Indonesian island will have many stunning beaches that you can visit and enjoy some much-needed R&R so there are many to choose from.
The top beach to visit are Selong Belanak Beach, which has lovely shallow, calm ocean water for the kids to play in. There is even a beach cafe for some lunch and refreshments during the day.
When you fancy learning more about the indigenous people of Lambok head to the Sasak Village called Sade in Rambitan. Although the village is quite touristy it is still really interesting to learn more about the Sasak people and get some insight into that fascinating culture!
We recommend organizing a day trip up into the Northern regions of Lombok where you can see two incredible waterfalls, Tiu Kelep Waterfall and Sendang Gile Waterfall.
Where To Get Toddler Supplies
Most hotels and family resorts are well-equipped with baby cots and high chairs. When booking your hotel transfers book your car seat at the same time to ensure you have one to use.
There is no need for a stroller when traveling in Lombok but is definitely worth bringing your baby carrier along.
For spending time at the beach make sure to pack your sun tent and any beach toys.
---
Best Places To Go On Holidays with Toddlers in Oceania
27. Vanuatu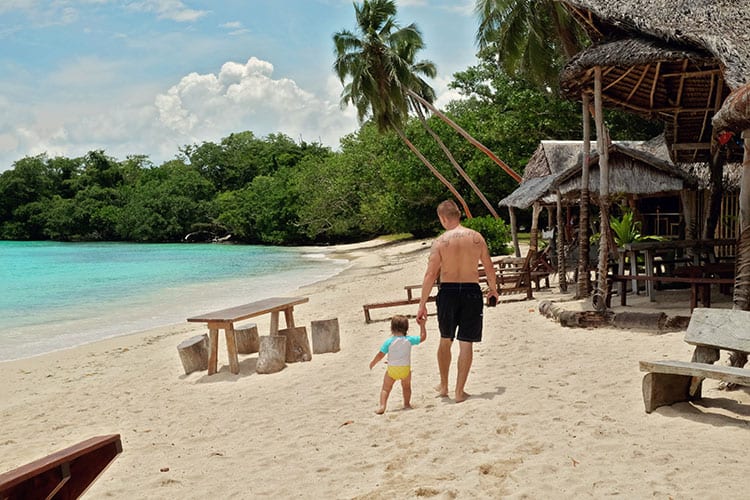 Vanuatu is made up of approximately 80 islands so there is plenty of choice when it comes to picking a toddler vacation in Vanuata.
The great thing about Vanuatu if you reside in Australia is that it is a quick flight from Sydney so you can easily travel here for a short break or long weekend away with your toddler.
If you plan on exploring the island hire a 4×4 to get around, otherwise just enjoy relaxing on a sun lounger on the beach.
Best Places To Visit In Vanuatu With A Toddler
The island that we especially liked is Espiritu Santo Island, it has beaches to die for and so many water activities for you to enjoy.
Port Orly Beach is a small fishing village with white sandy beaches and cafes that serve you deliciously fresh seafood. You can also enjoy a cocktail or two from the locals and just enjoy the beautiful, peaceful surroundings.
A trip to the fresh water swimming holes, known as the Blue Holes where you can enjoy swimming in the blue water surrounded by nature. There are 3 main blue holes, Nanda, Riri and Matevulu. If you fancy a little more fun most of the blue holes have rope swings where you can spend hours swinging into the water.
If you head to Aore Island, you can enjoy diving, snorkeling, fishing, and kayaking or enjoy a bicycle ride along one of the island's many tracks.
Where To Get Toddler Supplies
A baby carrier is best for this strip so leave the stroller at home. Bring along your toddler supplies like nappies, wipes, and any formula.
Depending on the resort you are staying at you can possibly have the use of cots and high chairs but it will be worth checking before you leave on your vacation as you may need to take these along.
---
28. Australia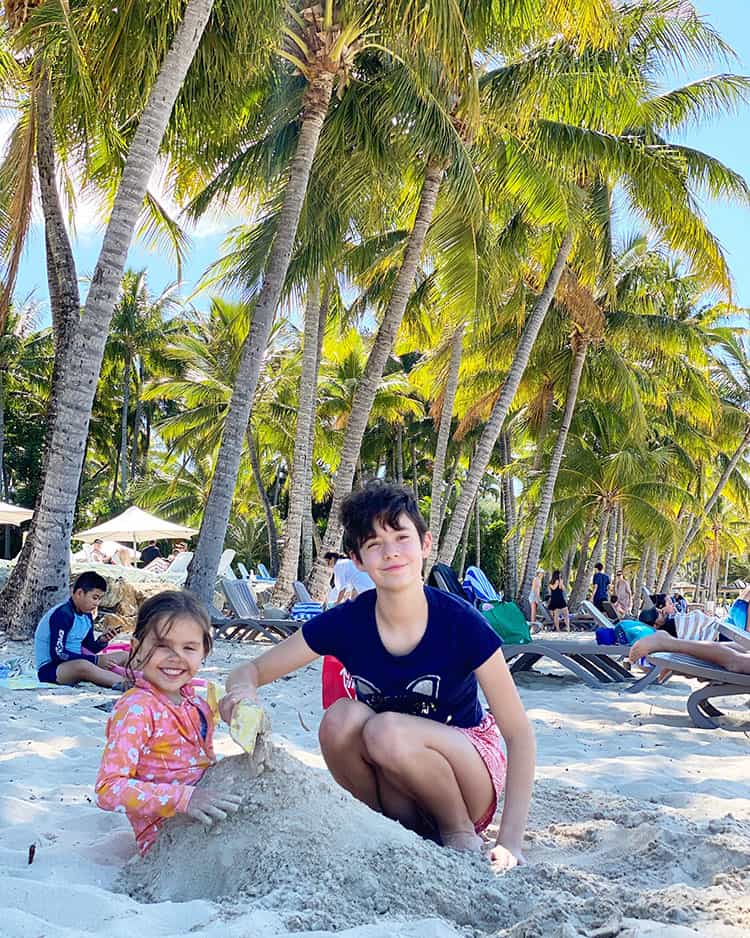 A vacation to Australia when your little one is still young can be so much fun as all places are great but Australia does have some little gems that make this one of the best holiday destinations with toddlers.
If you traveling all the way to Australia you will want to see the iconic places and sites like Sydney and the Sydney Opera House or Ayres Rock however the best and most child friendly places that we love to travel to in Australia are Hamilton Island, Gold Coast and the Sunshine Coast.
These are the destinations that are great for spending longer periods of time with your toddler when in Australia.
Best Places To Visit In Australia With A Toddler
Along the Sunshine Coast of Australia, you can enjoy one of the greatest Wonders of the World, the stunning Great Barrier Reef. You will also find the awesome town of Cairns that is well worth a night's stay to enjoy the many restaurants, cafes, and beaches.
The Sunshine Coast is also perfect if you want to stay in one location for some time. Here you have beaches, kid friendly activities, and sunny weather.
In Brisbane, the South Bank is perfect for kids! You can enjoy the free waterpark, Aquativity or head to the many playgrounds to get rid of any extra energy. The Epicurious Garden is an 'edible' garden where you can learn more about herbs, flowers, fruits, and vegetables.
You can also visit the Lone Pine Koala Sanctuary for a full day's outing.
If you want to enjoy lounging by the poolside or spend the day riding waves, Hamilton Island is a perfect choice. From stunning, white sandy beaches to pools with poolside service or water sports for the more adventurous, there is an activity for all to enjoy.
Where To Get Toddler Supplies
No matter where you travel in Australia, you will be able to get the supplies you need for your toddler. All supermarkets and stores generally stock all you may need.
For days in the cities, definitely bring a stroller with you. A baby carrier is handy for time spent on the beaches.
Most hotels will be able to provide cots in your room. Highchairs are also readily available in most restaurants and cafes.
---
29. Maldives
– Recommendation by Wanderlust & Wet Wipes –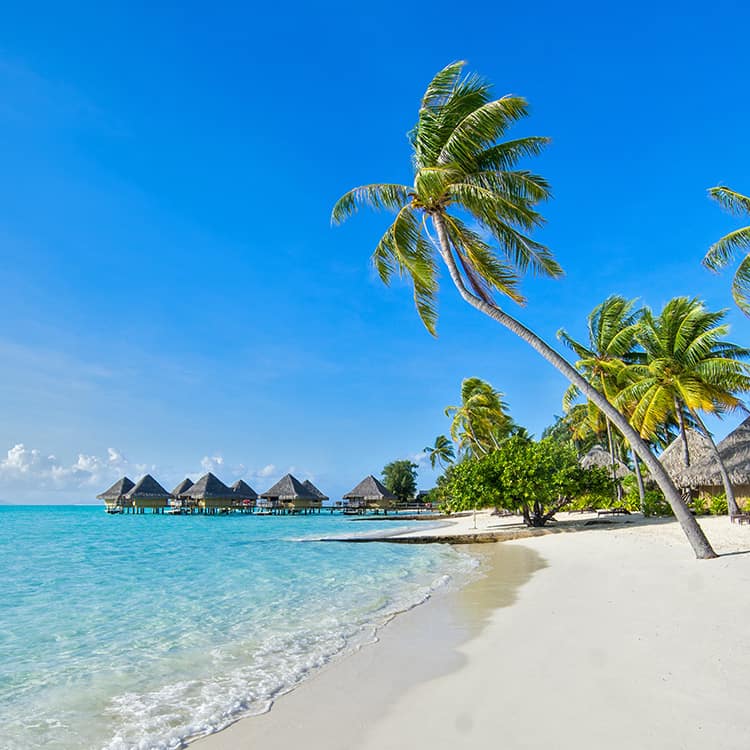 When most people think of the Maldives, they think of a couples only, honeymoon vacation but what they don't know is that the Maldives is a really toddler-friendly place to visit.
While the main island and capital Male, is an interesting place to stay, the majority head straight from the airport to one of the amazing resort islands to spend their time there.
Family-friendly resorts in the Maldives are the best places to go: most have excellent facilities for kids (including a kids' club that parents can use with their toddlers); fun activities such as sandcastle making, cooking classes, or games; and kid appropriate menus.
Best Places In The Maldives To Visit With A Toddler
Maldivian resorts are only accessible by boat or by seaplane transfer. Late arrivals into Male require an overnight stay for seaplane departures as they can only fly (and land) in daylight.
Depending on the length of your flight into the Maldives, a short boat ride might also be a better plan than a seaplane for your toddler.
That being said, the further away you get from Male, the better the picture postcard views.
Where To Find Toddler Supplies
Unless you are actually staying on Male, you'll need to bring any toddler supplies with you to the Maldives. The family-friendly resorts all have baby and toddler equipment such as cots, high chairs, and strollers.
---
30. Fiji
– Recommendation by 24 Hours Layover –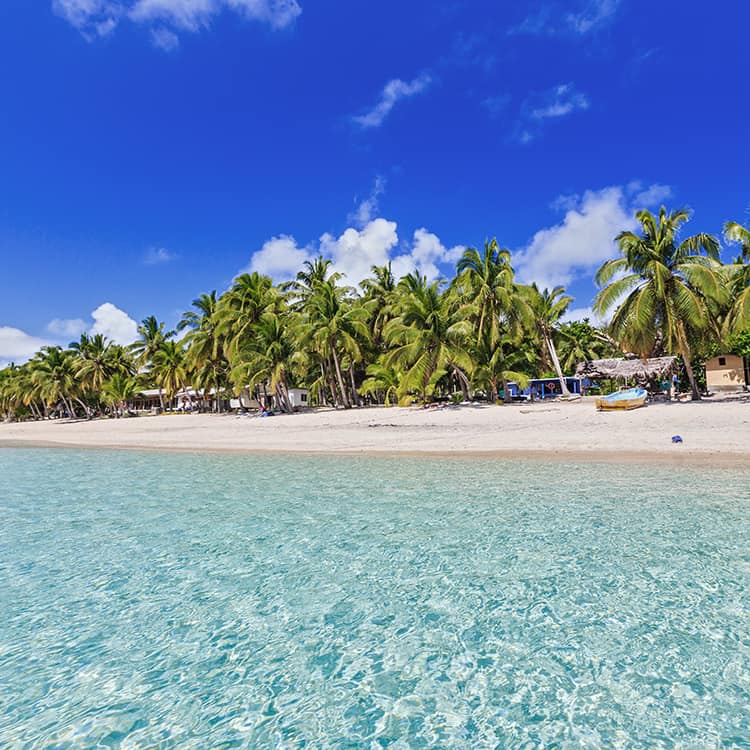 One vacation spot that is extremely toddler friendly is Fiji. It makes for the perfect holiday destination for families with little ones!
Fijians are very friendly and welcoming of children – lots of families with young children holiday in Fiji year after year due to how well children are catered for, making it a really popular family vacation destination.
Most hotels and resorts in Fiji have baby-changing facilities, high chairs, and cots available. Breastfeeding is also generally accepted in public, and many restaurants offer children meals.
Best Places To Visit In Fiji With A Toddler
Denarau Island is the most popular destination for families. It is convenient to get to the airport as well as for excursions. There are plenty of stroller-friendly resorts at Denarau that offer complimentary kids' clubs, as well as babysitting services and family-friendly activities so parents can enjoy some time to themselves.
Coral Coast, whilst being 2 hours from the airport, is another popular place for families to stay. There are several resorts with beautiful beaches and calm waters. There are several resorts along the coast that offer family-friendly facilities.
Where To Find Toddler Supplies
Supermarket prices in Fiji are expensive and the selection of items can be limited, so whilst you'll always find toddler supplies in the supermarkets, most people prefer to bring them with them just for convenience.
Renting car seats and cribs is reasonably priced and easy to organize through your resort.
---
Best Places To Travel with a Toddler in the Middle East
31. United Arab Emirates
– Recommendation by Secret Abu Dhabi –
Between Dubai and Abu Dhabi, the UAE has become one of the top tourist destinations in the world.
Since the country is essentially in the desert, there is no shortage of indoor activities for children. The country is very well equipped to deal with hot temperatures.
That being said, there are tonnes of outdoor activities for little ones across the Emirates which can be enjoyed in the evenings and throughout the cooler months.
Best Places To Visit In UAE With A Toddler
From malls to indoor theme parks, restaurants and museums, to beaches, parks and desert dunes, there is plenty to discover with toddlers across activities the country.
Some top attractions in Abu Dhabi include, Warner Bros. World, LEGO Pop-in and Play, Fun Works, Caboodle, Little World, Ferrari World, and more.
Whereas in Dubai, toddlers love Green Planet, the aquarium in Atlantis The Palm and Ski Dubai. The list goes on and on!
Strolling through shopping malls is another way to beat the heat. Besides fast food and ice cream shops, many malls have cinemas and kid-friendly play areas. In fact one cinema in Galleria Mall has a theatre completely dedicated to children with special chairs and shorter movies.
Galleria Mall has so much for tots, including a National Geographic experience, soft play and indoor trampolining.
It would be unheard of not to find baby changing facilities. In fact most malls and tourist attractions have fancy feeding rooms with comfortable feeding chairs.
Nearly everywhere has perfect pathways making it stroller friendly across the board.
Where To Find Toddler Supplies
Leading supermarkets and a majority of pharmacies across Abu Dhabi are a one-stop-shop to purchase everything baby related, from pampers to strollers to baby nourishment.
If you need something quickly, an app called InstaShop can deliver anything required within an hour in Dubai and Abu Dhabi including diapers, baby food, wipes and formula.
With western shops such as Waitrose, a lot of brands are recognisable.
For renting cribs and baby travel equipment, get in touch with Skytots.
---
Best Places to Vacation with a Toddler in USA
32. New York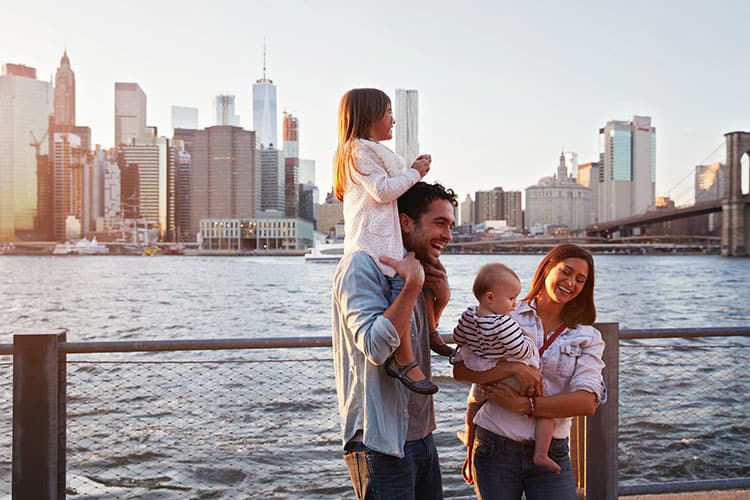 New York is not the obvious choice when thinking of a destination that is toddler friendly.
The city of New York is busy but does have many family friendly attractions and if you venture out of the city itself, you may be pleasantly surprised by what there is to do in New York with a toddler.
When walking around the city of New York there is an abundance of playgrounds to take a break from sightseeing and walking.
Best Places To Visit In New York With A Toddler
The zoo is one of the favorite places to spend time with kids for many parents and New York has two great zoos that are worth a visit.
Central Park Zoo is a must-visit. The animals are homes in spaces and swimming pools mimicking their natural habitats. The Bronx Zoo hosts rare and endangered species of fauna and approximately 4 thousand creatures.
One of the oldest amusement parks in the United States is Luna Park in Coney Island with a variety of carousels for both the smallest visitors and thrill-seekers.
Take a trip on the Staten Island Ferry and admire the Statue of Liberty as you sail by.
For a museum experience with a difference, the unique museums such as the Intrepid Sea, Air & Space Museum, and the Cloisters are perfect and have so many exciting exhibitions that you definitely will not have any bored kids during your visit!
If you happen to be in New York over the apple picking season, a great family activity is apple picking at one of the local farms like Hurds Family Farm or Apple Dave's Orchard.
Where To Get Toddler Supplies
You will find all you need when traveling with your toddler in New York. Essentials like diapers, wipes, snacks and formula can be found at all shops and supermarkets.
A stroller is a must as you will spend a lot of time walking to experience this great destination.
Hotels can accommodate any requirements such as highchairs and cots. Restaurants have great changing facilities as well as high chairs that you can use.
---
33. Florida
– Recommendation by Make More Adventures –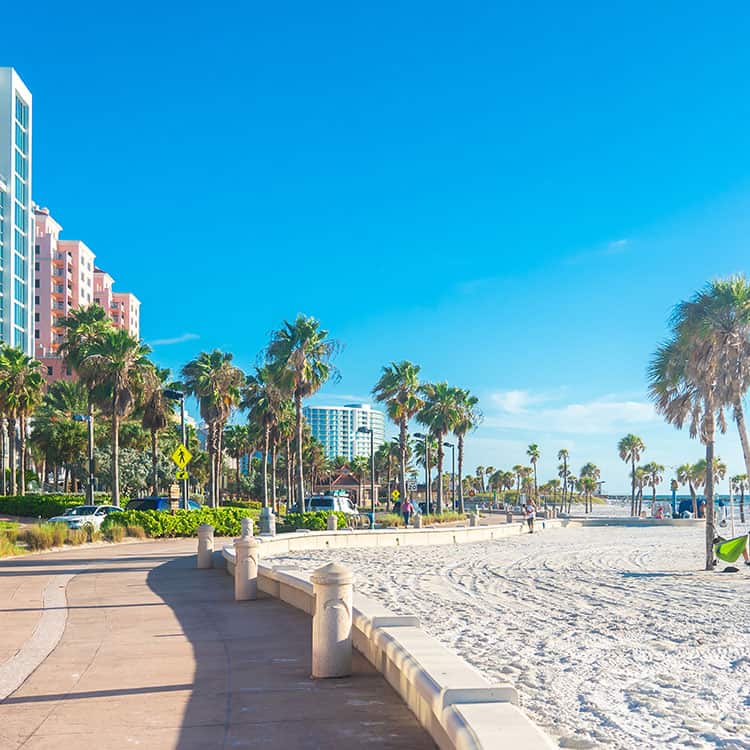 Whether you are looking for a beach vacation, you want to explore the theme parks, or you just want to relax at a hotel with a pool, Florida offers many toddler-friendly vacation spots.
Florida is a family-friendly state and kids can be seen just about everywhere.
Orlando specifically is known as a destination for kids, but the beaches tend to be kid-friendly as well. Lots of the hotels are geared towards kids with splash pads, activities, and on-site restaurants.
Best Places In Florida To Visit With A Toddler
Orlando's theme parks offer just about everything families with toddlers need. There is plenty of entertainment and small rides.
Families that don't want to visit the theme parks can participate in character meals, enjoy games, movies, and other activities at the hotels, and take advantage of the many parks and splash pads in the area.
You can't really go wrong with any of Florida's beaches, but the Gulf Coast beaches have calmer water that is perfect for toddlers.
Clearwater Beach has soft sand, a playground right on the beach, and many restaurants within walking distance. A trolley rides up and down the beach and visitors can get an all-day pass.
Nearby, the Clearwater Marine Aquarium is home to rescued sea life. There are plenty of things to do with kids on Clearwater Beach.
Where To Find Toddler Supplies
Any grocery store, Target, Walmart, or pharmacy in Florida will sell diapers, formula, and food for your toddler.
Both Orlando and Clearwater, as well as many other cities in Florida, have baby supply rental companies where you can rent cribs, strollers, car seats, and whatever else you don't want to pack. If you stay in a vacation rental on the beach, check to see if beach toys, pool toys, and other toddler-friendly items are provided.
---
34. Texas
– Recommendation by Oklahoma Wonders –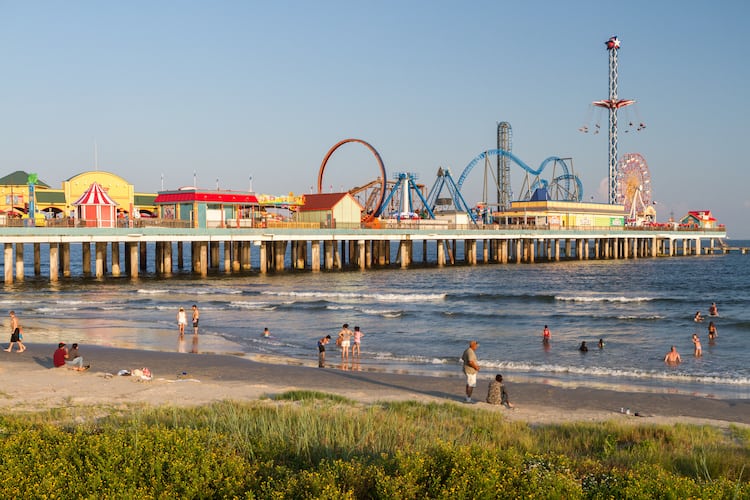 Texas is a great place to go on a family vacation since its extensive coastline and wide-open spaces give families space to make noise. Texas has a live-and-let-live attitude that makes getting vacation rentals and hotel rooms less stressful.
Families looking for a great beach destination drive from far and wide to enjoy Texas's Gulf Coast cities and towns. It's common for families from New Mexico, Oklahoma, and Arkansas to make their way down every summer.
Visitors with littles will love how many Texas beaches allow driving, meaning you don't have to schlep all your toddler beach equipment to the shoreline. You can simply park and enjoy your visit!
Best Places In Texas To Visit With A Toddler
Many cities have activities for toddlers to enjoy. For example, families who vacation on in Corpus Christi or nearby are close to great family-friendly attractions like the Texas State Aquarium and Padre Island National Seashore.
If you're worried that Texas's coast has a reputation as a party destination, skip the more famous South Padre and choose beaches in North Padre, Mustang Island, or Galveston.
Where To Find Toddler Supplies
Toddler supplies are stocked in local grocery stores and drug stores.
---
35. Maryland
– Recommendation by Deyewa –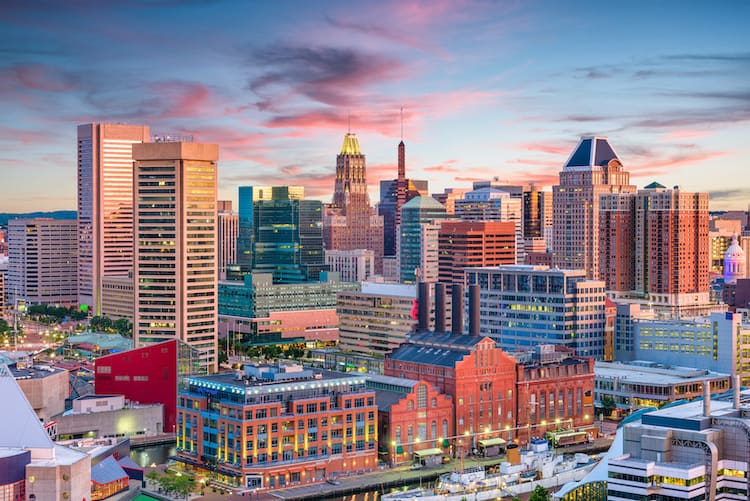 Maryland is a city full of great locations for visiting with a toddler. If you are heading to Maryland for your vacation you will not be lost for places to visit with your toddler.
Best Places In Maryland To Visit With A Toddler
The Wiggle Room in Crofton Maryland is the perfect place to take babies and toddlers for a fun and safe play experience. With its bright colors, child-sized furniture, and an array of stimulating toys, it's no wonder kids love this place! There are tons of comfortable chairs to sit on and parents can relax knowing their little ones are having a blast while they explore and learn through interactive play.
The play area is separated into spaces for crawlers, toddlers and older kids so everyone has a safe and enjoyable space.
The space also has a very clean quiet room/ changing table room where parents can go to change kids in a comfortable space. Wiggle room is definitely one of the top indoor play places to visit in Maryland with kids.
Another kid friendly place in Maryland is Storyville. If you have a child under age 5, then you have to visit Storyville with them. They have two locations in Rosedale and Woodlawn and it's the perfect place to take your toddlers to use their imagination for pretend play while in a safe environment. It has a fenced-in area called Baby Garden devoted for babies who are not walking and their caregivers and also a toddler bay area for little kids.
Storyville makes it a comfortable experience for parents by providing designated coat hooks, stroller parking and a large family bathroom that also has a waiting area with rocking chairs and a shelf full of books.
Located in Ellicott city, MD, Clark's Elioak Farm is another great place to visit with toddlers. They can enjoy riding on the mini cow trains, feeding a variety of small animals and exploring the play features in the farm. During Easter, they have an easter egg hunt separated out by younger kids and older kids. It is also stroller friendly.
Where To Find Toddler Supplies
While visiting Maryland with your toddler, visitors can rent baby equipment and gear such as cribs, strollers, car seats and more from Travelling Baby company. Baby food, diapers, formula and other supplies can also be gotten at regular grocery stores such as Target, Walmart, Wegmans etc in Maryland.
---
36. Hawaii
– Recommendation by Uprooted Traveler –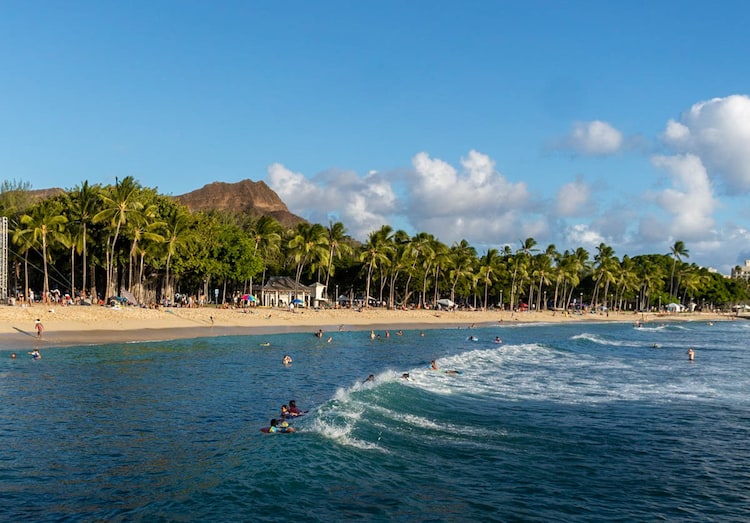 Hawaii is the perfect place to bring toddlers, especially Oahu. It offers tons of activities that will keep a toddler's attention, from interactions with wildlife to playing in the pool or ocean.
Best Places To Visit In Hawaii With a Toddler
Whether you're looking for a relaxing beach vacation for your family or an adventure packed full of activities, you'll find plenty to do on Oahu.
For example, introduce the little ones to Hawaiian marine life by going on a submarine tour of the Pacific. Here, they'll get to peer out of the windows and see colorful coral reefs, hundreds of species of fish, and maybe even a sea turtle or two.
Hitting the beach is fun for the whole family, but, if you want to kick it up a notch, head to Ewa Beach, near Pearl Harbor. Here, you'll be able to jump on a steam locomotive (what toddler doesn't love a train?!) that will head down the tracks and back for a few miles.
And if you're visiting on a rainy day, take the little ones to the Hawaii Children's Discovery Center, where kids can play and learn through the interactive galleries, like the Hawaiian Rainbows, which teaches kids about why Hawaii is so special.
Where To Find Toddler Supplies
You can pick up supplies at chain grocery stores, like Foodland or Walmart, or pharmacies, like Long's Drugs. Most hotels are well-equipped with crib rentals, especially if you head to a resort that caters to families, like Disney's Aulani. Similarly, most popular car rental agencies, like Hertz and Enterprise, will rent out car seats.
---
37. Tennessee
– Recommendation by Itz a Family Thing –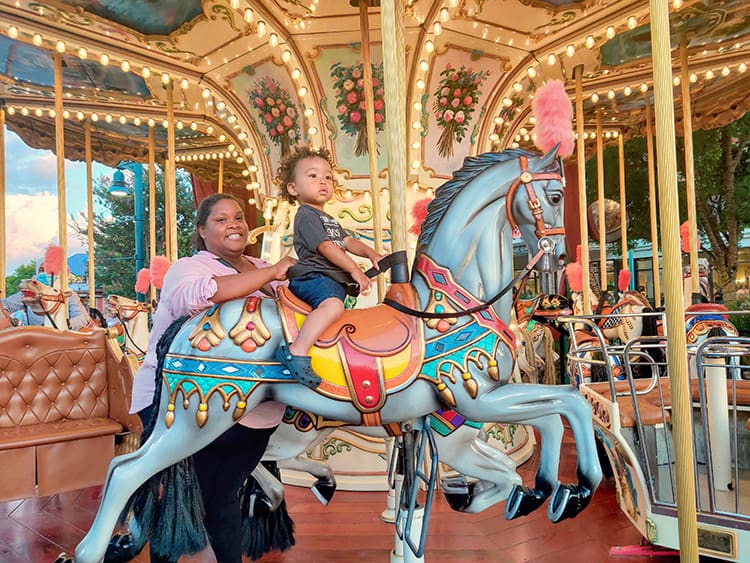 The best place to visit in the US with babies and toddlers is Tennessee. True to its reputation, there is Southern hospitality, fun things to do, and parks for little ones to run around and be kids.
Best Places To Visit In Tennessee With a Toddler
The best destinations in Tennessee for toddlers are Pigeon Forge and Chattanooga. There is something to do everywhere you look.
Some toddler-friendly attractions near Pigeon Forge include The Great Smoky Mountains, Dollywood, and the Soaky Mountain Waterpark.
If you visit Chattanooga, the little ones will enjoy Creative Discovery Museum, Tennessee Aquarium, or Coolidge Park.
Both cities are stroller friendly, but if you plan on visiting the National Park, a baby or toddler carrier is highly recommended.
Where To Find Toddler Supplies
It is also the perfect destination for little ones because you can buy anything you need for your little ones in Tennessee.
Overall, if you want a place that offers fun things to do just for little ones, Tennessee is the perfect place for your family.
---
38. Illinois
– Recommendation by Traveling with the Littles –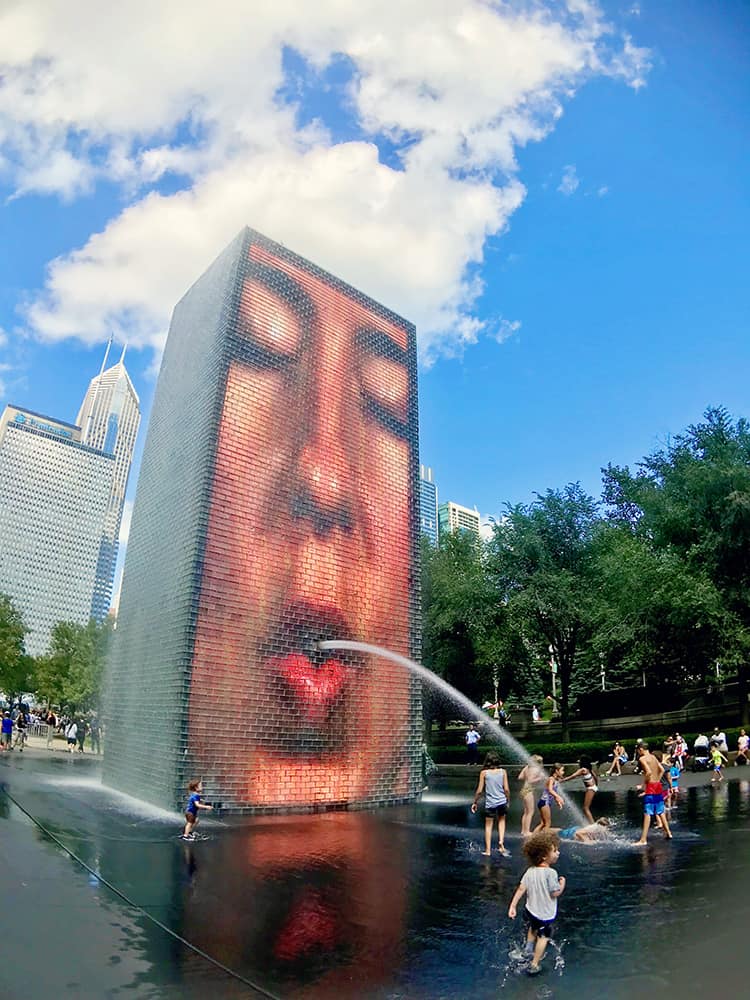 Illinois is a great toddler and baby-friendly vacation destination! When you think of Illinois, you likely think of Chicago; however, there are several other toddler-friendly vacation destinations in Illinois.
Best Places To Visit In Illinois With A Toddler
Hands down, the best place to visit in Illinois with a Toddler is Chicago. Chicago is a metropolitan city with all the amenities a family might need. There are indoor and outdoor attractions, and it is easy to source diapers, wipes, clothes, or anything you may need for your kiddos.
Lastly, visiting Chicago with a toddler is magical, as there is an endless supply of parks, recreation, and activity types to suit all ages and interests.
If you are in downtown Chicago, I recommend visiting Millennium Park. There's Crown Fountain, where kids can splash and play in the enormous fountains, or visit Maggie Daley Park, with seven distinct play areas suitable for all ages.
The Chicago museums are great for visiting with toddlers and babies as well. All of the museums have nursing rooms for moms and are breastfeeding-friendly.
If you love the great outdoors, Illinois has several toddler-friendly state parks. There are three fabulous state parks within 2 hours of Chicago.
Kankakee State Park is 1 hour south of Chicago; Starved Rock State Park is 1.5 hours southwest of Chicago, and Matthiessen State Park is 1.75 hours southwest of Chicago.
These parks are great for visiting with toddlers, as most trails are paved and suitable for strollers. Additionally, Illinois is pretty flat, so none of these parks have steep trails.
If visiting Starved Rock State Park, stay at the Grand Bear Resort for some R&R and their on-site waterpark.
Where To Find Toddler Supplies
In Chicago, it is easy to find toddler supplies such as diapers, wipes, snacks, medicine, and more. Simply pop into any drug store downtown to find whatever you need.
Common drug stores in Chicago and Illinois include Target, Walgreens, and CVS. Stop by Macy's in downtown Chicago to find clothes for an affordable wardrobe change.
If you need to rent car seats or cribs, try Baby Quip. You likely will not need a car seat in downtown Chicago; however, if you venture outside of downtown, you may.
---
Fun Places to Travel with a Toddler in Central, Southern, and Northern America
39. Mexico
– Recommendation by History Fan Girl –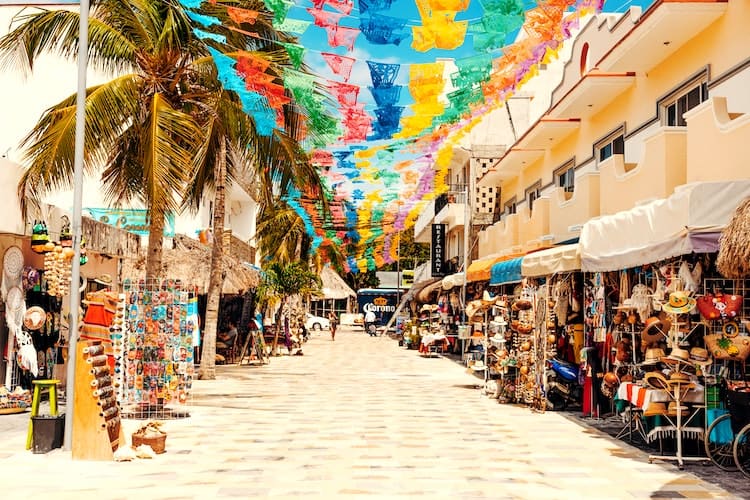 Mexico is a frequent destination for families wanting to dip their toes into international travel with their toddlers.
The coastal areas of the Riviera Maya and Mexico's west coast are dotted with family-friendly resorts, and even independent hotels generally have enough room to accommodate family groups in traditional hotel rooms.
Many resorts also have childcare options, which is perfect for families looking for a way to have an adults-only meal in the middle of their family vacation.
Restaurants in these regions are used to international travelers and have mixed menus, where you'll often find local cuisine next to french fries and chicken tenders – perfect for picky eaters!
The sun-and-sand focus of most of these vacation destinations is also great for families with toddlers, as you don't need to find a family-friend day trip to enjoy your time. Instead, you can relax at the beach as each adult takes their turn being in charge of the tiny chaos monsters.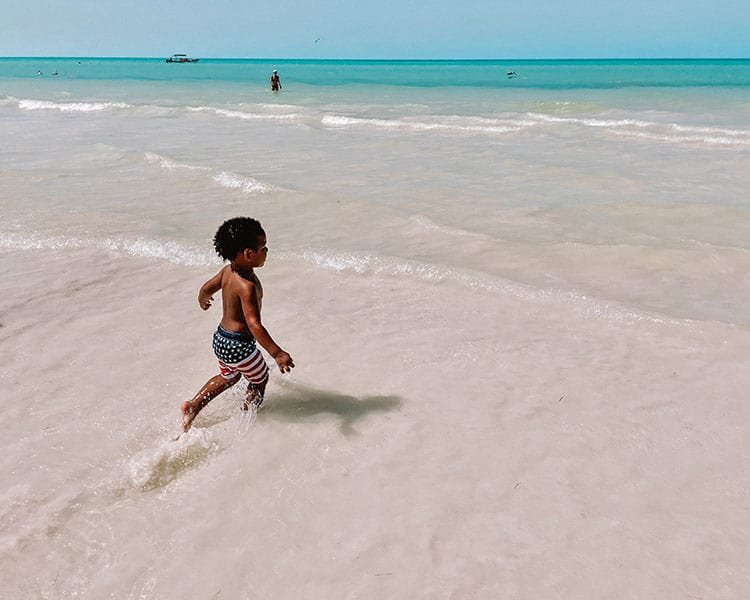 Places like Holbox and Cozumel are perfect for toddlers. Holbox due to its calm, shallow water, and Cozumel because of its compact, walkable town center.
Tip: Interested in checking out and/or booking a place to stay in Mexico? Take a look at all-inclusive Dreams resorts in Mexico here.
Best Places In Mexico To Visit With A Toddler
Cozumel
Holbox
Playa Del Carmen
Puerto Vallarta
Where To Find Toddler Supplies
Grocery stores carry most toddler necessities, while pharmacies are well-stocked and easy to find.
---
40. Canada
– Recommendation by Postcards to Seattle –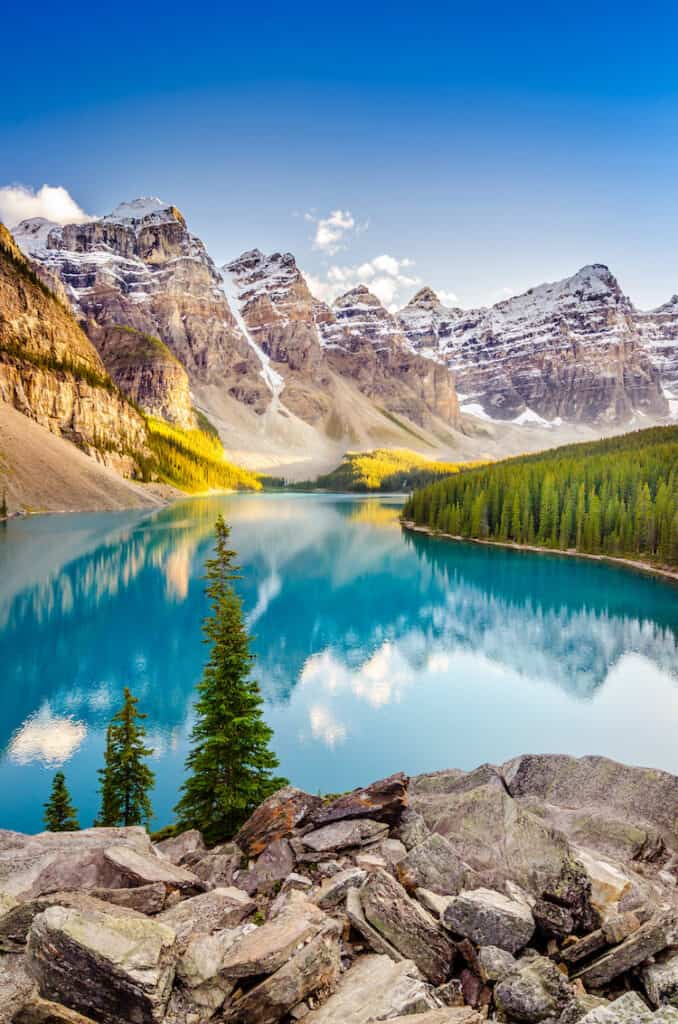 Canada is one of the most toddler-friendly vacation spots for multiple reasons.
They have a general kid-friendly approach with kids menus in most restaurants, having them welcome in many breweries and having many indoor and outdoor activities for them to enjoy.
Most restaurants have a changing station, which can be a lifesaver when you're in the middle of lunch in a different country and nature calls for your toddler.
Best Places In Canada To Visit With A Toddler
Vancouver has a lot for kids to do in a large, busy city. They'll love checking out the massive Vancouver Aquarium with giant glass exhibits with fish swimming by, touch pools, and more. Stanley Park is also great for them to get their energy out on one of the many trails or view the water.
Known as a ski town, Whistler is also an ideal place to vacation with toddlers and a popular weekend getaway from Vancouver.
Your kids can take ski lessons on the mountain while parents go on their own routes, or they can attend an indoor activity center where they'll be busy with fun activities for the morning.
Cows Creamery is a popular place to get giant ice cream cones that will impress them. There's also a movie theater for those cold, rainy days when they need entertainment.
Where To Find Toddler Supplies
Whistler has a grocery store right in town where you can find formula, diapers, and kid-friendly food.
There are also larger stores in Squamish, right between Whistler and Vancouver, where you can stock up on bulk supplies for cheaper. Vancouver is the best place to rent a car, where you can also rent car seats at the same time.
Canada is one of the best countries to visit with toddlers! It is a destination that is not only safe, but super family-friendly as well.
---
41. Aruba
– Recommendation by Pasta Pretzels and Passports –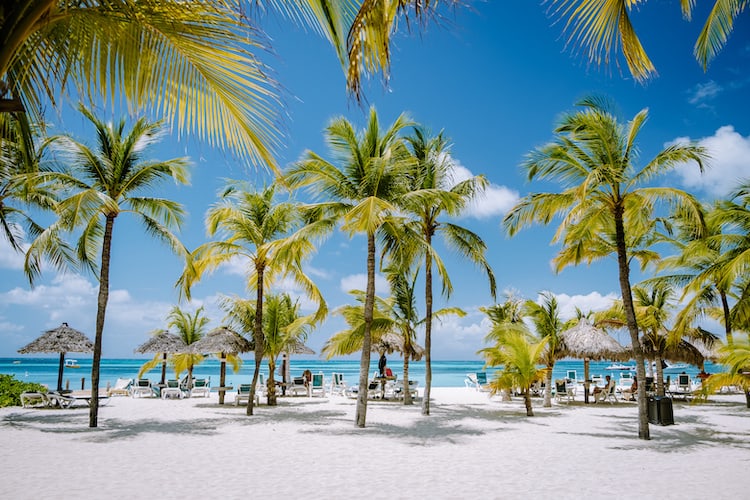 I will also edit their photo to make it more personal and we can add that somewhere else in their contribution
Known as "One Happy Island," Aruba is a small island in the Caribbean that is a great destination for families. From beautiful beaches to fun outdoor activities, there are plenty of things to do in Aruba with toddlers.
Best Places In Aruba To Visit With A Toddler
Aruba has some of the most beautiful beaches in the world. Baby Beach is one of the most popular beaches on the island for families with toddlers. With warm, shallow waters and calm waves, it is perfect for toddlers to play and splash around in.
Aruba also has many attractions that are suitable for toddlers. From the Butterfly Farm, where thousands of butterflies flutter around as you stroll through the habitat, to a donkey sanctuary where you are encouraged to feed and hug the animals, there are so many awesome experiences to be had.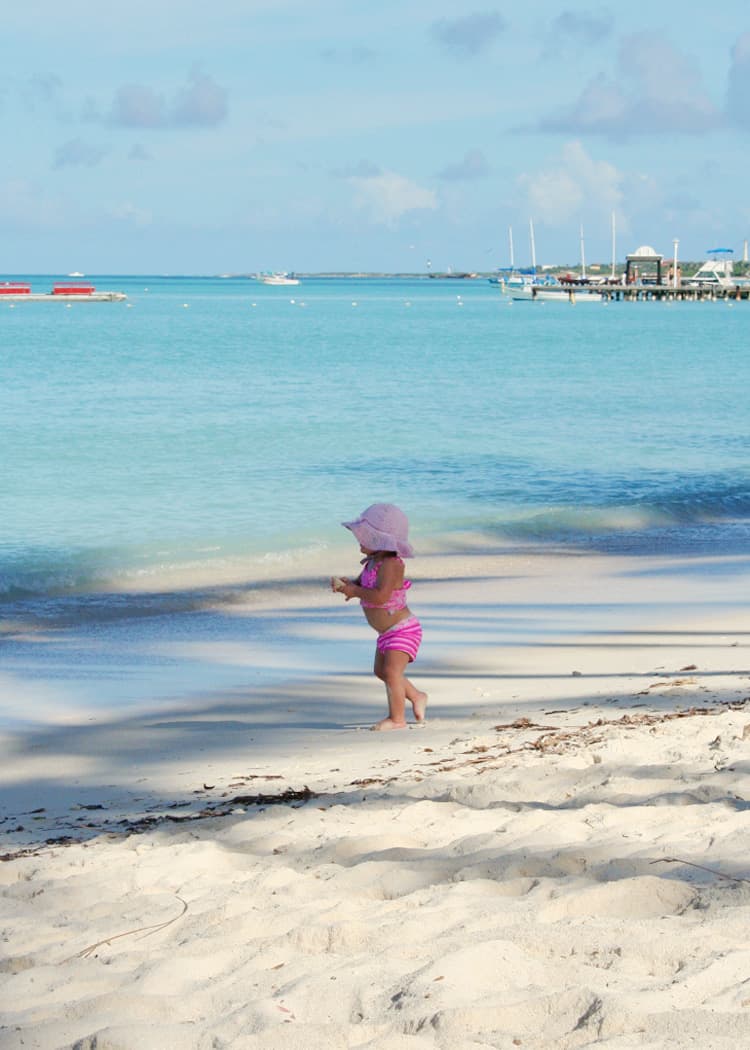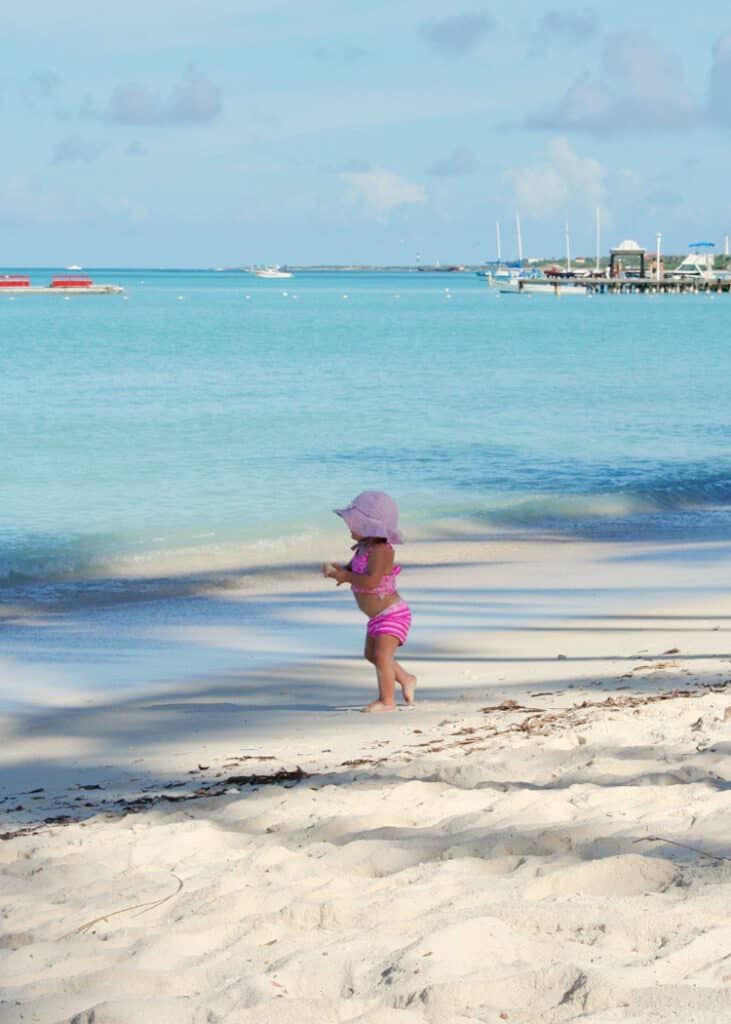 And don't forget to book your tour of De Palm Island. Toddlers will love the awesome waterpark, while parents will appreciate the variety of amenities including a restaurant and snack bar, free-to-use snorkel equipment, plus a variety of activities for older kids.
Where To Find Toddler Supplies
When it comes to toddler supplies, you can find everything you need in Aruba. There are several supermarkets and pharmacies on the island that sell diapers, wipes, and other baby essentials.
Some of the popular stores are Super Food Plaza, Ling and Sons, and Kong Hing Supermarket. You can also find baby supplies at many of the souvenir shops and gift stores on the island.
You will also find that most family-friendly resorts and hotels will supply a crib if you ask. Be sure to check before booking your accommodations to make sure that this is an option.
---
42. Colombia
– Recommendation by Mums on Flip Flips –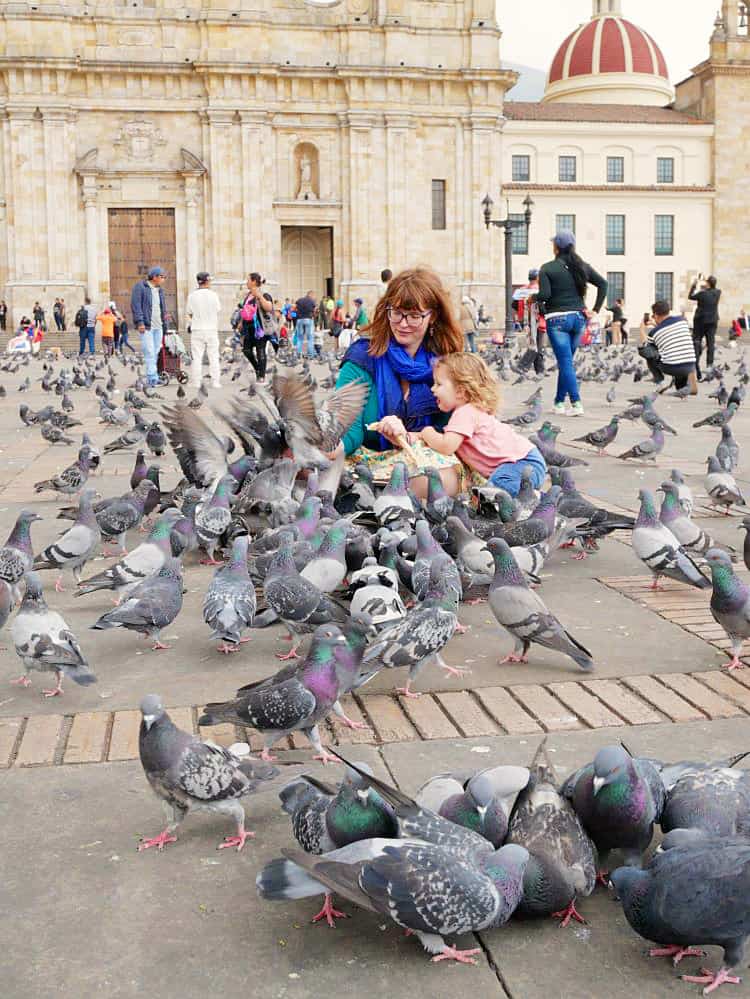 It might not be the most obvious choice, but Colombia is a safe and fun destination to visit with toddlers.
Colombians are crazy about kids and will want to touch your toddler and play with them everywhere you go.
Make sure to study up on the Spanish way of saying "don't touch them" if your little one doesn't like to be touched.
Breastfeeding is normal and widely accepted so don't let that stop you from discovering Colombia with small children. If you are wondering if that water is safe to drink in Colombia, you will be happy to know that it is, so you and your little ones can safely use it.
Best Places To Visit In Colombia With A Toddler
Bogotá is a logical stop on your itinerary that comes with some really fun things to do such as the Botero Museum, feeding the pigeons at the Plaza Mayor, or taking the funicular to Cerro de Monserrate.
Salento is a tiny village that has some cool opportunities for little people such as riding the local 'willies' and climbing the fallen huge palm tree at the Cocora Valley
Cartagena is a charming old town. The city is pedestrian only so let your toddler lead the way through the maze of cobblestone streets. The bay in the Northern part of the city is small and quite busy but has shallow waters that are excellent for toddlers.
Where To Buy Toddler Supplies
In big shopping malls, you might find high chairs and diaper-changing tables, but it's not common.
Don't forget to bring your own changing mat and a travel high chair if your toddler likes running away more than they like their food.
Shops are everywhere and both formula and diapers are easily available.
You can ask for travel cribs but not every hotel will have them available, so it's best to bring your own.
---
43. Costa Rica
– Recommendation by Our Off Beat Life –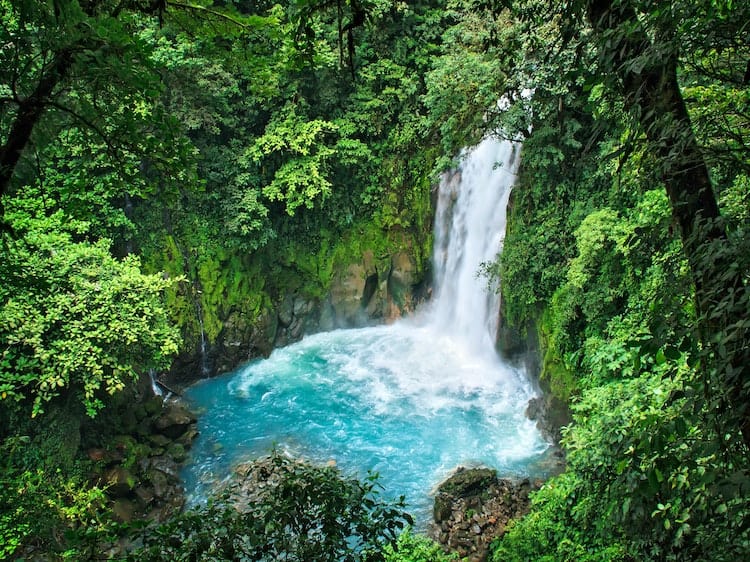 Costa Rica is a great vacation spot for families with kids, including toddlers. The culture in Costa Rica loves babies and toddlers, and they don't mind busy kidlets running around or being a bit noisy.
Breastfeeding or changing a diaper can be done in public without any judgment, as the culture is very accepting of babies and kids in everyday life. Restaurants usually have kids' menus, toddler-friendly food, and even high chairs.
Tip: Wondering about where to stay in Costa Rica? Check out an all-inclusive family Dreams Resort in Costa Rica here.
Best Places In Costa Rica To Visit With A Toddler
Manuel Antonio National Park is one of the best places to visit with a toddler in Costa Rica. This park offers plenty of activities that are suitable for small children, such as swimming, easy wildlife watching, and exploring nature trails.
The Sloth Trail is even paved which makes it great for strollers, and the trail to the beach is on a smooth wooden bridge.
Where To Find Toddler Supplies
In Costa Rica, finding supplies for your toddler will be easy. Diapers, formula, and food can all be found at any local grocery store. They even have common US snack brands, and fruit is always easily available.
Plus, there are many pharmacies throughout the country that offer a wide range of products specifically designed for babies and toddlers from post-swimming ear infection prevention drops to diaper rash ointment.
---
Summary Of The Most Toddler-Friendly Vacations
We hope that this complete list of the ultimate toddler-friendly holidays abroad has been helpful in planning your next toddler holiday.
From the best toddler holidays on beaches to cities with play parks, no matter where you decide to travel, it will be one of the best vacations for toddlers that you have.
If you want to know more about traveling with a toddler, and what essentials you will need for the best holidays for toddlers, be sure to check out our Toddler Travel Blog full of information to help make traveling with a toddler easy and fun.