Kyoto! Kyoto was my main reason for wanting to visit Japan!
A city full of numerous classical Buddhist temples together with easy access to some sensational traditional Japanese Gardens!
Not even to mention the imperial palaces, Shinto shrines and of course the gorgeous pockets of traditional wooden houses.
If ever you were hoping to see a Geisha quietly hurrying down a dark alley, then this is the city and the perfect Kyoto itinerary for you!
Why do you want to visit Kyoto? What is your main reason for going there?
We found Kyoto to be one of the most expensive cities in Japan when it came to accommodation! It was really hard to find family accommodation that was available and affordable!
We saved a lot of money by renting our accommodation through Airbnb instead!!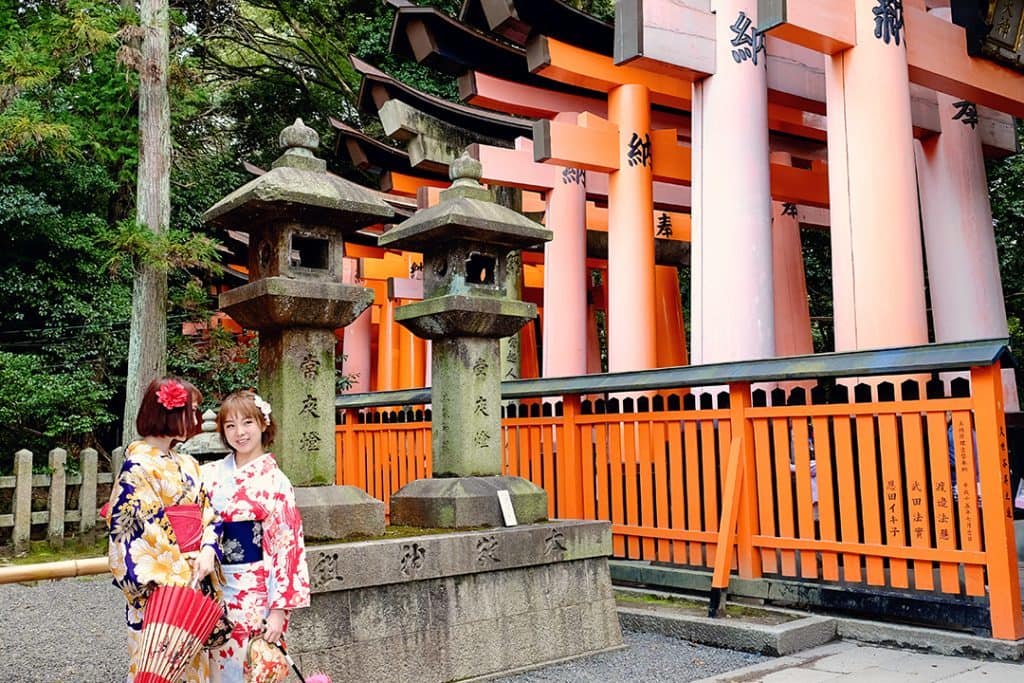 Not only did we have a lot more space (2 bedrooms in fact!), but we also got to meet some of the locals in our neighborhood which were fabulous! (More on our Airbnb stay towards the bottom of the post!)
Definitely, the more affordable way to travel with kids around Japan!
---
How Many Days in Kyoto?
We highly recommend that you dedicate at least 3 days to Kyoto!
Although honestly if you can manage to set aside 5 days, it would give you time to enjoy Kyoto rather than merely rushing from one Kyoto tourist attraction to the next!
The one thing we underestimated was the size of Kyoto. You will be spending a lot of your time on public transport as you make your way from one Kyoto highlight to the next.
---
3 Days in Kyoto – The Perfect Kyoto Itinerary!
Below is a perfect 3-day Kyoto itinerary to help you plan your trip when visiting Japan.
DAY 1: Exploring Arashiyama and the Stunning Fushimi Inari Shrine
Arashiyama is a district on the western outskirts of Kyoto, Japan.
For most of you, that means that you're generally looking at about a 30-minute trip to get there!
You will see plenty of tourists at Arashiyama and you can simply follow the masses out of the door of the train station and walk down the main street toward the two main Arashiyama highlights, the Arashiyama Bamboo Grove and Tenryu-ji Temple.
1. The Kimono Forest of Arashiyama
Make sure to pop into Randen Arashiyama Station on the way to the Bamboo Grove.
This station holds many little secrets, one of which is the colorful Kimono Forest!
I believe that there are over 600 pillars here!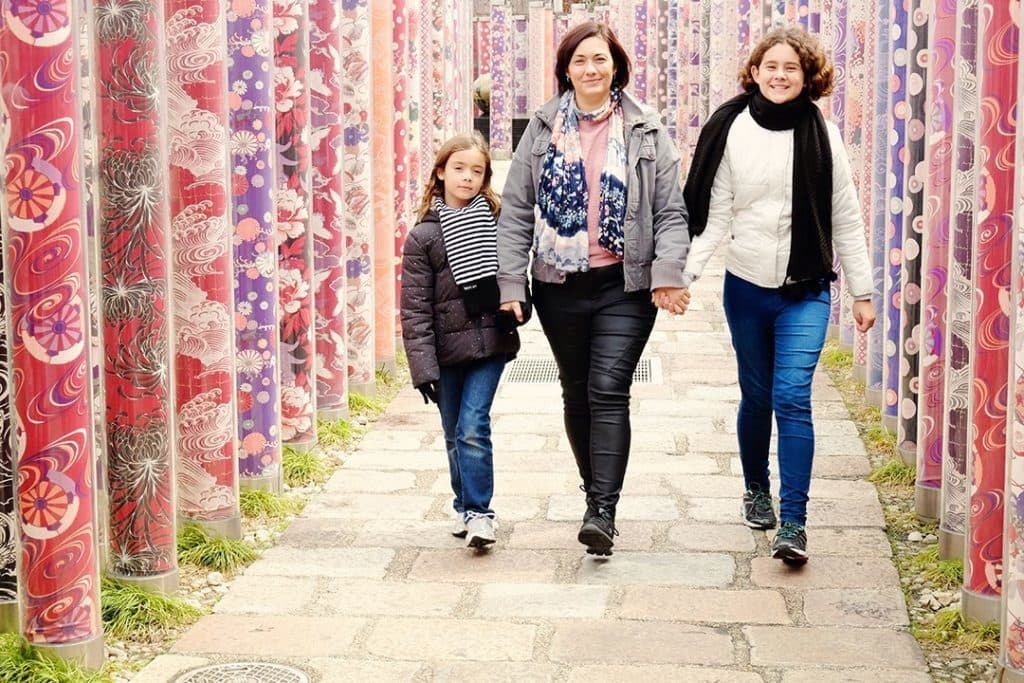 So grateful for our washing machine at our Airbnb!! Clean clothes on holidays always make me happy!!
The Kimono Forest is especially beautiful at night as all the pillars are lit up creating a bit of a magical kimono wonderland.
So if you are staying in the area, why not pop by again after dark?
2. Arashiyama Bamboo Grove
The beautiful Bamboo Grove is one of the most photographed places in Kyoto!
I must admit that it was one of the Kyoto highlights that I was looking forward to the most!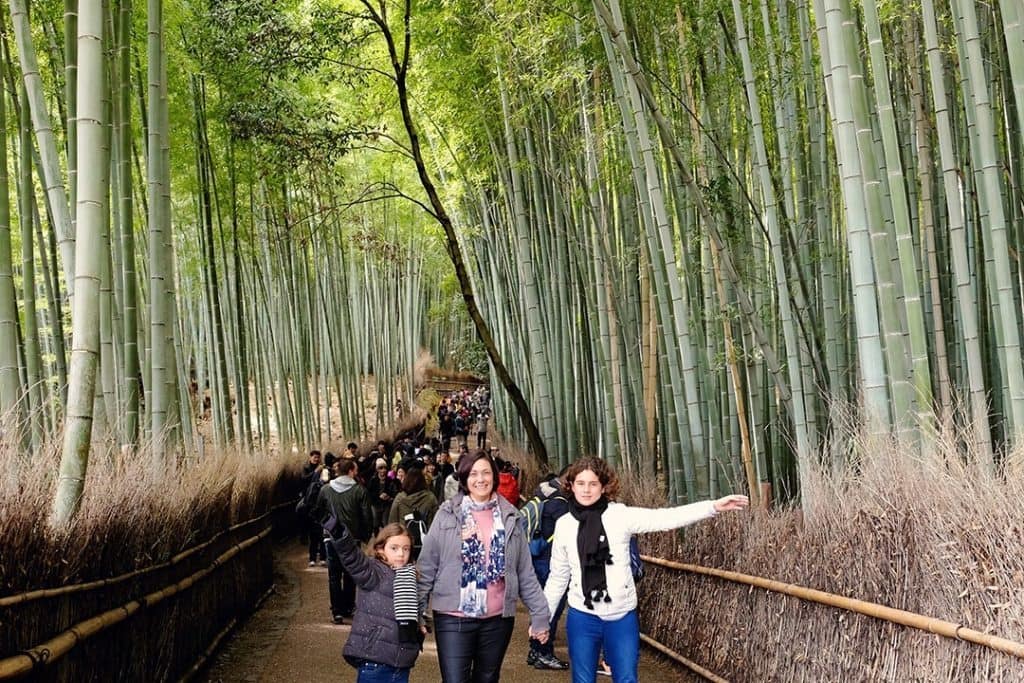 The Arashiyama Bamboo Grove is really stunning and easy to access!
Unfortunately, our visit to the grove coincided with not only a weekend day but also with the school holiday season in Japan!
As a result, the Grove was absolutely packed with people and it kinda destroyed the peaceful vibe I was expecting to find at the Bamboo Forest!
Regardless, we loved our stroll around Bamboo Grove!
But if you can try to head over to Arashiyama in the early morning hours and on a weekday so that the experience is a bit more relaxed.
3. Tenryu-ji Temple
If the Bamboo Grove isn't enough reason to make a journey out to Arashiyama, then surely the UNESCO World Heritage-listed Tenryu-ji Temple makes the trip all worthwhile!
The Tenryu-ji temple lives adjacent to the Bamboo Grove; it is a stunning Zen temple with one of the finest gardens in all of Kyoto.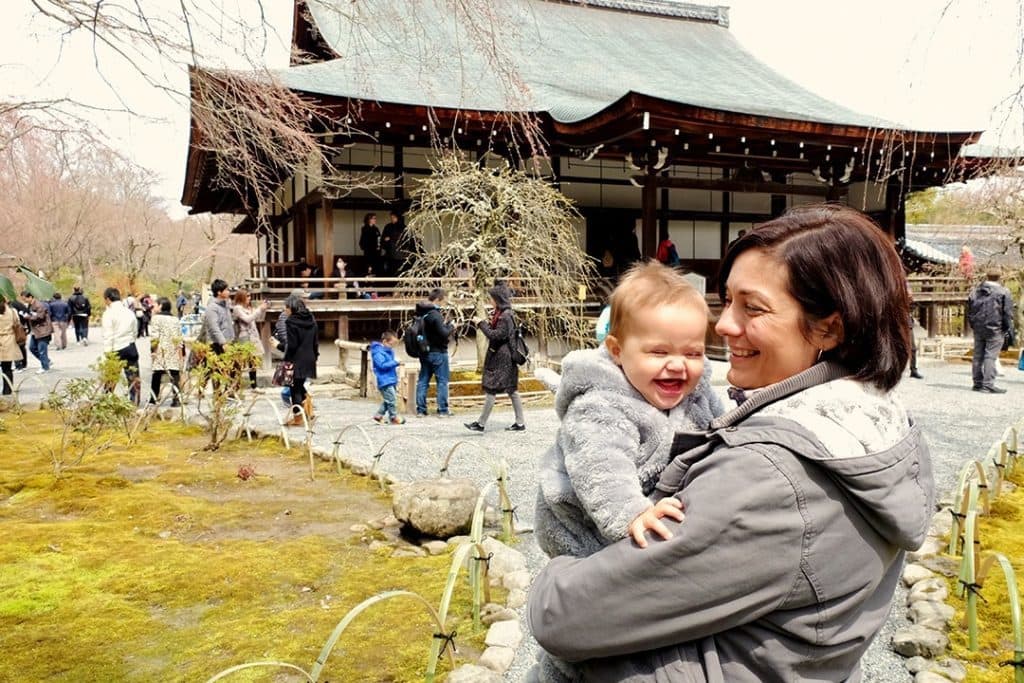 I think it is easy to get lost and forget all about the time at the temple!
If you are running ahead of schedule, pop into the stunning Ōkōchi Sansō villa for some tea!
4. Fushimi Inari Shrine
After lunch, make your way back to the JR train station at Arashiyama.
Hop on a train and head south of Kyoto to Fushimi Inari Shrine.
This important Shinto shrine sits at the base of a mountain. The stunning tightly packed torii gates form a tunnel that you can follow all the way to the top of Mount Inari!
There are over thousands of vermilion-colored torii gates; it truly is very impressive!!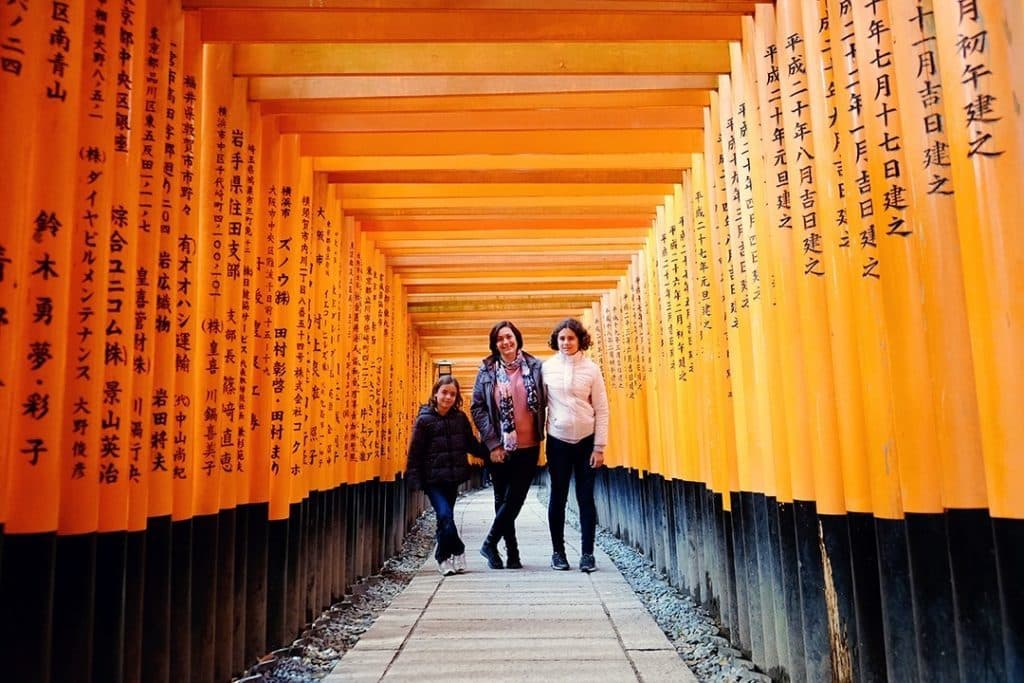 The whole walk to the top of the mountain will take you around 2-3 hours, so if, like us, you are a bit strapped for time, we recommend you enjoy walking through the Torii tunnel for around 30 min before turning around and making your way back down! –
---
DAY 2: Northern Higashiyama and the Gion District
1. Ginkaku-ji Temple | Temple of the Silver Pavilion
Ginkaku-ji Temple is also known as the Silver Pavilion and happens to be one of the more famous temples in Kyoto!
Funny thing is, this temple doesn't have any touches of silver on it as it never received its plating in silver!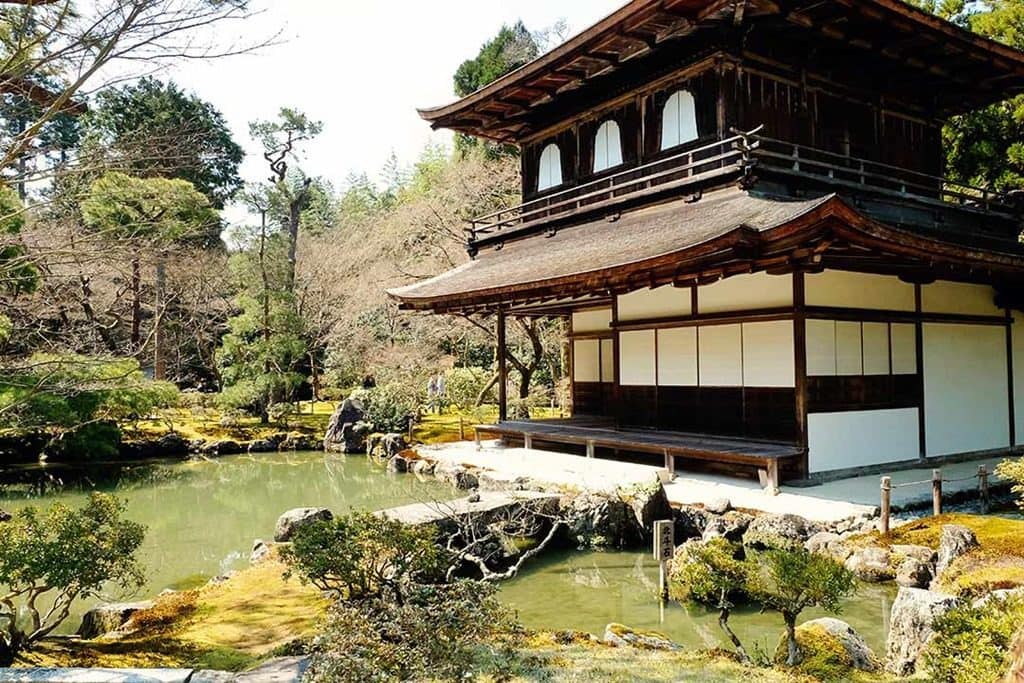 You won't need long at Ginkaku-ji Temple.
The pathway from the temple to the exit will take you past raked gardens and beautifully manicured Japanese gardens and ponds!
2. The Path of Philosophy (Highly recommended at Cherry Blossom Season)
The Path of Philosophy is a popular blossom viewing spot in the northern Higashiyama area of Kyoto.
In Sakura Season this path is completely breathtaking. The trees wrap up and around each other, creating almost like a tunnel of cherry blossoms for you to walk under.
The atmosphere is totally incredible!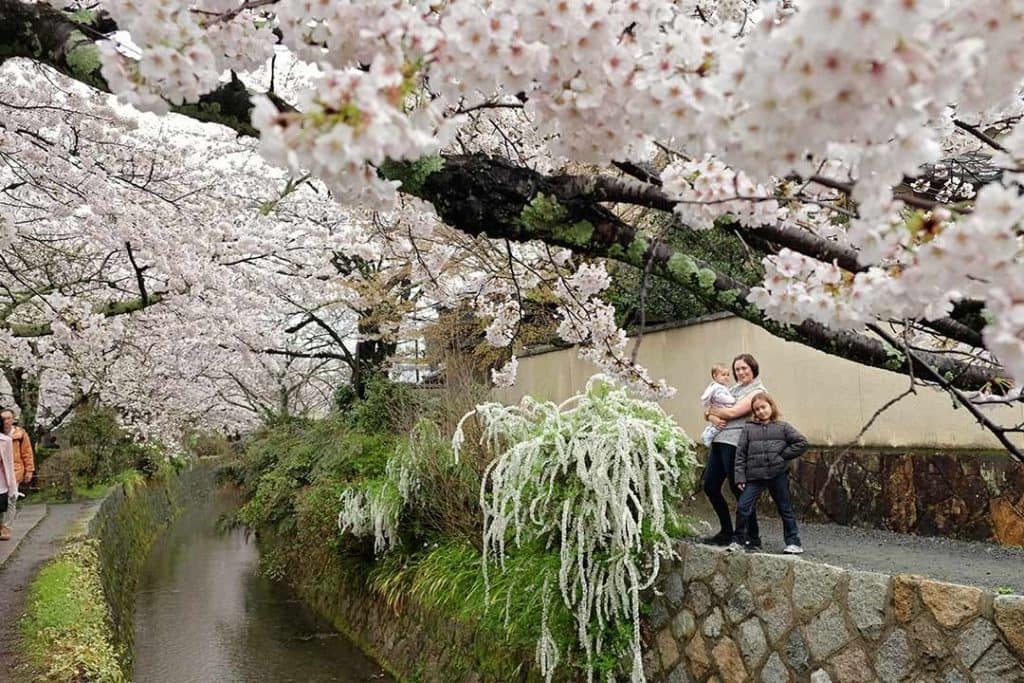 Whilst the path really is more about the cherry blossoms, you might wish to leave it in the itinerary, even if the trees are not in bloom, as the path takes you from Ginkaku-ji Temple down to Nanzen-ji Temple.
You could alternatively save a bit of time here and simply catch a taxi!
Further Reading: Find out where the best places around the world are to see Cherry Blossoms.
3. Nanzen-ji Temple
At the end of the Path of Philosophy, you will find one of the most important Zen temples in all of Japan.
Nanzenji's history dates back to the mid-13th century.
The enormous 2-story Sanmon gate at the entrance was built in 1626, and there is even a red-brick aqueduct that was built in 1890.
A destination so full of history!
To make your way to Gion, either catch one of the local busses or grab a taxi.
4. Shimbashi Street
It is said that Shimbashi is the single most attractive street in all of Asia! Pretty impressive huh!
The street is even more beautiful at Cherry Blossom season and is best seen in the late afternoon or at night when the gorgeous paper lanterns are alight!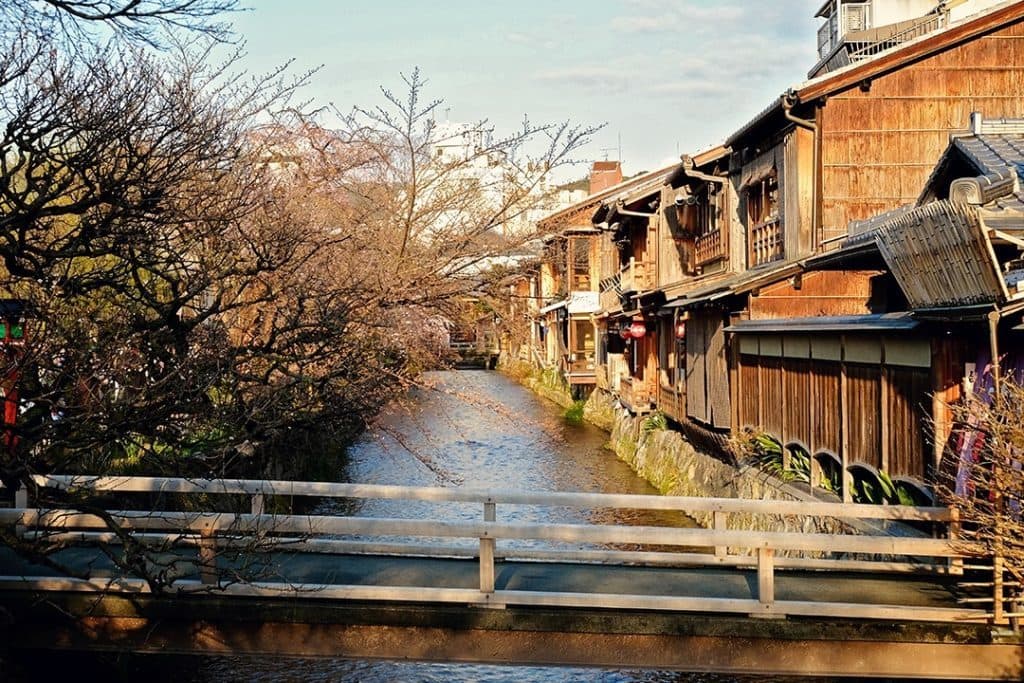 We found out about this gorgeous street, thanks to the handy guidebooks that our Airbnb host left us!
If you have time, do go back here at night to see if you can spot some of the real Geisha or Maiko who will be quietly rushing past and disappearing into one of the many tea houses (ochaya)!
If you have a phone with internet, you can easily stroll over to the main Gion district from here – simply look up street Hanamikoji.
5. Gion District
The Gion district is also known as the Geisha district of Japan! It is the soul of Kyoto.
A timeless district where dark wooden ochaya's accompany your every step! This area has preserved the customs and the appearance of medieval Japan!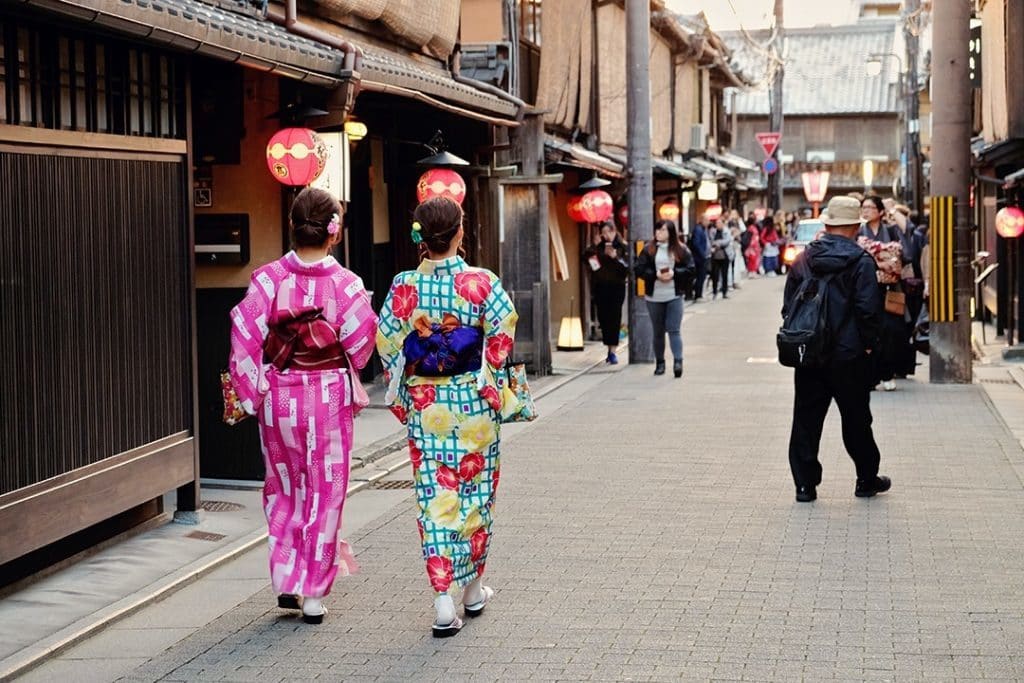 Gion was truly busy when we were there and so we highly recommend you wander down one or more of the little side streets to get a true sense of the old-Japan!
At night time the lanterns come on and you will most likely also spot one of the real Geisha, who will very quickly and quietly make their way to a nearby teahouse!
I don't think you can go to Kyoto, without visiting the Gion District!
---
DAY 3: Southern Higashiyama, Nijo Castle, and the Golden Pavilion
1. Kiyomizu-Dera Temple (Check on Construction though!)
Kiyomizu-Dera Temple is one of Kyoto's most famous landmarks.
It happens to be one of the best temples in Kyoto and honestly is probably one of the most unique ones!
The view from Kiyomizu's huge wooden verandah is gorgeous, especially during the Sakura season as well as in Autumn!
Unfortunately when we visited this temple was under scaffolding, so it might be best to check the Japan Guide Under Construction post to see if it is worthwhile to visit!
2. Ninen-zaka and Sannen-zaka Streets
Just downhill from the beautiful Kiyomizu-Dera Temple you will find one of Kyoto's loveliest restored neighborhoods.
Two of the prettiest streets here are Ninen-zaka and Sannen-zaka!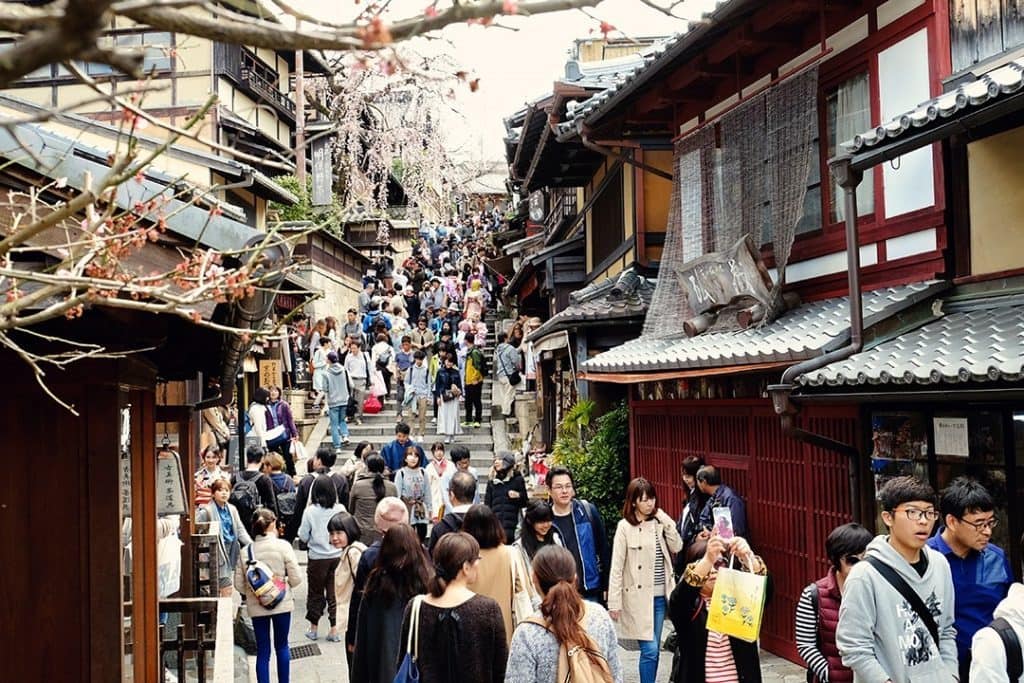 The streets are lined with gorgeous wooden shops and restaurants!
You will also find the single most atmospheric teashop in the city Kasagiya, so look out for that as well!!
As it was Cherry Blossom season on our trip to Kyoto, these two streets were absolutely packed with people!
Regardless, they were still sensational to see, so much so, that we went up and down the two streets a few times simply with the aim to try and absorb it all in.
Catch one of the local buses or grab a taxi and make your way to central Kyoto to Nijo Castle!
3. Nijo Castle
Nijō Castle is very different from the many other castles in Japan!
This castle is a flatland castle and it lacks the extremes in fortification in comparison to the other castles.
"After the Tokugawa Shogunate fell in 1867, Nijo Castle was used as an imperial palace for a while before being donated to the city and opened up to the public as a historic site.

Its palace buildings are arguably the best surviving examples of castle palace architecture of Japan's feudal era, and the castle was designated a UNESCO world heritage site in 1994."

(Quoted from Japan Guide)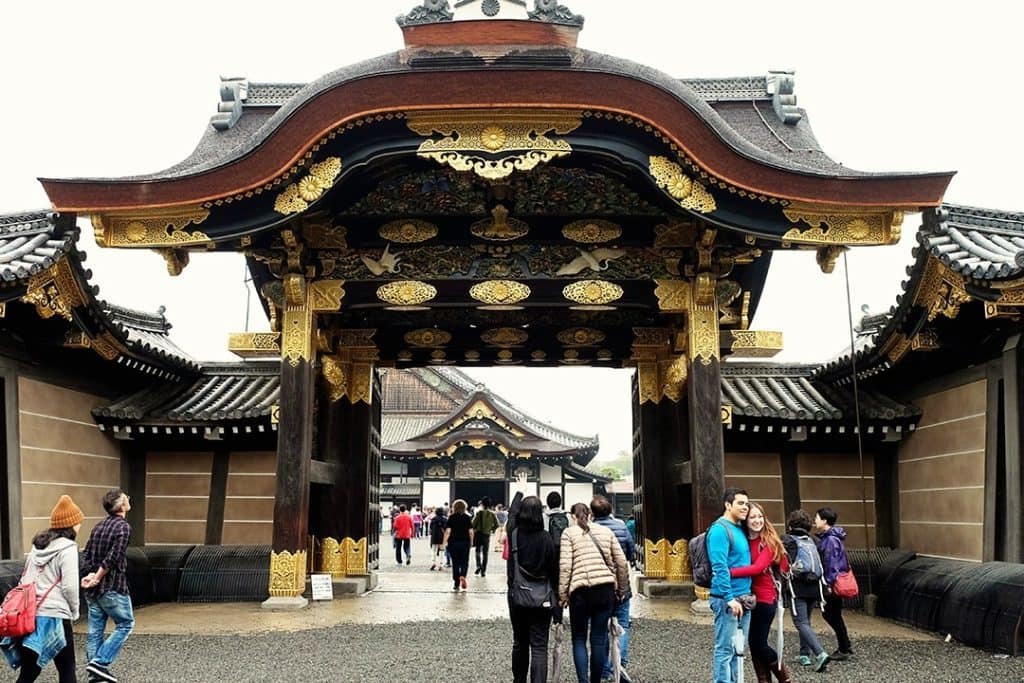 You can go for a walk through the palace where you can see a lot of gold-painted walls and sliding doors.
They keep these sliding doors closed now, to preserve the walls, but I can only imagine how stunning those gold walls would be with the morning sun rays lighting them up.
To make your way to the stunning Golden Pavilion, better known as Kinkaku-ji, catch one of the local buses or grab a taxi.
4. Kinkaku-ji | Temple of the Golden Pavilion
Kinkaku-ji must be the best temple in Kyoto!
It is one of the most popular buildings in Japan and attracts a large number of visitors.
I'm sure you will understand the scale of the crowd of tourists when you stand in the long queue simply trying to get into the temple grounds.
Of course, this temple is so famous because of its glorious gold-plated exterior!
It is especially stunning in the late afternoon when the sun reflects off those gorgeous walls.
For me, a trip to Kyoto would not have been complete without visiting this iconic site.
Read more about Kinkaku-ji on Jusz Travel's site.
---
Where to Stay in Kyoto – Our AirBnB Accommodation
To make life more affordable in the expensive city of Kyoto, we decided to rent an Airbnb for our family stay.
Instead of being crammed into a tiny hotel room, we ended up renting a home with 2 bedrooms for our little family of 5! And to think that we got all of that for around 1/2 the price of small hotel rooms!! Bargain!!
Of course, if you are traveling without kids, you might also want to look at the cheaper options of staying in one of the hostels in Kyoto.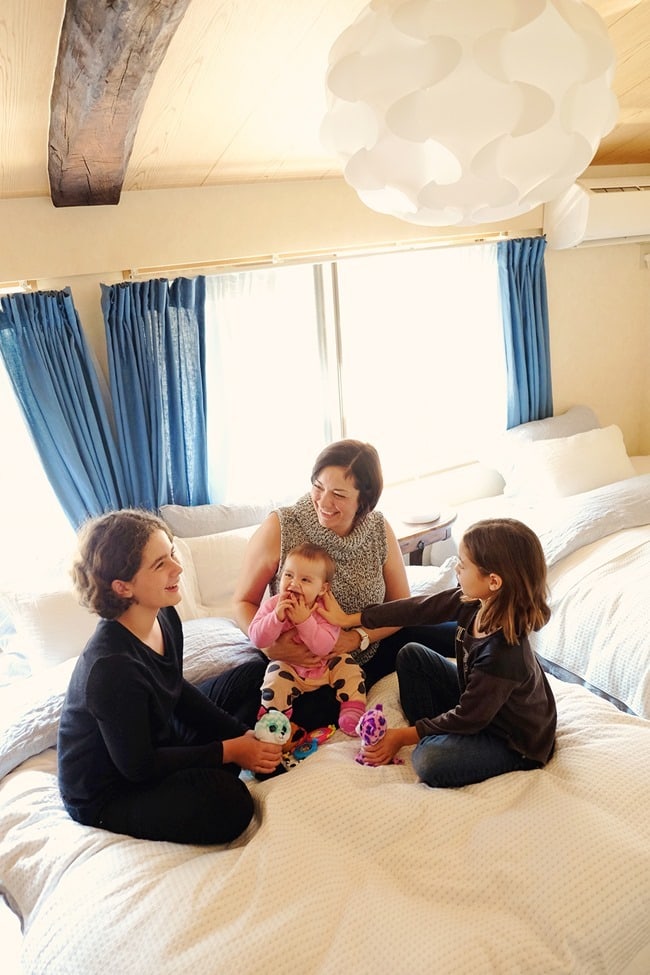 Our Airbnb was in a quiet little residential neighborhood in central Kyoto!
We had access to a bus stop close by and the train station wasn't too far away either!
The location was great as we got to experience local life in a normal everyday neighborhood. Our host also popped by to ensure that we had everything we needed, she was lovely!!
We especially loved all her personal touches around the home, such as the guidebooks, maps, free local Japanese treats, and more!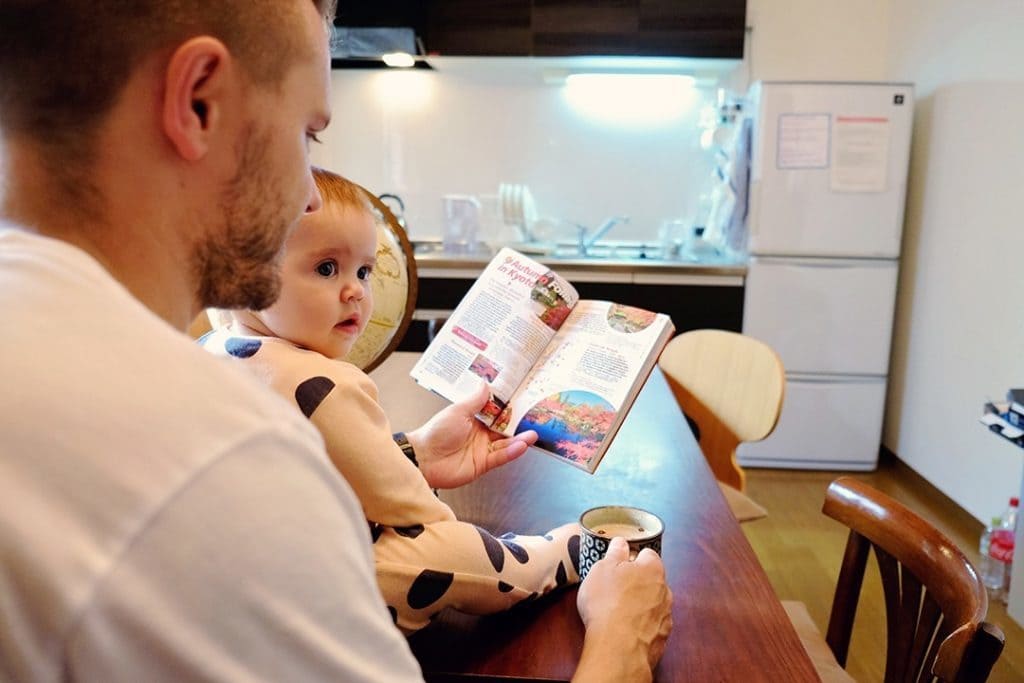 We made use of the kitchen!! Our kids were struggling with Japanese cuisine!
So we were so thankful for the kitchen where we could cook our own breakfasts and dinners.
We generally don't like to cook on holidays, but this time around the kitchen honestly was a blessing in disguise.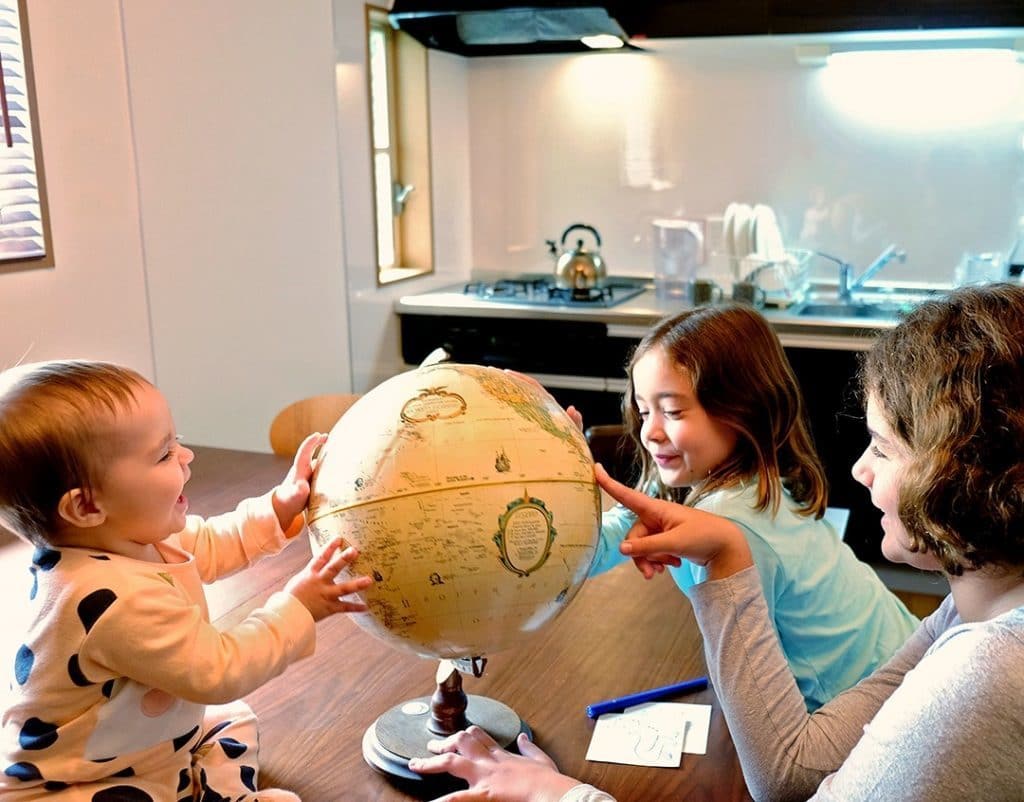 We also made use of the washing machine and got caught up on our washing for the holiday.
In comparison to the expensive charges of the hotels elsewhere access to a free washing machine was worth the bit of work to do the washing ourselves.
If we ever return to Kyoto, we would definitely stay here at Hazuki's place in a heartbeat. –
Reasons why you will love staying in Airbnb Accommodation:
You typically have more space than in comparison to a hotel. Especially essential for us as we travel around as a family of 5!
You generally have a kitchen, which means that you can cook your own food. This will most likely keep your kids happy and help keep the costs down as well!
You often have access to a washing machine that you can use free of charge. We love washing our clothes before heading out and coming back to clean dry clothes!
---
Time for You To Plan Your Perfect 3-Day Kyoto Itinerary
Here are some summary points to make planning your itinerary for visiting Kyoto easy:
Further Reading: Kyoto Fox Shrine by Inspired by Maps.
The fastest access from Kyoto Station to Arashiyama is provided by the JR Sagano Line (also known as JR Sanin Line). If you use your JR Pass this transit will be 'free'.
Make sure that wherever you chose to stay, there is easy access to either a bus stop or a train station.
Traveling with your kids? Click to see a helpful post on how to explore Kyoto with kids.

We do highly recommend that tourists purchase a JR Pass prior to arriving in Japan! It will very mostly save you loads of money on train travel whilst in Japan!!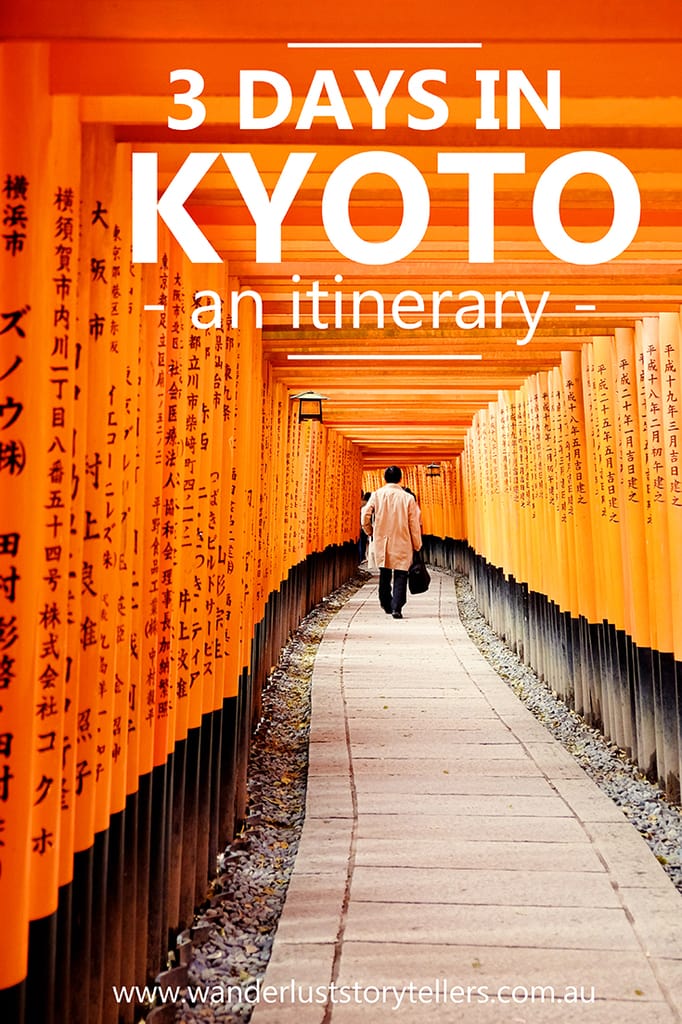 Kyoto! A city full of numerous classical Buddhist temples together with easy access to some sensational traditional Japanese Gardens!
How many days are you planning on staying in Kyoto? Will you book an Airbnb before or a hotel?
Inspired to travel more click here for more ideas of where to travel next.