Are you wondering where to travel with a baby?
In this article, you will find a list of the best places to travel with a baby and additional helpful information on choosing the perfect destination.
Just because you have a new baby doesn't mean you have to be stuck at home. Now is a great time to make memories with your little one and travel the world!
A baby can make an excellent travel partner! They can easily be strapped into a baby carrier or stroller, will fall asleep virtually anywhere, and overall will enjoy being with mom and dad.
That doesn't mean it will always be easy to travel with a baby, but in my opinion, it will always be worth any challenges.
We love traveling with our baby as we scout out the best places to visit with an infant.
The trick is to choose the best destinations for your little one, and fortunately, there are some brilliant baby-friendly holiday destinations worldwide.
Knowing the best places to travel with a baby allows you to select the best baby-friendly countries to visit to ensure your trip will run as smoothly as possible.
---
27 Best Places to Travel with a Baby in the World
Wondering where to travel with your baby?
In our opinion, the best countries to visit with a baby in USA, Australia, South Africa, Japan, Italy, and the UK, but you can find more ideas on our list down below.
But first! Sign up for our 'Wanderlust Storytellers Family Tribe' newsletter to get loads of helpful information about how to travel with a baby!
---
1. Tuscany, Italy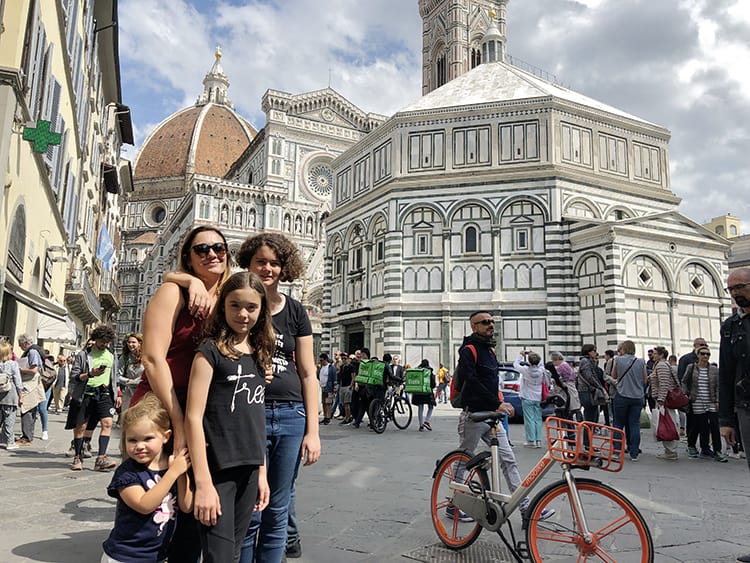 For one of the best holiday destinations with a baby or even older kids, head to beautiful Italy!
Children are adored in this country, and you will find that Italians will often go out of their way to help parents. And expect them, to come to say hello to your little ones too.
Italy is one of the best places to go on holiday with a baby. It is easy to find some beautiful family-friendly accommodation options.
We chose Tuscany for our list because it has plenty of stroller-friendly destinations.
I recommend you choose either Florence or Lucca for a home base. Both cities are great for strollers, although we recommend a stroller with large cushioned wheels to handle bumpy or cobble-stone roads.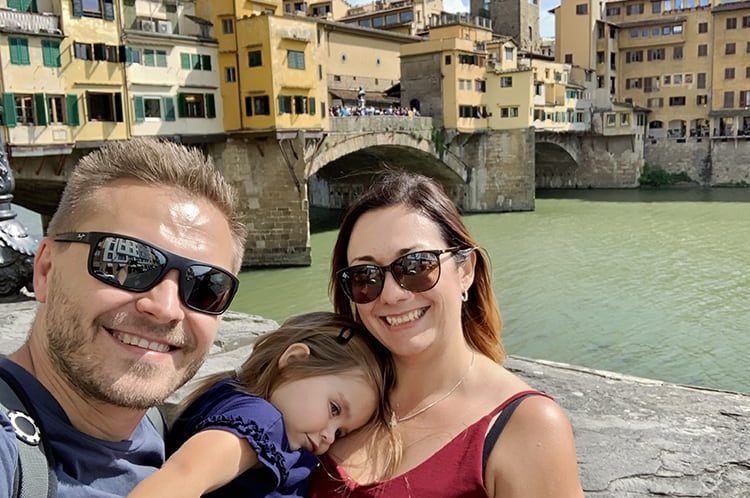 Florence has plenty of playgrounds for older babies and toddlers, and the restaurants typically can prepare a small plate for younger kids or a simple pasta dish (when Avie was a toddler, she often had simple pasta and butter).
You can also find many beautiful small towns scattered through Tuscany that will allow you to explore this region of Italy without the masses of tourists.
Recommended attractions in Tuscany that you should see with your baby include the Leaning Tower of Pisa and The Boboli Gardens.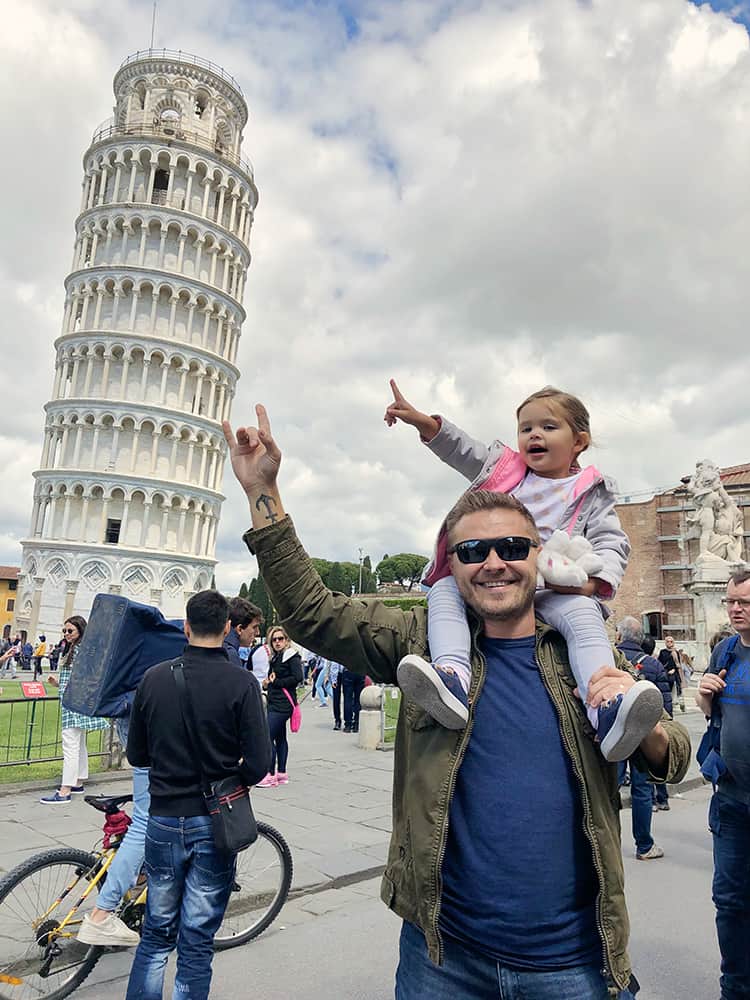 If time permits, you should also visit Capo Sant'Andrea on Elba Island (make sure to take baby beach shoes if you are planning to spend some time on the beach).
Personally speaking, Italy is arguably the best place to travel with baby options for us so far, as well as one of the best baby-friendly travel destinations and baby-friendly countries.
Tips:
Bring your baby carrier along, as you will often find stairs at the main attractions in Italy.
Always have a baby change mat on hand, as change tables in public restrooms are rare.
You can rent a stroller in Italy, and check out sites such as TravelBaby.It and BabyGuest.com.
Pre-book your taxi online, that way, you can request a baby car seat for the transfer as well.
Where to Stay in Tuscany with a Baby:
We recommend basing yourselves in either Florence or Lucca (cheaper) and then planning your day trips from there.
Best Place to Stay in Florence with a Baby:
Best Hotel: For a fantastic stay I would choose MyFlorenceHoliday Gold Bridge. Their family room includes a cot and high chair and has a kitchen area where you can prepare bottles etc. The hotel is located 100 meters from Ponte Vecchio.
Best VRBO: I love The Time Machine apartment which is located next to Palazzo Vecchio. It has 2 bedrooms and includes a travel crib, high chair, and dishes & utensils for kids- it also has a lift to the apartment which is on the second level.
Best Place to Stay in Lucca with a Baby:
Best Hotel: The 4-Star Hotel Ilaria has a triple room that includes a cot. This popular hotel is located in the historic centre of Lucca.
Further Reading:
---
2. Japan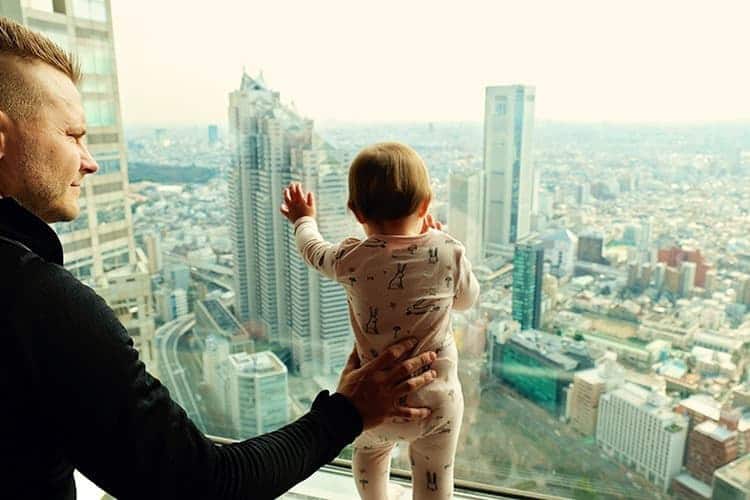 Wondering where to travel with a baby in Asia? Japan is one of the best places to travel with an infant in Asia.
This destination is very baby-friendly. You can easily choose from some of these great destinations in Japan perfect for first-timers.
"Baby Cafes" located throughout Tokyo have childproof areas and food for mom and dad to purchase.
There are also family rooms throughout (mainly in the larger supermarkets) around, the larger cities where moms can nurse or change their babies.
Baby supplies are available from pharmacies, and let's not forget how clean the country is (you won't see rubbish anywhere!).
Tips:
Bring your baby carrier along and leave your stroller at home.
You will typically find beautiful baby rooms in the larger supermarkets.
Public restrooms should have change tables and a parent-friendly toilet with a baby highchair, so you have somewhere to pop baby while you do your business.
Choose Airbnb over small hotel rooms.
For toddlers, we can highly recommend some popular theme parks such as Tokyo Disneyland and Universal Studios Japan.
READ MORE: See our helpful post on how to visit Japan with a baby
---
3. London, England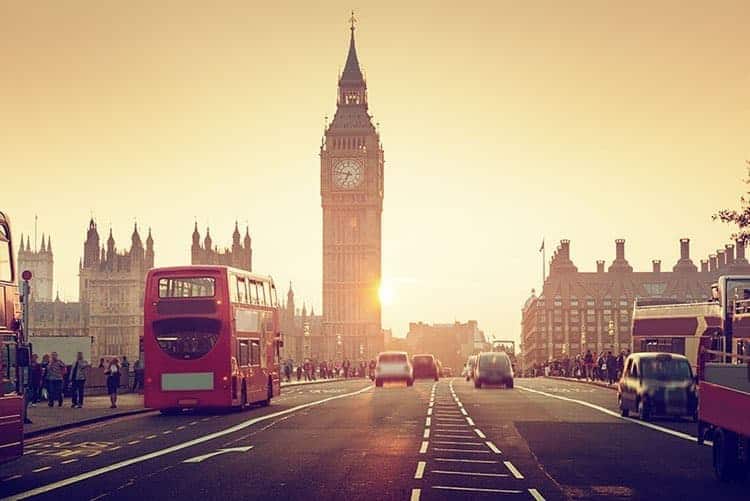 London is one of the best places to travel in Europe with a baby.
This city has parent rooms and changing facilities readily available, making it a great place to visit with a baby.
Many sights can easily be accessed by public transportation or on foot. We love how easy the city is to navigate with a stroller; simply use the step-free Tube map to navigate the underground with your stroller.
Breastfeeding in public is accepted and considered perfectly normal. Children under five can travel for free on public transport, and there are plenty of family-friend restaurants.
If your bubs is a bit older, he/she might also really enjoy outings to a baby disco, one of the children's theatres, the city farms, zoos, or a day out at one of the many parks.
Further Reading:
Tips:
Make sure you download NCT's Babychange app, which will show you all the baby-changing facilities in your vicinity, and the Wowmum app, which lists baby change areas, as well as child-friendly activities, parks, and more.
Book your taxi online. Book Taxi London is a reliable website that you can use to quickly and easily book your taxi (you can even select to have a car seat for your little one)!
---
4. Bali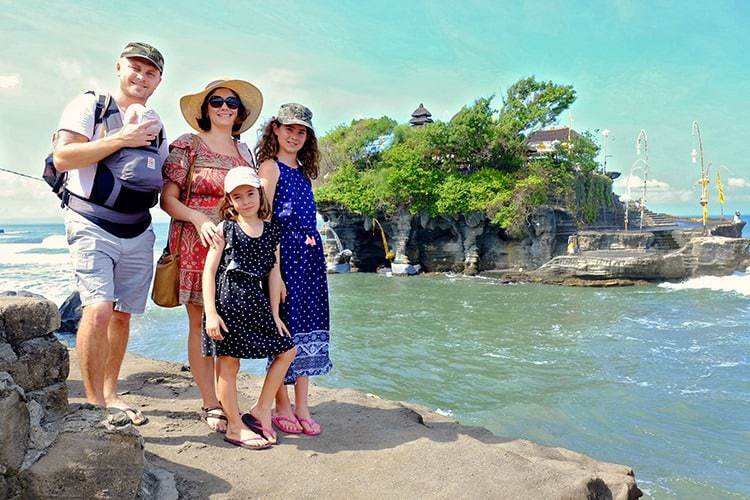 After one of the most affordable places to visit with your baby?
With rice paddies, waterfalls, beaches, and great people, Bali certainly has it all.
This dreamy vacation is very baby-friendly, and nannies or babysitters are super affordable. You can also very easily rent baby gear and equipment for super low prices if you need them.
Hotels and resorts will be equipped with baby cots and high chairs, and with a bit of effort, you can also pre-book transfers with baby car seats.
Avoid Kuta and head to more family-friendly areas such as Canggu, Ubud, Legian, Jimbaran, or Nusa Lembongan.
We love to combine some time in Ubud to soak up the peaceful rice paddy atmosphere with some luxury and relaxation at one of the beachside areas such as Canggu or Jimbaran.
Bali might be the best place to travel with a baby for those living in Australia.
Tips:
Bring your baby carrier along and leave your stroller behind
Always have a baby change mat on hand
Book a cheap nanny to tag along with you on your outings
Pre-book your transfers if you wish to have a baby car seat
Don't forget to bring along your sun tent for baby, as well as some handy and essential beach items for baby
---
5. Tulum, Mexico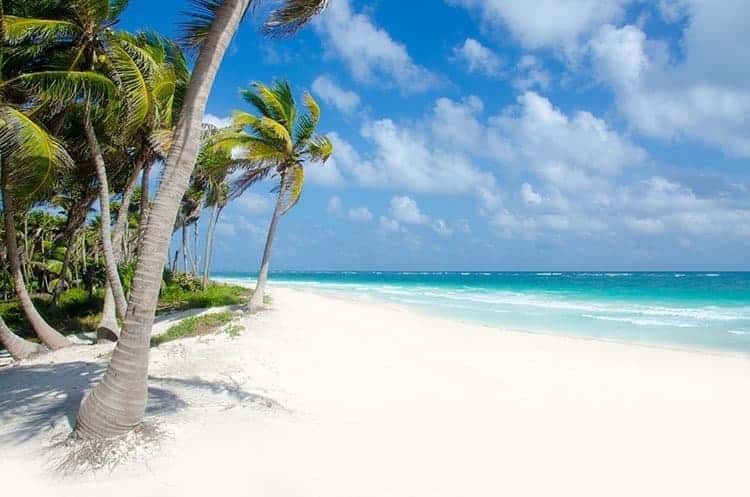 One of the best travel destinations with a baby if you are after some beautiful beaches and warm weather. This city can make for a very relaxing vacation.
Many family-friendly beaches and hotels accommodate those traveling with babies, as they often provide cribs and strollers.
If you are wondering if it is safe to travel to Mexico with a baby, you will be glad to know that it is.
What you will need to consider is taking enough baby formula if you are not breastfeeding your little one as the variety of formula available is limited.
If you do use baby formula, make sure to use bottled water when making your baby's milk.
If you do take a baby stroller, take one that can fold up and will fit easily into any taxi that you may take whilst on holiday.
If you are planning on venturing out and about, a baby carrier is a great choice as you will be hands-free, and is perfect for any hikes are strolls on the beach.
Top places to visit include Sian Ka'an Biosphere and Playa Paraiso. Mexico offers some of the best baby-friendly travel destinations for those in the USA.
---
6. Chicago, Illinois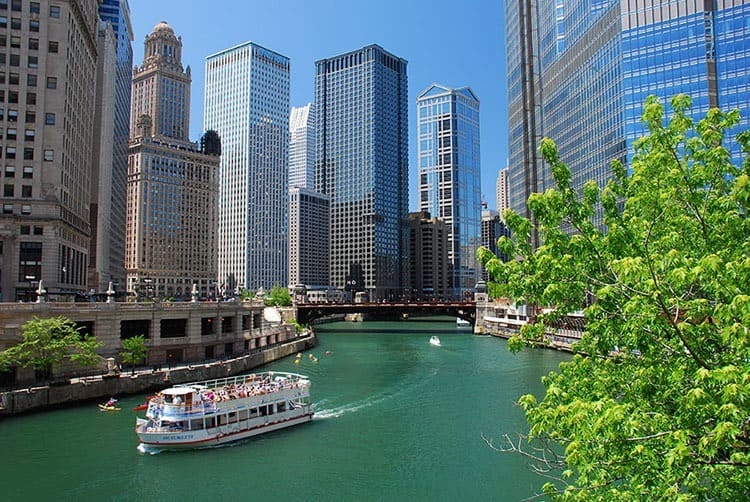 One of the best places to travel to with a baby in the United States is Chicago. This city is so baby friendly making it hands down one of the best cities to travel with a baby and one of the best travel destinations with baby options.
The great thing about Chicago is that it has a ton of baby sights, attractions, and tours to enjoy.
Taking your baby out and about during the day is great for you and the baby and in Chicago, they celebrate that.
The town of Chicago has free stroller tours at some of the area's major museums, including The Field Museum, The Art Institute of Chicago, and The Museum of Contemporary Art.
Besides the museums, you can also visit the Shedd Aquarium and Navy Pier.
If you are explicitly wondering where to travel with a newborn, this would be one of our top picks.
---
7. Montreal, Canada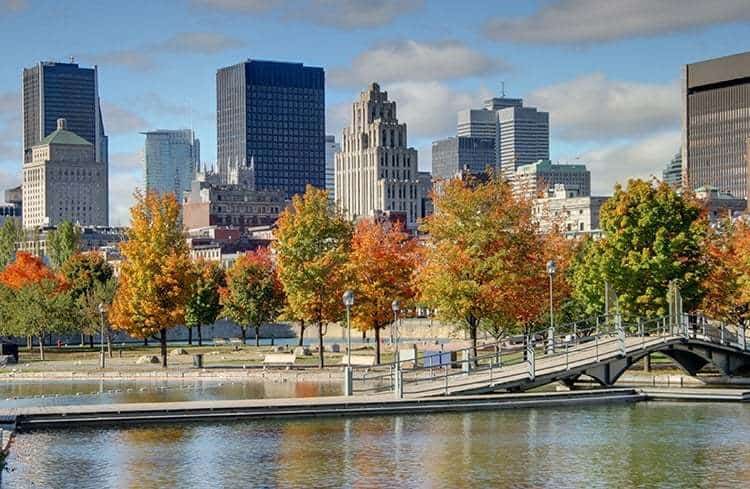 After stroller-friendly places to visit with a baby? One of the nice things about Montreal is that it's very stroller-friendly.
Numerous kid-friendly festivals occur throughout the year. Popular attractions include Jean-Talon Farmer's Market, Clock Tower Beach, and The Botanical Gardens.
If you visit Montreal outside of these festivals do not worry because there is still lots to do. Experience much of the cultural scene in Montreal by visiting many of the galleries and museums. Kids under 12 can go free to many of these local Montreal attractions.
In summer there are many parks and open green spaces that you can enjoy as a family. Enjoy a picnic and the many playgrounds that can be found in the parks.
Montreal boasts a large variety of baby-friendly and welcoming cafes and restaurants, so when it comes to enjoying a bite to eat, you and your baby can relax.
---
8. Tasmania, Australia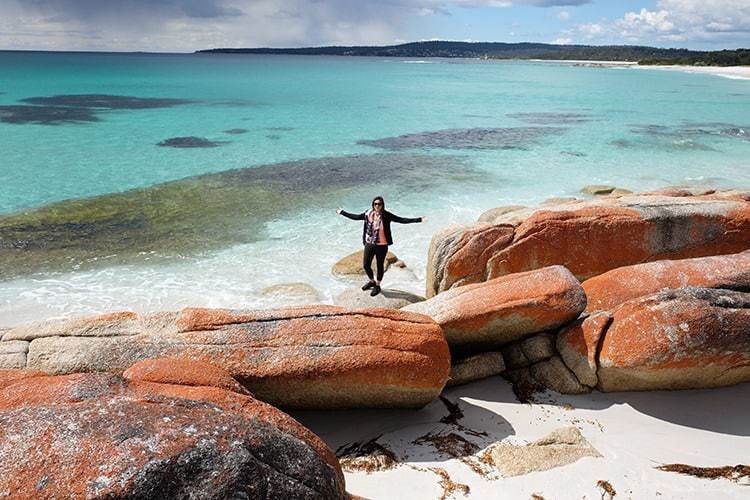 Definitely, one of the most baby-friendly countries to visit.
Australia is another brilliant country to visit with a baby. While there are many baby-friendly places to travel to in Australia, we love Tasmania.
This Australian state is an excellent destination for children of all ages. You can easily find high chairs in restaurants, which typically have special kids' menus to keep toddlers happy.
You can easily find all baby supplies in small or large grocery stores. Hotels have cots available (typically free of charge), and destinations are all stroller-friendly.
One of the nice things about Tasmania is that you don't have to haul a stroller with you on your flight if you don't want to because plenty of stroller rentals are available.
Many activities here are nature-based, including a visit to the Bay of Fires and Russell Falls. A great activity during the summer months is to head to one of the beautiful sandy beaches for some much-needed relaxation.
---
9. Wales, United Kingdom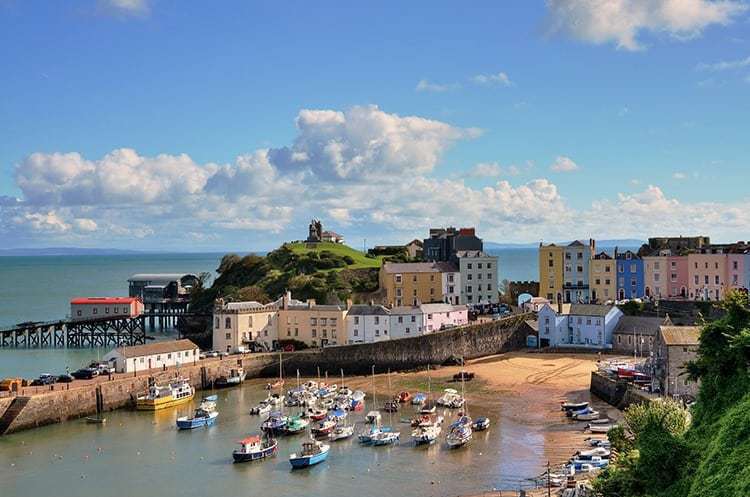 Wales is another one of the best places to travel with a baby in Europe! People love babies in Wales and will bend backward to ensure you enjoy your time here as much as possible.
Hotels will provide everything from cribs to baby gates and can even recommend babysitting services if you need some alone time. Good places to visit with your baby include Cardiff Castle, Tenby Harbour, and Bodnant Garden.
When you are out and about enjoying the lush Welsh countryside, be sure to take a baby carrier with you.
If you plan to spend more time exploring the Welsh villages and towns, a baby stroller will definitely come in handy. If you can, a stroller that folds up compactly is best as you are guaranteed it will be able to travel in your taxi.
---
10. San Diego, California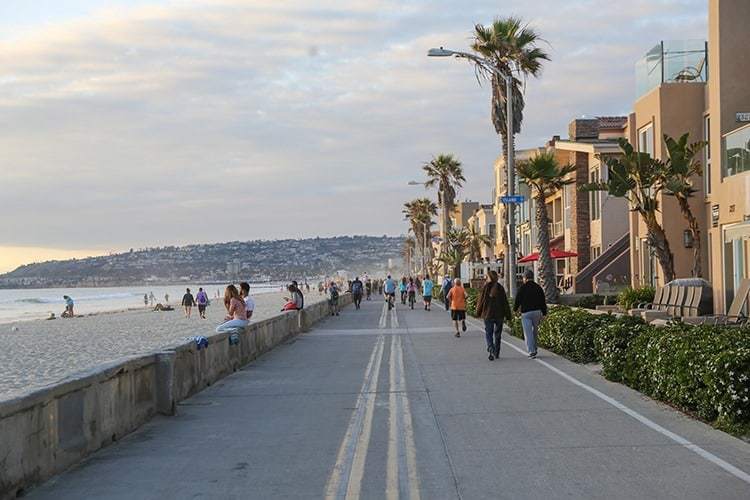 This is one of the most baby-friendly destinations on the list. There are a lot of boardwalks, walking trails, and plenty of beaches.
If you take a stroller with you when you travel to San Diego with a baby, you will be able to move around with ease.
If you are looking for some great baby-friendly activities then a visit to the Birch Aquarium, Mission Beach & Boardwalk, or the San Diego Botanic Garden are all great choices.
Be sure to also make your way to the San Diego Zoo. This huge zoo has so much to see and do and is a huge amount of fun for everyone.
If you visit during warmer months, be sure to pack sunblock and a swimming costume so you can take a dip at the many beaches.
Pack some kids' beach toys or grab a set from one of the local shops on the boardwalk as all kids love to play in water and sand and most of all build sandcastles.
For kids big and small, head to Legoland which is under an hour's drive from San Diego. The best part about the rides at Legoland resorts is that they do not have height restrictions so even the shortest of visitors can enjoy the rides when visiting.
---
11. Hawaii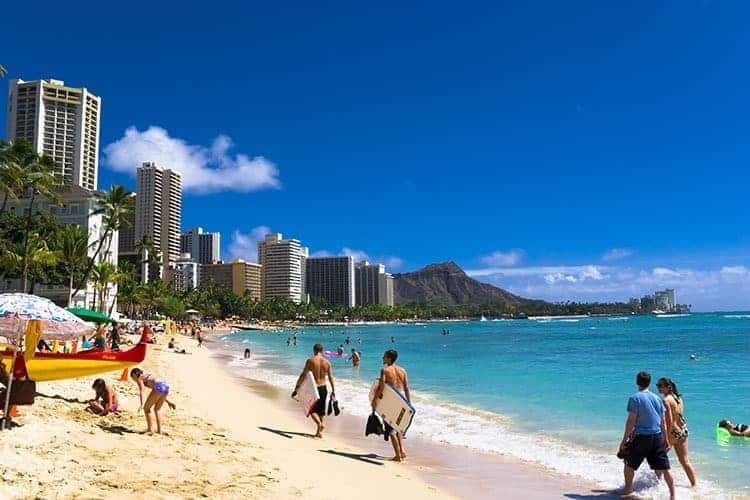 Is it any surprise that Hawaii happens to be one of the best places to vacation with a baby? This island is a dream vacation for many due to the many resorts that cater to families.
So it is probably no surprise that Hawaii happens to be one of the best places to vacation with a baby!
If you do not want to explore the island and just need to relax and take it easy, then staying at your beach resort is great as you can lunge around the pool or on the beach.
Head to the beach for some sand and fun and when baby is tired and ready for a nap, the room is only a short walk away. If you want to do an activity that is a bit more strenuous, many of the resorts do offer activities at the resort that you can enjoy.
The best way to get around this island is with a rental car. You will be able to see plenty of amazing sights that will allow you to take unforgettable pictures of yourself and your baby.
Exploring Hawaii by car also means that your baby can take a nap when traveling and not be tired to enjoy the sights.
Baby-friendly places include Makapu'u Point Lighthouse Trail and Valley of the Temples.
---
12. Cape Town, South Africa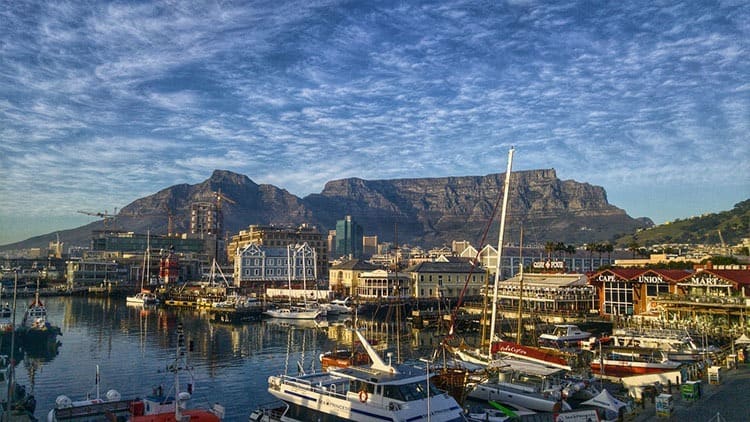 Not many people associate good places to travel with a baby, including South Africa. However, those who've been to Cape Town know it's one of the best places to visit with a baby or even older kids.
Cape Town is also one of the best cities to visit with a baby because baby facilities are readily available everywhere.
There are plenty of picturesque views and things to do, visiting the penguins, heading out on a boat to see the seals, or having a picnic in a vineyard.
If you want to travel around Cape Town then make sure to rent a car. Many places that you will visit may be an hour or so drive out of the City center.
You do not need to take a car seat with you as many of the car rental companies will be able to offer you car seat rental.
Cape Town is known for its many wine farms. If you think that visiting is not great for kids, you will be pleased to know that many of the wine farms cater to all ages, with most offering children their own version of a "wine-tasting menu "with treats and kids' drinks.
Nearly everywhere you visit a baby chair will be available to use. Most wine farms have play parks for kids to enjoy with swings, slides, and jungle gyms. If you are traveling with older kids.
Head to one of the many beaches, the most renowned being Camps Bay and enjoy a sunset picnic.
You can find our full guide on how to travel South Africa with a baby here. We visited South Africa with our youngest and two older kids and spent 5 weeks exploring various parts of the country and we loved it!
Further Reading
---
13. Taipei, Taiwan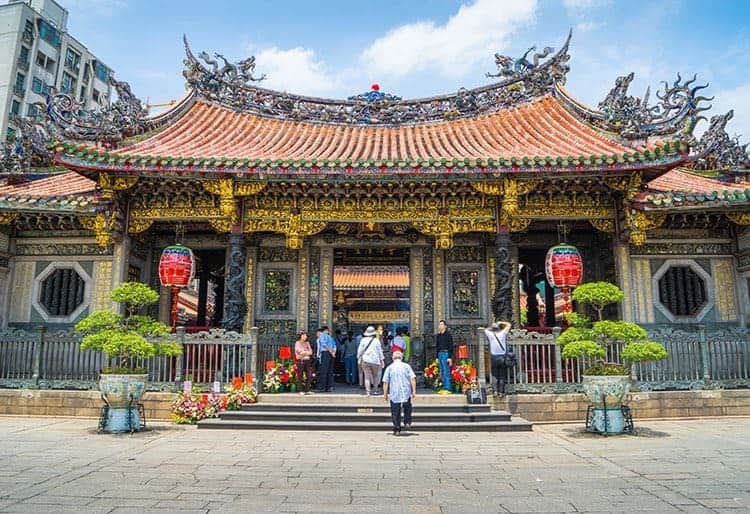 Another popular destination for family travelers in Taiwan. This destination is very safe and the people of Taiwan are very welcoming of babies and children.
Many places in Taiwan have mothers' rooms, similar to those found in Japan, but this city is a great place to travel with a baby because of its many attractions.
Unlike other places, you can easily strap a baby into a stroller and walk around, as the terrain isn't tough to maneuver making it super easy to get around and explore.
This allows families to see a lot of exciting sights like Longshan Temple or Chiang Kai-shek Memorial Hall.
The city of Taipei is exciting and colorful and at night looks a lot like Times Square in New York.
Head to the 101 Building which cannot be missed when you arrive in the city. You can go up this building and it is strongly recommended to buy tickets in advance rather than queuing.
Head out of the city and you will find the Silver Stream Cave which is a temple carved into the rock face behind a stunning waterfall. The nerve-wracking walk-up is definitely worth the trek and be sure to pack a baby carrier for this to make the walk easy.
---
14. Belize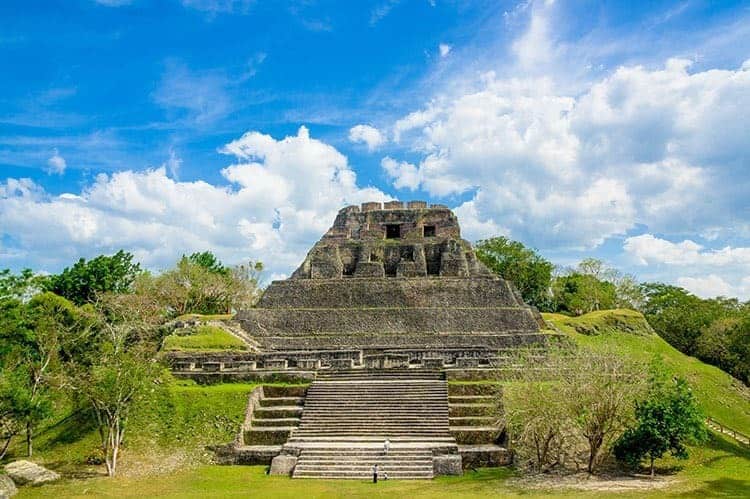 Belize is one of the most baby and kid-friendly places to visit. It has so many different attractions and activities that everyone can enjoy.
One of the other biggest perks for families visiting here is its affordability.
The country is also English-speaking, so you don't have to worry about the need to whip out your language translator while trying to balance a baby on your hip.
There are a lot of great places to take your little one in this country, including the Blue Morpho Butterfly Farm and the Mayan Ruins.
If your trip to Belize is to have some downtime and not be out and about too much, be sure to stay at one of the many resorts that offer guests all they need from horseback riding to pools and a health spa.
You can easily find what you need in the stores in Belize however if your baby is drinking formula, it is best to take your own with you as you may not be able to find the same make in Belize.
---
15. Ecuador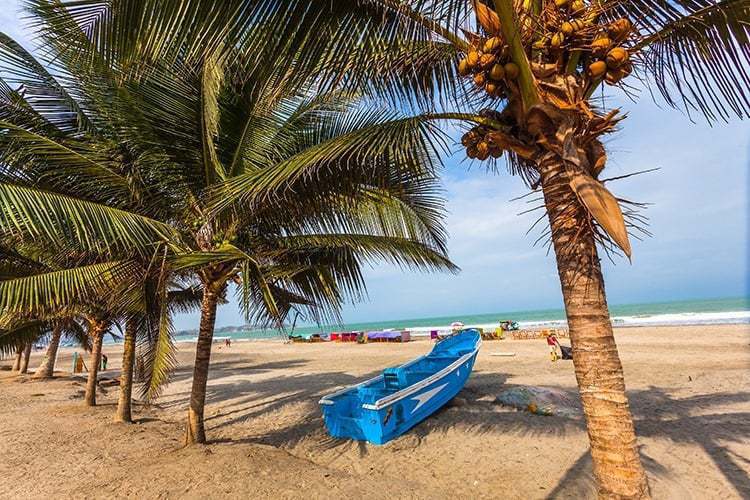 Ecuador may not be the first place you think of when traveling a with baby however you will find that this country is very welcoming of children and is affordable for a family vacation.
Ecuador is one of the best places to visit in South America, so you can't go wrong with this destination!
The safest way to get around Ecuador is by renting a vehicle. Although there is a lot of public transport like taxis and buses, seatbelts are not always readily available and the maneuvers that the drivers take along the winding roads are quite hair-raising!
When it comes to mealtimes and feeding, you will be pleased to know that breastfeeding is very acceptable and normal. If you need baby formula, this is readily available however you may not find your usual brand.
The terrain is challenging to get around with a stroller, so you will need to use a baby carrier instead. You can even take a backpack carrier as this will be the easiest way to get around and carry your baby.
It's worth exploring the city as much as possible with your baby as there's a lot to see. This includes The Otavalo Indigenous Market and the Manabi Coast.
It can get pretty noisy at night too so you may want to bring along something to create white noise. Top tip – book hotels and places to stay that is away from main roads to help reduce the noise at night.
---
16. Greece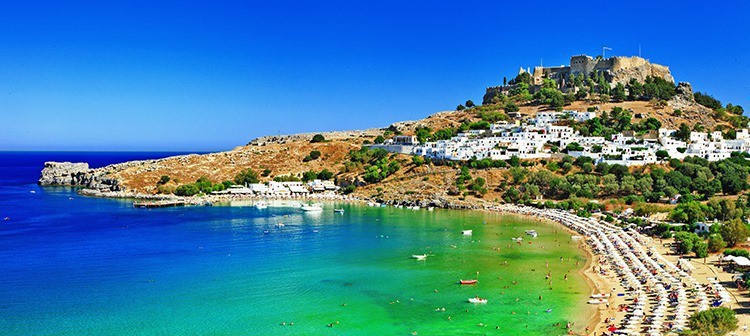 Wondering where to travel with your baby in Greece?
Those who visit Greece can tell pretty quickly that the culture is family-oriented. Often children can eat free at restaurants, stay free at hotels and ride public transportation for free.
While we recommend you leave the cliff-top towns such as Santorini for another year, you could visit many other beautiful destinations in Greece with your baby in tow.
There are many islands that you can visit in Greece offering you and your baby warm beaches to enjoy like the infamous Mykonos.
Another great place to visit in Greece is Crete and the great thing is that this is not the first place most people think of visiting in Greece.
This makes it a great destination as it is not crowded and Crete also has a range of activities to do with kids.
Greece is also a very safe place to visit so it is a definite for any family vacation. If you want to explore by walking, a stroller may be difficult to use so a baby carrier may be best. Or a stroller with larger wheels will be ok.
Make sure you and your baby visit the Plaka District of Athens and The Castles Of Rhodes.
How To Get Around
Of course, the best way to get around Rhodes is with the locals. Get your local Rhodes taxi here.
And if you are staying in Athens (check out our list of the best hotels with rooftop pools in Athens here), the best way to get around town is by taxi! Book your taxi here!
Further Reading
---
17. Stockholm, Sweden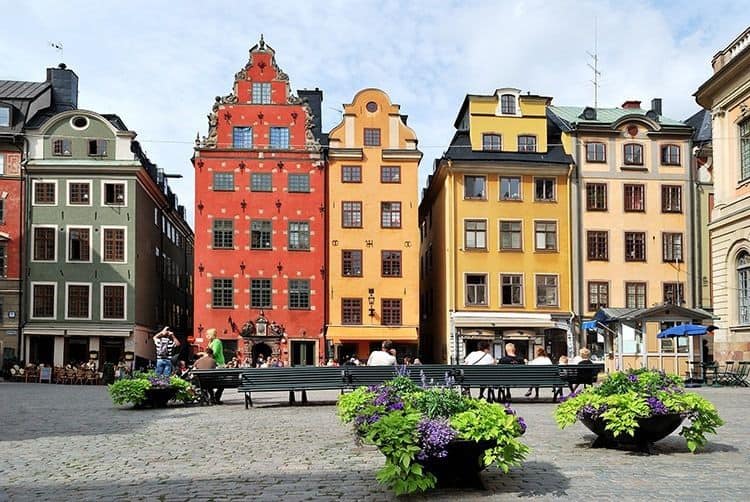 Stockholm is full of incredible sights to explore; it would be a shame not to discover the elegant harbors because you have a baby. Instead, Stockholm is one of the best places to travel with a baby.
One of the best things about Stockholm is that you can walk almost everywhere. It is an incredibly safe city and is the perfect size for a family to explore.
Sweden is one of the best places in Europe to visit with kids, because there are plenty of age-appropriate entertainment spots, such as;
Old Town – the quaint part of town with fantastic toy stores
Vasparken – a massive park with a lovely playground
Skansen – a giant ocean-air museum and zoo
It is a legal requirement for all city buses to ensure space for wheelchairs for disabled people and prams for children. This makes it easy to get around if you push a stroller.
A trip to Stockholm is one of the best baby-friendly vacations you can plan.
Tip: One of the best ways to check out Stockholm is from the water. Take a look at our list of best Stockholm boat tours here.
---
18. USA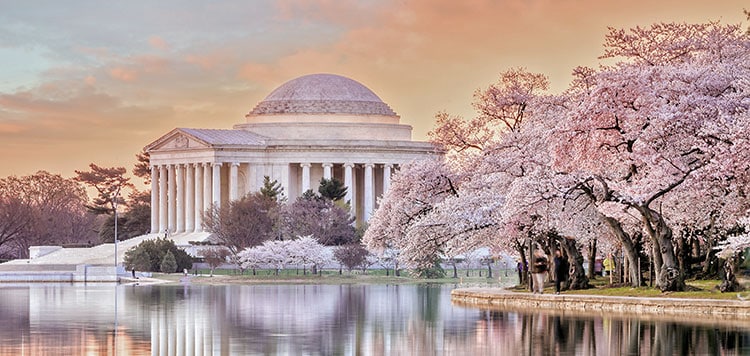 The USA is one of the best baby-friendly vacation spots in the world. There are so many different places in the USA that it is a hard choice of where to go when visiting the USA with a baby and young children.
Washington, DC, is such a vibrant, beautiful city, and it promises to be a memorable and enjoyable experience for the whole family. It is an icon of democracy, full of history and progressive happenings.
There is so much to see and do – a lot of which is free. The best time to visit Washington, DC, with your baby is during spring (March to May), as the temperature is pleasant, with the pink cherry blossoms blooming around early April.
Avoid July and August, which can get uncomfortably hot and cause your baby to fuss.
The city has an excellent public transport system, making getting around easy. While the law doesn't require car seats for cabs, you can pre-request one for a taxi or Uber.
Florida is another great place to visit and has so many family-friendly resorts to choose from. Florida is well known for all the amusement parks for toddlers such as Disney World, Magic Kingdom Park, etc.
Your young children and even baby will love the splash pads inside Magic Kingdom
Take a trip to Utah to see Zion National Park. There are short hikes inside the park which will be enjoyable for the whole family.
If you do decide to hike in Zion National Park, make sure to take a baby hiking carrier. Find more tips for visiting Zion National Park with kids here.
The same applies if you visit Colorado and the Rocky Mountain National Park.
North Carolina has many fun activities for the family. There is the North Carolina Zoo which is bound to make your little one smile.
Spend a night or two under the stars in the Uwharrie National Forest. There are many activities that you can do from swimming to fishing and boating. Make sure that you put safety first and use life vests for water sports and activities.
If you happen to travel to New York, make sure to take a stroll around central park. It is perfect for walking with a baby stroller or baby carrier.
---
19. Reykjavik, Iceland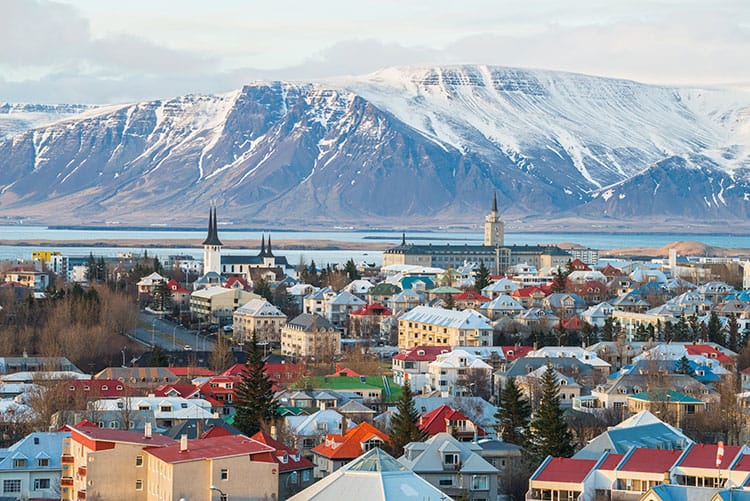 Due to the chilly temperatures, Reykjavik and the rest of Iceland are often overlooked when deciding where to travel with a baby.
However, the city is breathtakingly beautiful, and if you bundle up your baby, you can enjoy the Northern Lights, geothermal hot springs, and fascinating history without the fuss!
Boasting surreal landscapes and fascinating natural phenomena, your little one may be lucky enough to capture a memory.
Reykjavik is fast becoming a trendy tourist destination, so there have been increased tour options. Many of these tours are family-friendly and remove all the fuss when planning your trip.
Make sure you pack in a few extra warm goodies, and you and your baby are good to go.
---
20. Runaway Bay, Jamaica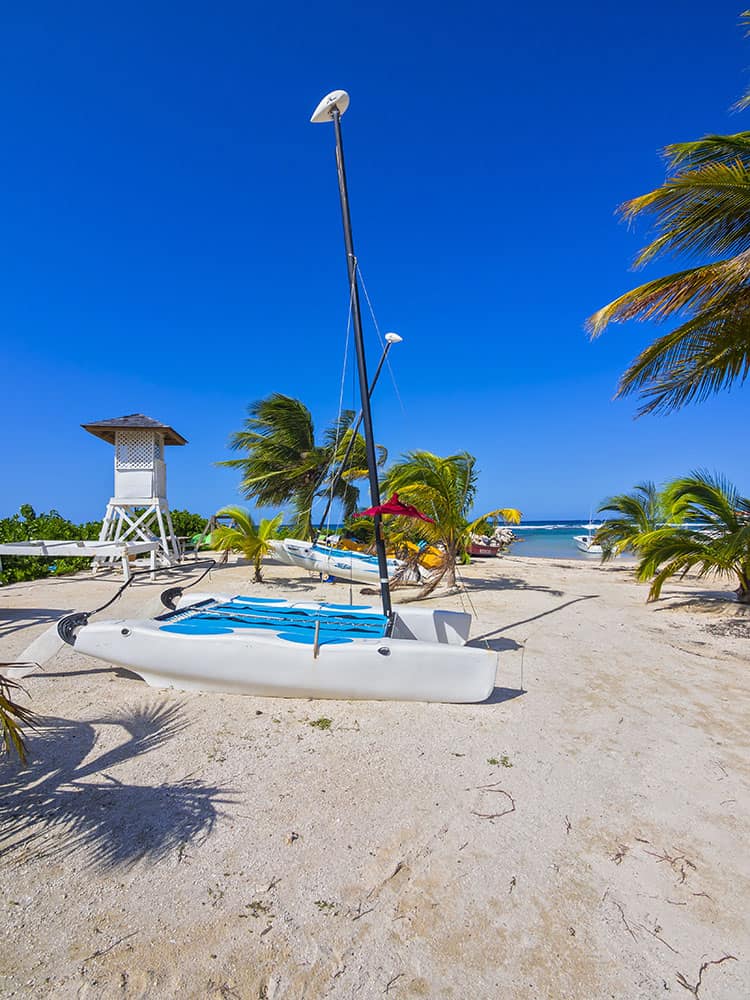 Jamaica is known as a paradise getaway, and no reason having a baby should change this experience. Runaway Island in Jamaica prioritizes an atmosphere of relaxation and is one of the top places to travel with a baby.
As a fabulous family vacation destination, Runaway Bay boasts many villas, resorts, and accommodation options focused on the family. Many of these resorts offer family-sized rooms that can comfortably sleep up to three children.
Many of these resorts also help arrange the services of a nanny or babysitter to help you better relax on the beach. Some resorts even have a baby club where trusted employees mind your child during nap time.
If we can give you one little piece of advice, it's to pack a lot of sunblock (keeping in mind that babies under six months can't use sunblock). Chances are, your little one will enjoy the sun, sand, and clear waters as much as you.
---
21. Cascais, Portugal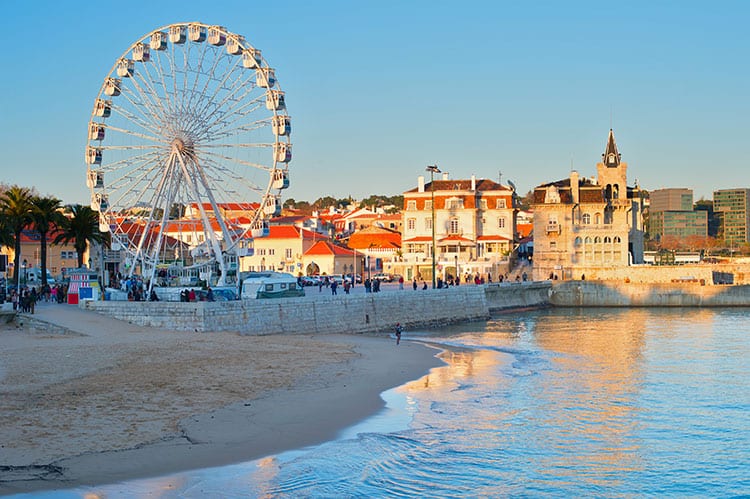 Cascais is a quaint village in Portugal full of culture, history, and, most importantly, families. The laid-back destination promises one of the best vacations with infants possible.
There is a tangible warmth in the air reflected in the locals' cheery expressions, and it is sure to be a holiday you will never forget.
If you don't choose to push your stroller on the wide, open streets, you can be comforted that child seats in taxis are not mandatory, making taxi cabs easily accessible.
There is a wide selection of parks, calm beaches, and historical sites to explore. One thing to remember is that the rich traditions in the seaside village mean that local restaurants don't necessarily serve chicken nuggets and the like.
However, if your baby wants to venture from their formula, you can rest assured that the local food isn't particularly spicy and generally quite soft.
---
22. Vail, Colorado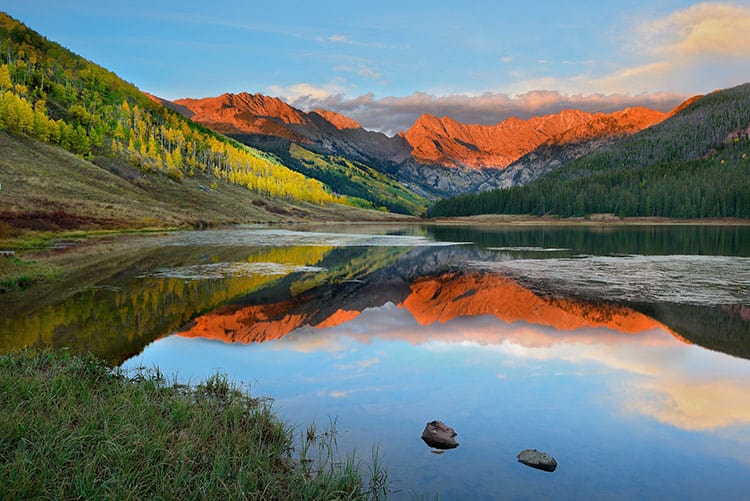 Vail, Colorado, is one of the best places to travel with a baby.
The breathtaking images of gorgeous mountains, vast open spaces, and reflecting lakes may make you think Vail is better suited to adults; however, that assumption couldn't be further from the truth.
There is an entire baby brand named 'Travel Vail Baby', which serves as proof of how excellent the destination is for infant-friendly vacations.
The baby and toddler equipment rental company provides cribs, strollers, high chairs, hiking backpacks, and bouncy seats (among many other items) to help parents enjoy Vail's jagged peaks and slopes.
When ascending to higher altitudes, your baby should be fine, as babies older than three months old adjust to altitude much better than adults.
Handy Tip: The Vail Public Library has incredibly fun baby storytime!
---
23.

Barcelona, Spain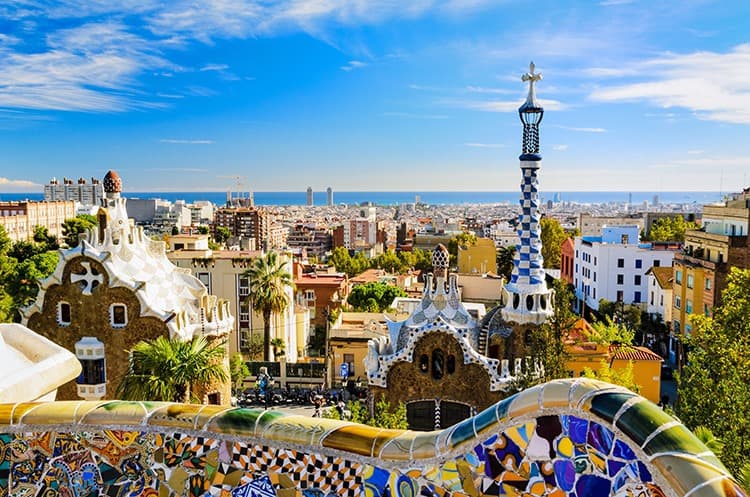 A trip to Barcelona with your baby is a sure way to begin stimulating their creativity from a young age.
From the eccentric design of the Gaudi buildings to the intricate stained glass windows of the cathedrals, your baby will be so busy absorbing the environment that they'll have little time to cry.
If you want to make the most of your time in Barcelona, travel in the summer when you can enjoy the multiple parks and outdoors. Babies are often happier and more relaxed when moving about.
With so many sights and attractions, you can be sure your little one will be happy as a clam.
Top tip: Make sure to pack a sling or baby carrier. The streets in Barcelona are cobbled, and the bumps could make your baby uncomfortable.
---
24. Nice, France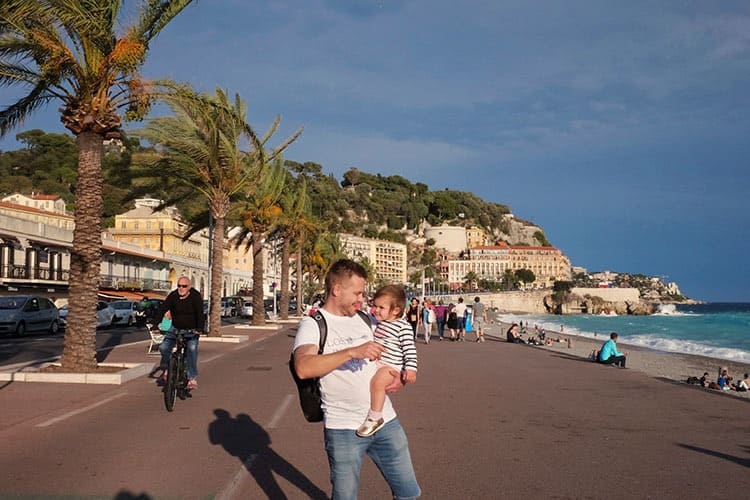 Nice is a romantic and magical destination filled with bustling alleyways, quaint little shops, and outdoor restaurants.
One of the best parts about traveling to Nice, France, with a baby is the excellent promenade which offers surreal views while pushing a buggy.
As Nice is such a popular tourist destination, you'll find that the hospitality industry accommodates babies.
From heating bottles to providing changing facilities, you can visit Nice quickly without any baby hassles.
The French Riviera offers sun, sea, and delectable food; it would be a shame to miss out on this. The charming city is easy to travel to with a baby, especially if you follow our tips on how to travel through France with a baby.
---
25.

Seoul, South Korea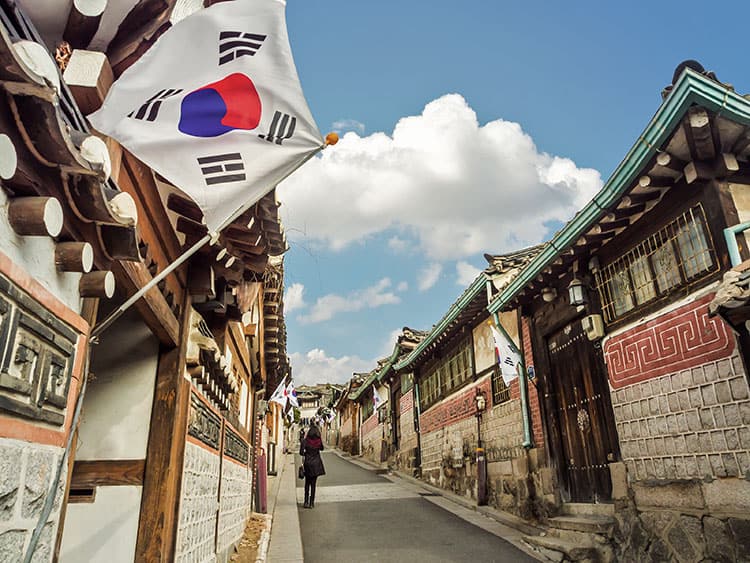 Seoul is one of the most accessible places to visit with a baby. The cosmopolitan city has a lot to offer the entire family and caters to its attractions.
In addition to fantastic shopping, music, and food experiences, there are a lot of free and budget attractions to enjoy.
Seoul has plenty of indoor playgrounds, known as Kids' cafes that are great for toddlers under two years old. These are a great option during the extreme seasons when the weather can be icy or uncomfortably hot.
The city's very efficient public transportation system and a wide variety of family-friendly accommodation options make day-to-day living in Seoul very easy.
If you prefer to walk, you'll be pleased to know that Seoul is also fairly stroller friendly.
One piece of advice is to not breastfeed in public. The Koreans don't make a habit of the practice, so choosing to do so will attract unwanted attention.
Although there are baby nursing stations in larger subway stations, department stores, and restaurants.
---
26. Dublin, Ireland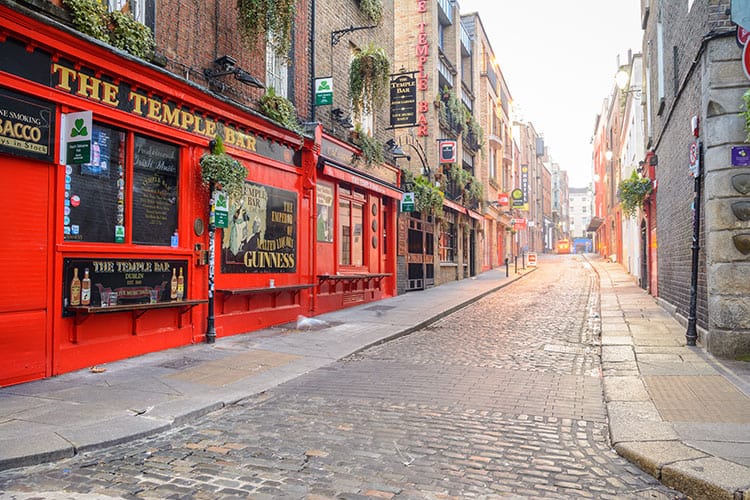 Dublin City and the rolling green hills surrounding the area are on the top of many people's bucket lists – for a good reason.
There is a stunning culture of friendliness in the city, and the beautiful design of the city mimics the breathtaking landscapes on the outskirts.
Dublin is well-supplied with formula, food, nappies, and clothing for your little one. Most restaurants will go as far as to prepare a bowl for your child and offer high chairs and baby-changing facilities.
Getting around Dublin is very easy. In addition to speaking English, the city is also easy to navigate, and baby car seats are available for a small additional cost. There is even a child-friendly taxi service.
There are many baby-friendly activities to discover in the city, including live Irish music performances.
Be aware that Dublin has quite a vibrant pub culture, and while children are allowed in the pubs and bars during the day, they are not legally allowed entry after 9 pm.
---
27. Thailand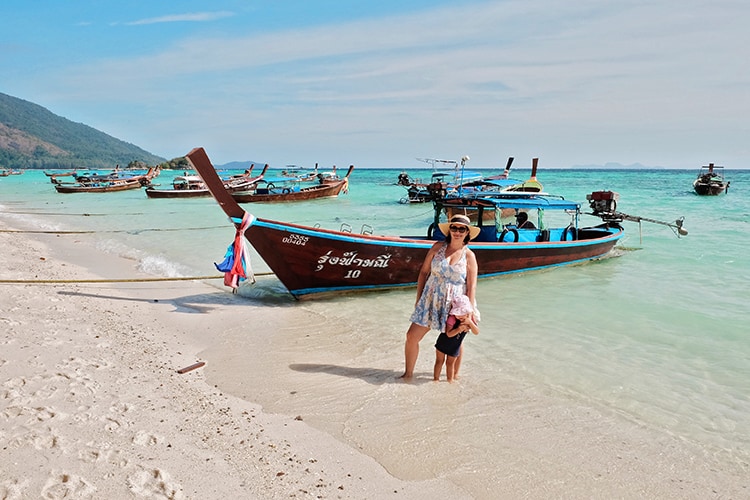 Thailand is such a great destination to travel with a baby as it is so baby friendly. We love traveling to Thailand and have done it many times with our daughter when she was a baby and a toddler.
The Thai people and culture are so welcoming it makes this country a perfect destination for families who want to travel to a beach destination with a baby.
Another perk is that there are quite a few 4+ star hotels that are more than willing to accommodate your baby's needs.
Many of them include indoor pools and even water parks. If you are after great cultural travel destinations with a baby, you can't look further than Thailand. Here is a list of the best resorts on Koh Samui for families.
Some of the best places and great destinations to travel with a baby in Thailand are Khao Lak, Phuket, Krabi, and Koh Samui.
---
How to Choose Infant-Friendly Holiday Destinations
Wondering how to choose the best place to travel with an infant? Find below some of our requirements when we decide where to travel next.
1. Is the Transportation Safe?
An important consideration when we choose holiday destinations with our baby is whether transportation will be safe for our little one.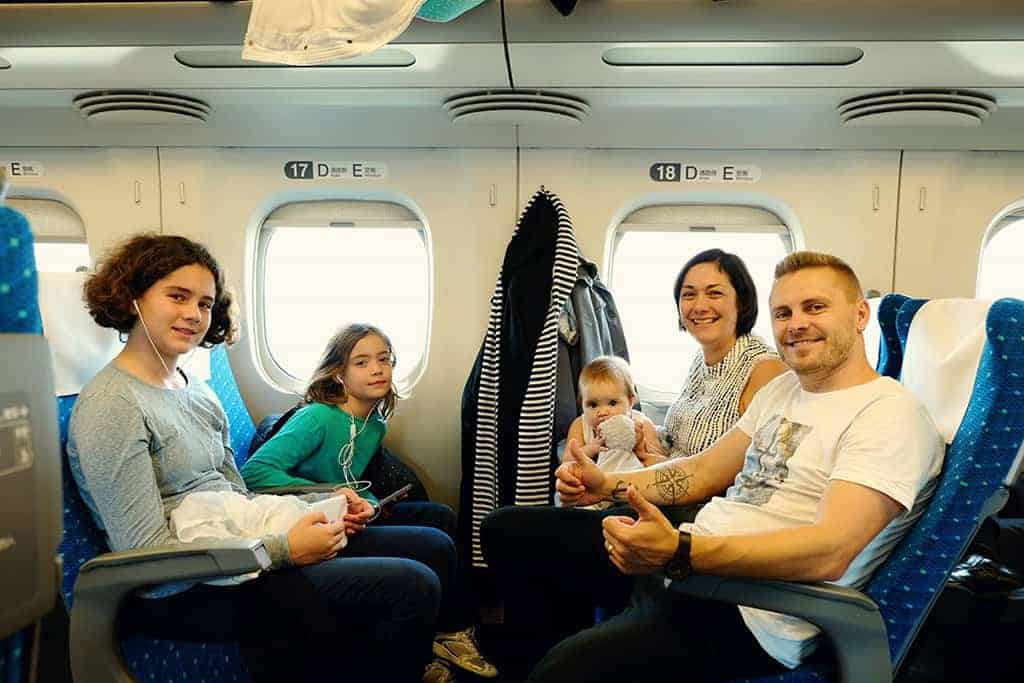 For example, you might consider whether taxis and private transfers offer infant travel car seats.
If they don't, it might be best if you rent a car and add a child car seat onto the rental costs, or you might prefer to bring your own – find a post on the best infant travel car seats to travel with here.
(However, it is essential to check if your car seat can be adequately secured in a different country as they all have different systems to install car seats).
How safe are these to use if you plan to take public transport? Some countries are crazy when it comes to driving.
Think about what you are comfortable with and choose the best vacation that ticks your boxes.
2. Is the Climate Baby-Friendly?
Look at the average temperatures and how much rain the destination will get at the time of year you plan to visit.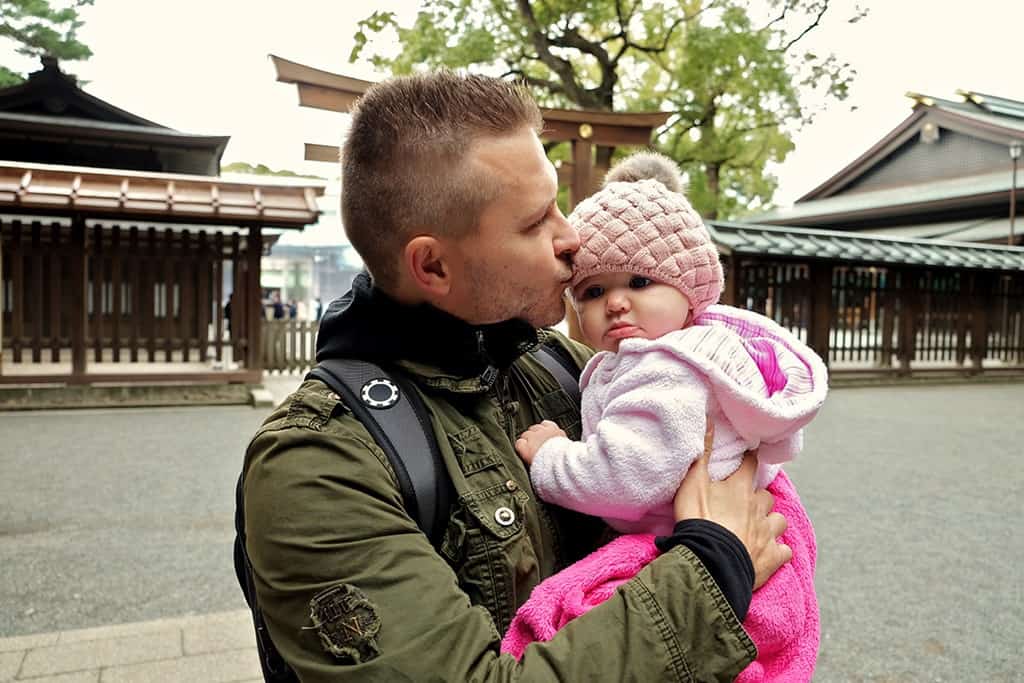 We made the mistake of traveling to Asia during their hot season, and our baby developed a heat rash from the constant heat; it made life more challenging than it needed to be as she was unhappy and pretty grumpy.
We also went to Japan when it was freezing, and it was tricky to keep our little baby warm and snug in the temperature.
3. Keep Travel Time Short
Keep flight time as short as you can. It is much easier to fly with a newborn who sleeps a lot, in comparison to a baby who has just become mobile.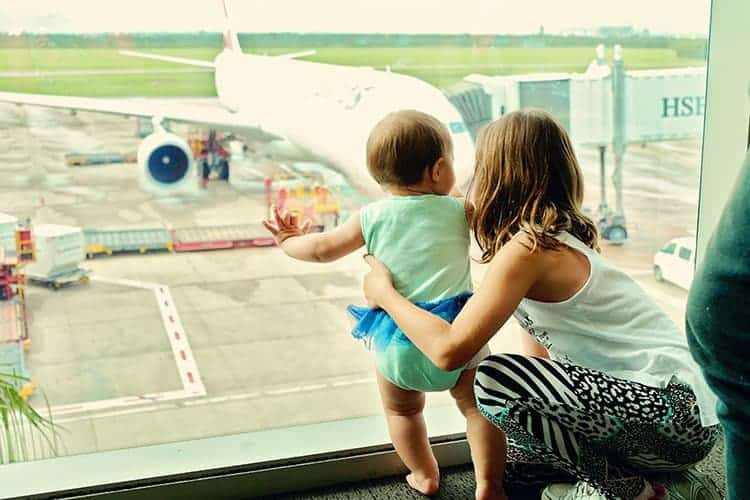 It might be a good idea to pick infant-friendly travel destinations closer to home.
An 8-hour flight overseas might be okay, but a 15-hour long-haul flight will be much more challenging (If you are traveling long-haul, you might appreciate our long-haul flight checking list for babies).
So while we list baby-friendly holidays from around the world in our list below, it will be essential to consider the ones closer to your home.
Also, think about how long your transfers are once you land, and keep your travel days nice and short so that there is plenty of downtime for your baby.
4. Which Countries Are Safe?
The best countries to travel to with a baby are the ones that are safe for little kids. Have a look to see if there is any unrest in the destination you will be visiting.
Look at which vaccines you might have to get (and whether your baby can even get them).
It might be best to avoid rural and remote areas of a country until your baby is a bit older.
We visited Bali when our daughter was only six weeks old, but we stayed clear of the monkey forests and spent a lot more time on hotel grounds than we would typically have done to keep the trip safe for her.
5. Consider Health Care
Think about the amenities and healthcare facilities you would typically be comfortable with at home.
Are there good hospitals, and will the medical staff be able to understand you?
6. Baby Facilities
Another thing that will make traveling with a baby easier is choosing a destination with baby facilities readily available.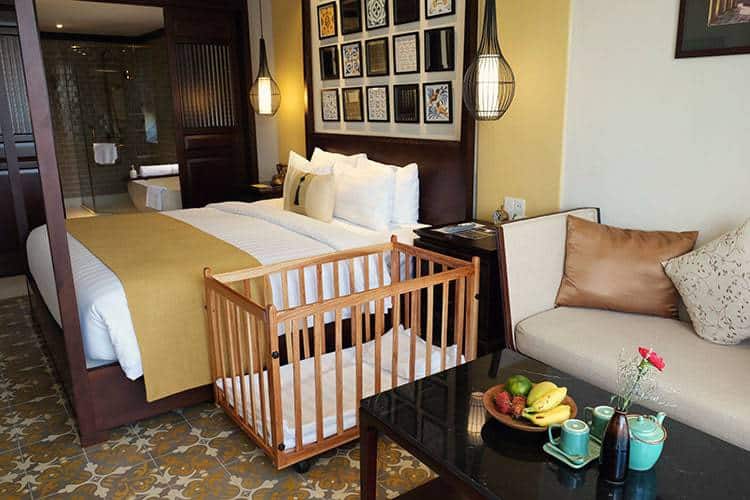 Can you find hotels that have baby cots available? You might prefer to travel with a crib; you can find our top recommendations for a lightweight travel crib here.
Are high chairs available in restaurants, and are there baby change rooms?
If not, you can always travel with your own high chair – find a post on the best high chair for travel here.
You can also find a list of all our recommendations for baby travel gear to make your life easier while on holiday here.
Consider how easy it will be to purchase baby diapers, formulae, baby food, or baby medication.
If you have to travel with baby food, you can find a post about TSA baby food and formulae rules here.
Also, think about your baby's age; the best places to travel with a newborn will not be the same as the best places to travel with a 1-year-old, because a 1-year-old is mobile.
If your baby is at the age where they are eating and drinking water, it is also essential to consider how safe the water and food are to eat in the country you are visiting.
Hopefully, all the tips above are helpful and will guide you to choose one of the best baby-friendly holiday destinations from our guide below.
---
Final Thoughts On The Best Places To Vacation With A Baby
So hopefully, if you have been wondering where to travel with an infant, you have made a list of the best holiday destinations with a baby you would love to visit.
The best destination with a baby will be different for each of us as it depends on your current location, as well as what sort of current baby 'comforts' you might be used to.
Most parents feel most comfortable when they choose destinations that offer the same level of baby care as the country where they live.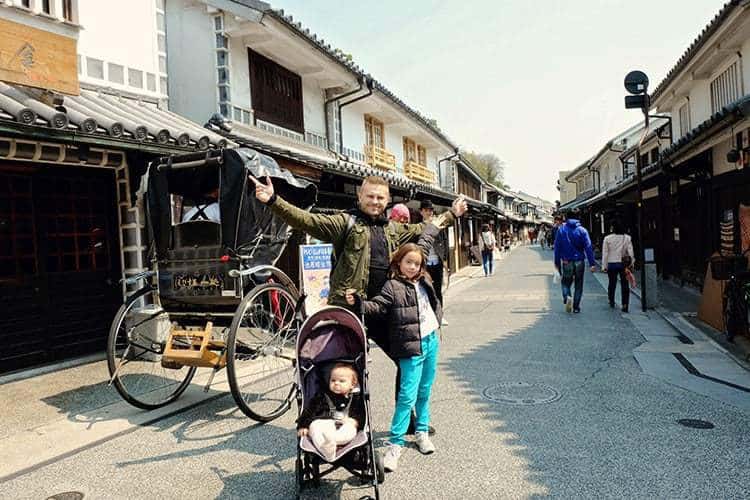 Ultimately you can travel anywhere in the world with a baby; after all, babies are born in each country worldwide.
But the most comfortable holiday where you will be less stressed out will be the country that matches your current baby's facilities, amenities, and healthcare standards.
And as a last resort, go with your gut instinct. If the destination doesn't feel right, it might be best to leave it until your child is older.
---
Further Reading:
---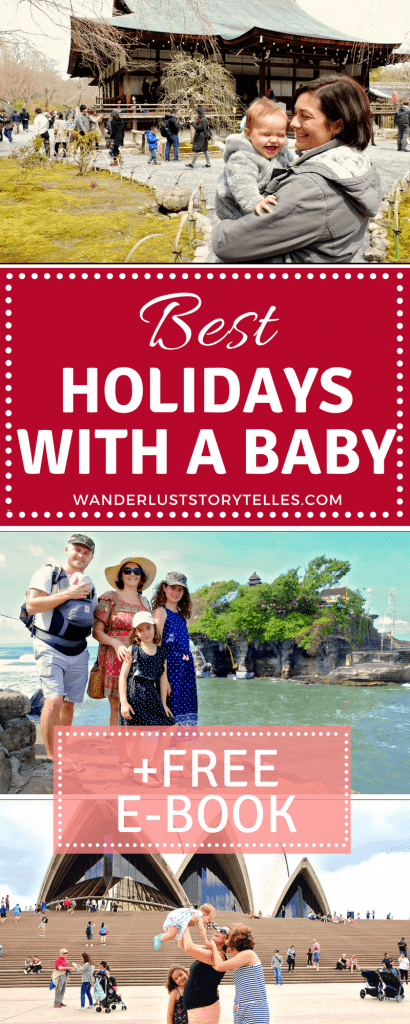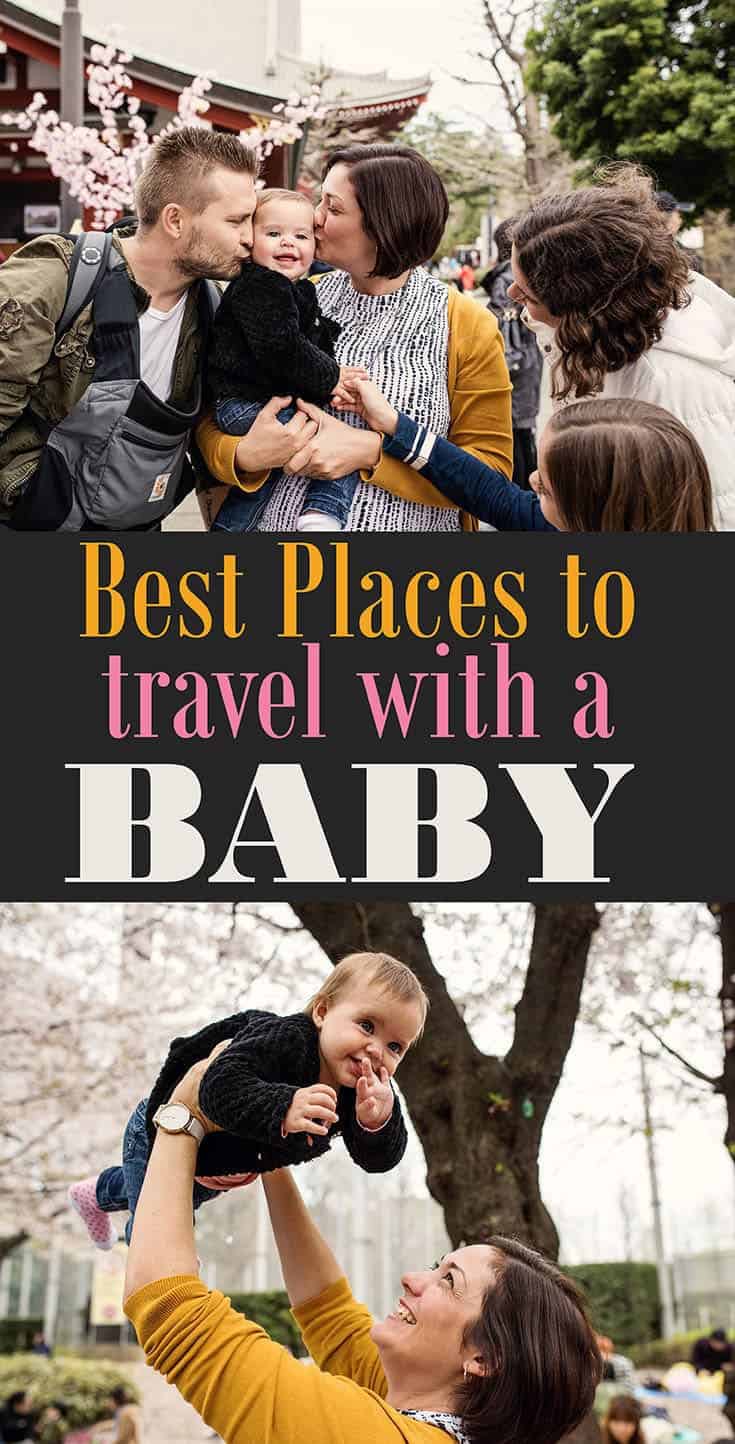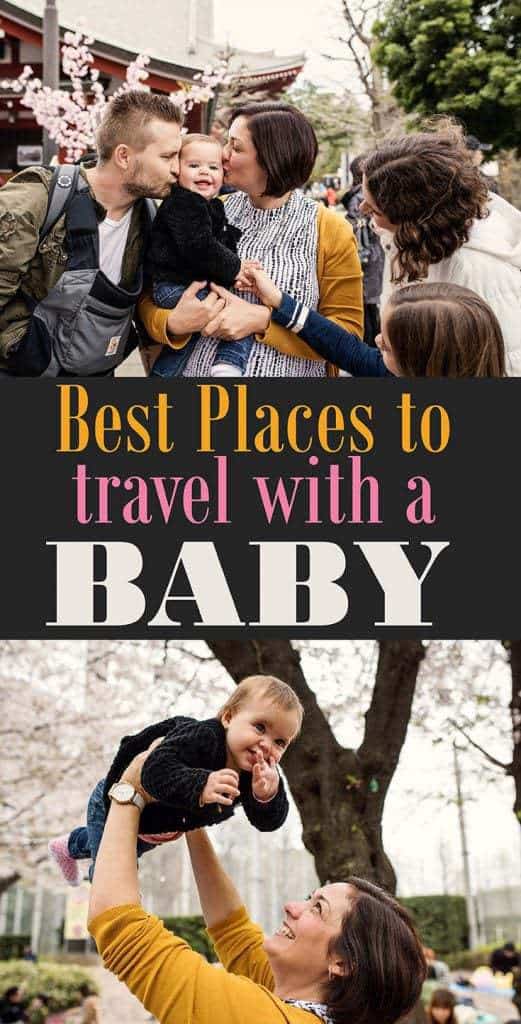 Leave us a Comment:
Which of these destinations on our best countries to travel with a baby list do you want to see the most?
Can you add other best places to holiday with a baby?