Is there a feeling better than seeing your loved ones' faces light up when you give them a gorgeous holiday card? We don't think so.
Wherever you go, there will be a shop or two selling cards with photos of famous landmarks in the area.
As great as these are, they're not personal enough; they don't bring your family experience into the message.
So why not create fantastic family holiday cards that will bring your family's imagination to life?
Family Holiday Cards and More
Let us show you the best way to create breathtaking picture holiday cards for every joyous time of the year.
Whether you're traveling with a baby or friends, bring loved ones along for the ride with these gorgeous moments in time.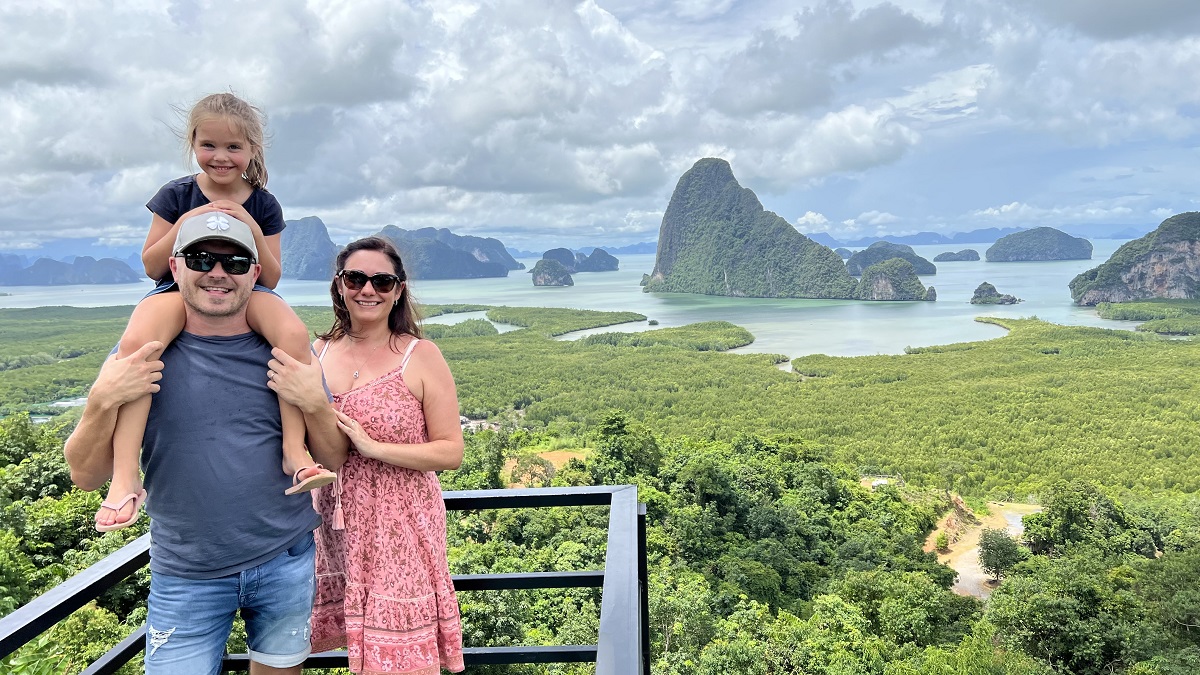 Why You Should Make Holiday Cards
As technology progresses, physical objects are becoming less common.
That said, remarkably crafted and custom holiday cards are something you have to get behind, and here's why.
Stay In Touch With Loved Ones Far Away
Whether you're taking a trip to Georgia or exploring the top things to do in Zakynthos, staying in touch with loved ones is a must.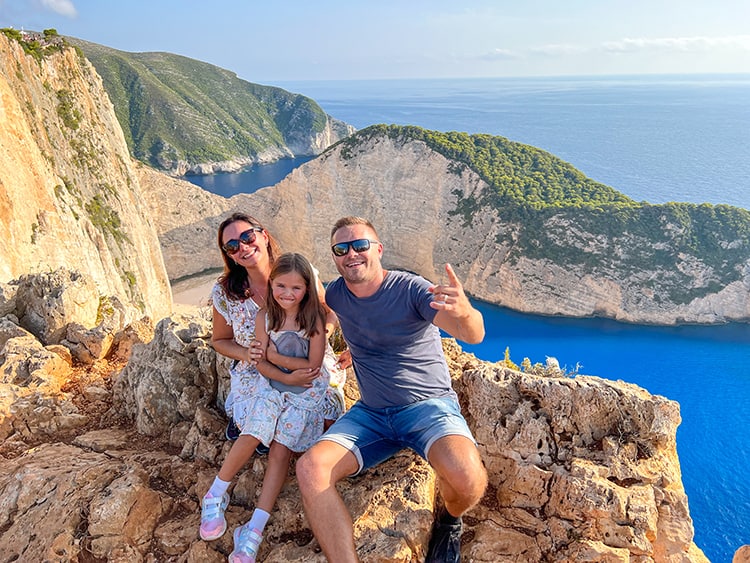 Although the family is often a call away, there's something special about sending a personalized card to their doorstep.
And to make things better, custom holiday photo cards are the perfect way to spark any conversation, whether on the phone or in person.
Preserve Holiday Moments In Style
As handy as phones are nowadays, we still long for the feeling of paper in our hands as we look at fond memories.
And there's no better way to experience this joy and preserve holiday moments than with a festive card.
They Pair Perfectly With Gifts
In the spirit of any holiday time, cards are the perfect gift that keeps on giving. Whether you're handing out presents at Christmas or celebrating the new year, adding personalized holiday photo cards is a no-brainer.
It's not just the note that accompanies a present. It's also a family experience on paper that will live for a long time in their memories.
You Will See Your Creativity Unleashed
Making customized holiday cards is also a fun way to express yourself. It's easy to create unique, quirky, and fun cards that will leave everyone amazed by your creative side.
How To Create Personalized Holiday Cards
Now that you know exactly why holiday cards are a fantastic idea, let's dive right into how to make them.
Getting Started: Where To Create Holiday Cards With Photos
We've tried making cards from scratch and explored several online sites. And from our experience, the best of the rest is Mixbook. With unrivaled design choices and remarkably crafted cards, you'll share your family memories with all your loved ones.
TechRadar also rated Mixbook the best photo book service in 2022, so you know the cards will be equally good.
Tip: Use the code WANDERMIX22 and receive up to 45% Off Everything + Free Shipping on Orders $70+. The offer ends Tuesday, 1/31 11:59 pm PT.
Create Your Family Holiday Cards Here!
How It Works
To get the ball rolling, choose the template that stands out for you. There are over 600 templates to choose from, so you're really spoilt for choice. But if you feel slightly overwhelmed, you can also use the filters to cut it down to a specific season.
Next up is the size and format. There are four sizes to choose from: 5 x 7 inches, 3.5 x 5 inches, 4 x 8 inches, and 5 x 5 inches. Some templates are size dependent so keep this in mind when choosing. The formats include flat, top folding, side folding, and magnetic cards.
You can also choose a unique card cut, with variations ranging from vintage crest to double flat round designs.
Once all that is done, it's just about choosing the picture-perfect image for the card and fitting it right into place.
Adding The Finishing Touches
Okay, there are a few more things to consider.
Many of these festive cards come with the option to add real foil. You can take your pick from gold, rose gold, and silver. This pushes the price slightly, but it's definitely worth it.
You'll also be able to decide on the envelope you use for the cards and where they are getting sent to.
Customized Holiday Cards Made Easy
Don't have your laptop with you? That's not a problem, as Mixbook's Mobile 2.0 Travel App is at your fingertips.
You can use the app to organize your holiday photos all in one place, and the Automagic Creation tool can help you pick out the best pictures for each card.
Unique Cards For All Types Of Holidays
It's not easy to pick the top card designs with over 600 to choose from. So here is just a glimpse into what you can expect to find.
Merry Christmas Holiday Cards
We've spent several Christmas holidays overseas and found these customized cards to be the perfect way to stay in touch.
Friends and family alike always rave about the beautiful designs, and with over 400 to choose from, we've experimented a fair bit.
Happy New Year Holiday Cards
We've also enjoyed several New Year's abroad, so wishing loved ones the best during this time is important.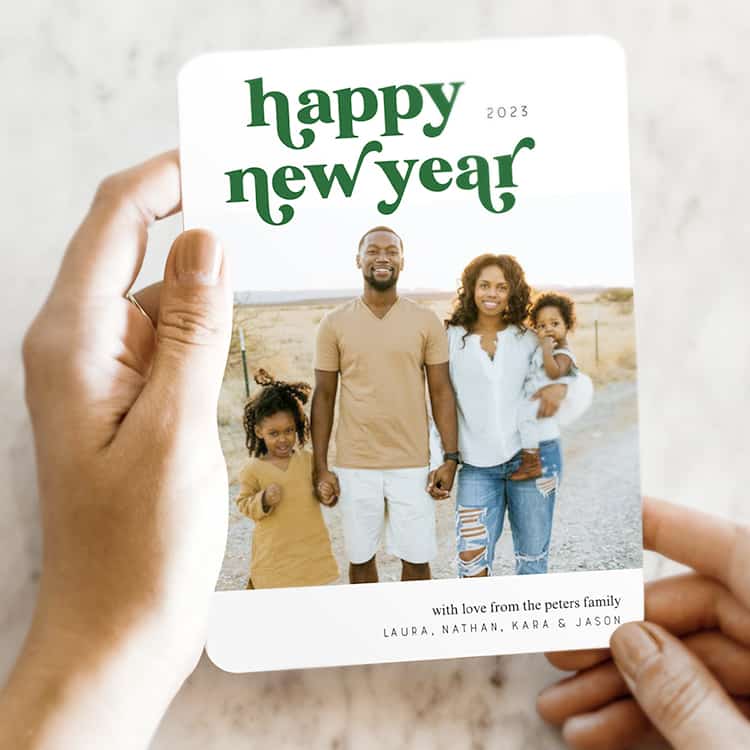 And during our family holiday in Sydney, we were able to put a fantastic firework-lit photo in front of the Sydney Opera House on our cards.
Happy Holidays Modern Collage
If you want a perfect card for any travel destination and holiday, look no further than this masterpiece. You can add not just one but six beautiful photos of unforgettable memories.
Other Ways To Preserve Your Holiday Memories
Cards are great, and if you're looking for more creative products, take a look at these.
Travel Photo Books
Make the perfect coffee table feature with breathtaking travel photo books for all to enjoy. We've made several ourselves.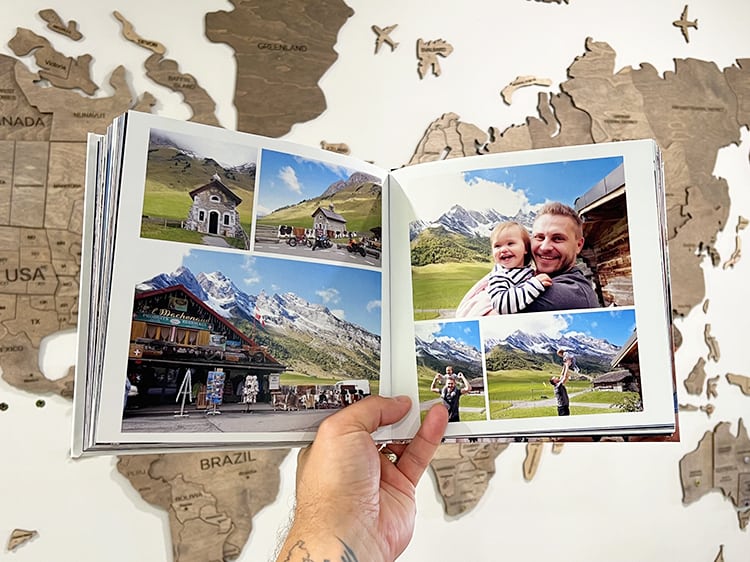 Calendars
Keep track of birthdays, holidays, and everything in between with a stylish and customizable calendar.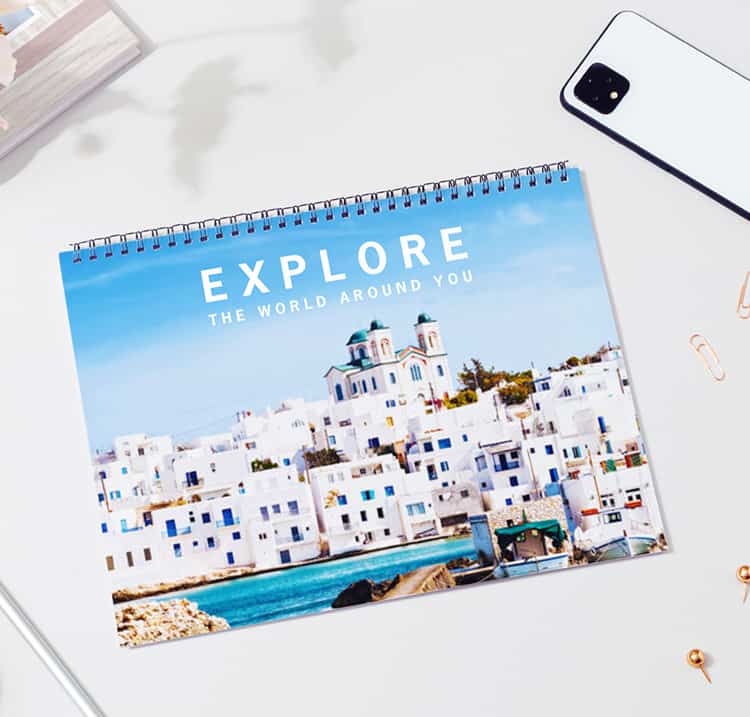 And who wouldn't love a brand-spanking new personalized Instagram Photos Calendar? Me too, right?
Tip: Use the code WANDERMIX22 and receive up to 45% Off Everything + Free Shipping on Orders $70+. This discount offer ends Tuesday, 1/31 11:59 pm PT.
Get yourself your own Travel Photo Calendar here!
Canvases
Bring family memories into the home with remarkably crafted canvas prints of all shapes and sizes. We have plenty hanging around the house.
Final Thoughts On Custom Photo Holiday Cards
When we travel during holidays, we always want to stay in touch with family and friends. So these Mixbook family holiday cards are a great way to share happy moments with loved ones in a unique and stylish way.
So when you're not exploring the best beaches in Phuket, whip out your phone or laptop and start creating wonderful holiday cards.