If you plan to take an extended trip within the USA, you should consider visiting a state with the most to offer to ensure that your trips are packed with things to do.
One of the places you should appear at the top of your list is Georgia. You could wonder what Georgia offers and why it should be on your list.
Simply put, there is a lot on offer in Georgia.
Top 4 Places to Visit in Georgia, USA
If you need a little convincing about visiting Georgia, USA, this guide will offer the top reasons to consider having Georgia as your next vacation destination.
1. Cumberland Island
Cumberland Island is the largest barrier island in Georgia. This island is located off Georgia's southwest coast, making it the southernmost island in the state.
Cumberland is not your typical coastal island. First, this tourist gem is only accessible by ferry.
Cumberland beaches are unique from your typical beaches because there are almost no forms of human art or interference to its miles of pristine beach.
The island is also home to the ruins of the Dungeness, Greyfield, and Inn Plum Orchard, which have succumbed to vegetation overgrowth.
However, their magnificence and luxury are still visible through their sweeping arches and grand entrances.
Herds of wild horses grace around the ruins and across the island, giving it a frozen-in-time, remote, and wild feel.
2. The Smoky Mountains of Georgia
If you love the country, you may have heard the mention of Georgia's smoky mountains. The smoky mountains are a real thing and a place you may want to visit in Georgia.
There is much to do in Georgia's smoky mountains, like taking hikes in the forest and visiting its many hidden waterfalls.
If hiking is not your thing, you could drive through the mountains to enjoy its scenic views all year round. But if you want the best experience, the best time to visit would be spring and summer.
Resorts around the smoky maintenance area have lots of other activities on offer, such as great golf courses and jet skiing making this destination a place you could visit for an entire weekend and not run out of options in terms of activities for the whole family.
3. Atlanta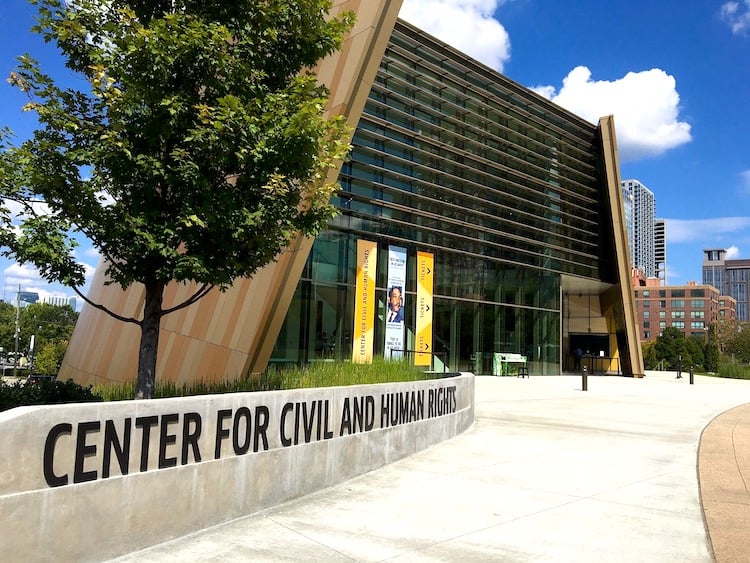 Atlanta is the seat of Fulton County and the most populous city in Georgia. Over 498,000 people live within Atlanta city limits and over 6,930,000 in its entire metropolitan area, making it among the most populous states in the United States.
Like other populous states in America, there isn't a shortage of things to do in Atlanta.
If you love music, the Atlanta music scene will satisfy you, irrespective of the genre of music you are into. If you are interested in American history, the National Centre of Civil and Human Rights is a place you want to visit in Atlanta.
Other things to enjoy in Atlanta include its beautiful parks, funky neighborhoods, beautiful parks, and filming locations for stranger things.
4. Jekyll Island
Jekyll Island in Georgia is a great place to visit for travelers looking for a peaceful retreat and plenty of outdoor activities.
With stunning beaches, abundant wildlife such as dolphins and sea turtles, four championship golf courses, and historic sites like the Jekyll Island Club remains, it offers something for everyone.
If you're feeling adventurous, try kayaking or paddle-boarding through the tidal creeks or take a hike around the Great Dunes Park.
For history buffs, there are numerous walking tours that provide insight into Jekyll Island's unique past.
Finally, don't miss out on the beauty of Driftwood Beach – perfect for an evening stroll to take in the stunning sunset views.
There's no shortage of things to do on Jekyll Island; let this be your guide to a memorable visit!
TOP TIP: Getting Car Insurance in Georgia
If you intend to have an extended visit in Georgia, it's advisable to carry Georgia car insurance coverage. Georgia ranks in the top 10 states with the most expensive car insurance rates in America.
On average, full coverage goes for approximately $2000, 13% higher than the $1,771 national average.
You can take steps to lower your cost of insurance. But the best approach would be leveraging the power of online insurance comparison resources to get the best Georgia car insurance rates without having to do the difficult task of sifting through all the providers in the market.
Final Words
There is much more you can do in Georgia than can fit into this list. If you do not know where to start, the places mentioned in this guide can be a good starting point, but you can build on the list as you go.
Georgia is not only famous for its historic landmarks, but also for its exciting activities.
Be sure to check out the stunning Sea Island Golf Club, one of the most scenic golf courses in the US, or the captivating Georgia Aquarium.
For a taste of American culture, take a tour of the World of Coca-Cola.
With so many things to do in Georgia, you'll never be bored!