Our process involves independent research, testing (by using it while we travel), reviewing, and recommending the best products. Click here to learn more about how we arrive at our recommendations.
Preparing for a long flight is never easy, and many things must be considered.
It would be best to remember to pack all the most useful airplane travel accessories. It's important to consider all the situations that might arise during a long-haul flight and everything you might need.
So, before it's too late, it is best to put everything on paper. This article covers some of the most valuable products for long travel.
So, before you are ready to depart, take some time to look at this list of best long-flight accessories, and then create a list of your own.
Our List of 27 Best Travel Accessories for Long Flights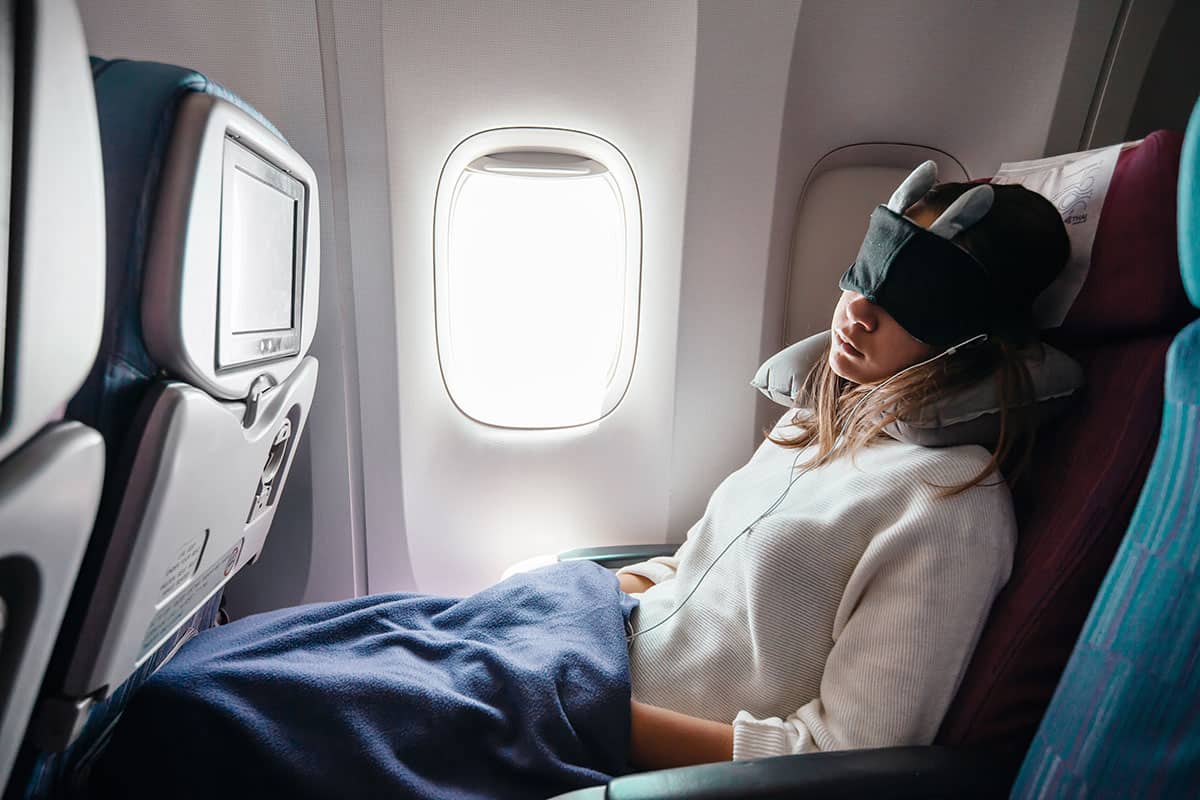 Wondering what to pack for your next long-haul flight!? We have a fabulous list of 27 items that we consider to be 'must-have' items whilst we travel overseas on never-ending flights.
Please consider what you will find handy though as I would hate for you to waste money on something that you won't really use.
1. Silensys E7 Bluetooth Headphones
Traveling without headphones can make your flight feel a lot longer than it is. If you can immerse yourself in your favorite media content, the hours will pass in a blink of an eye.
However, not all headphones provide the comfort required for a long-haul flight. It is extremely important to get a headset that won't grip your head too tight, and also won't pressure your ears or make them sweaty. That's where these Silensys headphones come out on top.
They have cushioned ear cups that are soft on your ears. Also, they are fairly lightweight, so you won't feel any strain even after you wear them for some time. Of course, it's still good to take them off every two-three hours, so you always have the same, maximum comfort.
These headphones do a great job on crowded and tight aircrafts. Turbulence, engine noise, murmurs, crowd noise, babies crying — all these sounds can make the flight even more uncomfortable. But with these noise-canceling headphones, you can avoid hearing unwanted noise and completely focus on your own media.
Battery power is also important for Bluetooth headphones, and these can last for a very long time. When you're on a long trip, you don't have to worry — the battery can last for over 30 hours, which is more than what it takes for a plane to fly around the world.
>>> Click here to grab your noise-canceling headphones for your next flight.
---
2. Sleepy Ride Airplane Footrest
Long-haul flights can cause a lot of trouble for your legs, particularly if you've already had some problems with swollen legs or sensitive veins.
This is why it is important to elevate your legs as much as you can and improve circulation, which is exactly what an airplane footrest does.
This memory foam footrest will embrace your legs in a soft, thick cushion. Instead of putting pressure on your legs, you can relax them in this soft, hammock-like swing. This will help the blood move freely through your vessels, preventing any complications.
To use it, simply hang it on the seat in front and adjust it however you like. You can place it under your feet, and also under your calves or knees. If you're short in stature, you'll enjoy placing your legs in this portable hammock, instead of uncomfortably waving them above the ground.
You can easily take it into the plane since it fits in a small carry bag. It doesn't take up a lot of space, either.
>>> Get your feet up and grab this brilliant airplane footrest now
---
3. AERIS Travel Pillow
Your neck suffers a lot when you can't find a good sleeping position in a confining economy seat. If you're wondering how to survive long flights in economy without your body feeling broken afterward, get a travel pillow.
With a quality travel pillow such as AERIS, your neck will feel like it's floating on a cloud. The memory foam makes it cozy and easy to fall asleep, while the thick, cushioned sides prevent painful movement of your neck during turbulence.
This pillow is not only great for planes, but it is also fabulous for long bus or car rides as well.
It is really easy to fold it and pack it in your handbag or use a special carrying bag that you get with it. It even comes with earplugs to cut off all surrounding noise, and an eye mask as well. With this combination, you're going to sleep like a baby.
>>> Grab this popular travel pillow from Amazon
---
4. Jersey Slumber Sleep Mask
A sleep mask is one of the top long flight essentials. Even the heaviest sleepers sometimes have trouble sleeping in an airplane. The constant change in lighting and the people moving around can distract you even with your eyes closed.
With a sleeping mask, this won't be the case anymore. You just put it on with an elastic strap and the silk will gently fall over your eyes.
It is light as a feather, and you won't even feel that you're wearing it. At the same time, you will sleep tight with no unnecessary distractions. It will make your sleep longer and healthier. Once you use this mask on a flight, you'll never want to give it up. Of course, you can use it at home every night, as well as during long travels by a train, a bus, or a car.
>>> Click here to grab this cosy sleep mask
---
5. Zoopen Multi-Purpose Travel Wallet
A multi-purpose travel wallet will keep all your carry-on essentials for long flights in one place.
If you are tired of always rummaging around for your passport, money, boarding pass, and other travel necessities, this wallet will keep you organized.
You may be surprised by how thick and spacious this travel wallet is.
There is a special pocket for your passport, three card spaces, and one pouch for a ticket, travel insurance, or another document.
Flying with your partner or as a family? We have a great guide on family passport holders here, and you can also find a more masculine version in our men's travel essentials guide here.
There's also a zipped pocket for money, a big pouch for a smartphone, and various other small compartments. Instead of checking all your pockets, you can always check just one.
This wallet is not only useful but also elegant and fashionable. Therefore, you can carry it around even when you're not on the road.
>>> Click to check out this beautiful travel wallet
---
6. CableintheBay TSA Approved Toiletry Bag
Finding a proper flight bag to carry all your cosmetics is a challenging task. The Transportation Security Administration (TSA) will want to go through your toiletries during security checks, and storing them in the wrong kind of bag can cause problems.
But with this TSA-approved bag, you won't have to worry anymore. All your bottles and other liquids will fit neatly in this transparent bag. The thick PVC material is reliable and waterproof. Considering the tight zipper, there is no concern about liquids spilling all over your luggage.
The bag also looks great and is completely unisex.
>>> Click here to grab your clear toiletry bag for your next flight.
---
7. Baiji Water Bottle
When you ask yourself what to bring on a long flight, the first thing that should come to mind is water. You need to carry a lot of water with you, especially during long flights. The air in the cabin comes from the exterior, where there's much less moisture than closer to the ground.
So, this water bottle is one of the first things to bring on the plane. Instead of buying new plastic bottles every time, you can use this one as many times as you like. It's made of foldable silicone, which is a perfect choice for several reasons.
First, you can fold it and pack it when you exit the plane, instead of leaving the plastic in the trash. Next, the material doesn't collect any stains, and you don't have to worry about the smell or taste.
Finally, this material keeps the liquid at a particular temperature for many hours. Pour cold water inside and it will remain cold for a long time, which is extremely important during long-haul flights.
>>> Be smart and grab a re-usable, foldable water bottle for your next trip
---
8. No-Jet-Lag Homeopathic Remedy
Homeopathic remedies split opinions, but they can do you no harm. Many say that these nature-based ingredients are the best travel accessories for long flights. This particular remedy can prevent various post-flight symptoms that could hamper your routine.
It can reduce the symptoms of jet lag, which affect your heart rate and cognitive performance. It may also prevent fatigue and dizziness, and you can use it to improve your sleeping schedule.
Even if you're a skeptic, there are no side effects, so you can only benefit from this remedy. Take one each time you start your travel and another one when your airplane arrives. With 32 tablets, you're set for 16 flights at an affordable price.
>>> Try out these no-jetlag tablets – what have you got to lose?
---
9. Wanderlust Travel Compression Socks
Compression socks are long-haul flight essentials. Traveling on long flights can slow down the blood that travels down to your legs and back up. This can cause numbness, pain, and more severe issues such as blood clots and thrombosis.
If you often take long flights, you should treat your legs with the utmost care. Compression socks will gently press your lower leg and improve blood circulation through the vessels. This way, your legs will still feel comfortable and fresh when you finally exit the plane.
There's no need to worry about appearances either, as these socks resemble your everyday socks and stockings. Many passengers use them and you might not even notice it. In our opinion, these are the best compression socks for travel – so, do your legs a favor after a long flight and get a pair of these.
>>> Forget about those flimsy socks the airline gives you and grab some of these compression socks instead.
---
10. Anker PowerCore Portable Charger
Since smartphones and other devices are travel essentials for a plane, we need to make sure they always have enough power. The problem appears when we use these devices for a long time since they consume your charge.
So, if you don't want to lose your most important device due to low battery, a power charger is exactly what you need. You can place the Anker PowerCore anywhere and call it to action once your smartphone gets close to shutting down.
It has enough power to fully charge most smartphones, and some can even be charged twice. With this product, you will never have to ration your battery usage during long-haul flights.
>>> If you don't have a portable charger make sure to purchase this compact portable charger – it is a game-changer!
---
11. Colgate Disposable Mini No-Water Toothbrush
You need to bear in mind that you'll probably need to brush your teeth during long flights. Since your usual toothbrush is probably in your luggage, it's good to get a disposable one and carry it in your bag.
When the time comes to brush your teeth, you can just take it out of your handbag and start brushing. There's no need for toothpaste since the Colgate Mini Toothbrush has a pre-pasted bead in the middle. Once you start brushing, the bead will dissolve.
There is a small soft pick at the bottom of the brush that you can use to clean difficult-to-reach areas. There is no need to rinse your mouth afterward.
When you finish, just dispose of the toothbrush and enjoy your fresh breath and clean teeth.
>>> I love these toothbrushes for airplanes! Click here to grab your pre-pasted, no rinsing-needed toothbrush.
---
12. Cora Bamboo Feminine Wipes
Wet wipes are also important travel essentials for the plane. They help you moisturize, sanitize, and keep your face and hands feeling fresh.
The great thing about these particular wipes is that they are completely natural. They are full of essential oils that keep your skin moisturized and soft. They are also anti-bacterial and you can use them to clean your hands and other body parts.
Each cloth comes in a separate package, so instead of carrying around a large pack of wet wipes, you can just pack a few in your bag and you'll save a lot of space.
They have a natural, bright scent you will enjoy. At the same time, it is light enough that it won't reach or bother any passengers around you.
>>> Buy body cleaning wipes from Amazon
---
13. Entertainment | iPad, Kindle or Similar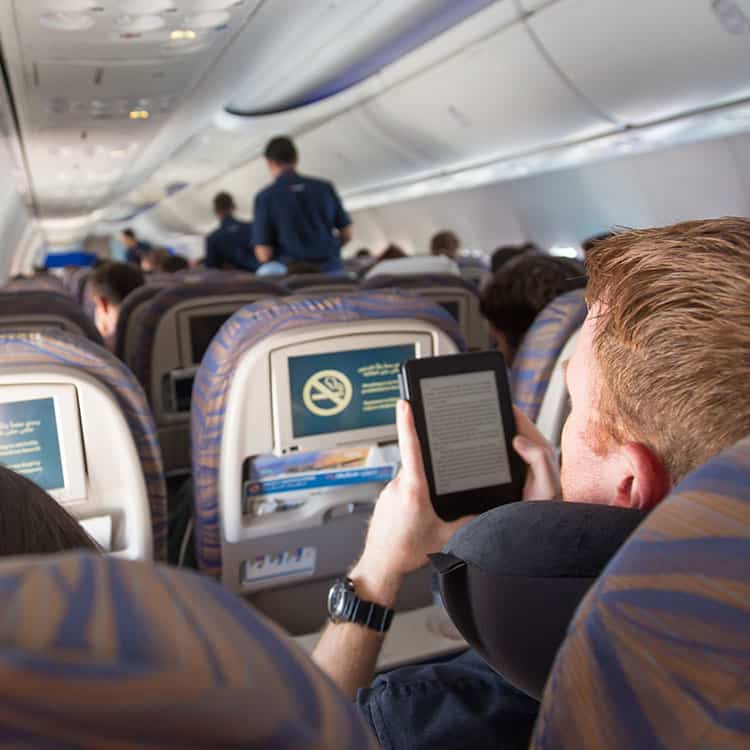 Entertainment is valuable for so many time-killing hours. You will spend way to many hours waiting around on the airport pre-flight as well as during layovers.
If you fly as regulary as we do, you will also find that the entertainment on the flights (if you get some) are pretty limited. We often find that we watched everything we wanted to on the first flight and then we have nothing to do on the next flight – never mind the return flights home.
Then you will probably have to deal with long hours in transfers once you get to your destination – you get the drift.
So having your own entertainment can be invaluable. I highly recommend both an iPad, as well as a Kindle (if you love to read).
>>> Click here to see which iPad we use
>>> Click here to see which Kindle we love
---
14. Compactable iPad, Kindle Holder
Personaly, I don't like holding my iPad or the tablet in my hand for hours on end, so having one of those gadget just make sense.
Simply fold it out and you got yourself a hands-free experience right here. Easy to store and virtually weightless for when you counting every gram on the flight.
>>> Click here to see the price for the holder we like
---
Other Cool Travel Accessories for Your Next Flight
In addition to the aforementioned accessories, these are some other things that you should find space to carry.
15. Regular Socks
Regardless of whether you're wearing travel compression socks or not, it is always important to bring a pair or two of regular socks with you. Having a pair of regular socks is especially important if you are unsure of the temperature in the plane.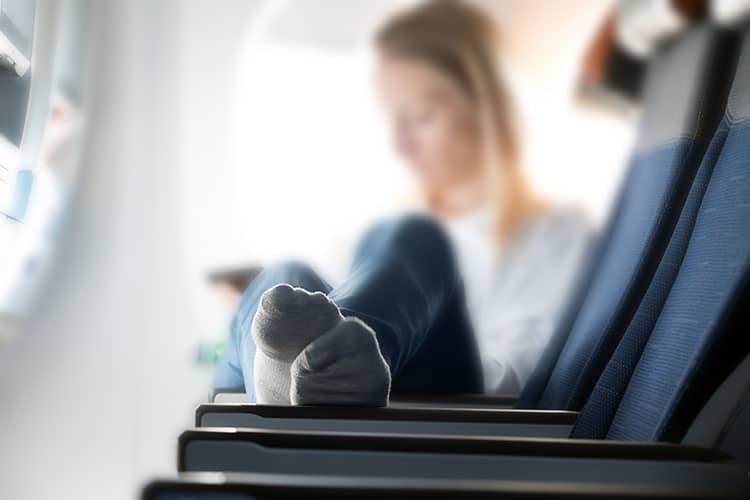 If the temperature in the cabin is too low, your feet will be cold and uncomfortable. Always keep an extra pair so you can double up, even if you need to wear them over compression socks. This will keep your feet warm in every situation.
Additionally, your feet can get sweaty during long uncomfortable flights. Even with high-quality footwear, they may develop an unpleasant smell. If you want to take off your shoes to relax your feet a bit, it's good to replace your socks too if you feel some kind of odor coming from down there.
---
16. Hand Sanitizer
Like wet wipes, hand sanitizer is an important part of airplane hygiene. Before you grab a snack or prepare for a meal during a long flight, you must clean your hands.
Using a hand sanitizer is a good way to get rid of bacteria and remove harmful particles from your hands. Hand sanitizer usually comes in small bottles and it is enough for several flights.
---
17. Sanitizer Wipes
In addition to wet wipes, consider keeping sanitizer wipes at hand. Since they have a high number of chemicals, you should use them to clean the objects you need to handle.
For example, they are great for cleaning up armrests before you place your own hands on them. You can also clean up the tray table prior to putting down any snacks.
---
18. Hydrating Face Mist
Long-haul flights can wear you out. Spending a long time at a high altitude will dry your skin due to the lack of moisture in the air. Irregular sleep patterns will also take a toll on your face, but hydrating face mists are there to solve that problem.
These face mists will moisturize your skin and make it soft and clean again. After long flights, you can regain your freshness with a product like this. It will make you look like you hardly traveled at all.
>>> I love this Mario Badescu Facial Spray with Aloe, Herbs and Rosewater
---
19. Lip Balm
A long flight will dry and chap your lips, but a lip balm can either prevent or treat this issue.
Since lip balm is also a liquid, make sure that you get a small pack so you can carry it on a plane.
---
20. A Change of Clothes and Underwear
You never know what can happen during a long flight, so it's good to plan for every eventuality. Try to put at least one change of underwear and clothing in your carry-on so you don't have to worry about any inconvenient situations.
During long-haul flights, you can get sweaty while you sleep. To prevent others around you from feeling uncomfortable, you should always have something to change into.
---
21. Roll-On Deodorant
Products that will make you feel and appear fresh are essential flight accessories. Your armpits can gather a lot of sweat during long flights. Without roll-on deodorants, you will probably not be the best passenger to be around.
That's why it is good to choose a roll-on deodorant with antiperspirant properties. A quality product can protect your skin and make you smell fresh and clean for the duration of the flight. If you feel the effect wearing off, just add a bit more and you are set.
---
22. Pain Relievers
You should always have some pain relievers with you just in case, especially during long flights. You may develop a headache due to the pressure and altitude changes.
Also, pain relievers make it easier to put up with economy seats in general. The small, confined space can take a toll to your neck and back. It is not uncommon to feel pain in your joints after you spend a long time sitting.
With a couple of pain relievers, you can always soothe the pain and make it through the long trip.
---
23. Sleep Aids
Sleep aids, like Melatonin, will make your trip much easier. You don't have to necessarily take them, but it may relax you to know that they are around.
The noise, turbulence, and other occurrences that come with flying can interrupt your sleep and make your trip frustrating. Melatonin will relax you and prevent any sleep anxiety. Your sleep will be heavier and it will be much more difficult to wake you up.
Another fabulous product to take with is ear plugs. I know that some airlines will give you some, but I find that they are often hard and crack easily, so I prefer to take some soft squishy ear plugs with.
---
24. Breath Freshener
Breath fresheners are not as effective as disposable toothbrushes, but you can use them multiple times during the flight. You can also use them as an addition to your toothbrush.
With the dry air, you will always have the need to refresh your mouth. Most of these products are completely natural and they come in small bottles that can easily pass security checks.
It can make your mouth fresh for the next few hours, so don't neglect to pack these airplane travel accessories.
---
25. Cashmere Wrap
The temperature in the plane can be difficult to predict. Sometimes it may be too warm, while other times it can be freezing. Even if the temperature is objectively fine, your body can respond differently to flying at a high altitude.
In any case, having a cashmere wrap at hand is a lightweight solution that can benefit you a great deal. It is easy to carry in your handbag since the material is so soft and thick.
If you feel like you could use a cover, just put it over you. It can act as a replacement blanket because it is soft and comfortable, yet warm enough.
When you don't feel cold anymore, you can easily fold it and put it away. But for those of you who do prefer to pack a portable lightweight blanket, we have a full guide on the best travel blanket just for you!
---
26. A Pen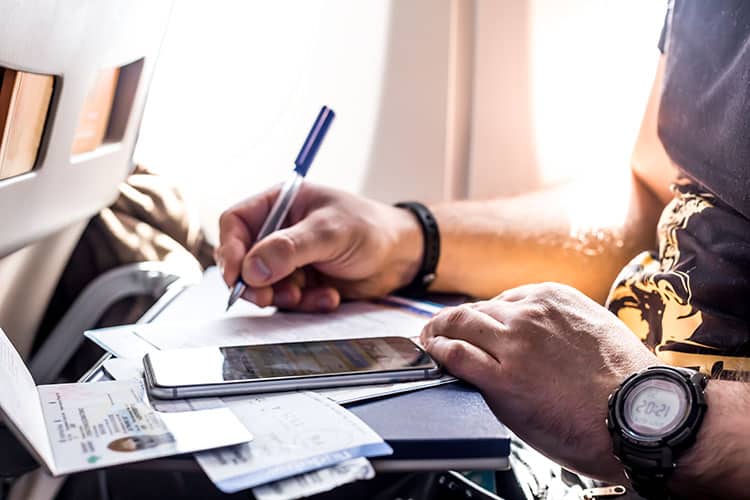 Not even a smartphone can replace a simple pen. You should always carry a pen around for multiple reasons. If your devices run out of battery and your portable charger is of no help, you can use a pen to write some important notes to yourself. Also, it is often more convenient to take out a pen and paper instead of tapping to open an app on your smartphone.
Finally, sometimes you will need to fill out certain forms when you travel. For example, you may need to deal with documents at customs. Instead of turning around asking for a pen, you can just take out your own when you need it.
---
27. A Kids Travel Activity Book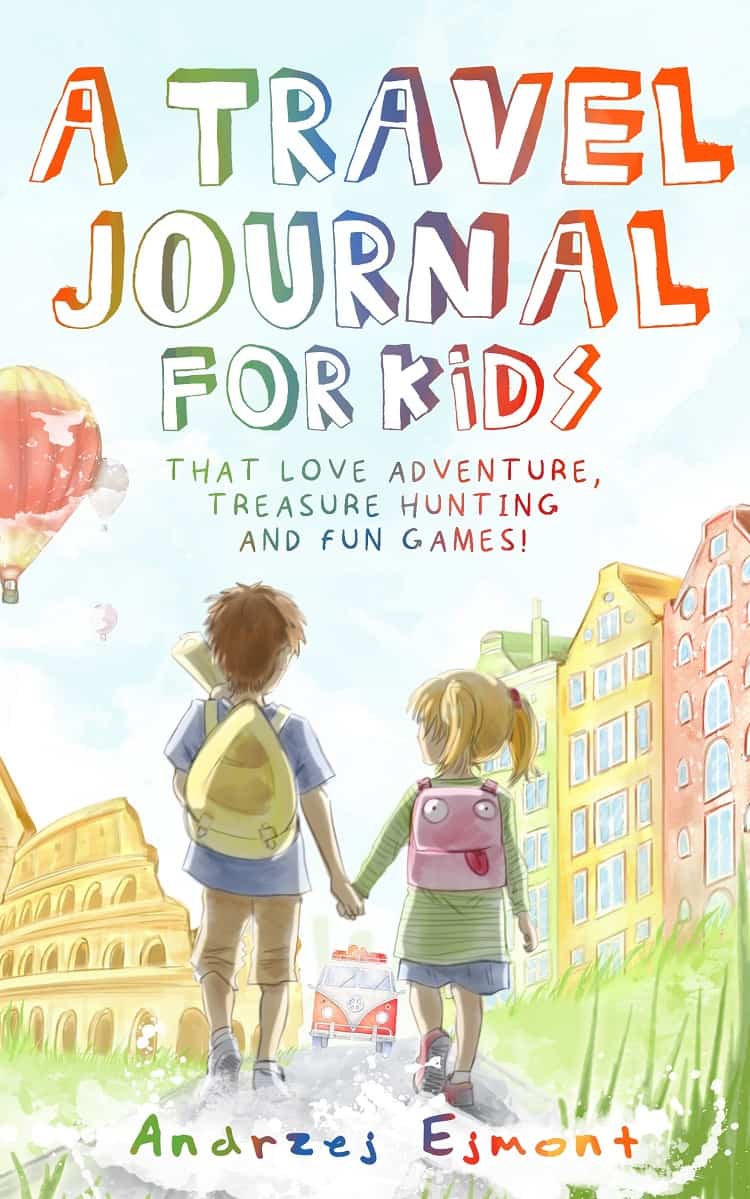 Yes, we have created kids' travel activity book so that you don't have to put up with bored kids in the back seats. Funny, but not funny right?
We all know how it is when you venture out on a road trip or try to survive a long flight. Here is the best time to find a travel diary that can keep our kids busy for days on end.
Click the button and get your copy of "A Travel Journal for Kids" on Amazon now:
---
Enjoy Your Flight
While remembering to pack all these essentials may be stressful, having them at hand will make the journey much more pleasant.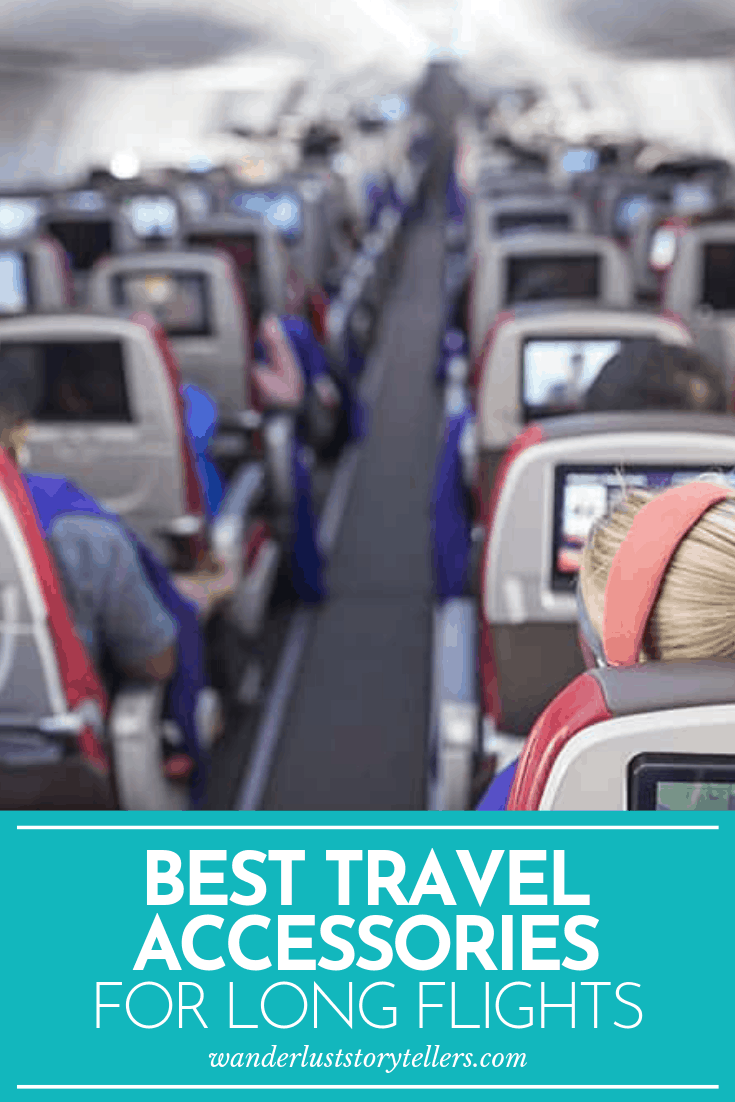 If you have some wet wipes and a portable charger, along with the other items on these lists, your flight can be the perfect opportunity to relax and enjoy yourself.
Tip: If you are flying with little ones, you might be also interested in checking out:
I would love to know if you have any super cool handy products that you can add to our list of travel accessories for long flights.
Why Trust Wanderlust Storytellers
Jolene Ejmont is an author with almost a decade of experience in researching and writing about travel and lifestyle products.
Additionally, she is a mother to 3 kids. She has experience traveling with a baby, toddler, preschooler, tween, and teenager.
In the process of creating this list, Jolene delved into the research of numerous products, scrutinizing crucial specifications such as dimensions, weight rating, and reviews, both positive and negative.