What are the best airplane toys for toddlers? Can you buy toys that will help make traveling with toddlers easy and stress-free?
Don't we all love kids? Well yes, except when we have to travel with them. Toddlers can get super cranky while traveling – whether in a car, an airplane, or a train. If only there were a way for parents to keep them occupied and avoid disturbing others around them.
Finding the best travel toys for toddlers can be difficult because of the seemingly infinite variety of toys available today.
We have shortlisted a score of the best toddler travel toys that we have found beneficial ourselves and compiled a list to help you select the perfect toy for your young one.
___________________
Best Airplane Toys for Toddlers
In our other guide we discussed the best travel gear for toddlers, but today we want to focus on fun toys. So without further ado, let's look at the best airplane toys for toddlers.
All of these, in our opinion, best plane toys for toddlers are easy to carry and store, ensuring a hassle-free travel experience for parents.
1. Quiet Books
Quiet Books are fabulous and work really well if you can find some good ones. We love both of these quiet books mentioned below:
a) Pockets of Learning My Quiet Book
If you are looking for airplane books for toddlers, you should go for the classic My Quiet Book offered by Pockets of Learning. It is an interactive cloth book that comes with a zipper and padded handles, which allow you to carry it conveniently.
The pieces are tethered to the book. And it will even help improve cognitive learning and motor skills.
>>> Click here to grab this book.
b) Curious Columbus My Big Day Quiet Book
One of, in our opinion, the best toddler toys for airplane travel is the My Big Day quiet book. It is a perfect toy for three to six-year-old children.
It has ten interactive, day-in-the-life experience pages that will help improve the fine motor skills of your kid.
>>> Click here to grab this book.
_________________________________
2. Buckle Toys
Toddlers love buckling and unbuckling things. You will soon realize that they can get themselves out of their highchairs, out of their car seats and out of their diapers eek! These toys are brilliant and educational as well.
The most popular buckle toys are:
a) Buster Square Buckle Toy
Buckle toys make great toys for toddlers on plane. Buster Square is an excellent toy consisting of six child-friendly buckles in different clasp styles.
We recommend this toy for kids aged one to four years. It can help develop cognitive and fine motor skills.
>>> Click here to grab this buckle toy.
b) Blu Whale Buckle Toy
If you would be traveling with a toddler on a plane soon, you might want to buy the Blu Whale offered by Buckle Toys.
It has six child-friendly buckles in various clasp styles that will help develop cognitive skills, hand-eye coordination, fine motor skills, and problem-solving skills.
>>> Click here to grab this buckle toy.
_________________________________
3. Boogie Boards
A Boogie Board is a relatively sophisticated and creative airplane toy for toddler, especially for kids aged three years and above.
This electronic notepad allows your kid to doodle, draw, scribble, and erase easily. It includes multiple drawing and writing tools in different colors. It has been one of the best airplane toddler toys that we have ever purchased.
>>> Click here to grab the boogie board.
_________________________________
4. Water Wow Reusable Water Coloring Book
If you are looking for reusable toddler airplane toys, Melissa & Doug offer a pack of three coloring books, each with reusable pages. Each water painting book has a different theme – Safari, Farm, and Under the Sea.
It helps develop visual discrimination and fine motor skills.
>>> Click here to grab water coloring books.
_________________________________
5. Fidget Toys
Other fabulous ideas include fidget toys. Things that simply keep those little hands busy. These toys are great for motor skills as well.
a) Fat Brain Toys Dimpl
Travel Toys for 1-year-old toddlers do not get much better than Dimpl. It is a perfect sensory toy that will keep your child quiet and engaged. It helps develop cause-effect learning and fine motor skills.
Fat Brain Toys' Dimpl is one of the best travel toys for 1 year old toddlers.
>>> Click here to grab the Fat Brain Toys Dimpl.
b) Fisher-Price Fidget Cube
If you are looking for travel toys for 18-month-old toddlers, we recommend the Fidget Cube from the reputed Fisher-Price brand.
It features six sides with different activities. And it comes in the perfect size for your kid to comfortably grasp and play with.
>>> Click here to grab this toddler Fidget Cube.
_________________________________
6. Puzzle-Type Toys
Another fabulous set of toys are to focus on mental stimulation and fine motor skills. I love these puzzle-style toddler toys:
a) Fat Brain Oombee Cube Sorter
Fat Brain offers various plane toys for 1-year-old kids. The Oombee Cube Sorter is an excellent toy for enhancing your kid's shape recognition, sensory learning, and fine motor skills. It has six different rubbery shapes attached to the corners.
>>> Click here to grab the Cube Sorter.
b) Melissa & Doug Cup Stackers
If you are looking for the best travel toys for 1 year old or best travel toys for airplane, then you have found it here. This is one of the top amazon best selling toddler travel toys for toddlers.
Not only the cups improve the motor skills and take a bit of time for your toddler to play with, the cups are also numbered, which in turn teaches your child to count.
>>> Click here to grab the Stack of Cups.
c) Melissa & Doug Magnetic Hide & Seek Board
Melissa & Doug's Magnetic Hide & Seek board is an excellent developmental activity toy for kids aged three to five years. It has a sturdy wooden construction. Nine doors can open and close to reveal magnets in various shapes.
>>> Click here to grab the Puzzle.
_________________________________
7. A Memory Game
How about you buy a game that allows your kids to have fun and increases their memory?
Melissa & Doug's Flip-to-Win game is made of a wooden frame consisting of 25 flaps, sliding scorekeepers, and seven double-sided game cards.
Whilst it is an excellent game for five to seven-year-old kids, we found that our 2 year old quickly understood the game of matching animals and loved playing 'hide and seek' to find the animals.
>>> Click here to grab the match game.
_________________________________
8. Crayola Mess-Free Coloring Book
Crayola's Wonder Mess-Free Coloring Kit is the perfect way to hone your kid's artistic skills without any mess.
The kit consists of two 30-page Wonder pads, 10 Wonder classic color mini markers, and 10 Wonder pastel color mini markers. These markers do not show on clothes, skin, or furniture – no mess and no need for cleaning.
>>> Click here to grab the mess-free coloring book and pens.
_________________________________
9. Reusable Sticker Pad
Kids can enjoy a creative, learning experience with the Habitats Reusable Sticker Pad from Melissa 7 Doug.
It contains an extra-large sticker pad, over 150 repositionable stickers, and five nature-inspired colorful themes. It is a perfect toy for kids of at least three years of age.
>>> Click here to grab the sticker pad.
_________________________________
10. Finger Puppets
Betterline offers one of the most exciting travel toys for 2-year-old kids – the Story Time Finger Puppets set. It consists of 14 animal and six human finger puppets, each with a long sheath on the bottom for securely sticking on to your kid's fingers.
>>> Click here to grab the finger puppets.
_________________________________
11. Button Art Activity Set
The Button Art Activity set from Alex Discover is one of the best airplane toys for 2-year-old kids. It consists of a two-piece storage tray, ten different pictures, and 46 colorful buttons.
It develops creative thinking, fine motor skills, and hand-eye coordination.
>>> Click here to grab the button art set.
_________________________________
12. Magnetic Building Blocks
Picasso Tiles 3D Magnetic Building Blocks set is for kids who love to explore their creative side. It consists of 60 magnetic pieces in different geometrical shapes.
This game can help develop various skills in your kid, including color and geometrical shape recognition.
>>> Click here to grab the building block set.
_________________________________
13. Play-Doh
We never fly without playdoh. I kinda hate playdoh but when all else fails, playdoh will typically save the day.
I typically buy the party bag playdoh pack and just grab 4 random tubs for the bag. So the packs lasts me for a few flights.
>>> Click here to grab the playdoh party pack.
My daughter also loves accessories to use with it, so I grab a shape cutter or two, a rolling pin and a playdoh plastic knife.
Playdoh tends to make a mess (which is why I hate it), so it might be a good idea to grab one of these anti-mess foldable play tray holders to contain it all.
>>> Click here to grab the foldable play and eat tray.
_________________________________
14. Fat Brain Toys Squigz Starter Set
The Squigz Starter set is the most exciting and fun toy in our list of recommendations. It consists of 24 pieces in eight different shapes and colors. You also get a plastic bin for convenient storage.
The pieces connect easily and pop apart, without leaving any marks or residue on the surface.
>>> Click here to grab the fun Squigz toys.
_________________________________
15. iPad or Tablet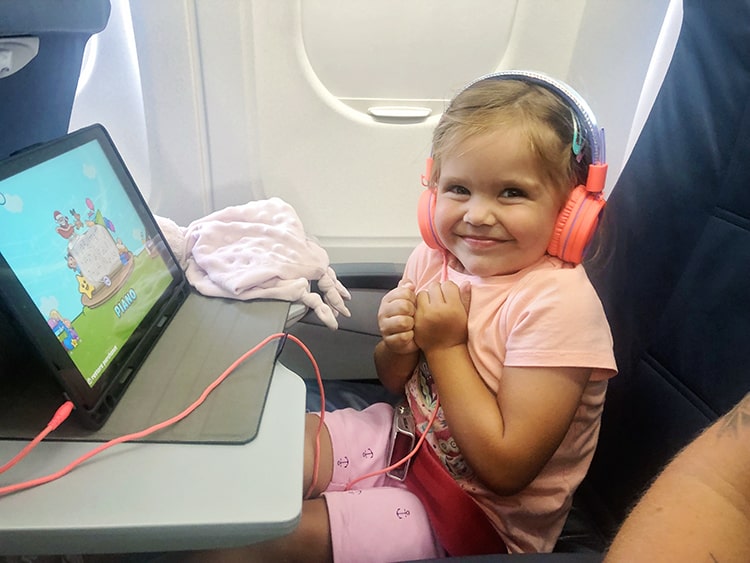 An iPad or Tablet will also give you a little bit of downtime and is worth the hefty $$$. Our nearly 3 year old can watch a whole episode of a tv show before getting bored, which means we get around 30 min to re-energize before heading back into hands-on play.
We used to have a Kids Fire HD which was great, but if your dollars can reach the price of an iPad they are SO MUCH better because they are so much faster and just easier to add apps, watch Netflix shows etc.
I should also add, that yes we even take this on planes that have their own screens.
The best you can do is to pre-download (from Netflix as an example) your child's favorite shows as their favorite characters will keep them better entertained.
a) Fire HD 10 Kids Edition Tablet
Amazon's Fire HD 10 Kids Edition Tablet is an excellent choice if you are willing to spend a couple of hundred dollars. It comes with a protective case. It features 10.1 inches of 1080p HD display and 32 GB storage space.
We especially liked the two-year worry-free guarantee that ensures replacement of the tablet, if your kid breaks it.
>>> Click here to grab the Fire HD.
b) Kidrox Toddler Headphones
Kidrox Toddler Headphones is the most stylish product in our recommendations list. It has a volume restriction of 85 decibels to protect your child's hearing. These headphone features are flexible and durable made from soft materials, and have a standard 3.5mm audio jack.
>>> Click here to grab the headphones.
_________________________________
16. Alphabet Set
The Sesame Street Elmo's On The Go letters are a great choice when looking for the best travel toys for toddlers. This set included a very colorful set of 26 letters, all neatly foldable into a easy-to-carry case.
This set is great for the ages 2 to 4 years old.
>>> Click here to grab the GO Letters alphabet.
_________________________________
Summing It Up
Having useful travel toys for toddlers on airplanes is a must. You can easily select any one of these best toys for toddlers on planes that we have handpicked. These toys work great not only for plane travel but also for car and train travel.
We ALWAYS fly with stickers, playdoh, an iPad and toddler headphones, a book, and 2 extra toys that our child is currently enjoying.
I have also heard of parents wrapping the toys as well so that the toddler can spend time unwrapping them (I haven't really bothered with this yet but it might be worth thinking about).
It is important to pick toys that fit your child's developmental age, if they can't do buckles yet, it won't make sense to take the buckle toy.
And we don't want to take the Fat Brain Toys Squigz if they are still popping everything into their mouths.
We have carefully shortlisted different types of toys and games in this list so you can find something that will be perfect for the age and stage that your toddler is currently at.
Find a great bag to pack everything in. We organize our toys in two packing cubes, so that we can keep them under the seat. And those go into our backpack travel diaper bag.
Tip: You might be also interested in checking out which is the current best car seat for airplanes and the best travel accessories for long flights.
Further Reading: