We have written stories about the Kingdom of Wonders, Cambodia, quite extensively and for a good reason.
It is an amazing country to visit, with beautiful destinations, history dating to generations thousand years back and much more. Yes, this country suffered greatly in the past years, but the people are still there. The spirit of Cambodia lives in the people that survived, in the places that you visit, in the land. You just have to make your way there and discover it for yourself.
Today is all about where to go in Cambodia, a well planned and travel-tested 2 week Cambodia itinerary where you can experience all the different layers of culture and landscapes that this country has to offer.
This was how we travelled as a family with young kids; each destination different than the one before it, always something new to see and something fresh to discover. We were able to check out a variety of destinations from the cities, to the countryside, to floating villages and even beautiful islands. You can also check out our post on the unique things to do in Cambodia to help you plot out your itinerary.
Enticed yet? Well, scroll down to read more.
–
A 2 Week Cambodia Itinerary
3 Days in Siem Reap
What to do in Siem Reap:
For me, the number one destination to visit was Siem Reap and that is why we started our trip there. Well, so did a million other tourists, haha… Yes, it is a very popular city! It will most likely be crowded with visitors and locals alike. The mix of people and busyness only adds to the experience! Better crowded then deserted if you ask me.
The city is vibrant and has much to offer. On our list of what to do in Siem Reap was definitely: try Cambodian cuisine!! To be perfectly honest, our expectations were high. I was told that the Cambodian food is similar to Vietnamese and Thai, but I think I will disagree with that statement. You can judge for yourself.
–
Day One: Siem Reap – Exploring the Angkor Temples
Leave for the temples early in the morning to beat the traffic. You can purchase the tickets at the entrance to the complex.
Make sure to get yourself a Tuk-Tuk driver for the day, as it is quite far to walk.
Our recommended temples to see on the first day are Angkor Wat and Angkor Thom.
Angkor Wat is the biggest temple and will take you a good few hours to explore.
In the afternoon spend some time in the city exploring the markets and local yummy food.
Our recommendation is the Beer Street, where you will have plenty of choices of Cambodian, Italian and other cuisines. Rice pancakes from the street vendor are a great dessert!
Follow the link for more details about the temples, photos and to read our story – A Glimpse into the Angkor Temples and the Angkor Wat with Kids. One of my favorite temples was the beautiful Ta Prohm temple.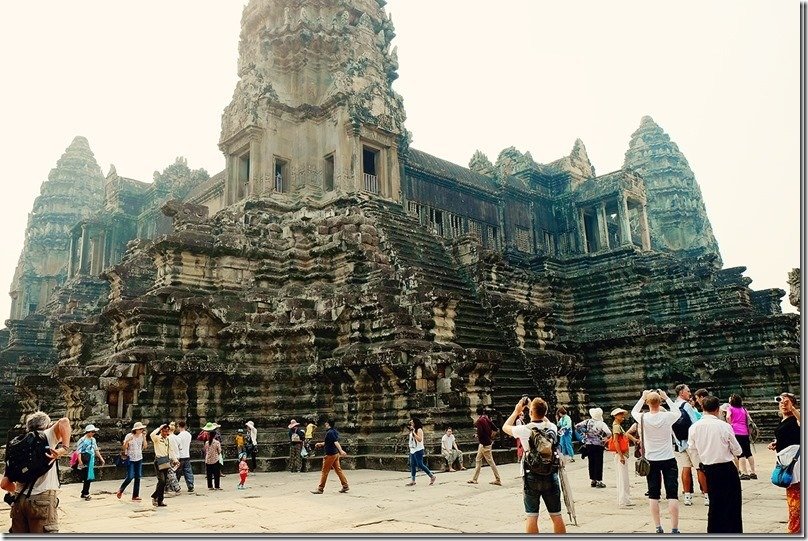 –
Day Two: Siem Reap – Exploring "Tomb Raider" Ta Prohm Temple and Banteay Kdei Temple
Leave early in the morning to beat the traffic.
Make sure to take your time through the "Tomb Raider" temple. There is much to see and you will not need a guide here, even though the local guides will be persistent.
Banteay Kdei is a fascinating one, so have your camera ready as well.
Should you have more time, don't hesitate to explore more temples, however, our recommendation is to take time to unwind back at the city centre for afternoon relaxation.
In the afternoon, take time to rest your feet at one of the massage parlours.
–
Day Three: Kampong Khleang – Exploring the local life in villages around Siem Reap
Take a tour to see how the locals live, how they grow and process their food, how they fish and much much more.
Have a chance to learn how the locals process rice or make brooms or other things on offer by the tour company
Our recommendation is Buffalo Tours who we personally used ourselves.
You can easily spend another 2 days in Siem Reap if you have the time!  But when you are traveling with kids, we really felt that 3 days was enough before moving on to other areas.
–
2 Days in Phnom Penh
What to do in Phnom Penh:
Phnom Penh, the capital and the home of the king.  What is not to love about this metropolis of Cambodia?  There is a colorful Royal Palace, Silver Pagoda, Wat Ounalom and much much more. This city is a centre of action and (as I called it) a concrete jungle.
Yes, it is a huge city. It took us an hour to get through to the riverside central district, weaving in and out of traffic, but we are glad we saw it! Especially enjoyed the sunset boat cruise on the Mekong. Loved it! Best way to see the city, I reckon!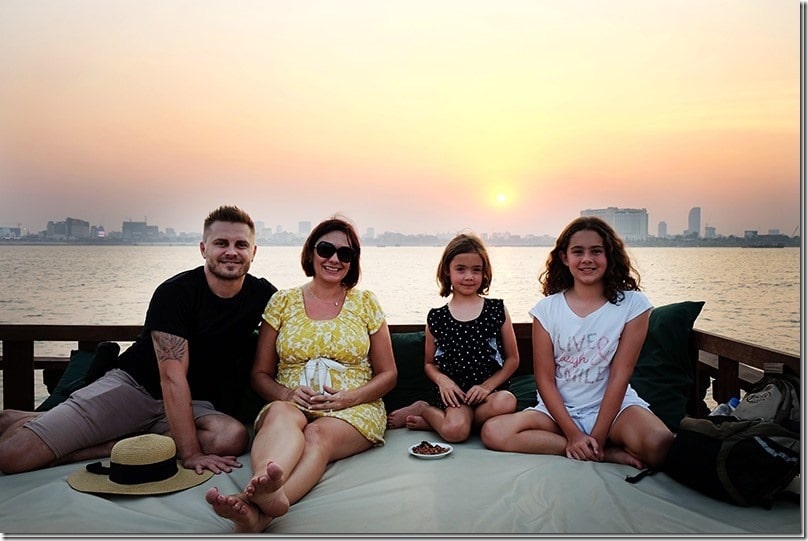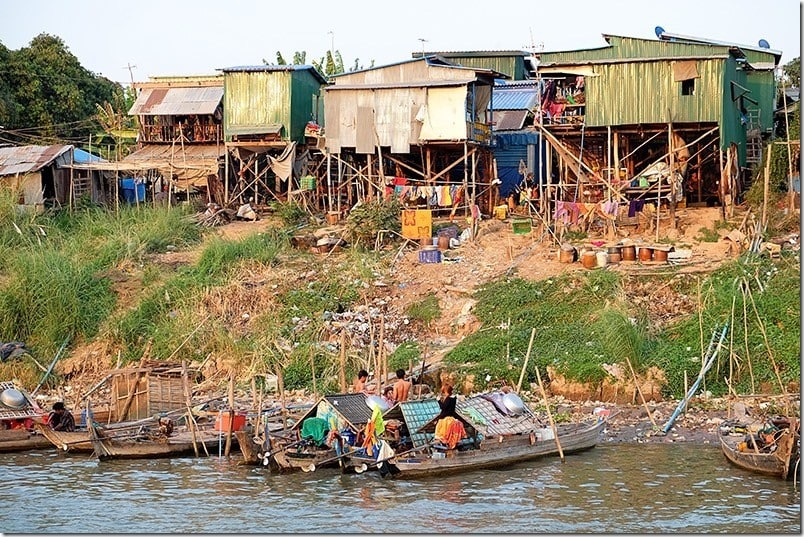 –
Day Four: Phnom Penh – Exploring the City and Sunset Cruise on the Mekong
–
Day Five: Phnom Penh – Exploring the Killing Fields
Spend a day filled with history and sightseeing at the Killing Fields.
Although we have not ventured out to see them ourselves, we would recommend taking this opportunity to learn more about the atrocities that touched Cambodian people. (We were travelling with young kids and we thought that it would have been a little bit too much for them just yet.)
–
2 Days in Kampot
What to do in Kampot:
Kampot was full of surprises. Such a small community in comparison to the big cities we just visited, but so much to do and see. Some of the best on the list of what to do in Kampot were definitely pepper farm and the salt fields. I didn't know that Kampot pepper reaches as far to almost all continents of the world. Next time, when you are in a supermarket, check out where your pepper comes from.
–
Day Six: Kampot – Exploring the Pepper Farm and the Salt Fields
Make your way to Kampot from Phnom Pehn. Follow the link to read more about How to get from Phnom Penh to Kampot and Kep
In the afternoon, take a Tuk Tuk ride to see the world famous Kampot Pepper Farm and learn about how the pepper grows.
Check out the Salt Fields at the afternoon harvest time. Here you will witness the labour intensive process of gathering salt, truly fascinating!
Follow the link to read our 5 Truly Unique Things to do in Kampot & Kep, Cambodia!
–
Day Seven: Kampot – Exploring Kampot and Sunset Cruise on the river.
Take time for you and relax by the pool at your hotel.
Explore the town and indulge in the local cuisine.
Take a scooter ride up the Bokor Mountain
Enjoy the late afternoon boat ride on the river. Our recommendation is to make sure you ask for the after-dark tour to see the bioluminescent plankton and the magical fireflies.
–
2 Days in Kep
What to do in Kep:
The first thing we heard about Kep was the Kep Crab Markets! And got to say, the combination of the Kampot Pepper and Kep Crab, well.. it is a match made in heaven! Are you salivating yet? I know I was! I am not a fan of playing with food and I much more prefer to have my food filleted and ready to eat asap, but we had to try the famous crab, no questions asked. Well, Kep is not only the markets, there is so much more! Check it out here.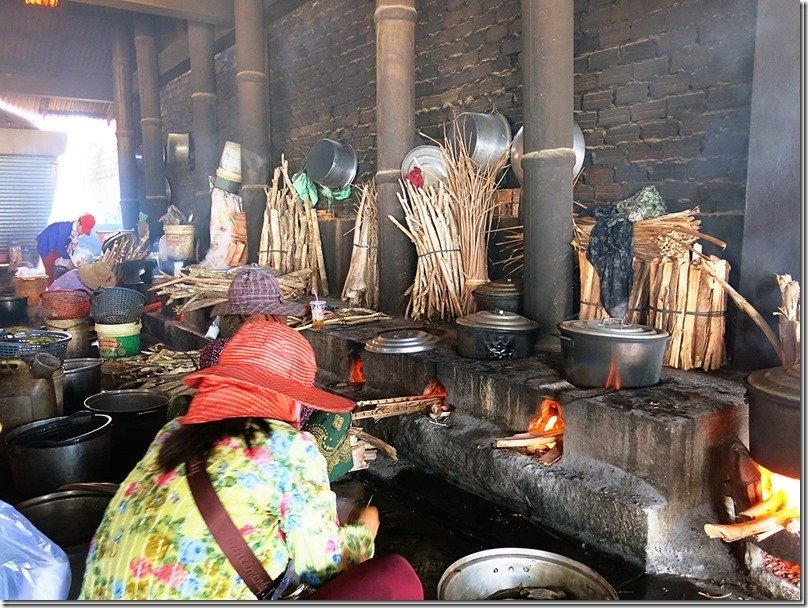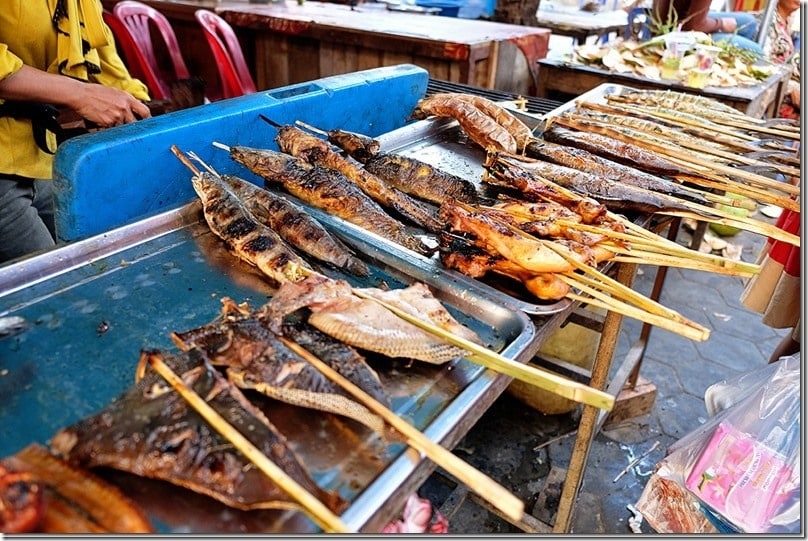 –
Day Eight: Kep – Exploring the Kep Crab Markets and check out Caves
Early in the morning make your way to the Kep Crab Markets to see the locals bring in the crab and how it is prepared at the markets.
During the day venture out to the Phnom Ch'nork Caves and Phnom Sorsir Caves for an amazing time.
In the afternoon, relax with a massage and yummy crab at one of the waterfront restaurants, located close to the Kep Crab Markets
–
Day Nine: Kep – Koh Tonsay (Rabbit Island)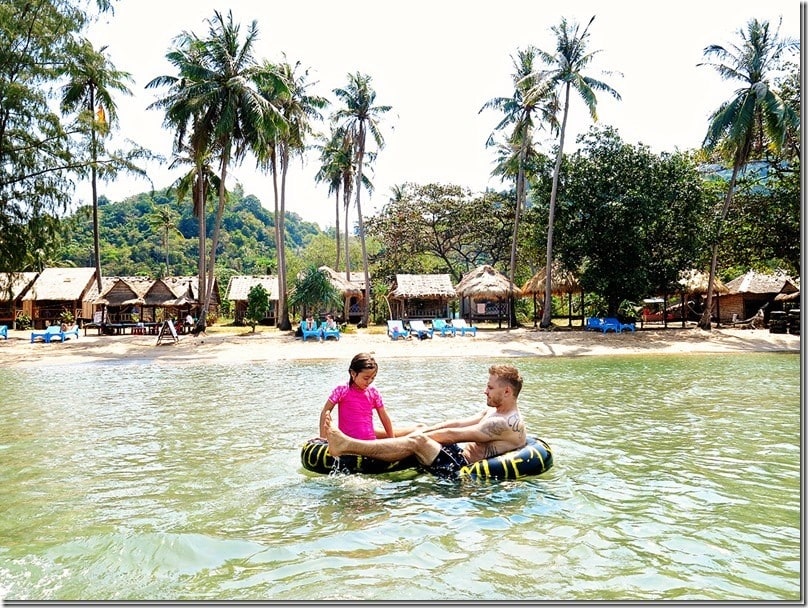 –
3 Days at Koh Rong Samloem
What to do in Koh Rong Samloem:
Now, this one was our favourite! All the walking, travelling and sight-seeing behind and it is time for pure relaxation. Here you will find yourselves in a state of total bliss. Three days is perfect, but once you are here, you may want to stay for longer. I know we did! It was very hard to get up from the beach-side hammocks and head back to the speed boat that takes you back to the mainland.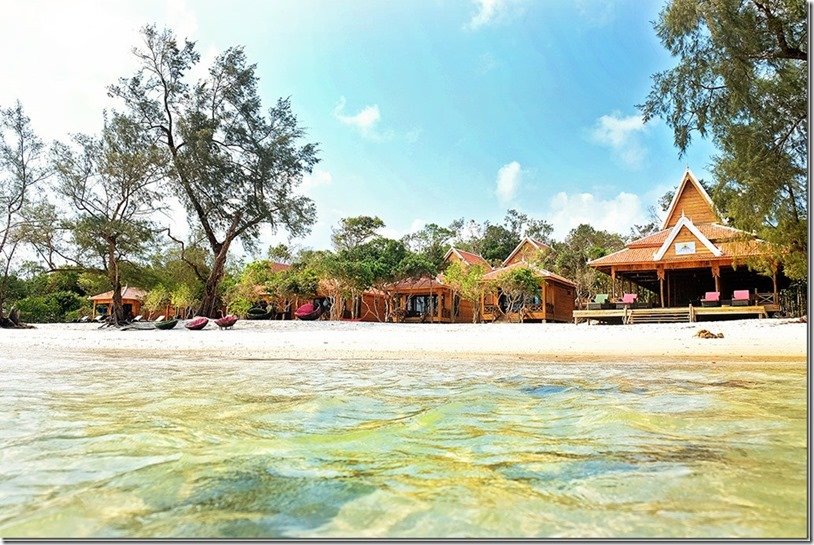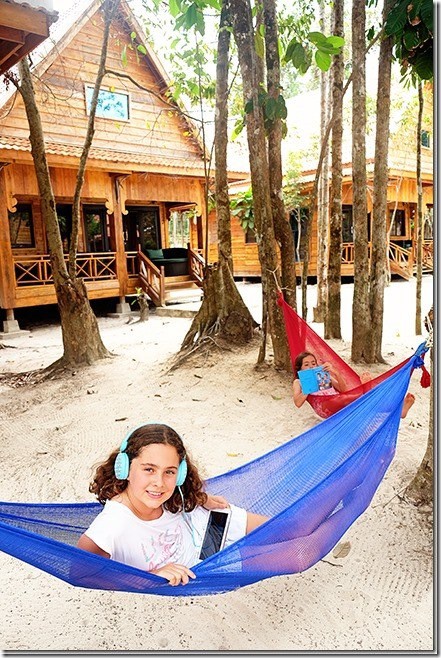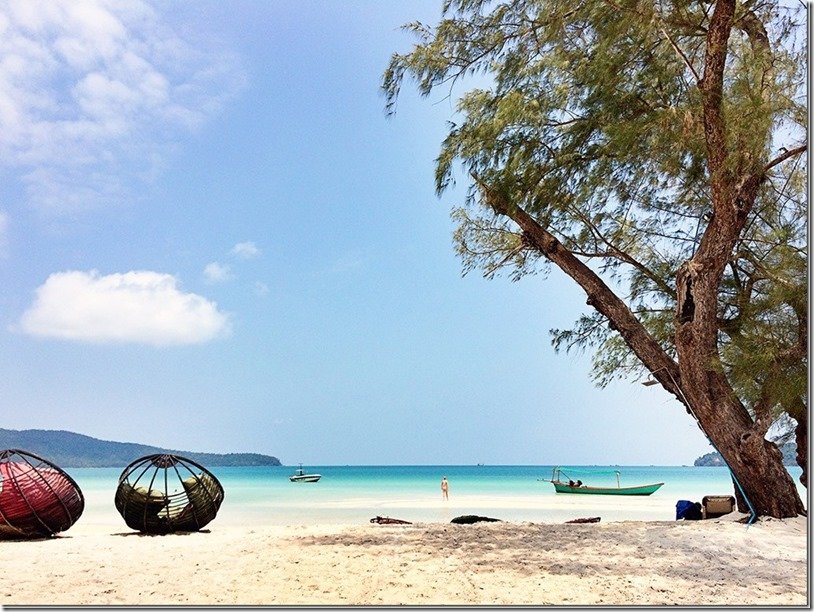 –
Day Ten: Koh Rong Samloem – Arrive at the Island and Explore the Saracen Bay
Make your way from Kep to Sihanoukville where you can catch a speedboat to Koh Rong Samloem.
Once you are transferred to the island and you are settled at your hotel it is time to relax.
Take a long walk along the extraordinarily beautiful Saracen Bay and pick from one of the many restaurants and bars to dine in.
–
Day Eleven: Koh Rong Samloem – Lazy Beach
Take an afternoon walk to the other side of the island to check out Lazy Beach and enjoy an unforgettable sunset. Little tip: make sure to take a flashlight to light the way back through the forest.
Relax with dinner on Saracen Beach at one of the restaurants.
Follow the link for amazing photos and our story of – Koh Rong Samloem Island – Paradise Island of Cambodia.
–
Day Twelve: Koh Rong Samloem – Enjoy the Saracen Bay Relaxation
Spend a blissful day relaxing in your beach-side hammock whilst sipping on a cocktail or two.
Enjoy the paradise island in peace, swim in the shallow waters of the bay and indulge in the local cuisine.
–
1 Day at Otres Beach
What to do in Otres Beach:
What to do in Otres Beach? Well, this one is a one of-a-kind kind of place. I called it the "Amsterdam of Cambodia". I think you get the picture now. This is a chill out place for everyone that wants to party and let your hair down in more ways than one. Interested?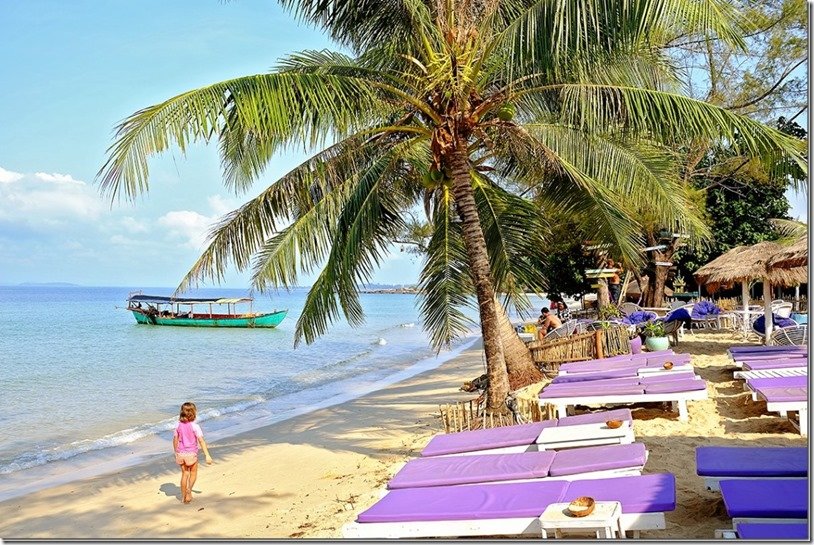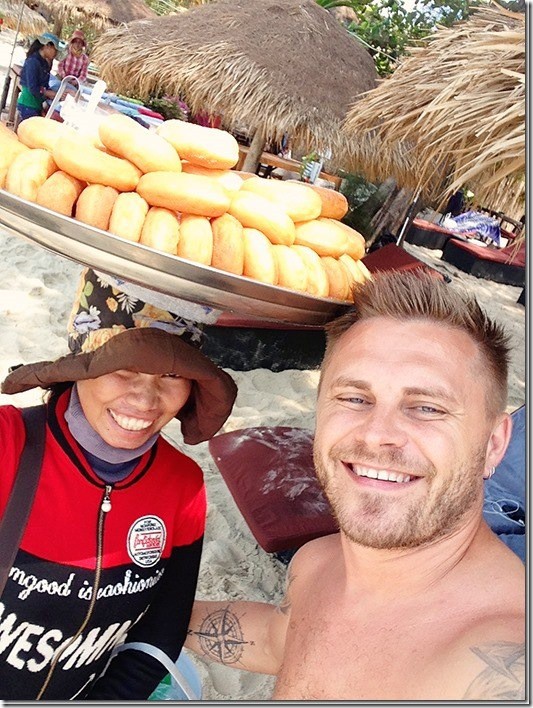 –
Day Thirteen: Otres Beach – Relaxation with a Twist
Spend a day in the hippy-like atmosphere, where you can indulge in some interesting goodies on offer (if you are that way inclined).
Relax on the beach on one of the day beds with a cocktail or two, whilst enjoying a foot massage.
Our recommendation is to stop the lady with doughnuts and purchase a couple of dozens. The best doughnuts you ever had! At least I think so.
Follow the link for awesome pics and our story of – Otres Beach Cambodia – Relaxation with a Twist
–
Day Fourteen: Siem Reap – Going Home Time
After a relaxing beachside breakfast, take a taxi to the Sihanoukville domestic airport.
Our recommendation is to catch a flight from Sihanoukville to Siem Reap. It will save you time and you won't have to rush on your last day in Cambodia. Tip: Ensure you have extra hours to swap planes in Siem Reap as the Cambodian Airlines are notorious for running late!! (Or plan to spend the last night in Siem Reap itself!)
Once in Siem Reap, transfer to the international airport and whilst travelling back home, start planning your next holiday!! Haha…
–
Have you found our itinerary helpful on your travels through Cambodia?

Which of the destinations caught your attention the most?
–
Are you looking for where to stay in Cambodia? Click to read:
–
For more of our stories about Cambodia

click here