Cambodia is full of surprises and beautiful places..  Just as you thought that you have almost seen it all, something new pops up and this post is all about places like that. It is about the best things to do in Kampot and Kep.
After our journey from Phnom Penh to Kep, we were pretty keen to find some relaxation and peace in the sleepy little coastal town, called Kep.
Our itinerary full to the brim and with smiles on our faces we were ready for exploring!
Click here to grab your FREE PDF containing a list of more unique ideas of what to do on your Cambodia holiday!
–
____________________
The best way to get to Kep is by bus
Click here to compare bus ticket prices and choose the best bus option for you!
The best way to get from Kampot to Kep is by taxi
Kep to Kampot is only 25km (15 miles) and takes between 30min to 1 hour.  We recommend you hire a taxi (US $20+) for the drive as the road is pretty bumpy. You can book a private taxi online in advance.
Other options for transfer include hiring a Tuk Tuk driver (around US $15+), hiring a scooter (US $5+ p/day) or booking a seat on an Express Van (Around US $4+). Check prices for the Express Vans to pre-purchase and secure a ticket today.
____________________
–
How Many Days in Kep? 
Kep is a tiny, sleepy coastal province known for its crab dishes as well as its access to gorgeous tropical islands.  The town itself has lots of crumbling villas from its former glory as a French colonial resort town.
We loved watching the activity at the Crab Markets and recommend a hop over to Rabbit Island from here.
The Kep beach is also a very popular hangout joint for locals, which makes for an interesting place for us travelers to get some insight into local life in Kep!
We stayed in Kep for one night, but we do recommend you stay for 2-3 nights if you can fit it into your itinerary. two!)
–
________________________________
Our recommendation of where to stay in Kep: 
Raingsey Bungalow Kep – Book it Now
Mealea Resort –Book it Now
Veranda Natural Resort –Book it Now
________________________________
––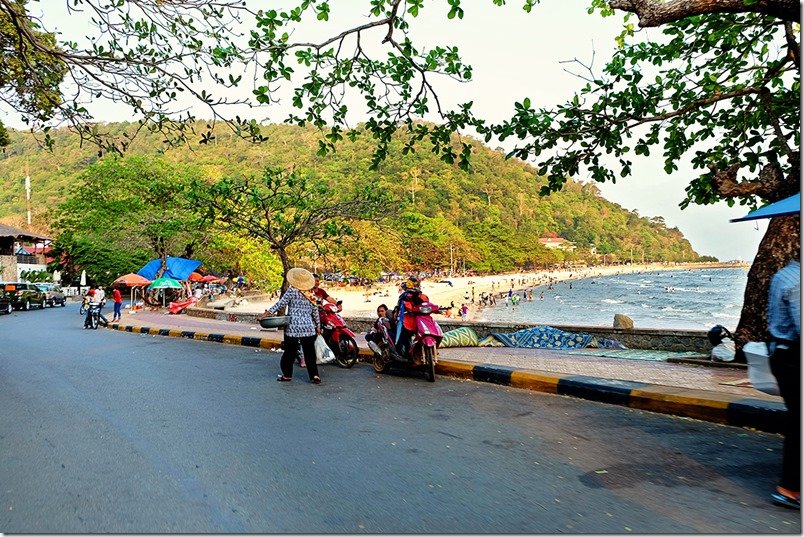 –
How Many Days in K
ampot?
Kampot is the larger town of the two towns and set in a beautiful setting next to Praek Tuek Chhu river with a backdrop over Elephant Mountains in the distance.
What to see in Kampot: The main Kampot attraction in this town is the river itself from where you can partake in a variety of different activities.  We thoroughly enjoyed our river cruise at night to see the magical fireflies and bioluminescent plankton!  The town itself has loads of charm and rustic beauty.
We spent two nights in Kampot, and recommend you stay for at least 2-3 nights.
–
________________________________
Our recommendation of where to stay in Kampot: 
Champa Lodge – Book it Now!
Kampot Manor – Book it Now!
________________________________
––
As these two gorgeous, unique little towns are within a short distance (around 30 drive) from each other, it is easy to combine your excursions of places to visit in Kampot and Kep, no matter where you are based!

We had the privilege of staying in both locations so got to explore the various Kep & Kampot tourist attractions at our own pace.
Best Things to do in Kampot and Kep, Cambodia
Find below a list of the top things to do in Kampot & Kep to help you with your planning.  After more ideas of what to do in Cambodia?  Grab our FREE PDF of ideas to help you with your planning!
–
1.  Visit the Kep Crab Market
One of our favourite Kep Cambodia attractions was to check out the buzz of local activity at the Kep Crab Market. Seeing the markets both in the morning as well as at sunset is recommended!
We found it fascinating watching the locals wade out in the water to bring in basket loads of freshly caught blue crabs. These blue crabs would then get sorted at the shore, after which they will be sold.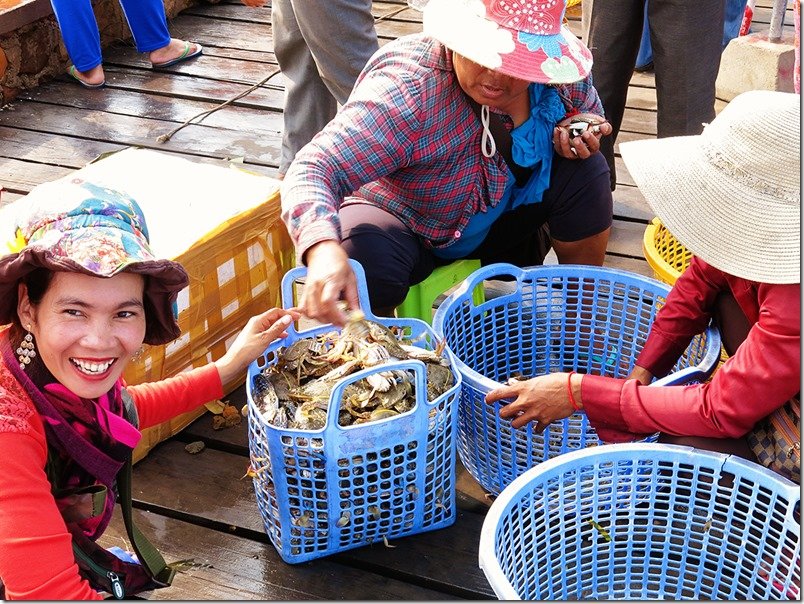 You will see a lot of other options of locally caught seafood as well; some fresh and some dried.
After purchasing your choice of crab or seafood, you can hop over to one of the many stalls to get it cooked!  Some of which will be a quick stir-fry whilst others cook it over a wooden fire.
Lots of other treats are being cooked in various stalls as well!  So make sure you go hungry so you can try everything!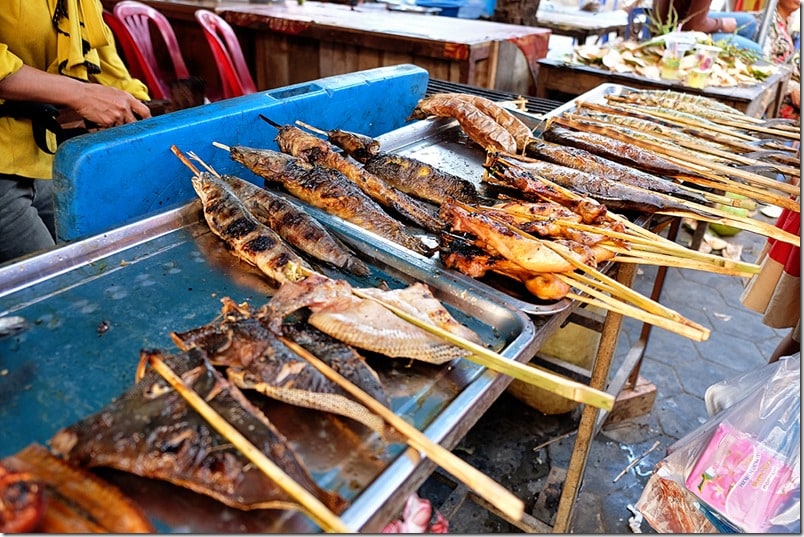 I think that eating crabs right in the crab markets is the best way to go, however, if you wish, you can head to one of the very many restaurants lining the sea.
They all look pretty similar and serve pretty similar food on their menus.  Kimly restaurant tends to be a very popular choice and some have claimed that it serves the best pepper crab along the street front.
Except for everything and anything crab, the markets also have a whole section dedicated to clothes, trinkets and various shell-made decor items.
Our girls loved wandering up and down the colourful aisles here and I believe they bought some pretty bracelets as well.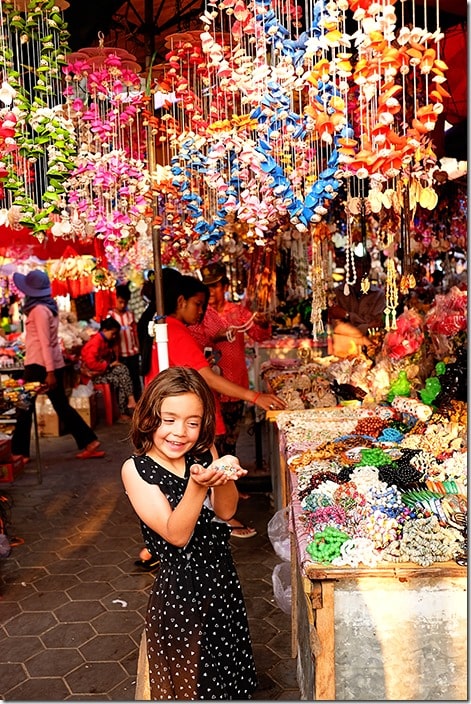 –
2.  Hop over to Rabbit Island (Koh Tonsay)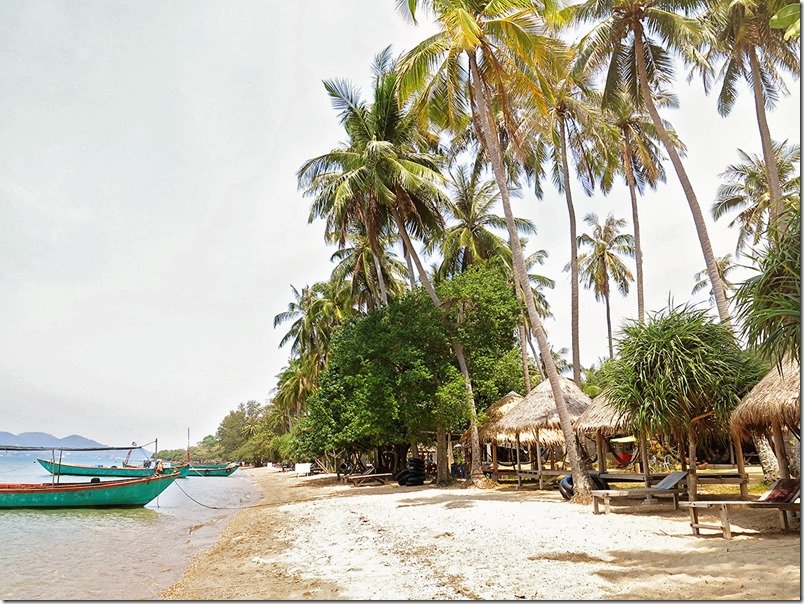 Another one of our top favourite suggestions of what to do in Kep and Kampot is to hop over to Rabbit Island!!  Koh Tonsay is the perfect place to unplug from the technology of the world, to relax, to be lazy, to just breathe and soak it all in!
There isn't much to do on this island besides hanging around in a hammock and going for a swim in the warm waters.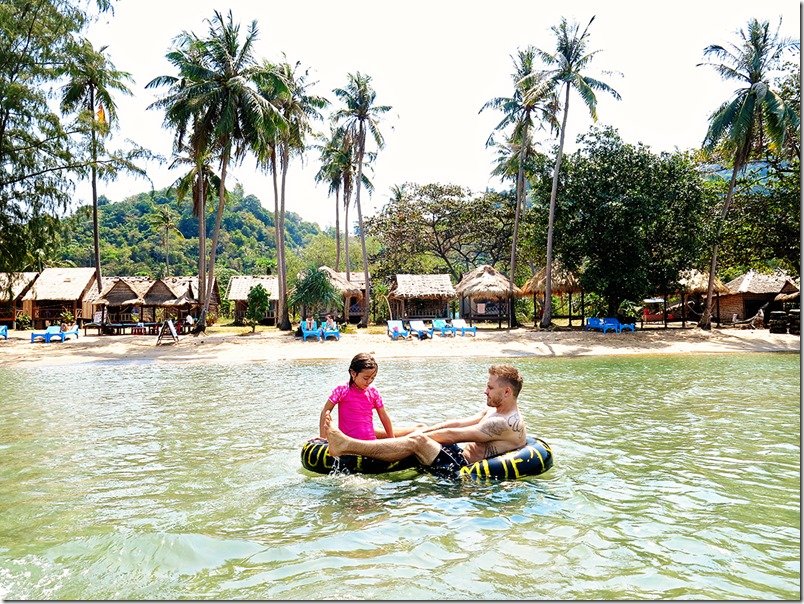 If you are really keen, you might want to tackle the hike around the island itself.  The beauty of this island is that it is still somewhat out of the tourist attraction's eye, which means that you might even potentially find yourself on this island with only a few other travellers.
This little rustic island is only a short 30 min boat ride away from Kep and makes for a perfect way to spend a lazy day.
We loved this island so much that we dedicated a whole post to our story of Rabbit Island, click to read our story here.
–
3. The Kep and Kampot Salt Fields
Kampot province is famous for its salt fields. Kampot's salt is unique as the process is still mostly done by manual labour, resulting in a more natural quality of salt. Salt production in Cambodia is limited to the months in the dry season.
The process is truly labour intensive and we were amazed at what sort of a life the salt collectors must live! In the morning, the fields that are located close to the ocean is filled with ocean water. This water is then left for the majority of the day in order to evaporate. This process leaves behind salt crystals.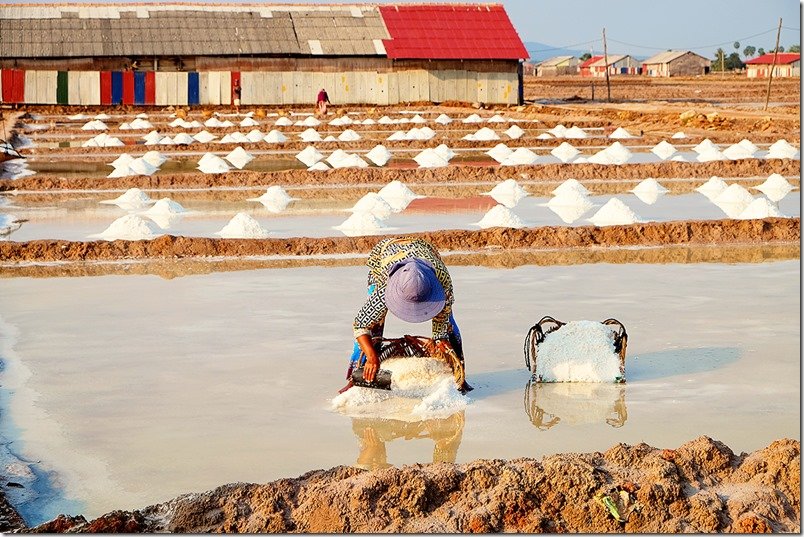 The salt then needs to be gathered into beautiful white piles in the fields. Only for the locals to push these piles into their baskets, which then needs to be carried into the warehouses close by.
The salt Fields of Kampot are located on the flats between Kep and Kampot, your tuk-tuk driver will know which one to take you to.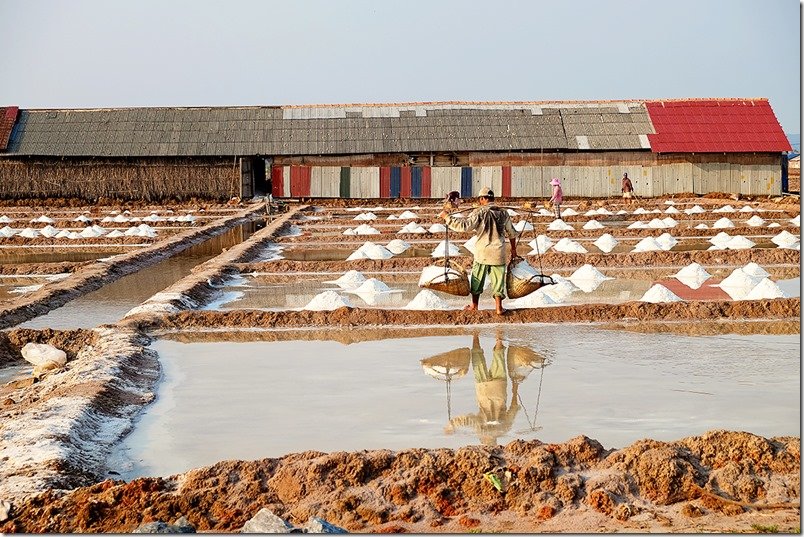 Best to visit these salt fields later in the afternoon so you can watch them gathering up the piles of salt! As we had never been to salt fields before, this was a truly fascinating stop for us and we had a great time learning about the salt manufacturing process.
–
4. Phnom Bokor National Park
The Phnom Bokor National Park happens to be one of the most popular Kampot attractions. The locals told us that the best way to enjoy Bokor Mountains is to hire a scooter and drive up there yourself. You can hire a scooter for around USD $5 per day.
________________________________
Grab one of those bestseller Cambodia books from Amazon!
| | | |
| --- | --- | --- |
| | | |
Lonely Planet Cambodia                   Tuttle Cambodia                    Lonely Planet Cambodia
________________________________
–
At the entrance to the National Park you will be charged a further 2000 riel. After which you can enjoy riding up the winding road in order to visit the abandoned Old Catholic church as well as the casino and Bokor Hill Station.
There are some amazing views & photo opportunities along the ride, so make sure to make use of your freedom to stop wherever you please to grab some snaps.  Such a unique place to visit in Kampot!
–
5.  Kampot Pepper Farm
On our explorations of the surrounding areas of Kep and Kampot, we made a stop at the popular Sothy's Pepper Farm.
Whilst this little farm was a nice way to spend an hour or two and to learn more about the popular Kampot pepper, I must admit I got a bit bored towards the middle of the tour.
The kids had a great time though and learnt heaps about the Kampot Pepper plantation. Entrance here is free.
A guide will walk you through an introductory talk about the different types of peppers; from Kampot red pepper, to white and black. After the talk, you will head out to see these various peppers drying outside in the sun.
You can taste test them as well.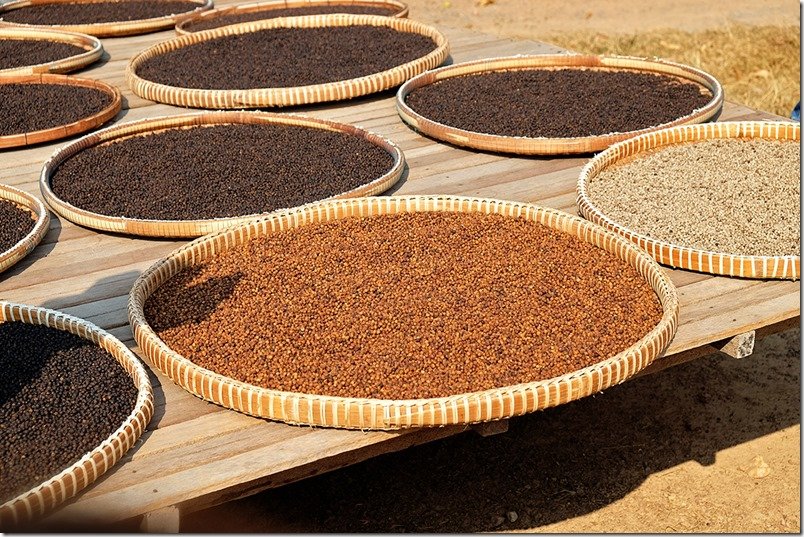 After a bit of a talk about the drying process, you get to wander into the plantations themselves. Here the guide will discuss the growing process, the maturation, as well as challenges that they face as well.
Next, we headed off to a little patio where the local ladies were sorting out the peppers. What a job!!  Imagine working with these peppercorns all day long!!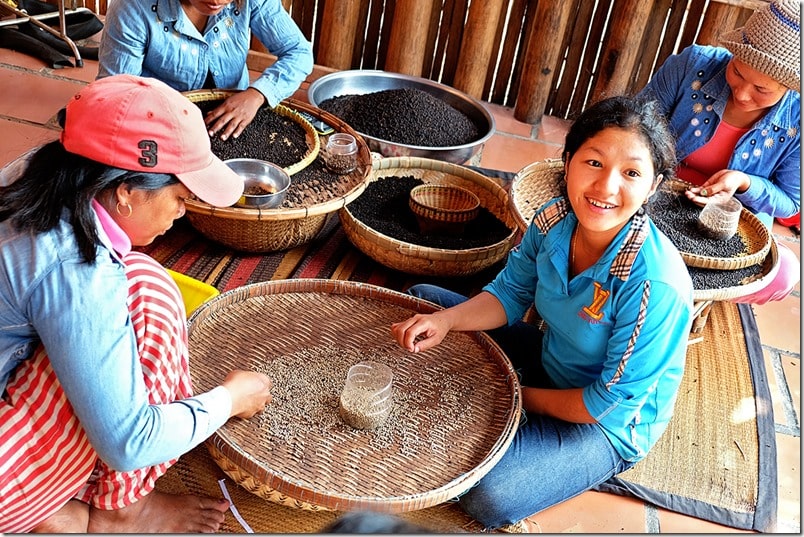 I was quite happy to leave the farm at this stage, but the tour was only halfway.
Our tour guide led us around the farm grounds, showing us various other products that they produce in small quantities as well.
After the tour, you have the option to also purchase various pepper products, however, there was no pressure to do so.  They also have a little cafe where you can purchase some drinks or lunch dishes.
I'm guessing foodie lovers out there will love this stop.
More Options of What to do in Kampot and Kep
Phnom Chhngok Cave Temple – These caves might not be the most impressive in size or nature, but makes a fun stop due to the fact that it has a reclining Buddha inside. For only a dollar you can hire one of the kids as a guide, who will have a torch to light your way.  Make sure to spray some mozzie spray before you go and if you wish to tackle the long climb through the cave, make sure to wear some sturdy shoes!
Popokvil Waterfall – This waterfall (set on the top of Bokor mountain) should only be visited in the wet season unless you want to feel disappointed by the lack of waterfall in the dry season.  A waterfall is a great place to enjoy a picnic and to watch both locals and foreigners have a play in the water.  They have started charging a small entrance fee of 2000 riel so best to have some cash on hand.
Kep National Park  – There are hikes of varying lengths at the Kep National Park.  The best way to approach your hike would be to head to the Led Zep Cafe, let them know how much time you want to spend on your hike and they will point you onto the right trail from there.  Makes sure to wear good sturdy shoes and take plenty of water along for your hike as well.  Entrance fee of USD $1 applies to foreigners (however sometimes the hut to pay at is unattended)
Kep Butterfly Farm – The Kep Butterfly farm is located close to the Kep National Park.  Whilst it is a small farm, it makes for a wonderful outing whilst in the area!  The butterfly aviary will fill your sense of sight with loads of colour!   An educational outing for those who like to read educational boards about how they breed.  For those with kids, the premises also contain a number of tree swings, gazebos and you can also purchase some cold drinks on the premises.  Entry is in the form of donation.
–
Recommended Tours of Kampot and Kep
–
–
Are you questioning if you should stay in Kep or Kampot?
Our answer is simple.  You must experience both!  If you can, plan to stay for a few nights in each location.  They are both so different and will provide you with completely different holiday experiences.
If you HAVE to choose between Kampot or Kep; Kampot outranks Kep as the favourite town in which to base yourself whilst exploring the region.
–
Our recommendation of where to stay in Kampot: 
Champa Lodge – Book it Now!
Kampot Manor – Book it Now!
–
We had an awesome time exploring the countryside of both towns.  With so many incredible options of things do in Kampot and Kep, you can easily spend more than just a couple of days in the area!
After our relaxing stay in both Kampot and Kep, we headed out to a beautiful island!
If you would like to read about our time on Koh Rong Samloem Island, click here!
–
Over to you:
Which of the attractions did catch your eye the most?  Was it the ones in Kep Cambodia or was it things to do in Kampot?
If we missed any other Kep and Kampot activities, please pop them in the comments below.
–
________________________________
After information on more things to do in Cambodia?
Here are some of our post from our adventures through the Kingdom of Wonders!  I'm sure you will find loads of ideas for more travel around Cambodia!
10 EXTRAORDINARY AND UNIQUE THINGS TO SEE IN CAMBODIA!
WHERE TO GO IN CAMBODIA? | A 2 WEEK CAMBODIA ITINERARY
TRAVELLING TO CAMBODIA? EVERYTHING YOU NEED TO KNOW |TRAVEL ADVICE, TIPS & IMPORTANT INFORMATION
LUXURIOUS OPTIONS OF WHERE TO STAY IN CAMBODIA!
________________________________
–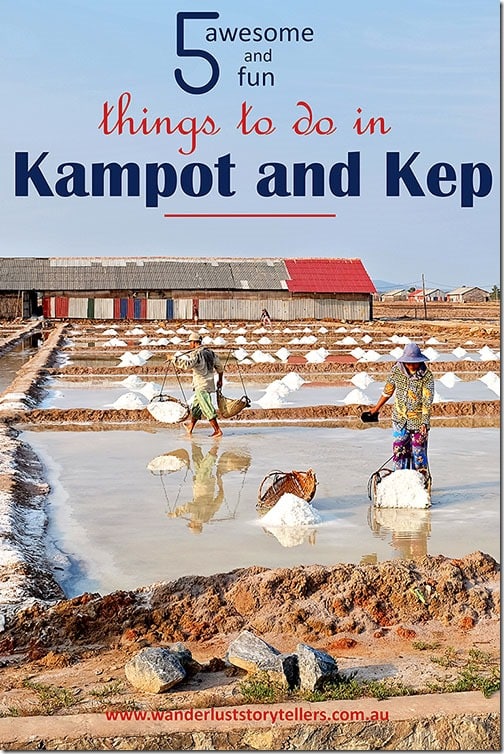 This post may contain affiliate links which won't change your price but will share some commission.