Something magical happens when you enter the Angkor Complex. To explore the Angkor Wat with kids is a truly extraordinary and rewarding experience.
Magnificent Angkor temples, monasteries and different capitals from the once-thriving Khmer Empire surround you. With every step you take, the journey takes you deeper and deeper into the past. Journey through the ancient architecture, drawing you in, in order to show you a glimpse of old culture and give you little insight into its people.
As soon as I heard the name of Cambodia, the first thing I thought of was the Angkor Wat Temple and the Tomb Raider movie with Angelina Jolie. I have always imagined going here one day, to see the old temples that are slowly being swallowed by nature. Trees growing over the buildings, creating spectacular scenery for us tourists to marvel upon and take pictures of.
I was so excited to see this place and to do it as a family was really cool! Of course, this was on the top of our 'things to do in Siem Reap with kids' list ever since we booked our flight tickets. 
We grabbed some tips on how to have a safe trip to Angkor Wat and got researched.
To visit Angkor Complex and experience the Angkor Wat for kids is a must! What better way to teach them about this amazing place, then to let them explore it with you.  They might not absorb or understand the significance of these structures just yet, but they will remember these sites forever. Maybe one day they will be able to teach their kids a little more about the world and its hidden secrets.
–
Where is Angkor Wat located?
The Angkor Temples
The location of Angkor Wat is about a 10 minutes drive from the city of Siem Reap in the heart of Cambodia. The Angkor Archaeological Park stretches over 400 square kilometres including forests and many spectacular 9th to 15th-century structures to visit.
If you are staying in town, the complex is easily accessible via numerous transportation. On our trip from Siem Reap to Angkor Wat, we chose to take a Tuk-Tuk as it gives a more interesting way to view the roads. To us, it feels like it is a more authentic way to discover the area. The Tuk-Tuk will only cost you between $15-$20 for the whole day and usually, the driver will know the best spots to visit; where the animals are to check out; where to stop for refreshments or he can even be your guide for the day.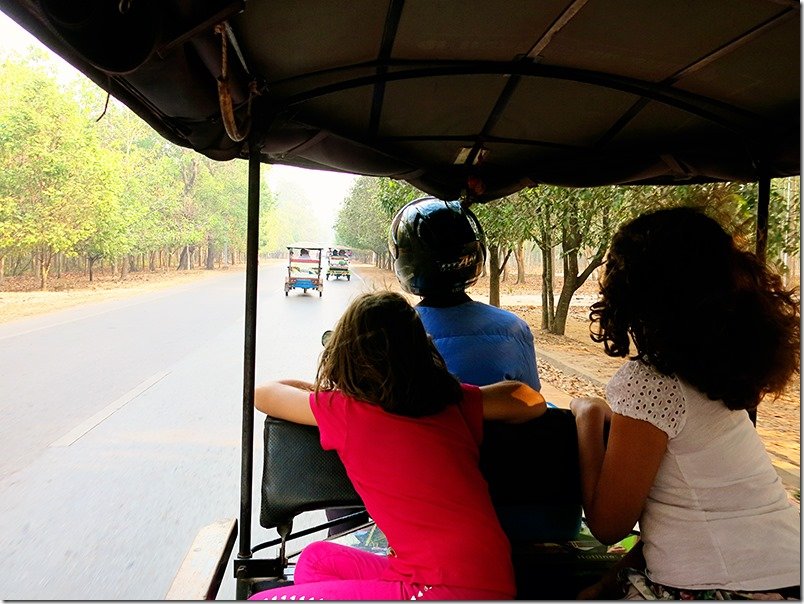 If the heat gets too much for you or you simply prefer to hide from the scorching sun, you can get an air-conditioned taxi for only $20-$25. The choice is totally up to you and no one will look at you funny.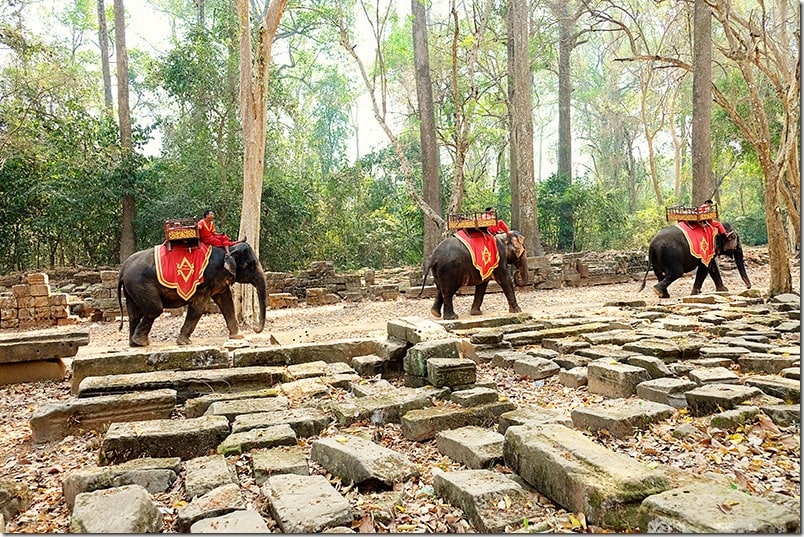 Looking at the map, we thought that the distances between the temples are relatively short and once we get to the ticket office we will be able to just go on on foot. We were wrong! Definitely get yourself a driver for the day.
In our case, especially that we were travelling to the Angkor Complex with kids, it would have been ridiculous to walk. The distances between the ruins are better covered sitting down on the comfy chairs of your Tuk-Tuk. It is hot and you will have enough of walking whilst discovering the temples, and there are many temples here!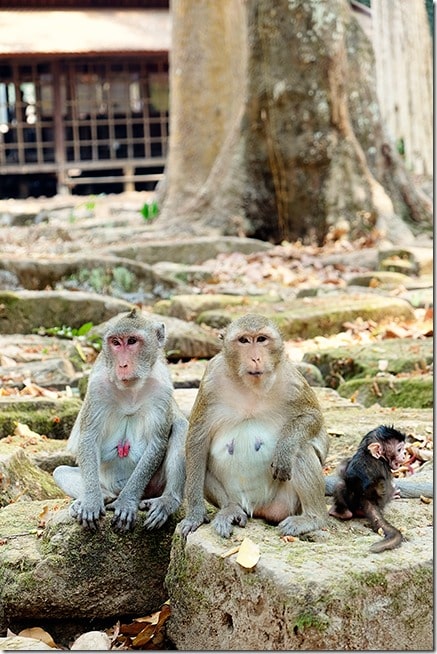 –
Day One
Angkor Wat with Kids
Visiting Angkor Wat with kids! Yes, I did say that you must visit this Cambodian temple place with your little ones. It is an incredible place to see and you can learn a lot about what Cambodia really looked like in the past centuries. Off course kids will be kids and there will be a lot of "Are we there yet? Can we go now? or I don't want another photo!". At the end of the day, they will appreciate the time you put in into sharing these adventures with them. Even if the appreciation will come in the later years – it's all good haha…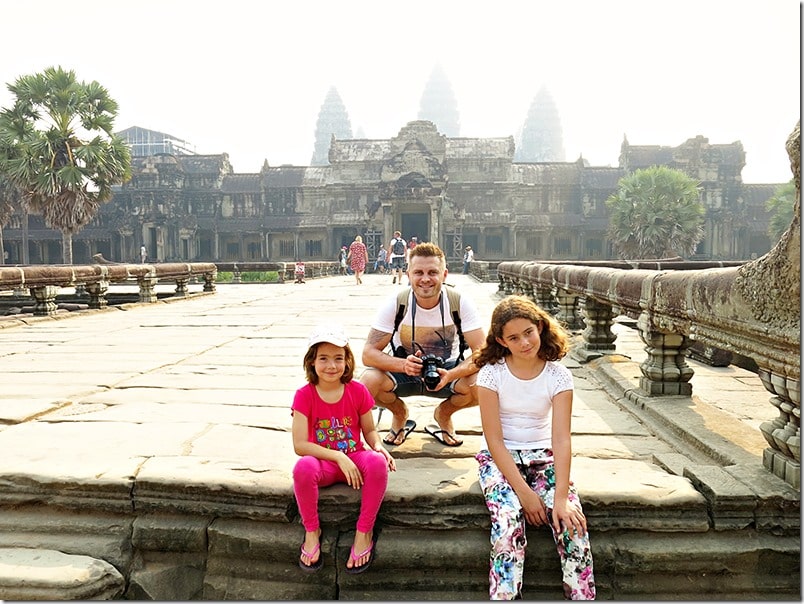 Angkor Wat is the largest and the most spectacular of the Angkorian monuments. This architectural masterpiece is listed as one of the Wonders of the World. The sheer size, luxury, symmetry, balance and sculpture make this monument one of the finest structures ever built. Truly a spectacular place to find yourself at and a wonderland for photographers.
Our kids were running around and checking out the temple with equal interest to ours. However the size of the site does get to you when you have shorter legs, so make sure to take it easy here. There is so much to see here, that your mind will be blown away numerous times. One of the things that I love to do is to simply stop, look at where I am and touch the walls, in order to somehow imprint the images into my memory. Well, there are a lot of areas where you are not allowed to touch the walls, so be aware of the signs. The delicate sculptures that cover the majority of the walls here are very fragile, so taking a picture is the best thing to do.
Did you know that in the whole Siem Reap area, Angkor Wat is the tallest building? This iconic symbol of Cambodia is the tallest and all other buildings that are being constructed are not allowed to exceed the height of Angkor Wat. It is a tradition and it is reinforced by law. Interesting hey? Off course in other provinces of Cambodia, there are no such restrictions, but still, I find it very cool! Respect must be given to their ancestors.
If it is possible, visit Angkor Wat early in the morning for the Sunrise or in the late afternoon for the Sunset. There will be plenty of people trying to take that perfect photo that you see all over the net, but it's worth it! When we were here, Cambodian seasonal weather produced quite a foggy sky for us. Doesn't matter though. We still loved being here, snapping photos left right and centre and having a great time with our kids!
–
Angkor Thom – Bayon Temple
On our trip we have decided to visit only two temples per day and it was really enough. Checking out Angkor Wat with kids took us a good couple of hours already, so we didn't want to make our kids too exhausted. Not to mention my gorgeous wife being pregnant. Easy two days of site seeing planned and it was perfect!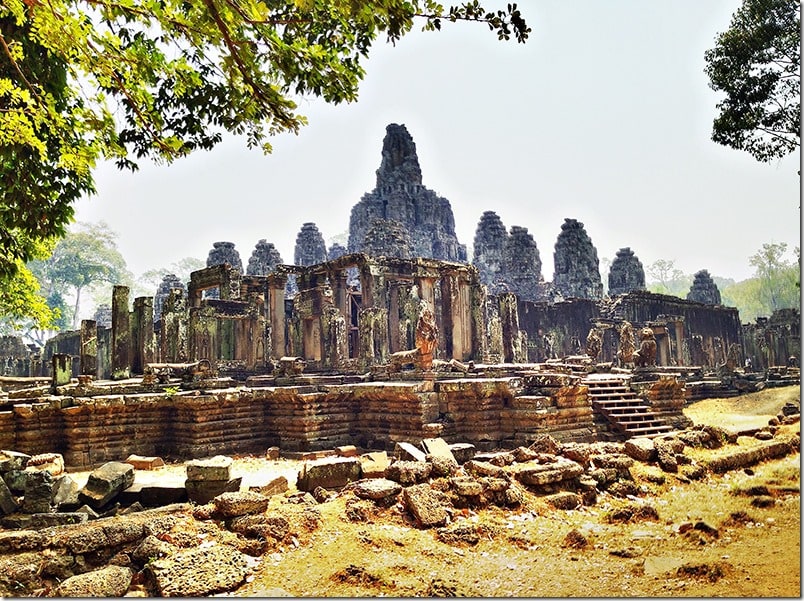 Angkor Thom temple is located a short Tuk-Tuk ride from the Angkor Wat. After refreshing with cold water provided by the driver and wiping the dust and sweat from our faces with a wet wipe (also provided by the driver), we ventured into the next amazing sensory wonderland. Bayon temple is a super beautiful temple of the ancient city of Angkor Thom. It is most known for the many faces carved out of stone which face into all compass directions. The temple itself is built as a square and is exactly positioned to North, East, South and West. It represents the intersection between heaven and earth. Very cool hey?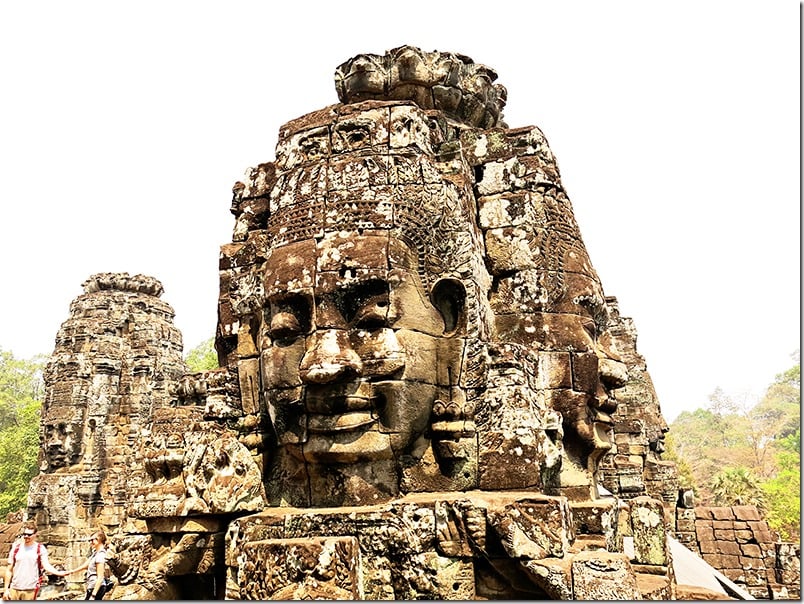 This magnificent monument has over 11,000 figures carved into its 1.2km of walls. Simply spectacular! All of these structures are surrounded by 51 smaller towers all with faces of their own. Truly a super cool place to visit!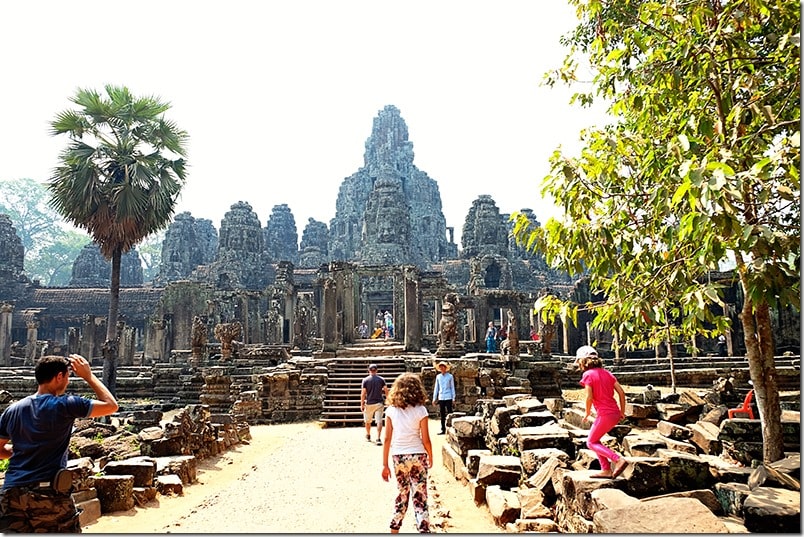 If you look at the faces, they all have this slightly cheeky smile. Some people think that the curious smiling face represents the 12th century King Jayavarman VII himself. Nevertheless, you can stare into those images for hours. The smile is both captivating and intoxicating. No wonder why some people dubbed this image as a "Mona Lisa of Southeast Asia".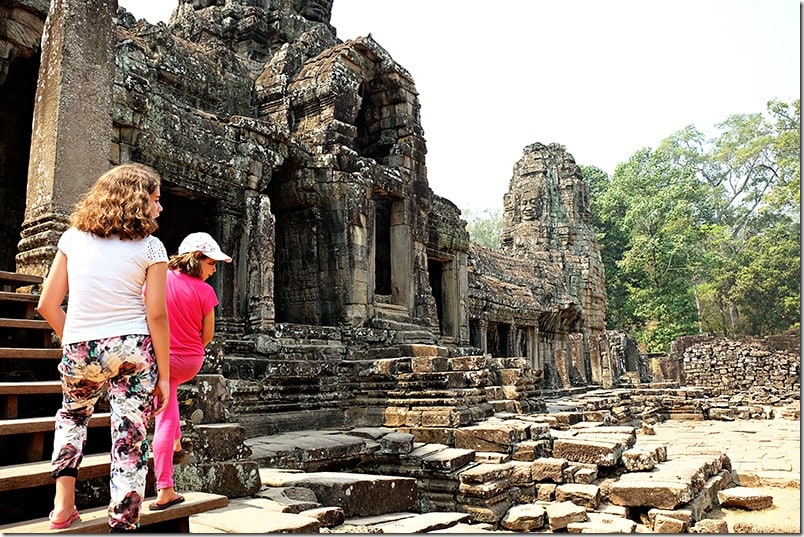 Our day of exploring the temples has taken it out of all of us. I know when Lily starts to ask to put her on my shoulders, the span of time for walking around is coming to an end! Not to mention my gorgeous wife. Being pregnant and strolling for hours, site seeing in the Cambodian heat… Well, do I need to say more? I think two temples per day is really enough.

Ps: Little hint for exploring Angkor Wat with kids – take umbrellas, as you will be in the sun quite a lot. This temple is the largest of all. Might be wise to use the toilet before going.
–
Day Two
Ta Prohm or the "Tomb Raider" Temple
Out of all the Cambodian Temples, this is the one that I wanted to see and where our kids had probably the best time at. The Angelina Jolie "Tomb Raider" temple! Of course, it is not called that, but it is what probably this temple is the most famous for. You will hear all the guides talk about it to their groups of people.
As to the guides; we did get one of them to approach us at the entrance of the building. Smooth operator that one! He offered to take us to all the best spots of the temple and he did take a few pics for us as a family, obviously for a price. We only found that out at the end of a super rushed tour, when he requested $10. Well, being me, I bargained him down to $3, as we didn't see much of the temple, with him running through the place at the lightening speed. And we found out that the pictures he had taken were unusable. Anyways…
Ta Prohm, unlike other temples around, has been progressively claimed by the surrounding jungle. Trees growing in and out of the ruins, encasing the ancient art, perfectly framing the buildings and creating a picture-perfect arena. I think Lily and Katie thought of it as their own ancient playground, playing hide-and-go-seek in the many nooks and crevasses. Jolene and I were simply gobsmacked staring at the movie famous sights. I think I was taking so many photos that I forgot to touch those trees, for my collection of memories, but oh well… I loved seeing smiling faces of our kids here and that was more important!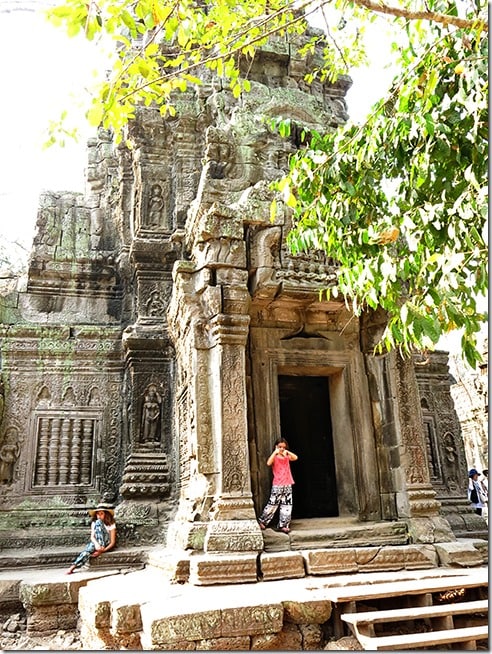 Ta Prohm was originally known as Rajavihara meaning a Monastery of the King. It was a Buddhist Temple dedicated to the mother of the king. Now it is one of the most popular sites at the Angkor Complex and quite a crowded place to visit. Take your time when exploring this place. In order to snap that perfect and uninterrupted photo of you and your family, you might have to dodge a few dozen tourists at a time.
–
Banteay Kdei
I got to be honest here, after seeing the three temples that we absolutely wanted to see, we did not know which one would take the forth spot on our list. There are so many spectacular temples to see in the whole complex, but once you look at a few, they all kinda start to look similar. In March Cambodia is in a dry season. The scorching heat of the sun, together with the constant presence of red dust, does take it out of you. Plenty of water, rest on the Tuk-Tuk and some helpful advice from our driver and we landed here, the Banteay Kdei Mahaya Buddhist temple.
This spectacular temple reassembles two different art eras of the Angkorian Empire. You can see the influence of the Angkor Wat and Bayon temple designs. Minimalistic carvings on the walls and the progression of chambers is the main feature here. Banteay Kdei means a "A Citadel of Chambers" or "A Citadel of Monks' Cells". We met a local Cambodian lady here, who gave us a little gift of a red string, which she tied around our wrists for good luck. I did give her a $1 note to say thanks.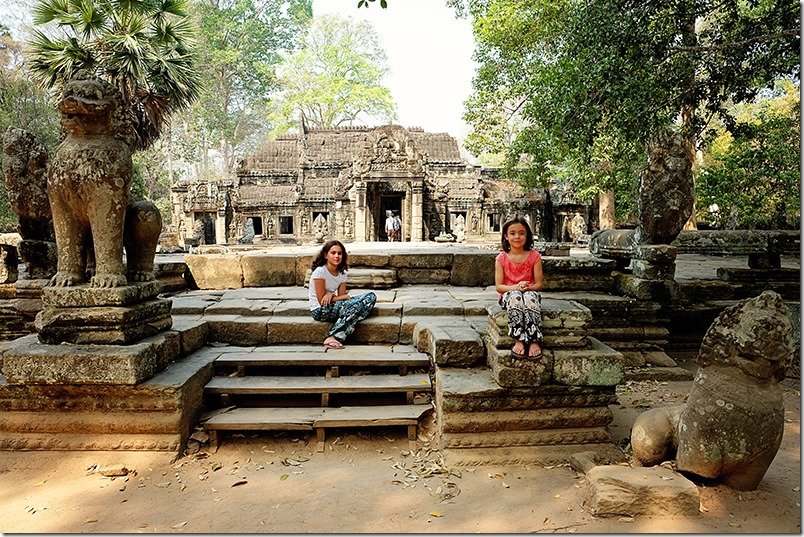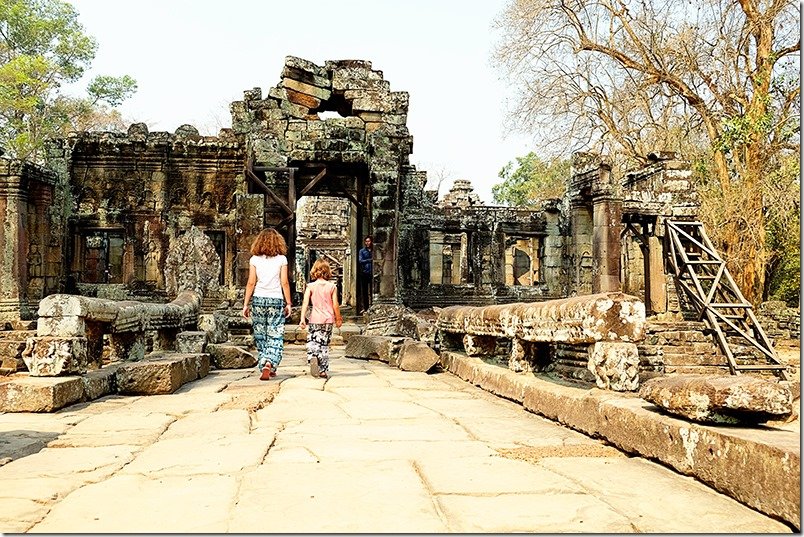 Sometimes it is good to listen to the advice of your local driver and get off the beaten track and the masses of the tourists at the big temples. We had plenty of time to see the whole temple. It is a much smaller temple in comparison to others we have seen. I think it took us about 45 minutes in and out, during which time we managed to take some pretty awesome photos. I'm glad that we checked out this one too. I think it is important to see more than just the main temples. Which one will you choose to be your fourth?
Jolene and I have seen some amazing places in the world as a couple, but checking out the Angkor Complex and the Angkor Wat with kids is definitely one the most awesome experiences that we have had. I love seeing our kids faces when we got here to the complex. The size of this place scares them away from wanting to go on, but their eyes light up and you can see that they are learning something new with every step they take. It just gives me a thrill to see that. I think it makes me proud of us as parents. I am just truly grateful that we are able to give them these experiences. And that is just what this trip is all about.
–
Angkor Wat Entrance Fee:
1 Day Pass is $37 USD per person
3 Day Pass is 62 UDS per person (must be used within a week)
1 Week Pass is $72 USD per person
Kids under 10 years old are FREE (ensure to have a passport or a photocopy of a passport for proof of age)
–
Tips for before you go to the Angkor Complex:
January to April is the driest time to visit, with occasional light showers
Temperatures during the day can vary from 32-38 Degrees Celsius
You are visiting temples, so it is custom to have shoulders and knees covered
You can hire one of many guides speaking in various languages, prices can vary from $45 to $70 USD
–
What to take:
Good walking shoes recommended but not necessary
Sun protective hat
Sunscreen
Plenty of water, the more – the better
Umbrella for shade from the tropical sun
And a good backpack to carry it all
–
Siem Reap Family Accommodation:
–
For more posts about our family trip to Cambodia: