Ta Prohm Temple, the Tomb Raider Temple, Cambodia is by far my favourite amongst the Angkor Wat temples! There is something spiritual and peaceful about this temple; a true dance of interaction between the man-made and the living jungle that surrounds it. Not to mention that most of us has seen this temple in movies such as Tomb Raider and Indiana Jones!
The Angkor Wat Complex; a UNESCO World Heritage Site; happens to be one of the most popular places to visit in Cambodia; and we were grateful to have had the opportunity to explore the Angkor Archaeological Park with our kids.
The kids loved exploring the Ta Prohm ruins; we all loved trying to find the iconic parts of the Temple of Ta Prohm that we had seen in the movies. The temple was every bit as spectacular as I expected it to be!

Join us for a visual journey with Ta Prohm photos and a short video as we explore the iconic temple of ruins and trees.
–
_______________________________________
For more Stories and amazing photos from Angkor Wat Complex, follow the links:
_______________________________________
–
Ta Prohm Entrance Fee:
The entrance fee to Ta Prohm is included in your Angkor Wat ticket, so it won't cost you any extra to explore the grounds here. The Angkor Wat Entrance Fee prices are:
1 Day Pass is $37 USD per person
3 Day Pass is $62 UDS per person (must be used within a week)
1 Week Pass is $72 USD per person
Kids under 10 years old are FREE (ensure to have a passport or a photocopy of a passport for proof of age)
–
Ta Prohm History:
The amazing Ta Prohm temple was built in between the mid 12th century to early 13th century by the king Jayavarman VII. This Buddhist temple was built as a replica of Bayon style architecture and was dedicated to the mother of the king.
This incredible temple is a one of the most visited sites in the complex and it is one of the largest monuments in the whole area. Ta Prohm has been kept in its natural state and has not been altered in any way since the 19th century explorers uncovered the the monuments.
–
When you visit Ta Prohm, you will find spectacular ruins of an enchanting temple, swallowed by the majestic trees of the jungle. Beautiful corridors, stone walls are forever intertwined by the spectacular maze of gigantic tree roots. The marriage of the stone and nature is simply magical and leaves you with a sense of wonder.

Here you will witness the marvel of architectural genius of the 12th century builders and the power of nature, that gently over time takes back what is truly hers!
To read more about Ta Prohm temple in Cambodia and its history click to Tourism Cambodia's site here.
–
The Tomb Raider Temple, Cambodia – Video
–
20 Beautiful Ta Prohm Photos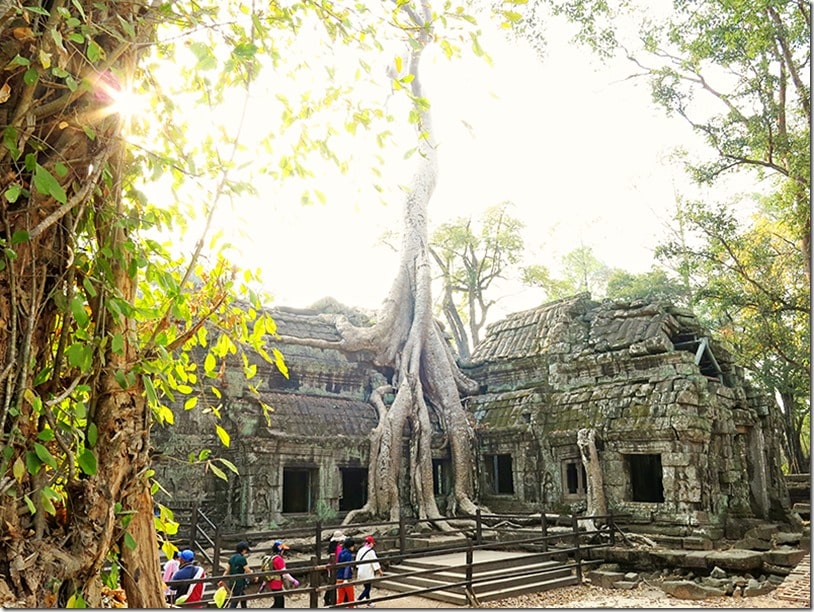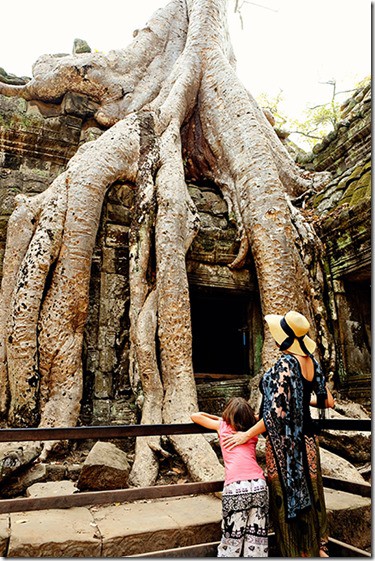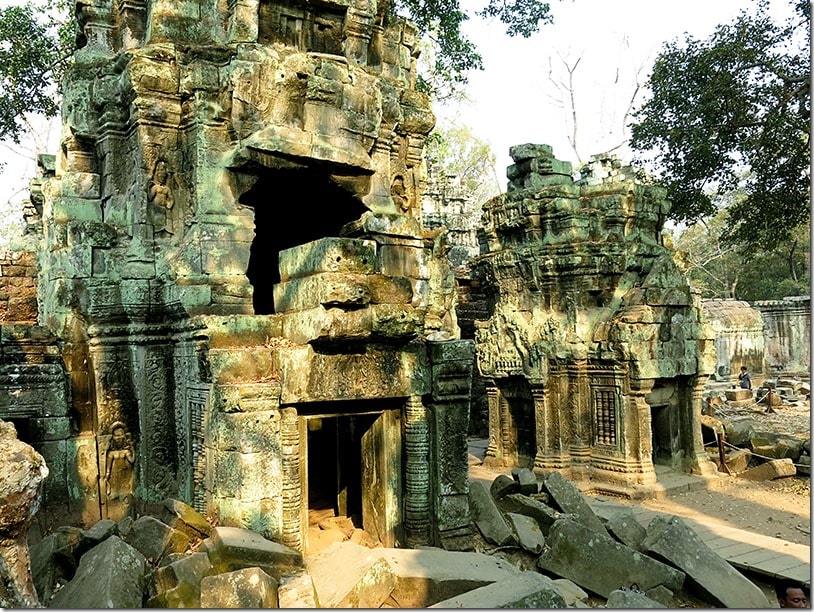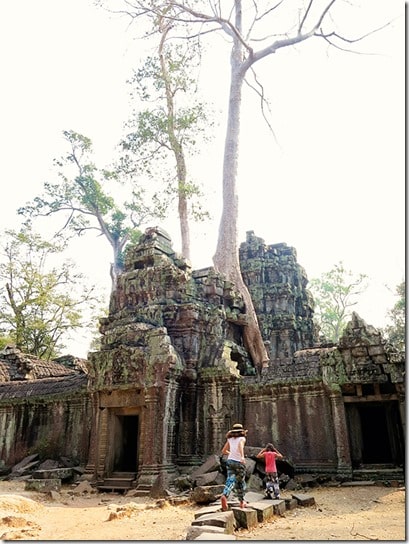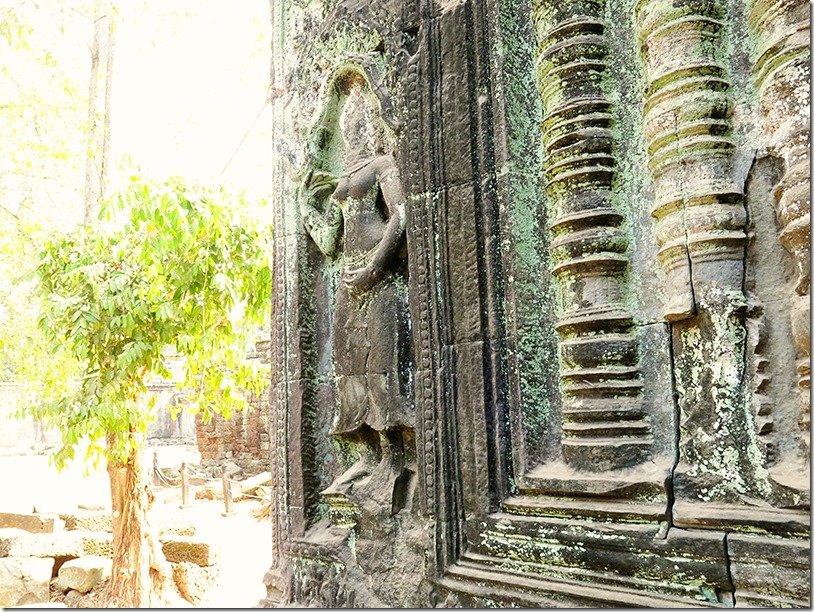 Ta Prohm temple n Cambodia has stolen our hearts! There is something more to this magical place than just marvellous ruins. It is like the temple is still alive. It is like the gigantic figs, banyan and kapok trees are protecting Ta Prohm from crumbling to the ground. Its like the temple is forever protected by the enormous tree arms, nestled in a deep sleep… hmm…

Make sure to take a bit longer here and truly loose yourself in the beauty of Ta Prohm and discover its hidden secrets. There are quite a few here, so keep your eyes open and your camera ready!
Please hop over and click 'subscribe' to our YouTube channel!
To read more about our adventures around Cambodia, click here!
Agoda 5% Discount Code
Guys, we have managed to organise a special Agoda discount just for our readers. The code works on any bookings.
Promo Code: Holiday5
Booking period: 20 May – 20 Jun 2019
Stay period: Anytime
Booking URL: You need to book through our link – Click Here
Terms& Conditions
Booking period: 20 May – 20 Jun 2019
Stay period: Anytime
The Promotion is non-transferable, non-cumulative and cannot be exchanged for cash or other products. The promo code cannot be resold.
The Promotion cannot be used in conjunction with any other promotions, discount cards, loyalty programs, vouchers, discounted items and fixed price items.
The customers must enter the eligible promo code to enjoy the Promotion.
The Promotion is applicable to the selected accommodations in designated destinations made through a dedicated Promotion landing page at following URL: https://www.agoda.com/partners/partnersearch.aspx?pcs=1&cid=1727772 
The Promotion is applicable to accommodation room charges only(excludes taxes, service fees, processing fees, extra charges, personal consumption and the like).
The Promotion discount will only be displayed on the booking form of the Promotion landing page after entering the eligible promo code.
The Promotion is subject to the terms and conditions displayed,which are subject to change at any time. In case of a dispute, Agoda's decision is final.
Agoda does not guarantee that the Promotion price will be the lowest price available for accommodations.
Agoda does not guarantee uninterrupted services of the Promotion landing page.
All bookings through the Promotion landing page must be made in accordance with Agoda's terms of use.