Are you planning on traveling to South Africa with your baby or toddler?
If so, you're probably feeling overwhelmed by all the things you need to consider.
Traveling to South Africa with a baby or toddler can seem intimidating for new parents. It might feel like you need to have all the information and supplies before you even begin planning.
But, let me tell you—it doesn't have to be that way!
I was born and raised in South Africa, and lived there until I was 21. When I returned as a parent with three young children, one of whom was 3 years old (She was toilet-trained but she still slept in diapers for her naps and overnight), I did it without feeling overwhelmed. And you can too!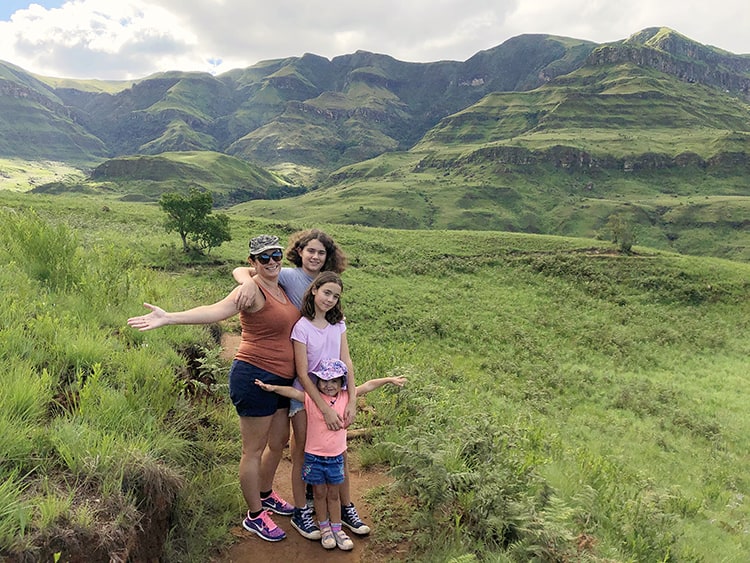 That's why we've put together this guide on what to know before visiting South Africa with a baby or toddler.
We will talk about which destinations to avoid and which to include, where to find baby supplies in South Africa, and how to keep your little one safe.
Let's dive into what you need to know before jetting off on your adventure!
Is South Africa Baby-Friendly (Or Toddler-Friendly)?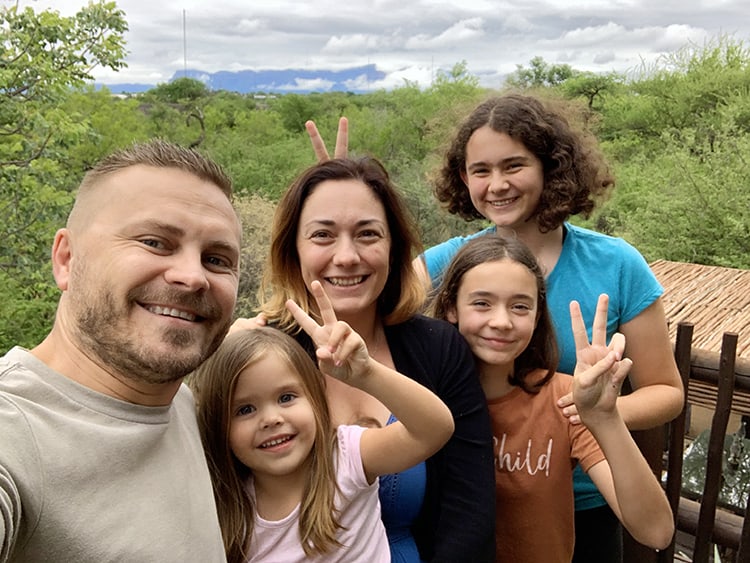 South Africa is a baby-friendly destination, with plenty of opportunities for parents to enjoy an exciting vacation with their little ones.
We spent 5 weeks traveling around South Africa with our toddler and she just enjoyed it so much!
Adventure activities such as safaris are both safe and enjoyable, and there are many family-friendly hotels, resorts, and attractions.
South Africa has fantastic healthcare facilities to ensure that both parents and babies have access to medical care at all times.
Additionally, South Africa is packed with activities that will keep babies and toddlers entertained and engaged.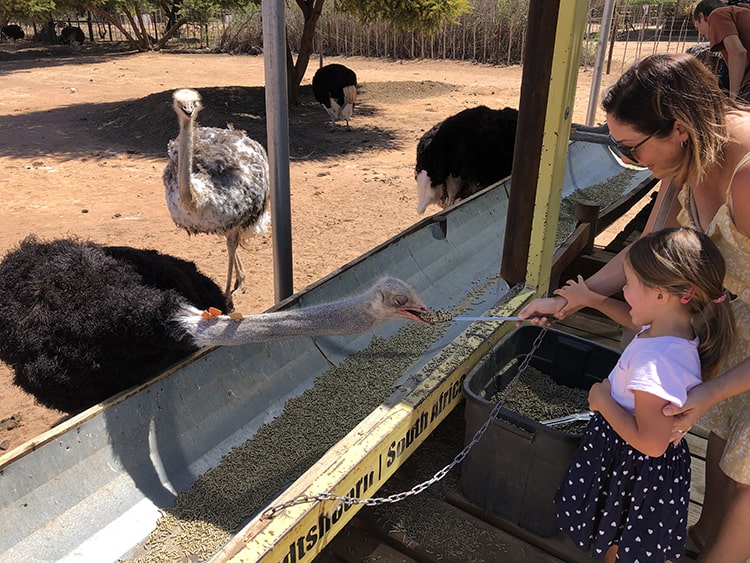 From zoo visits to game drives, there's something for everyone in this spectacular country!
So if you're planning a trip to South Africa with your baby or toddler, don't worry – they will be sure to have a great time!
---
Pros and Cons of Visiting South Africa with a Toddler or Baby
Watch our Youtube video where we discuss the pros and cons of visiting South Africa with a little one.
---
Safety Whilst Traveling in South Africa with a Toddler or Baby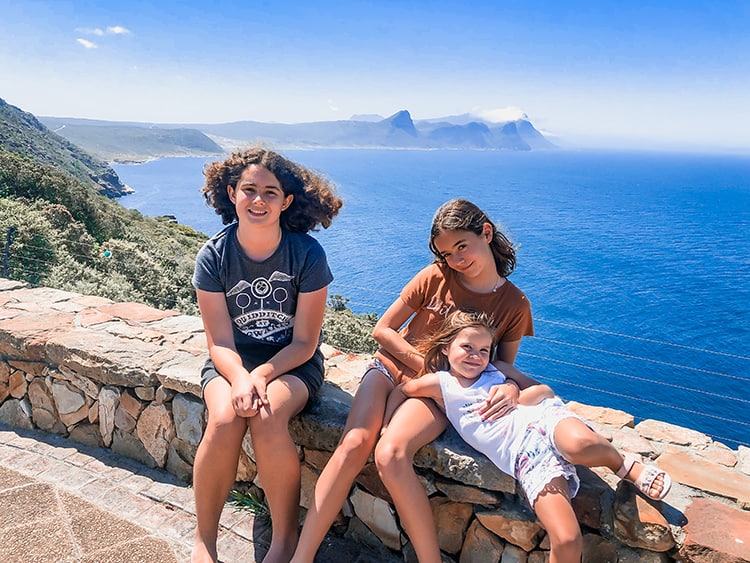 Though your little one's safety should always be a priority, don't let fear stop you from exploring what the country has to offer – there are many measures you can take to ensure your child is safe.
Here are some of our top tips to help make sure you stay and feel safe during your trip:
Keep your car doors locked whilst driving around. This is easy to do as most rental cars have central locking from the driver seat these days.
Don't walk around after dark. It is best to get around at night with a car or Uber rather than walking to restaurants or just going for a stroll. I also recommend you avoid doing any of your road trips at night.
Make sure you keep your eyes on your little ones at all times. Whilst walking around hold their hands if they are at a walking age. If you love their freedom, maybe consider purchasing a backpack with a leash from Amazon (here is a cute design).
Stay away from using buses, taxis, or trains as they might not be as safe as you want them to be. We personally rented a car, but you could use Uber as well.
Make sure you research the areas you will be staying in. I'll share some safer destinations to visit down below in the post.
We stayed in hotels and Airbnb's and I have to say that I just felt safer in the hotels.
Another thing that is important is that you need to bring your birth certificate for your child. We never got asked for ours, but I have heard of parents who had issues leaving the country without having the proof that the child belonged to them (which is why you need a birth certificate).
Lastly, it's important not to draw attention to yourself – avoid expensive jewelry or cameras hanging from your neck. Make sure your wallet is always in a safe spot. We kept most of our money in a money belt.
I can honestly say, that you might be a bit more on edge in South Africa in comparison to visiting other countries, and it does get a bit tiring to always keep a lookout for anything looking suspicious, but regardless we had a fantastic trip.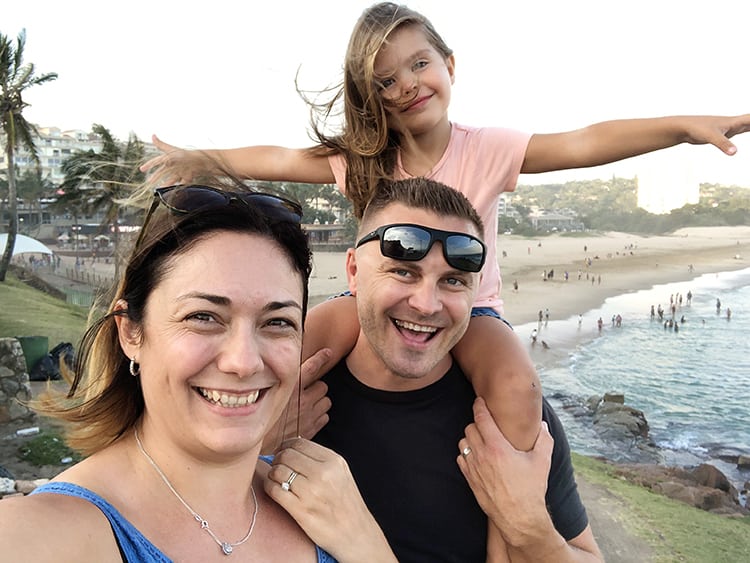 South Africa is just such a brilliant country to visit and it is truly a perfect destination for a family vacation.
---
Vaccinations and Malaria
You might need to get some vaccinations done before heading to South Africa. I recommend you check with your travel doctor which ones you need.
The typical vaccines include Hepatitis A & Typhoid Rabies & Hepatitis B. Our toddler did not get any vaccines for the trip, however, both of us and our older kids needed to get some done.
Now let's talk about Malaria. Malaria areas include Kruger National Park and neighboring private game reserves. Additionally, it is found in lowland regions within the provinces of Mpumalanga, Limpopo, and KwaZulu-Natal.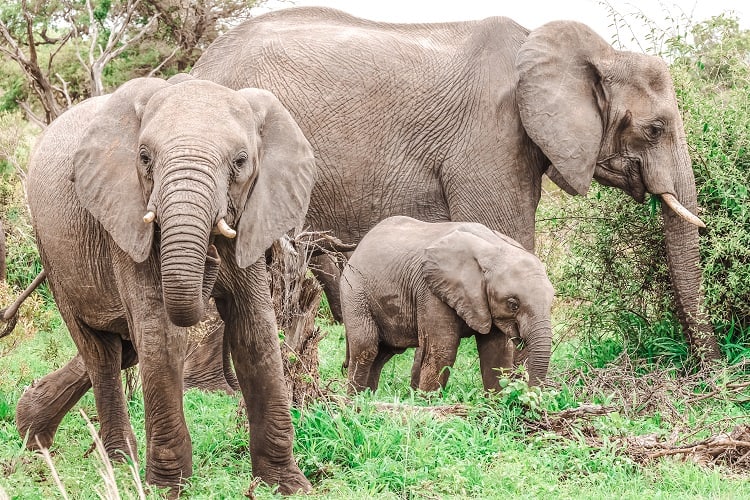 We did visit Kruger National Park, however, I think if you have a baby or toddler it might be best to skip it.
They don't make Malaria meds in a liquid form, which meant we have to crush down the tablet and try to get it in her, we tried mixing it with juice, mixing it with honey, and I even tried condensed milk but it was just such as a struggle and hassle.
Fortunately, there are other non-malaria safari parks around that you can go to instead.
---
Baby/Toddler Gear to Pack To Make The Trip Easier
When traveling with babies and toddlers to South Africa, it's important to be prepared and bring the right essential gear.
Here is some information about what I recommend you pack for your trip to ensure that you get the most out of your time in South Africa.
1. A Stroller and a Baby Carrier
South Africa is a very stroller-friendly country. This means that you will only need a lightweight stroller with small wheels.
A reclining stroller is incredibly helpful so you can keep exploring during nap times.
We highly recommend the Babyzen Yoyo or GP Pockit Stroller (cheaper in comparison to Babyzen).
Whilst a stroller is a must-have for your trip, we also highly recommend you bring a baby carrier as well.
A carrier will be helpful when you go on any hikes in the Drakensberg or if you head up Table Mountain in Cape Town.
2. Car Seat or Booster Seat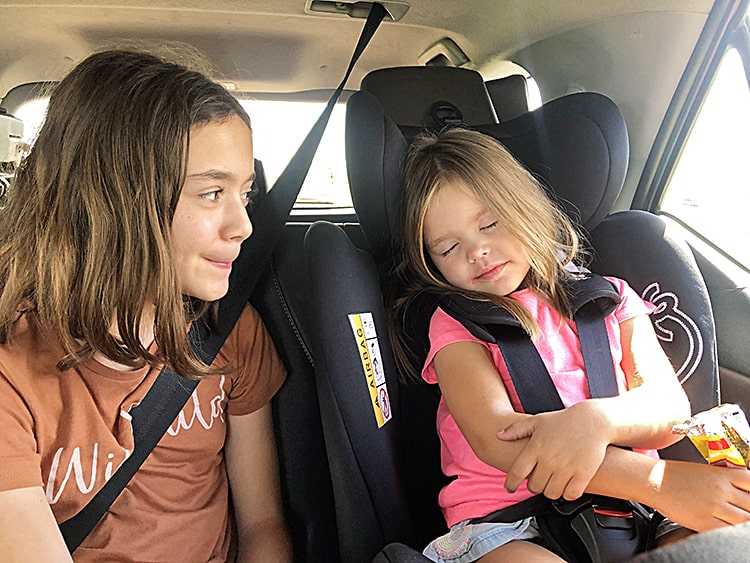 A car seat is required if you are renting a car. And I do recommend you rent a car as not all public transport is as safe and reliable as in other countries. We recommend renting through Discover Cars.
I find it bizarre that South Africa legally requires a child to stay in a car seat only up until the age of 3, however for safety reasons please make sure you use a car seat (for babies and toddlers) or a travel booster seat (for older kids).
South Africa sells cars from Asia, USA, and Europe, so there can be compatibility issues between the vehicle and a car seat.
We hired a car seat with our car and it had a very different securing mechanism in comparison to Australia where we live.
It had these two yellow pieces that secured to anchors in the seat and then you also have the anchor that attaches in the back as well.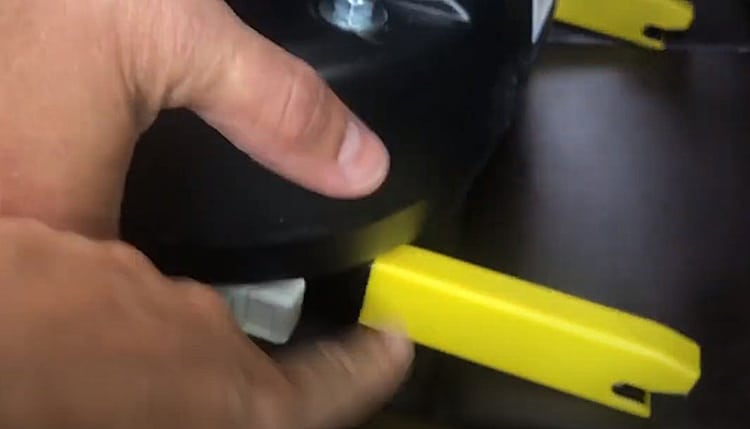 Whilst typically we normally encourage parents to bring their own travel car seat so they can use it on the plane, in this instance I don't advise it.
Finally, remember not to forget important items such as diapers, baby wipes, bottles/sippy cups, extra clothes, sunscreen, etc … all those things are essential for surviving long days out and about with a toddler!
---
Where To Buy Baby Supplies In South Africa
So it is really easy to find baby supplies in South Africa.
There are loads of supermarkets and malls around and they have everything you could possibly need for your baby or toddler.
Supermarkets typically feature a specialized aisle dedicated to a wide range of essential baby supplies.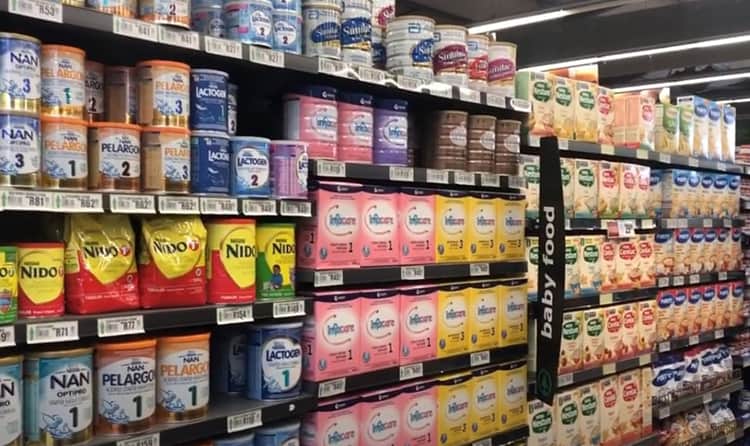 This aisle is equipped with everything you need for your little one, including diapers, wipes, formula, baby food, pacifiers, and bottles.
You can get a wide range of diapers in South Africa including popular brands such as Pampers, Huggies, and Cuddlers. Be aware that in South Africa they refer to diapers as nappies.
Again baby formulae is easy to come by and you will have a wide range of brands to choose from. The most popular brands are Nutricia, Infacare, Nestle, Similac, and Novalac.
Baby food, cereals, and toddler snacks are easy to find as well. You will have the option of purchasing organic or non-organic baby puree food, and you can either purchase it in the jar or the squeezie packets.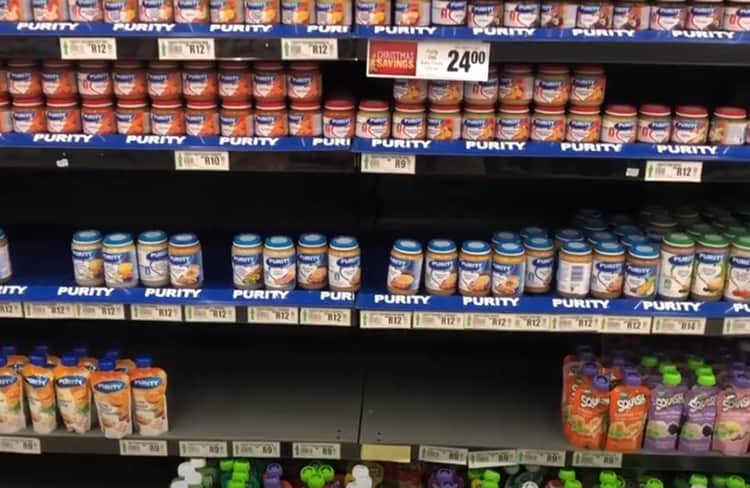 And lastly, you can also buy all your baby shampoos, creams, diaper creams, etc in supermarkets as well.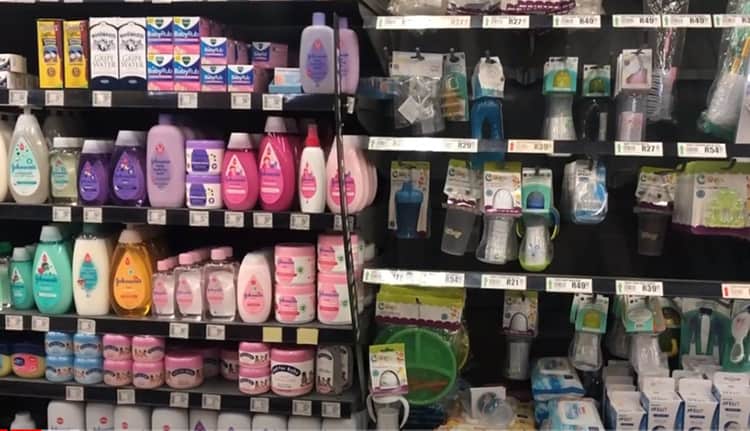 The only thing that I found was slightly harder to find was swim diapers. If you can't find them in the bigger grocery stores, go and have a look at a shop called Clicks and you will find them in there.
I do recommend you bring a reusable swim diaper in case you can't find the disposable ones so that you do have an option of what you can use.
---
Breastfeeding & Change Rooms
Breastfeeding in public in South Africa is perfectly normal and accepted in all public places. We've even seen signs in restaurants saying that breastfeeding is welcome and that you're welcome to do that.
Baby-feeding rooms can be found in shopping malls, department stores, and babywear shops.
Diaper-changing facilities are pretty common and you should find it in most toilets in malls, restaurants, and public spaces. It might just be a fold-down changing table rather than a dedicated room, but it does the trick.
---
Restaurants and Babies/Toddlers
Most South African restaurants are family-friendly and have high chairs available for little ones.
Many restaurants will even have a dedicated play space for your little one.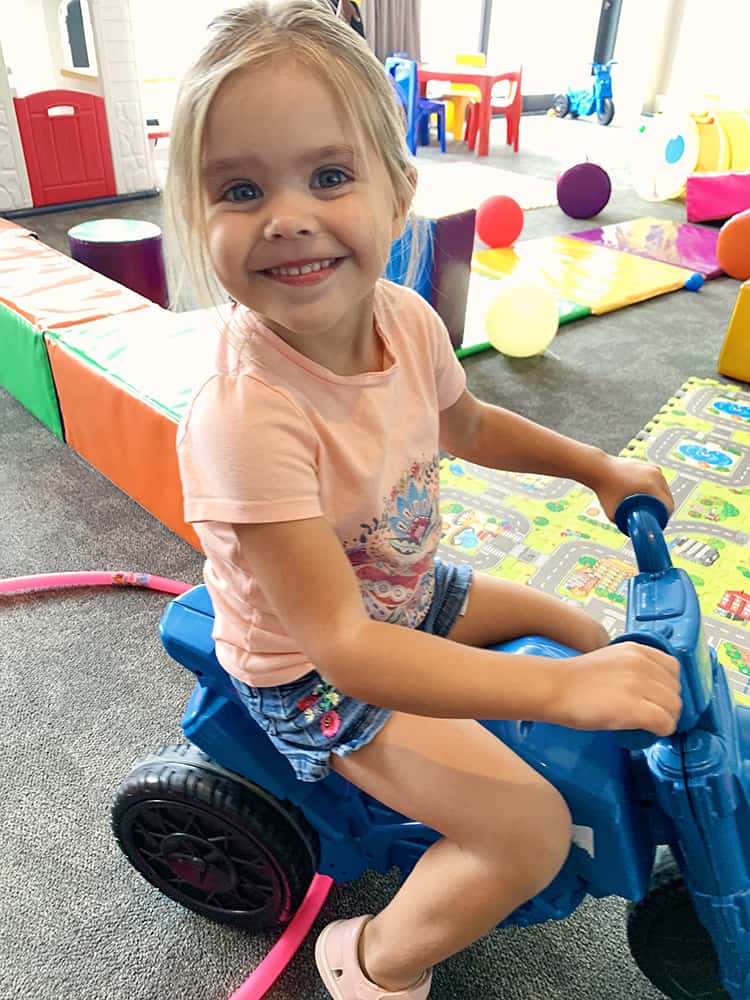 We found kid-friendly menus offering foods that little kids are more likely to eat.
We also found that most restaurants were happy to tweak their options to make something our little one would eat so don't be afraid to ask.
---
Best Way To Travel Around In South Africa With A Baby/Toddler
Now let's talk about how best to get around in South Africa. My personal preference is to have a rental car.
It is really a country where hiring a car is going to be the easiest way to go. It is not a country where there are taxis driving around that you can flag down to take you to your special location.
There is Uber of course, but, I personally highly recommend that you get your own car so that you can get around really, really easily.
1. Renting A Car
We personally rented our car. I recommend you rent your car through Discover Cars.
They source the cheapest prices from multiple companies to find you the best deal. And they have insurance you can grab as well.
The one thing I would recommend is that you include a car seat in your car hire.
We got a 4-wheel drive to make it easier to see the wild animals on game drives and it was worth every extra dollar.
Click here to check out the rental car prices through Discover Cars.
2. Uber
Another option is to opt for Uber. I highly recommend you stay away from the taxis that you can flag down and I wouldn't go on a bus or train unless I really had to.
So if you are only doing one location and don't want to hire a car, you could get away with Uber and booking some tours to explore the area.
---
Where To Stay In South Africa: Hotels or VRBO?
We stayed in both hotels as well as VRBO apartment rentals. Personally, we felt safer in hotels but we did stay in some lovely VRBO apartments too (and some that didn't feel as safe).
Unless you prefer bringing your own travel crib with you, you should be able to find hotels and accommodation rentals at VRBO or Airbnb that can offer you one.
Hotels in South Africa with a Baby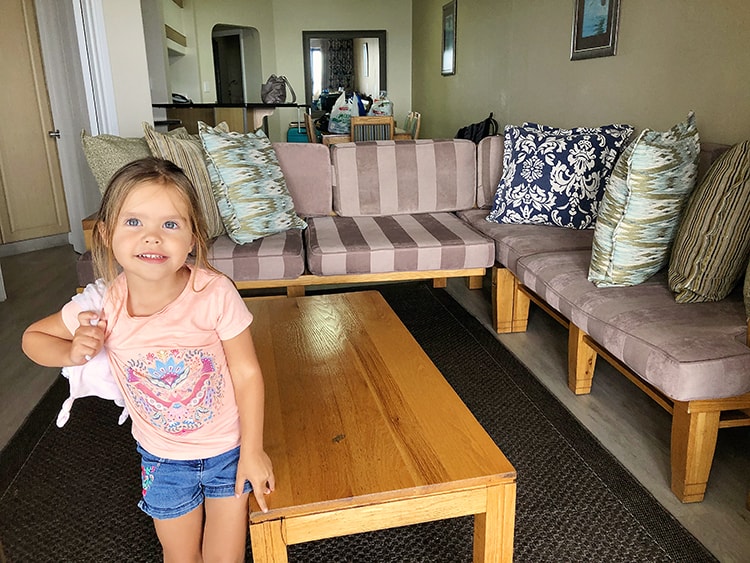 Not all hotels are suitable for international travelers. In fact, we pulled up to one hotel and Andrzej walked in to ask where we should park the car, and the vibe he got just felt dangerous.
So make sure you read the reviews of the hotels and ensure the hotel is located in a safe area.
Hotels all provided Avalee with a cot (some in better condition than others) and most hotels had a little kitchenette or a full kitchen where we could heat water (incase you need to sterilize bottles etc).
I'll share some hotel recommendations further in the post when we talk about which destinations are safest to visit.
We typically book our hotels for South Africa through Booking.com.
Booking A Rental Through VRBO
As a family of five, we typically prefer staying in a VRBO rental so that everyone can have their own space and we can cook some of our own meals.
Make sure to check with the VRBO owner if they can offer a crib as part of your rental, many do have this available which means you don't have to drag yours from home.
One thing that is super important is to research the location of your rental. This house above in the photo was in a gated community that had a guard checking cars coming in and out, so we felt really safe.
One additional thing to keep in mind is that most VRBO rentals will lose electricity when the country has electricity shortages (and this happens A LOT), where a hotel has a backup generator meaning you will still have power.
Click here to start searching for VRBO rentals.
---
Best Places To Visit In South Africa With A Baby Or Toddler
So here is a list of the destinations that I personally found the safest whilst traveling all around South Africa for 5 weeks.
The destinations I felt were the safest and that I felt the most relaxed in were Cape Town (and the surrounding areas), Karoo, and the Garden Route destinations.
We also visited additional destinations such as Pretoria, Kruger National Park, Panorama Route, and a few other destinations.
Cape Town with a Baby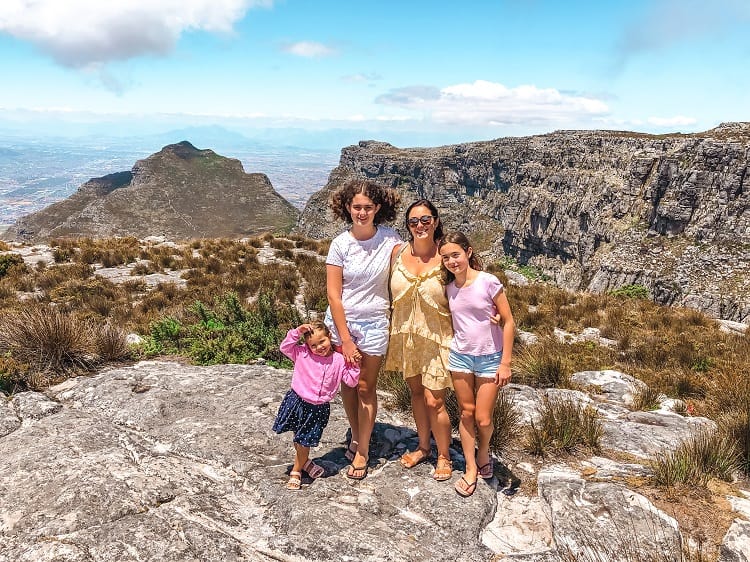 Cape Town is probably the best place to visit in South Africa with family. And it is a perfect destination for a family vacation with babies and toddlers.

Firstly, there are many places to visit during your stay; from the world-famous Table Mountain aerial cableway and Kirstenbosch Botanical Gardens to the vibrant V&A Waterfront where you can simply stroll around, have dinner, and hop on a Cape Town sunset cruise.
The Robben Island cruise from the V&A Waterfront is really popular as well, plus our kids loved going on the Ferris Wheel at the Waterfront too.
There are also plenty of beaches in and around the city – Clifton Beach, Camps Bay Beach, and Muizenberg Beach are all perfect for little kids.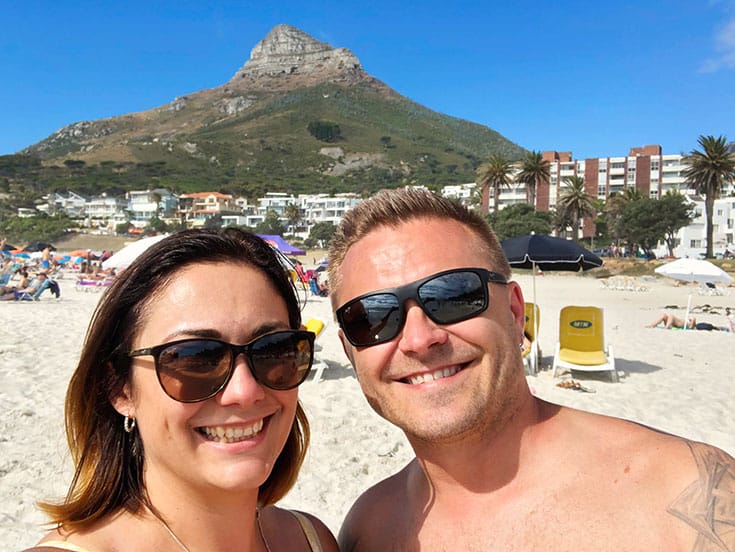 How long you should stay depends on what you plan on doing during your time in Cape Town – but we recommend 4 days (grab our 4-day Cape Town itinerary here) to a week.
This gives you enough time to explore all that the city has to offer, adding on a few day trips, while also having enough downtime for restful days at the beach.
For day trips we highly recommend visiting the most popular Cape Winelands. The easiest way to do this is on a wine tasting from Cape Town tour.
I also loved our Cape Peninsula Drive which is easy to do if you have rented a car, but there is also a popular tour that includes the Cape of Good Hope and the Penguins if you don't have a car.
It is a really big day trip with lots of driving, but it has some awesome stops such as Boulders Beach to see the penguins, Hout Bay, Chapman's Peak Drive (stunning views), and of course the Cape Peninsula itself.
Where to Stay in Cape Town with a Baby/Toddler
The hotel that I recommend that is located in a safe spot and that is perfect for babies or toddlers is The Bay Hotel.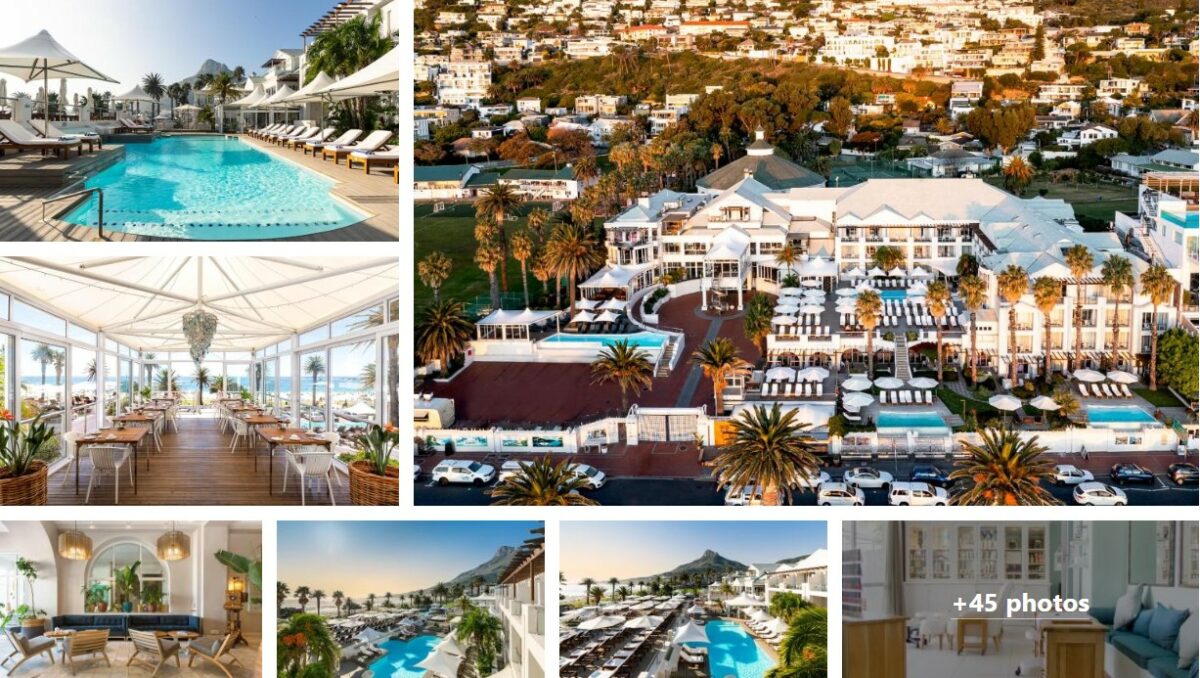 Located right on the beachfront at Camps Bay, it offers stunning views of the Atlantic Ocean and the Twelve Apostles Mountain Range.
Enjoy luxury amenities like four outdoor pools, spa treatments, or even an in-room massage so you can relax while your baby naps.
Don't worry about bringing a crib—one can be provided on request!
---
Karoo with a Baby
Visiting the Karoo in South Africa with a baby or toddler is an unforgettable experience.

When visiting the Karoo, it's best to base yourself in Oudtshoorn – one of the townships near the Swartberg Mountains. Oudtshoorn is located around 5 hour's drive from Cape Town.

There are plenty of things to do in and around Oudtshoorn. The Cango caves are millions of years old and offer breathtaking views and rock formations that will leave any child amazed. For this visit, I recommend a baby carrier.
Apart from the Cango Caves, there are plenty of other experiences that await in Oudtshoorn. One such destination is the Cango Wildlife Ranch. This wildlife ranch boasts a wide range of animals such as leopards, lions, servals, and lemurs.

Another great experience in the area is the Safari Ostrich farm, which allows visitors to go on an educational tour to learn more about ostriches. Here you can see how ostrich eggs are hatched and bred for their feathers and meat.
You probably only need to stay in Oudtshoorn for 3 – 5 nights in order to fit in some trips in a really relaxed manner.
Where to Stay in Oudtshoorn with a Baby/Toddler
We personally chose to stay at an apartment rental (Welgeluk Cottage) that was located on a working Ostrich farm. It was an incredible experience!
Not only did we have a spacious home away from home, but we were also surrounded by enclosures of sheep, wildebeest, springbok and ostriches that could often be seen from the accommodation.
Best of all, they had a crib for our toddler and they even let our kids bottle feed their rescued wildlife.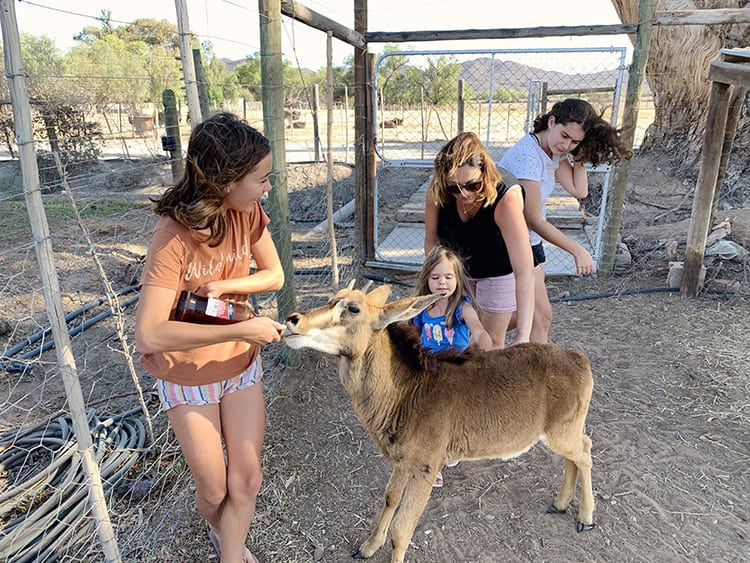 It was truly a unique experience that will never be forgotten!
---
Garden Route with a Baby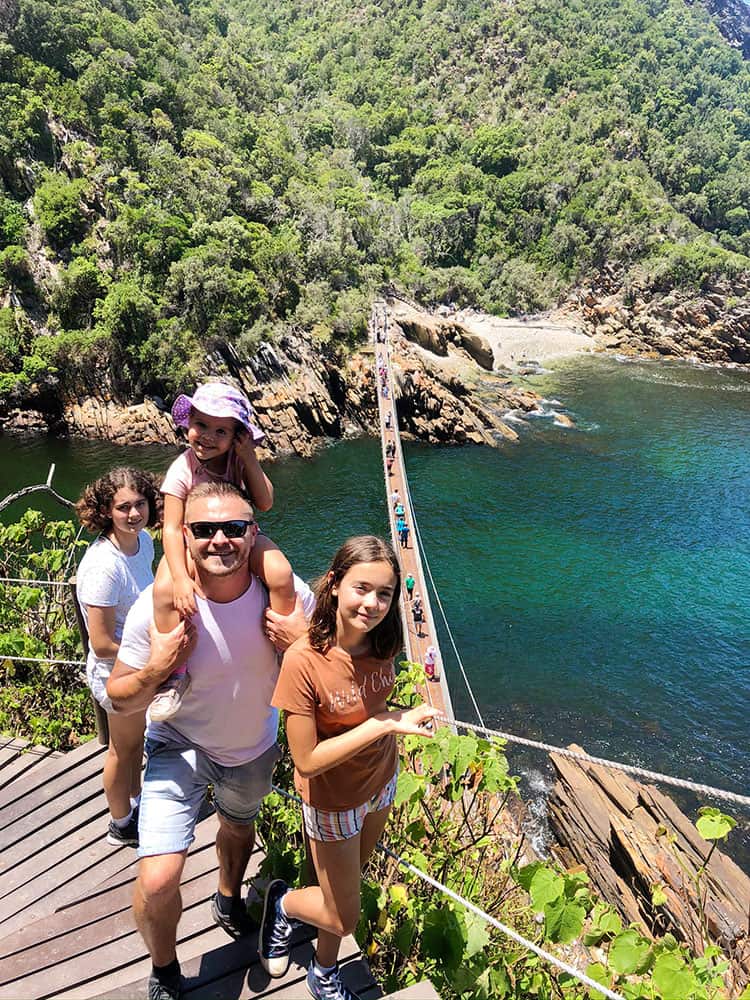 Traveling the Garden Scenic Route in South Africa with a baby or toddler is an amazing experience that both parents and little ones will not soon forget.
The Garden Route offers spectacular views of the Indian Ocean, incredible wildlife, and beautiful forests to explore.
To make the most of this special holiday, base yourself in either Mossel Bay or Plettenberg Bay – two of the most popular towns on the route – and plan for at least three to five days here.

The Garden Route is home to some fantastic attractions for your little one to explore, including Jukani Wildlife Sanctuary and Monkeyland – an animal sanctuary just outside Plettenberg Bay; Whale Watching at Stony Point Nature Reserve; Birds of Eden bird sanctuary; Knysna Elephant Park, and Tsitsikamma National Park.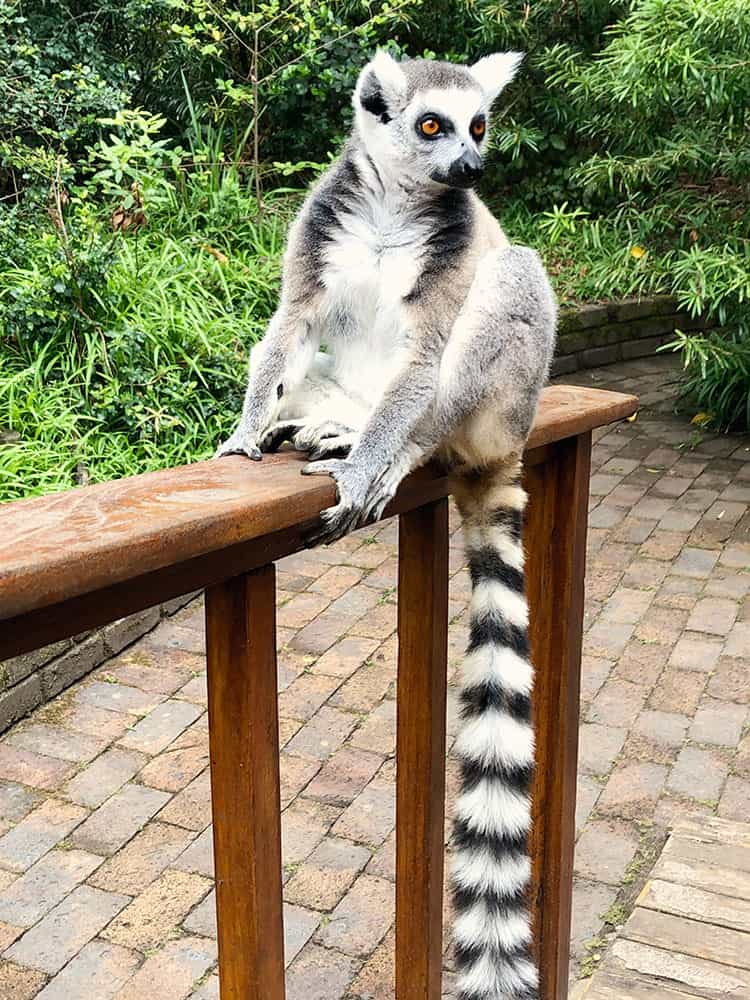 Don't forget to include the Addo Elephant Park in Port Elizabeth where you can enjoy a self-drive safari with your little one.
You can do this road trip from Cape Town and end in Port Elizabeth (or vice versa). You can find our Cape Town to Port Elizabeth road trip itinerary here to see which stops we included.
Where to Stay in Plettenberg Bay with a Baby/Toddler
Again we chose to stay in an apartment rental and absolutely loved our stay and felt super safe.
Bella Manga Country Escape offers accommodation that is beautiful and cozy, well-designed and luxurious, truly going above and beyond expectations.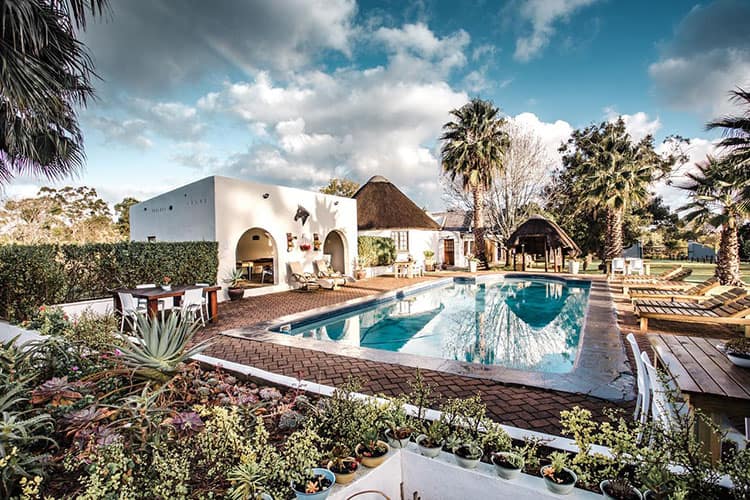 My kids thoroughly enjoyed swimming in the beautiful pool and playing with the farm animals.
Our toddler had a crib which is available on request. It was a great getaway that left us feeling relaxed and ready for more adventures!
---
Drakensberg with a Baby or Toddler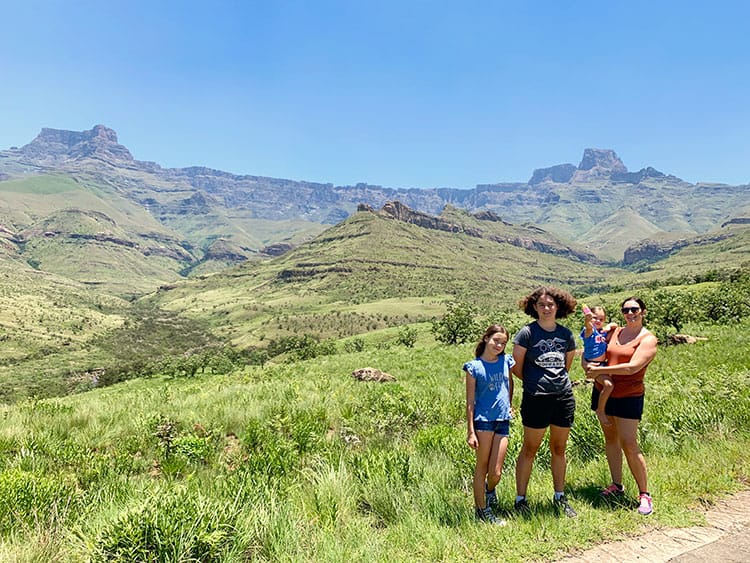 Visiting the Drakensberg Mountains with a baby or toddler can be an incredible experience for parents who love stunning scenery and being active during their holidays.
With its majestic views, lush vegetation, and endless opportunities for adventure, it's no wonder that families flock to this area!
There are plenty of things to do in the Drakensberg, but most people go there for the hikes. And don't worry about bringing your little one—there are plenty of child-friendly hikes, as well as the option to use a hiking carrier.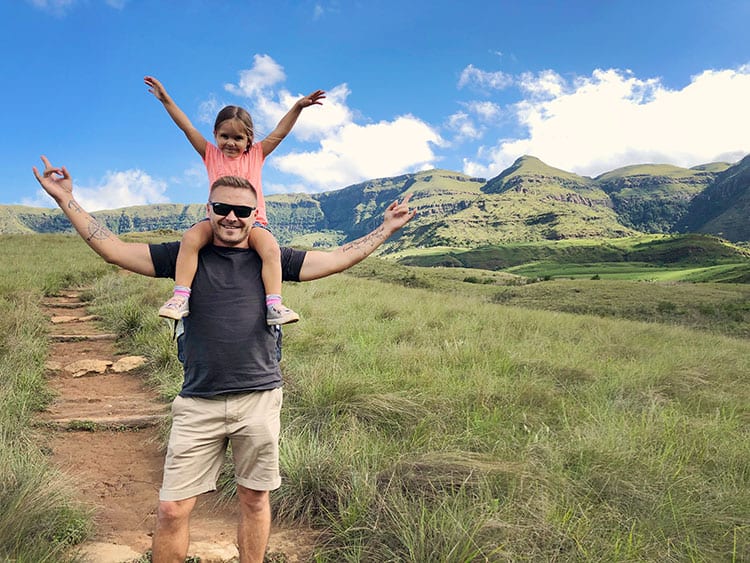 Andrzej tried to carry Avalee on his shoulders when she got tired of walking, and it was a bit rough, so definitely bring a carrier with you!
Where to Stay in the Drakensberg with a Baby/Toddler
We stayed at the First Group Bushman's Nek with our toddler and we were impressed with the resort.
It is a 4-star resort with incredible views, and it has a restaurant, spa, and rock swimming pool.
There are plenty of outdoor activities to do as well!
We found that the food wasn't quite up to snuff during our stay, however, I've seen recent reviews where people said it was delicious so maybe they have improved their food since then.
The cot for our toddler was comfortable enough that she slept through the night.
---
Final Thoughts on Traveling to South Africa with a Baby or Toddler
With our experience of traveling around South Africa with a toddler and two older kids, we can assure you that a trip to the country with a baby is absolutely doable!
We were so glad that we decided to take our little family on this amazing journey. While it took plenty of preparation and planning beforehand (like finding the safest places to visit) and wasn't without its challenges, the chance to explore this beautiful country together was worth it.
From Kruger National Park to the Garden Route, you too can make lifelong memories with your own family during an unforgettable South African adventure.
Looking for more planning resources? You can find all of our Italy blog posts here.