Visiting South Africa's 'Mother City' is a must on any trip to the country.
This vibrant metropolis has loads going on, and it's definitely worth spending a few days exploring. Cape Town things to do appeal to all kinds of travelers.
This city has world-class beaches, wine farms, historic suburbs, and interesting landmarks. It's also full of trendy places to eat, drink, shop, and stay.
Here is our guide to a 4 day Cape Town itinerary – covering all the best things to do and see.
4 Day Cape Town Itinerary
Planning a trip to South Africa? We would recommend spending at least 4 days in Cape Town.
This gives you enough time to see the city's top sights and attractions at a comfortable pace.
Tip: Check out our ultimate guide to Travel South Africa with Kids.
Here's a detailed itinerary of the top things to do in Cape Town and how to fit them into your trip.
Day 1 – See the Top Iconic Cape Town Attractions
If you are wondering what to do in Cape Town, summiting Table Mountain should be high up on the list. Other must-see places in the city can also be done on the same day. You can easily reach these destinations by catching the red tourist bus.
Stop 1 – Table Mountain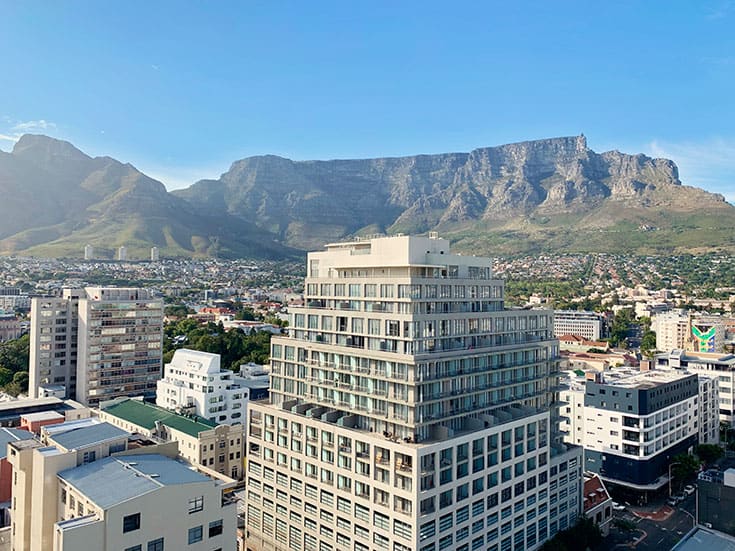 Any photograph of the Mother City will depict the famous flat-topped mountain towering above the city. Begin your first day here by experiencing this mountain up close.
There are two different options for reaching the top of the mountain – hiking up or taking the cable car.
Walking up the mountain is great fun, and allows a feeling of accomplishment once you reach the top. However, you will need to be fairly fit as the varying mountain trails are pretty steep.
If you're not up for hiking, there's also the cable car. Some people will hike up and ride down, or the other way around.
The cable cars run continuously throughout the day, with the trip up lasting about 5 minutes. Prices are $7 per adult and $3 per child each way.
The ride is scenic, and it allows you to reach the top with minimal effort, or give your tired legs a break when descending the mountain.
Once at the top, you can still walk around the flat trails, admiring the local fynbos, and unbeatable views around the Cape Peninsula.
There is also a restaurant up here (although it can be a bit crazy busy) if you want a bite to eat or something to drink at the top.
Travel Tip: Be sure to summit the mountain when there is no cloud cover, so you won't miss out on the sweeping views of Cape Town.
Stop 2 – Camps Bay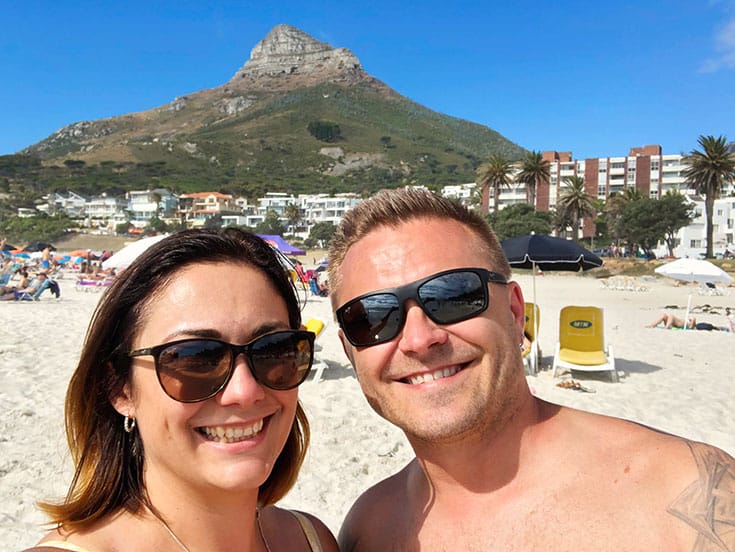 Once you finished taking in the views from Table Mountain, it's time to head to the beach. Camps Bay beach is within easy reach of the mountain – and this is one of the most beautiful beaches in the city.
Of all the Cape Town activities, enjoying the city's beaches is always a highlight.
Camps Bay offers a long stretch of clean white sand along the Atlantic Ocean.
There is a busy beachfront strip here, consisting of many amazing restaurants, cafes, shops, and bars.
You can also hire some umbrellas and beach loungers on the beach (and grab some ice creams from the vendors). 
You could spend the rest of the day soaking up the sun at this trendy spot or if you prefer to give the beach day a skip, we would recommend that you take the cruise out to Robben Island, where you can learn about the prison where Nelson Mandela was kept (more info on that below).
Optional stop – Robben Island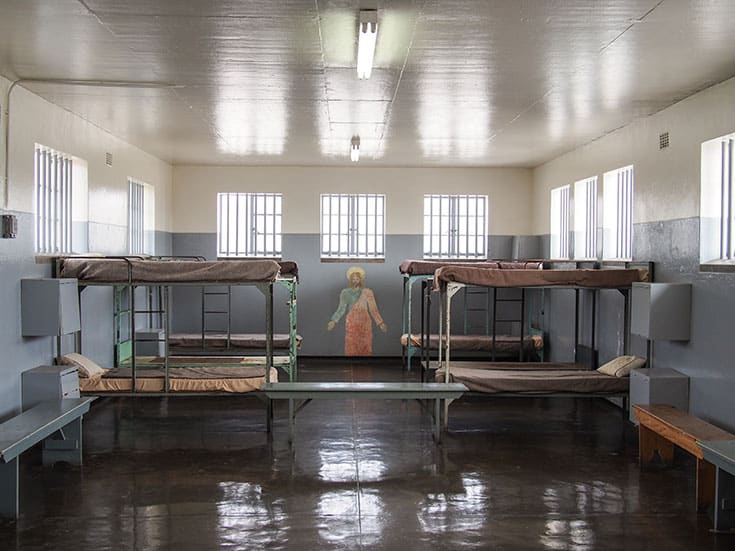 Robben Island is found just off the Cape Town Waterfront.
This island played an important role in South African history, where it housed political prisoners such as Nelson Mandela.
Tours leave from the Nelson Mandela Gateway at the V&A Waterfront. They include a ferry ride and bus tour around the island.
Tours cost $25 per adult and $18 per child. You will have to go on a calm day though, as the ferry ride is weather permitting.
Alternatively, if you are interested in other tours around Cape Town, you might want to take a look at our recommendations for the best sunset cruises in Cape Town.
Stop 3 – Signal Hill
Finally, end your day with a breathtaking sunset at Signal Hill. This portion of the mountain overlooks the city bowl, and you can enjoy some of the best Cape Town views from here.
Click here to book your cable car and hop-on-hop-off bus tour.
Day 2 – Cape Peninsula Drive
Cape Town consists of a peninsula, divided by a strip of mountains, running through the middle.
Cape Point is found at the very end of the Cape Peninsula, with the city center at the other end. Spend your second day doing a Cape Peninsula drive, stopping at some charming places along the way.
We found it best to have a car rental for the day so that we could stop wherever we wanted, however, you can also book a spot on an organized tour. Click here to book your tour of Cape Point and Boulders Beach.
I think this was probably my favorite day out of the 4 days – just so many 'WOW' moments during the drive!
Stop 1 – St. James Beach
Stop at St. James Beach, where you will find a row of colorful beach huts – perfect for a photo opportunity! This small beach also has a tidal pool for swimming.
Only a short walk away from St. James is Kalk Bay, a quirky little seaside suburb. Here, you can find a pretty fishing harbor, shops selling all kinds of local goods, and many fantastic cafes.
Stop 2 – Boulders Beach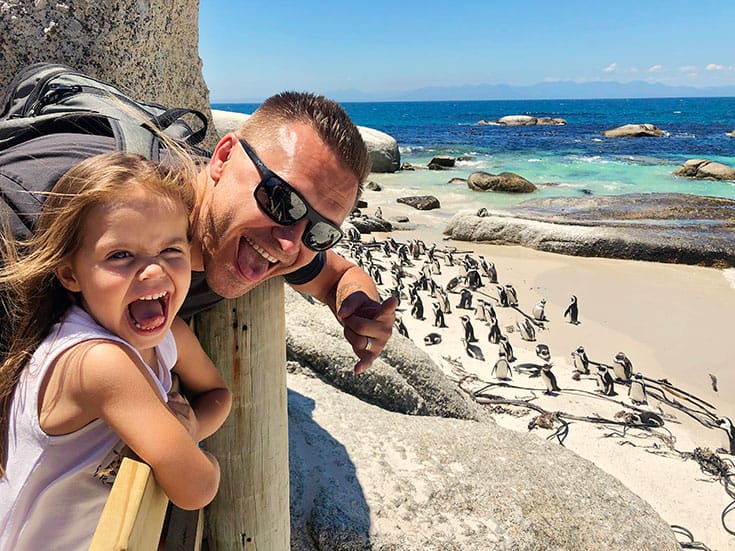 Carry on to Simons Town – a historic naval base suburb along the peninsula. Here you will find Boulders Beach. Boulders is a really interesting beach, as its home to loads of adorable penguins.
You can walk along the wooden walkways, swim, picnic, and get some amazing photos with the penguins. As a tip, there are two sections to the penguins.
Once you pay you can walk through to the boardwalk section – here you can get a view over the colony and read up on some info.
Once you head back out of the ticket office, you can turn left onto another boardwalk.
If you follow this boardwalk you will get to the beach where you can get up close and swim with the penguins.
Be aware though that they limit the number of people on the beach and they also close it during high tide (as the beach pretty much disappears).
Stop 3 – Cape of Good Hope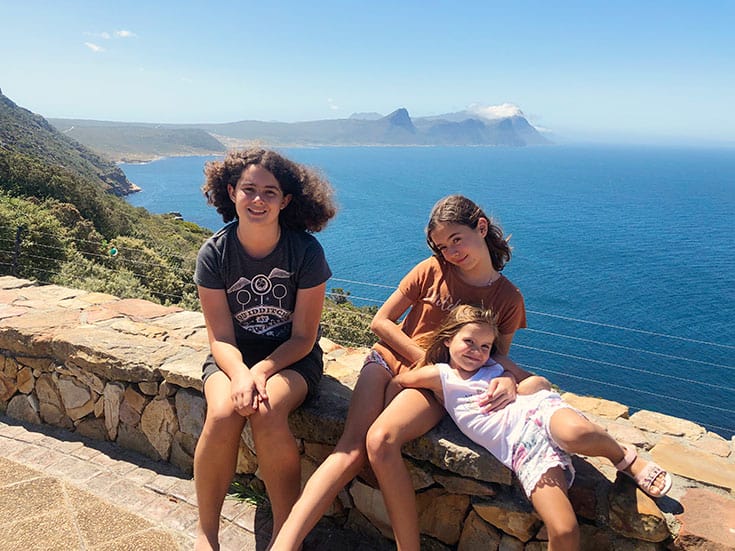 Next up is the Cape of Good Hope, or Cape Point. This nature reserve is best known for its dramatic viewpoint at the very end tip of the peninsula.
You can either take a hike up many stairs to get to the top of the Lighthouse, or you can pay and take the tram. If you are kid-free you can even hike out to the very tip!
Exploring the reserve will reveal many amazing beaches, walking trails, and picnic spots.
While here you can spot some baboons and other local wildlife as well. We also settled in for a delicious lunch with amazing views at the restaurant there.
Entrance to the National Park is not cheap (well not for foreigners anyway), I do question whether it was worth it as we didn't spend a lot of time here, but it definitely is beautiful.
If you do have more time to spend here, there are some beautiful hikes to do. Find out more in this post about the best hiking trails in Cape Town.
Stop 4 – Chapman's Peak Drive to Hout Bay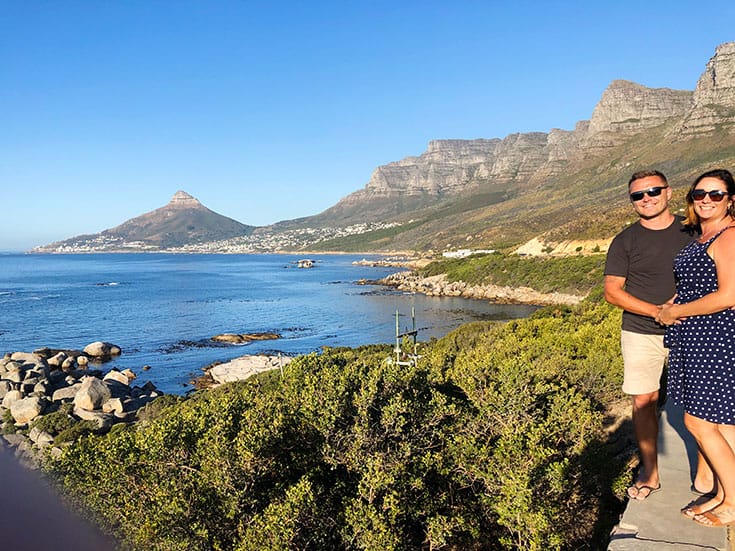 Continue the drive around the other end of the peninsula, where you will pass the incredibly scenic Chapmans Peak.
This is a road perched along the side of a mountain cliff – offering breathtaking views of Hout Bay.
Stop 5 – Hout Bay Harbour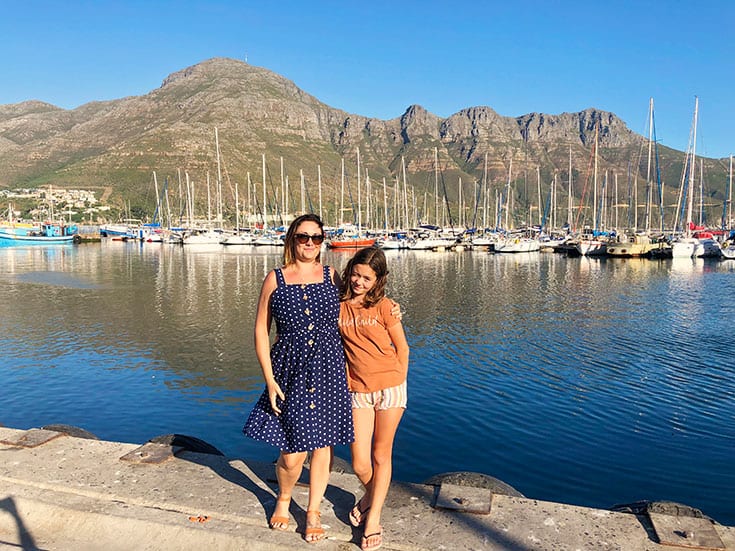 Stop at Hout Bay Harbour to admire the fishing boat, seals and seagulls.
During the weekends, there is an excellent market here as well. The stop can be really brief here. We stopped, grabbed some photos, met a seal and then went on our way again.
Stop 6 – Camps Bay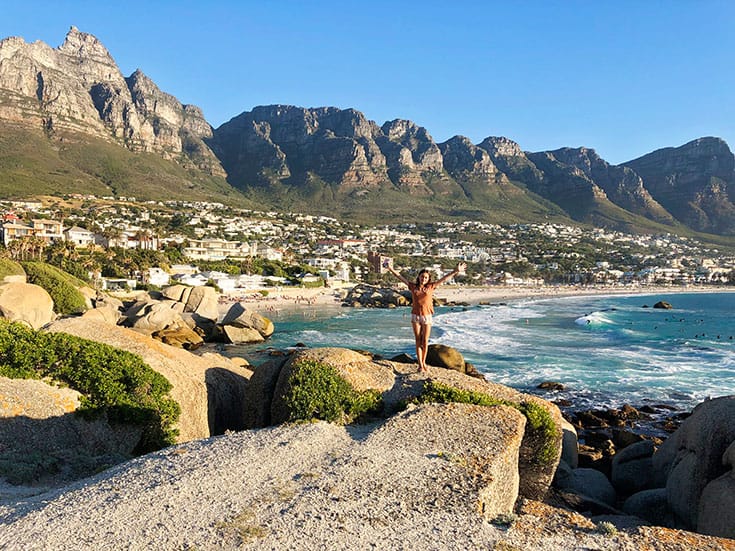 After a beautiful stretch of coastal road, you will reach Camps Bay again. Enjoy an unforgettable sunset dinner at one of the many great restaurants.
We would have to recommend Zenzero – a particularly delicious spot with great beach views.
Day 3 – A Day in the Cape Winelands
If you're spending 3 days in Cape Town, you will have enough time to enjoy the magnificent Winelands surrounding the city.
Check out our blog post on Best Wine Tasting Cape Town Tours.
You can spend a day trip exploring the beautiful wine farms around Franschhoek and Stellenbosch.
It will take around an hour to reach this area from the city. Again a rental car will be really useful for this day.
Rest assured that if you have kids, you can find plenty kids-friendly vineyards to visit.
Stop 1 – Franschhoek Cellar
Travel along the R45 over the Franschhoek Pass where you can enjoy some truly stunning views of the surrounding mountains and vineyards.
Make a stop at Franschhoek Cellar – one of the most popular wine farms in the area. Take a guided wine tasting – one of the most fun things to do in Cape Town and enjoy the many wines on offer. They also have a gorgeous restaurant as well as a kids playground.
While here, take some time to explore the small town of Franschhoek.
This charming little spot is home to some cute shops, cafes, restaurants, and even chocolate shops. After Franschhoek, continue your Winelands adventure by heading to the Spice Route.
Stop 2 – Spice Route, Paarl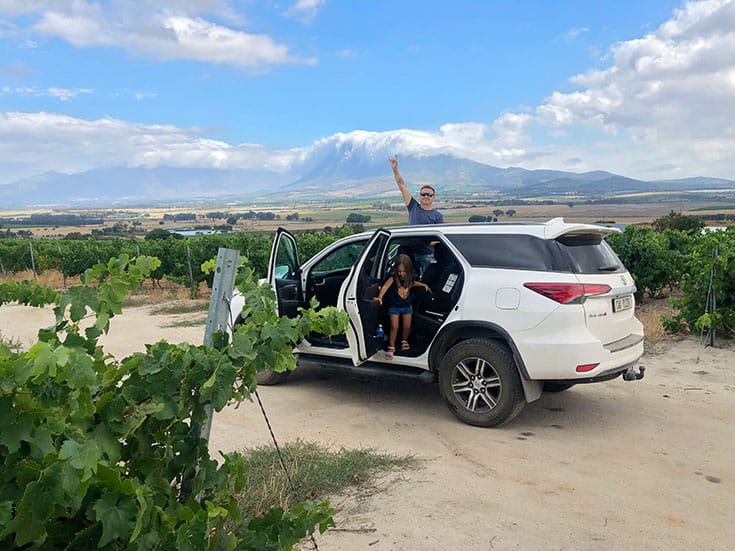 The Spice Route is a wine farm destination where you can enjoy a host of artisanal attractions in one spot.
There's wine tasting, a craft brewery, shops selling local produce, excellent food options, and amazing views. This is also a great place to visit with kids.
Stop 3 – Vergenoegd Löw The Wine Estate
Finally, you can head to Vergenoegd, another beautiful child-friendly wine farm with a playground. They set up the cutest blankets and pillows so that you can enjoy picnics on their estate.
Besides the great food and wine, this place also hosts a regular event called "the duck parade" where a massive amount of ducks race across a field. This is pretty amusing to watch.
Day 4 – Finding Cape Town's Culture
Day 4 of your itinerary will continue with some more top activities in Cape Town.
Stop 1 – Bo Kaap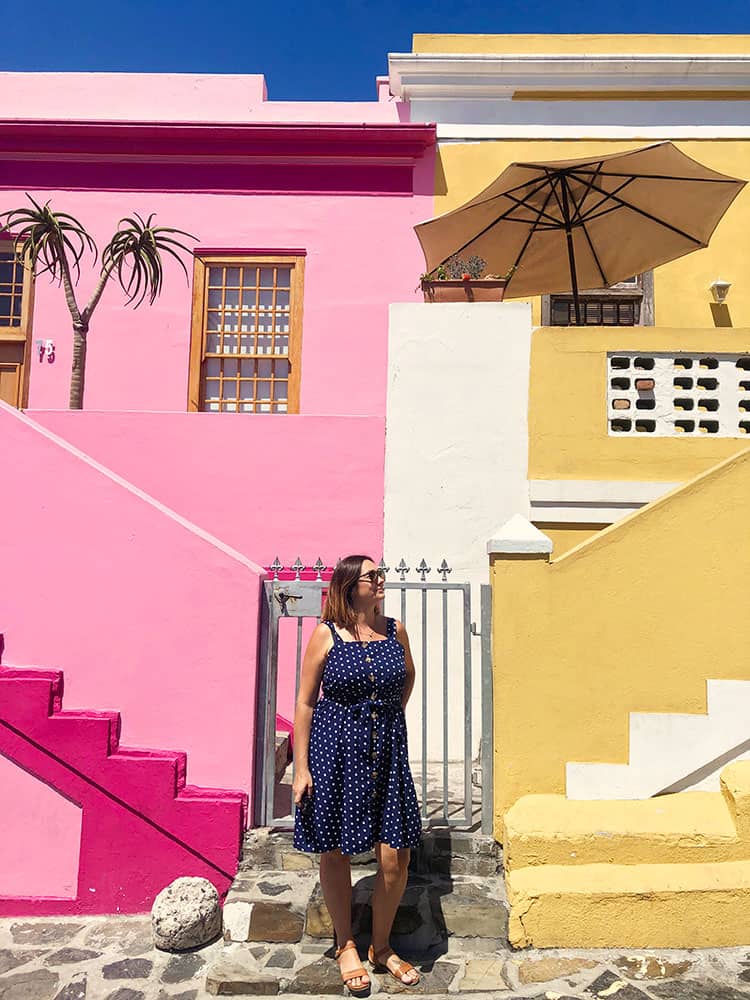 Begin the day by exploring the beautiful streets of the Bo Kaap.
This historic quarter of the city is packed full of brightly colored houses – perfect for some very Instagram-worthy shots.
You can also pop into the little museum here to learn more about the history.
Stop 2 – Squirrel Feeding at the Company Gardens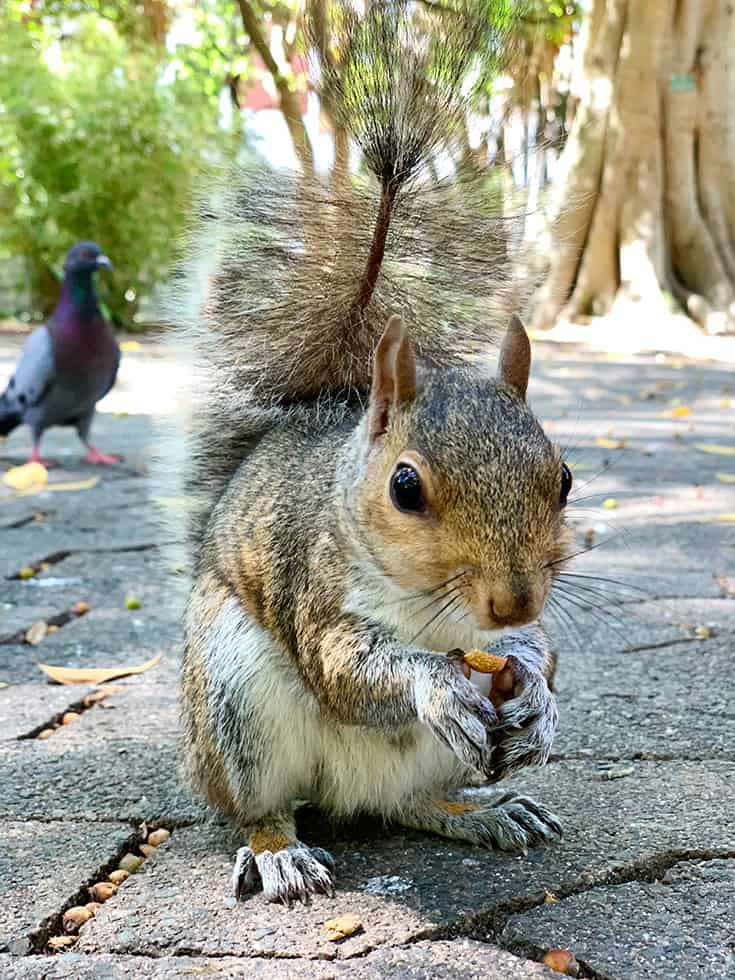 Next up is the Company's Gardens. This is where the first settlers of the Cape planted fruit and vegetables to feed passing sailors.
Here you can wander through the pretty gardens and you can also buy some nuts or bird seeds to feed the squirrels and pigeons.
Stop 3 – District 6 Museum
The city's best museums and galleries are also found around here. If you're interested in history and art then try to check some of these places out.
A notable museum is the District 6 Museum. This place will teach you about apartheid history, and how Cape Town has changed through the ages.
Stop 4 – Kirstenbosch Gardens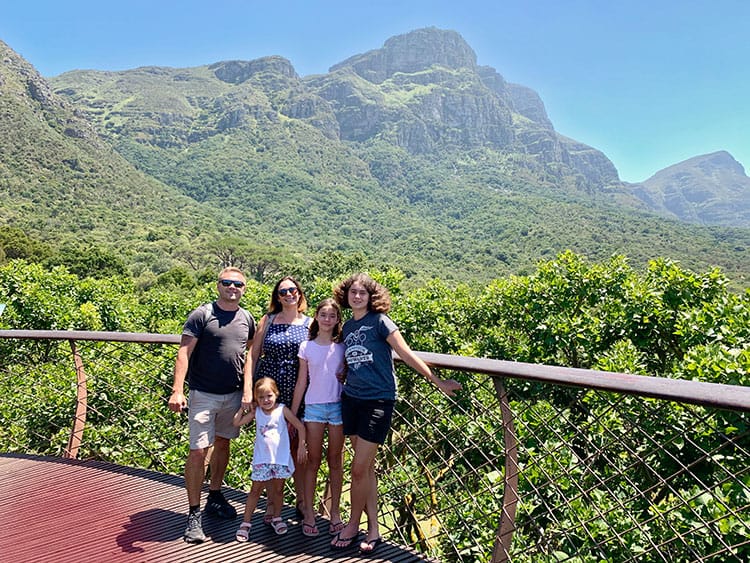 You can continue to Kirstenbosch Botanical Gardens, undoubtedly one of the best things to see in Cape Town. This stunning botanical garden on the mountainside has a wide range of plants and is perfectly looked after.
There is a lovely restaurant here and some great places for picnics. My favorite spot is the Tree Canopy Walkway – truly love the views there.
Stop 4 – Dinner and Sightseeing at the Waterfront
End off your list of Cape Town sites at the V&A Waterfront. This bustling area is a shopper's paradise – with loads of restaurants, bars, markets, and kids' entertainment options on offer.
We would recommend a sunset dinner at Harbour House restaurant – a delicious option for dinner with a view.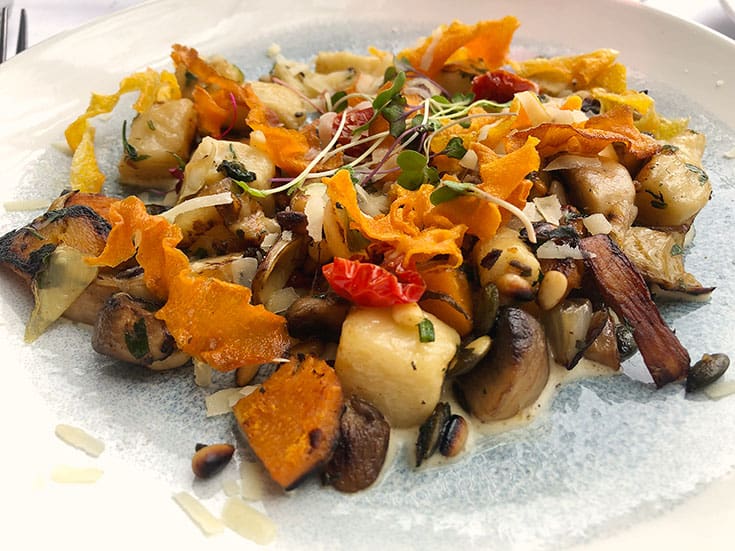 End your Cape Town adventure off with a ride on the massive Ferris wheel on the Waterfront.
This wheel is loads of fun for all ages, and it offers incredible views of the city (especially during sunset golden hour).
Final Thoughts on the Best Things to Do in Cape Town
If you're planning a trip to South Africa, then a 4-day Cape Town itinerary will allow you to experience the best that this city has to offer.
The city has wide-ranging attractions, so you will want enough time to experience the full range of activities on offer.
If you are wondering what to do in Cape Town, South Africa, then be sure to follow this guide.
It offers a perfect overview of the city – fantastic for any kind of traveler.