Addo Elephant Park is a total gem in the Eastern Cape of South Africa. While this national game park may not be as popular as others, like the Kruger National Park, it is still definitely worth visiting. The park is very easily accessible, not very crowded, and totally beautiful.

Addo national park is a great adventure destination for anyone traveling with children. Your little ones will love driving around nature spotting the different wild animals. This park is not only home to the famous Big 5, but it also extends all the way to the coast – offering a varied landscape.
If you're considering a self-drive safari trip to Addo park, then be sure to read on for everything you need to know about the trip.
Getting to Addo Elephant Park
Addo Elephant Park, South Africa, is only 100km outside of Port Elizabeth. Driving between the park and the city is easy and can be done in about an hour. This means that you could even do a game drive safari here as a day trip. However, it might make more sense to stay closer (or inside the park), for the full experience.
Addo National Park Game Driving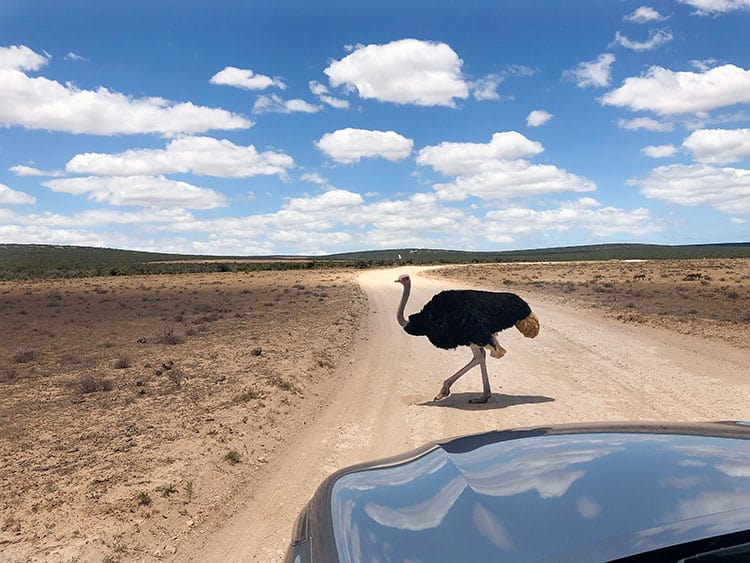 One of the best things about visiting national parks in South Africa is that you can take yourself on your own game drives. This is the best thing to do in Addo, and it allows for total freedom and flexibility of your schedule.
When you arrive in the park, you will get a free map. This map is incredibly useful for helping navigate your way around Addo.
The map also lists all of the animals that you can see in the park. Addo has created an animal sightseeing game for kids with this, where you get points for animals spotted. Our family had loads of fun playing this while driving around Addo.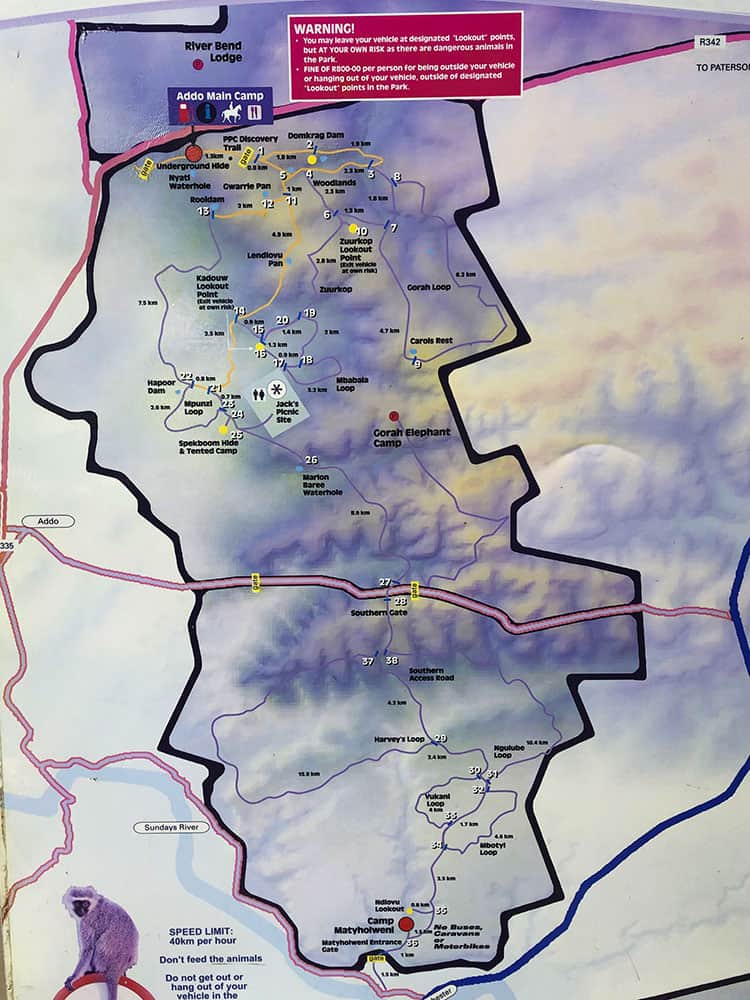 Another tip is to check the daily sightseeing map at the entrance. There you will find an indication of where the latest sightings were, which can be so helpful for trying to track down some of your must-see's.
We loved exploring the park on our own. If you wish to do the same, we highly recommend you rent a 4×4 so that you can have a higher vantage point. It will also be much smoother on the gravel detour roads.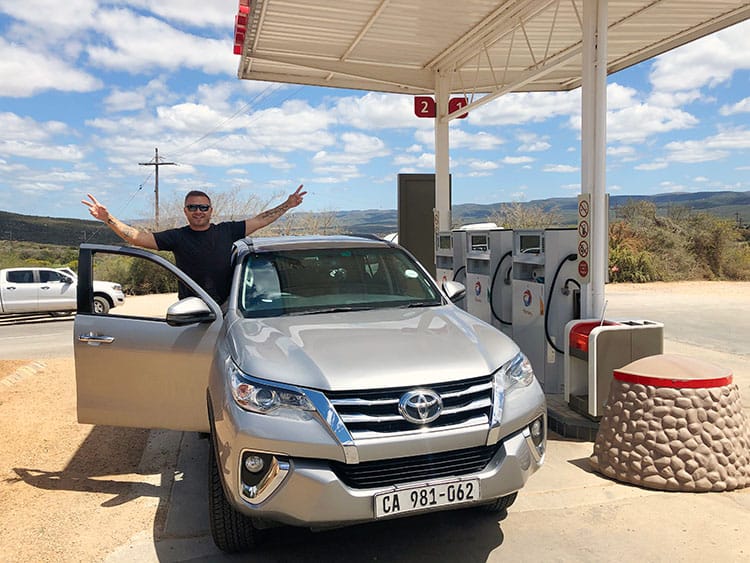 Grabbing some Petrol for our 4×4 at the Fuel Station at the Main Gate
Alternatively, you might have more luck spotting the animals if you book a guided tour. The tour guides do multiple drives in a day and often have insider knowledge on the latest sightings.
Click here to book a half-day tour through Addo if you'd prefer a guided tour.
Animals You Can See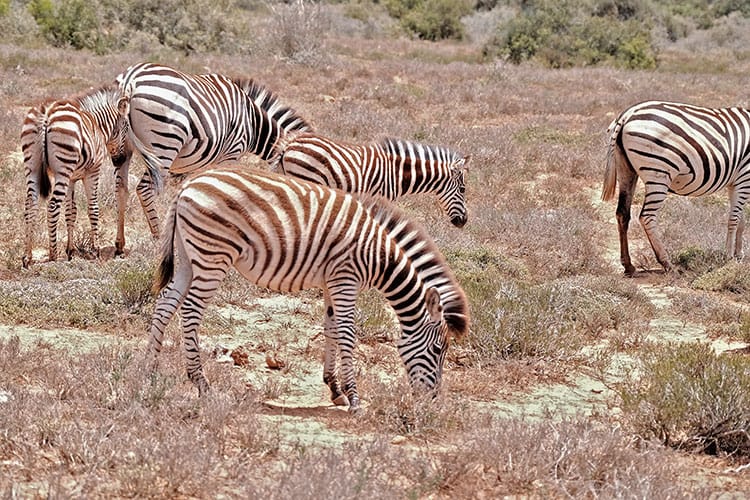 As the name suggests, this is a dedicated African elephant national park. During your game drive, you will certainly see a couple of herds of enormous elephants – stomping through the bushes or even blocking off the roads! Hopefully, you will also get to see a few cute baby elephants as well.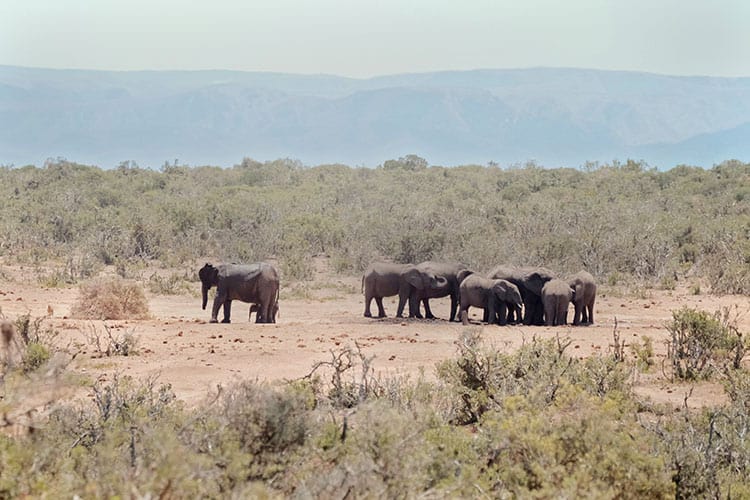 We were lucky to see a whole herd of elephants, as well as a smaller family unit later in our drive. While elephants are the main animals here, Addo also offers a complete list of South African game.
You should definitely expect to see some warthogs and ostrich as well. Some of the impressive bucks found here include kudu and red hartebeest. There are also many wildebeest and zebra around the park. If you are lucky, you could spot some buffalo, hippo, black rhino, lions, leopards, and hyena.
While Addo has the Big 5, don't expect to see as many different animals as you would in other larger national parks – like the Kruger. Nonetheless, you will definitely see some amazing African wildlife during your safari here.
Avid birders will also enjoy Addo, as there are many different species to see. Be sure to make full use of the hides if this interests you. Smaller animals, such as tortoise, can be spotted here too. Just beware of dung beetles while you are driving, as these little creatures can often be seen crossing the roads.
Important Park Information
Before visiting Addo, it is important to have a good understanding of how the park works. Here are some things you will need to know before visiting.
Addo Park Gates
Most visitors will enter Addo through the main park gate. This gate is open from 7:00 to 19:00. The gate is close to the park's main reception area, and is found off the R335/R342.
Matyholweni gate is another popular option, close to a major rest camp. This gate is open from 7:00 to 16:00 daily.
It makes good sense to enter through the one gate and to exit out of the other as you can easily make your way across this park in a day.
Entrance Fees
The entrance fees into Addo are as follows (per day):
South African citizens and residents – $6 per adult/$3 per child
SADC nationals – $12 per adult/$6 per child
Standard conservation fee – $23 per adult/$12 per child
Make sure to have your identified card (ID or Passport) on you as you will be required to show this. You will also need to fill out a form with your identification numbers on it. We loved that the entrance includes a free map of the park.
Toilets
Toilets can be found at the entrance gates, and at Jack's Picnic Site in the park. Be sure to plan visits here if you will be taking an extended game drive.
Addo Elephant National Park Accommodation
Want to know where to stay while visiting this South Africa national park? Visitors can choose to either stay inside Addo or at accommodation just outside the park. Here are some top options.
1. River Bend Lodge
★★★★★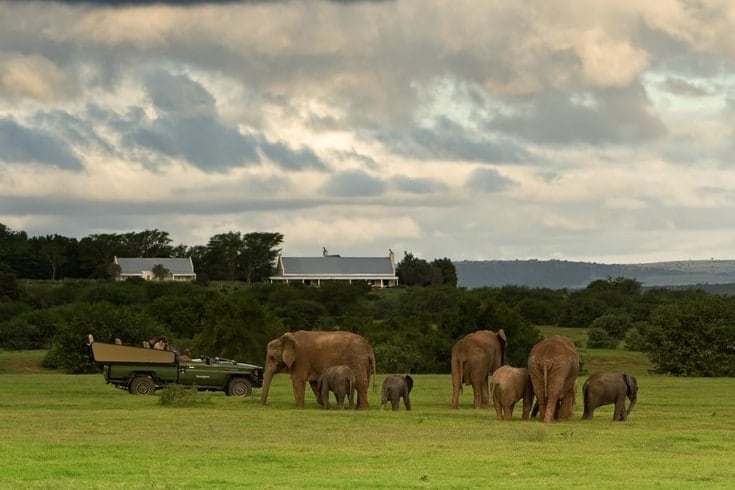 A luxurious safari lodge located within the Addo national parks. Guests can enjoy the spa, elegant suites, and delicious restaurant dining at this 5-star resort. Located within nature, this is the ultimate African lodge experience.
Why should you stay here?
Private game drives and guided walks on offer
Luxurious accommodation
Beautiful setting
Check out the current prices for River Bend Lodge here
2. Gorah Elephant Camp
★★★★★
Watch herds of elephants right outside your accommodation at Gorah Elephant Camp. Rooms here consist of luxurious tented suites, complete with a private deck, beautiful views, and plush interiors. The pool and dining room are great additions.
Why should you stay here?
Experience nature in luxury
Game drives and nature walks available
Stunning 5-star accommodation
Check out the current prices for Gorah Elephant Camp here!
3. Avoca River Cabins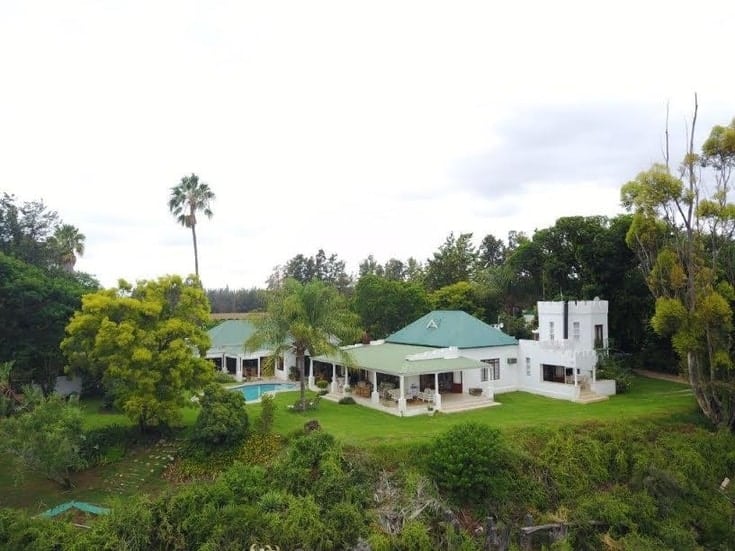 Peaceful little cabins along the banks of the Sundays River. This is excellent family-friendly accommodation just outside the national park.
Why should you stay here?
Set on a peaceful citrus farm
Has a great deck along the riverside
Plenty of great facilities
Check out the current prices for Avoca River Cabins here!
Final Thoughts on Addo, South Africa
Addo Elephant Park is an easily accessible destination for a day trip or quick self-guided game drive. Whilst we enjoyed our day in Addo, we definately prefer Kruger National Park above this park.
We found that we drove around for extended periods of time in Addo where we didn't see a single animals and our kids got bored quickly (but then maybe we just had bad luck that day as it was a pretty hot day). However, if you love elephants, then this is undoubtedly the place to go!

Addo is an ideal South African destination for a road trip, and it is a great place to experience the best of the region's game reserves.
Tip: Check out our ultimate guide to Best Places to Visit in South Africa with Kids.