Victoria is one of the smallest states in the Australian mainland but it provides some of the best sceneries fit for family fun activities all year round.
From Melbourne City to Mornington Peninsula, there are fantastic activities that will make your kids drop their iPhones and jump into action.
The CBD of Melbourne is always bubbling with activities fit for family fun and participation. But if you are tired of the bustling city, you can always recline and find peace in the countryside.
Some of the beautiful places to consider are Philip Island, Ballarat, and Grampians National Park, to mention a few.
---
Top 10 Things to Do in Victoria with Kids, Australia
In this post, we've compiled the top ten things to do in Victoria as a family. The places we've included in this list are unique and impressive in multiple ways.
1. Philip Island
Philip Island is only a short distance from Melbourne City. It takes approximately two hours' drive to reach the Island. Visiting Philip Island as a family there are several activities to engage in, ranging from surfing to motor racing.
However, one of the leading reasons why people visit Philip Island is the adorable little penguins which live here. Watching these beautiful birds scamper and parade along Summerland Beach at sundown is breathtaking.
However, before reaching Philips Island, we suggest you stop at San Remo, the last mainland town, to have a glimpse of the pelicans. Morning hours are the best time to watch these amazing birds. You can bet the kids will love the scenery.
---
2. Grampians National Park
When you are running out of ideas of things to do in Melbourne as a family, then you should take a three-hour drive and escape to Grampian National Park.
The place is serene and is arguable one of Victoria's best bushwalking landscapes. It is best visited between August and October to enjoy the beautiful, colourful spring wildflowers like the Grampians Boronia, and other amazing natural herbs.
Grampian National Park is also famous for family hikes due to its ancient indigenous Aboriginal rock art paintings in areas like Billimina shelter, and magnificent lookouts like Mount William.
Children will be mesmerized, too, with wild animals such as Koalas, kangaroos, and emus in the area.
---
3. The Great Ocean Road
A trip to Victoria would not be complete without paying homage to the Great Ocean Road. This great road covers approximately 240 kilometres and is dotted with several beautiful waterfalls that are a must-see when in Victoria.
From the Phantom Falls with its turquoise blue water to the fantastic Lower Kalima Falls with amazing caves, the region has no shortage of beautiful sceneries and sites for photo shoots, picnics, and family hikes.
The Great Ocean Road connects Torquay and Allansford via rugged cliffs and sandy beaches. It is a fantastic area for family hikes, bushwalking through the lush Great Otway National Park and spotting iconic wildlife along the Kennett River Koala Walk.
---
4. Wilson Prom
Best known as 'The Prom,' Wilson Promontory is one of Australia's wildest places. Both local tourists and foreigners love this National Park dearly. It features incredible sceneries ranging from Granite Mountains to spectacular flora and fauna.
Family members can go surfing, enjoy watching kangaroos, wombats, and emus or take short walks along Norman Beach and the area's plethora of trails.
In terms of accommodation, the family has several options ranging from camping, renting a caravan, or cabins next to Tidal River, which has tuck shops and takes away food stores.
---
5. Ballarat
Ballarat is one of the most historic places to visit in Victoria as a family. It is rich in history and has been christened the birthplace of Australian Democracy due to the events of 1854 Eureka Uprising.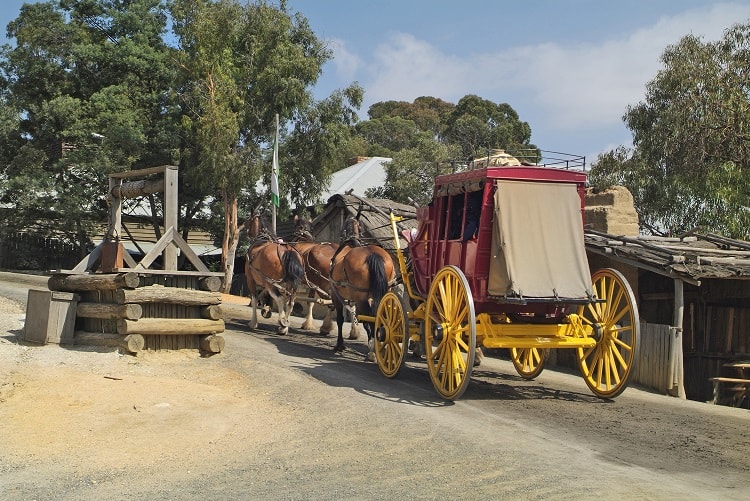 The city is a stone's throw from Melbourne and takes approximately 90 minutes' drive from the CBD.
The locals here will tell you that your visit to Ballarat is not complete without exploring the blight of the Eureka miners.
Before visiting the Australian Prisoner of War Memorial, it is advised that you should take a solemn moment at the famous Arch of Victory before pausing with pride on the Avenue of Honor.
---
6. Daylesford
This quiet town has many options for family members looking for some exciting hiking expeditions and casual strolls through the Great Dividing Range situated in an extinct volcano.
Daylesford is an ideal place to visit, especially over the weekends after a long week of city life. Several spas and luxury resorts are available to pamper you and the family.
Daylesford provides beautiful scenery to enjoy a casual walk through the villages and along Lake Daylesford. Serious family hikers, however, may test their stamina through walking to the top of Mount Piper.
From the summit, the family can have a bird's view of the spectacular land yonder, and look out for fairy martins and wedge-tail eagles.
---
7. Mornington Peninsula
Mornington Peninsula is fondly known as Melbourne's summer playground. If you have never been to this place, it is high time you take a visit to this picturesque area.
The Peninsula is a hive of activity. We suggest you rent a beach house and spend your trip paddling in the water, lounging on the beach, swimming, and trying to spot dolphins in the distance.
Alternatively, you can go strawberry picking with the family at Sunny Ridge and then end the day at the nearby Hot Springs'.
For the kids, this Victorian destination would not be complete without visiting Horseback Fun 4 Kids. Kids will love interacting with these friendly animals.
---
8. Mount Buller
If you think you have experienced the best of Victoria, then think twice. You haven't really been to Victoria without paying homage to Mount Buller.
At an altitude of 1804 meters above sea level, Mount Buller has 22 lifts which makes it the largest ski lift network in Victoria. There is something for every member of the family at Mount Buller, even spas for mom.
The area is most well known as the state's premier ski region but in the summer it doubles as a mountain bike riding hill with plethora of hiking opportunities.
The well-developed village is abound with restaurants, shops, and other entertainment. If you visit in summer don't miss the sunset picnic at the summit.
---
9. Melbourne
Melbourne, Victoria's capital city, is famed for its interesting museums and galleries, sports, and best of all, speciality coffee culture.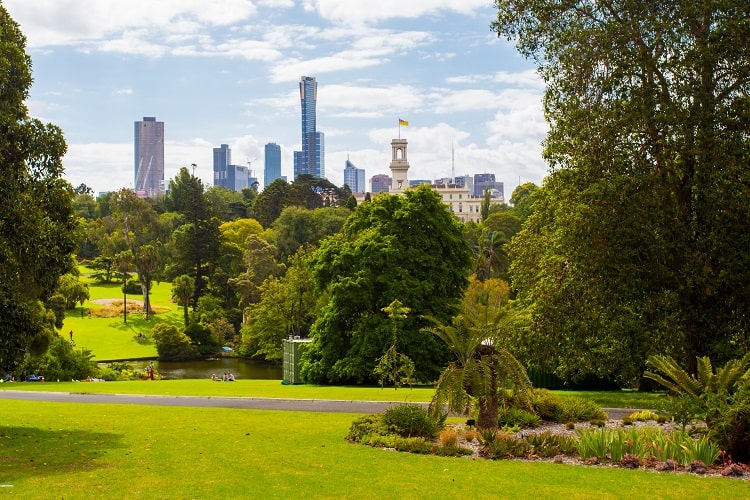 Shop at the Queen Victoria Markets, explore the alleyway graffiti art, and learn about Australia's past the Old Goal. The city is full of entertainment activities suitable for all family members.
For sports lovers, this is the city to be. Melbourne is considered an epicenter of sporting activities. It has hosted the Olympic Games, Commonwealth, and is home to world-class sporting events like the Grand Prix at Albert Park, and the Australian Tennis Open.
Further reading to help you plan your Melbourne trip:
---
10. Healesville
Head straight to Healesville for souvenirs and artisan goods. This beautiful town in the Yarra Valley is home to the best artists in Victoria. Studios like Tali and Tim's Studio are a must to experience the historic art form of glassblowing.
For nature lovers, head to Healesville Sanctuary to enjoy the 'Spirits of the Sky,' a performance of parrots and birds of prey. Alternatively, you can enjoy getting up close and personal with most iconic Australian animals at their 'Magic Moments' experience.
---
Final Words
In a nutshell, Victoria is an epicentre of tourist activities suitable for both locals and foreigners alike.
From the beautiful alpine villages in Mount Buller to the animals' sanctuary in Healesville, there are no shortages for fun activities fit for all family members.
Don't wait to travel to Victoria for exciting things to do. Whether on a weekend or any time of the year, in Victoria there is always something for you.
After more travel resources for Australian travels? Find all our Aussie blog posts on our Australian Travel Blog here.
Contributed by Henry Orimbo – The Great Ocean Road Collective