Melbourne is such a beautiful culture-filled city in Australia to experience. There is plenty of fun things to do for kids. From a fun zoo safari to trams, to beautiful views and so much more!
Here is our list of the top 5 fun things to do in Melbourne with kids.
5 Fun Things to do in Melbourne with Kids
Melbourne is a city bursting at its seams with fun attractions, activities, and sights on offer. No matter how long you spend in Melbourne, you won't get bored.
1. Werribee Open Range Zoo Safari & the African Cat Encounter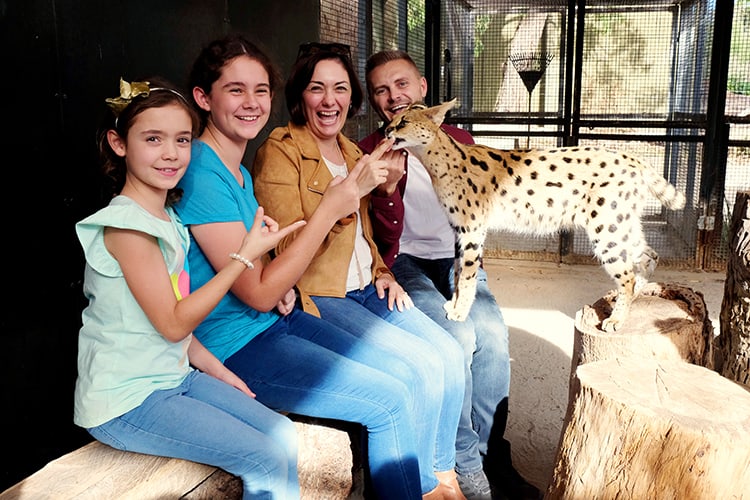 As you probably know, Katie and Lily are crazy about their South African heritage (Jolene's side) and they go absolutely nuts about anything to do with cats.
We wanted to focus on one of their major passions by giving them the opportunity to get up close and personal with a pretty unique type of cat.
Yes, Katie and Lily came up close and personal with the majestic Serval cats at Werribee Open Range Zoo! We all got to learn so much about these cats. It was educational, it was amazing and it truly was a once-in-a-lifetime type of experience, both for the kids as well as for us big kids – the parents!
Needless to say, our kids were already ecstatic with this experience, but the zoo had even more for us in store. I am talking about the African Safari of course!
This was a glimpse into the real African outback!
We usually aren't big fans of zoos, but we love Werribee Open Range Zoo because all the African animals here: Rhinos, Giraffes, Zebras, and even Hippopotamus, live peacefully and can enjoy their lovely free-range enclosure. Now I cannot wait for our trip to South Africa next year!
---
2. Tree-Top Surfing and The Maze at the Enchanted Adventure Garden
Katie and Lily love adventures and they love spending time in nature! And what better way to do it than challenging yourself to new heights climbing and walking on ropes in some of the tallest trees in Victoria.
I was so impressed with our little munchkins here! I realized that Katie really has no fear when it comes to heights. And I have to say, that it is totally opposite when it comes to the rest of the family.
Whilst Katie was almost flying by through the obstacles, the rest of us were taking it nice and slow. Haha… However, scared of heights or not, we all made it to the end of the course and down the long-flying fox to the safety of the ground.
The Enchanted Adventure Garden had plenty to do for the whole family. Whilst the bigger kids enjoyed tree-climbing and tube slides, Avie loved running around the Children's Maze.
---
3. Fun at Clip'n Climb
Ok, so this one requires a little bit of explanation. Lily had this idea to push their parent's limits to the max and surprise us with an activity that would force us to face our fears.
At first, Lily wanted me to do bungee jumping, to which I have firmly declined. Yes, I am petrified of heights! Haha… No joke!
Well, I couldn't back out totally from a challenge, so we settled for the Vertical Drop at the Clip'n Climb and rock climbing instead. Anything is better than jumping from some extreme height. No thank you!
Rock climbing was super fun! We were surprised at how brave Katie was and really loved watching her tackle climbs. Lily's determination to succeed made us so proud of her. And even Avie had a go at some of the climbs. She is going to be as fearless as Katie, I reckon.
---
4. Riding on the inter-city trams in Melbourne
Katie and Lily love trams, and one of their top picks for things to do in Melbourne was to go for a ride on one of them. I loved looking at Katie glued to the window checking out the sites.
It always gives me so much pleasure to see our curious kids absorb the world around them.
Who would've thought that a simple ride on a tram can give so much joy? I guess, as we grow up to become adults, we tend to see the trams merely as a form of transport to and from work, forgetting the simple joys.
I love that kids can remind us of what is really important in life. It's the little thing that matter the most!
---
5. Amazing view of the city from the Eureka Skydeck
Our kids know that every time we visit destinations, we are always very busy, and our itineraries don't allow for much downtime.
So, for the last activity, the kids really wanted to focus on doing something that was relaxing for the whole family.
We headed up to the 88th floor of the Eureka Tower for amazing 360-degree views over Melbourne.
The views of the city at the sunset were sensational. It is truly the best way to see the city and an amazing activity to end a fun-filled day of exploring.
As part of the adventure Katie also wanted to check out the famous glass cube called "THE EDGE". Yup, this is a one-of-a-kind experience for sure.
The glass cube extends out from the Eureka Tower's 88th floor and suspends the visitors about 300 meters above the Melbourne CBD. Well, standing on a glass floor high up in the sky is definitely something I will remember forever. Thanks, kids! Haven't I mentioned enough that I am scared of heights? Right. Anyways…
Having our kids being in charge of our entire itinerary in Melbourne was a great eye-opener for me and Jolene. I am so grateful to share in their adventures, be included in their passions, and play with them like a kid again.
---
Whilst there are plenty more fun activities to do in Melbourne with kids, such as visiting fun parks, museums, ice skating, and more, the activities mentioned above are our personal favorites for a fun weekend away in Melbourne.
Have you been to Melbourne? Which activities would you recommend?
Tip: Click through in case you are wondering which are a popular kid-friendly restaurants Melbourne with playground?