Are you searching for one of the best Sydney hotels with harbour views?  Well, we have got one for you!  Holiday Inn Old Sydney is a perfect spot for your holiday!  It certainly was for us!
When travelling as a family, as we are, location is a very important factor. Having a hotel that is close to everything, with fantastic views from the rooftop pool or from the comfort of your room window, will definitely enhance your destination experience!
It is also important to make sure that the hotel is located close to all the family attractions. So make sure you browse this guide containing some fabulous ideas on what to do in Sydney with kids. Make a list of all the attractions you want to visit and make sure it is within a close distance (preferably walking distance) from your hotel.
We enjoyed the New Year's Eve long weekend at Holiday Inn, The Rocks and we absolutely loved it!
The atmosphere was from the next world, the fireworks were simply amazing and to see it all with our kids from the hotel's roof, high above the hustle and bustle of the crazy Sydney NYE crowd, was perfect!
Holiday Inn is all about doing more of what you love; tasting more, seeing more, hearing more and mostly experiencing more!  The hotel where we stayed in The Rocks welcomed us with exceptional service.  Upon checking in the staff were willing to give us tips on the local surrounds and recommended some really good places to eat as well as some great activities to enjoy as a family.
–
Location of

Holiday Inn Old Sydney, The Rocks

:
We know that Holiday Inn hotels are known to be in convenient locations so we knew we wouldn't be disappointed. Being close to the tourist hot spots is really important to us as we have 3 young kids!  Holiday Inn Old Sydney is located in the heart of The Rocks, a beautiful historical district.  I don't think it can get any better than that.  Here the stunning Old Sydney surrounds you.  The buildings date back to generations before us and the cobble-stone alleyways guide you on an awesome journey to many restaurants, shops and off course to the world famous Sydney Harbour.
Everything is here!  It takes only a few minutes to reach the spectacular and colossal Sydney Harbour Bridge.  I don't know about you, but I can stare at it for hours; both in the day and at night.  This extraordinary bridge is truly a perfect example of mastership of engineering and construction in play.  And if that is not enough, the icon of Australia, the world famous Sydney Opera House is only around the corner.  You truly have to be there in person in order to grasp just how marvellous this building really is!   The building is completely unique in design; and example of genius construction and a real masterpiece!
–
Family Friendly Features that We Loved:
One of the motto's of the Holiday Inn is that the hotel is not only kid friendly, but kid preferred! Our kids felt right at home in Holiday Inn Old Sydney and they were walking around with beaming smiles on their faces.  The exceptional service and attendance to both us and the kids here at Holiday Inn made us feel like true VIP's.
We loved the kid friendly atmosphere that was evident right at the lobby where you can find a specially designated area for little ones.  The kids enjoyed simply laying around on the multitude of pillows (including a hamburger shaped pillow) whilst watching some kids' movies on a large TV screen.   I know every parent will understand why we were so thankful for this little spot so that we could check in to our room in peace!  I think Lily was watching "Epic" at one stage.  Not a bad movie, if you are asking a parent.  Haha…
In our room the kids were spoiled with the free Nickelodeon channel as well as with access to the special movie-on-demand kids section.  Well, say no more…  We thought that we might squeeze in the latest Jason Statham action flick, but nooooooo … "BFG", "Storks" and other kids' movies were playing on our TV while we were resting our feet after exploring!
The rooftop pool was perfect for our family shenanigans!  I think we spent hours there at a time. The white stripe tan line on my back and a red forehead tells that story best!  It isn't often that you find a rooftop pool in Sydney, so this feature makes the hotel extra special!!   Haha… And what a view!  Man, we have swum in plenty of awesome pools on our trips, but none of them had a view like this one!  To the left the world famous Sydney Harbour Bridge and to the front the iconic Australian architectural marvel, the Sydney Opera House.  Yup, awesome!!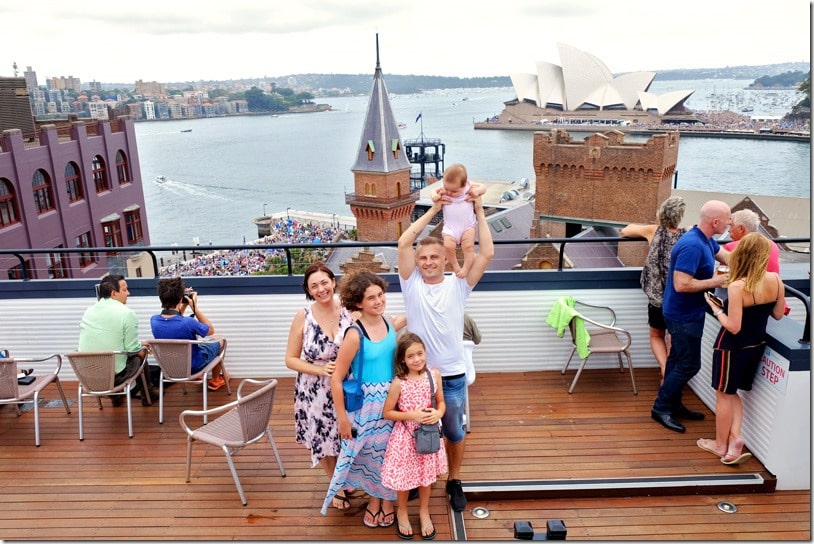 Holiday Inn Old Sydney is located close to the best sightseeing that Sydney has to offer!  Strolling around the Rocks was awesome; Circular Quay was vibrant with music and entertainment and the views over the Sydney Harbour Bridge and the Sydney Opera House was spectacular!  We could access all the famous landmarks in Sydney or hop on a ferry to Darling Harbour before any of our kids even had a chance to start whinging, now that is a bonus for sure!
Whilst we are mentioning Darling Harbour; we loved making use of the fabulous Family Entertainment package that the hotel offers by visiting the Sea Life Sydney Aquarium and the Sydney Wild Life Zoo. Our kids had a ball! A hot favourite was the new Penguin Expedition ride at the Aquarium!
Lastly, did you know that at Holiday Inn hotels kids of 12 and under can stay and eat for free! Check their website for details. But what a handy hint huh?!
–
The perfect Sydney New Year's Eve hotel:
Holiday Inn Old Sydney (even the name sounds cool – Old Sydney) is the perfect hotel to view the New Year's Eve fireworks!   For us, a hotel with a view over the harbour was the only choice as we have 3 young kids who we knew would mostly be asleep for the midnight fireworks.   So it was the only way for me and my gorgeous wife to enjoy a truly spectacular new year celebration.  Not only that, but we were also a little bit sceptical about taking our kids down into the masses of people on the ground level who were all trying to compete for that perfect spot.   So instead, we enjoyed the 9pm family firework session from the safety of the hotel's rooftop, whilst enjoying the big bang of the midnight celebration from our lovely harbour view window.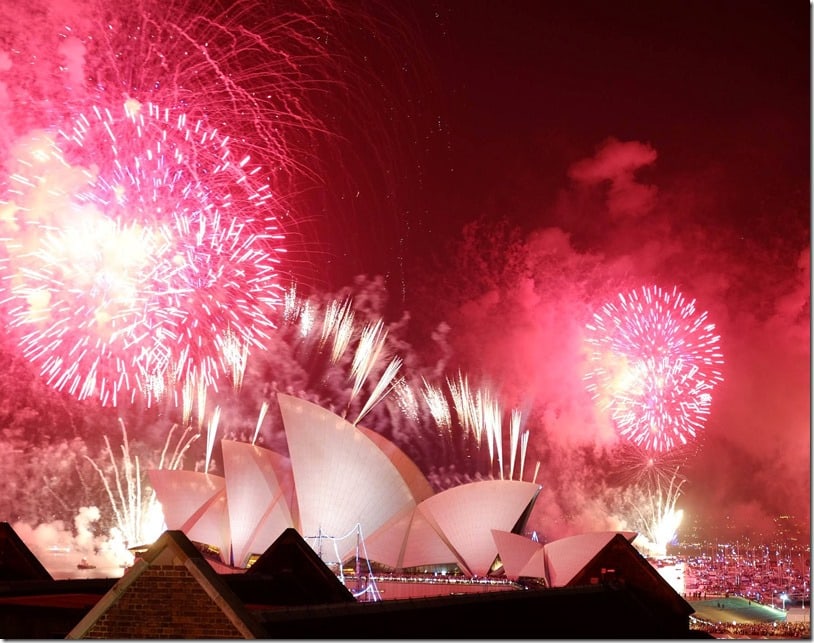 The hotel offers a NYE Spectacular package which we highly recommend. The night starts off with a yummy buffet dinner at the hotel's restaurant, followed by a rooftop view of the fireworks!  Do I have to say more?  Yes – perfect again!  Do more of what you love they say.  Well, this was exactly what we did.  To see the Sydney NYE fireworks and from the rooftop of the Holiday Inn at the Rocks… well, it doesn't get better than that in Australia!  If you haven't seen them there live yet, you simply must get your bums over there for the 2017 end of year celebrations!  It was a bucket list item for us and I can tell you now that the NYE festivities lived up to every one of our expectations.
–
Stay at the Holiday Inn Old Sydney if:
you love Sydney!
you love rooftop views over the amazing Sydney Harbour Bridge and the Sydney Opera House
you love great food and cobble stone alleys of the extraordinary historical district of Old Sydney – the Rocks
you love a family-friendly atmosphere with exceptional service standards
you love doing more of what you love!
–
Experiences are what we crave and sightseeing is what we do. Travelling allows us to visit places that change our lives and leave a mark.  For me Old Sydney is one of those places.  A place that makes you turn your head, time and time again.  A place that you don't want to leave.  A place that you know that you will return to again and again!
—
Holiday Inn Old Sydney Promotion & Booking Information:
Where:  Holiday Inn Old Sydney is located in the heart of the Rocks at 55 George Street, New South Wales in Sydney
Suitable as: either a parent (couples)-escape or for a family stay.

–
–
Additional Reading:
–
–* Disclaimer: We stayed at this hotel as guests of Holiday Inn Old Sydney and the IHG Group.  All thoughts, opinions and experiences are our own.  We pride ourselves in delivering honest hotel reviews.