Are you sick of sitting on the couch, watching TV and dreaming of an adventure in nature?
Why not get off the couch and head out on one of the best Sydney day trips, to the incredible Blue Mountains!
Have you ever heard an Australian saying: Step outside the square you live in!
_______________________________
Well, are you going to join in on the fun with all those smiling people and get your own snapshots of beautiful Blue Mountains?
YES, YOU ARE!
_______________________________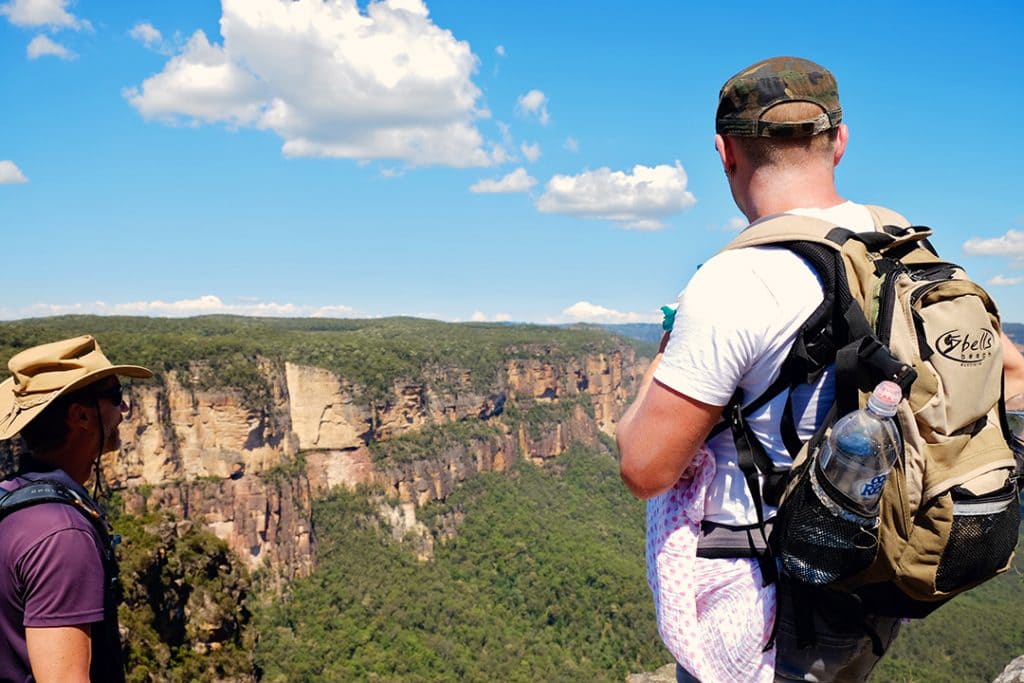 One Of The Best Blue Mountain Day Trips From Sydney
By Car:
This day trip is best experienced by car!  
We highly recommend you that you hire a rental car for the day so that you can get to each of the stopping points on our itinerary below!  
The Butterbox Walk is incredible!  But no bus will take you there, so grab yourself a rental car.
On a Tour:
Alternatively, if you enjoy guided tours, we highly recommend this beautiful Blue Mountains Small-Group tour.
They will pick you up from Sydney and take you around to the most popular stopping points in the Blue Mountains.
Via the Train and a Hop-on-Hop-off Bus:
Not keen on renting your own car, but still want to explore on your own time schedule??  
Why not grab the train from Sydney Central station and head up to the Blue Mountains.  
Once there, you can make use of your ticket for the Hop-on-Hop-off Bus that will take you around all the major tourist spots in the Blue Mountains.
---
Blue Mountains Day Trip Itinerary
Whether you choose to go on an organized Blue Mountains tour from Sydney or you make your own way down, you will have the time of your life!
Older than the Great Canyon and one of Australia's most spectacular national parks! Yes, you guessed it! Welcome to the Blue Mountains!–
Butterbox Walk – 1 hour
The Butterbox walk is rated as a hard walking track.
This 3.1km hike starts at the car park, which is located at the end of Mount Hay Road. The walk will take you anywhere from 1 to 1.5hrs.
The walk will take you down a narrow and rocky path through the bushlands and around Mount Hay.
Some parts of the trail around the big rock can get a little steep and scary for those with a fear of heights.
Perhaps a selfie stick would come in handy here, instead of hanging out over the edge for that money-shot photo!
We love going on hikes.  Backpack full of necessities, Avie strapped in the pouch on my chest and off we go! 

Although she gets a bit hot, she usually gets a pretty good sleep.  As for me, I get a work out every time! 

Haha…  It's like preparing for a mountain climb or something.  20kg strapped to me, 10 on the front and 10 on the back!  Love it and love nature!
Ps: Make sure to wear a hat, pop some sunscreen on and take plenty of water! 
Even though it is a relatively short walk, when we were here in January, there was not much wind, and you are exposed to a scorching Australian sun!
We can't wait to get back when our little one is holder so we can tackle some more hikes in the area. You can find a list of the best hikes in Blue Mountain National Park here.
The Three Sisters Lookout
If you would love to visit The Three Sisters, away from the touristy crowd, we recommend you get a gorgeous view over them from the Echo Point Lookout located in Katoomba. 
This little town is one of the most famous in the area.
The Three Sisters are giant sandstone peaks, which were formed over thousands of years due to weather erosion.
There are a few versions of Aboriginal stories as to how this place came to be, but we like this one in particular:
The ancient aboriginal legend tells the tale of three sisters – 'Meehni', 'Wimlah' and Gunnedoo'.
These three enchanting girls lived in the heart of the Jamison Valley as part of the Katoomba tribe.
Yet the girls were young and their hearts were captured by three brothers from a neighbouring tribe.
However the law of the land forbid the girls from following their desires and marrying outside of their own people.
The brothers decided to capture the girls and carry them away to be wed, a major battle ensued as the two tribes clashed and the blood ran thick.
An elderly witchdoctor from the Katoomba tribe feared for the safety of the beautiful sisters and cast a spell to turn them to stone to keep them safe from harm.
Yet during the raging battle the witchdoctor was killed and unable to reverse the spell.
Although there are other lookouts, from where you can see the Three Sisters, the Echo Point Lookout is one of the best to get your perfect pics from! 
As you can see, we chose to check out a different view, so we did not get the close-up.  Next time!–
Pulpit Rock
Pulpit Rock is located within a short 10-minute drive from Blackheath.  The views are spectacular! 
Almost 360 degrees of grand scenery over the dramatic cliffs of Mount Banks and over the forested gorges of Grose Valley.
Now, this is one scary place for those with a fear of heights! However, if you can face your fears, you will find yourself in a truly unforgettable setting.
From the first look, this formation looks like a walk on the edge of a knife-like rock. And, guess what? It is!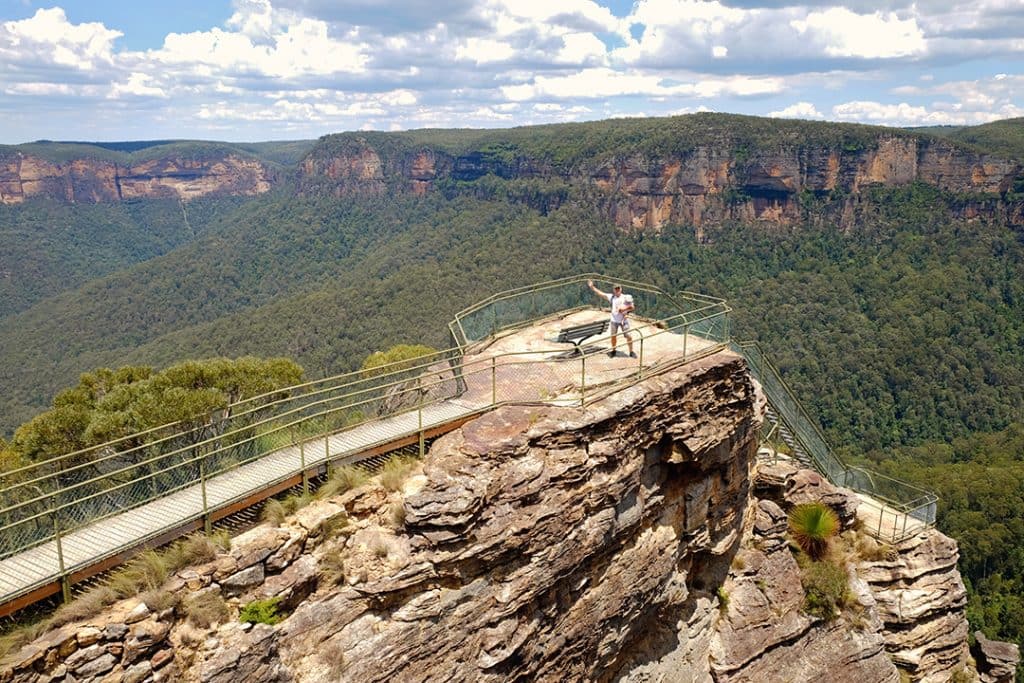 After descending, what seemed like two thousand stairs from the car park, you will reach this spectacular scene.  
Although it is safe to walk with all of the railings, the sheer drop on each side of this dramatic setting plays on your mind. 
Haha… Add a strong wind and you might experience a case of wobbly legs syndrome.  Haha…   Anyways, this walk is a must!–
Anvil Lookout
Anvil Rock lookout is located at the end of Hat Hill Road in the Grose Valley.  The 4km drive from Blackheath in the Blue Mountains will take you only around 5 minutes. 
Here you will have a panoramic view over the Grose Valley, Mount Banks, and all the way to Mount Hay!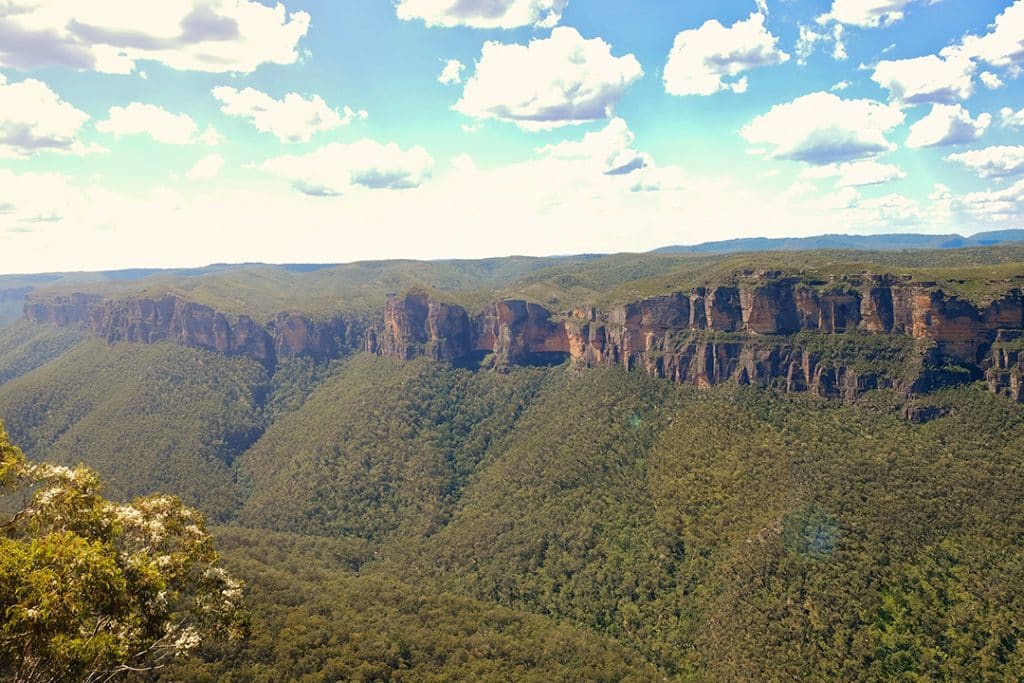 The lookout got its name from an anvil that was installed on top of the rock in the 1940s. 
The rock itself, that the anvil sits on, resembles the shape of an anvil.  Little bit strange place for a metal anvil, but still an amazing spot and a spectacular view!  
I bet you are all 'anvilled' out after all that huh!
Wentworth Waterfall
Wentworth Waterfall has located only 1km from the town of Wentworth Falls. 
This is one of the most spectacular and majestic waterfalls in Australia!
The Jamison Creek drops a whopping 297 meters over the upper and lower falls providing us with sensational picture-perfect views!
The short, but steep path from the Wentworth Falls picnic area will lead you past Jamison and Wentworth lookouts and down the steep 200 steps to the cliff-edge Fletchers Lookout. 
This one is worth an effort for sure!
How to get to the Blue Mountains:
The Blue Mountains range is located 2 hours West of Sydney in New South Wales, Australia.
Our recommendation is that you leave Sydney early in the morning and spend the whole day exploring all of the destinations that we have listed for you above!
Click here to read another post on how to get to the Blue Mountains from Sydney.
---
Always remember the essentials for any hike! Our recommendations are:
Good hiking

shoes

Sun protective hat

Sunscreen

Plenty of water, the more – the better

Umbrella for shade when needed

And a good

backpack

to carry it all
_______________________________
I have always wanted to visit the Blue Mountains and I am glad that we did! 
There is just so much natural beauty there and some of Australia's most amazing scenery. 
Next time though, we are definitely staying there for a romantic getaway. Secluded from the busy everyday life and in the nature's peaceful setting! 
What do you think?  I say yes!–
Where to Stay in the Blue Mountains:
Fairmont Resort Blue Mountains, MGallery by Sofitel
The top pick and super luxurious!  If you ask me, this one is more my style!  Why not indulge in a little extra after a full day of exploring the Blue Mountains.
The best way to chill out after a day in the scorching sun, walking all those walking tracks, is to relax in this pool!
Apart from the pool, there is, of course, everything here!  If the pool is not enough, you can also enjoy a cocktail in a jacuzzi or take time for yourself in a sauna. 
There is also a tennis court if you would like to have a play as well.  There is also a BBQ/picnic area and a billiard table!
Breakfast is available at two restaurants and a 24hr room service is on the menu as well!
Star Rating: 4 Stars

Price: from $148 AUD / $113.50 USD

Occupancy: Suitable for singles, couples, and families
–
–
The Carrington Hotel
This super elegant hotel has it all!  There is a 24hr check-in, restaurant, free parking, free WiFi, and cable TV. 
Child-minding services are available as well.  Rooms are super spacious, beds are comfy and if you like even more relaxation, there is a Renaissance Spa there as well.
The Blue Mountains are only 10 minutes away.
Star Rating: 4 Stars
Price: from $116 AUD / $89 USD

Occupancy: Suitable for singles, couples, and families
Additional Reading: