Looking for the top things to do in Port Arthur, Tasmania?
Here is a list of the top Tasman Peninsula activities that you simply cannot miss out on!
Port Arthur, in Australia, is truly a sensory wonderland to explore. With a variety of places to see, beautiful walks to enjoy, and some captivating history to learn more about. We loved our time explore this beautiful part of Tasmania.
To get a true sense of this region of Tassie, we highly recommend that you explore both Port Arthur and the Eagle Hawk Neck sights together. It will be best if you have a rental car for the trip, as the sights are rather spread out across the area.
We chose to base ourselves close to all the main attractions and have shared some of our top recommendations below.–
Port Arthur Accommodation choices
Here are our recommendations for accommodation in Port Arthur. These are some of the best Tasman Peninsula accommodation options so that you are always based close to all of the tourist attractions in Port Arthur:
Stewarts Bay Lodge – Compare Prices | Read Reviews | Book it Now
Norfolk Bay Convict Station – Compare Prices | Read Reviews | Book it Now
Port Arthur Villas –Compare Prices | Read Reviews | Book it Now
Fox and Hound Port Arthur –Compare Prices | Read Reviews | Book it Now!
___________________________
–
I – Fun Things to do in Port Arthur, Tasmania
With plenty of activities in and around Port Arthur, we have compiled a list of our 'Top 10 things to do around Port Arthur'.
1. Remarkable Cave, Tasman Peninsula
Our top 10th thing to do in Port Arthur, Tasmania is to see the Remarkable Cave! No joke, it is truly remarkable!
For the top choice of activities in the Tasman Peninsula
–
When I saw all the steps leading down to the Port Arthur caves from the Maingon Bay Lookout, I almost didn't want to go, but I'm glad I did. All the way down the many stairs you will find yourself at a little lookout platform from where you can see into the grand opening of this remarkable cave.
I can't really describe the view, you just need to see it for yourself!
The Remarkable Cave is one of the best things to do in Tasmania! The cave is truly extraordinary and simply bloody awesome to see!!
As you can see, there is heaps of tourist attractions in the Tasman Peninsula to explore and we recommend that you spend at least 2-3 days here whilst on your Tassie adventure.
–
________________________
Tours from Hobart to Port Arthur
If you are after a tour from Hobart to visit Port Arthur, these three tour options are all great value for money!
________________________
–
2. Tasman Peninsula Sightseeing on a Cruise
How about an award winning 3-hour boat Port Arthur cruise with Pennicott Wilderness Journeys?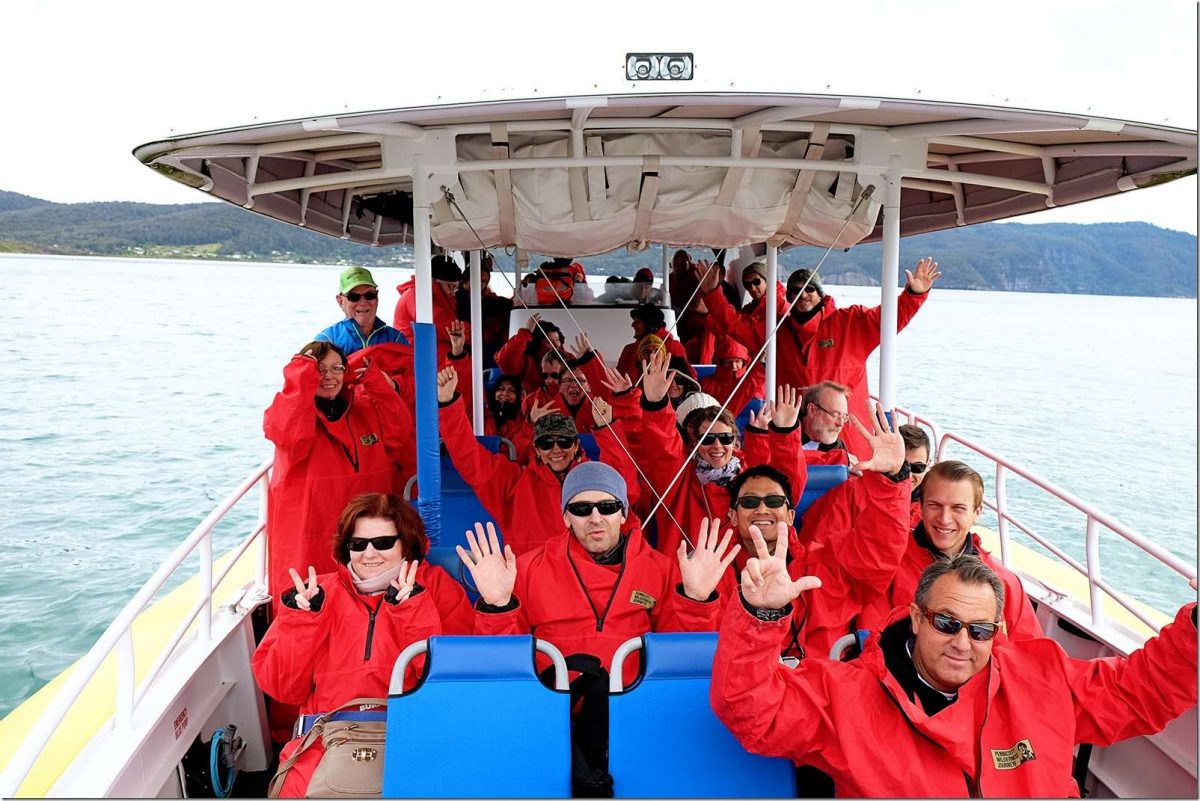 Adrenaline Pumping Activities in Port Arthur on the Wilderness Cruise!
–
Now this Port Arthur activity is one of my favourites from our adventure around Port Arthur!
Combine the speedboat, spectacular Tasman Peninsula landscape, bunch of happy adventure seekers and you have a trip that is worth remembering!! This happens to be on of the most popular of the things to do in Tasman Peninsula!
An action-packed day for only $135 per adult and $85 per child.
We recently wrote a blog post all about this adventure, please follow the link to An Award-Winning 3 hour cruise with Pennicott Wilderness Journeys or BOOK YOUR CRUISE NOW!
Another very popular tours and sightseeing in Tasman Peninsula option is the Bruny Island Wildlife Cruise – CHECK THIS CRUISE OUT HERE!
–
3. Port Arthur Historic Sites and the Port Arthur Ghost Tour
Whilst driving towards the Port Arthur Historic Sites, I had mixed feelings.
First of all, I thought about the events that happened not so long ago in 1996. I won't go into it though. Let's put it this way. The place has a lot of stories to tell and most of them date back far earlier. The stories are best told by the informative guides who work there!
Don't forget to book into the famous Port Arthur Ghost Tour, where fascinating ghost stories and exploration at night will bring a whole different side to the sites come alive! Ghost Tour Port Arthur is one of the absolute best Port Arthur tours that you can go on!
The Historic Sites are one of the top attractions in Port Arthur
–
This place plays a very important historical significance not only to Port Arthur but also internationally. For our story, please read our informative post – A Journey back in time at Port Arthur Historic Sites.
Both Port Arthur Historic Site entry fee, as well as the Harbour Cruise, will cost you only $37 per adult and $17 per child. Make sure you don't miss this famous Port Arthur activity.
–
4. Port Arthur Lavender Farm
The lavender farm Port Arthur is one of the more relaxing things you can do in Port Arthur. Stroll down the purple alleys of lavender, whilst eating the delicious lavender infused ice cream. Yup, it's all about lavender here.
Port Arthur lavender season starts from around the middle of November and reaches full glory during December and January.
This destination is all about the senses of sight, smell, and taste. Indulge in lavender inspired cuisine in the cafe, wander through the shop filled with homemade products or check out the custom-made distillery.
Relax a while at this beautiful Tasmania lavender farm and absorb the peaceful surroundings.
—
5. The Maingon Bay Lookout
This lookout was my favourite over the Tasman Peninsula from our trip. Park your car on the top, few steps down to the platform and the beautiful panoramic views stretch right in front of you.
Sightseeing in Port Arthur to see the Maingon Lookout
We came here towards the end of the day when the sun was already low. The rugged landscape of the coastline against the dark blue sea waves crashing below, sun rays illuminating all the colours of nature.
–
6. Walk to the Totem Pole and Candlestick
Do you like bushwalks? Do you like climbing? Are you wondering what to do in Tasman Peninsula? If the answer is yes then this one is for you.
The walk to the Totem Pole and Candlestick will take you around 4 hours return. It is approximately 8.8km in length, so bring some good footwear, warm weather clothing including a raincoat and a sun hat, snacks and a water bottle.
Park entry fees do apply.
For those of you that love climbing, this one is going to put a major smile on your face! It is a really popular choice amongst the Tasman Peninsula attractions!
We are not climbers, so we just admired the sheer rock structure from a distance, haha. We did spot a few bright coloured jackets preparing to start the adventure.
For more info follow the link here.
–
Things to do in Eaglehawk Neck, Tasmania
7. Eaglehawk Neck Tessellated Pavement
Let me start you off with this natural wonder of the world. This geological phenomenon is located in Eaglehawk Neck, as you drive towards Port Arthur itself.
After an easy 10 minute walk, you will find yourself staring across this incredible natural coastal feature!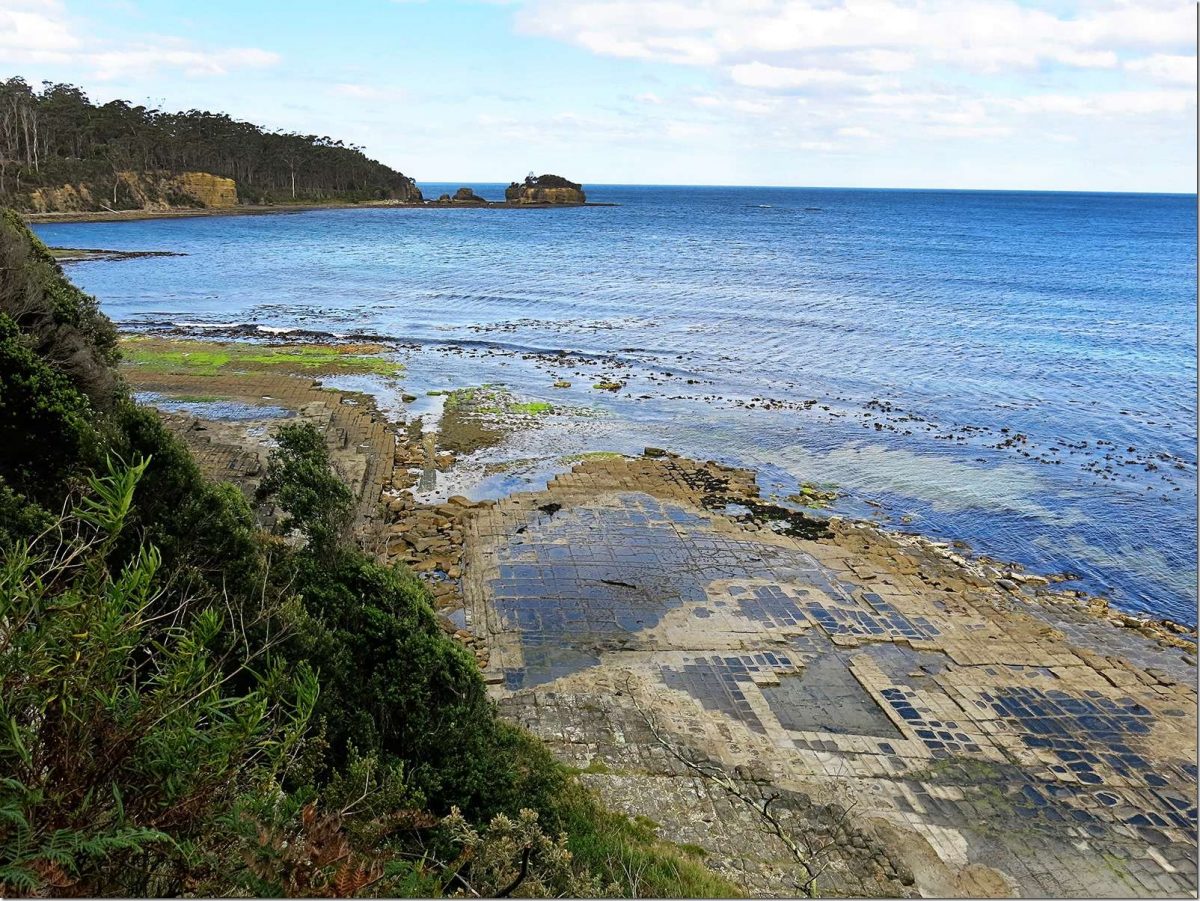 The Tesselated Pavements is a great thing to do on the way to Port Arthur
–
Nature is a very strong force that shows its power all over the Tasman Peninsula. The earth's movement, together with the help from the constant erosion by the Tasman Sea, has created a mosaic floor-like flat rock surface that we can marvel upon today.
Here you will find a few photographers with their tripods, trying to take that unique shot that nobody has taken yet. I think that there is a million more photos and angles you can uncover here.
With all the colours of green moss, a variety of greys of rocks, against the dark blue of the sea and light blue of the sky, you tell me how many photos you can snap here.
–
8. Doo Town Tasmania
This one has to be one of the coolest ideas that I have seen on our travels. What a way to bring the community together, by keeping a unique tradition alive.
Back in 1935, a Hobart architect named Eric Round started the tradition. He built a shack at the Pirate's Bay and named it 'Doo I'. Soon the idea spread across the town with all the funky names popping up everywhere.
The ones that I remember are, 'DrDoolittle', 'Doo-Me', 'Do-Us' and 'Doo-N-Time'.
Such a cool idea, I reckon! What name would you make up for your home or beach shack? Leave us a comment!
–
9. The Tasman

Blow-Hole
At the end of the "Doo" Town you will find the Tasman Blow-hole.
Unfortunately, when we got here, the famous blow-hole was sleeping, I think. We could see the waves enter the dark tunnel all the way from the open sea and make their way towards us, where we were waiting for its performance.
We managed to snap only a few small blowouts, so we hope that you will be a bit more lucky with tidal timing.
To brighten up our mood, we had the most delicious ice-cream with berries and strawberry sauce at the Doo-Lishus food van at the Blowhole car park. You must try the ice cream! YUMM!!
Make sure that you have cash though. As I recall, there was NO EFTPOS and the $5 from my pocket only got us one serving. Luckily it was big enough to share!!
–
10. The Devils Kitchen, Tasman Arch and the Lookout
Not far from the Doo-Lishus treats and checking out all the visible 'Doo' names, you will find an easy walk to Devils Kitchen, Tasman Arch and a spectacular lookout over the Tasman Peninsula.
Ones again, the power of nature at its best showing us its magnificence. These rugged geological formations will stop you in your tracks.
I found it really amazing, how the sea water can go up into the cracks in the rocks, pressuring the air and slowly expanding the cracks. Thousands and thousands of years to break through and create a new structure.
Makes me think, who are the people that will stand here one day or who were the people that stood here before us? I am just grateful to have been here now.
–
Join a Tour:
Enjoy a Guided 3 Day Guided Walk to Discover the Three Capes of Cape Raoul and Cape Hauy by foot
Discover the Three Capes of Cape Raoul and Cape Hauy by foot and finish your journey with a dramatic wilderness cruise around Cape Pillar for a unique view of the peninsula from the base of the cliffs to appreciate the sheer magnitude of the landscape.
You'll also walk from Waterfall to Fortescue Bay, which is nothing short of amazing. 2 Nights in Deluxe Spa Chalets, Stewart Bay Lodge is included.
–
Please pin our pin about what to see in Port Arthur, Tasmania!
Further Reading
Over to You:
Which of our top 10 things to do at Port Arthur got your attention the most?
Did you add any of the Tasman Peninsula tourist attractions to your list?
'Doo-you' have any other things to add to things to 'doo' in Port Arthur, Tasmania?