We recently had a blast on a very busy but enjoyable road-trip through Tasmania.
Lots of planning went in to the road-trip prior to departure!
So to help you with your planning, we wanted to share with you our recommendations of where to stay in Tasmania to make your planning easier and less stressful.
Our biggest tip in regards to accommodation in Tasmania is to try and book early!
In some locations there are limited choices of available accommodation, so getting in first to grab the best room at the best price is key!
Before I hop into our recommended Tasmania accommodation, I wanted to share with you a quick look at our route for our road trip.
Top Places of Where to Stay in Tasmania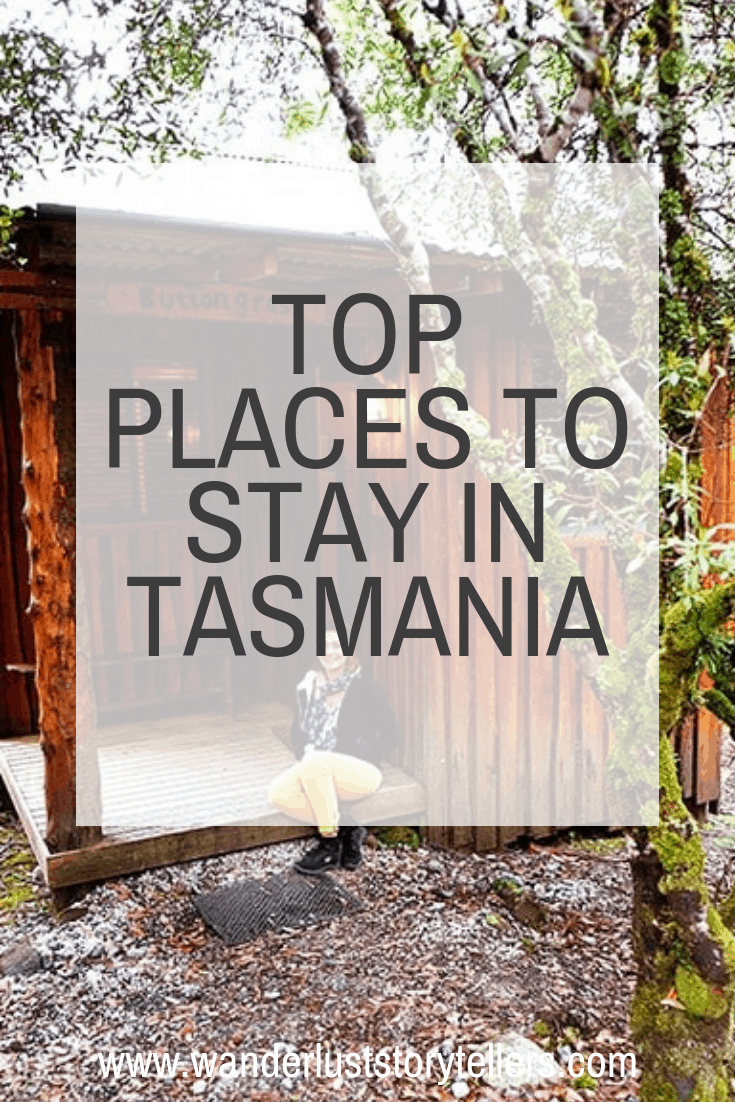 One of the best parts about a holiday to Tasmania is all the great accommodation offered so that regardless of your price range, there is a place for you.
Some of the best places to stay in Tasmania are totally affordable.
Below, you will find a list of the best hotels in Tasmania. 
Places to stay in Hobart
If you are wondering where to stay in Hobart, fear not as we have you covered. We personally think that Salamanca and the Wharf is the best area to stay in Hobart.  
Other popular Hobart accommodation choices can also be found in Hobart CBD.  
Below you can find a list of the best places to stay in Hobart.
1. Salamanca Wharf Hotel
In our opinion, this might just be the best place to stay in Hobart!
Starting off our list of the best accommodation in Tasmania is this magnificent luxury boutique hotel in Hobart.  
This unique contemporary self-contained accommodation in Hobart is situated next to two original John Lee Archer designed sandstone warehouse buildings. This hotel is perfectly situated in the cultural and historic heart of Hobart.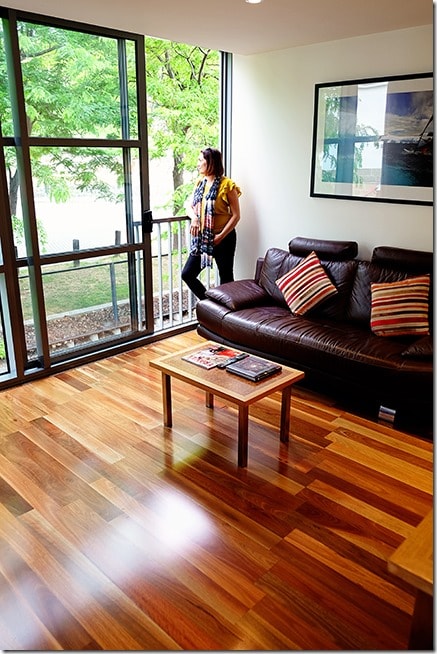 The interior of Salmanca Wharf Hotel is modern and luxurious. Attention to detail will stand out in the room design and decor.
You may choose to stay in their more affordable Studio Rooms, or if you wish to treat yourself, we highly recommend you spoil yourself with a stay in their Loft Penthouse.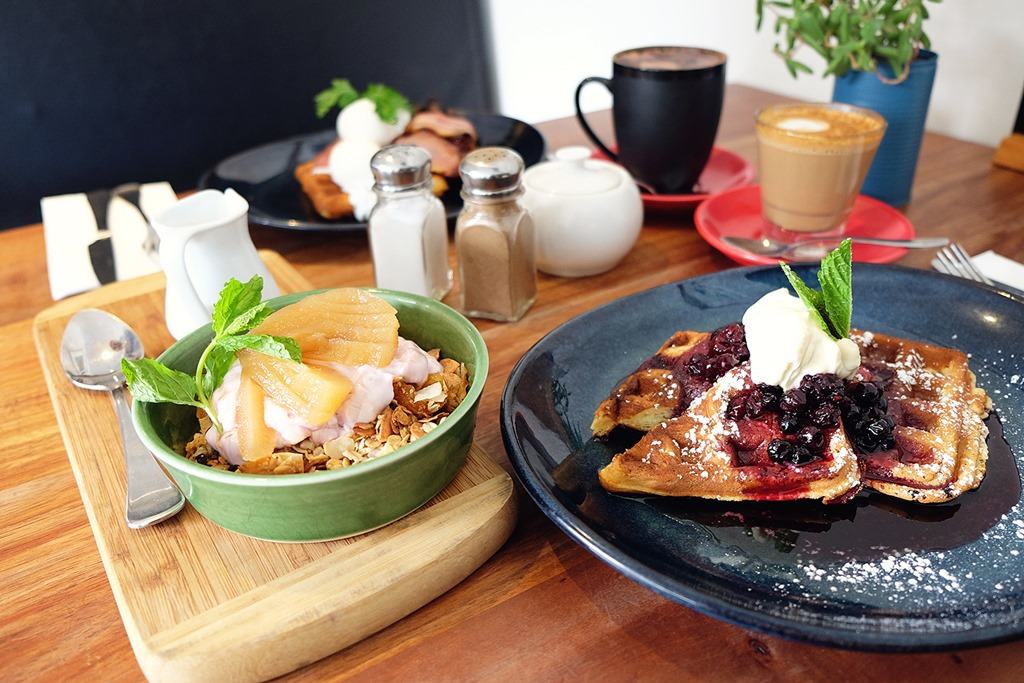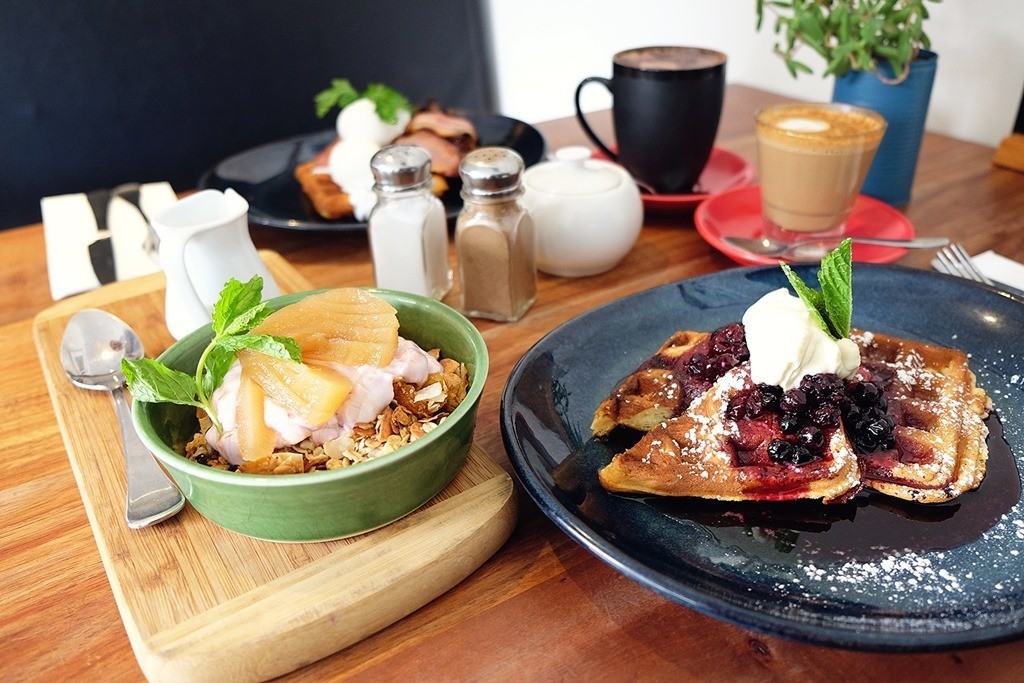 This hotel is absolutely brilliant for solo or couple travelers wishing to explore all that Hobart has in stall for them. 
Best Features: Brilliant location, high-end luxurious and modern rooms, and an affordable price tag.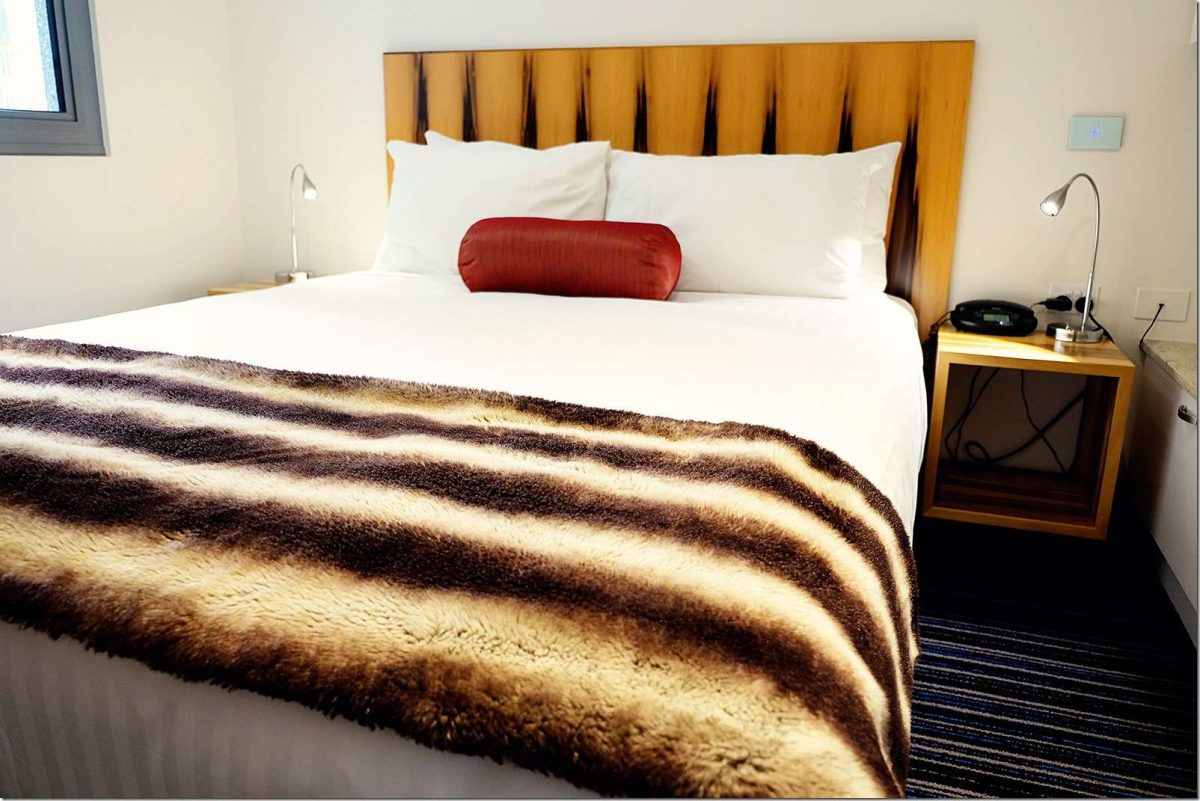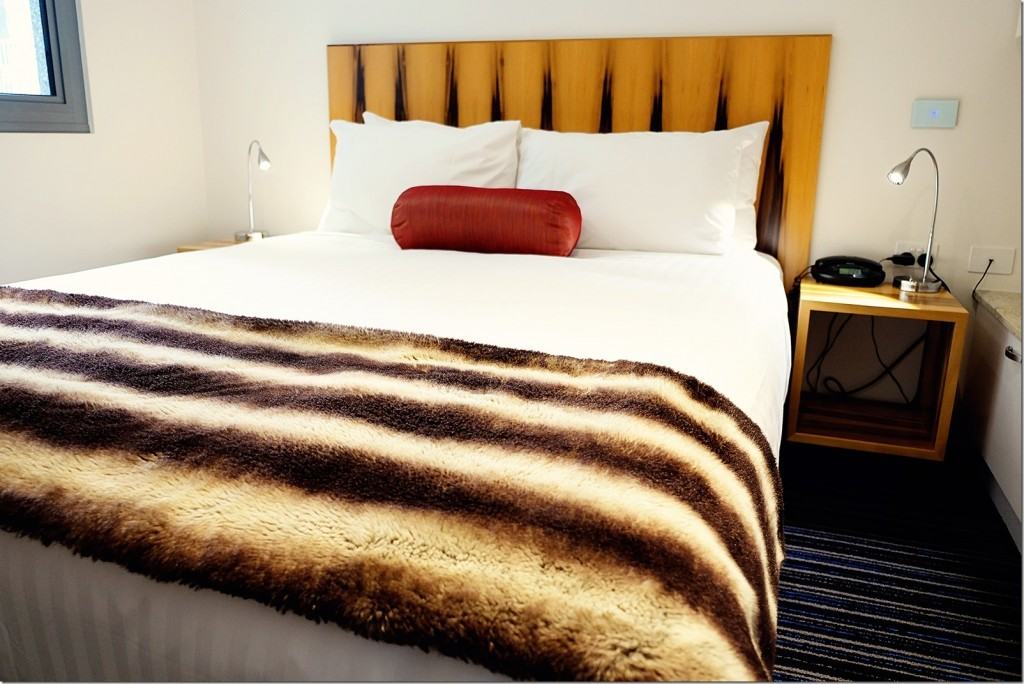 Not so Perfect: The views from the room could be better.
Best For: Solo or Couple Travellers
2. Islington Hotel Hobart
One of the best places to stay in Hobart Tasmania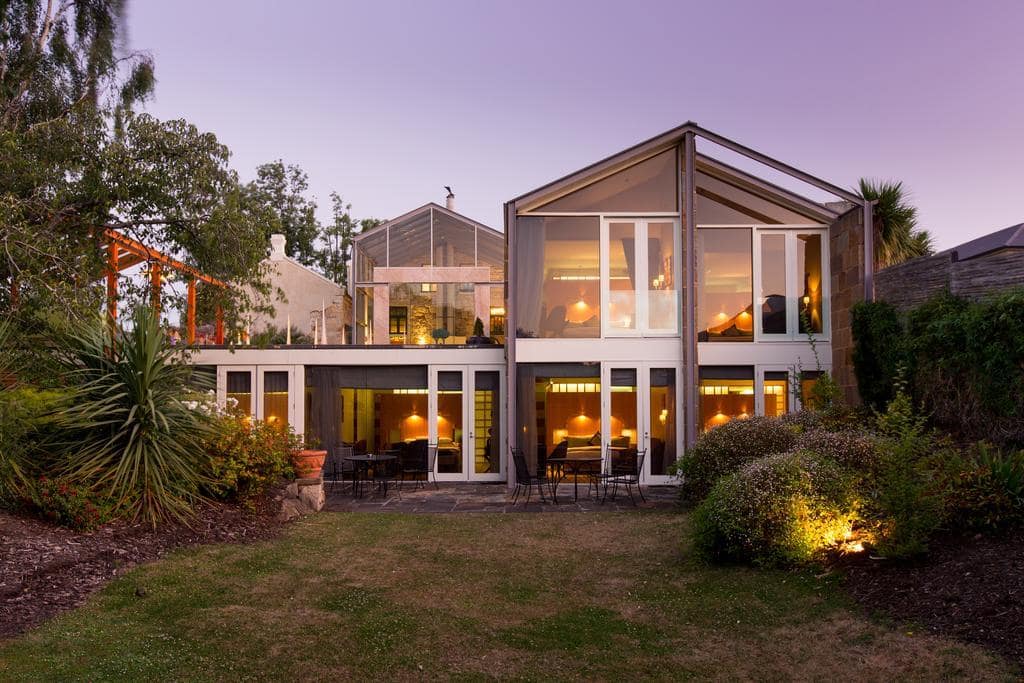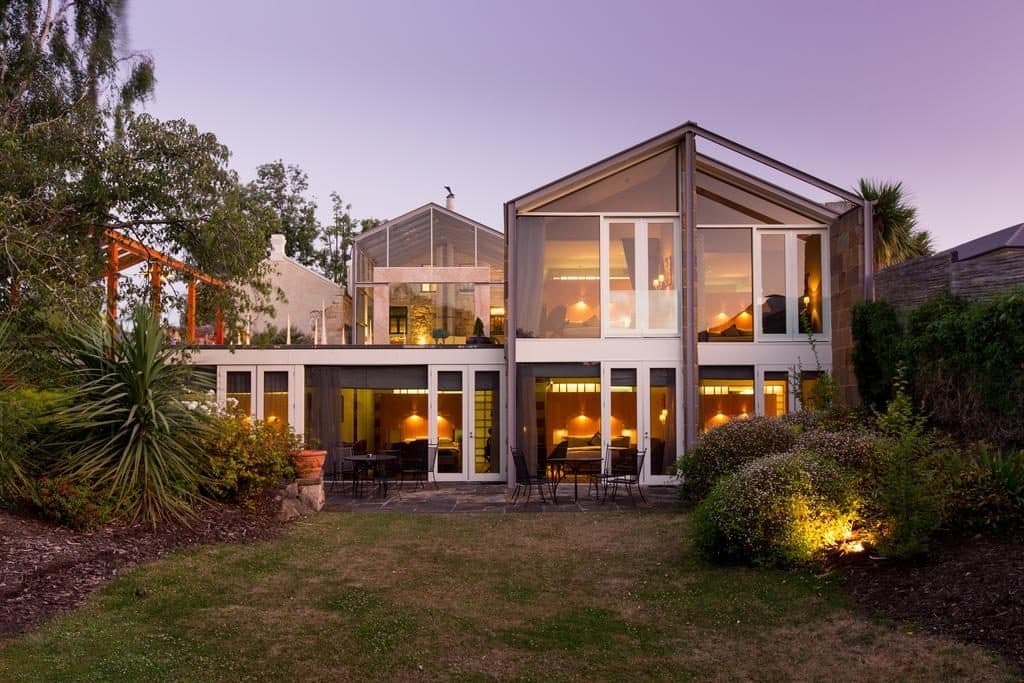 This is our pick of Hobart boutique hotels!  Islington Hotel Hobart is a beautifully-modernized old stone home-hotel. The reviews on booking platforms all confirm that this simply must be one of the best hotels in Hobart!
This small lux hotel truly is one-of-a-kind!  It still has all of its original artwork and precious antiques as decor in the house. It is surrounded by beautiful gardens as well as an infinity-edge pool!  
This property is also rated as the best value in Hobart! If you are after a truly unique stay in Hobart, then this surely has to be it!
Best Features: Luxurious rooms with views over Mount Wellington. The breakfasts are served in the glassed-in conservatory. The beautiful ample natural light!
Not so Perfect: Whilst some prefer the quiet location, for others the 20+ min stroll down the hill into central Hobart CBD might be an issue.
Best For: Solo or Couple Travellers
3. Brunswick Hotel Hobart
For those after cheap accommodation Hobart.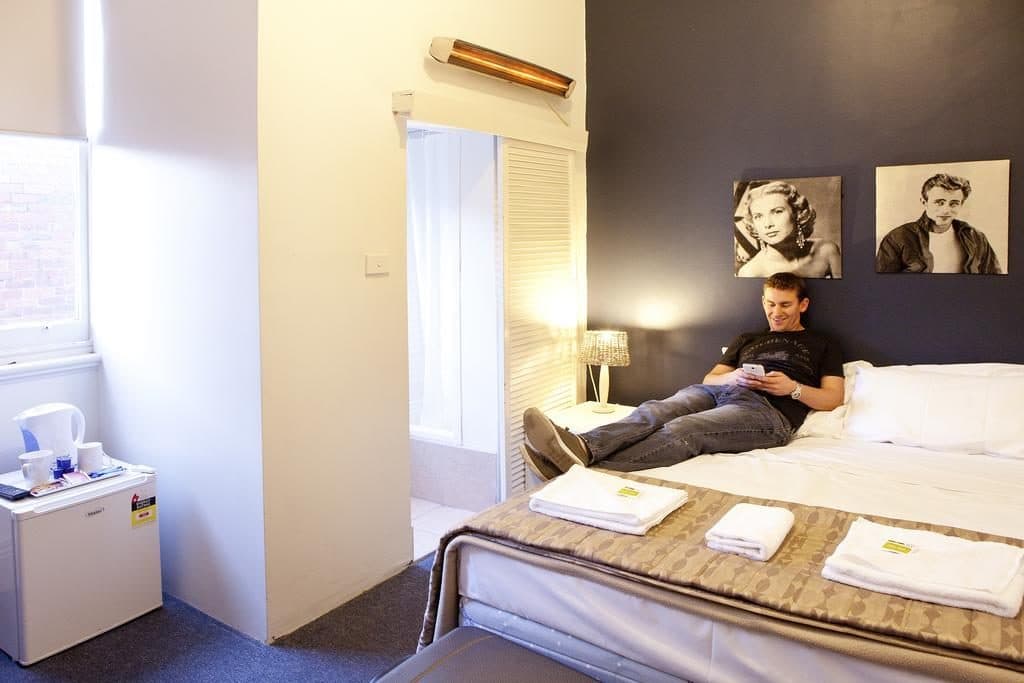 The Brunswick Hotel is housed in a historic building built in 1827 by the convicts of Hobart. If you want to breathe in history, this is the hotel for you right here!
This hotel offers one of the cheapest price tags of all the accommodations in Tasmania!  
Whilst you need to realize that this is indeed a 2-star hotel, you can rest assured that you will absolutely love the location of this hotel. The rooms are basic and small but comfortable.  
Our pick if you are after a budget choice!
Best Features: Located in the best location to stay in Hobart! Gotta love the cheap price tag or only around $50.
Not so Perfect: You get what you pay for. Expect 2-star rooms.
Best For: Backpackers, Couple Travellers & Families (4pax)
BOOK NOW! Temporarily Closed
Grand Chancellor Hotel Hobart – Overlooking Mount Wellington Tasmania, Grand Chancellor Hotel Hobart is located in Hobart and is ideally set for those looking to explore the area's shopping district. This stylish hotel is set in the heart of the city.
The Henry Jones Art Hotel– Centrally positioned, The Henry Jones Art Hotel allows for easy access to Hobart's best hot spots.
Sullivans Cove Apartments– Conveniently positioned, Sullivans Cove Apartments offers easy access to Hobart's best hot spots. Popular amenities include free Wi-Fi, and it provides views of Constitution Dock.
Alabama Hotel Hobart
Hadleys Hotel Hobart
RACT Hotel Hobart
Cradle Mountain Accommodation
1. Cradle Mountain Highlanders Cottages
This is where we stayed.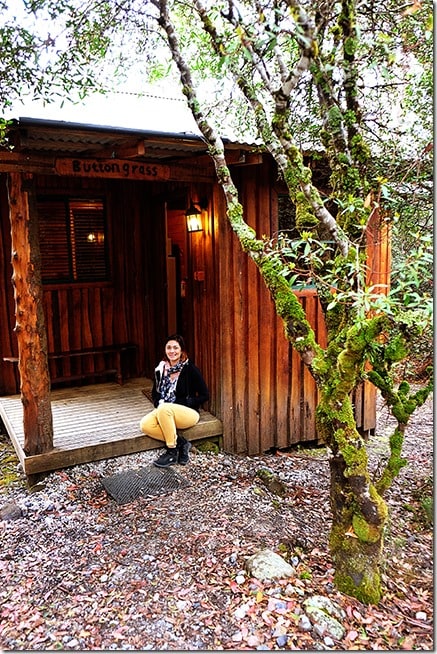 We absolutely totally loved our little wood cabin at Cradle Mountain Highlanders Cottages. We chose to stay in one of the cheaper cottages, but adored our adorable Buttongrass hut!
The inside of the hut is equipped with a massive stash of wood for your fireplace, the cozy bed has electric blankets to keep you warm. It has a kitchen and a lovely bathroom.
What more could you want!! Waking up to the sound of nature while the fire is still burning away – perfect!!!
We highly recommend you stay here! There are huts to suit most budget levels. You can read our post focusing on Cradle Mountain here.
Location: Cradle Mountain – Perfectly situated with easy access to all hikes!
Star Rating: 4 Stars
Occupancy: Cottages to suit 2-6 people
READ OUR REVIEW OF CRADLE MOUNTAIN
Other highly recommended accommodation options in Cradle Mountain
Peppers Cradle Mountain Lodge – Situated in Cradle Mountain-Lake St Clair National Park, this modern lodge is the perfect base for a relaxing retreat. It offers free Wi-Fi, a sauna and a Jacuzzi.
Cradle Mountain Wilderness Village – Cradle Mountain Wilderness Village is located in Cradle Mountain and features free Wi-Fi. It also boasts sweeping forest views, and overlooks Cradle Mountain.
Accommodation in Gawler
1. Bed and Breakfast @21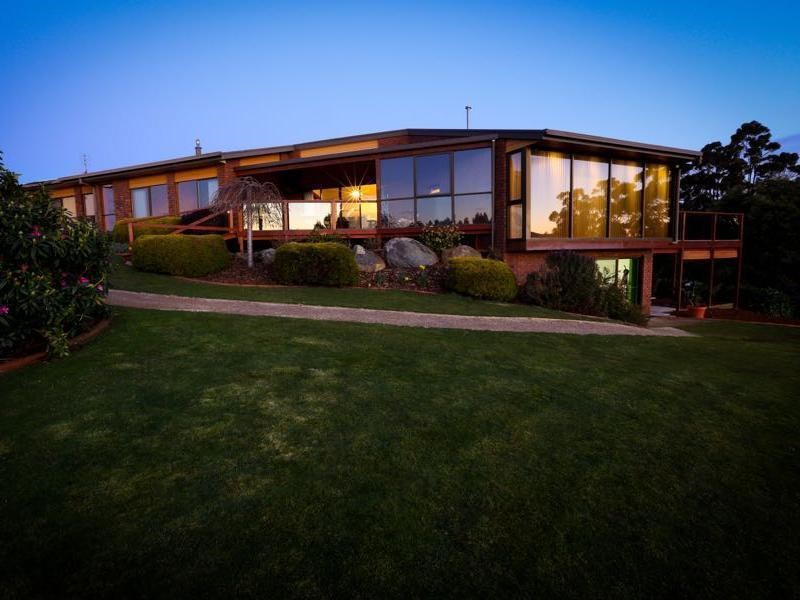 We had an incredibly relaxing stay at Bed and Breakfast @21. The views here are absolutely gorgeous!
The host is super friendly! With comfortable accommodation together with an included breakfast, what is not to love?
The rooms have aircon and heating facilities, with electric blankets on the bed to keep you toasty. Our room also had a spa outside, where you could enjoy the glorious view (however it was a bit too chilly whilst on our stay to make the most out of the spa).
Our room was super spacious and uber comfortable!
Location: Bed & Breakfast @21 is located in Gawler, which is a short 9 min drive from Ulverstone.
Star Rating: 3 Stars
Occupancy: A room and an apartment to suit 2-3 people
Other highly recommended accommodation options close to Gawler
Ulverstone River Retreat – Apartments at the property offer panoramic views of the river and are equipped with a private bathroom, tea, and coffee-making facilities, and a refrigerator.
Westella – Westella offers a historic setting when in Ulverstone. It also features a library, a garden, and a 24-hour reception. 
Accommodation in St Helens
1. Pelican Point Sanctuary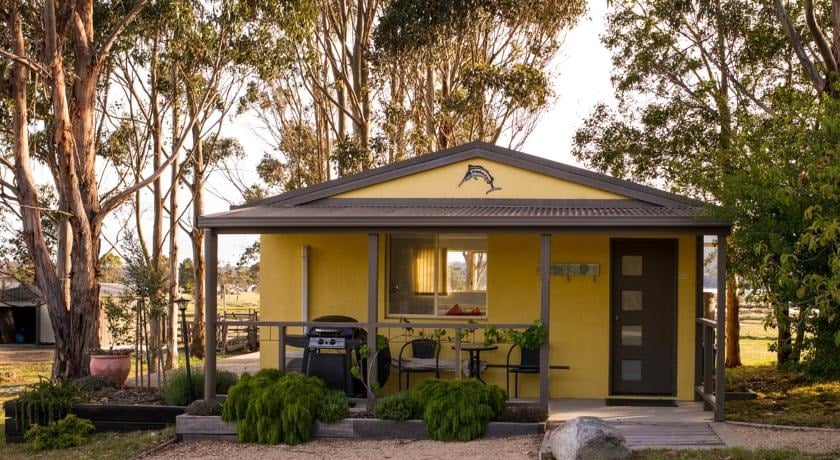 This Tasmania accommodation will allow you to step away into a country-feel oasis. With unique views overlooking fields and farm animals, this is as good a place as any to relax after a busy day of driving!
The Cottages are well-designed with a modern comfortable feel! The property has water sports facilities and free use of bicycles to explore the surrounding area. A quiet oasis, well heck why not!!
Location: Pelican Point Sanctuary is situated at St Helens, only a short 10 minutes drive from the world-famous region of Bay of Fires.
Occupancy: A room and an apartment to suit 2-6 people
Other highly recommended accommodation options in St. Helens
BIG4 St Helens Holiday Park (This is where we stayed) – BIG4 St Helens Holiday Park is situated in St Helens and is close to the area's tourist attractions. An affordable accommodation option if you need one!
Accommodation in Coles Bay
1. Edge of the Bay Resort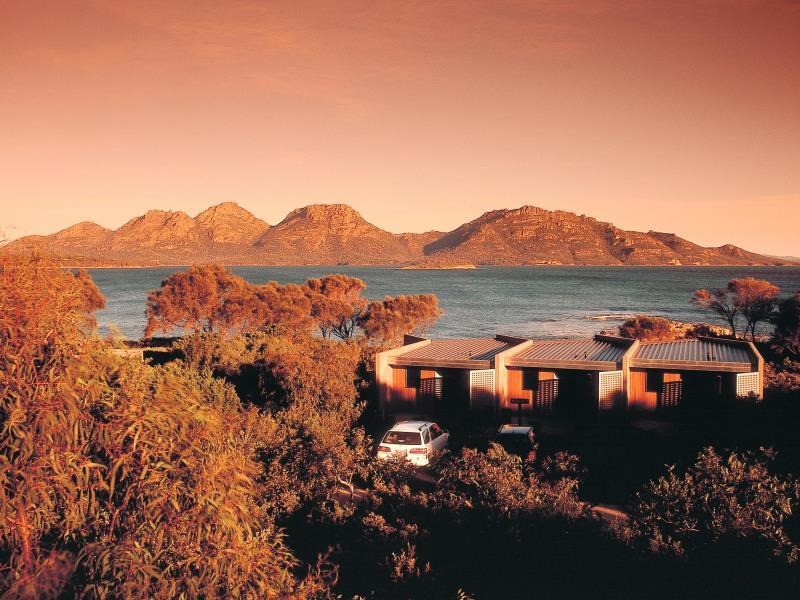 This resort has Ocean View suites or cottages to suit a family of 3 stays. The suite has a glorious view over The Hazards.
Making it perfect to snap that all-popular sunset snapshot of The Hazards without any hassle. The room is super comfy with everything you could possibly need to make your stay glorious!
With the ever-popular Freycinet National Park around the corner, I doubt you will spend much time in the room itself! Choosing from all the popular hikes in the park and making sure not to miss the magnificent Wineglass Bay is a must!
Location: Edge of the Bay Resort is situated at The Hazards on Coles Bay. A few minutes drive to the glorious Freycinet National Park.
Star Rating: 4 Stars
Occupancy: Suites and Cottages to Suit 2-3 people.
Other highly recommended accommodation options in Coles Bay
BIG4 Iluka on Freycinet (This is where we stayed) – BIG4 Iluka on Freycinet is situated in Coles Bay and is close to the area's well-known attractions. A more affordable Coles Bay Accommodation option!
Freycinet Lodge– Located in Coles Bay, Freycinet Lodge is a luxury accommodation option, offering peaceful 4-star accommodation, as well as outdoor tennis courts.
Saffire Freycinet – Featuring a Jacuzzi, Saffire Freycinet is located in Coles Bay and offers elegant accommodation.
Our Tasmania Road-Trip Itinerary
For our Tasmania Road Trip, we flew into Launceston and decided to drive through to Cradle Mountain straight away.
Drive from Cradle Mountain to Boat Harbour, then on to Stanley the Nut, and backtrack via the scenic route of Wynward to visit Table Cape Lighthouse and finish the day at Gawler.
Leave Gawler, head to the Lighthouse at Mersey Bluff, next follow the food trail with little pit stops at the various shops. Make a stop at Bridestowe Lavender Estate (especially if it is bloom season) and complete your drive to St Helens.
Explore Binalong Bay and Bay of Fires in the morning and head to the Freycinet National Park after. Make pit stops at the Bicheno Blowhole, at the Friendly Beach, and enjoy a stroll around Sleepy Bay, Little Gravelly Beach, Honeymoon Bay, and the Lighthouse before spending the night in Coles Bay.
Hike to the Wineglass Bay Lookout before heading off to Port Arthur. On the drive down, make sure to stop at the Tesselated Pavement, Tasman Blowhole, Tasman Arch, and Devil's Kitchen.
After exploring the Port Arthur region, (LOTS to see here, check out our post for 10 options), make your way towards your last destination, the cultural city of Hobart, which is where you will fly out from.
Choosing your time frame for each destination within Tasmania is totally up to you; however planning on spending at least two nights in each destination will allow you to explore at a more comfortable pace and break up the monotony of driving long distances on a regular basis!
Organize Your Hotel Transfers
We love having our hotel transfers organized ahead of time! It simply means that our trip will run so much smoother!!
For a transfer service that is always reliable and that offers exceptional service, we highly recommend Blacklane! 
Reasons why you will LOVE Blacklane:
They offer complimentary wait time
There are no hidden charges, their rates are all-inclusive and affordable
Their drivers are professional
Free cancellation up to 1 hour before your pickup!
We hope that our list of research makes your choices of where to stay in Tasmania a little less hassle-free! 
Wherever you choose to stay for your trip around Tasmania, I'm sure you will have an incredible time in this Australian State.  
What is not to love about Tasmania (except maybe the temperamental weather haha).
Over to you:  Have you stayed at any of these Tasmania Accommodations?
When are you planning to head over to Tasmania?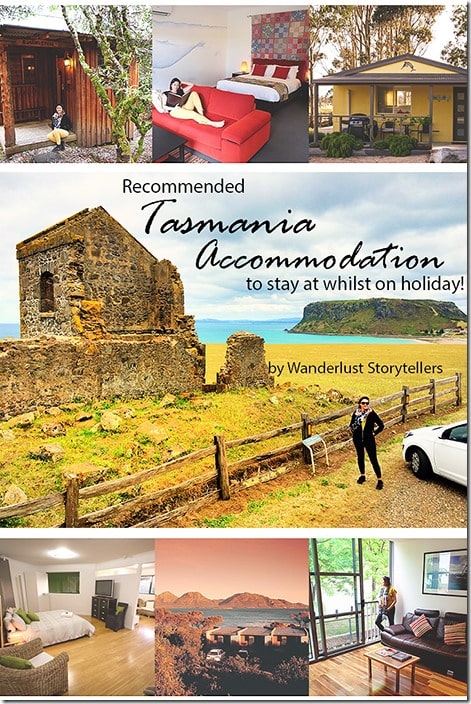 Further Reading