Port Arthur Historic Sites is a place you simply have to visit whilst traveling through Tasmania!  Not only does this place have national and international significance, but it is also part of the fascinating story of the settlement of Australia!  This important place is one of 11 historic sites that together form the Australian Convicts Sites World Heritage Property!  With such epic stories to tell, it is no wonder that Port Arthur Historic Sites has received UNESCO world heritage listing!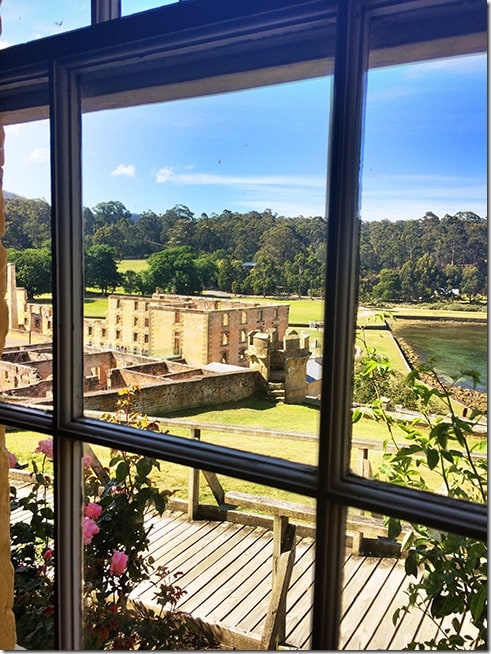 Visiting Port Arthur Historic Sites
After loads of recommendations of included the Historic Sites on our list of  'what to do in Port Arthur', we decided to dedicate a whole afternoon exploring the sites and grounds of this popular Port Arthur attraction.
Trying to take in the incredible history told to us by tour guides.
Trying to absorb the eerie feeling as you try to piece together the remains of what used to be a complete community.
I can tell you that an afternoon of exploration here is simply not enough!    And I can understand why the ticket allows entry for two consecutive days!  There is so much to see and explore here!
A super qu

ick

history:
Upon entry to the grounds, you will have the option of joining a 40 minute introductory walking tour.  We had an incredibly informative tour guide who had everyone's rapid attention as he shared the Port Athur history behind the buildings that once formed part of the bustling community of military, free men and their families together with the Port Arthur convicts.
The Port Arthur penal station was established in 1830 as a timber-getting camp.  This camp quickly evolved and grew and by 1840 more than 2000 convicts, military and free settlers lived here.  The Penal settlement finally closed in 1877.  You can visit some of the remaining and restored buildings from that time period here at Port Arthur Historic Sites.  Each unique and each with their own tale to tell, your day here will be a busy one, but somehow you will leave feeling enriched.
Port Arthur Historic Site entry fee:
Your entry ticket to the sites is valid for two days and includes a variety of fascinating experiences:
1.  Included is a 40 minute introductory walking tour, a definite 'must do' as it paints the picture of the community that once used to flourish here.  With the knowledge from this tour in mind, it will be easy to explore the grounds on your own after.
2.  A truly fascinating and relaxing 20 minute harbour cruise which gives you some insight into the history behind the Dockyard, Point Puer Boys' Prison and the Isle of the Dead.
3. Interactive experiences in the Visitor Centre.  We had lots of fun here trying to find our convict (based on a card they give you upon entry) – highly recommend stopping by here on your way out!
There are more than 30 historic buildings, ruins and restored museums to visit whilst here at Port Arthur Historical Sites!  So to help you out, we have listed our absolutely favourite 'must-see' buildings/sites below!  Make sure to visit them whilst exploring the grounds!
1. The Penitentiary (1857)
The walking tour makes its first stop at the Penitentiary!  Here you will learn about how this impressive ruin has evolved from being a flour mill and granary into a four-storey Penitentiary building.   The bottom two floors had 136 tiny cells for 'prisoners of bad character' whilst the top floor had space for 480 'better behaved' convicts.   Lots of interesting stories around this particular building!  We also enjoyed our walk exploring this ruin and were stunned at how small the bottom level cells were!
2. Commandant's House (1833-56)
The Commandant's House was a truly fascinating stop and definitely well worth a visit!  This house has been restored as a museum and you can get an incredible insight into life in 1833-56 here at this house!  Not only is the interior of this house impressive, but the grounds and gardens surrounding the house is well worth a stroll as well.
3. The Separate Prison (1849)
I think that the Separate Prison must have been my favourite building to visit on the day.  The atmosphere here is one filled with dread and ere.  The history behind this prison is totally intriguing.  With this knowledge of what occurred in this building in your mind, there seems to be a reverence amongst tourists as they explore the cells and space found within this prison walls.  This prison is based on mental punishment, stripping convicts of their identity and attempting to reform them through isolation and stillness.  Here you will also find a single cell for punishment by denying sound and light.  We closed the door in this cell to experience the darkness and I have to say that all my 'fear' senses went on high alert!   I think I lasted a few minutes before bolting back out to sunlight!   There is lots of interactive activities to do here, so enjoy peeking into those cells and learning more about the convicts who once resided here.
4. The Church (1837)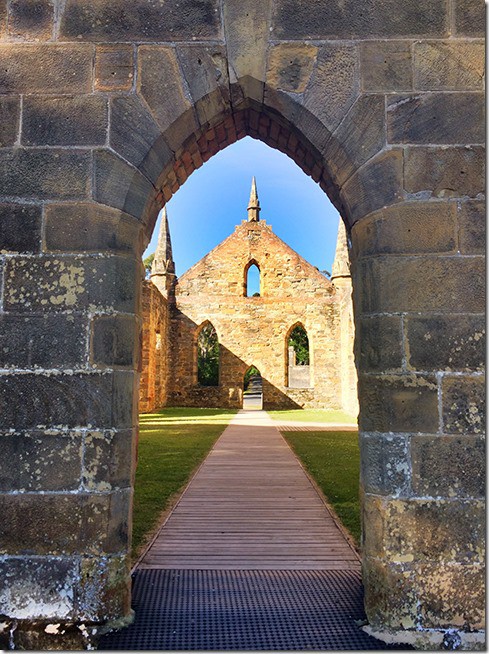 The Church ruins are impressive, and you will feel them beckoning to you from the distance!  We left the church for late in the afternoon and the afternoon sunlight streaking through the doorways were simply stunning!!  The Church is an incredibly important building here at Port Arthur Historical Sites!  Religion played a compulsory role in the reformation of the convicts here at Port Arthur.  Up to 1100 people attended services here each and every Sunday.   The families separate from the convicts, but here they came together to worship.  Make sure to have a closer look at the decorative stonework and joinery here as a lot of these details  were crafted by the boys from the Point Puer Boys' Prison!
5. The Isle of the Dead (1833) and Point Puer Boys' Prison (1834)
During your harbour cruise, you will get to have a look at two of the islands located close to the Port Arthur Main Site.  The island closest to us in the photo below is the Isle of the Dead.  A very ghostly island where around 1100 people were buried.   All people who passed away were buried here on this island.  You may also choose to pay for an optional tour to this island, to explore more about the history here.
The piece of land in the distance is the Point Puer Boys' Prison.  The boy convicts were separated from the adults in order to prevent bad influence from those older.  This prison operated from 1834 to 1849 and holds an important title of being the very first juvenile reformatory in the British Empire.  Most of the boys located here were aged between 14-17, and the youngest boy convict aged only 9 years of age.  The boys prison focused on discipline together with education in the hopes to bring about reformed behaviour.  You may also choose to take an optional tour here (at an additional cost to the entry ticket).
Where is Port Arthur Historical Sites?
The Port Arthur Historic Sites is located on the beautiful Tasman Peninsula in the south east of Tasmania.  There is heaps to explore is this region, so make sure to dedicate at least a few days of travels here.
The Port Arthur Historic Site is approximately 100km south east of Hobart and you will find plenty of transportation options that run from Hobart to the site.
Visit their website here.
You can also purchase tickets online and use their planning facility on there.
Port Arthur Historic Site prices:
Adult $37
Child $17
Family $90
Concession $28
Optional Tours:
Port Arthur Ghost Tour
Paranormal Investigation Experience
Point Puer Boys' Prison
Isle of the Dead
Audio Tour
Please pin our Pinterest image for this post!  THANK YOU!!!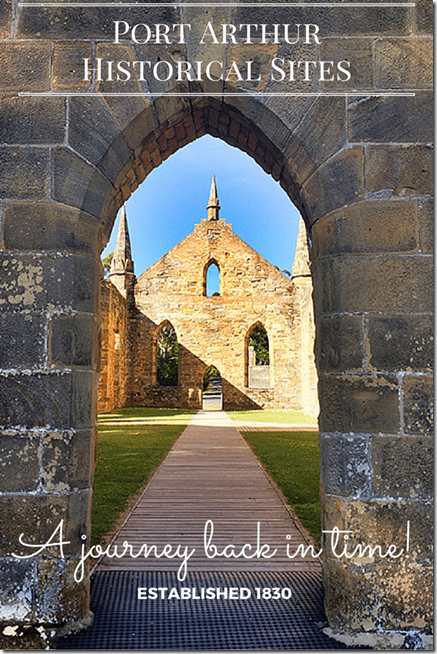 Special thanks to Port Arthur Historical Sites for sponsored entry tickets in exchange for brand endorsement. As always, the content & opinions expressed here are entirely our own.